My blog has turned 11 years old! When some people get to know that, they stare me up and down wondering how old i really am. Asian genes yo, Asian genes. The colourful hair and small stature also helps contribute.
Everything just turned out perfectly that the 11th Anniversary party was thrown on the 11th, and that the new blog design (KBF V3.0 baby!) managed to get up on the same day. Thanks to everyone for working on everything!
Do you like my new blog? Do you do you?! I doooo! It's purquoise! (Lexie's term for purple + turquoise = purquoise!) I have SO many purquoise possessions that i just felt like having my blog that colour too. There's still a lot of tweaking to be done but i'm happy with the new layout, where categories are much clearer, and everything's just a lot more organised. Graphic design by Kuman; Programming by Phillip.
As for the party last night, the KBF team organised an invite-only party for 300 pax at The Bee. We had colourful paper decorations hung from the ceiling, a rainbow of paper fans on the wall, KBF posters and signs up everywhere, lots of toys and props for people to play with, a gigantic metallic garland photo wall, and most happily – i saw my balloon forest idea come to fruition. Now i know how to make it even better the next time round… once i find another excuse to make one.
No pictures for now cos they're all still with the photographers so i'll just wait patiently.
I think all the balloons were the happiest things, amongst lots of other happy things. Someone said it looked like 'Joyce exploded in there'.
I announced that whomever left around 11pm onwards could take a balloon home, and people started holding on to their favourite one wayyy before they went home. I saw StephTheVolcano running for the rainbow one and couldn't help laughing. SueThePixie couldn't stop talking about how she wanted to burst the one with confetti in it and get a picture. I didn't know there was only one… and had to put two and two together when Kimberley lamented about her giant confetti balloon that got snatched… and murdered. Oh, naughty pixie!!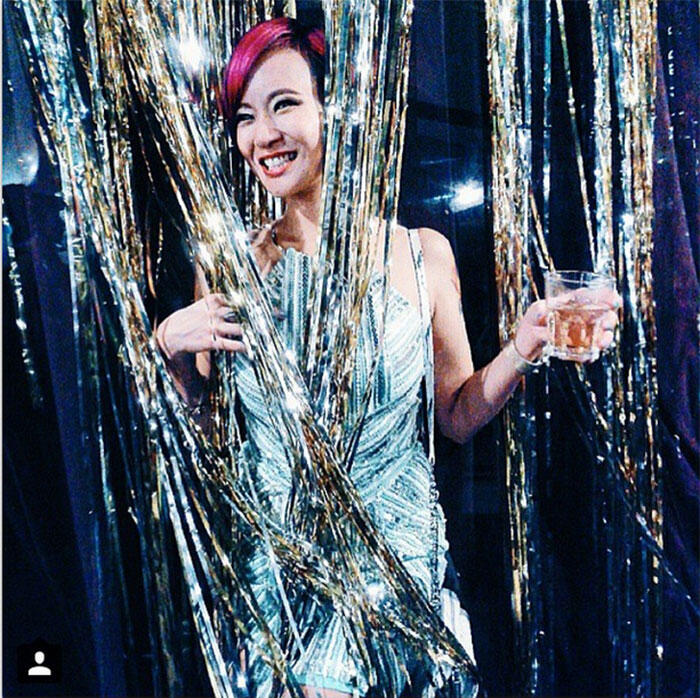 Picture credit: Idan
Location: The Bee @ Publika
Make up: Shu Uemura
Hair: Centro Hair Salon
Dress: Duchess & Co.
Glass in hand: filled with Grant's Whisky
Metallic garlands background: soon-to-be-had on KinkyBlueFairy.com
Just one pic for now cos i'm quite tired.
I went straight home after the party ended, ate instant noodles (i know, so bad but i didn't have the energy to go to a mamak), showered and passed out by 4am. I automatically woke up at 8:30am and was like, "Whyyyyyy". My body clock has stupidly adjusted to the 4-5 hours sleep i've been getting on average for the past two weeks -_-
I'd made an appointment to go bathroom fixture viewing for the new apartment that morning, cos i figured it'd be the time when i'd have to let the team rest a bit, so i could run an errand meantime. Danny and i went to view some samples at a wholesalers' so we could discuss the type of design i want.  I immediately expressed admiration at some that caught my eye… and Danny said, "Oh that's one of the more high end brands, if you decide to go for that price range."
Me: WHY do i always gravitate towards the more expensive ones!?
Who knew bathroom fixtures could cost so much. Just looking at one piece doesn't seem like much, but when you're considering 3 bathrooms = 4 sinks, 4 taps, multiple showers and knobs… let's not even start with the toilet bowls and tiles… my heart starts to sink a little bit. Now every time i feel like shopping, i just have to think about how i can get that bathroom tap i want instead.
Exciting stuff. I'm not being sarcastic! I was so excited in the fittings shop, while Danny verbally pronounced he found it mundane. He's so used to it haha.
After that; I went to get my IC, license and bank cards done. Ever since my bag got stolen, (i've been so busy with the event and work) i've been driving around with no IC, driver's license, ATM cards, CC, etc. I've had to empty my ang pow packets and borrow cash from friends before i could sort myself out. And then, because i hit myself in the head, i've got a picture of me with a huge bruise on my forehead in my new IC and driver's license pictures.
Fantastic.