A LOT happened this week… but i'm just gonna talk about my weekend mostly cos i had a really good one.
After a week of barely sleeping and mostly working, i left the office at 10pm on Friday night and had a glorious night in by myself. I haven't even had time to sit down with my own thoughts (even time on the bathroom throne is spent working -_-) so it felt SO AMAZING to just LIE down on my sofa and THINK about NOTHING in particular. I just needed to rest my brain and body.
When i woke up on Sat, i packed a few outfits for a video shoot for an upcoming fashion platform (which i'll share with you when it's out), headed to shoot, had a quick meet with Phillip on website changes, tapau-ed food from A'perfetto for Clem's birthday party, headed home to dump shoot stuff, and went to Clem's place for his 34th birthday.
I was so happy… cos i didn't have to work or think about work for the rest of the day! I could just relax and enjoy everyone's company! Raf was so sweet to get a 3-layer birthday cake with "Clemmy" on it, which most of us girls whacked immediately. I ate so much. Really let loose at the party cos i've barely been eating proper! (if i had a personal chef to cook me healthy meals all the time, that would be ideal :p)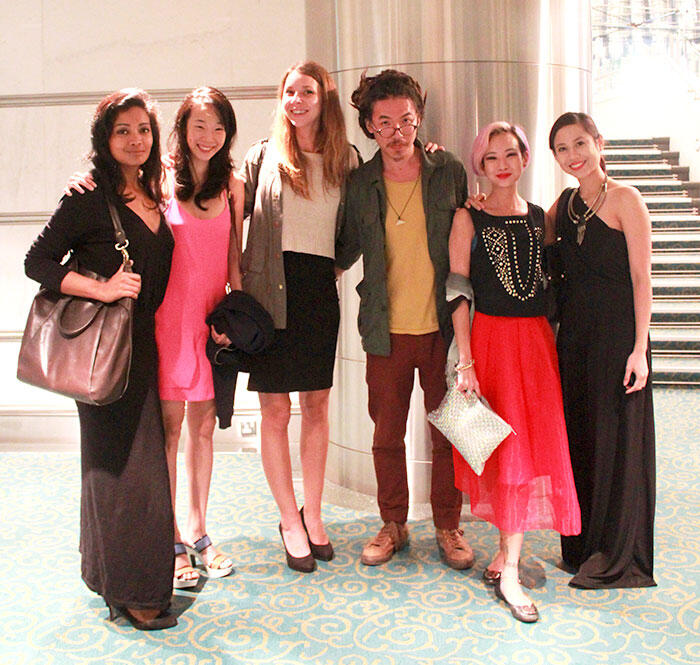 After Clem's, Jess and i left for the MPO, where a bunch of us took in the glory of Danny Elfman's scores for all the Tim Burton films in conjunction with Jess, Tianna and Justin's birthdays. My faves that night were from the movies Batman, Corpse Bride, Beetlejuice, Dark Shadows, Frankenweenie… We headed to Changkat around 10+ cos Saira was having her birthday do and i promised i'd go after.
Went to Pisco, had my clutch stolen from the chair i was sitting on. I was standing up for awhile and this guy walked behind me, grabbed it and walked out. Saw it on the cctv footage. I was careless but anyway. It's gone. I wasn't really stressed or angry at the time either… just hopeful it was still somewhere around and wandered around the whole place looking like a silly goose.
Oh well, it happens. Lost my phone, house keys, bank cards, credit card, Aigner purse, new vaporiser (i just bought it before CNY! ugh), beloved tin box, favourite lipstick from Shu U, and most of all… i miss my clutch. It was the first time i carried it out and it's so sparkly and magical-looking and i bought it from London!
I know, it's just attachment to inanimate objects. Releasing. Releasing.
Despite losing all the stuff… i was in a good mood today. I thought about how i'm safe and i have all my limbs and am… well, fine. All the stuff i lost can be replaced.
It was such a catch-22 situation cos when i wanted to buy a new phone, i didn't have any cc to buy it with; or when i wanted to get a new SIM card, cos i didn't have any ID to prove i was me. Am currently resorting to taking my passport around with me eek.
Tai Yong was such a sweetie to let me crash at his before calling a locksmith to open my apartment doors today. He also took me out for lunch and fed me pork noodles, took me to two telco centres (which both didn't have the phone in stock), and lent me cash. I went to the 3rd Maxis centre in Gardens before a play on Sunday night, and wasn't surprised when the staff told me they were out of stock there too. I was like "Sighhh" and quite calm cos i thought, "What will be will be. I cannot force the Universe to give me a phone."
The girl at the counter asked what happened to my phone and i briefly told her my drama about calling the locksmith and not having ID. She asked me, "Do you want a certain colour of the phone?" I said i didn't care, i just needed the phone.
She surprised me by saying, "Hold on, i'll go check for you."
I stood at the counter, lay my forehead on my notebook that was on top of it, and prayed.
Please let her find a phone so i can continue with life and work tomorrow!
As she walked back towards me, her expression bore no clue whilst i smiled hopefully at her.
She said they had one phone left. The very one i wanted.
I must have found the last freaking unit in the whole of KL on a Sunday night.
Oh and then i had to pay, and i had nothing on me. So Lang (whom i was gonna watch the play with) came by and let me swipe his cc first. Then we went to watch a star-studded play which was highly entertaining – i laughed so much, felt sad too at certain parts, and heard the word "vagina" thrown around more in 2 hours than i think i've heard my entire life.
Soooo despite my losing all these THINGS on Sat night… i felt really happy the whole weekend cos:
1) I was surrounded by so much love
2) I had a mini break from all my gadgets and things
3) i realise how lucky i am to have such amazing friends that help me out to the best of their abilities
<3