When i got back from my little month-long adventure in Bali, i felt a shift in myself which inadvertently meant my life and everything i surrounded myself with changed too. Things were happening quickly (and still am) in terms of my lifestyle, movement, the people i surround myself with, my thought patterns, my moods, work projects… i started appreciating the little things again, and prioritizing the big things.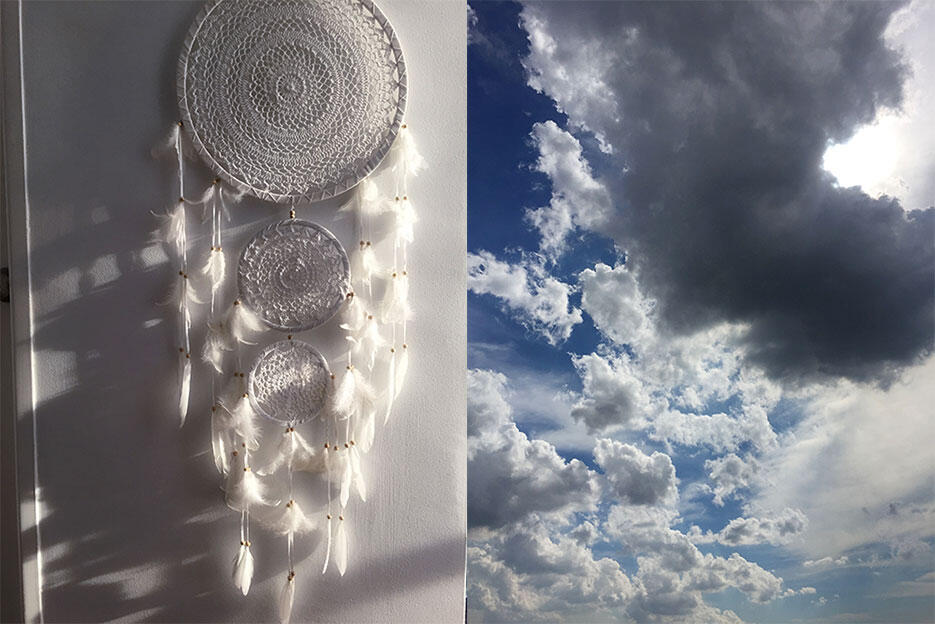 Little things = admiring how the evening sunlight falls on my Balinese dreamcatcher in my bedroom, or what a great cloud day it is ☁️
Big things = implementing more positive habits, more movement, more laughter, more focus, more manifestation, more thought; into my waking hours
I was so accustomed to doing more daily movement in Bali, that i decided it was high time i got a yoga mat in KL.
Previously, i'd just bring a yoga mat towel with me to my classes, but now that i wanted to do more stretching and movement at home, i hunted around for a local yoga mat brand and as the Universe would have it, found newly-launched Karya Mats.
Finally, a homegrown yoga mat label that is made from biodegradable natural rubber and is prettyyyyy!
We NEEDED THIS!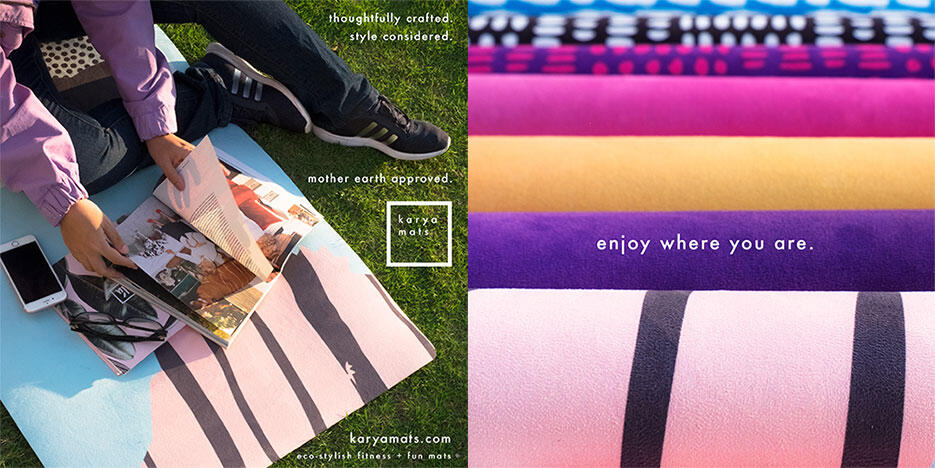 "karya mats is a purveyor of versatile, comfortable, and stylish eco-conscious fitness mats. We believe form, function, and fun come together in fitness. Our pieces are sourced from biodegradable natural rubber and printed with unique designs crafted with the modern-day fitness enthusiasts in mind. Each design series comes in a limited edition batch and new series are rolled out every quarter annually to ensure variety and quality."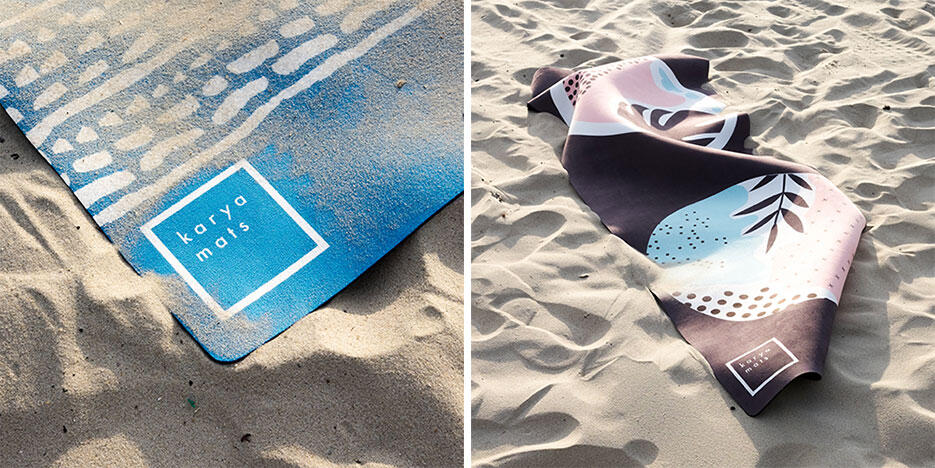 Thanks to Pika, the Co-Founder of Karya Mats; KinkyBlueFairy x Karya Mats have collaborated to give away 1x karya mat of the winner's choice, and discounts on karya mats. Read till end of post to find out how!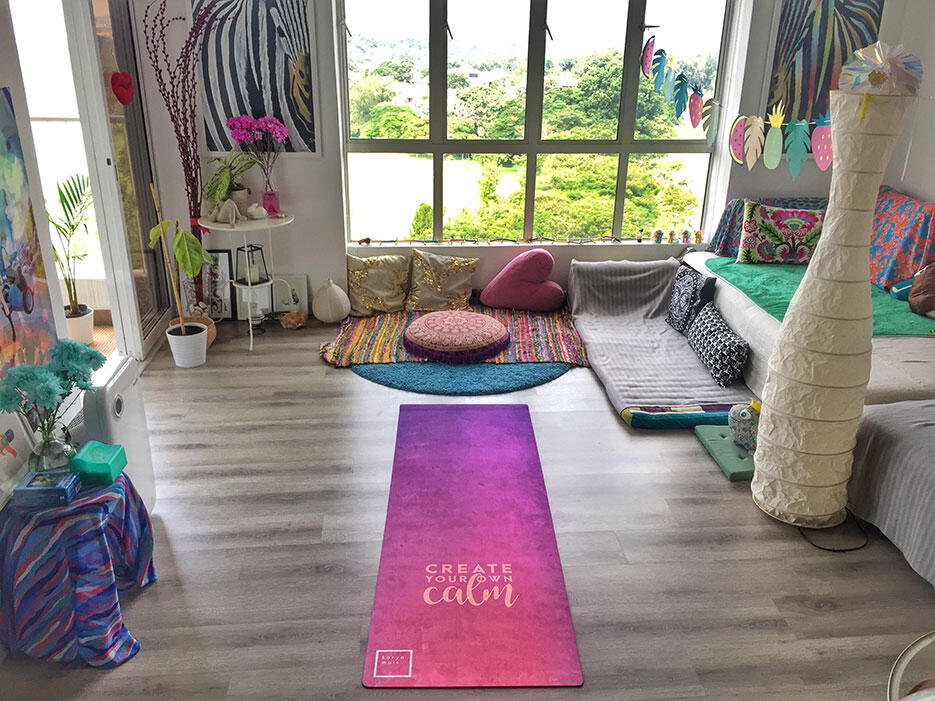 What my living room currently looks like. I pushed all the sofas to the side to make way for more space – yoga, friends lounging about, more space for more people (not like i have many over nowadays XD).
I find that having a yoga mat in one's living room gives guests permission to use it… i regularly find friends suddenly getting into a downward dog or chaturanga, or someone passed out (hmm quite a number have passed out) on it. I myself use it to lay on and do some weird air dance with my limbs late at night while listening to music when i'm too tired to stand and dance ?
It's super easy to clean by wiping with a wet cloth, or can even be thrown into the washing machine on gentle cycle.
It's soft and beautiful. I love it. I never knew i could have so much passion for a yoga mat ?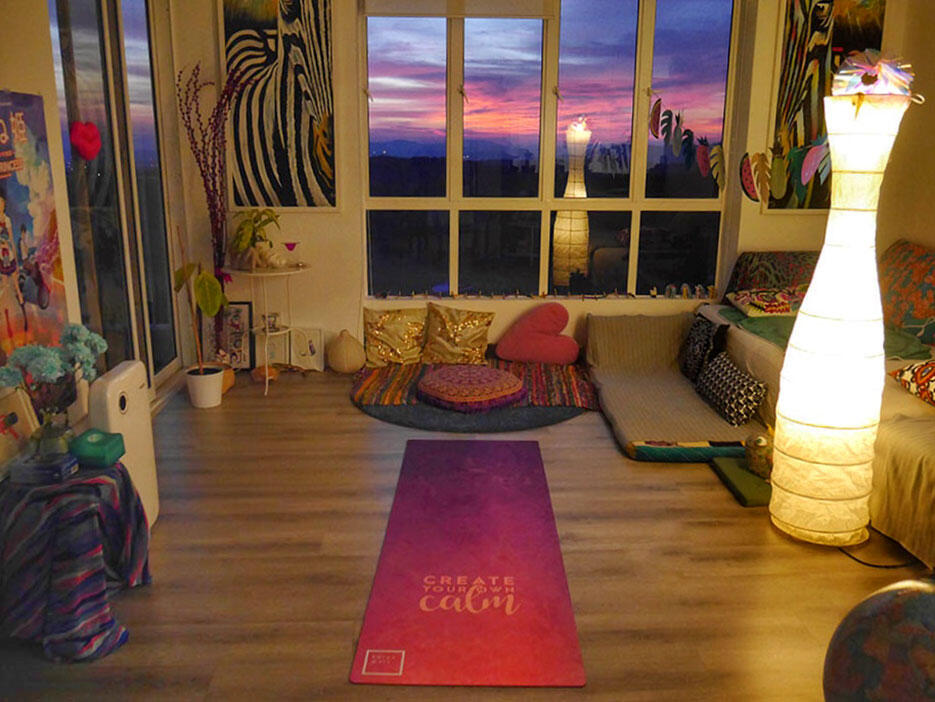 It even matches my sunset view!!! ?? ?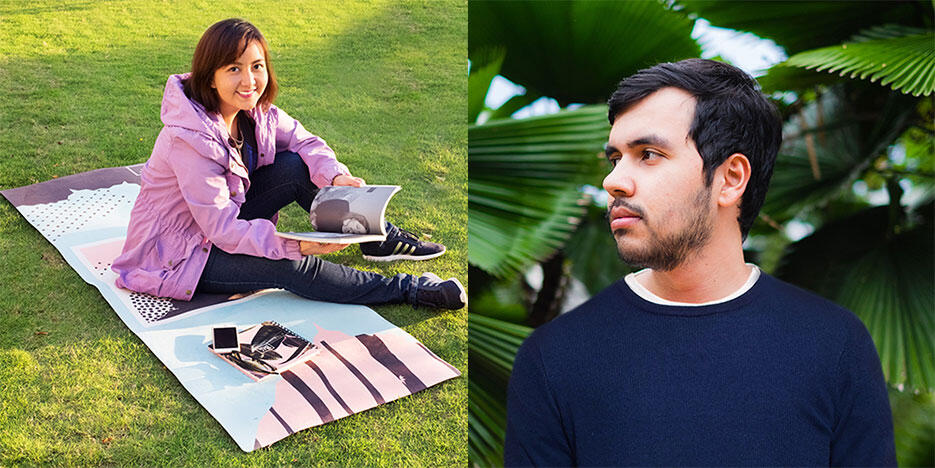 Founders of Karya Mats, Pika and Talha
Thanks to Pika for patiently answering my inquisitive queries:
Joyce: Do you have a day job? What were your previous career choices and experiences before venturing into karya mats?
Pika: Yes, I started out as your everyday graphic designer slash weekend photographer before deciding to go freelance a couple of years ago. I still keep my day job although now half of my time and many weekends are reserved for karya mats with my partner, Talha.
What does yoga mean to you? 
Yoga is balance and flow – or more importantly, finding your balance and flow. One of the first things you learn/master in yoga is how to breathe right, which is the most natural thing we do. I think that is essential and momentous to what yoga means and does to a person. Frankly I'm still the least laidback person I know so I need all the help I can get, haha.
What are your other hobbies? 
Aside from the visual arts and the athleisure, I love travel and animals. I enjoy singing and making things! That said, my recent Youtube watch history would reveal hours of Fashion Week shows, Buzzfeed Unsolved and Million-Dollar Listing New York, should that paint you a clearer, honest picture.
Who designs the mats? Where exactly are they made?

We design the mats in-house, although we plan to have mat print design collaborations in the near future. Production-wise unfortunately we couldn't find a local factory for natural rubber mats even though Malaysia produces the material, so our mats are currently manufactured in China.
How did the composition of the mat come about – how was it researched, what were your findings, who created it?
My initial interest in printed yoga mats came about when I was browsing Etsy for my own artisan eco-friendly athleisure kit (of course). Printed natural rubber yoga mats are already out there, just not exactly sold and used here, much to our surprise! From there we researched other brands of similar ethos for some kickstarter notes, drafted the beta karya mats and ordered our own prototypes for friends to try out and share their feedback.
Could you name me your five favourite 'local makers / artists / designers'?
Sure! In no particular order:
Alia Bastamam, fashion designer (I wore her dress on my wedding day!)
Nawwar Shukriah Ali aka Bono Stellar, multi-disciplinary designer/artist
Nala Designs, wonderful Malaya-inspired patterns and prints for the home
The Alphabet Press, bespoke letterpress stationery and print company
Biji-biji Initiative, social entrepreneurship and sustainable fashion via design
What have been your last three major life learnings this year?
Never miss a party nor a nap if you can help it.
Stay hungry (a la Steve Jobs) but stay hydrated.
Last but not least: the limit really does not exist!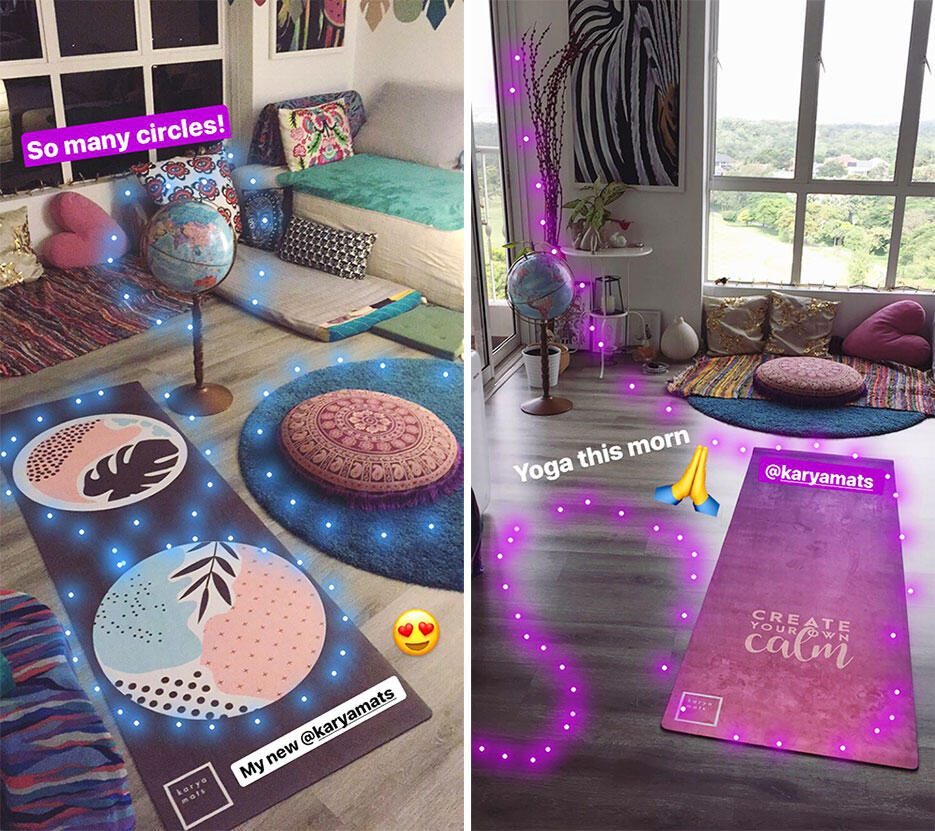 Win 1x karya mat of your choice!*
To enter:
– Follow @joycethefairy and @karyamats on Instagram
– Visit karyamats.com, and pick your favourite design (Trust The Journey is available)
– Comment on this blogpost or my IG post here: the name of your favourite mat design and tag 2x friends who love yoga
* subject to availability on online store
* open to residents in Peninsular Malaysia only
* contest ends 31st October 2017
+ + + + + +
To get 10% off karya mats, use discount code on karyamats.com: KARYAFAIRY
The code is valid until 31st December 2017 and is applicable storewide.
+ + + + + +
Content below completely unrelated to yoga, but connected to essential oils for kids and families (Jocelyn Gordon is coming to KL and i said i'd help her blast it a tad!), and random pix of my face.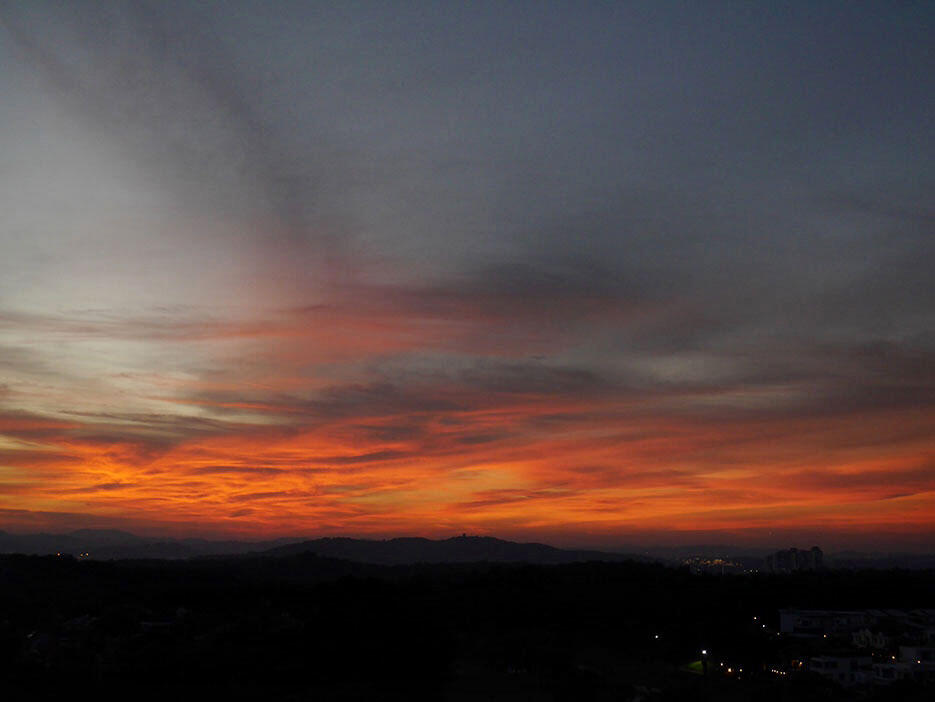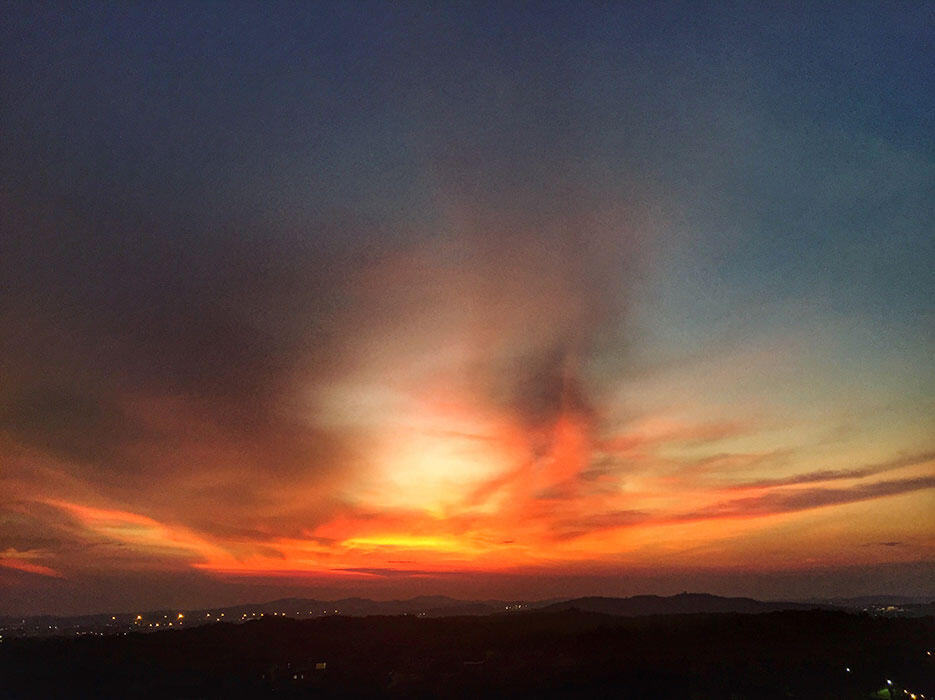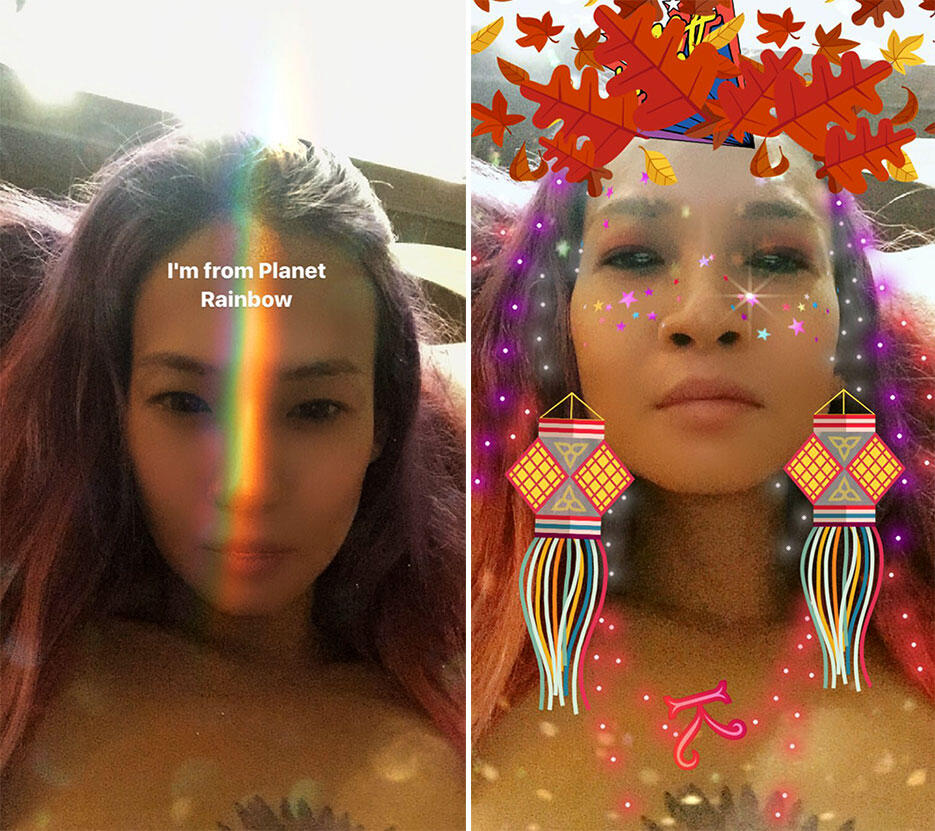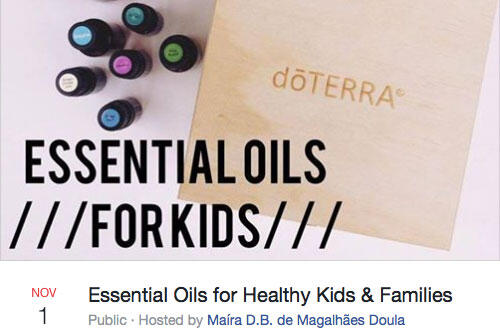 FB Event *link here*

Essential Oils for Healthy Kids & Families 
If you are in search of safe, effective, natural methods to support the health of your family, join us at this live, interactive demonstration! You will have the chance to experience the powerful benefits of Certified Pure Therapeutic Grade (CPTG) Essential Oils firsthand, while learning about their wide-spread therapeutic benefits.
In this 75-minute presentation you will:
Reclaim your connection to nature as your go to guide and resource for health and well-being
Experience doTERRA's CPTG essential oils and how to safely use them aromatically (inhalation), topically (application to the skin) and internally (ingestion into the body)
Recieve recipes addressing
Allergy and Cold Relief
Ear Infections
Cradle Cap & Colic
Immune Support
Sleep & Mood Management
Discover how to purchase these oils at the wholesale discount of 25% off retail and recieve ongoing education and support on reaching your health goals
This workshop is hosted by Maíra D. B. de Magalhães – Mother, Doula and Yoga Teacher – and presented by Jocelyn Gordon – Mom, Self-Care Yoga Specialist and doTERRA Wellness Advocate, Co-Creator of the Chakra Clarity Guided Meditations & Essential Oil Sound Healing Journey
You are invited to join this free event and to bring friends and moms ready to partner with nature to re-empower their life and household well-being.