Been going through my barrage of Bali photos wondering how i'm gonna split them out, and decided the best is to just start by topic and keep going!
I spent a fair amount of time in Seminyak Village, mostly cos Lexie and Kim (whom i crashed with half my time in Seminyak), is temporarily in Bali working for the brand. I'd hear them talk about work when they got home every evening, and ended up knowing bout the projects going on, and occasionally get pulled in to give my two cents.
Seminyak Village is a large spacious mall smack in the middle of bustling Seminyak filled with great restaurants and stores like MCM, Farah Khan, Rimowa, Ashley Isham, Play Clan & Friends, MC2 Saint Barth, Bamboo Blonde, and many more.
It was just a 10-min car ride from where we lived, so it was easy for me to pop over for lunch, drinkies, spa, yoga, etc. There's more than meets the eye, just thinking about SV now actually makes me miss it a bit! I love the high ceilings with natural light and it's so spacious.
There was one afternoon i went to have lunch with the gang at Tiger Palm, and thanks to Kim's iPhone 7+ and his speedy photo skillz, we got great photos.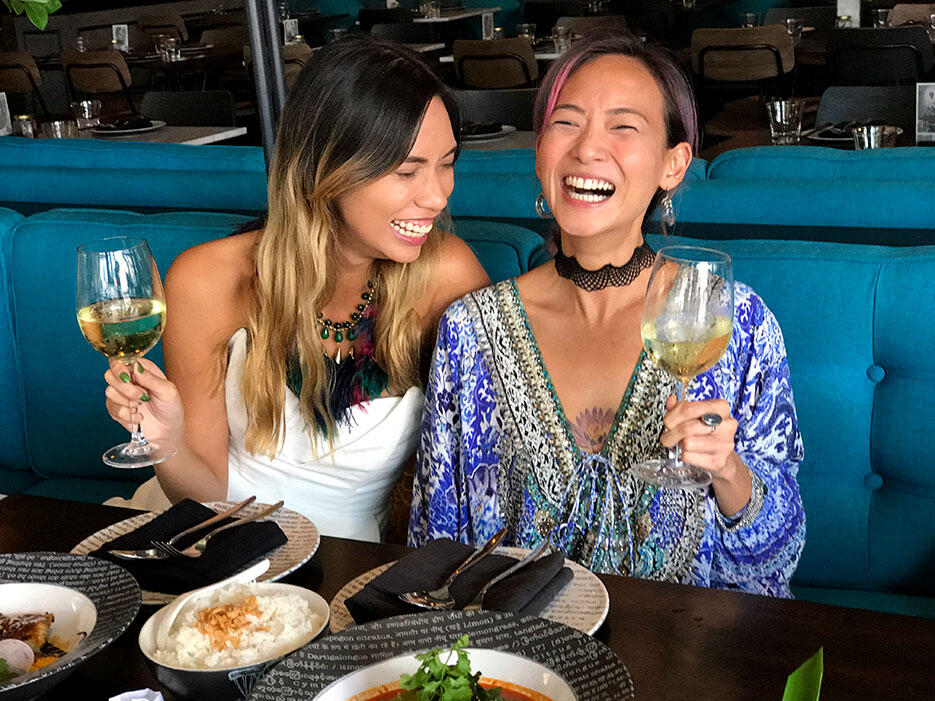 I'm wearing an embellished silk kaftan top from Camilla, available at multi-label store M Resort. Good luck with your credit card. It is impossible to not find something you'd love in there.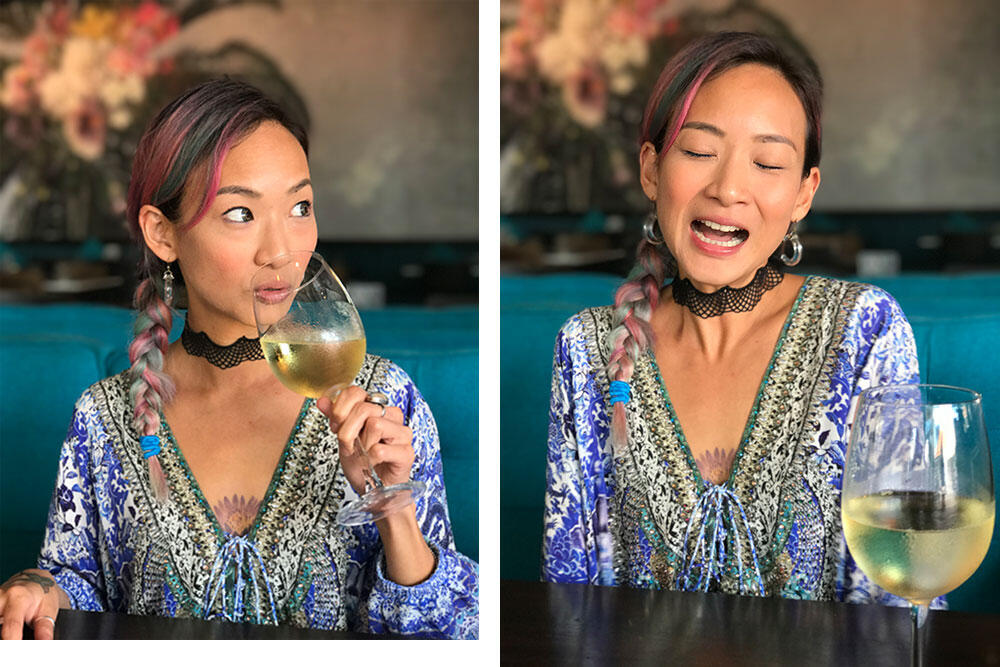 Yup, Kim got my wine face. Right there.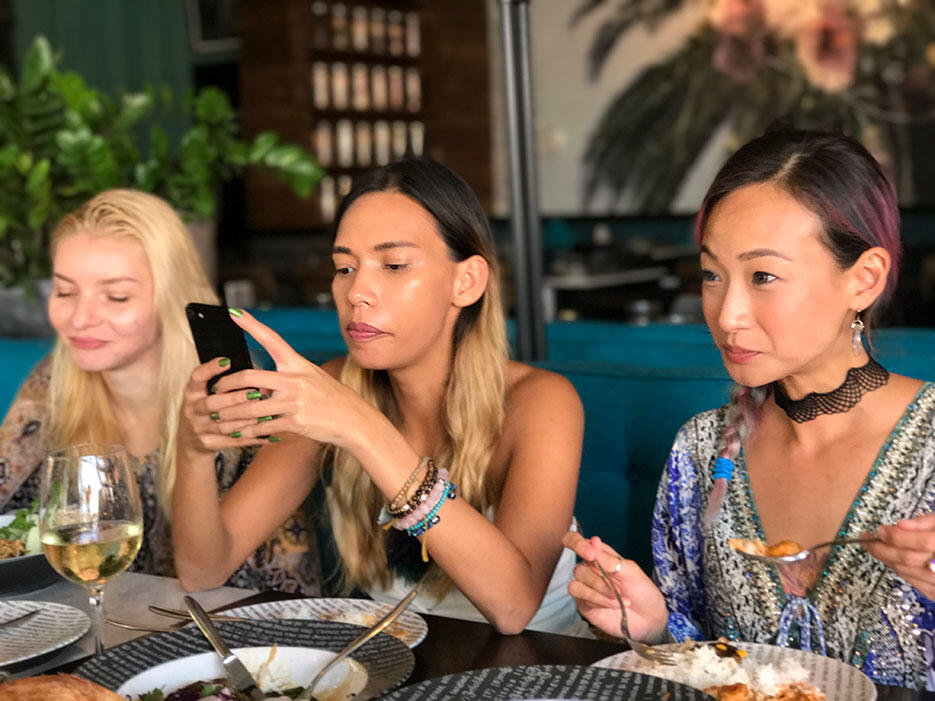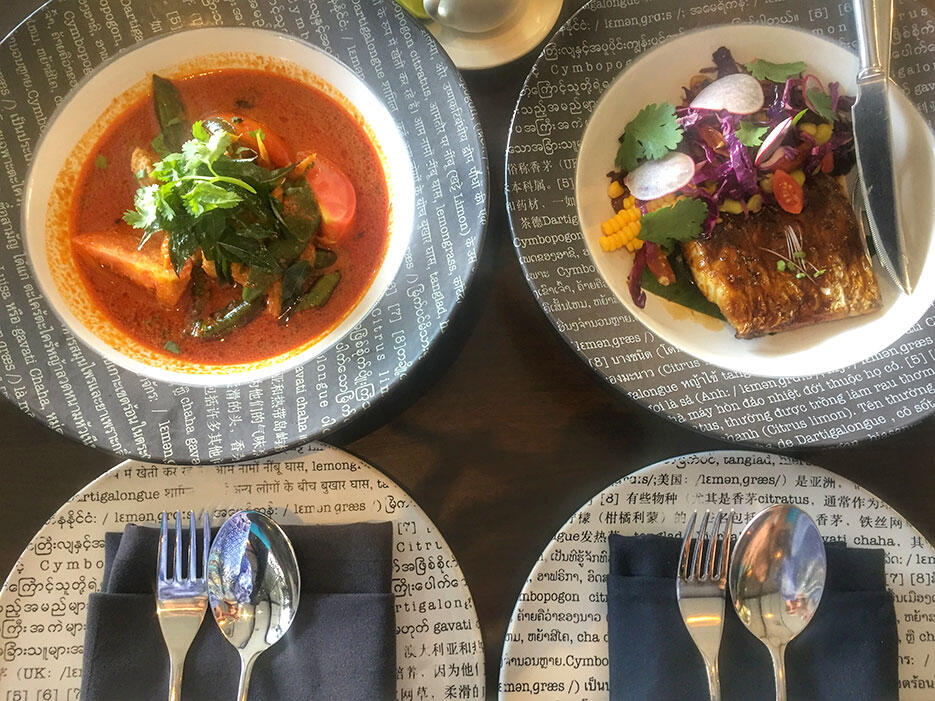 We felt like fish that day so ordered the fish curry and cod, with rice and… chardonnay.
Tiger Palm was opened by Chef Will Meyrick (also the creator of the dining concepts at Mamasan and Sarong) and "inspired by his travels, his in-depth research of South East Asian cuisine, and his close associations with some of the region's top chefs."
The diverse menu is influenced by Thai street food, Malaysian Nyonya kitchen, Chinese traders, the kitchen wallahs of Southern India; and features dishes like slow braised beef cheek in pomegranate; sun dried cuttlefish + green mango salad; Burmese lamb shoulder curry with mungbean; and grilled Sulawesi lamb shank with young jackfruit. View Tiger Palm's menu *here*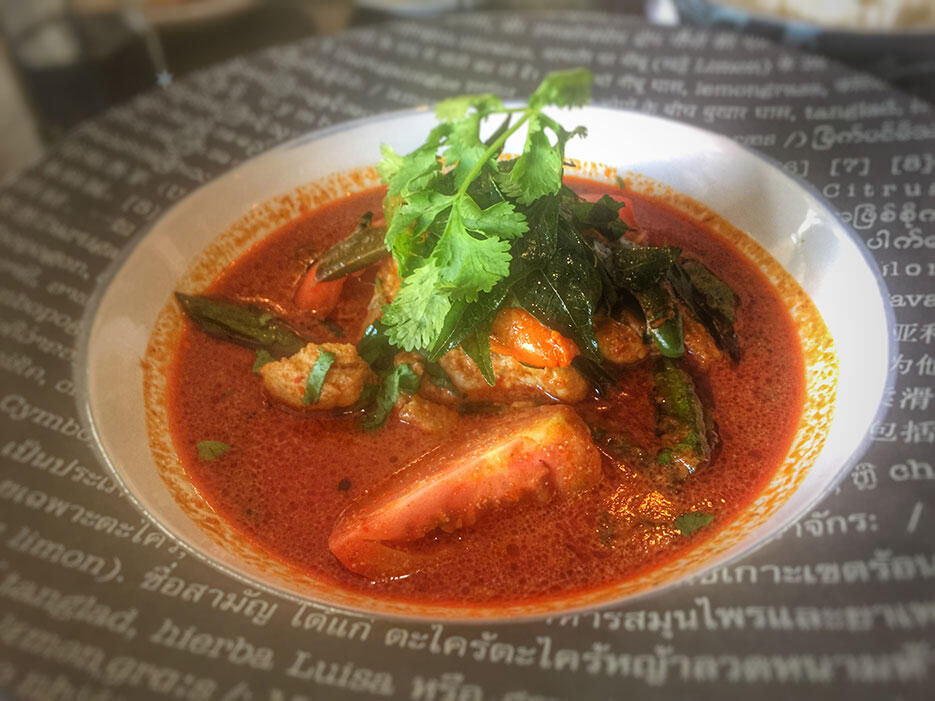 The Malaysian Nyonya fish curry with coconut milk, okra & coriander hit the ideal pitch of sourness.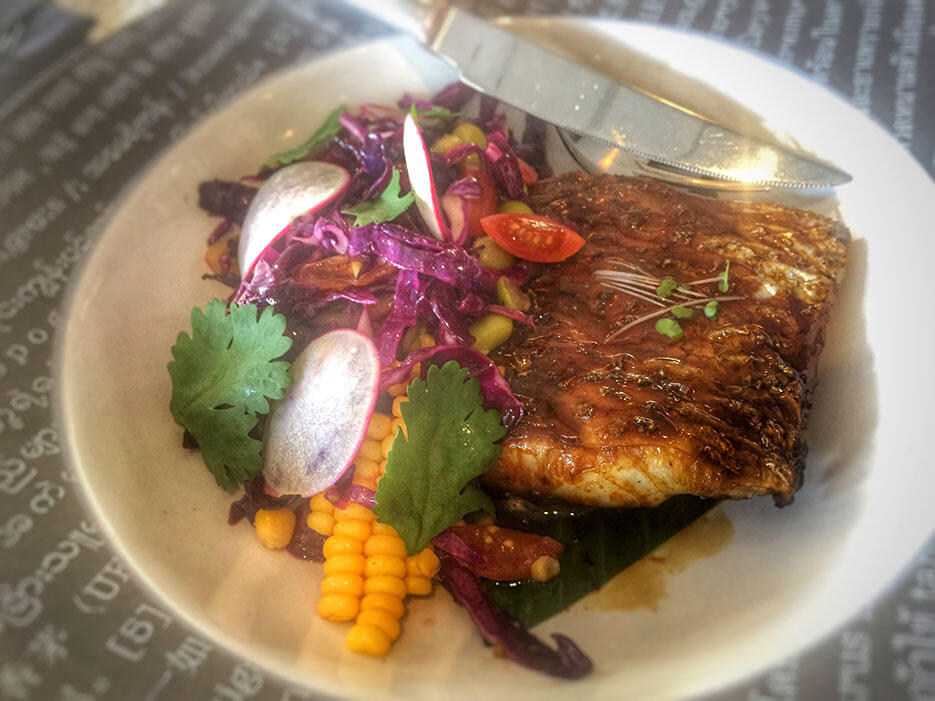 Char grill teriyaki black cod with radish, edamame, sweet corn, cherry tomatoes & miso butter
After lunch, we had some lattes (wake up out of food coma) then i headed to Spring Spa on the rooftop whilst the rest went back to work.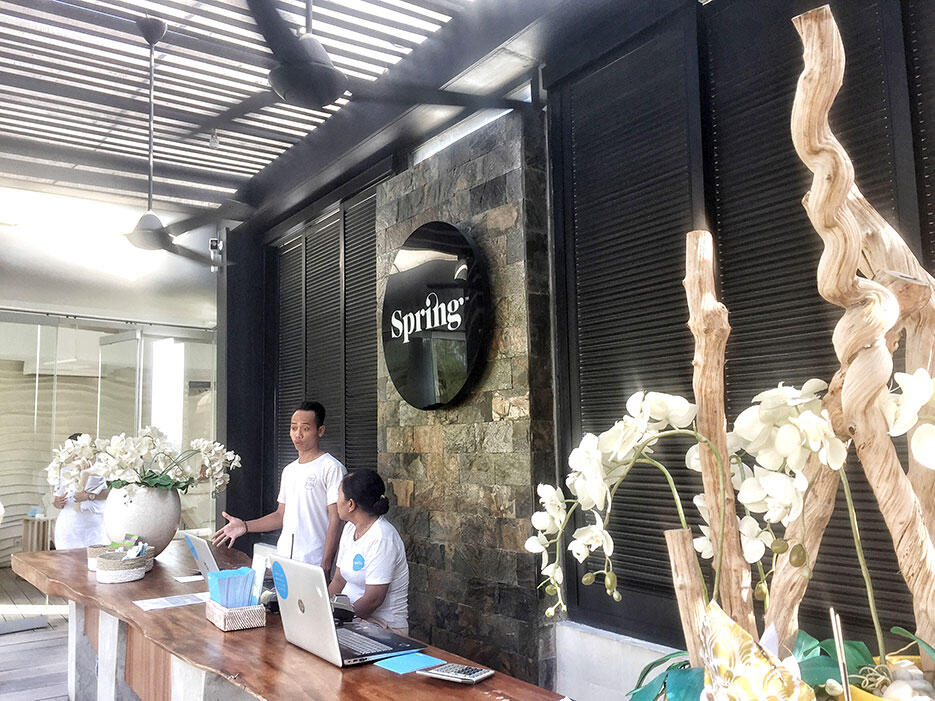 I love Spring Spa! They have three spas in Bali and i've been to two.
The first one i went to was with the girls for Aps' bachelorette holiday, across from W hotel. It's got a DJ spinning chill vibes from a glass console, a juice bar, blow-wave area, and lovely interior. Very New York.
Spring Spa at Seminyak Village sprawls on the Rooftop Terrace, and has a big pond with stone slates for you to walk across to get to the spa.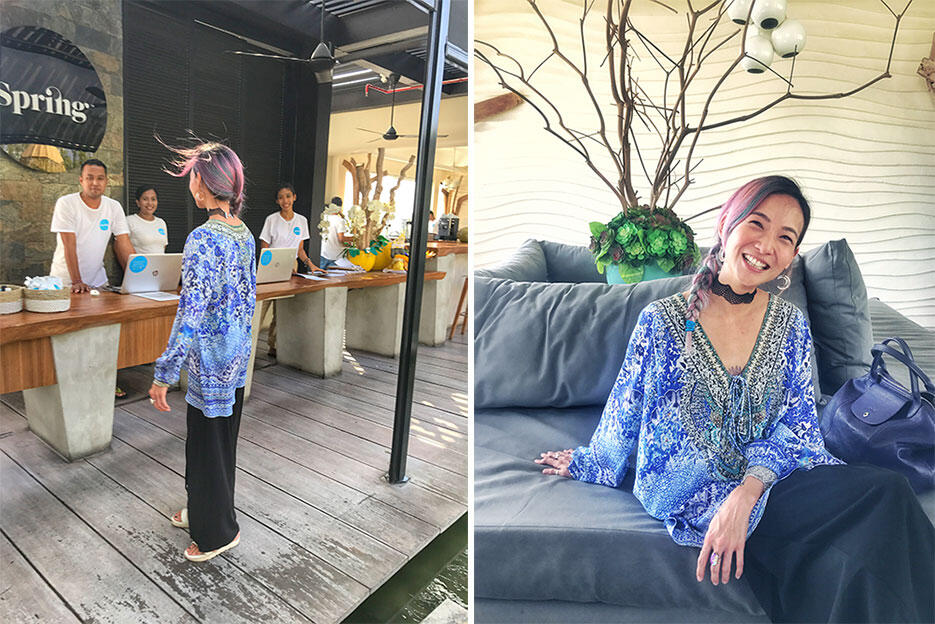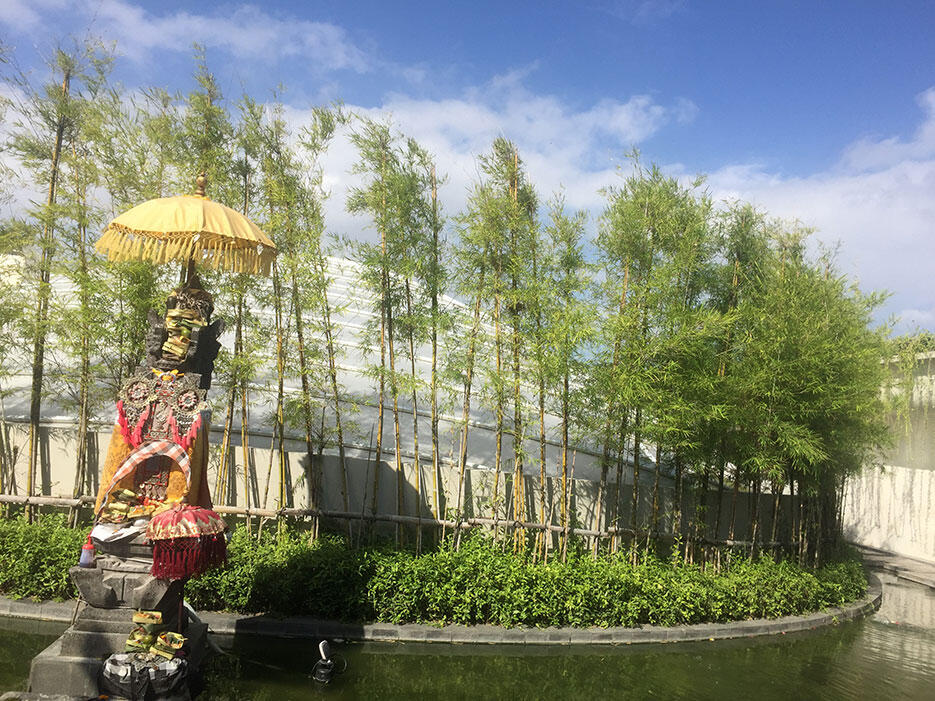 "Spring is the innovation of Ina Bajaj, founder of award winning, luxury spa destination East Day Spa and Derek Lockwood, Worldwide Director of Design for Saatchi & Saatchi."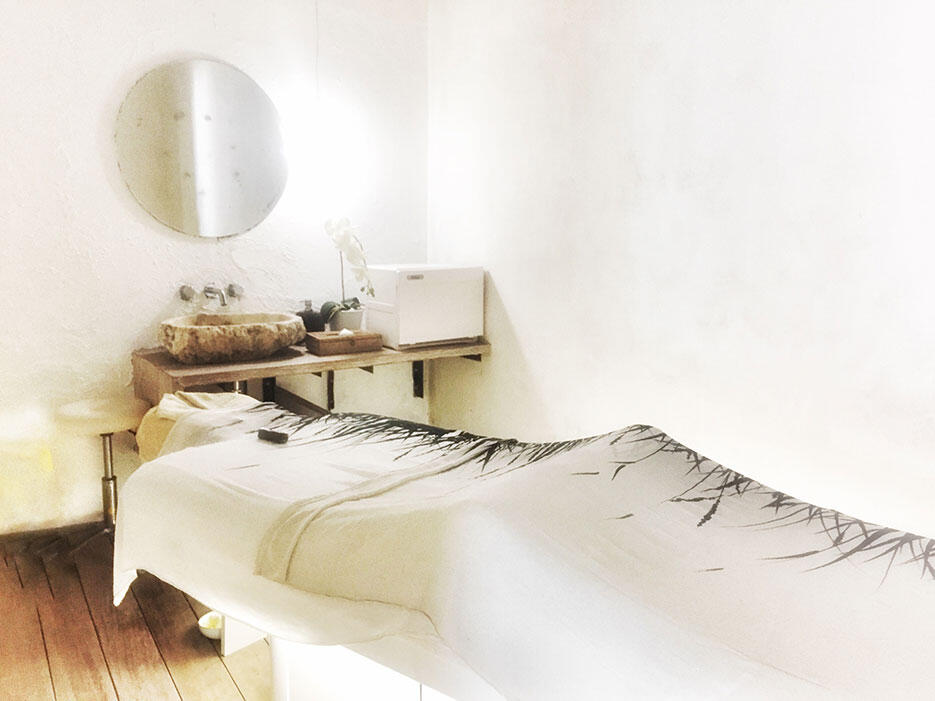 I've tried a couple of massages there, i recommend the Spring Signature massage.
After my massage, i decided to get a pedicure cos i'd been ignoring my toes whilst in Ubud, not really caring what they looked like… XD Since i was back in town, i should look the part :p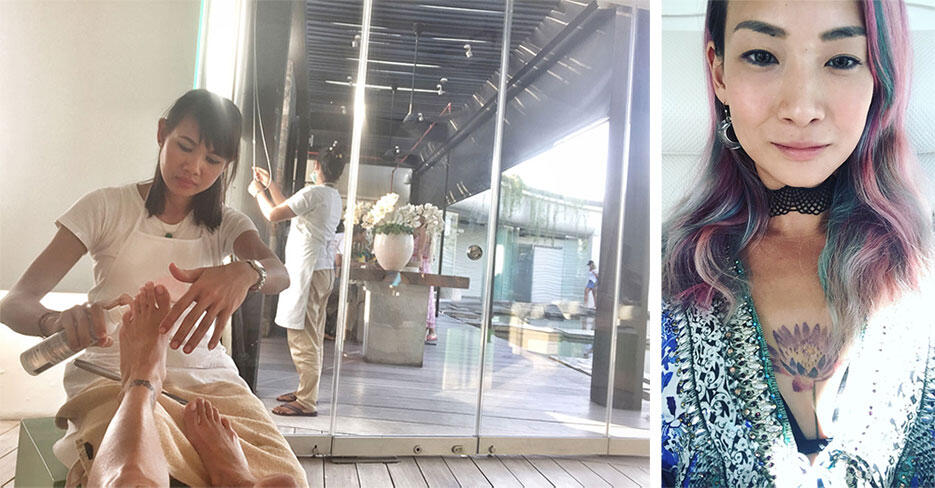 + + + + +
On another day, before i left for Ubud, so this must have been early July, i went for lunch at Wahrung where i had the crispy pork salad, and tenderloin fried rice.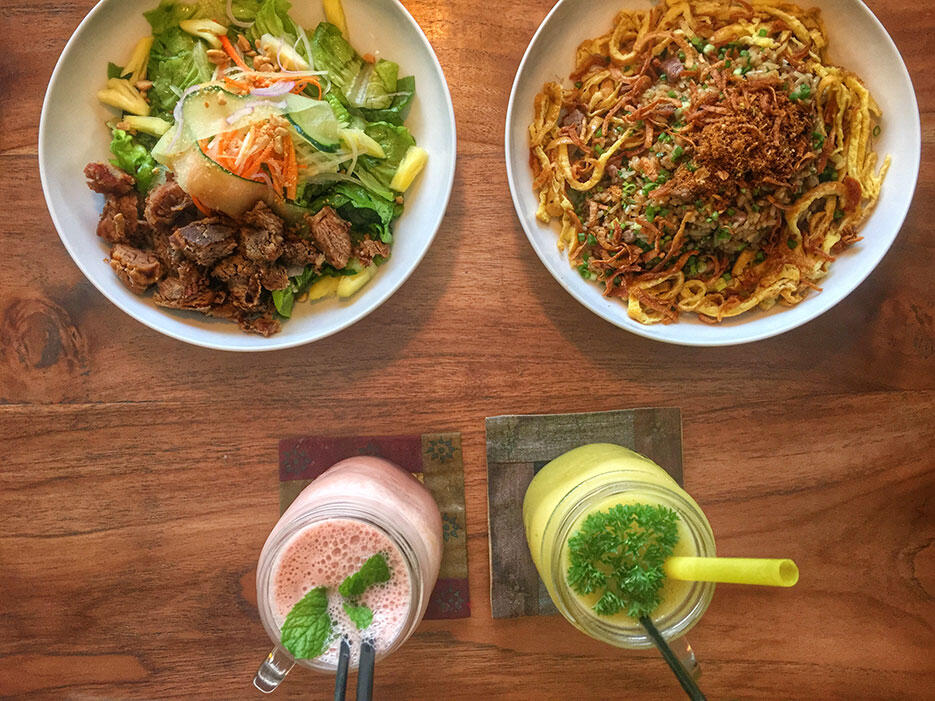 They were both so good and i'm kinda dying looking at the pix of it now (it's lunch time!!). Opened by Louis Wah who's famous for his delicious, high quality burgers that he offers in several creative renditions; Wahrung also serves hearty sandwiches, chocolate desserts and French pastries you can enjoy with boutique coffee or tea. Their menu is really extensive. I felt like i was flipping through many pages and having a hard time choosing. I just had a peek at their FB page and there is nothing but 5-star reviews.
The plan that day was to have lunch, then head to The Studio (1st floor in Seminyak Village) where they hold complimentary classes/workshops in yoga, zumba and salsa with international yoga and wellness practitioners. That day was yin yoga with Bhu.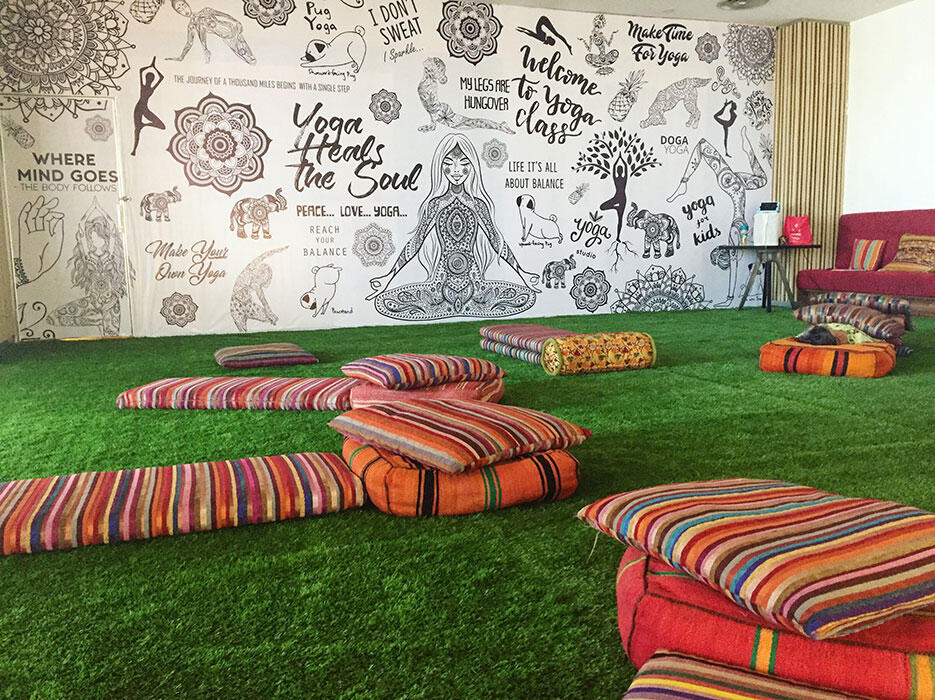 Full class but I didn't get a pic when everyone came.
So good. I passed out at the end bit, where i'm pretty sure we're allowed to snore.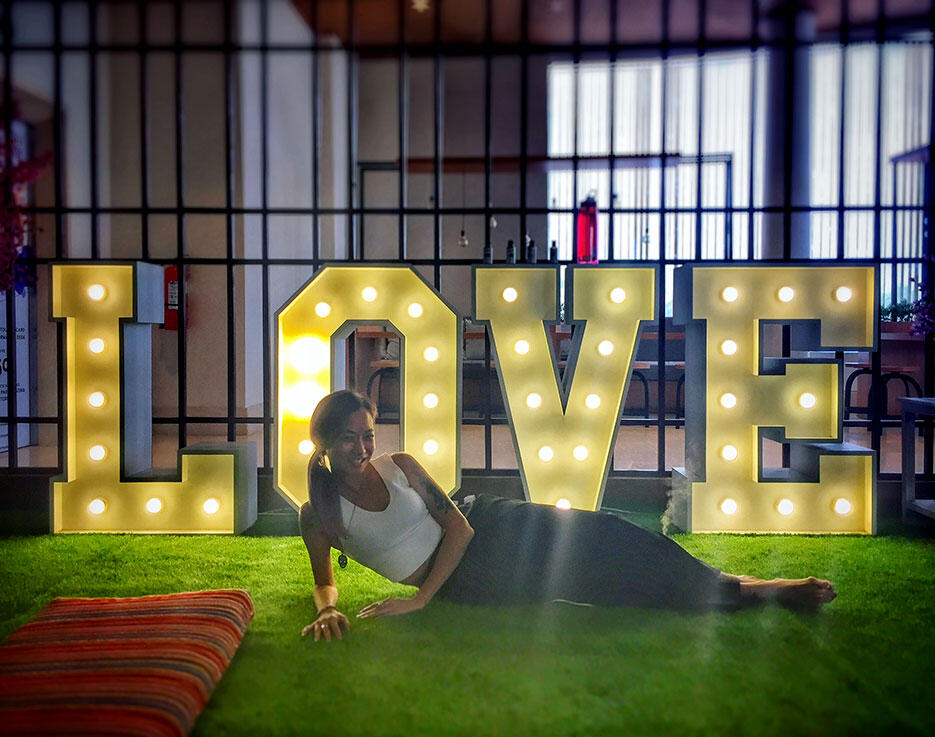 + + + + + + +
A few days before i left Bali, Seminyak Village held an ecstatic dance session organized by The V Experience.
As i entered the entrance to the mall in the morning, i spotted a guy grinning at me from afar and recognized his vibe immediately. It was Kamau, whom i'd met in Ubud at Jocelyn's birthday dinner two years ago.
He stood with his arms open wide for a hug, his grin even wider, "Did you forget me?"

Kamau is a writer and poet, who also teaches movement to kids, so it was a great way to get everyone loose to start off the morning. We tilted our heads, stretched our arms, swung our hips, stamped our feet, it was so much fun even children watching us halfway jumped in to join!
Throughout the 2-hour session, music by Alex of The Joy Collective played, and there was this song toward the end when we were lying on the ground that brought me back to Source. I told him about it after he was gracious enough to share the title with me, and he said i was giggling on the ground (i do not recall doing this!) and thinking, "She's definitely going through something!"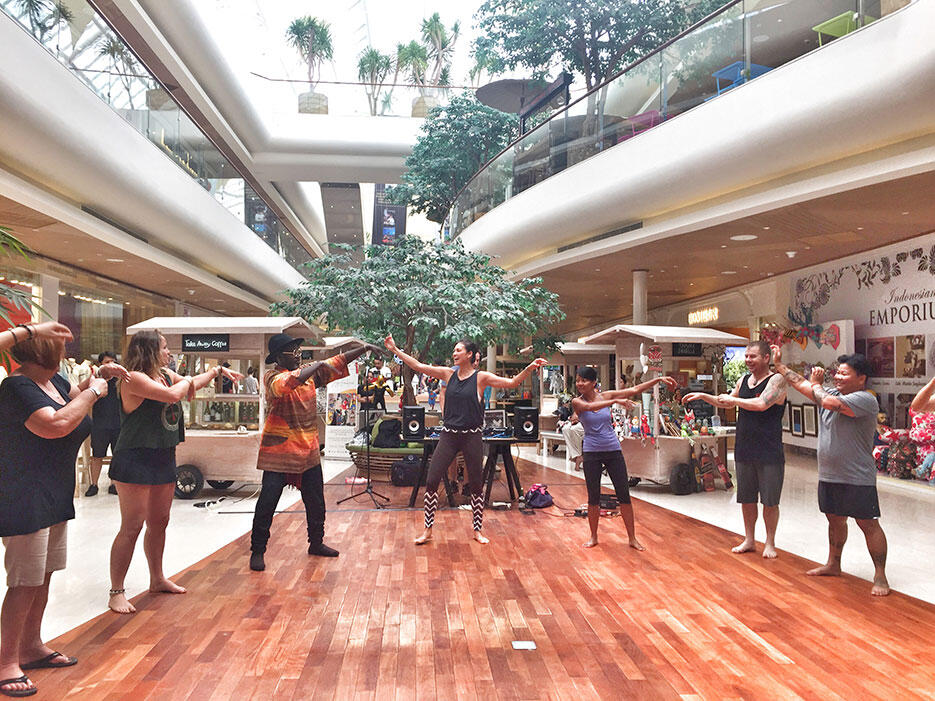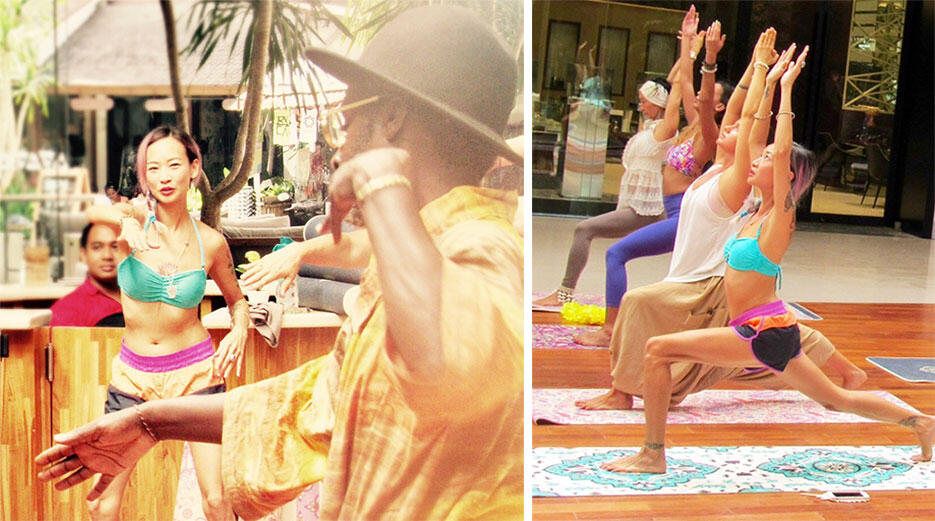 Eli Vydrova brought us through the 5 Elements Dance Journey, and Rosemary Vandenbroucke held WonderFlow.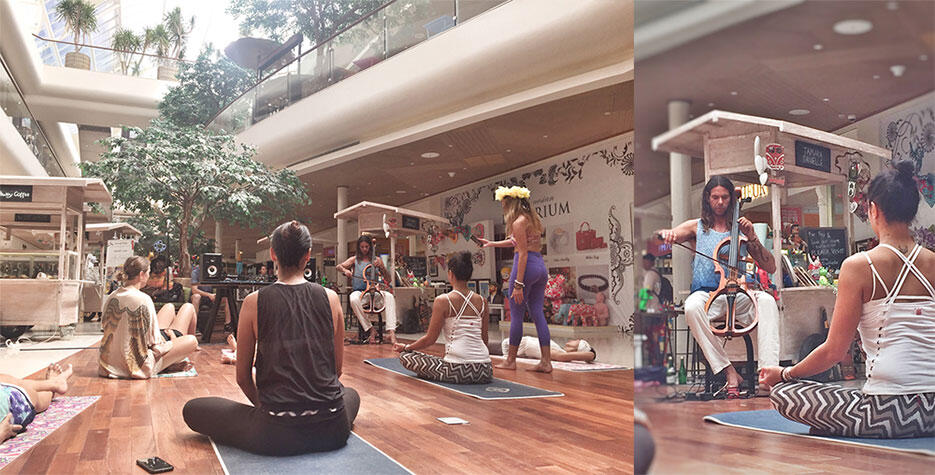 @CellaMano mesmerized us with the electric cello after yoga.
We left at noon feeling energized and super happy! If every company implemented an ecstatic session (movement, yoga and meditation) into their corporate activites… their workforce would be so much more energetic and joyful. Hmm maybe i should just plan one for people XD
I feel really lucky to have experienced that morning with this great group of beings! Thank you <3
+ + + + + + + +
If you happen to be in Bali anytime from now till mid-September, check out the complimentary daily line up of activities, classes and events that Seminyak Village is having in lieu with their 2017 Summer Festival.
Following the concept of a traditional Asian Open House policy, anyone and everyone is welcome to join.
Open House comprises of 3 new areas for exploration & experience Seminyak Village – Studio, Playground and Food & Wine.
– The Studio houses complimentary classes in yoga, zumba and salsa whilst also hosting workshops with international yoga and wellness practitioners.
– The Playground allows children to explore their inner creativity with complimentary circus, traditional Balinese dance and cooking classes as well as an all-day play centre to enjoy.
– Food & Wine is Seminyak Village's annual activation brings some of Bali's best food and beverage concepts, live music from local and international artists, and amazing people for all round fun times.
Together with weekly trunk shows and unique art installations, the Seminyak Village Summer Festival is a place to connect, indulge and explore.
Website: seminyakvillage.com
IG: @seminyakvillage
FB: facebook.com/seminyakvillage