I tasked myself with booking the accommodation for Sydney when my family and i went there for my cousin's wedding.
In true Joyce-last-minute-travel style, i booked them rather hurriedly one Sunday afternoon i blocked JUST FOR searching for Airbnbs. There are so many to choose from, and i was a little stressed if the place turned out crap (cos it's not just ME staying, it's my parents!) so i read through reviews and went through neighbourhoods that we would have a nice experience living in.
Every time i stay in a location for a week or more, i always book two diff airbnbs in diff neighbourhoods, just cos i think it's nice to get a feel of diff grids in the same city!
In Berlin, i stayed in classy Mitte, before moving to artsy party Kreuzberg.
In Las Vegas, Yishyene and i tried staying in the city, as well as the old side of Vegas.
In Porto i stayed in a beautiful modern city flat right above the bars, before moving to a more rustic one by the water.
In Tokyo, we tried quaint neighbourhood Nakameguro, before moving to Shinjuku for the weekend.
Maybe one day if i get to it, i'll do a blogpost on all my favourites i've stayed in!
This time round, my prioritized filter was to have a parking space for the rental car we'd be having with us the whole time, and i wanted there to be shops and restaurants around for easy exploring.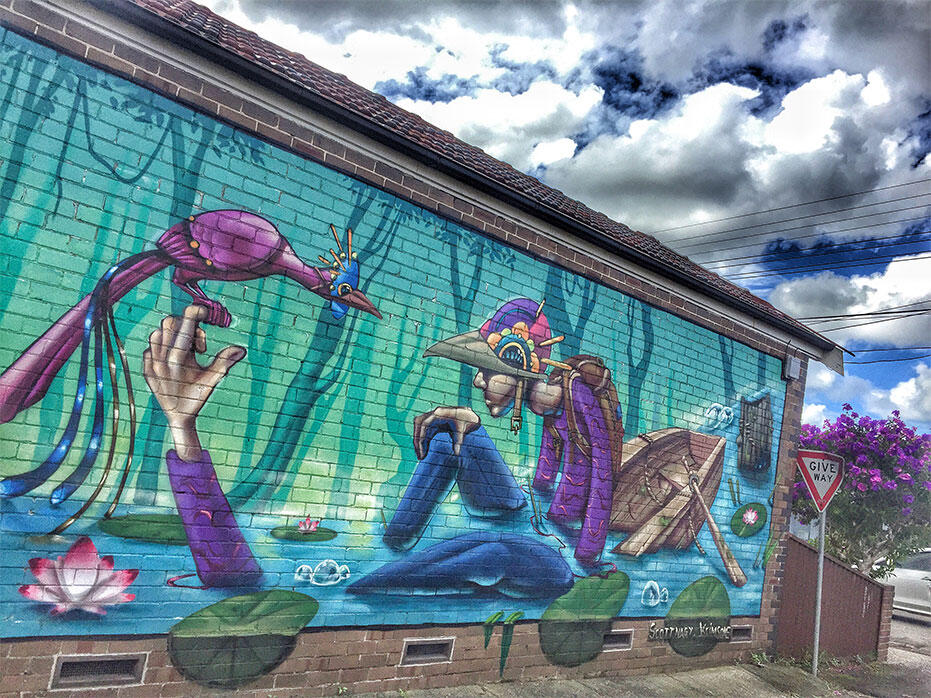 Found this airbnb in Marrickville that caught my eye mainly cos there was some comment about the number of birds in the garden, and my mum LOVES birds. She photographs birds almost every day and the types of birds she sends to our family group chat astounds me cos i never would have guessed they existed in Malaysia. She has this way of talking to them, and i heard her conversing with them that trip 😀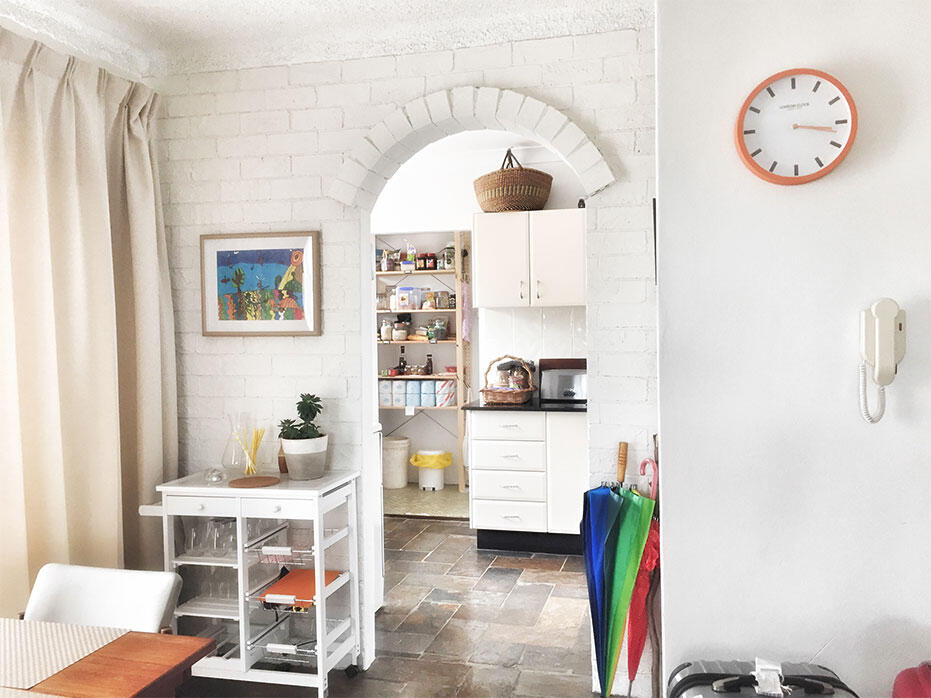 It was a very cosy place with a coffee machine, our preferred milk set out for us, some fruits, and a very interesting library i had great fun going through. I read a sad book about a boy and a tree (where the tree gave the boy everything till he grew into an old man and the tree was but a stump).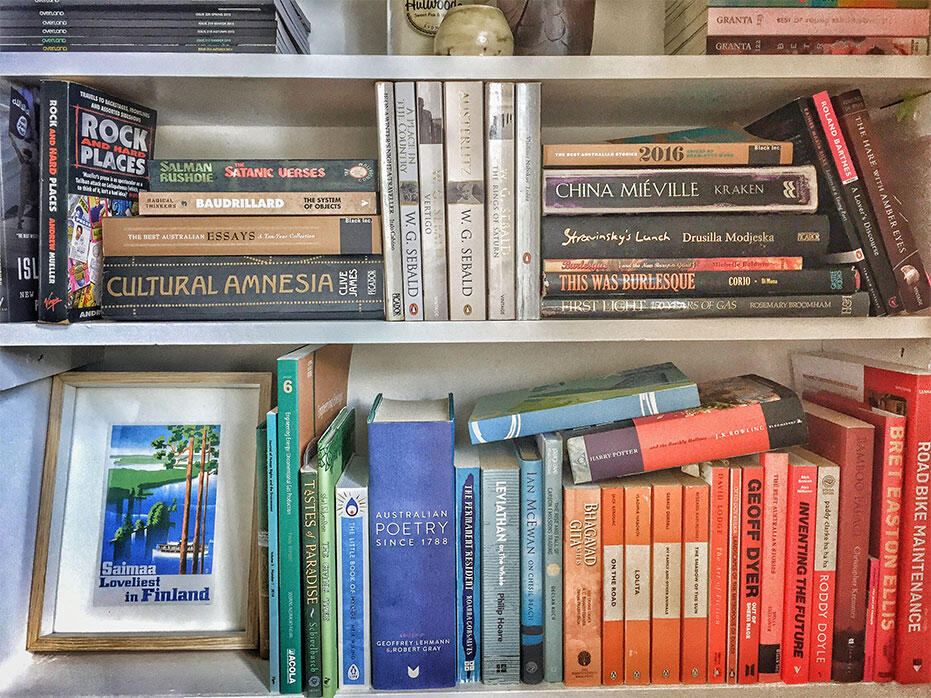 The bed was really comfortable, but i woke up at 6am every day cos the birds would decide to have a meeting right outside MY window and their loud chirping and chattering would wake me up. Jun thought i was exaggerating, till he flew in from Melbourne and experienced it for our last morning there. He almost threw things out of the window XD

In Marrickville is this legendary hole-in-the-wall Vietnamese pork roll buns, which we all loved and someone wanted to drive back there to get more before our flight home 0_-
On right is curry laksa (that was sowh good!), fried rice and pho in another restaurant. Vietnamese pho seems to be every Asian's go-to comfort meal in Oz. I don't even eat pho that much in KL, but i've eaten more pho in Oz the past two trips than i have anywhere else all year. Or 3 years, even. But that curry laksa… with all the fresh seafood… damn that was good.
My parents and i planned to take a drive to the national park one day, and it happened to start raining just as we were nearing it so we took a pit-stop for some fish and chips. So proud that Daddy knows how to look for food on his phone.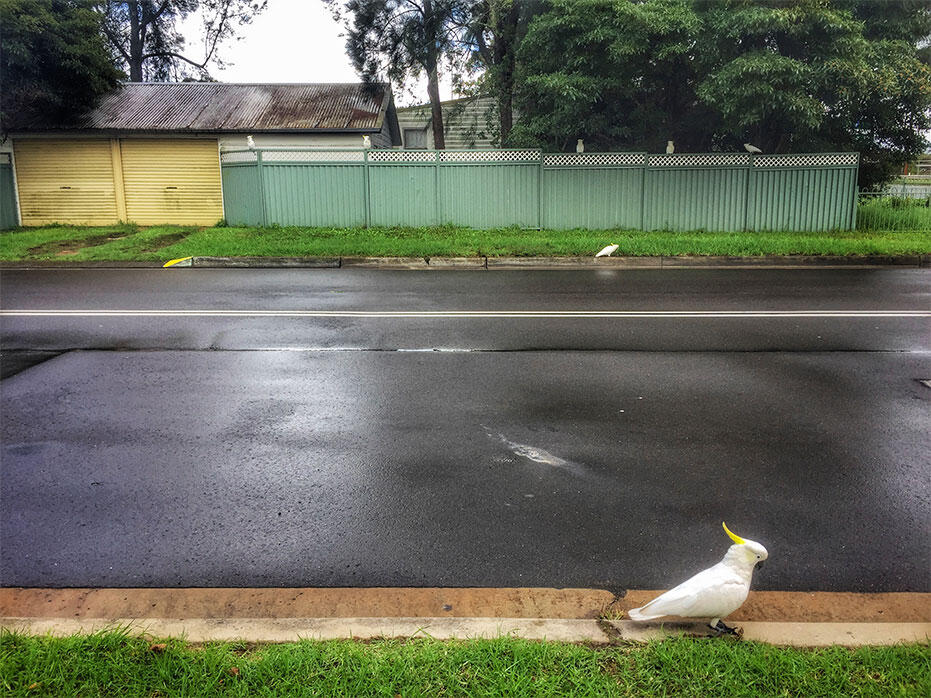 Mummy was delighted there were so many cockatoos flocking around (can you count how many there are in the pic? I see 8). A wandering neighbour saw us agog and shared that on certain days, deer would be sauntering down the street too.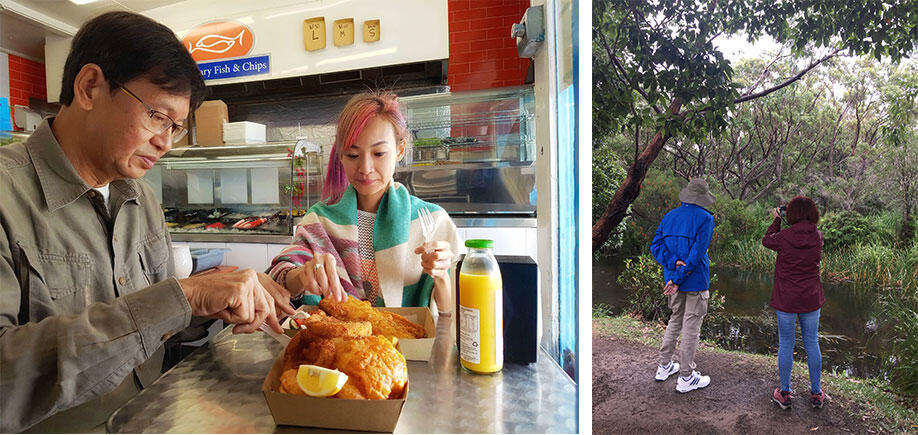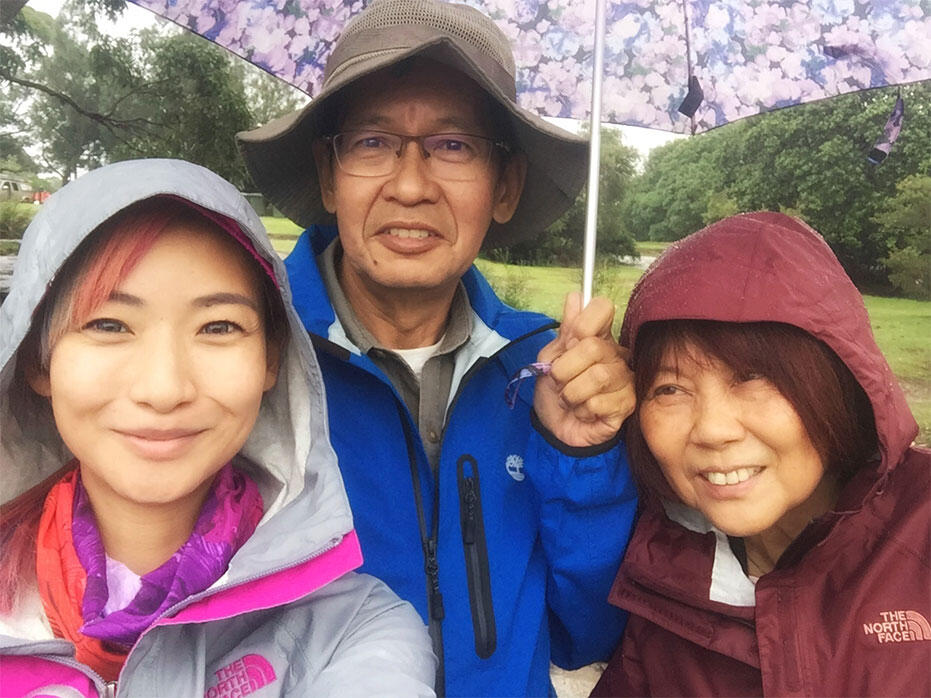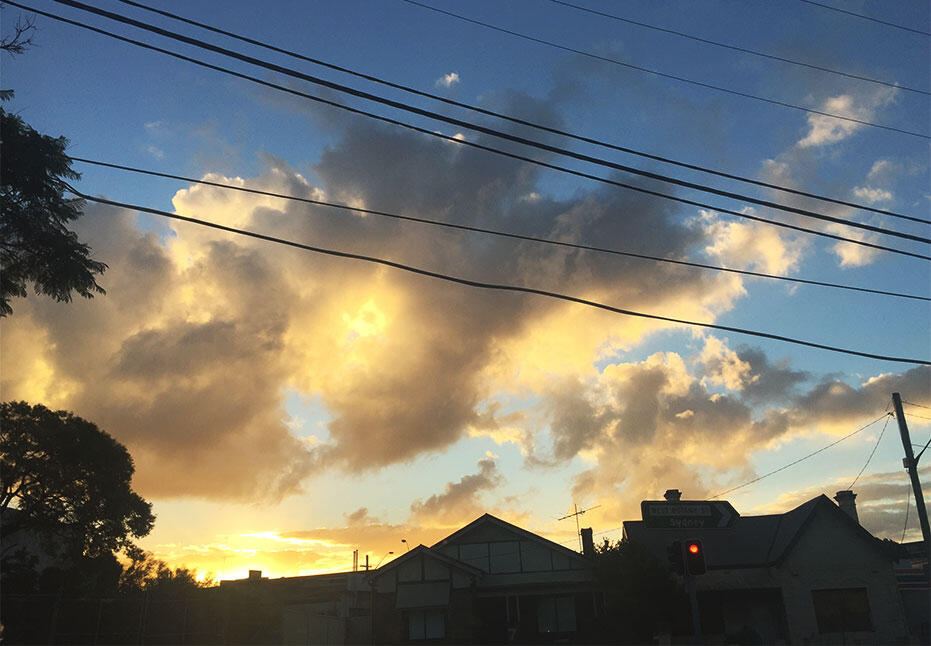 On another day, Daddy and i went to see Aunty Gerry and  Uncle Mark at their airbnb at Darling Harbour.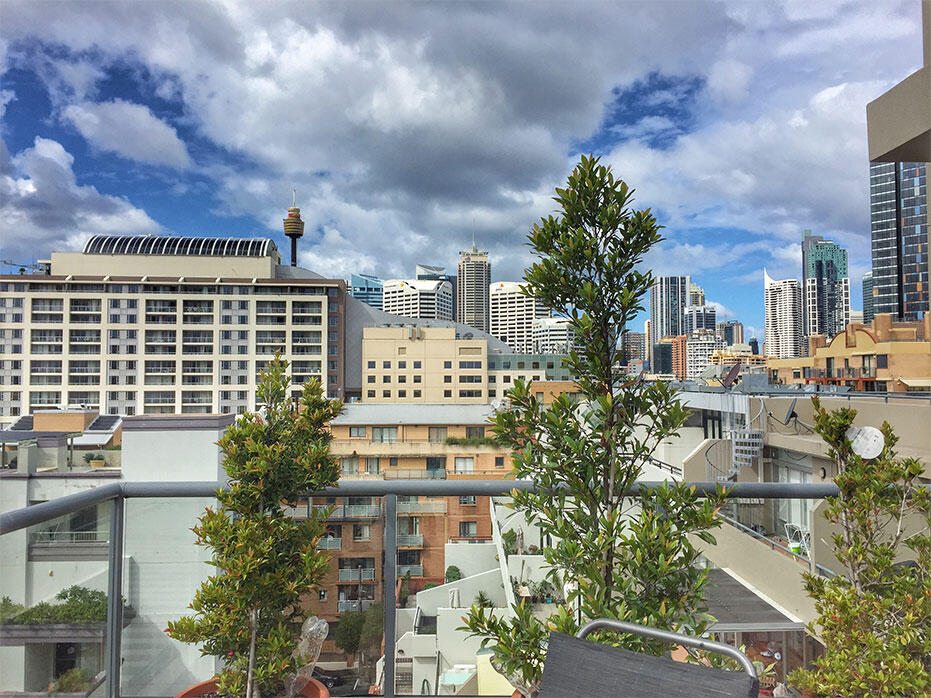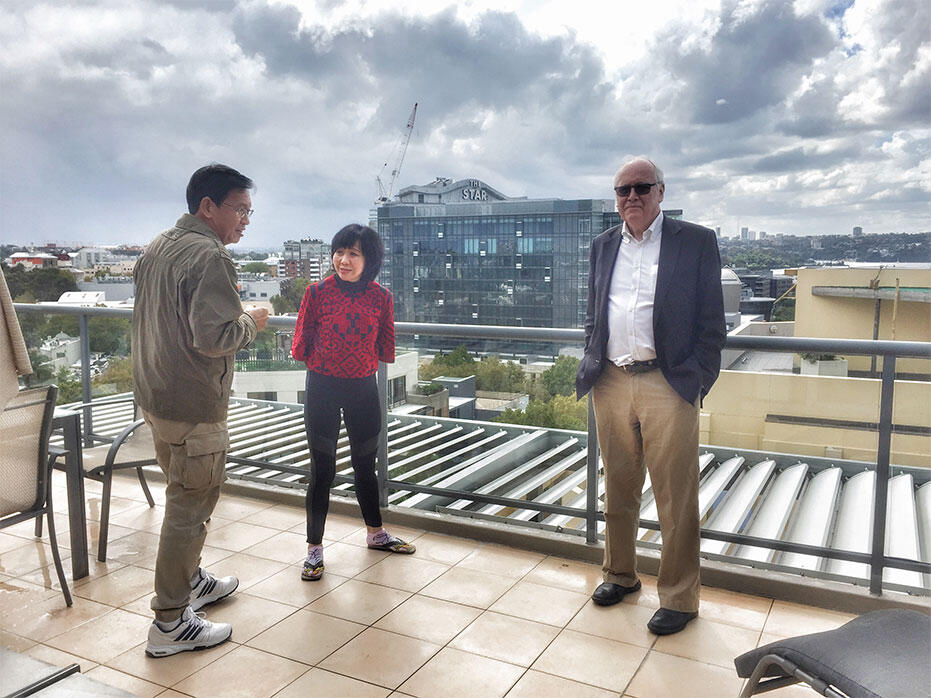 We went to the fish market for lunch, and it was packed with Chinese people.
Aunt G held my elbow as we manoeuvred through the crowd, "All these bloody Chinks around!"
Me: Well, technically… we are chinks too….
Her: Not the same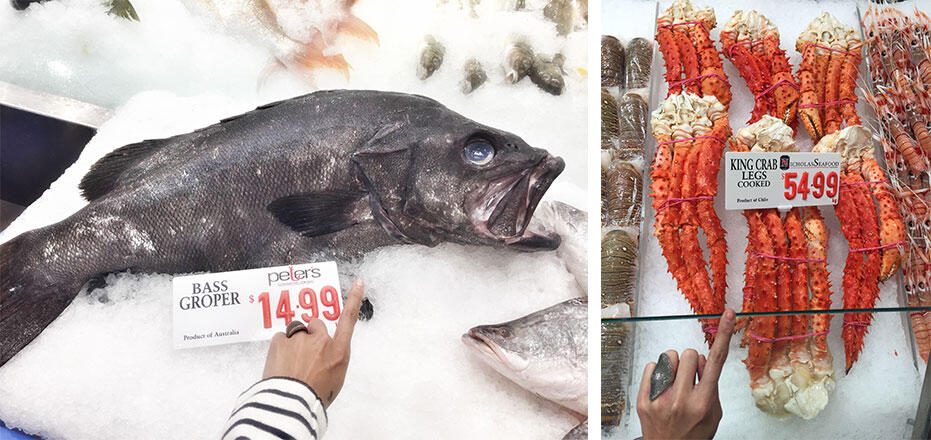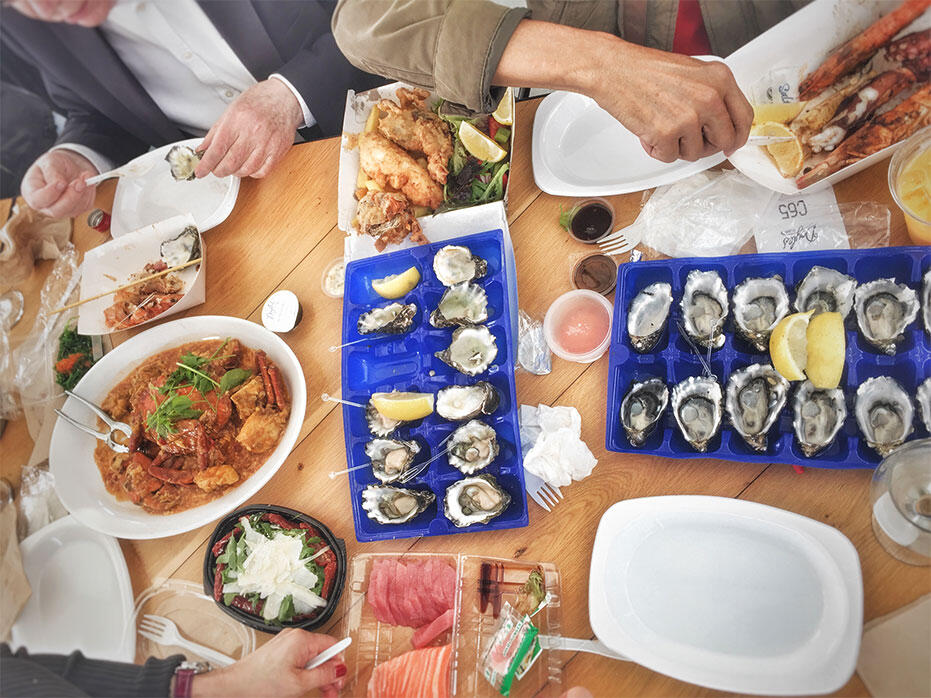 As usual we she over ordered but we did pretty well. Above is not all the food, cos when it all DID come, i was too busy eating.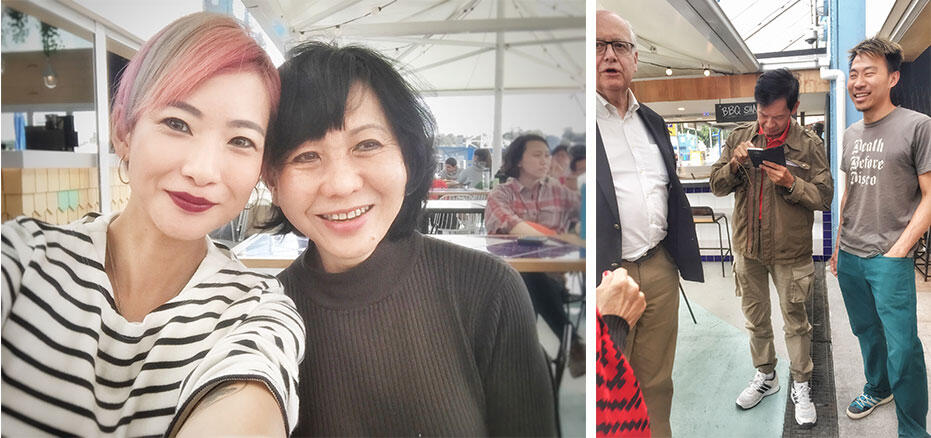 Way Sern (who's based in San Francisco) happened to be traveling through Sydney cos he went camping in NZ for a month. A MONTH! He met with my fambam for a bottle of wine before us both ran off to a speakeasy and caught up for hours. I had so much fun with him! Every time we manage to catch each other, it's like college times again.

+ + + +
Some time mid-week, after Jun and Nick flew in to join us, we checked out of that airbnb, packed the car and headed for the Blue Mountains for two nights.
But first, food!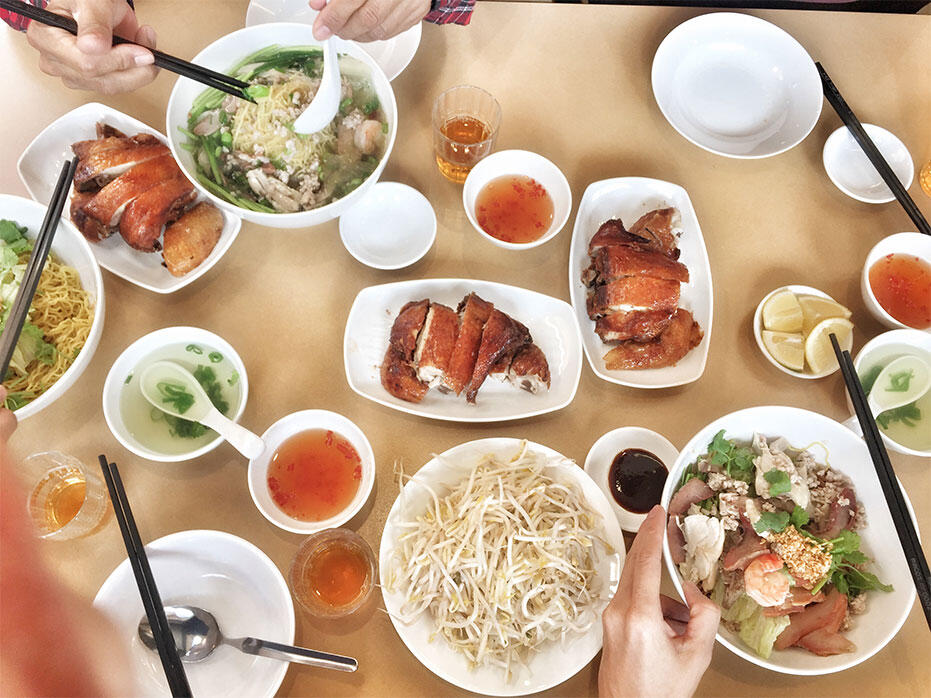 Jun was adamant we went to Tan Viet Noodle House (which he'd gone to years prior) for their crispy fried chicken and noodles. It was pretty good. Portions were so large, we couldn't finish…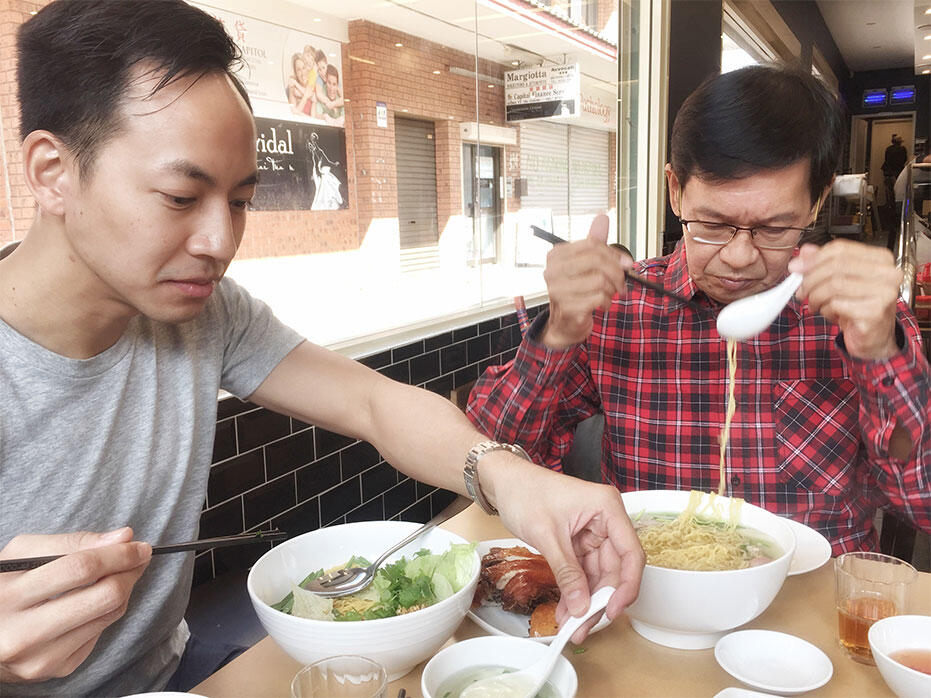 Then on the way, we stopped by Small's house to say hi to the family and my grannie so we'd have some time before the wedding that weekend.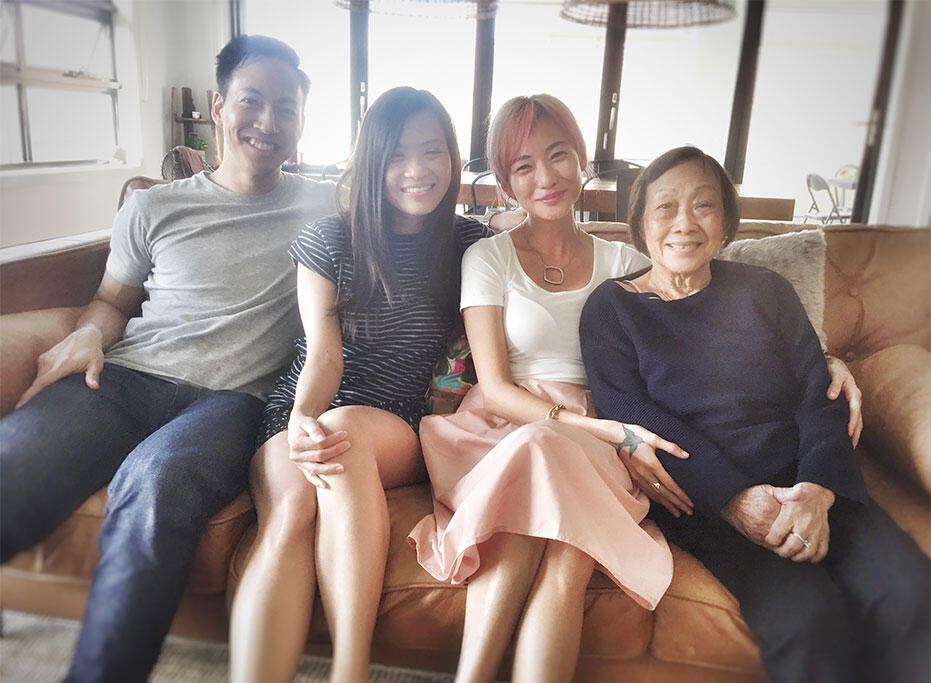 My little smiley grannie and her three youngest grandchildren!
I hope my face looks like hers when i'm 88.
I hope i *live* to be 88!
xxx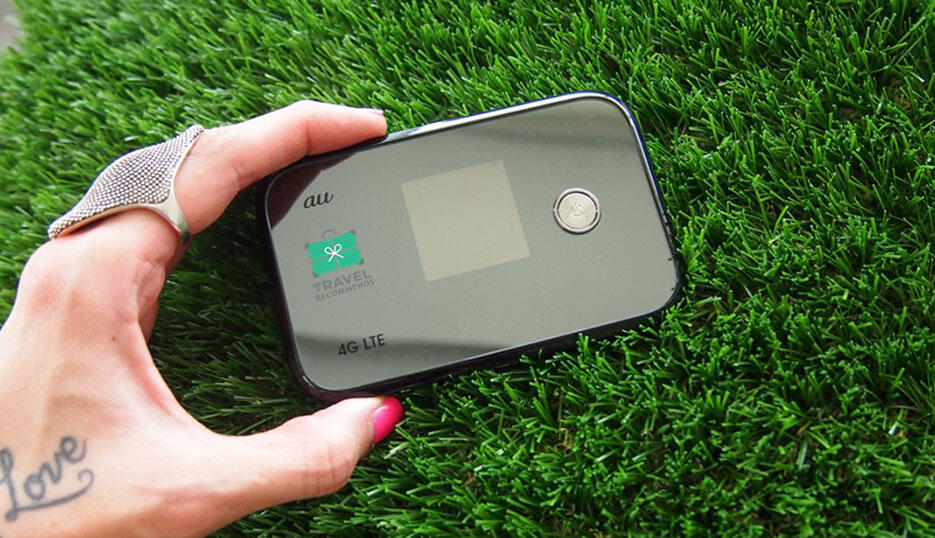 The entire duration i was in Sydney for 12 days, i stayed connected to unlimited data using a router from Travel Recommends. I'd previously used it in Japan and it's the most value-for-money way to have internet on my phone and laptop wherever i am cos multiple gadgets can be used to connect to it simultaneously (i think some have a max of 5 at the same time). My parents and i could use it while we were out searching for food, driving, or even when our airbnb wifi was running slow in the area. So if you're traveling in a group, it's so much cheaper than everyone settling their own data bills. Australia was RM26/day.
Check out all the countries they accommodate for us Malaysians here: travelrecommends.com
I wanna give them a shoutout cos Rachel from TR has always been SO accommodating when i email her rather last minute. Thanks Rachel!! <3