Ah, it's that time of the year. The time where we celebrate the most important woman in our lives – our mother! You may have already heard stories about how you were born and the pain your mother endured while carrying you around for 9 months. It didn't just stop there though – her sleepless nights when you couldn't stop crying… Oh how she tried everything to make you stop, but ended up crying with you too.

I have fond memories of watching my mom enjoying her favourite Cantonese shows when I was 6 years old, which sometimes, I would get in between cos I was getting caned for doing some dumb shit I wasn't supposed to. My mother would occasionally get called into the principle's office because I was being "naughty". There was also that one time she had to pick me up from the clinic instead of school because I fell into the drain (6 stitches on my shin, fyi). Morning English lessons sometimes got replaced by Art Attack on Disney Channel because she took too long getting ready for work.
One of my mother's many talents is being able to differentiate between an authentic or fake high end designer bag just by looking at it. Bags are one of my mother's favourite things, aside from shoes. She always tells my sisters and I that one day we'll inherit them and they're going to be worth a lot once they become vintage. There was once I tried to persuade her to sell her RM15k Chanel bag so I could use the money to sign up for a clubhouse membership. She almost caved. Almost… Let's just say, our mothers would do anything for us. Even the smallest gesture of appreciation would mean the world to her. Which is why i'm taking the opportunity to tell you about BloomThis!
First gaining popularity as a bespoke subscription flower delivery service (sent either weekly or fortnightly), people loved BloomThis cos you never knew what flowers you were going to get till you unboxed them! The company also offers one-off luxurious flower deliveries, and an ever-changing selection of fresh flowers + gifts for special occasions.
BloomThis recently launched their 2017 Mother's Day collection featuring lush greens balanced with striking floral colours inspired by the intensity of a mother's love. The florists at BloomThis continue to challenge the status quo of the industry creating unique curations which evoke different emotions and personalities.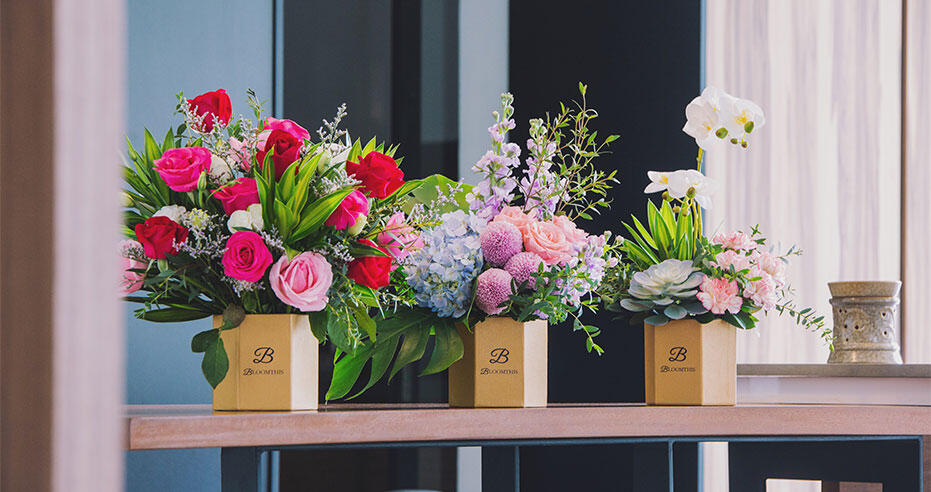 Warmth of devotion and a subtle gentleness exude from "Maria", while Phalaenopsis Lily and Succulent radiate tranquility and zen as shown by "Angelina" (far right). If you prefer giant handheld bouquets which mother can arrange into a vase herself, "Scarlett" is a marriage of the modern and classic incorporating a fiery mix of red Gerberas, red Roses and red Ginger.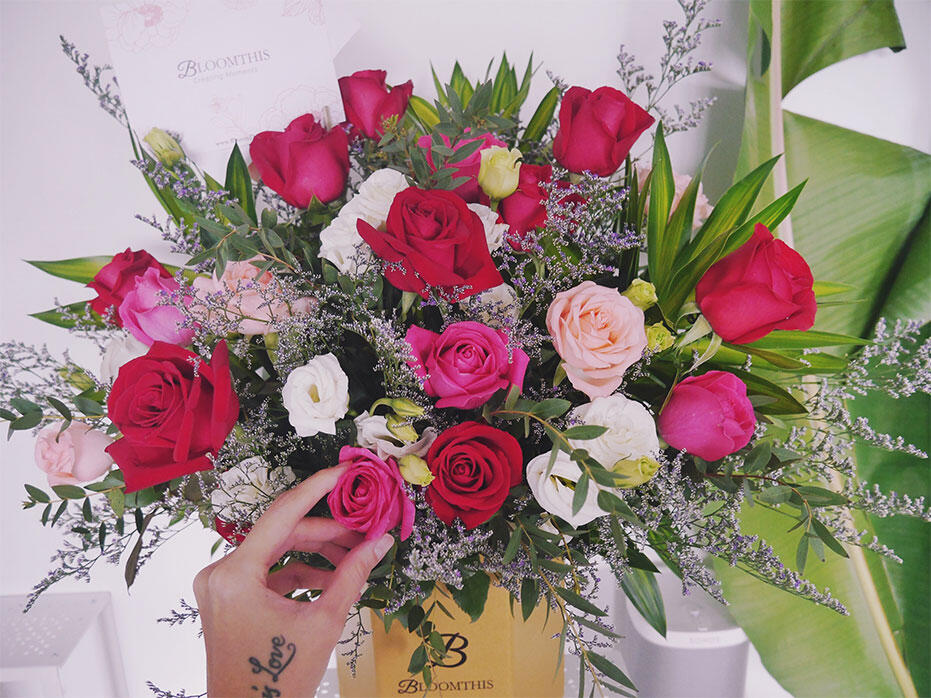 Joyce's hand in front of the gigantic "Maria", comprising of red, hot cherry pink and pink Roses surrounded by Song of Jamaica and Eucalyptus leaves.

BloomThis hatbox flowers are versatile, available in sizes of Medium and Large. They're great for gifting as the hatboxes act as a vase to the flowers. BloomThis also offers contemporary flower bouquets and flowers paired with gifts (with partner brands like The Body Shop, Kiehl's, and Eu Yan Seng).

Alternatively, you can even opt to make it sweeter (literally) with this curation of Snapdragons, Carnations and my fav… gourmet Kit Kat Rubies Chocolate! Give mama a well deserved break, and if she doesn't have a sweet tooth or says "Cannot la, must diet", then YOU CAN HAVE THE CHOCOLATE! Win-win situation.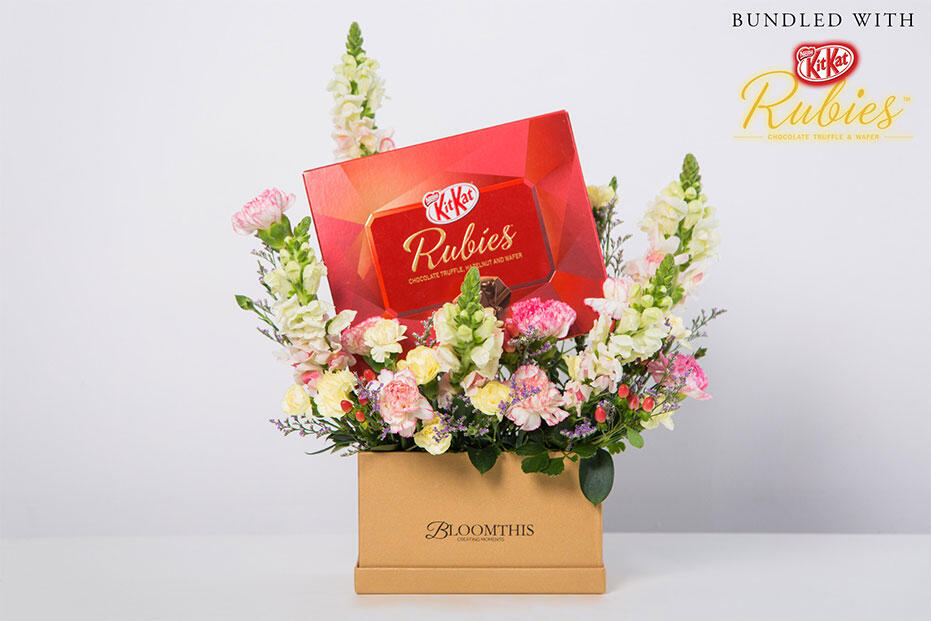 Mother's Day is in just over 2 weeks' time on May 14th!
Check out the list of BloomThis 2017 Mother's Day Collection here: bloomthis.co/collections/mothers-day-2017
+ + + + + + +
BloomThis Flora Sdn. Bhd. (1154391-D)
A-G-02, Glomac Damansara,
Jalan Damansara,
60000 Kuala Lumpur.
Website: www.bloomthis.co
Instagram: @bloomthis
Phone: 1-700-81-5780
Email: contact@bloomthis.co
Operating Hours: Monday to Friday (9am to 6pm) and Saturday (9am to 1pm)