Last month Jun and i went to the launch of Celebrate!, a collaboration between bespoke event planner Tish Lifestyle, and Sitka Restaurant. I recently blogged about eating at Sitka Studio *here*.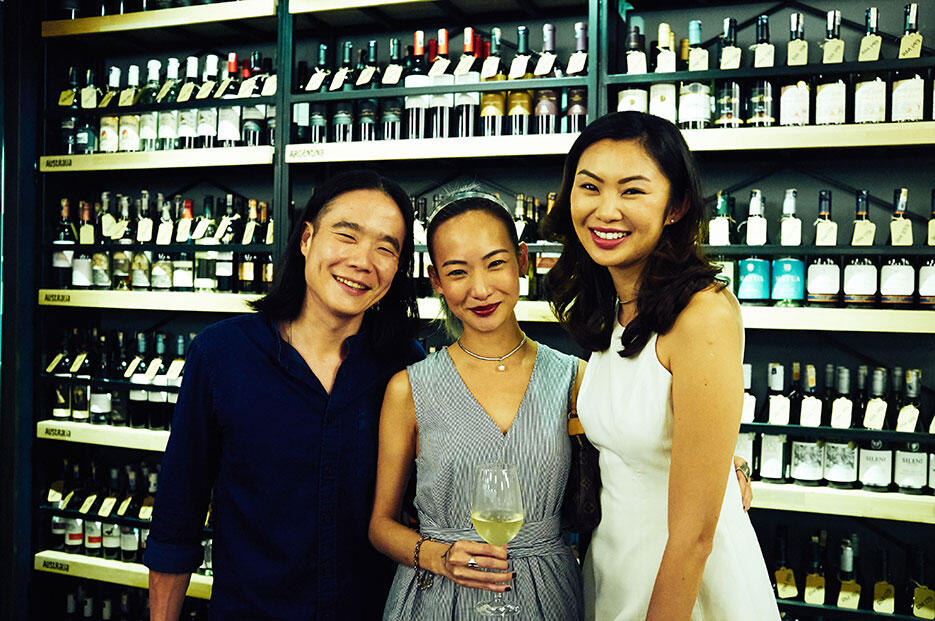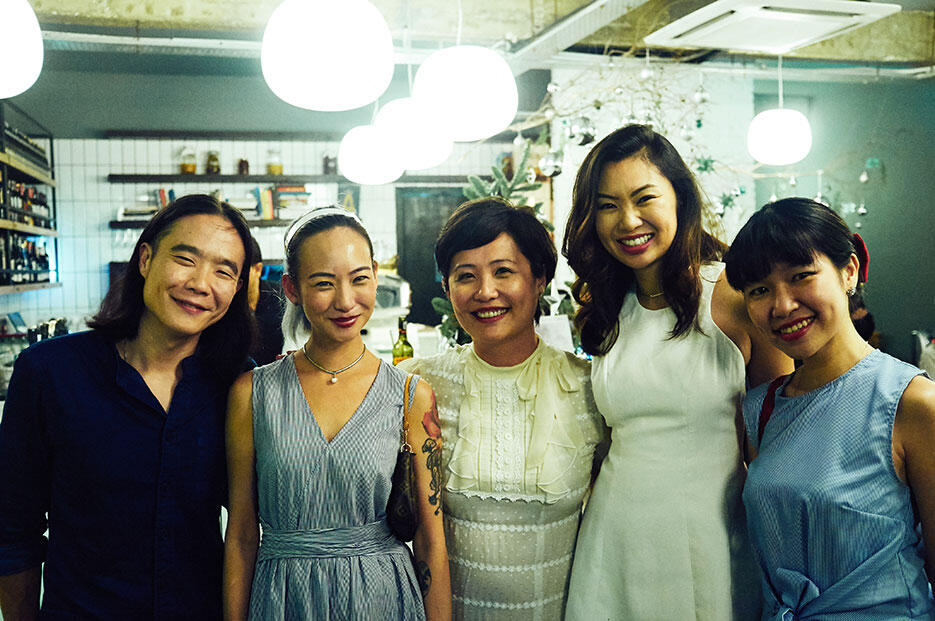 Jun, me, Jenifer, Shermaine and Mei Ling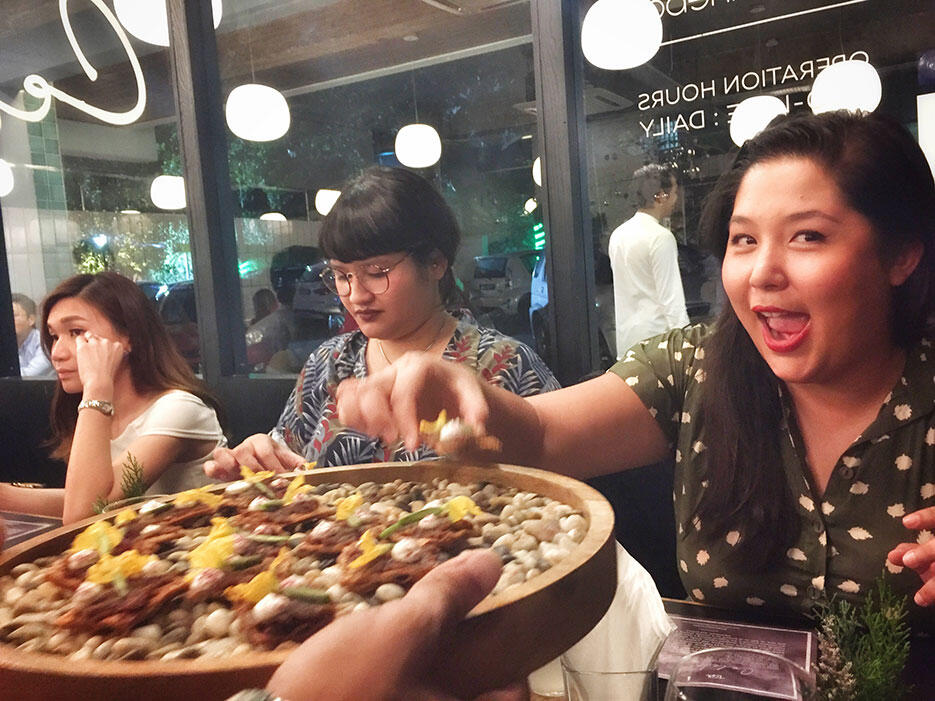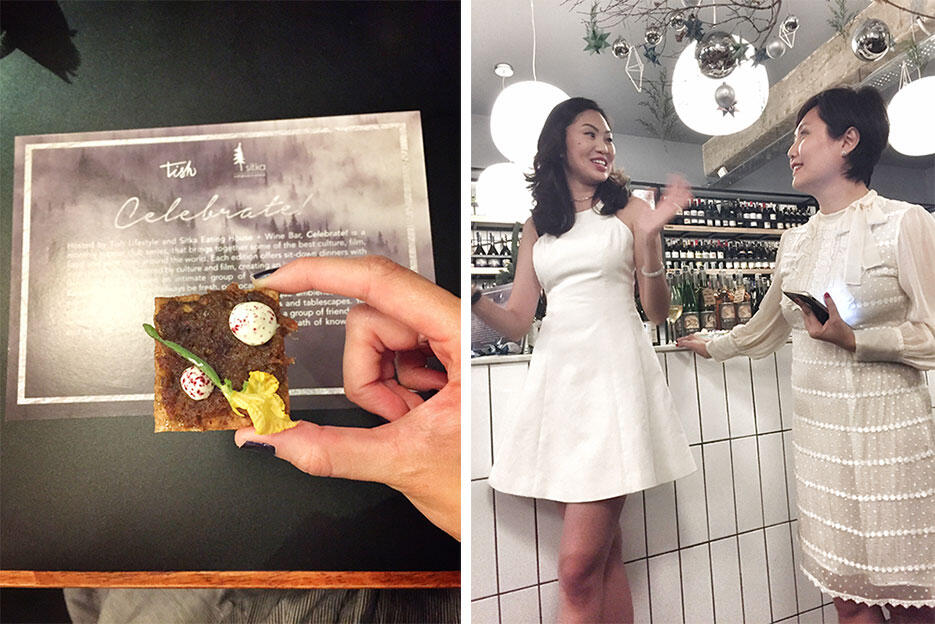 Sparked by their boredom in the dining scene; Shermaine Wong (Founder of Tish), Jenifer Kuah (owner of Food Foundry, Feeka, Butter + Beans) and Chef Christian Recomio (award-winning chef and owner of Moonfish Café, UK) have come together to hold a series of monthly supper club events. Each monthly edition of Celebrate! will have a different cinema culture theme that will inspire the room décor, tablescape and menu.
February 14-16: In the Mood for Love
March 16-18: Andy Warhol's The Silver Factory
April 20-22: Wes Anderson
May 11-14: Joy Luck Club
June 15-18: Fight Club
I'm already eyeing which ones i want to rsvp for!
Aimed to  "create, provoke and experiment unique dining experiences by uniting food, culture, cinema and music", each ticket is priced at RM 140 nett for a welcome bubbly / wine / drink + 3-course menu.
To purchase tickets for Celebrate! supper club, drop by Sitka Eating House + Wine Bar on Jalan Batai or email info@sitkarestaurant.com. Tickets can be purchased via bank transfer and cash.
For more information, visit www.tish.my or www.sitkarestaurant.com.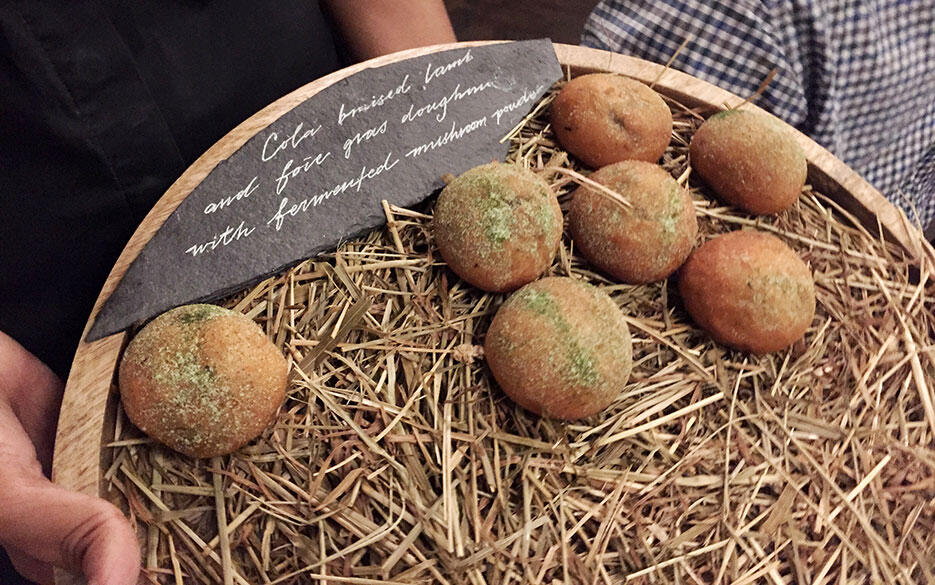 + + + + + + + +
I went for Lilou and Heloise's joint mum + daughter birthday party, which really means, it's more of the daughter's party filled with bouncy castle (i'm not complaining!) and sugar-high kids. The theme was purple Minnie Mouse and i helped organise the cakes (made by Little Collins) that day!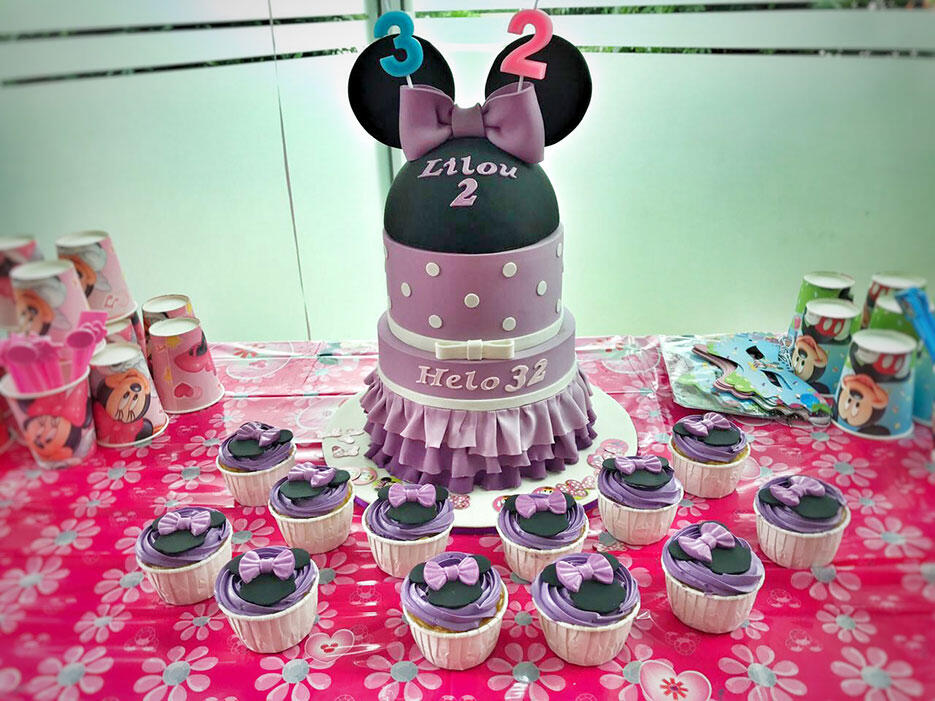 The birthday fondant cake is made of the cakery's signature chocolate mud layered with chocolate ganache, the butter cupcakes with classic buttercream were topped with fondant cutouts, and the cake pops (not pictured) were red velvet dipped in milk & white chocolate.
Frances Voon has been running her Little Collins cakery & cafe in Solaris Mont Kiara for 8 years before expanding with an online cake store – www.littlecollinskl.com – so one doesn't have to do cake runs for parties anymore. They deliver to YOU 😉
Her little team of bakers and decorators provide ready-made cakes to choose from, party desserts, and custom make novelty cakes which customers can walk in to taste or meet for a consultation to build their "dream" cakes.
Thanks to Frances, KBF readers get 20% off orders till 30th April 2017!
Just quote promo code: kinkybluefairy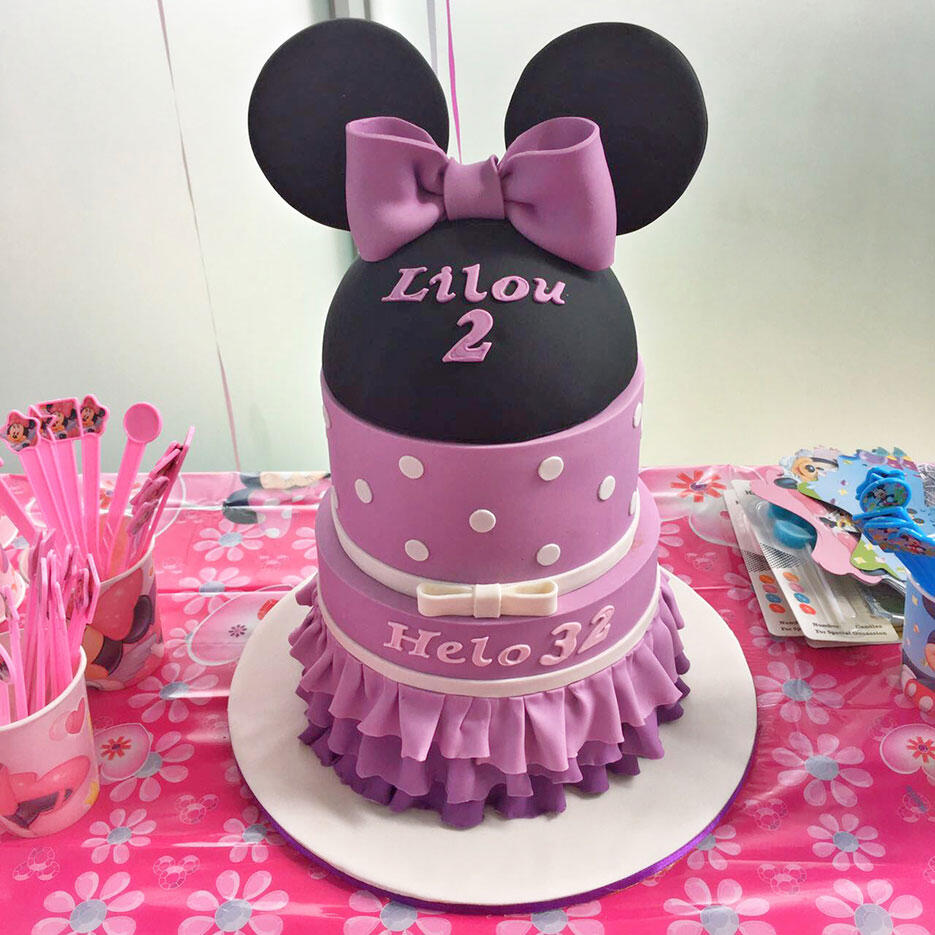 + + + + + + + +
And now, lots of food pictures of stuff i've been eating!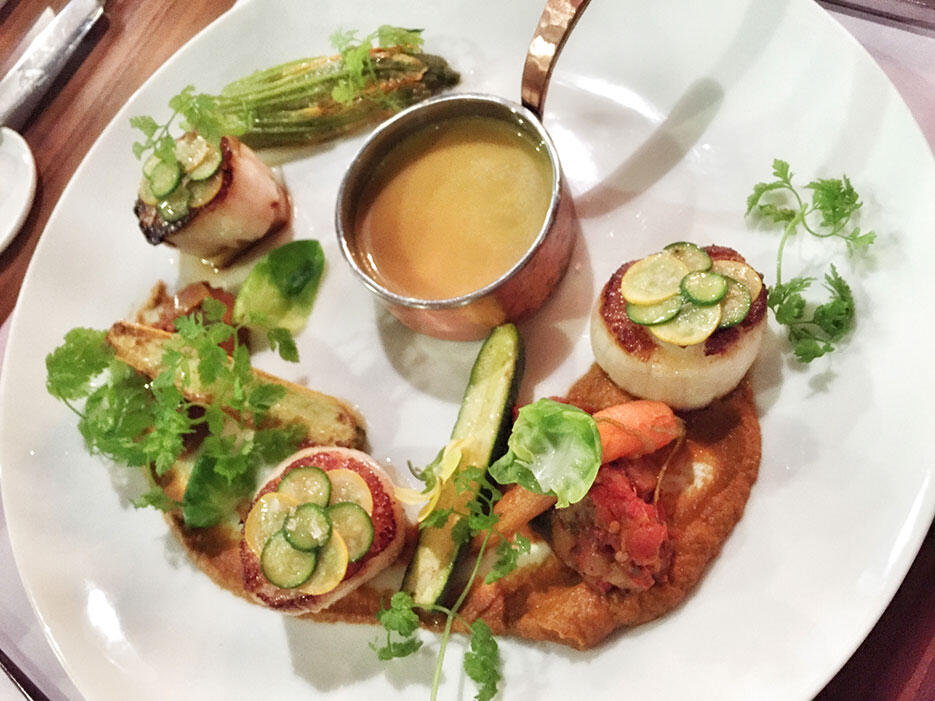 Nathalie's Gourmet Studio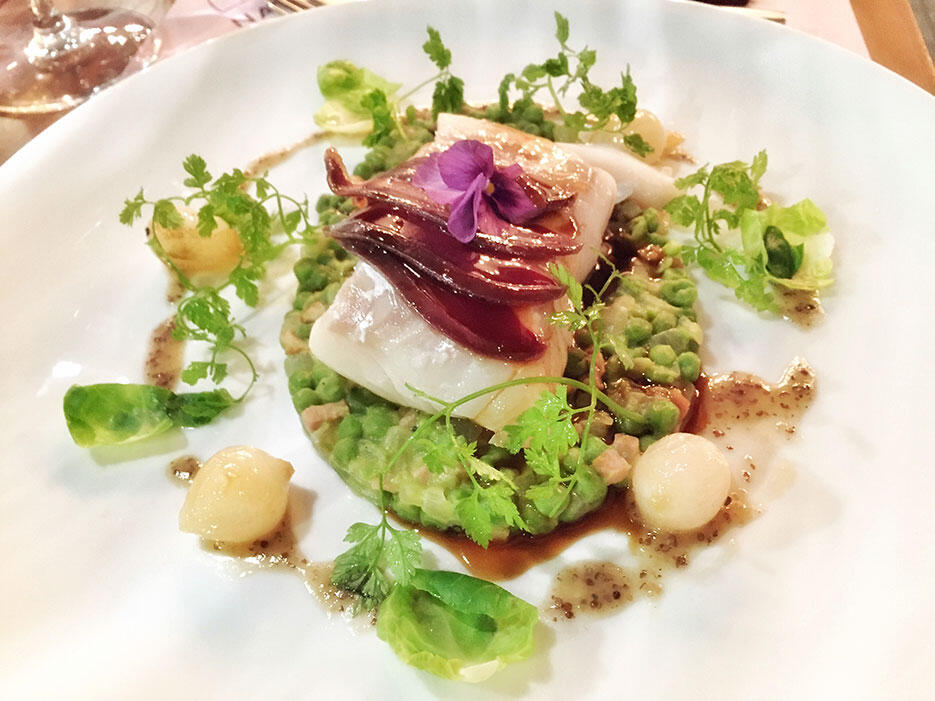 + + +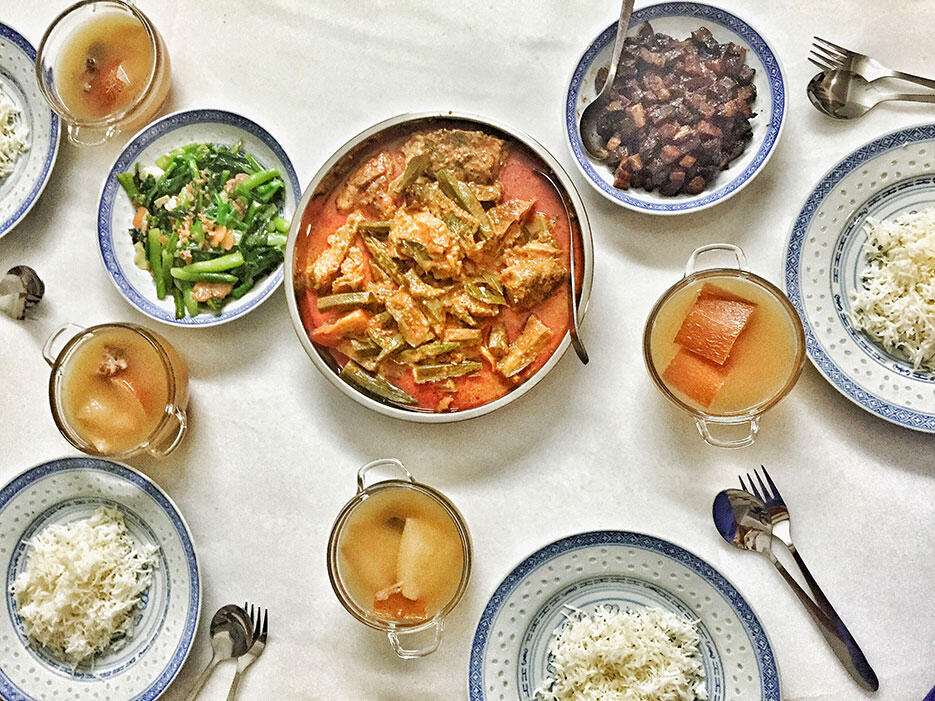 My mum bought some fresh fish head and cooked up her fish head curry, one of my fave dishes! Even better when eaten as leftovers.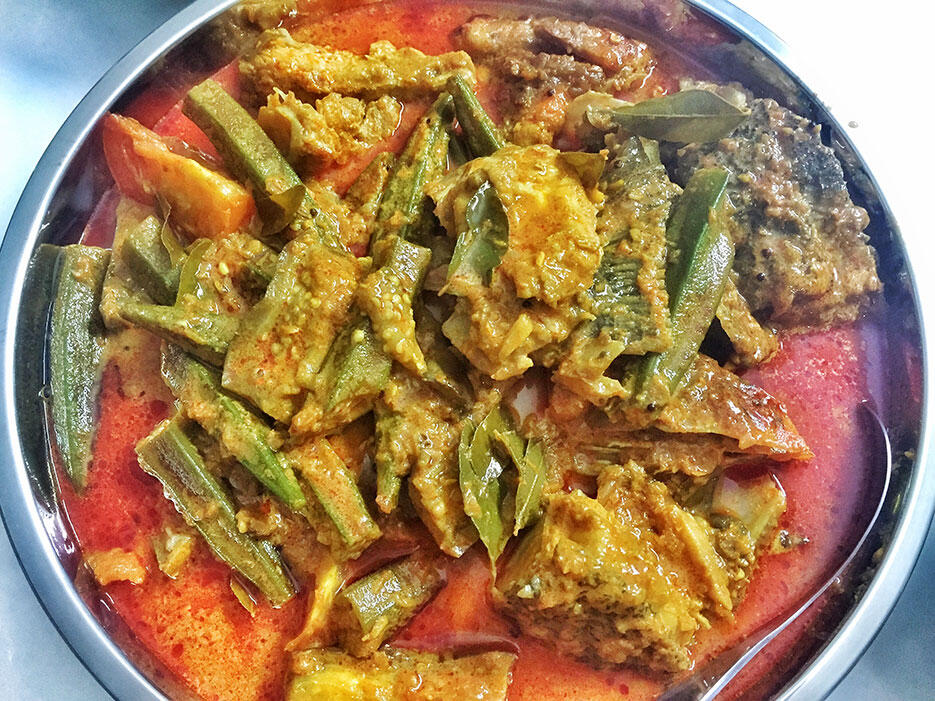 + + +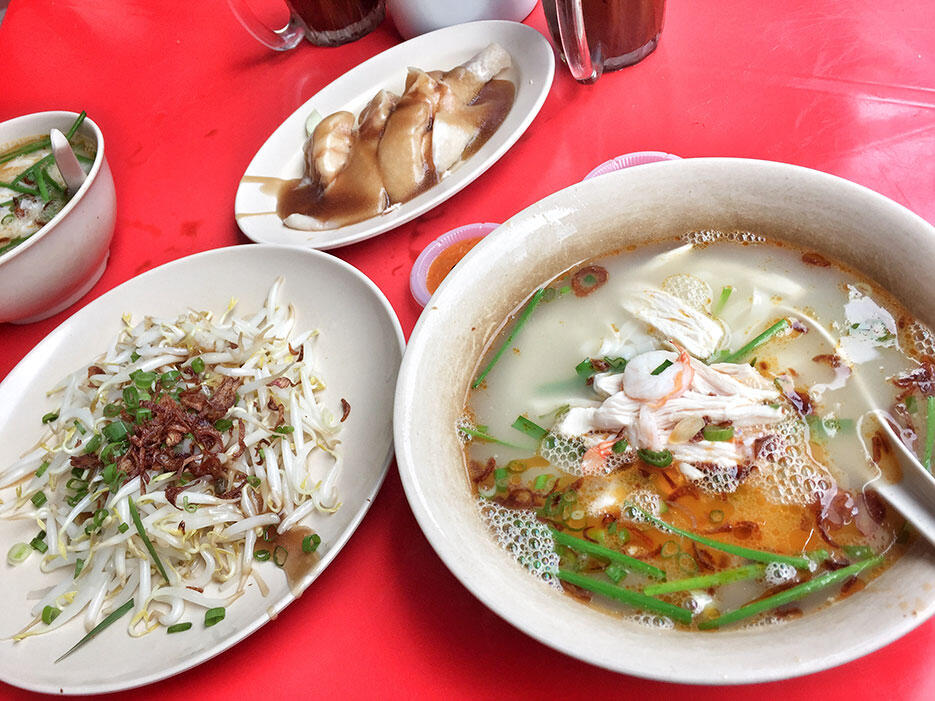 I go to TK Chong in Damansara Perdana for my ipoh sar hor fun fix now. Previously used to go another in TTDI but i prefer the koay teow here cos it's thinner and silkier, and soup for flavourful imho.
+ + +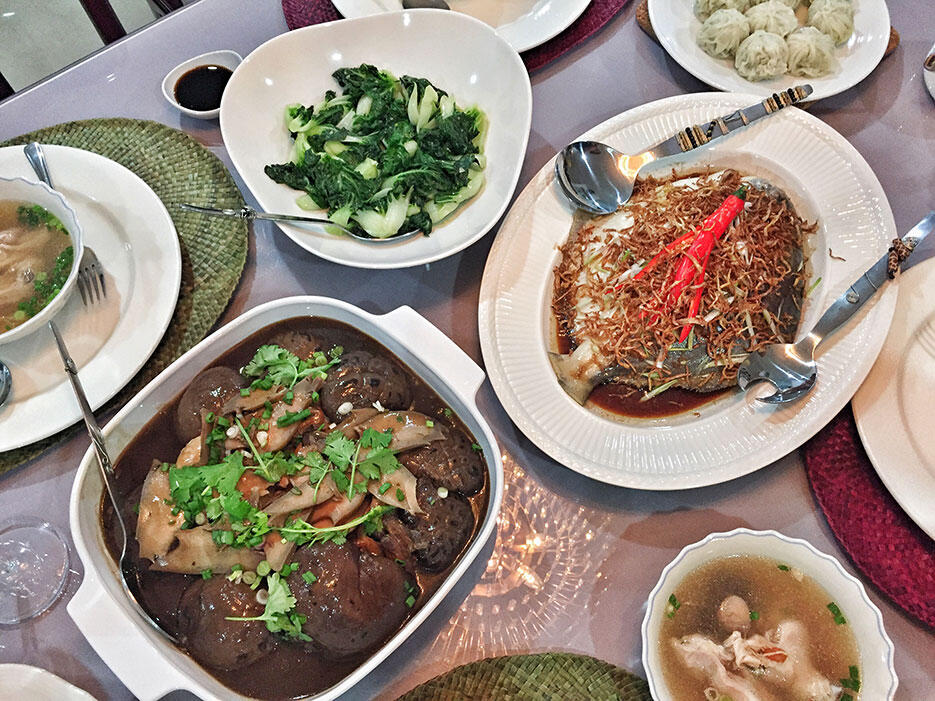 One night Jun's parents cooked dinner! I always look forward to having meals with them cos they're always so good!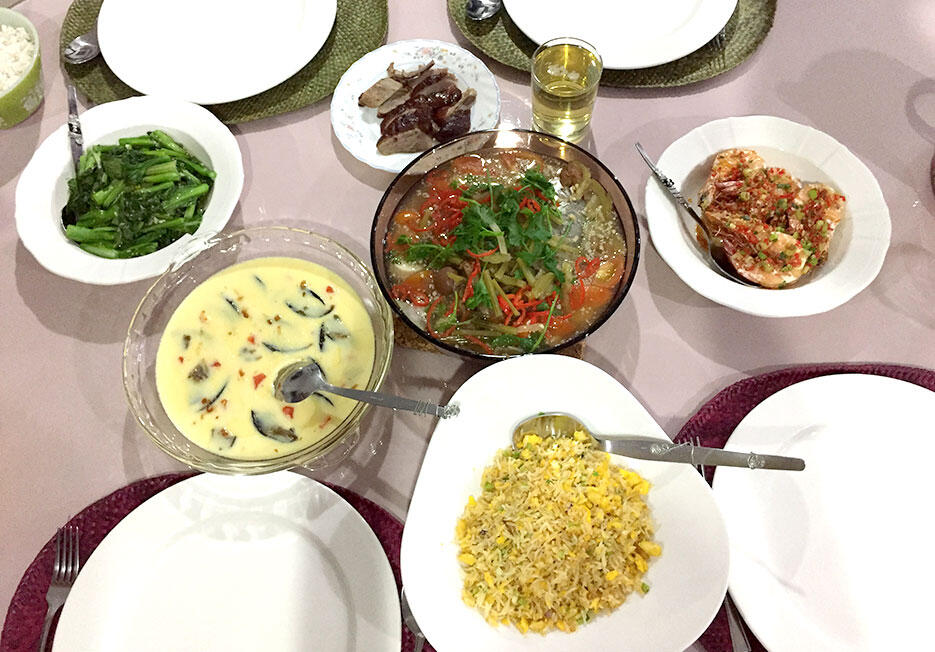 This was from a separate night, when Jun's dad cooked one of his signature dishes – a Korean sour fish dish.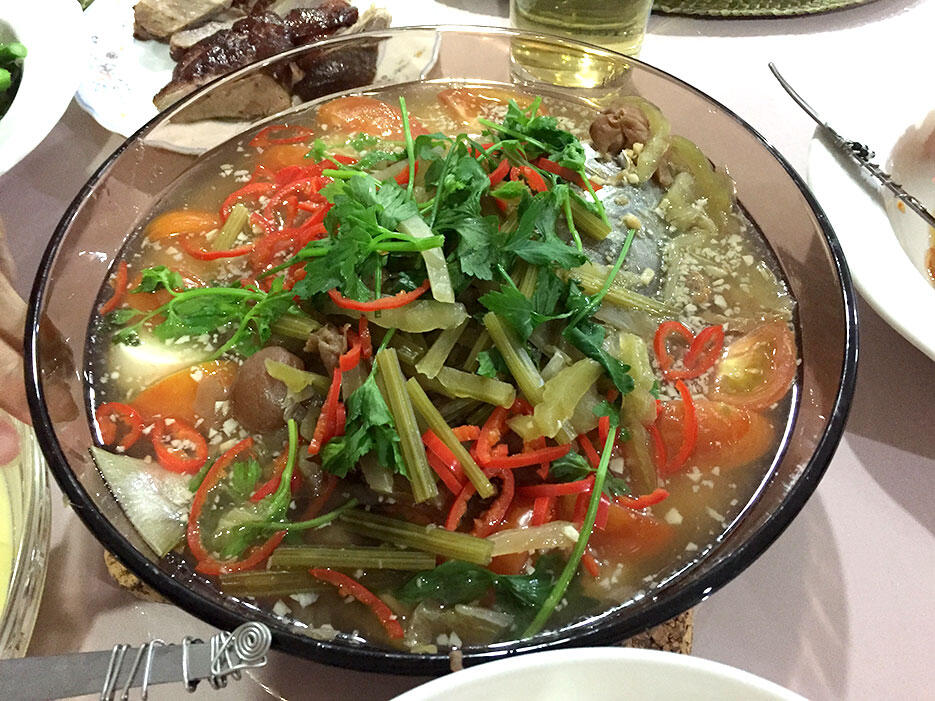 + + +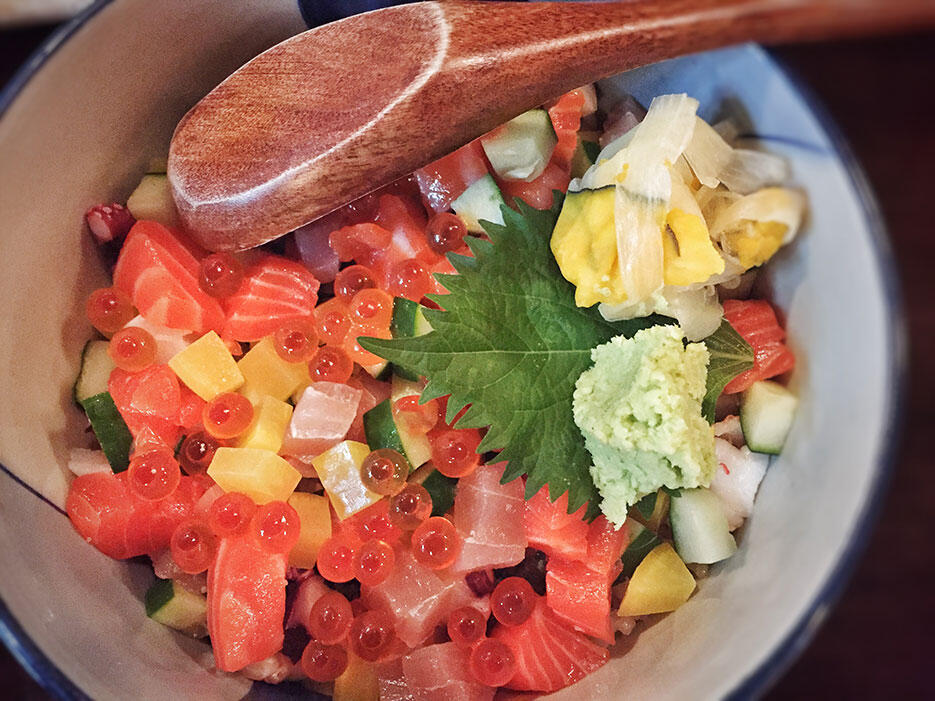 I sometimes go to Kushiyaki Kuni in Plaza Damas for lunch alone. And always order the same thing -_-
Butttt if you're feeling like a cold soba, i love the one here too.
+ + +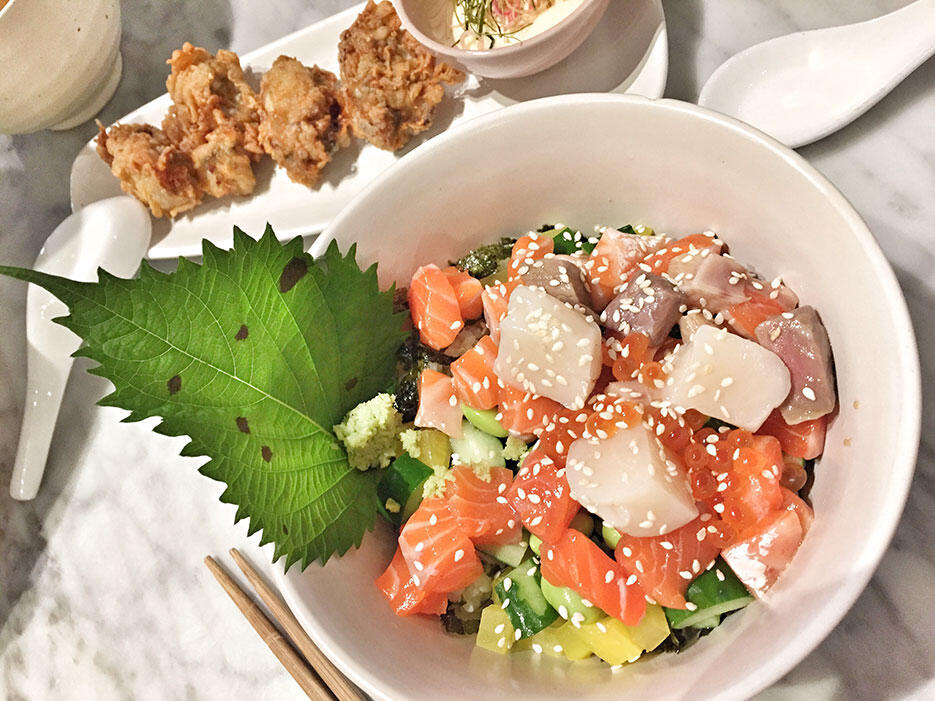 I obviously love my bara chirashi don.
Another regular fix is always Mei by Fat Spoon.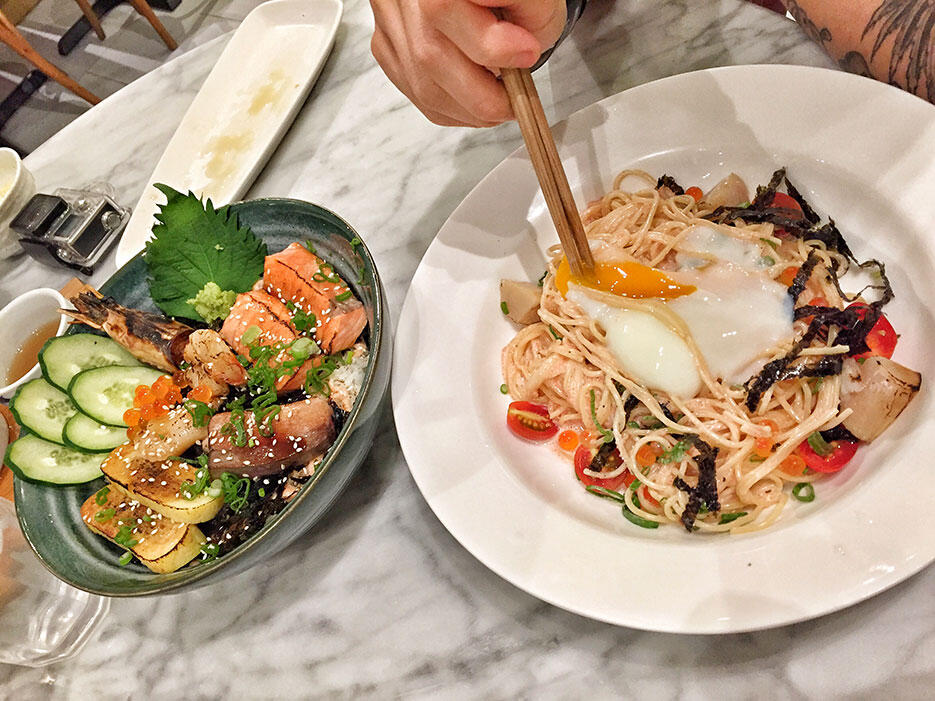 + + +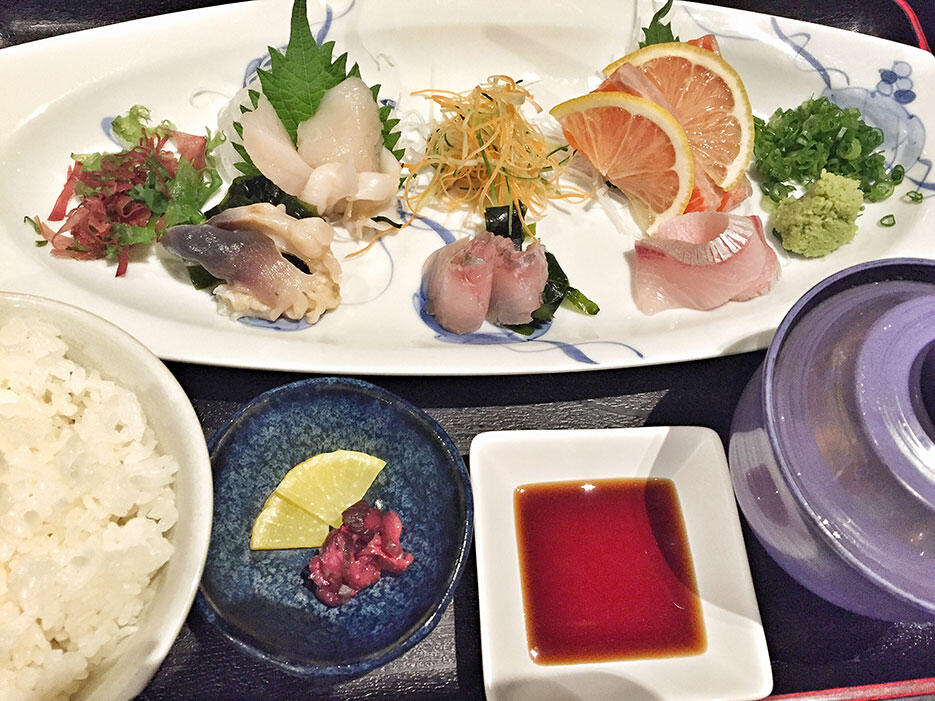 Ok i can't remember where this was taken sorry
+ + +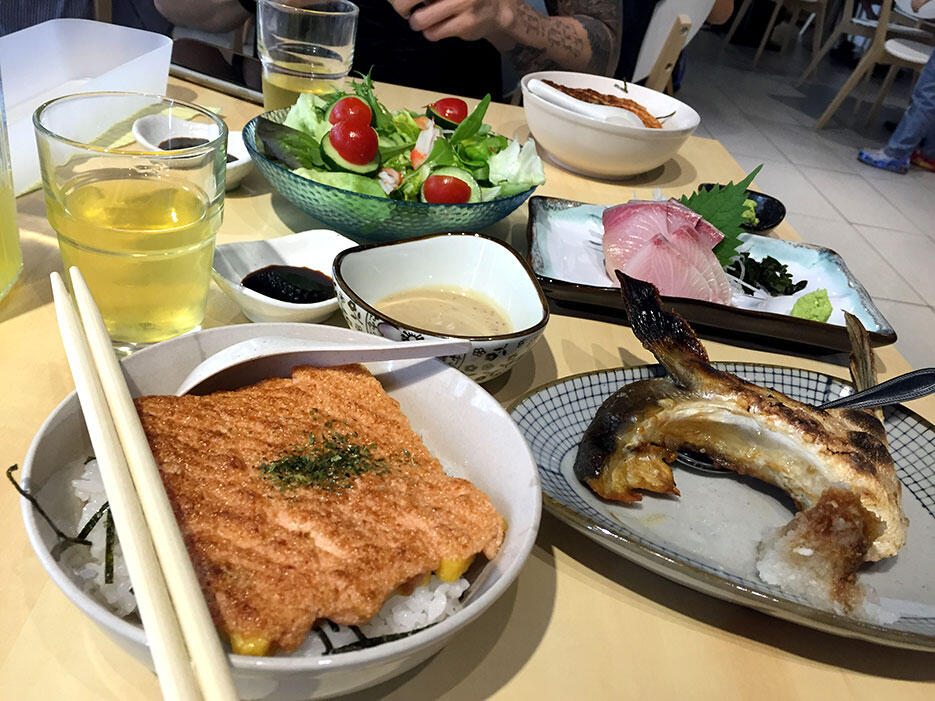 We still drop by Uokatsu in Plaza Damas for our mentai rice fix, but one might sniff that it's not as satisfying since their expansion. Still order our same favourites when we go there – mentai rice, dburi sashimi, grilled hamachi cheek, miso soup and garden salad.
+ + +
Below are a bunch of things Jun cooks for dinner / supper at home on the fly with whatever ingredients he's trying to finish off in the fridge.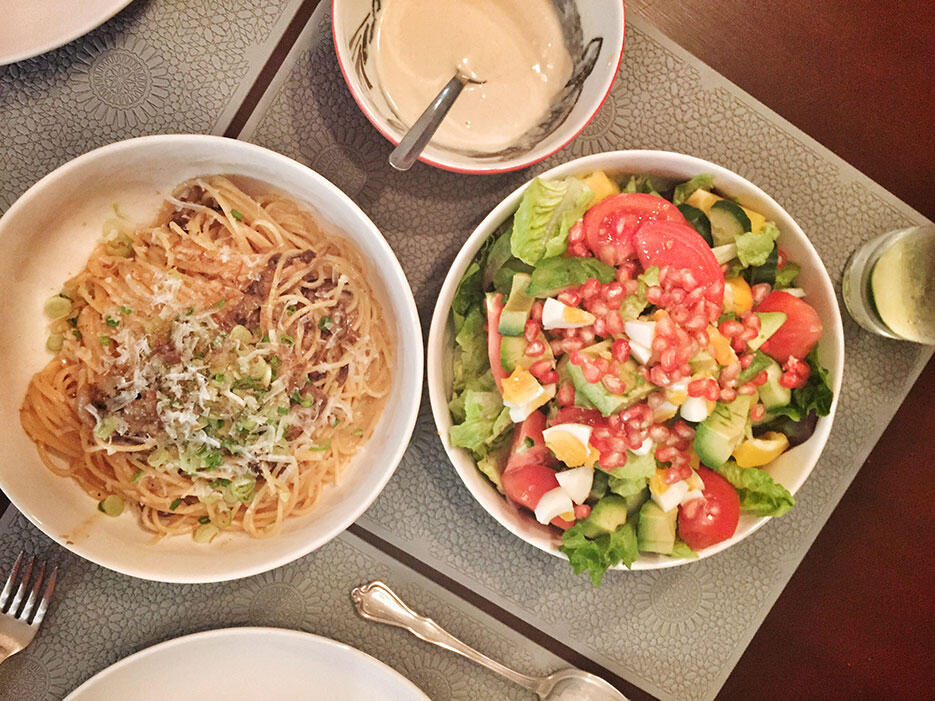 Pasta and salads are something he fixes up quickly. Now i can't bring myself to make a pasta cos i can't get it as perfectly al dente as he does, and his salads are always more pompous and the dressings always a killer.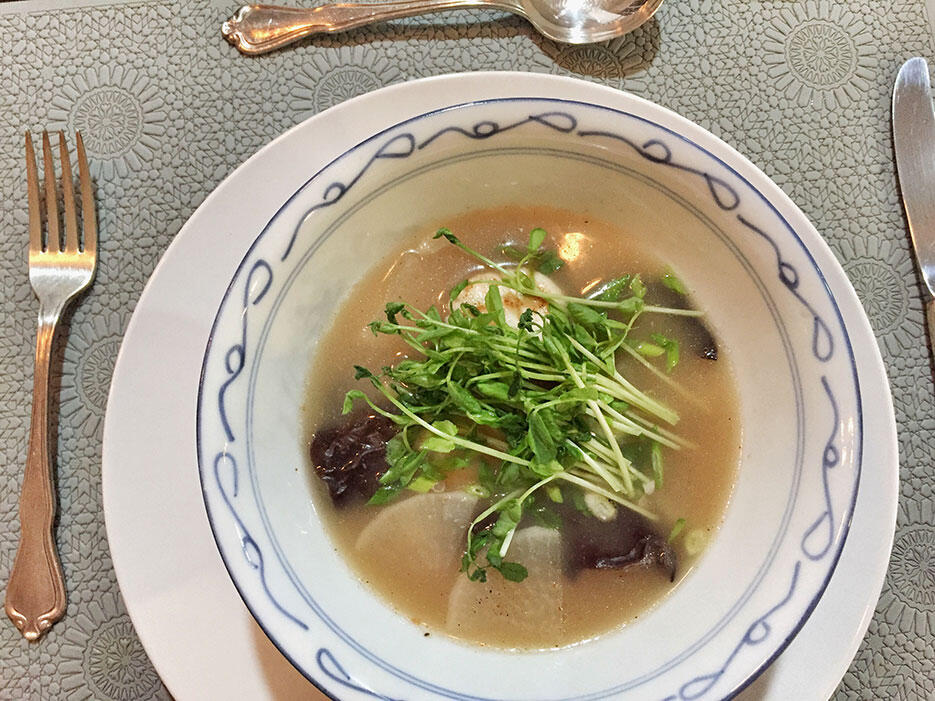 I love soup so one day he made soup to layan me. Please make more soup! XD
When he was perfecting his handmade ramen, he made so many variations of it that i haven't eaten ramen since.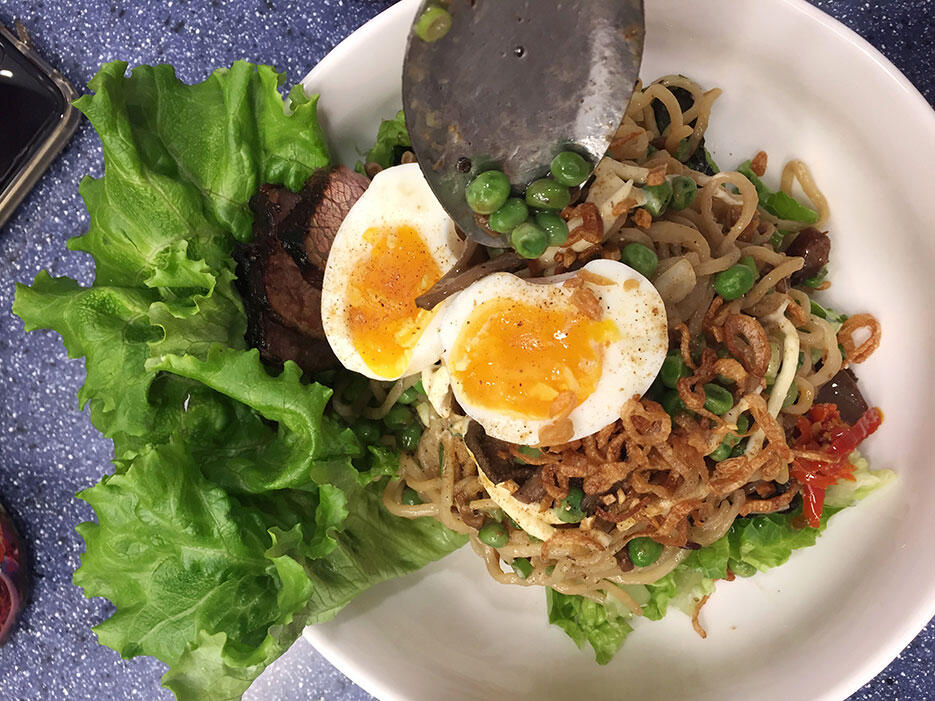 Ramen with 52-hr beef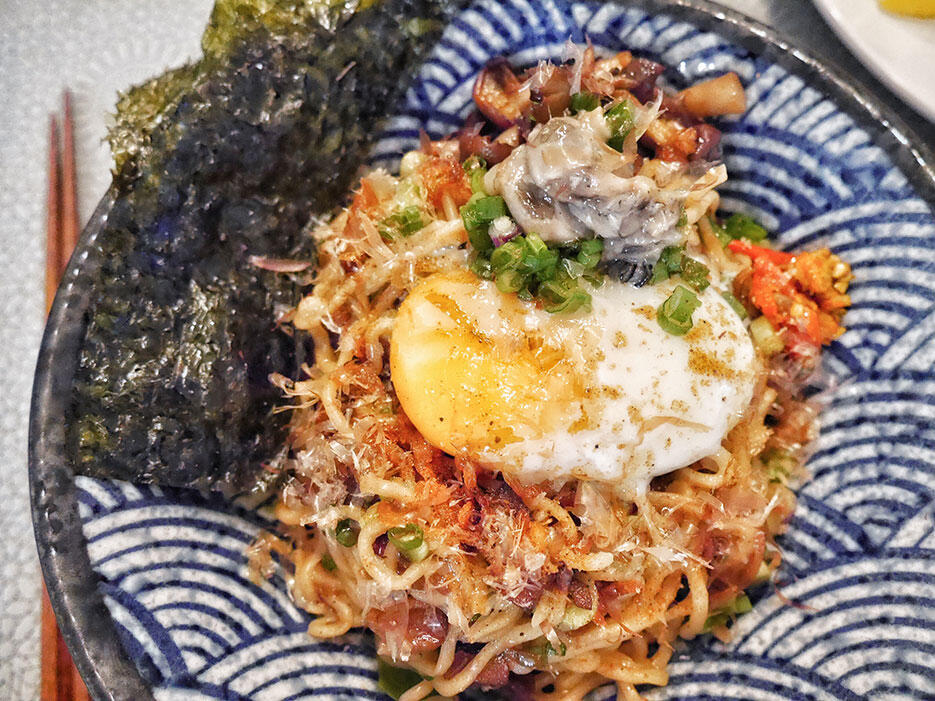 Ramen with oyster, mushrooms, seaweed and sous vide egg.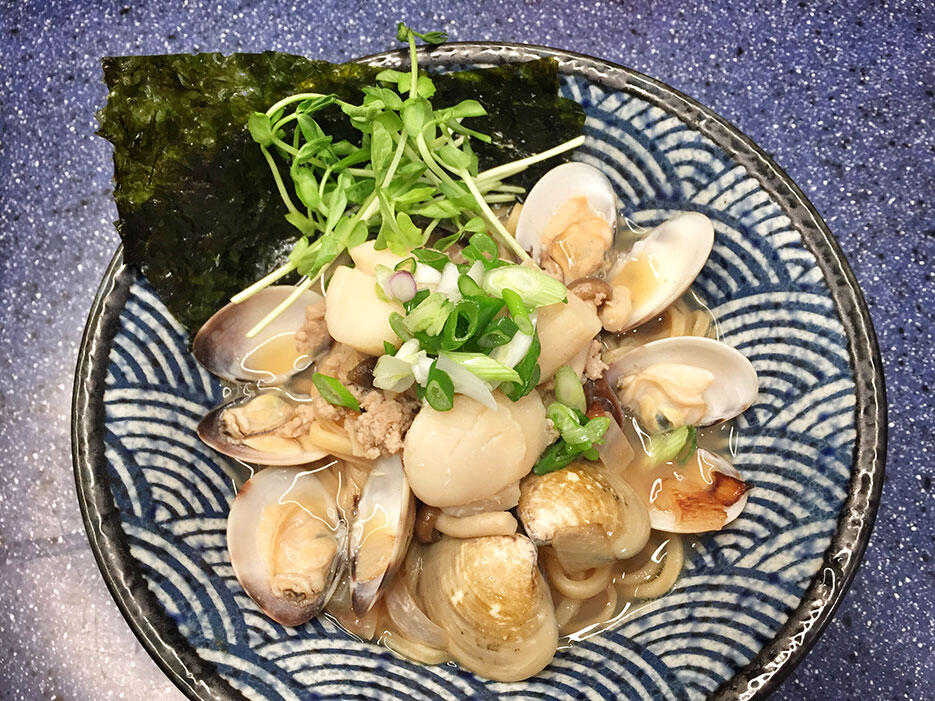 Ramen with clam broth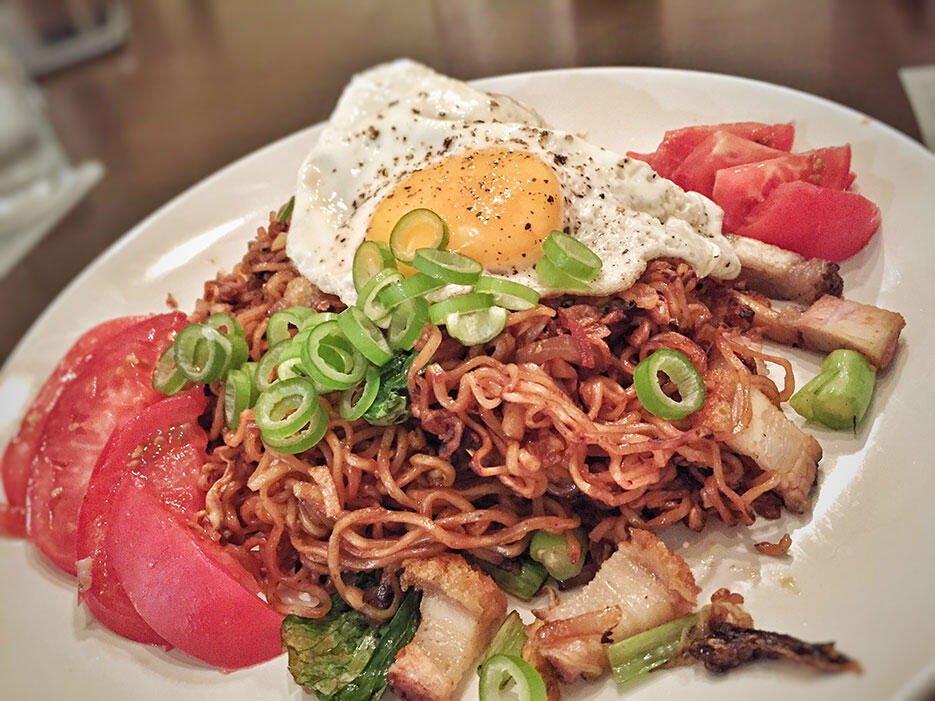 Despite it all, we still love our maggi / nissin noodles… and he'd whip up maggi goreng for supper when we come home after events/parties. So much winnnnnnn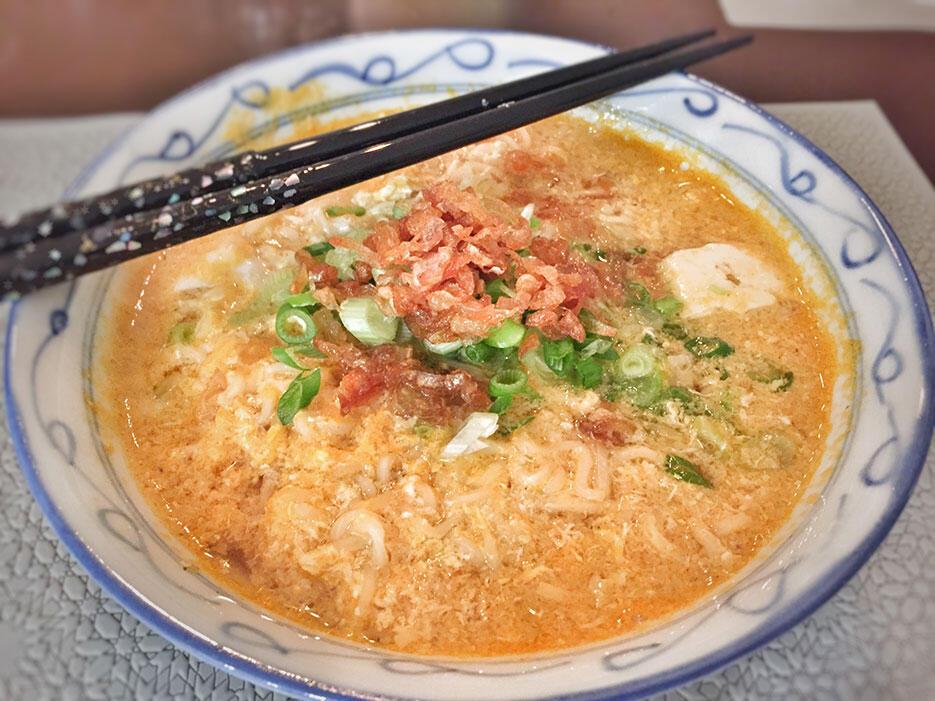 And once in a blue moon, i feel like maggi sup, especially asam laksa or kari. After he cooked maggi soup for me, it tasted so delicious i stared at it and declared, "I can never make maggi for myself again without thinking how it isn't as great as yours!"
+ + +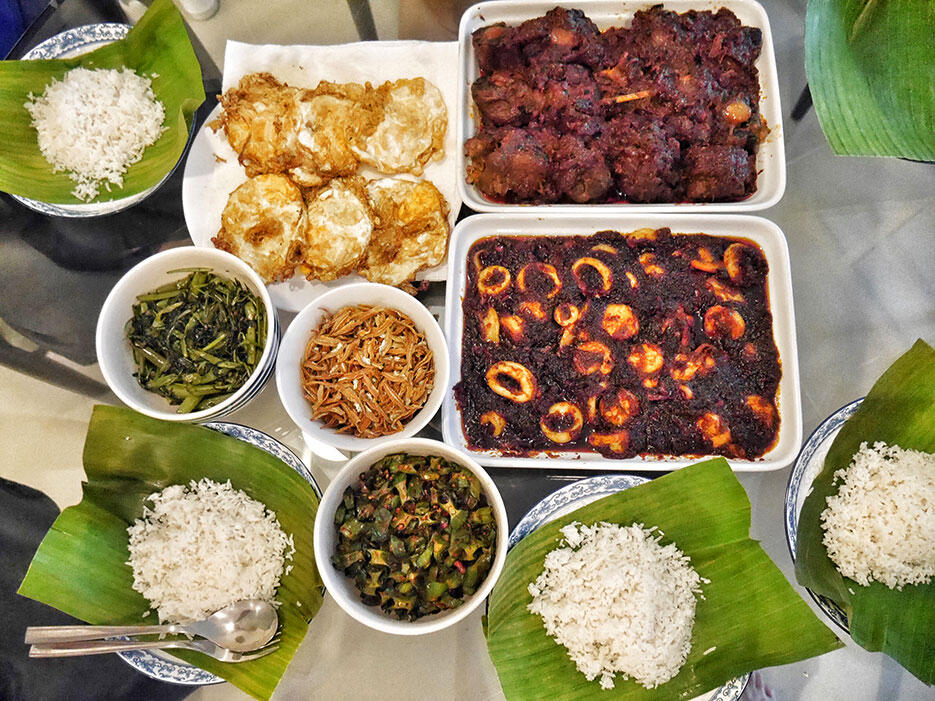 Tai Yong is a dedicated chef (on the side, when he's not managing Nagaba) and i am lucky to be invited over to his sometimes! This time round, he prepared his signature nasi lemak. He made every dish from scratch – the spicy four-angled beans, kangkung, fried ikan bilis, sambal, egg, sotong and ox-tail rendang.
It's a bad idea to write this blogpost in the middle of the night.
+ + +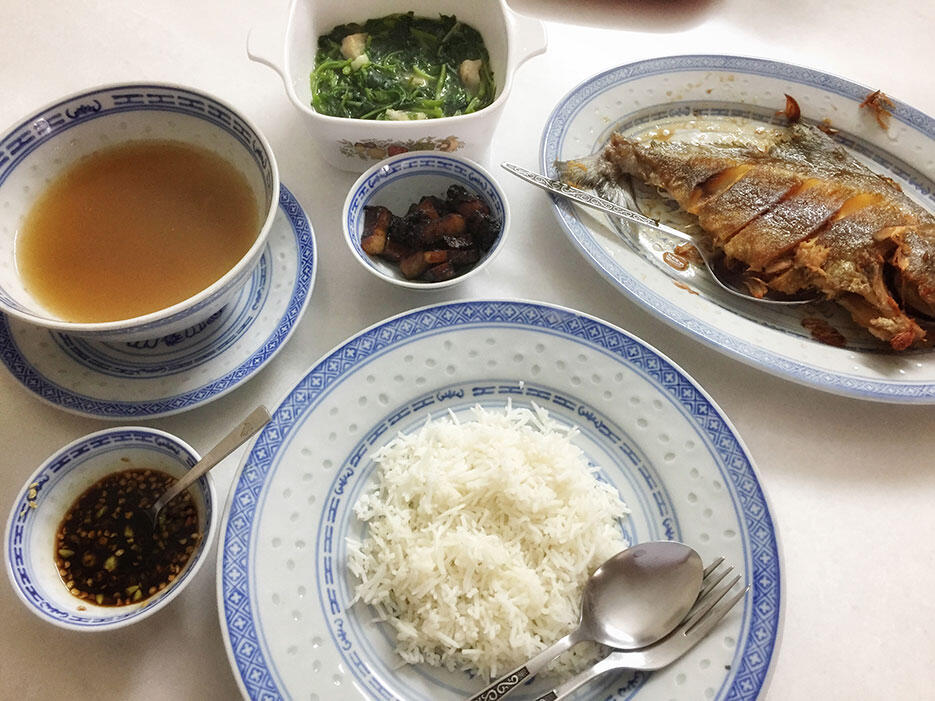 One time my mum cooked a simple dinner. I swear i could just live on food like this err day tho… just give me a smattering of home-cooked fish and vege and i'm a happy fairy.
+ + +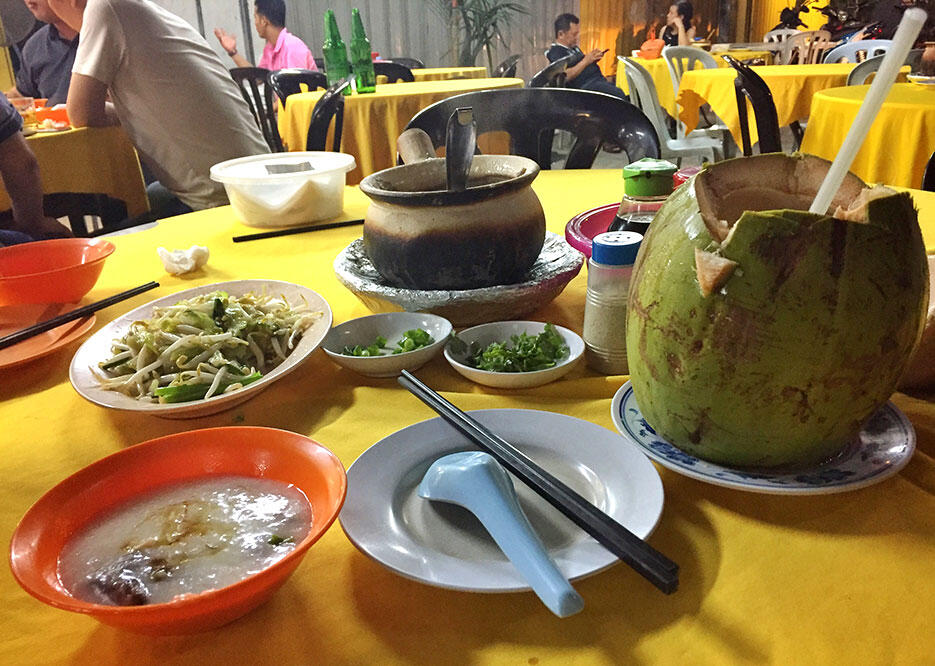 One night after an event where Jun and i were too polite to stuff our faces the food there, we were still hungry so we went for porridge at Imbi right after. Puas la, i can eat porridge every day too #asianforevs
+ + +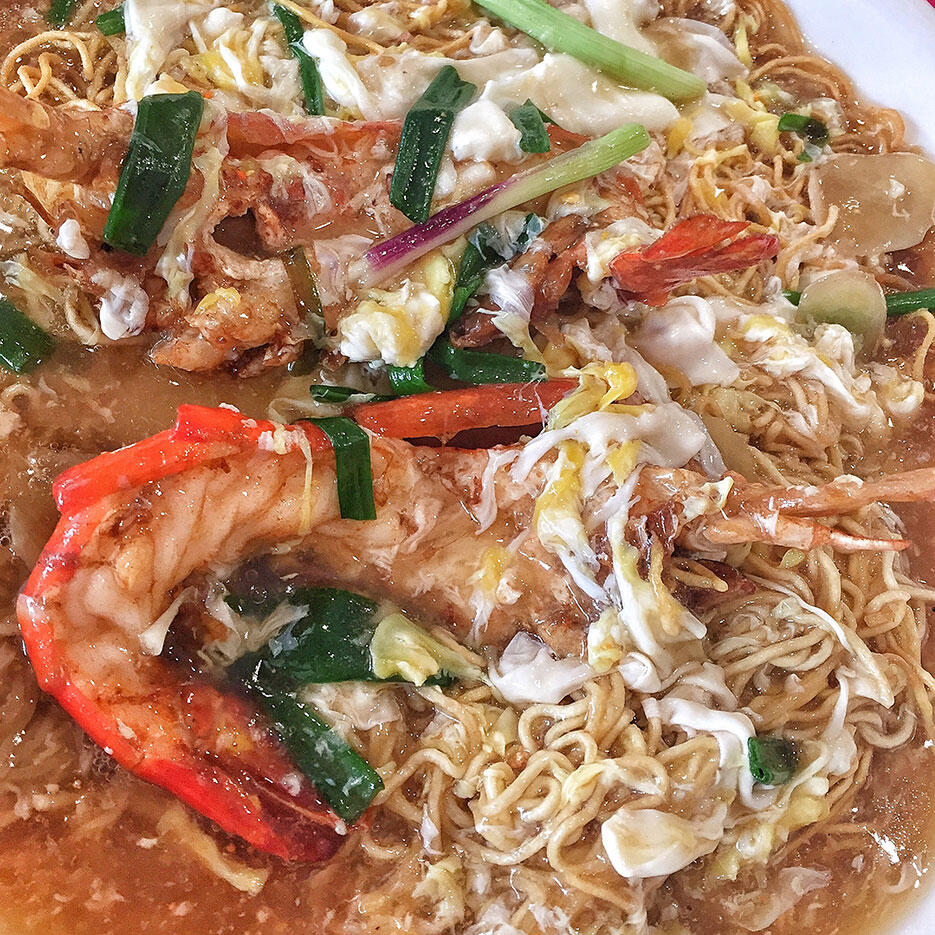 I'm currently off sang har mein cos i must have had it about 5 times in the past 2 months! Had non stop cravings for it and would grab diff ppl to eat it with me! Just had it at Sweet Inn with Baby last week as our New Year's lunch and also had it with Jun on New Year's Day, but the pic above is taken at Jeff Lee Kitchen in Sungai Buloh some time in November.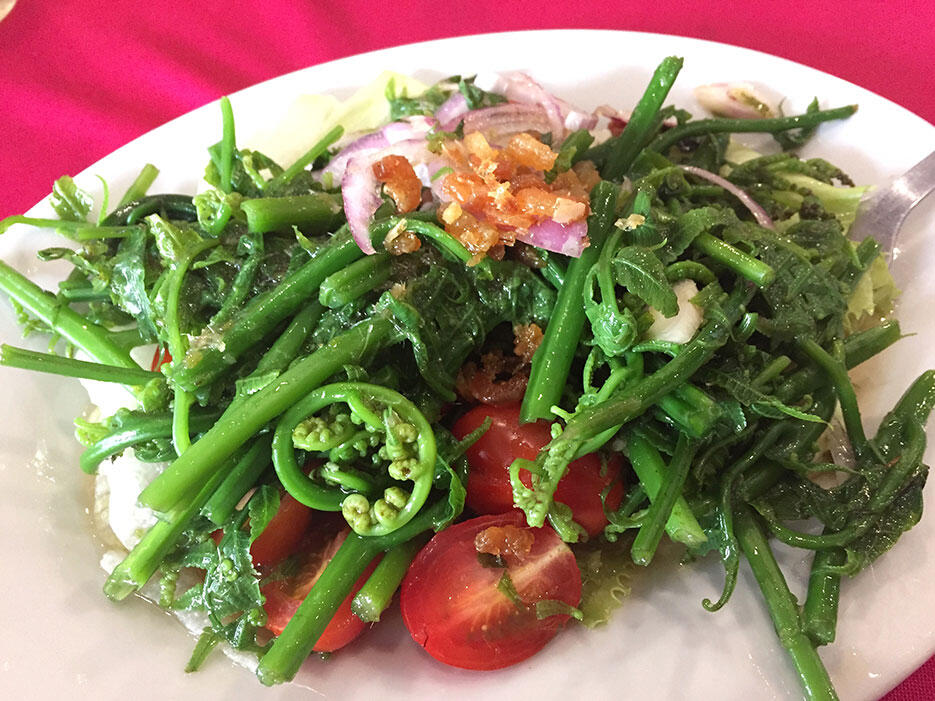 I really like the vege dishes at Jeff Lee's, fresh and not heavy with oil as is common in Chinese restaurants.
+ + +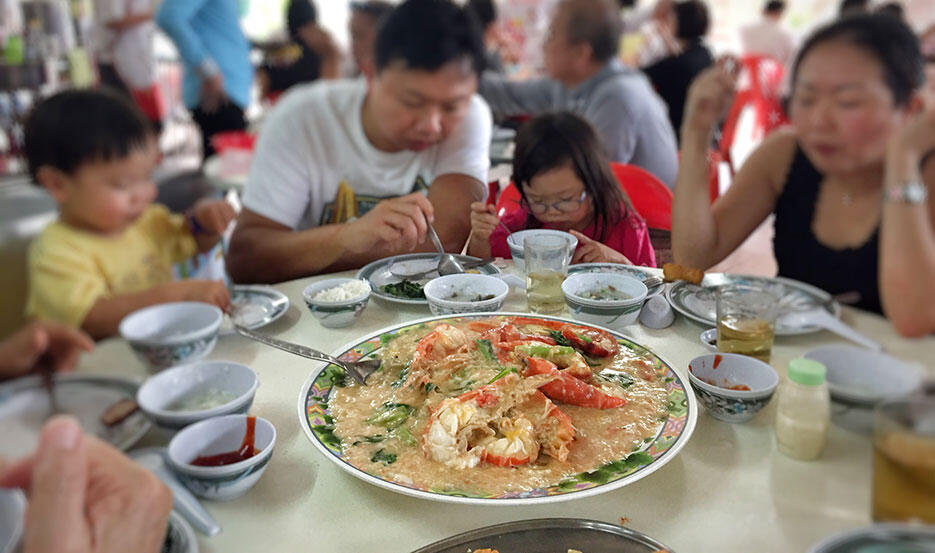 When Jun's sister + family where in KL, we all went for sang har mein at Pan Heong near Batu Caves. I've been there 3-4 times and it's so popular that we have to take a number and wait around 30 mins every time.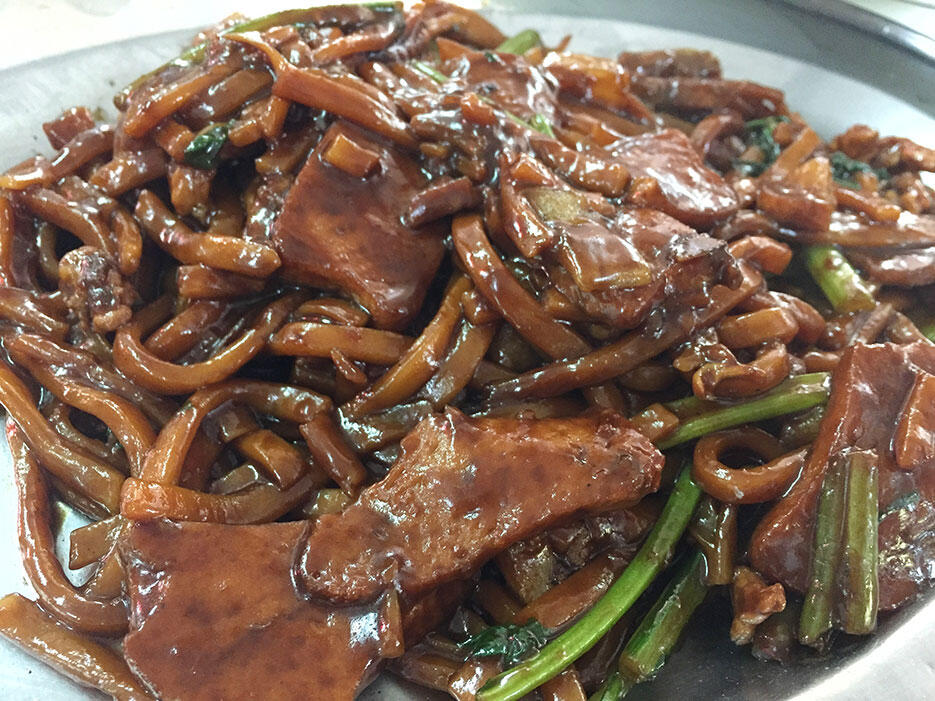 + + +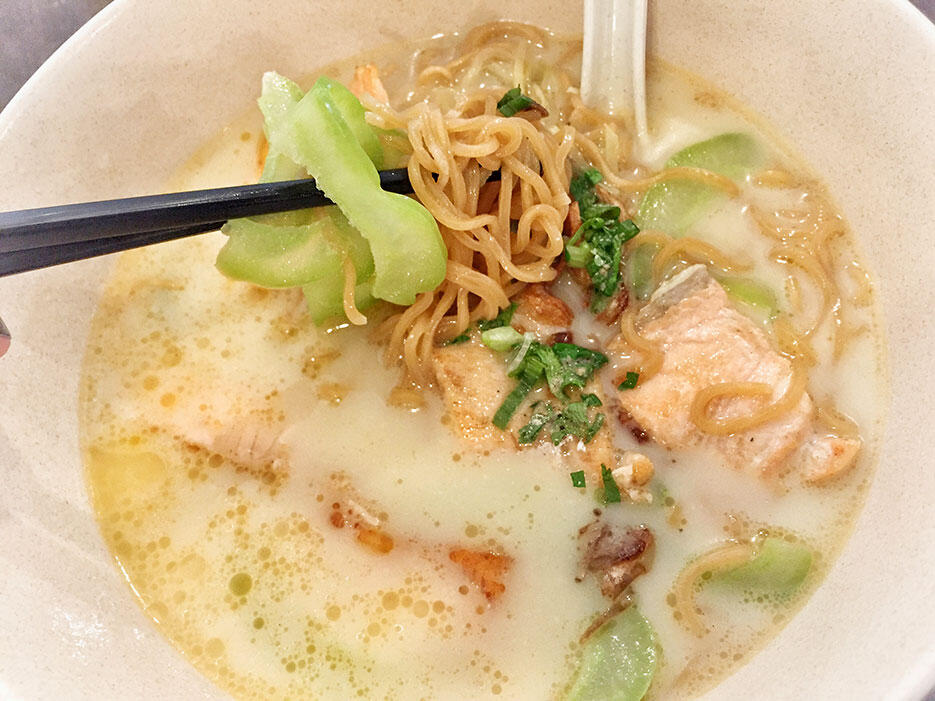 I think i'm over my fish noodle phase too (i may speak too soon) as i was eating at the Fish & Noodle House in Damansara Kim so often the owners commented, "You come a lot!" 0_-
+ + +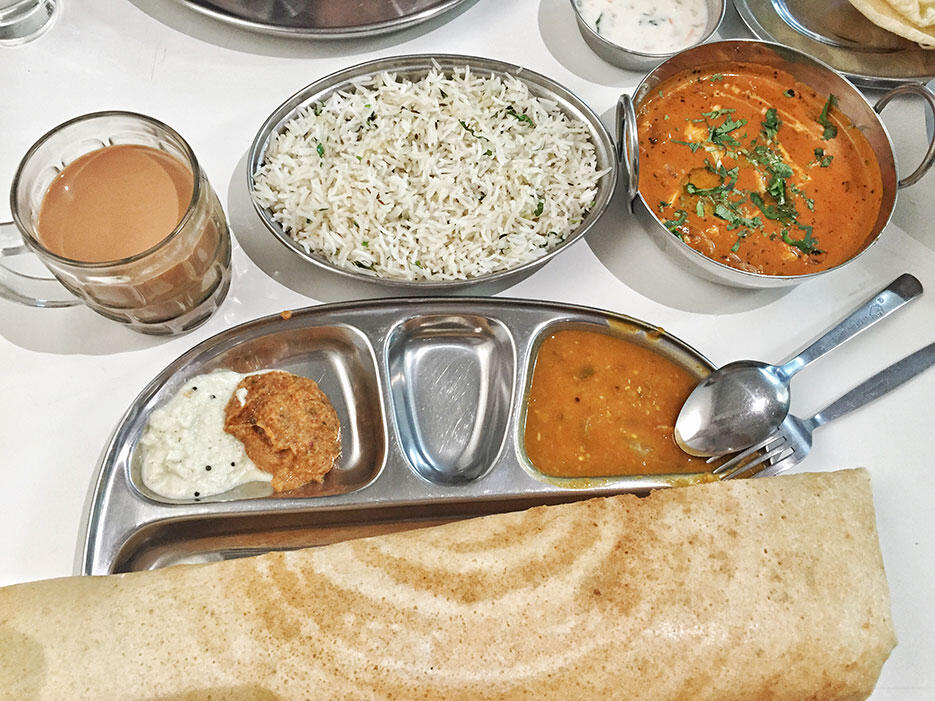 Vegetarian Indian fix always at Ganga Cafe in Bangsar
+ + +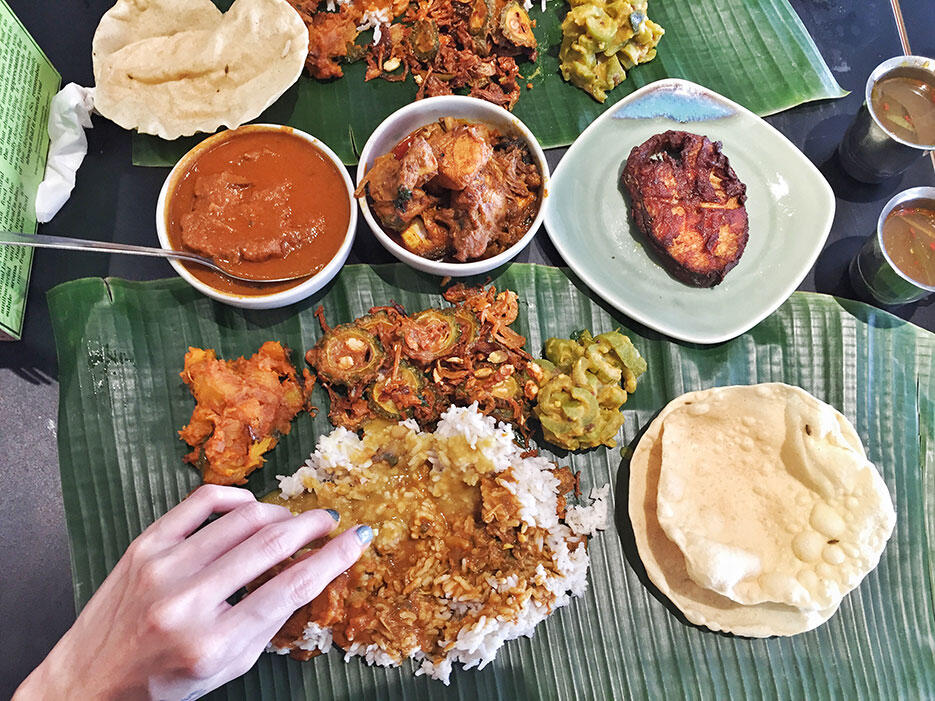 Tried Macha & Co. banana leaf at Kota Damansara
+ + +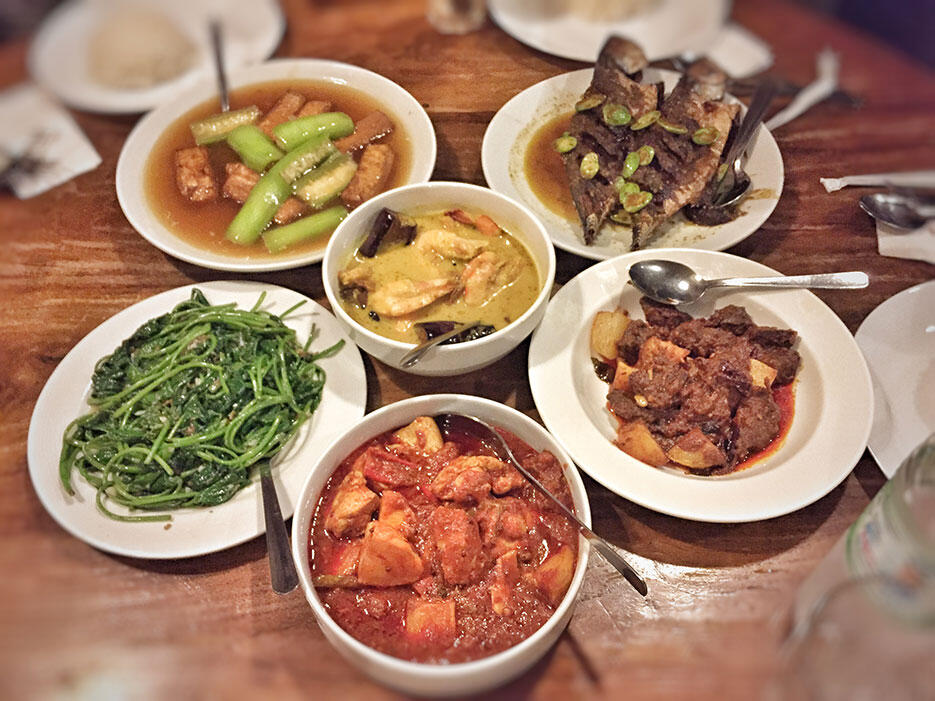 Went for dinner with Jun, Tai Yong, Juan and their buddy from NYC; at Mum's Place in Damansara Perdana. Should take my parents there soon.
+ + +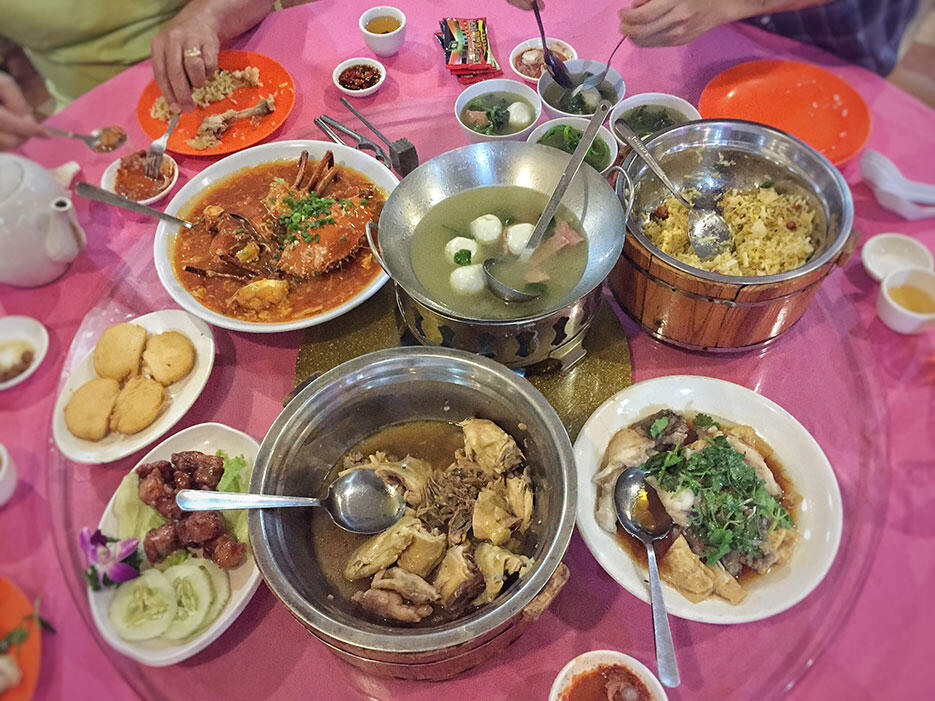 Beggar's chicken, chilli crab, man tao, caramelized pork, scallop fried rice, and fish at a Chinese restaurant in Cheras with Jun and his parents.
+ + +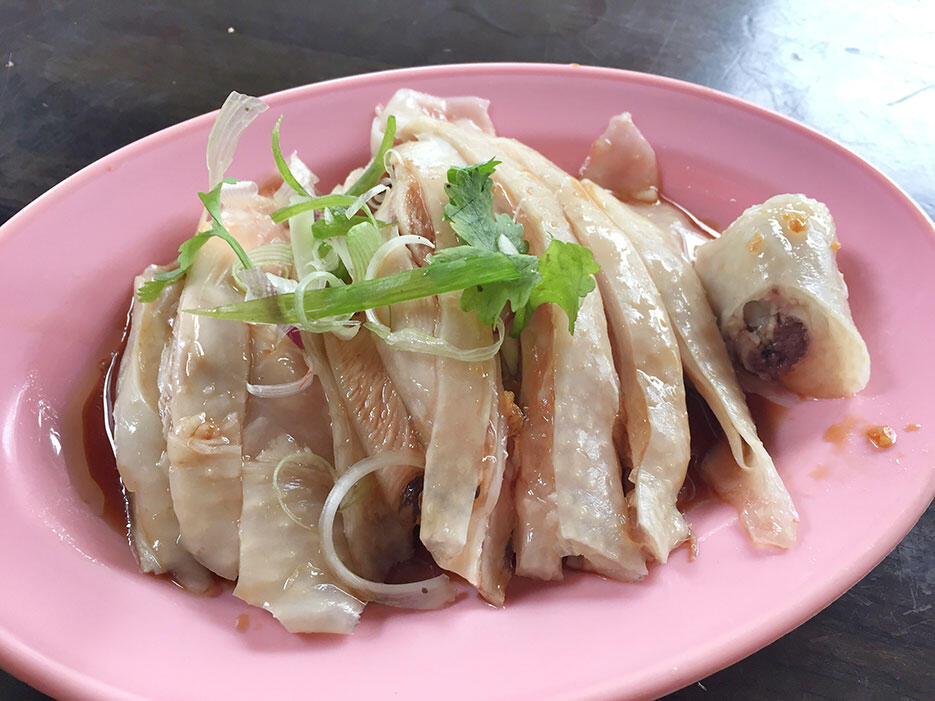 RM8 chicken rice for quick alone lunch in Solaris Mont Kiara after a workout at Bodytone, it's on the same row as CIMB and on the pavement so hard to miss.
+ + +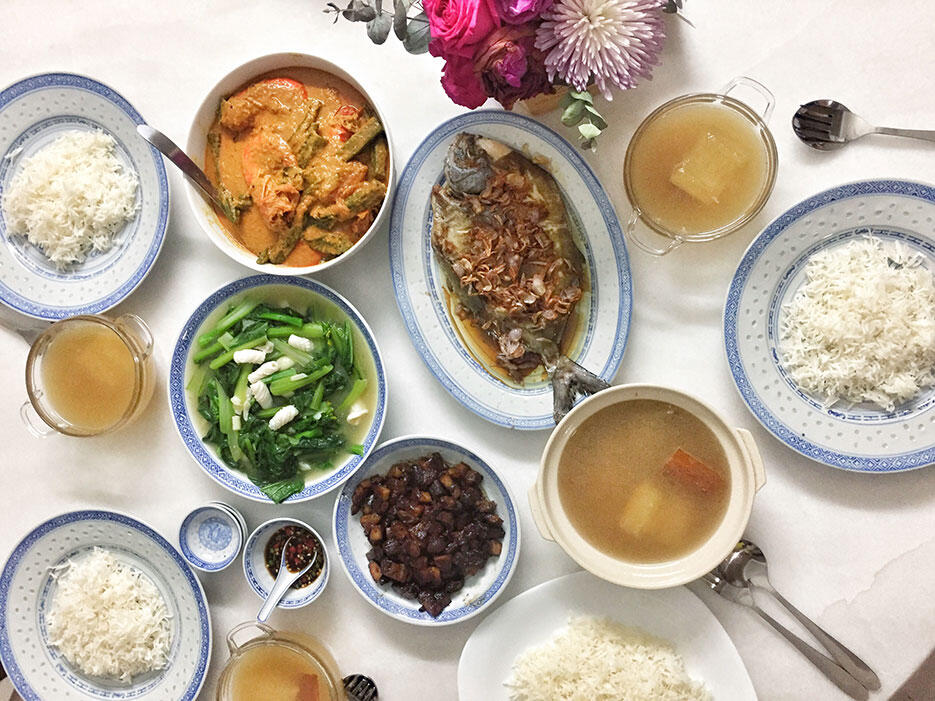 Mummy cooked dinner for New Year before Nick went back to Singapore. Jun was sorely disappointed he had to miss out cos he had a clashing family dinner.
+ + +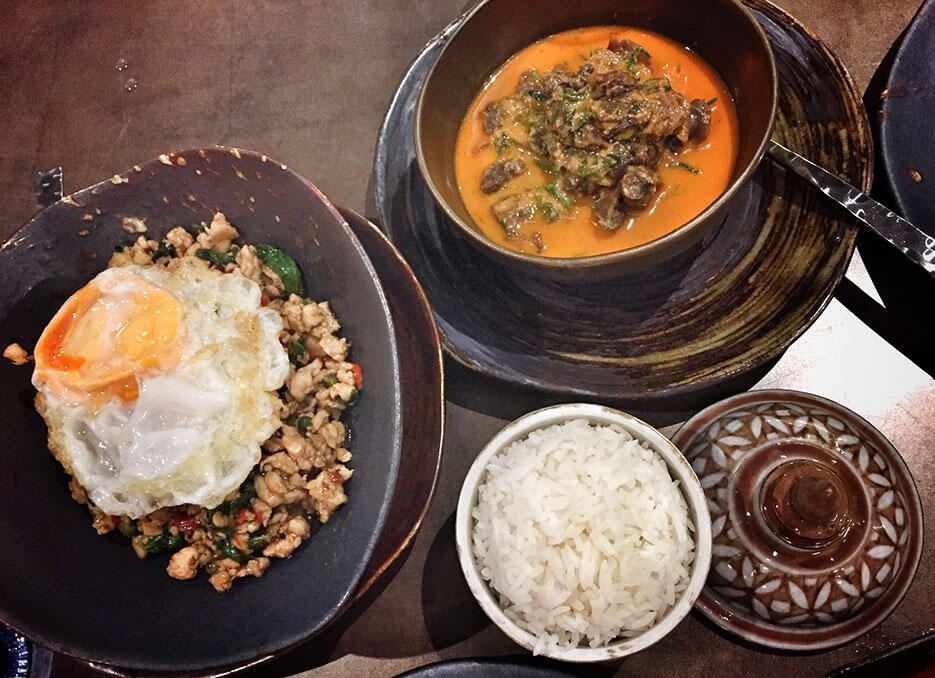 Jun was craving Thai so we went to try Erawan at the new DC Mall in Damansara Heights. We started off with a scallop + pomegranate salad, before moving on to mains of cockle curry, and basil & chilli chicken. They were all very good! And too much for us both so i tapau-ed the cockles and chicken for Baby and i to snack on the next day. She loved it so much she shushed me to cease talking so she could focus on it.
+ + +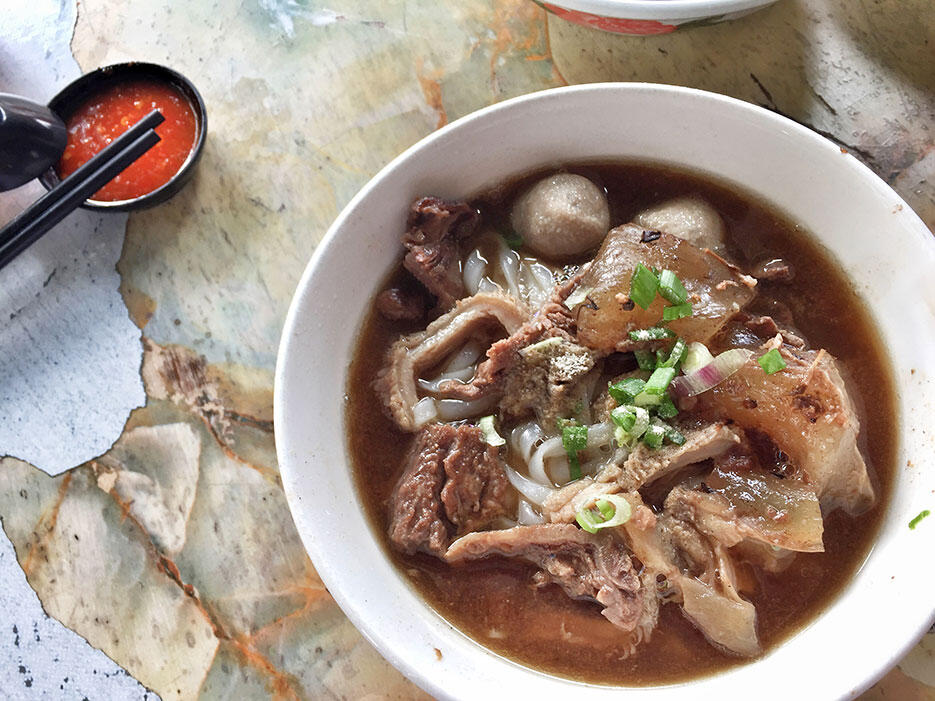 Jun and i met up with Tai Yong at Yung Kee Beef Noodles in Pudu, where they serve wagyu beef in your noodles if you want! We didn't go for it cos didn't see the necessity, and instead went for a medley of the tripe, brisket, striploin and jelly-like tendon. If you love beef noodles you gotta make a trip to this place, well worth it.
+ + +
Pictures below are all porky so if you are halal better stop reading here!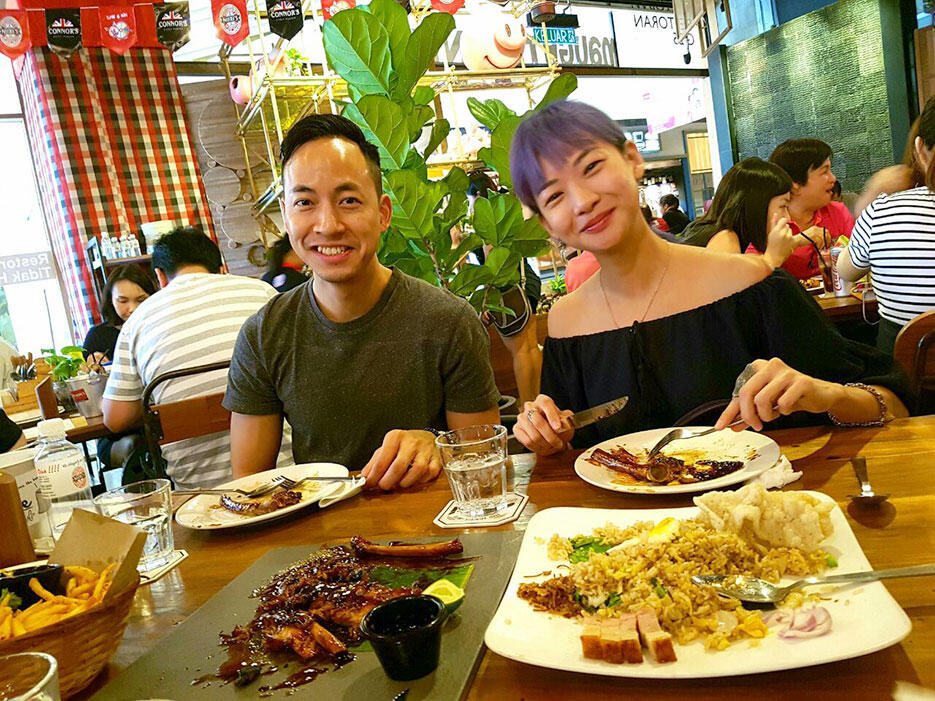 Family lunch at Naughty Nuri's when they first opened in Atria
+ + +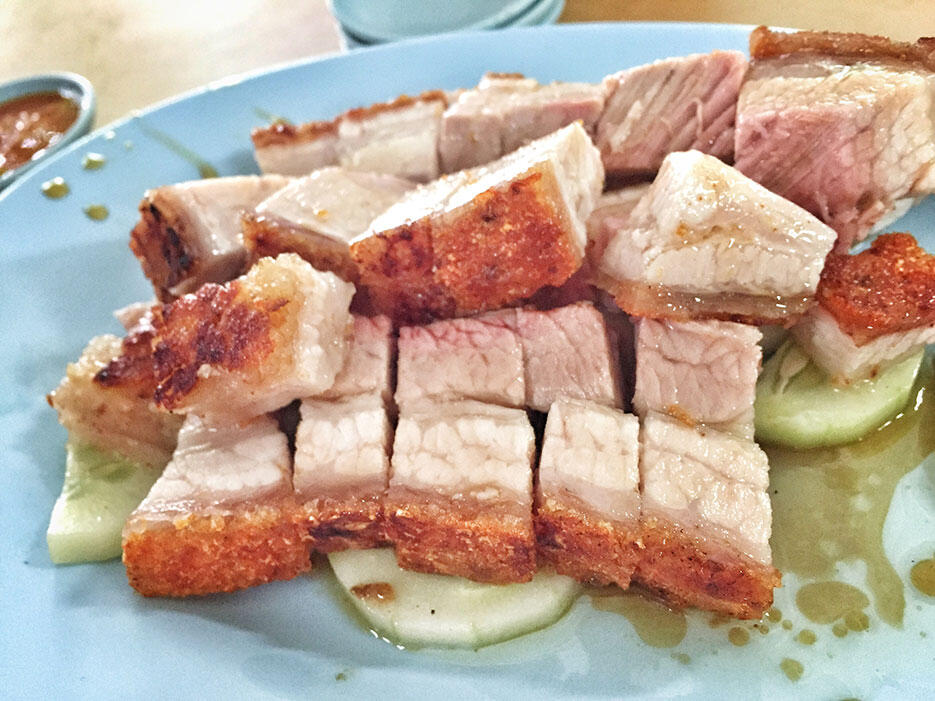 Returned to the femes siew yoke rice place in Pudu, but i was kinda disappointed cos it just wasn't as crunchy as i remember it 5 years ago. And it was like 50 bucks for 2 of us! Ok i'm just sore that it's not that great anymore.
+ + +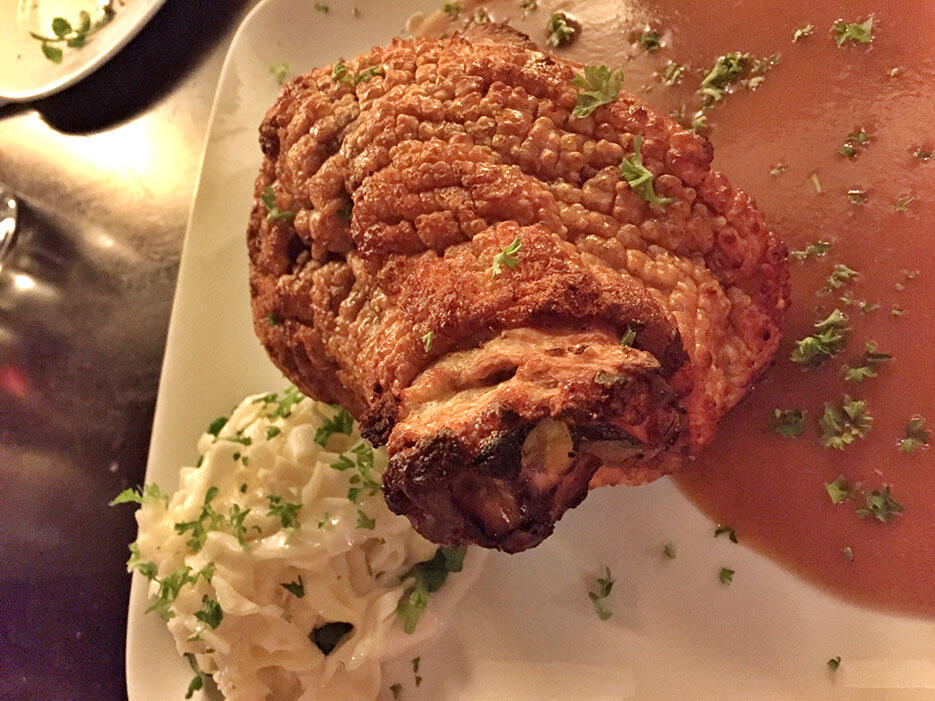 And to end this post, Jun's favourite porky restaurant – Ad Hog in Kota Damansara. Pictured above is the pork knuckle, tho we love the siew yoke (eating it feels like biting into childhood heaven) which we'd order with a fresh truffle oil salad and whatever Sam (the owner) would recommend. Great for groups, and it's BYOB so you save on alco! Run by the loveliest couple, you should call beforehand to reserve the pork belly!