The first time i had a meal at Sitka Studio was last year during the Love, Bonito appreciation lunch + dinner we organised. Since then, i've taken my mum to Sitka Restaurant downstairs and been meaning to return with Jun which we finally did! Joleyn was doing some freelance PR for them and asked me if i wanted to go, to which i said yes yes yes but our busy social calendar prevented Jun & i till i determinedly blocked the date weeks in advance.
Sitka Studio (which sits on the first floor) has a tasting menu which only happens twice a month. The contemporary restaurant is led by Chef Christian Recomio– also the owner of Moonfish Café in Aberdeen, U.K., a popular establishment with Spanish and French influences thanks to his previous stints in Barcelona and Northern France. He cooked at Moonfish Cafe for a decade, garnering it mentions in the Good Food Guide and a constant Runner Up position in the Observer Food Monthly Best Restaurant category from 2011 through to 2014.
Now, Christian has found his base in Malaysia to focus his craft and passion for food, with partner Jenifer Kuah. I'd heard of Jenifer from Joleyn but never met prior to that night, and found her an extremely warm personality (I can imagine Christian going: "And me, what? Cold?" Well, you are definitely very focused in the kitchen till some drinks 'warm' you up post-work?)
Jenifer has been in the industry for 10 years with four distinct restaurants in her repertoire. With Sitka Restaurant and Sitka Studio, both Christian and Jenifer get to work on their vision of putting Malaysia on the food map by making good food from local produce made accessible to as many people as possible.
Proclaiming Sitka Studio a non-pretentious space, the dishes are created from local ingredients that are "caught, picked, foraged or grown within a few miles of Kuala Lumpur with only some interesting products brought in to complement, not dominate." e.g. the truffle shavings we got to enjoy that night!
Sitka aims to show off the best of Malaysia's produce by sourcing from local producers and building relationships with farmers, fishermen and milk producers to ensure everything is fresh and chemical-free. The team then experiment with new and traditional techniques like fermentation, brining, pickling, smoking, salting and marinating to present fresh ideas on a plate. Which are delicious. Very delicious.
But enough talking, there's nothing like pictures of what we actually ate.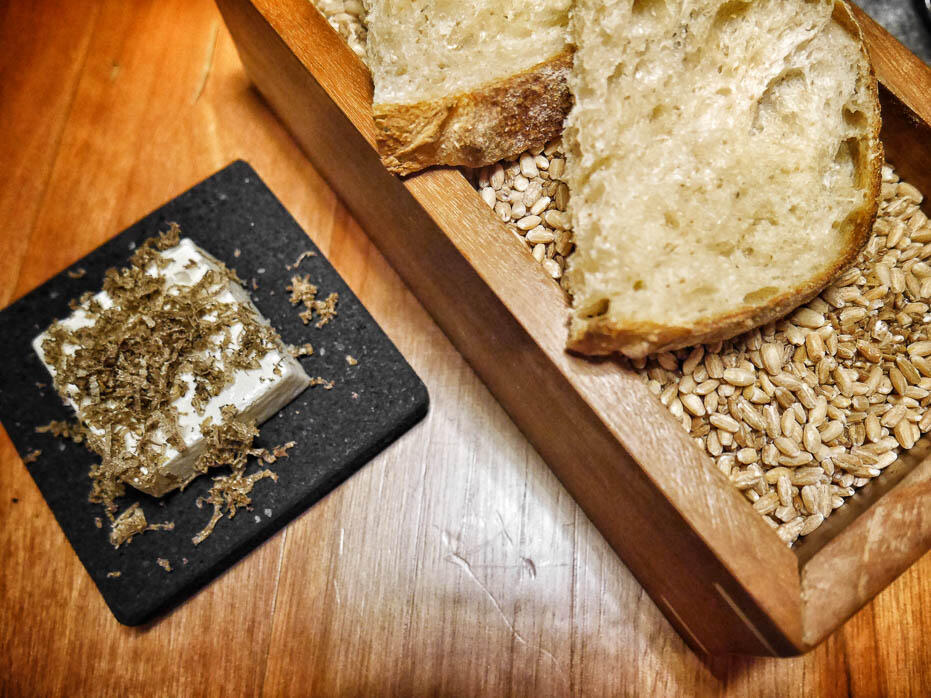 Sourdough bread with cultured butter so soft it felt like cheese, topped with fresh truffle shavings.
Sitka had fresh Italian summer truffles which they microplaned over their homemade butter, shrimp dumplings and almost anything they felt worked.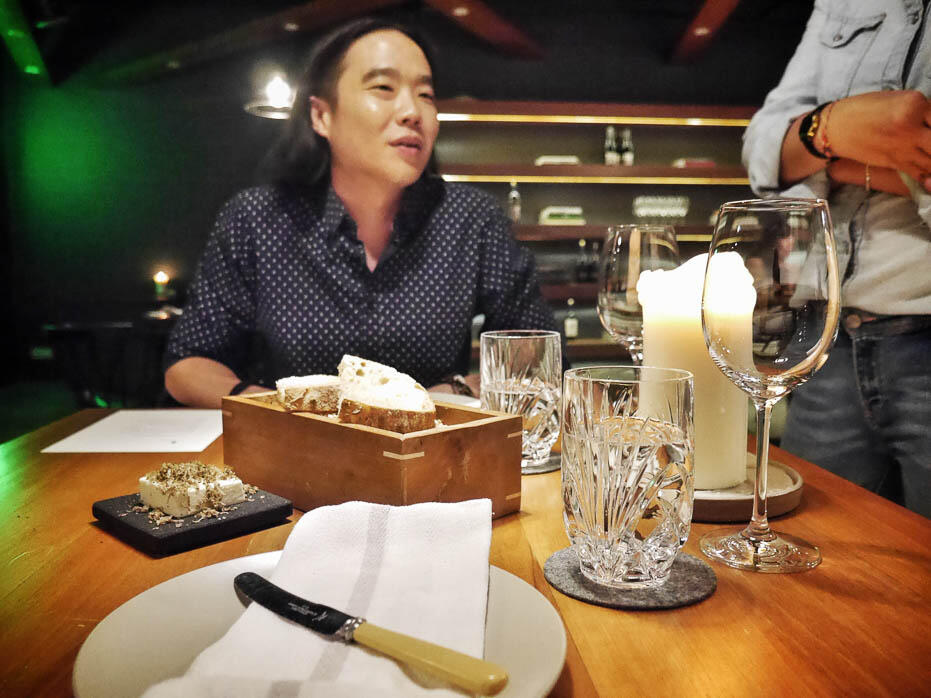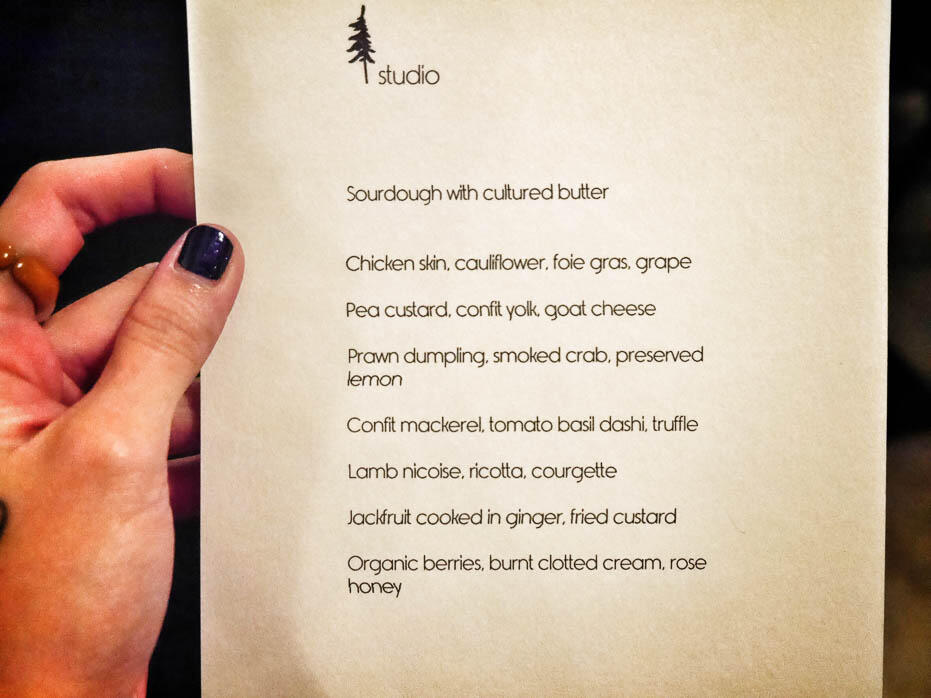 The tasting menu for that week.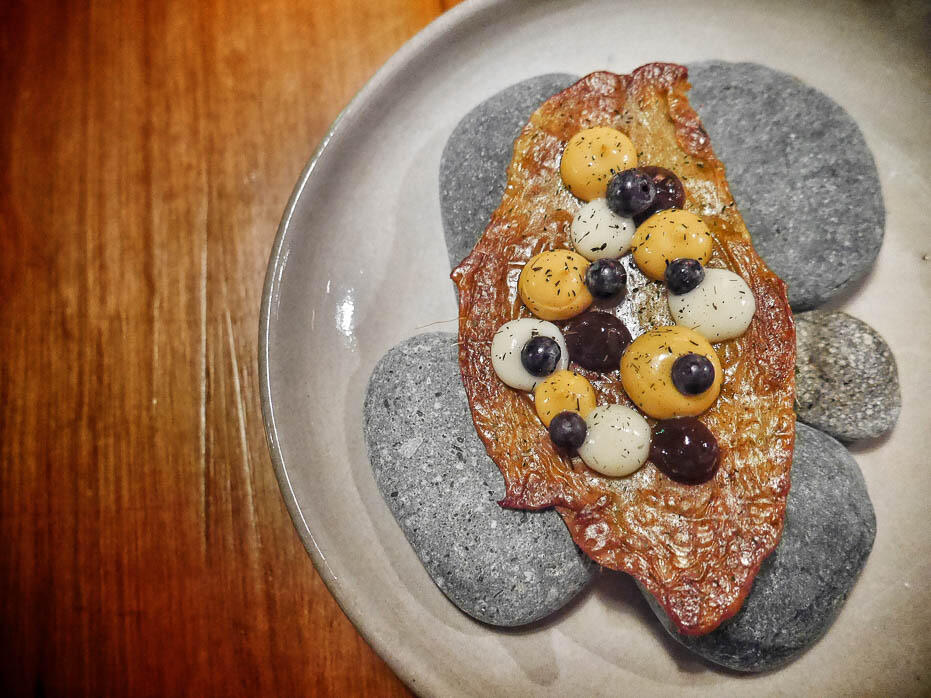 Foie gras, cauliflower puree and grape on flattened chicken skin… this was one of my top two favourites that night.
The flavours of the rich foie gras and subtle creamy cauliflower gave a velveteen sheen to the crispy chicken skin in my mouth, which i would have happily nibbled on and praised the heavens for anyway.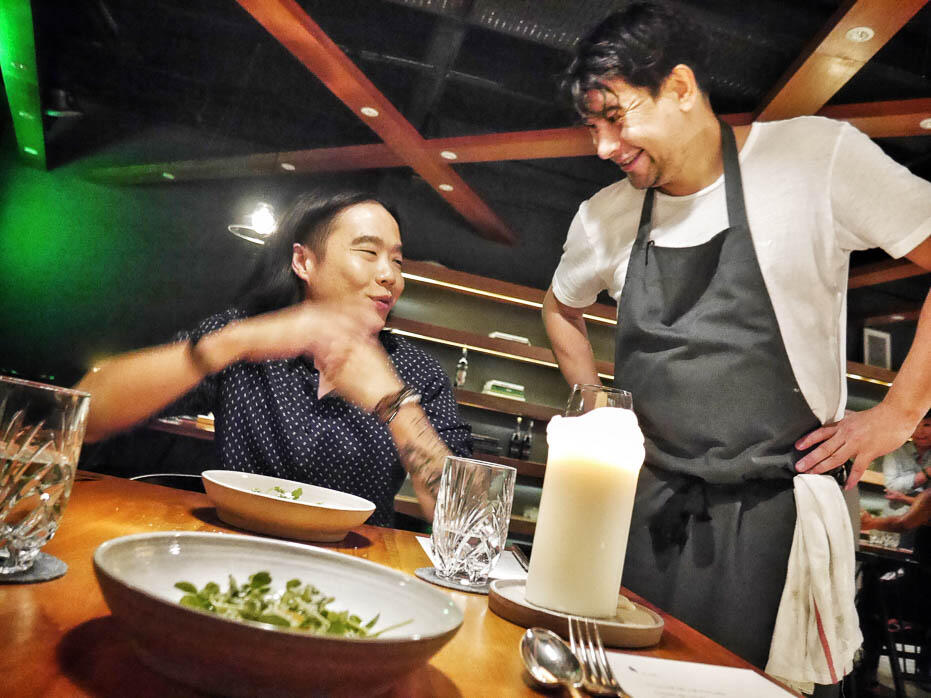 Christian told Jun and i how he worked at the legendary Noma, to which both our mouths dropped open.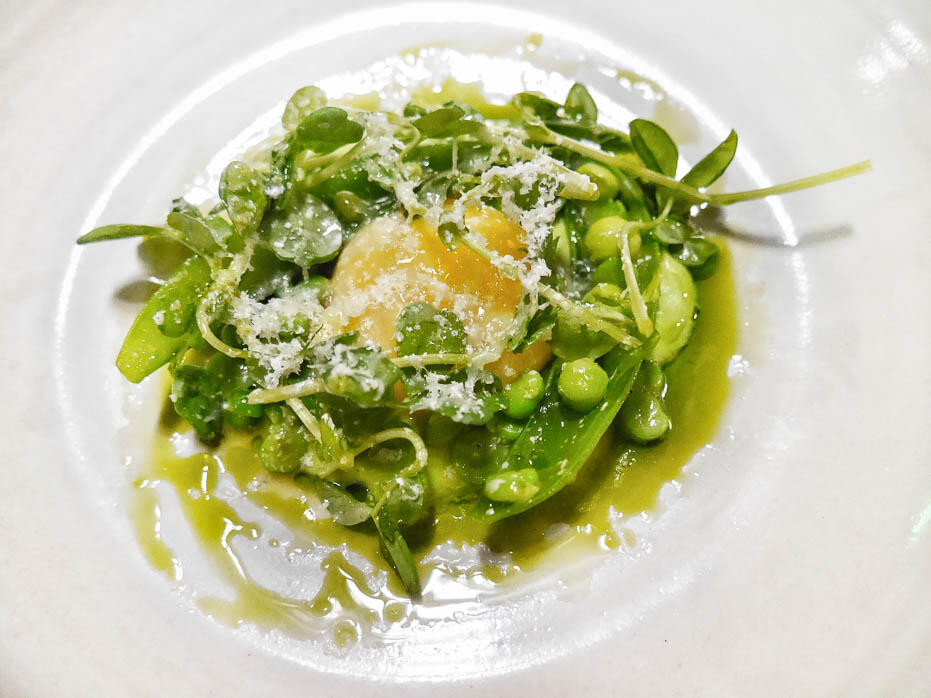 Pea custard with confit yolk and goat's cheese.
This was Jun's favourite of the night. He asked Christian how he managed to make the peas crunchy (chef talk, i was just scooping them into my mouth) to which Christian replied, "I'm not telling you."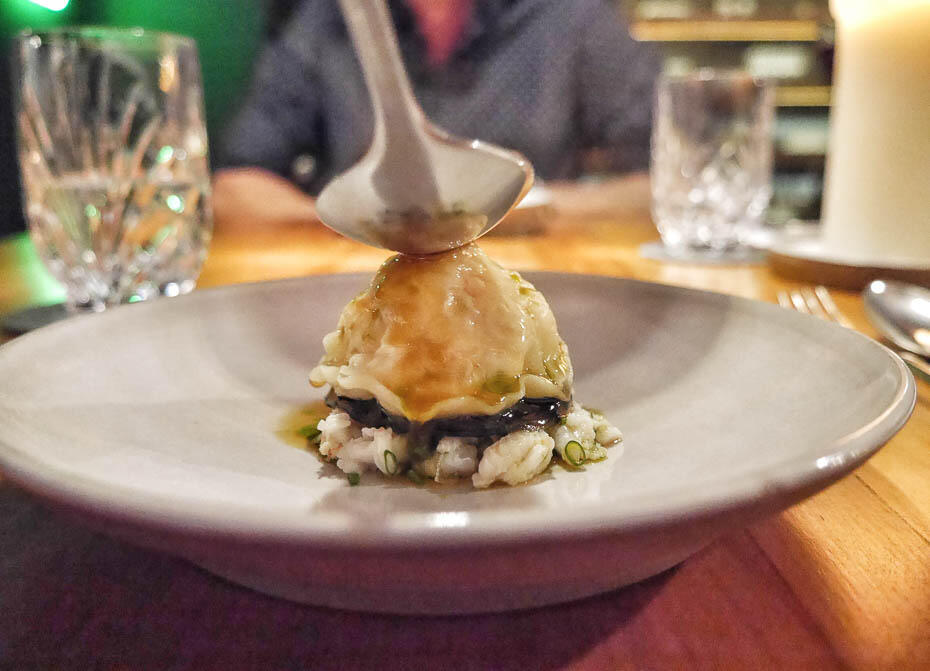 Prawn dumpling, smoked crab and preserved lemon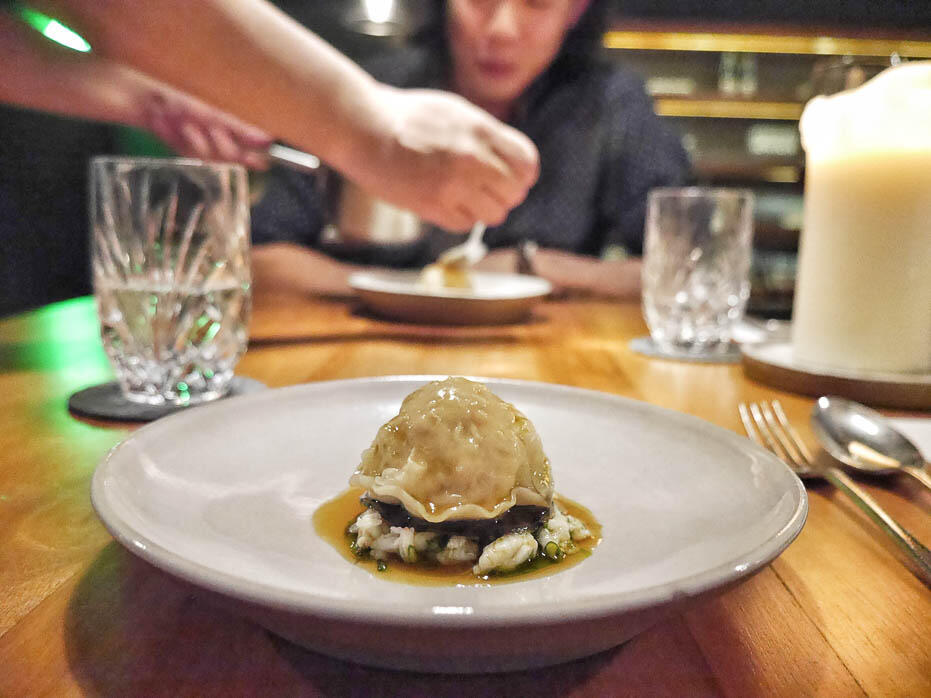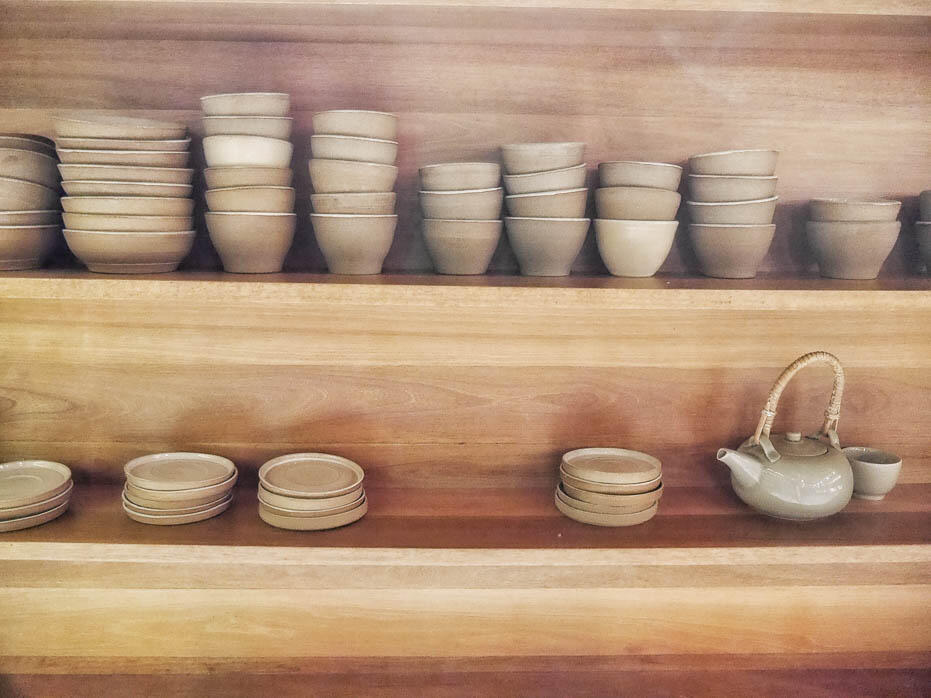 I ventured to the kitchen bar where any patron can observe the chef and his team prepping and plating.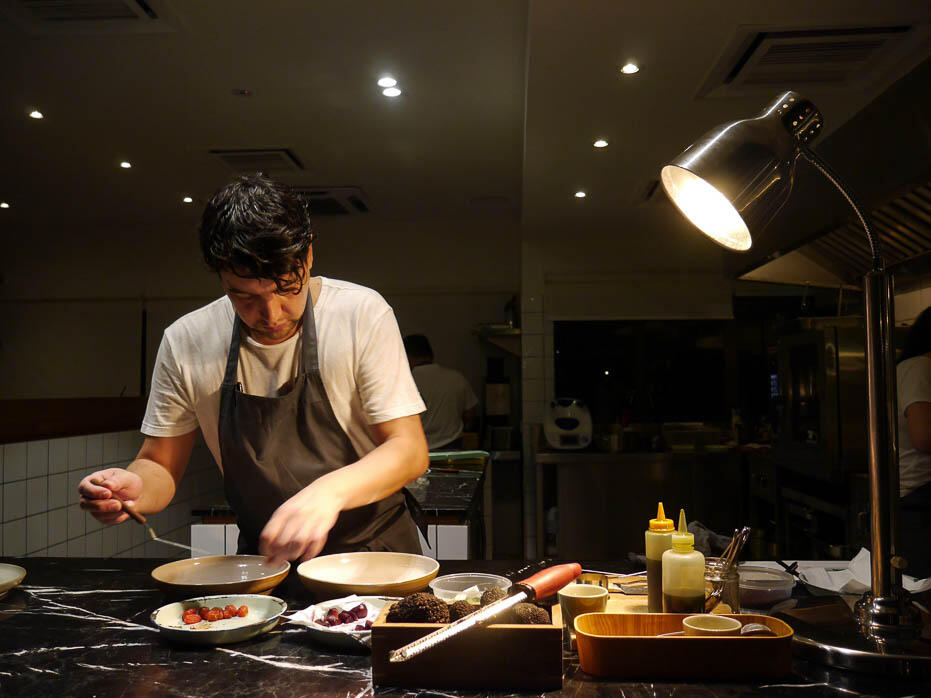 They want guests to feel that they can be fully immersed in the restaurant and be able to ask questions or engage with the staff.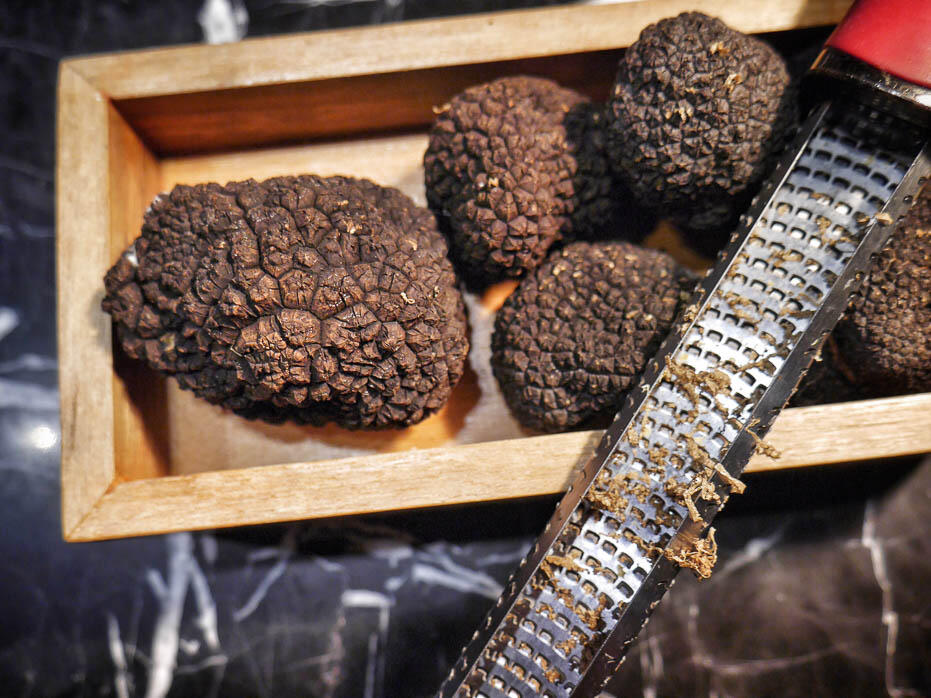 Oh hello truffles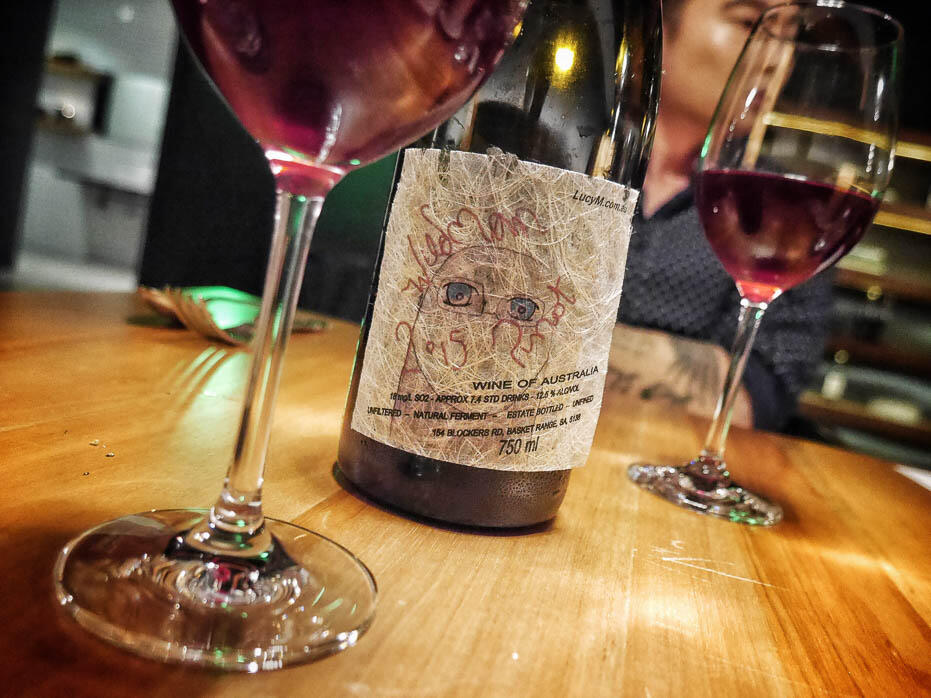 I am in love with the wine we were recommended that night. Seeing we were gonna have an array of light and full flavours, i thought the pinot noir seemed suitable and it's one i would return to have. It turns out to be an organic wine specially-sourced by Christian (he personally went to the vineyard and badgered the owner to supply them to him).
Sitka is an advocate of natural wines, and they swear how one feels absolutely no hangover after. Seeing i'm conscientious on buying only organic berries in the supermarket for my salads (cos berries absorb the most chemicals via their skin amongst most fruit!) it suddenly makes a lot more sense to also propagate that into my wine merrymaking.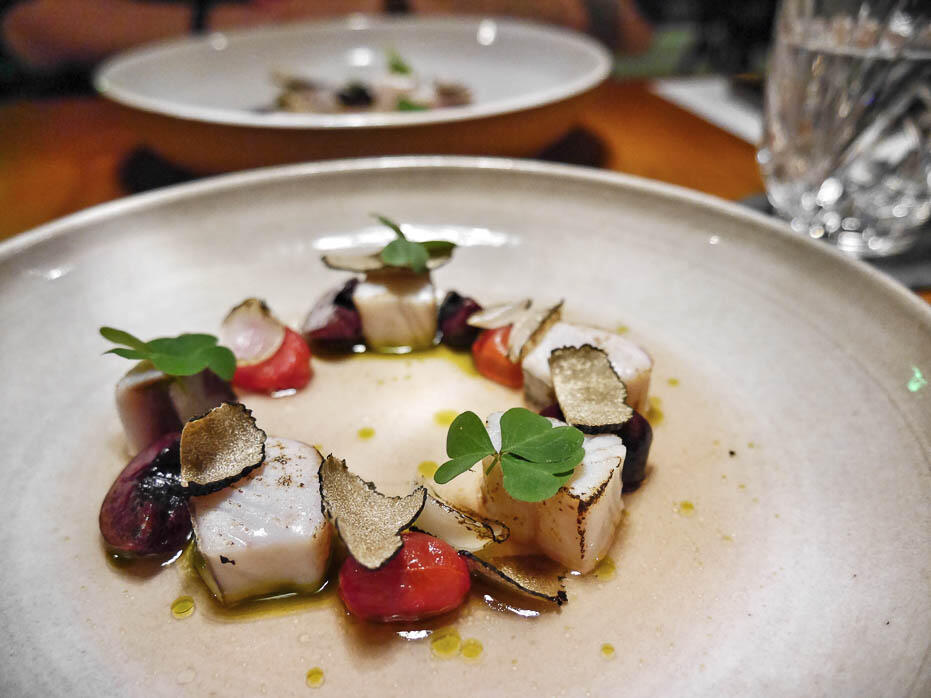 Confit mackerel (which is cured then torched) served with truffle and fresh cherries in tomato basil dashi. This was the other of my favourite top two that night (i couldn't pick just one favourite :p)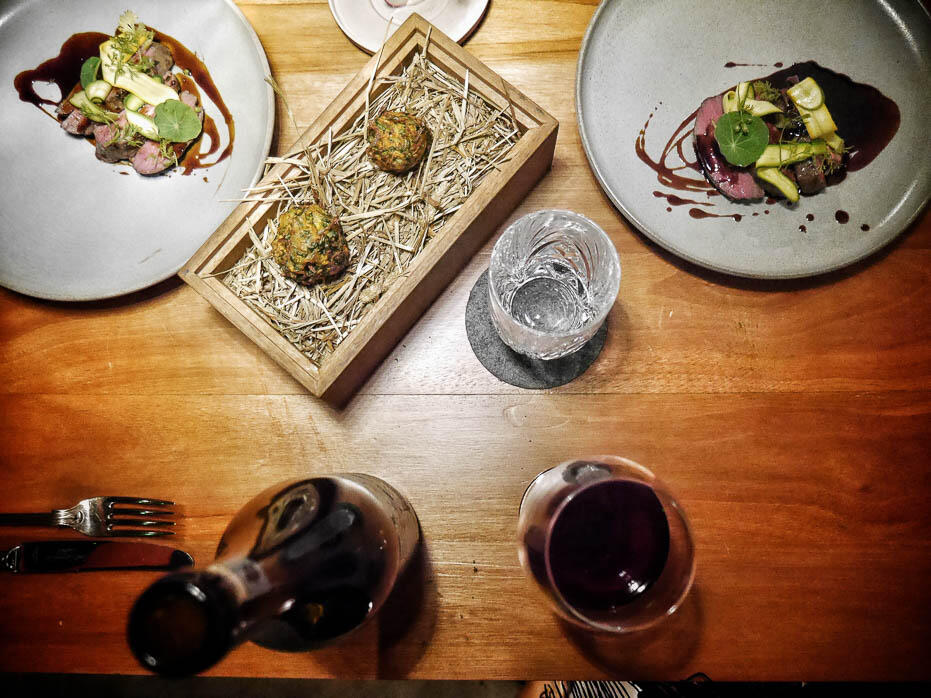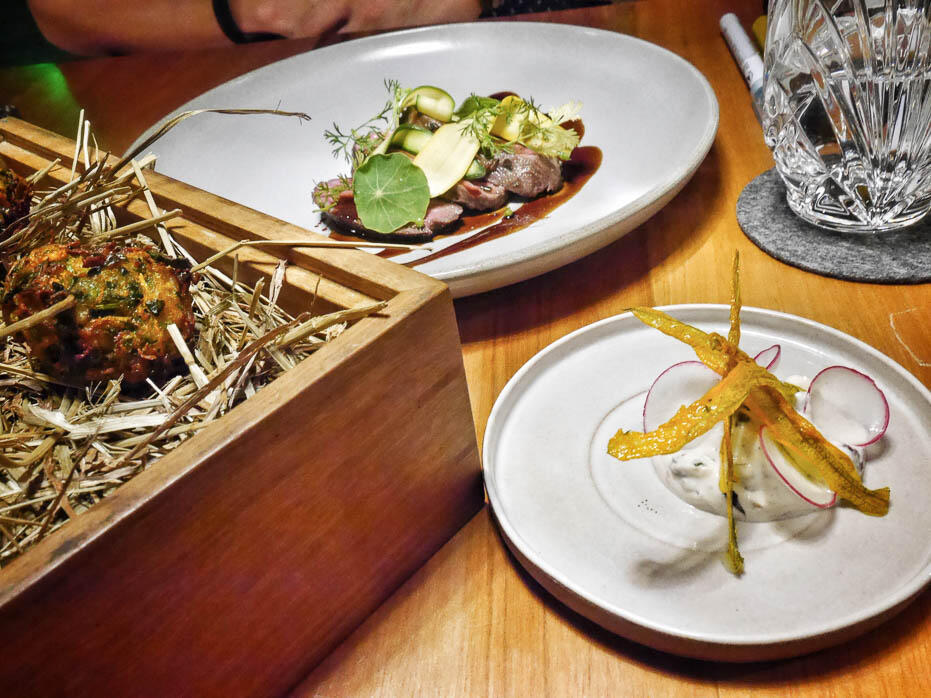 On the left is Pakora (fried Indian snack) which provided a rich little rich burst of rapture in my mouth,
on the right is home made ricotta with dehydrated zucchini flower which looked an edible sculpture.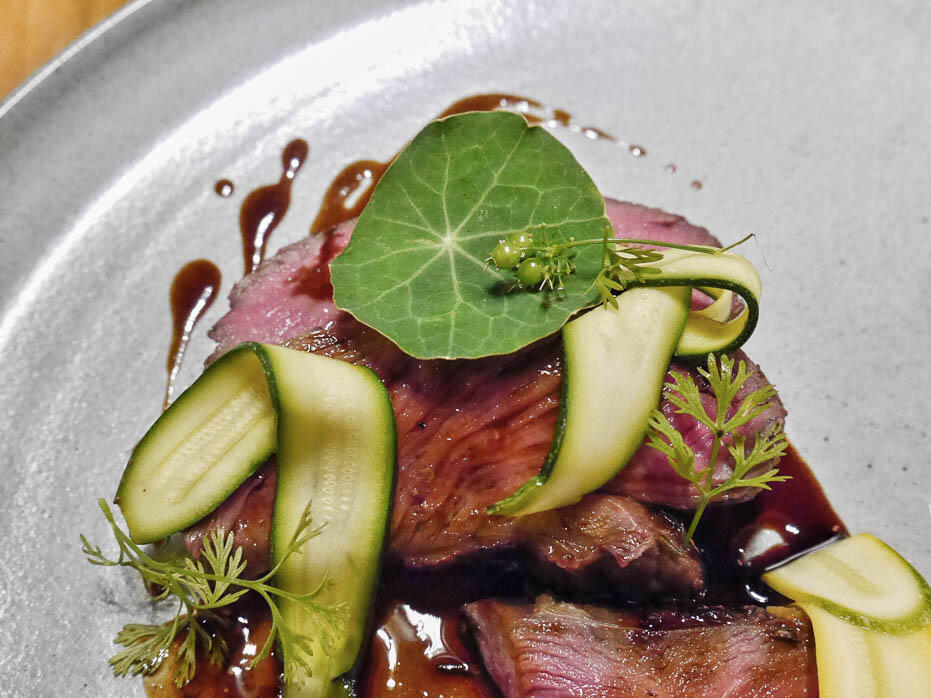 Chuck of lamb from Australia in lamb jus with pomegranate, topped with courgette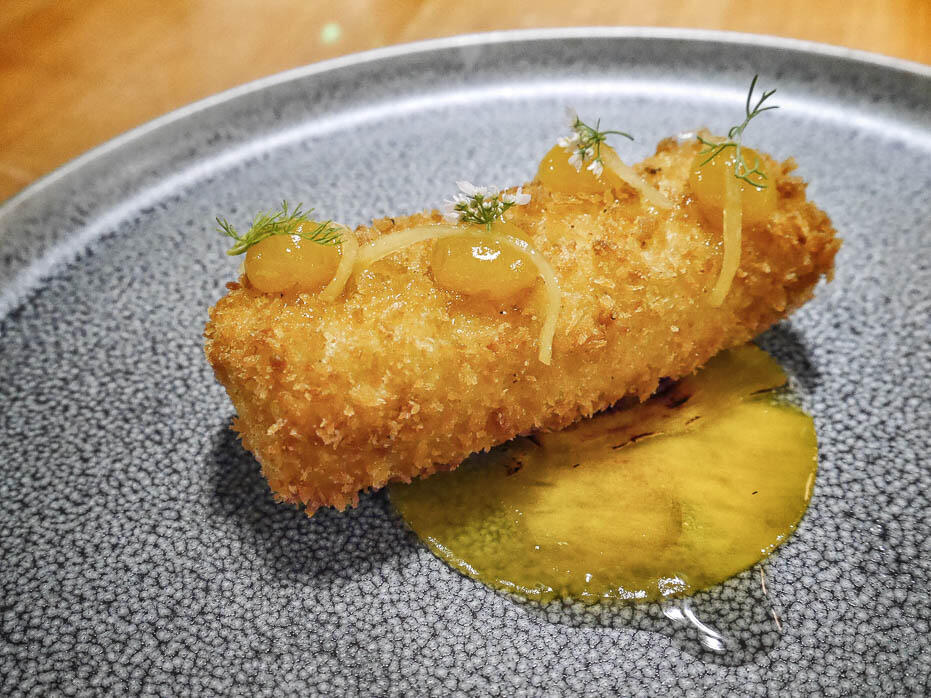 Jackfruit cooked in ginger with fried custard.
Oh i loved this heaps too… i ate it with wonder cos i'd never had anything that was so deceivingly simple yet enjoyable in so many layers. The custard was mixed with cornflour, deep fried, and placed atop tender sweet jackfruit cut into thin slivers and seemingly treated with WHAT I DON'T KNOW, and topped with dill and ginger flowers. Added bonus for the satisfaction of seeing the warm custard pop out when i cut it.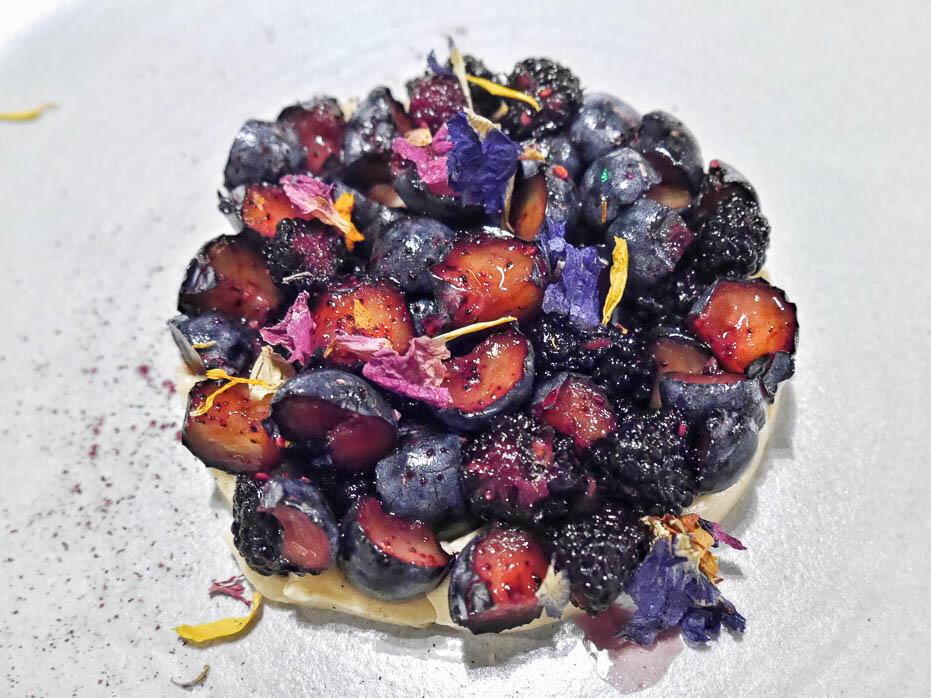 Organic berries atop burnt clotted cream and rose honey
The clotted cream was set for 12-13 hours then burnt with rambutan charcoal (for a fragrant burnt taste?) and topped with Danish Berries. I was really full by then and #sorrynotsorry it was the last dish.
After dinner, Jun and i were ready to head home where i was planning to have a quiet Saturday night in with Netflix + and a whisky, but we were invited to stay back for a drink…
Which turned to two…
Which turned to more
Which turned to going home at 3am
With a very satisfied tummy and happy heart
?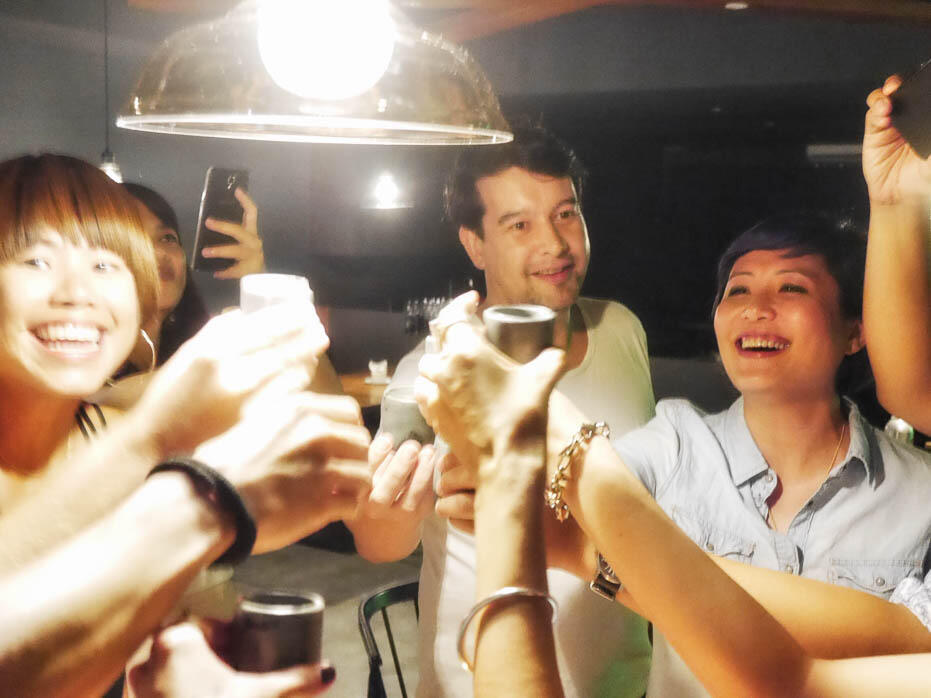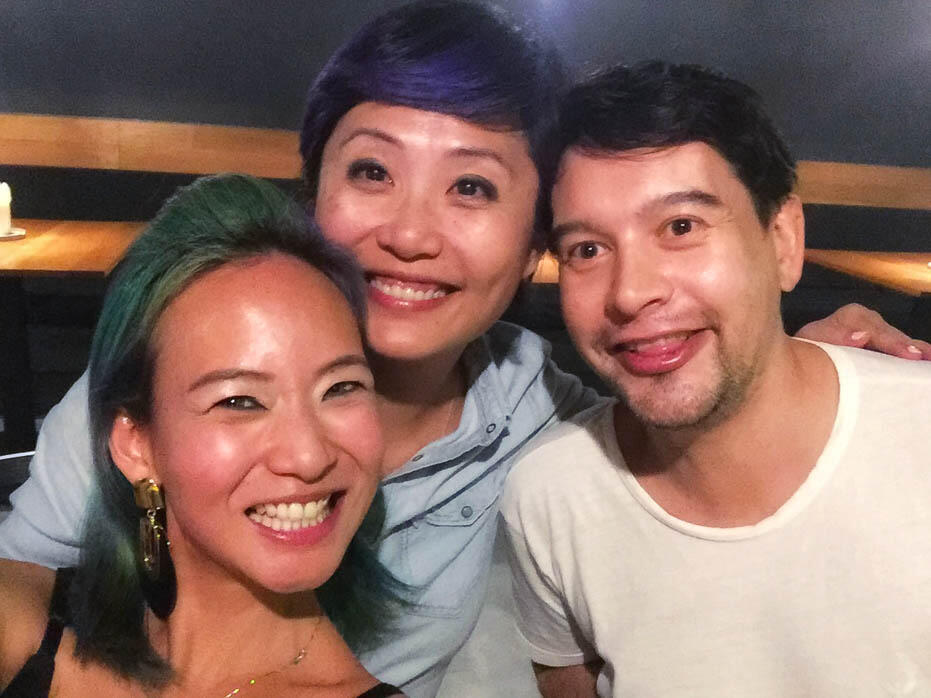 Me with Jenifer and Christian
See you again soon, there's no way i can keep myself away for that long.
+ + + + + + + + + + + + + + +
Sitka Studio opens twice a month. The constantly changing tasting menu is complemented by a list of natural and organic wines, champagnes, along with a small selection of craft beers aperitifs and a concise juice pairing menu highlighting amazing local and regional fruits.
Sitka Studio tasting menu dates for this month are 21st and 28th October 2016.
RM298++ per pax for tasting menu / RM195++ menu for bespoke dinners
Sitka Studio
8-5A, Jalan Batai,
Damansara Heights
Kuala Lumpur, 14  50490
Malaysia
For any inquiries and reservations –
Call: +6017 2777 848 / +6016 382 6336 / +603 2011 1117
Email: info@sitkarestaurant.com
URL: www.sitkarestaurant.com
IG: @Sitka_Studio
URL: www.moonfish.co.uk
IG: @moonfishcafeaberdeen