For some reason, i took notice of The Bowery Group despite never visiting their first outlet before (Bowery Petit in TTDI), thanks to their vibrant subscription emails showing off the various services they provide- catering for events, off-site catering for weddings/parties, gourmet takeaway, and food delivery (they send pizza slices and craft beer to your doorstep!!)
Founded in 2015, The Bowery Group opened its first flagship restaurant just last October at The Square in Publika Solaris Dutamas (on the same row as Social). Called BOWERY, the American gourmet Kitchen & Bar is heavily influenced by founders Aneesha and Fariz's time in the Big Apple.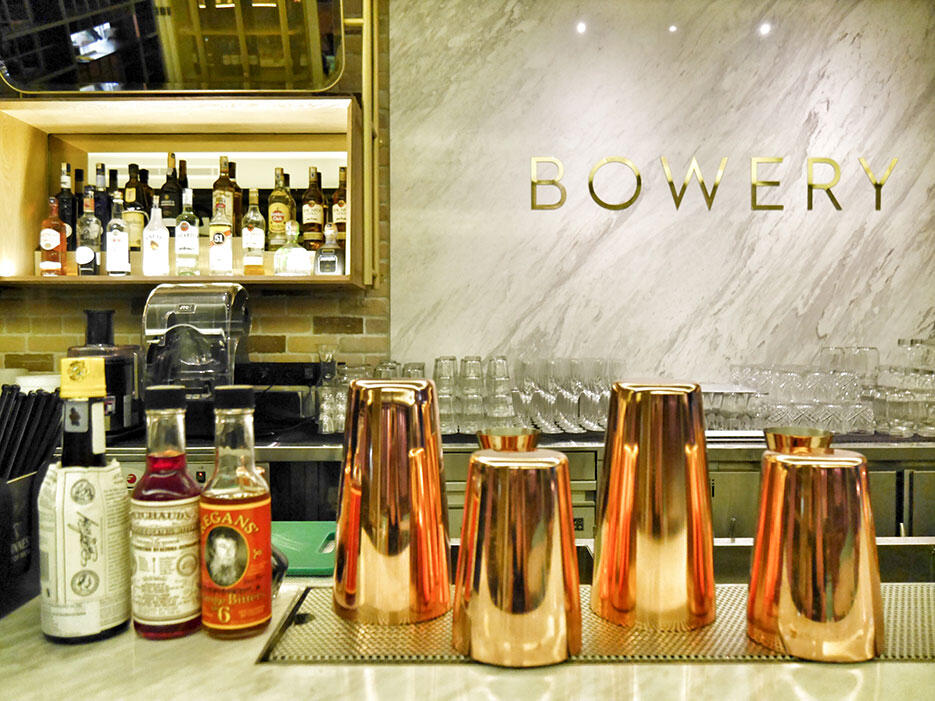 Helmed by Operations Manager Shane Sta Maria, he's also responsible for concocting the bar's handcrafted cocktails that boast to be on par with NYC's trendiest watering holes.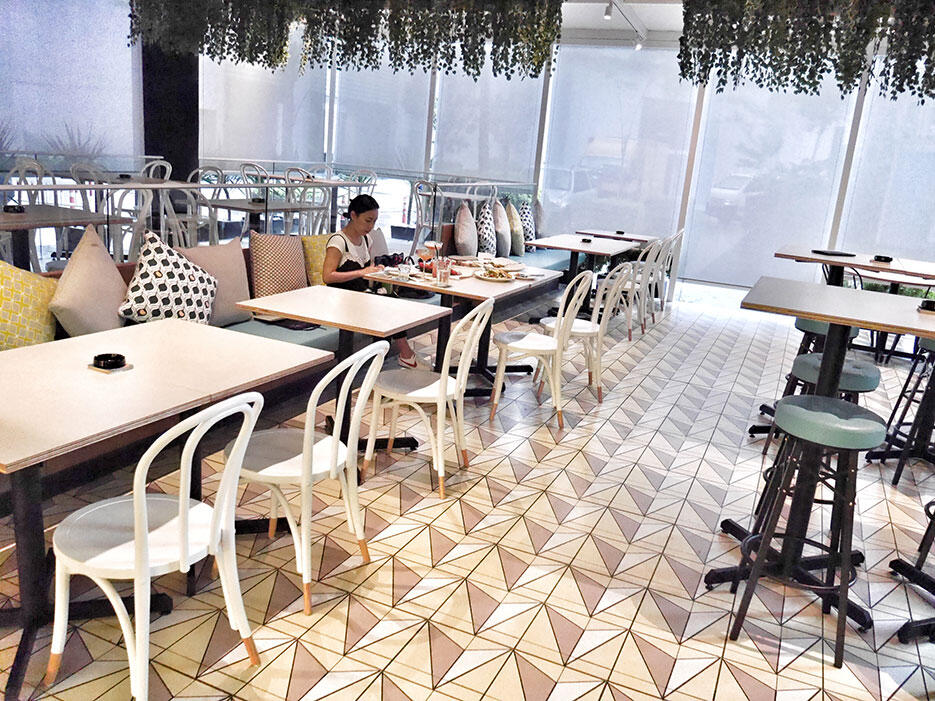 Baby/Faridah and i sat outside, where the custom-design floor is recognisably tiled by Nala Designs.
Under the culinary direction of group Executive Chef Ahmad Farhan Noorzali, the vast menu at BOWERY which is divided into AM and PM versions serve many dishes under the categories of breakfast & brunch, soups, salad bowls, burgers & sandwiches, pizzas, pastas, and night nibbles- all set 'to break the dogma that American food is greasy'. But you know how there might be that one person in the group who changes where everyone eats cos they insist on Asian? That problem will be no more cos BOWERY also has Asian plates (like Bonito Somen Noodles, Mantau Chinois, Kimchi fried rice).
As Kyian (PR for Bowery) supervised the dishes for us to try that day being brought out, I stared at everything between the thoughts of, "We'll NEVER be able to finish everything," and "We should have called someone to come help us."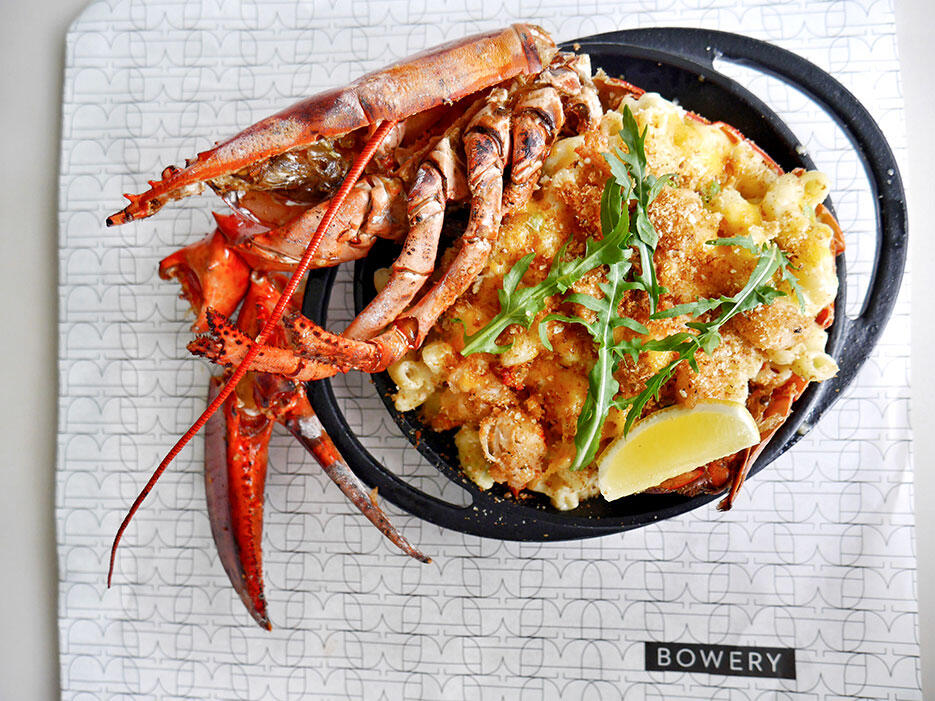 Lobster Mac & Cheese – Lobster Tail, Baby Peas, 4-Cheese Sauce, RM59
You can order artisan pizzas for RM33 by choosing the
– base (tomato or white garlic sauce)
– 4x greens (aubergine, bell peppers, jalapeños, mushrooms, olives, pineapples, roma tomatoes, zucchini)
– 1x meat (bbq beef brisket, beef meatballs, chicken bacon, mussels, pepperoni, prawns, roasted chicken, smoked salmon, spicy lamb sausage, veal sausage, turkey ham – wasn't that a lot!! my stomach is rumbling typing all that. Blogging about food late at night is a terrible idea.)
– 2x dressings (aged balsamic drizzle, arugula, capers, gherkins, lemon, lime, mesclun, olive tapenade, pesto, sour cream, spinach, sundried tomatoes, 2 eggs)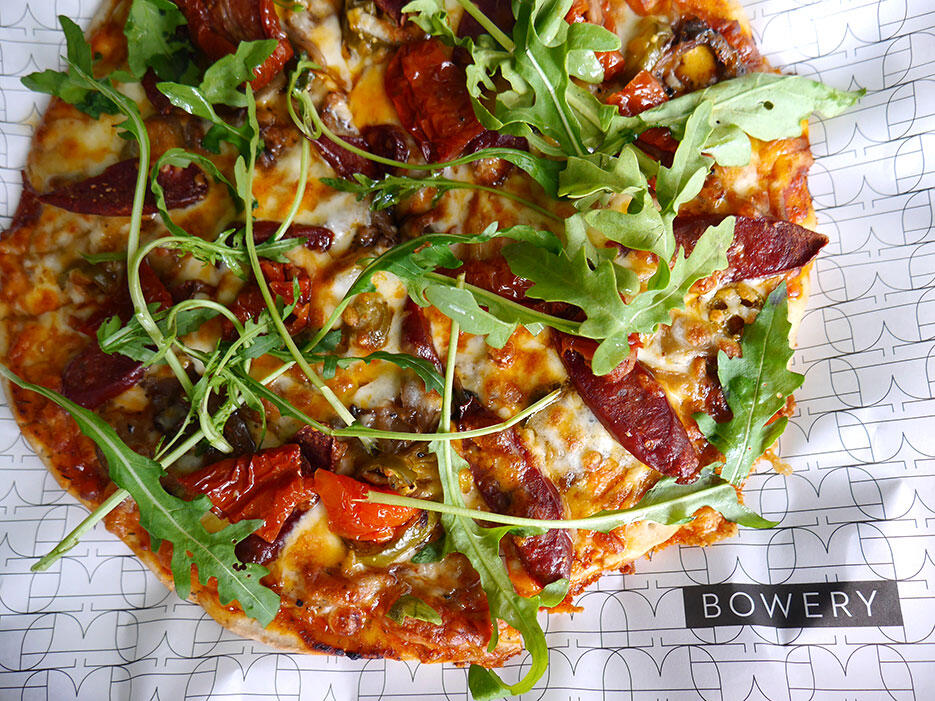 I chose a tomato sauce for the base and jalapeños (cos i like that zing), zucchinis, aubergine, mushrooms and spicy lamb sausages, topped with sundried tomatoes and arugula. I seriously think it's pretty awesome for RM33.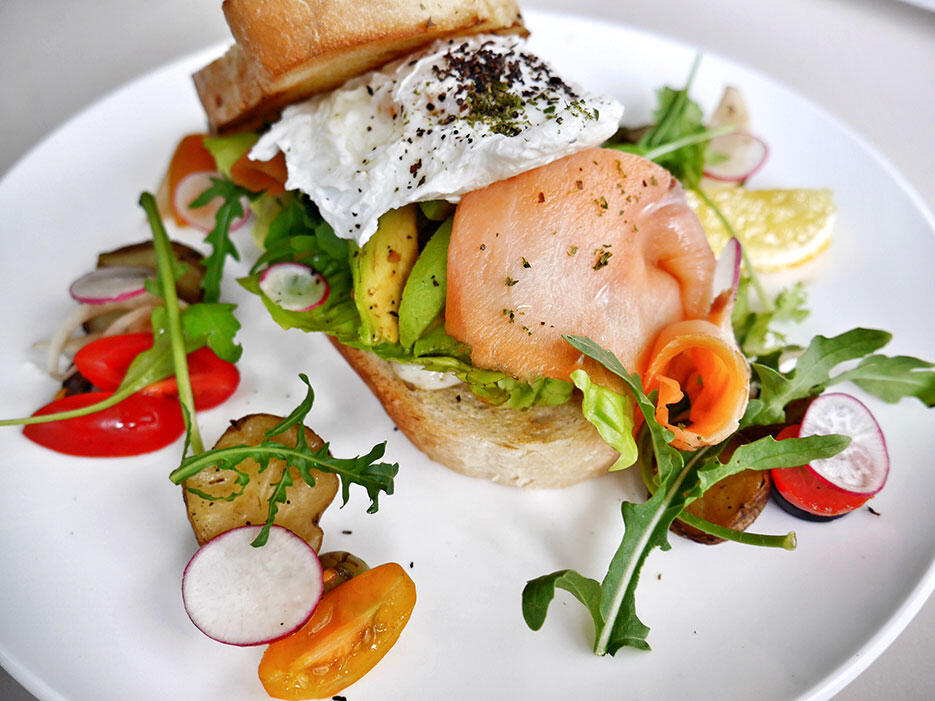 Eggs & Avocado Tartine – Poached Eggs, Avocado, Smoked Salmon, Sourdough Toast, RM25
Not my favourite cos i'm a gravy kinda girl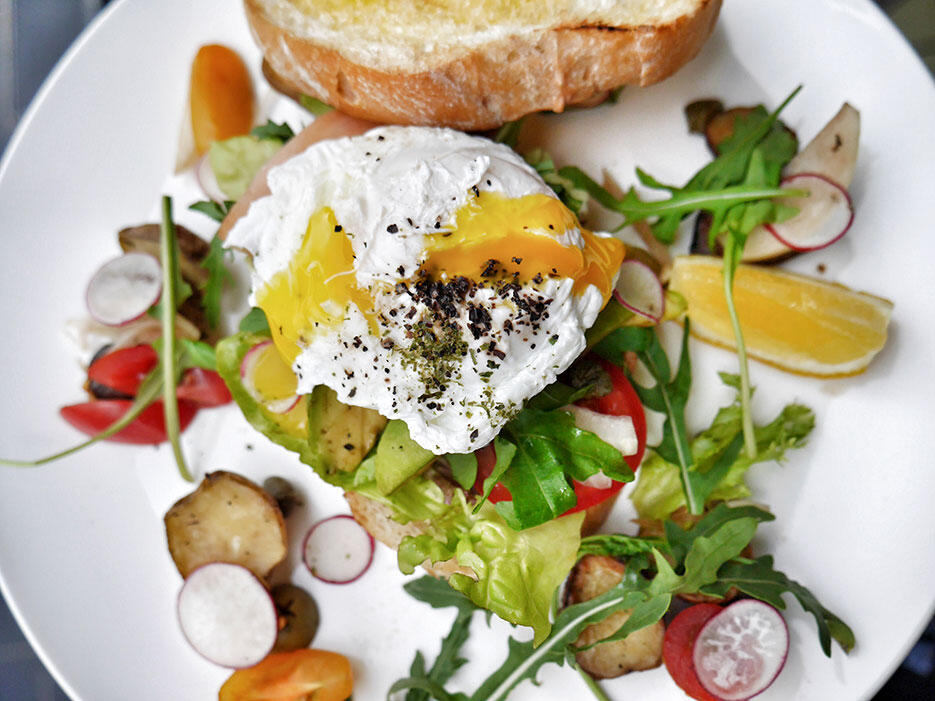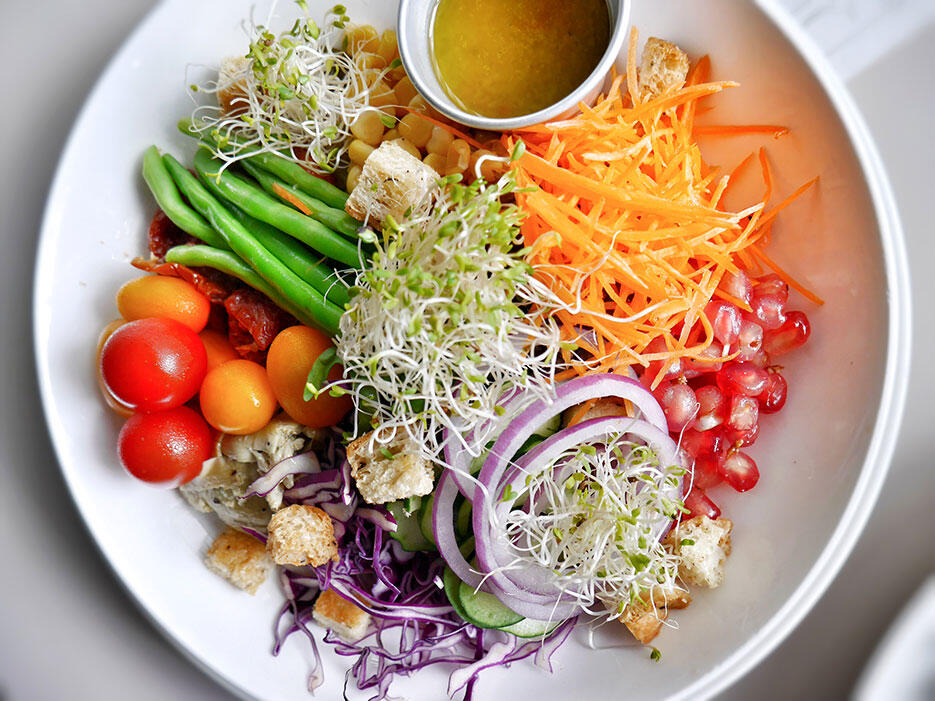 They have impressive salad bowls too that i'm gonna return to try!
Above is the Spring Bowl – Charred Artichokes, Pomegranate, French Beans, Carrots, Beet, Corn, Radish, Red Cabbage, Mixed Greens + Mango Lime Dressing. RM26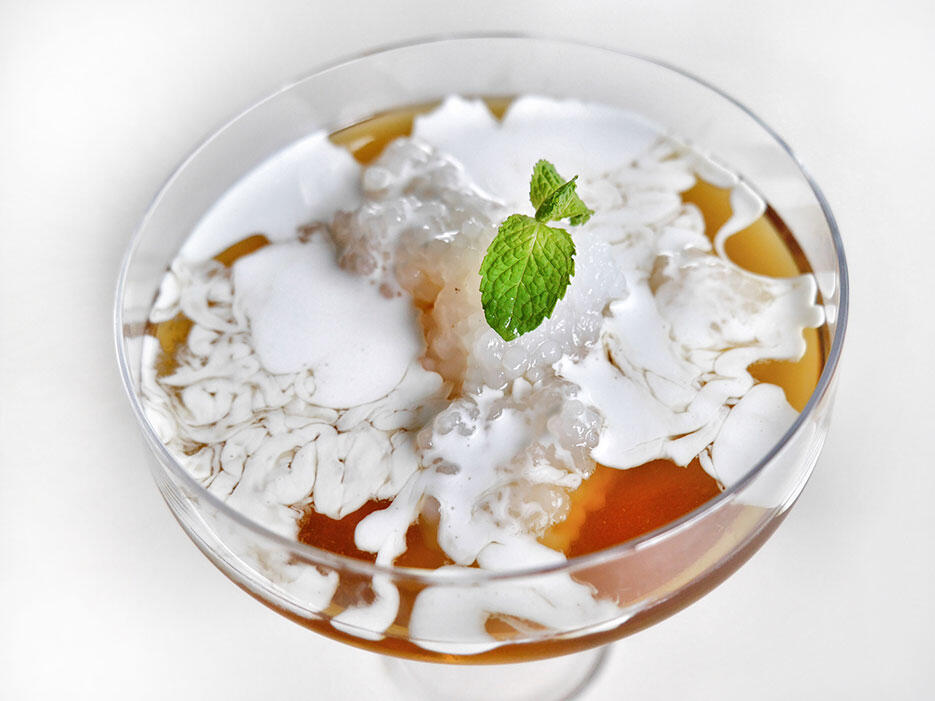 We were given three cocktails to taste, but i would have appreciated them more another day cos I was just getting over the flu and my tastebuds weren't keen on alcohol at the time (oh the surprise!)
Regardless, i love their names and the creative concoctions i daresay i haven't seen before in KL. A Sago Melaka cocktail? Rojak syrup with tequila? 0_0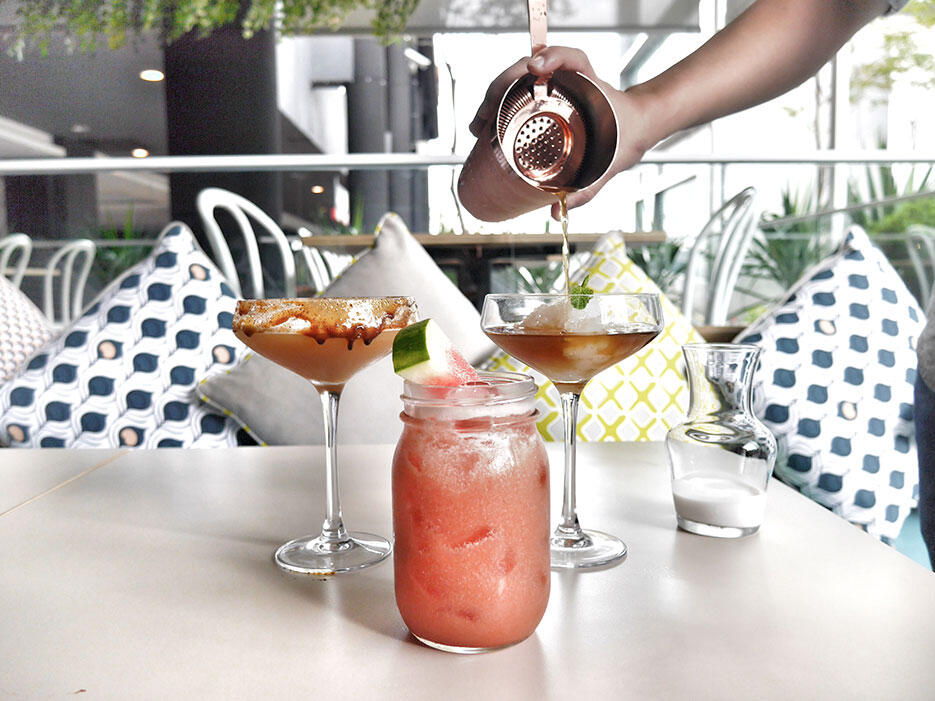 L-R:
Margarita Malaya – Tequila, Orange Curacao, Fresh Lime Juice, Rojak Syrup. RM42
Belafonte (Mocktail) – Fresh Watermelon, Pineapple & Lime Juice, Coconut Cream, Palm Sugar, Orgeat Syrup. RM26
Sago Melaka – White Rum, Sago Sago, Palm Sugar Syrup. RM42
An interesting offering is a punch bowl triad (Agua Fresca Sandia, Half English and Scarlet Sangria) that each serves up to 4-6 people, which is relative 'cos that depends how much each person drinks XD
As for their dessert menu, everything sounds delicious. I don't have a sweet tooth and i can't believe i'm saying that i want to try them all. I don't have a sweet tooth! I prefer savoury and salty foods most of the time!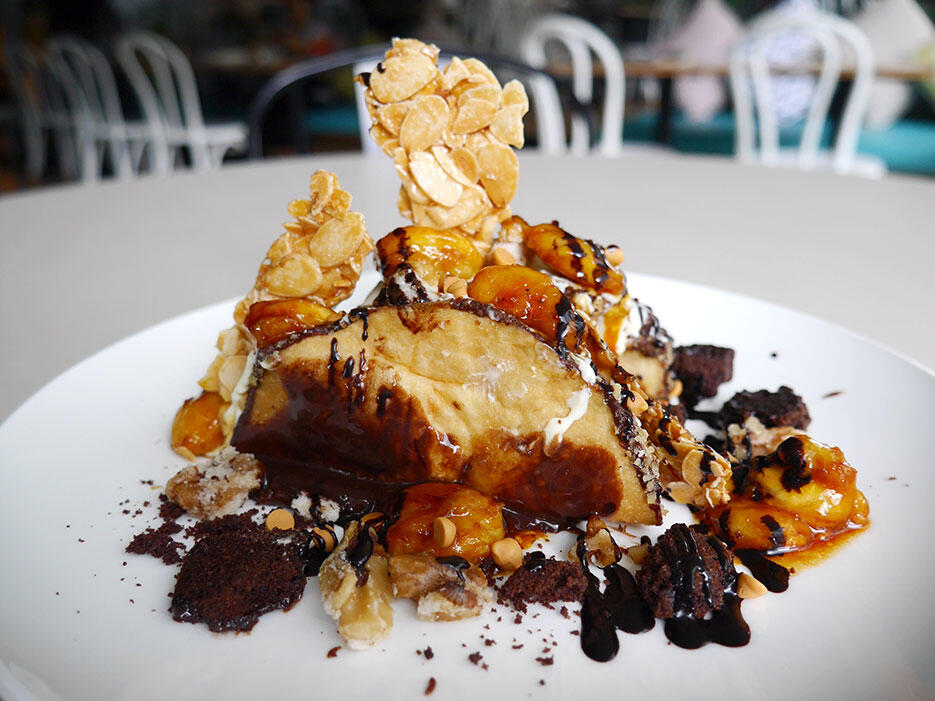 Banana Tacos – Cream Cheese, Butterscotch Chips, Crumble, Chocolate Drizzle, Almond Brittle. RM23
We were so full and yet this was a beautiful medley or variations of sweetness, melting and brittle textures, and flavours. If you're an insane chocolate fan, the Bowery Blackout might be your poison (chocolate ganache bar, chocolate soil, chocolate frozen custard, passion fruit puree). They have this Vanilla Bean Panna Cotta i'm SO TRYING next (comprising of fresh figs, sea salt tuile, and Tahitian vanilla frozen custard. What the whattttt).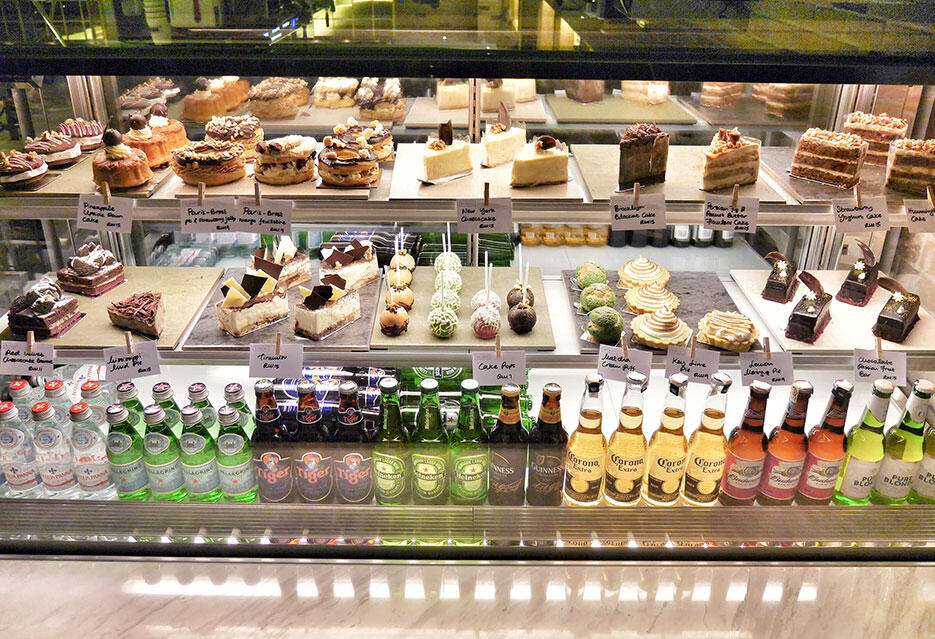 Besides their desserts menu, all the cakes on display are also for any takers.
After eating, Baby and i took a walk (whatever movement we needed to digest!) into the indoor area of the establishment, all-in-all covering 3,500 sq. ft.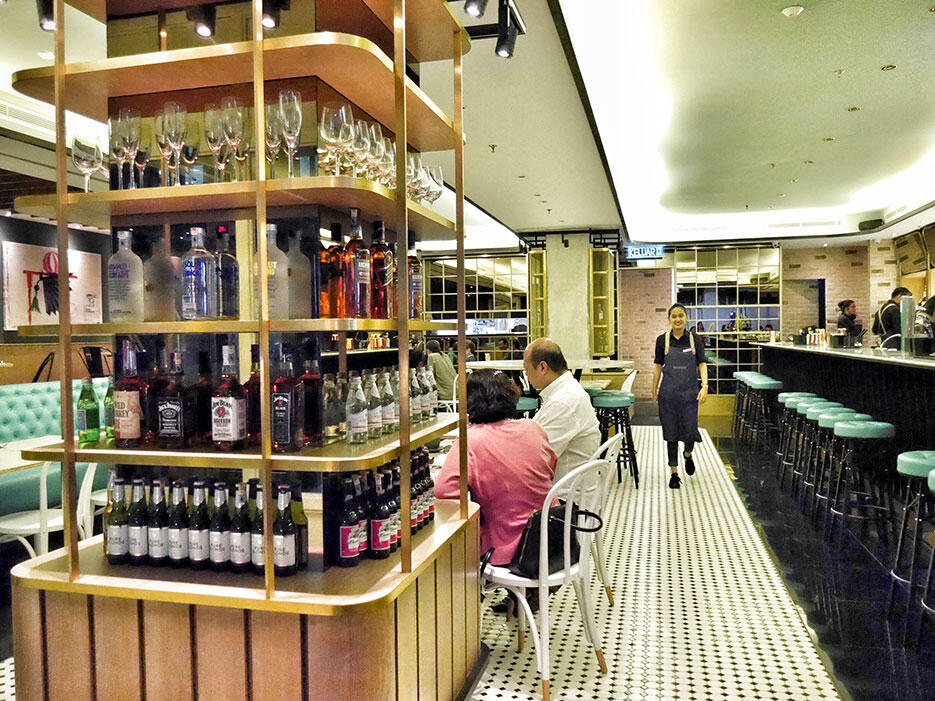 It *does* make me think of New York what with those bistro-like lounges (albeit in mint) and bar stools, teamed with a contemporary combination of brick walls, b+w mosaic tiles, brass accents, and white marble feature wall behind the 10-foot long bar.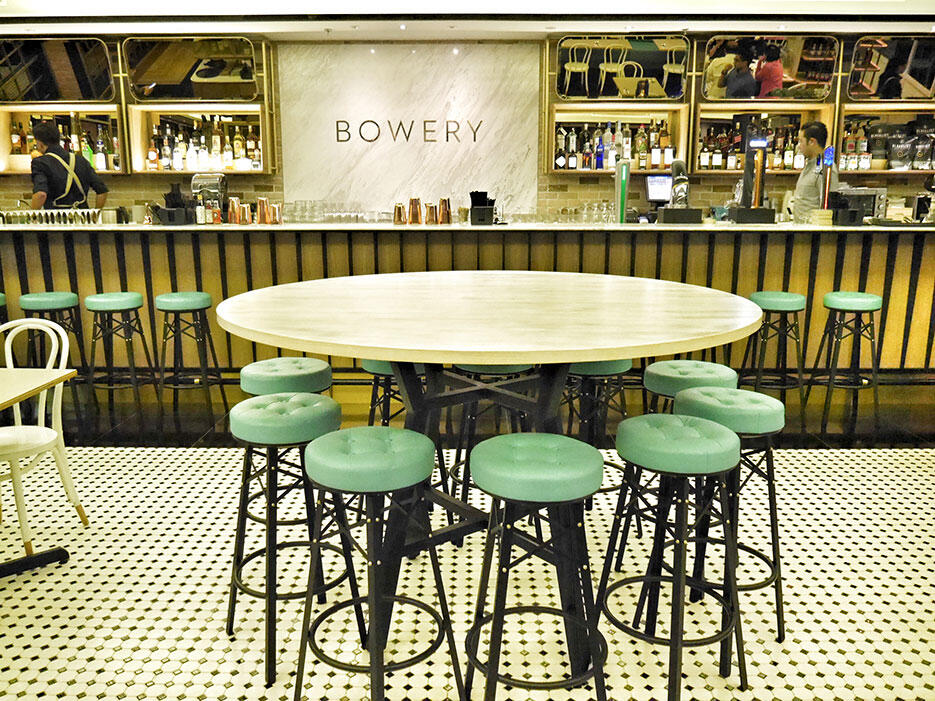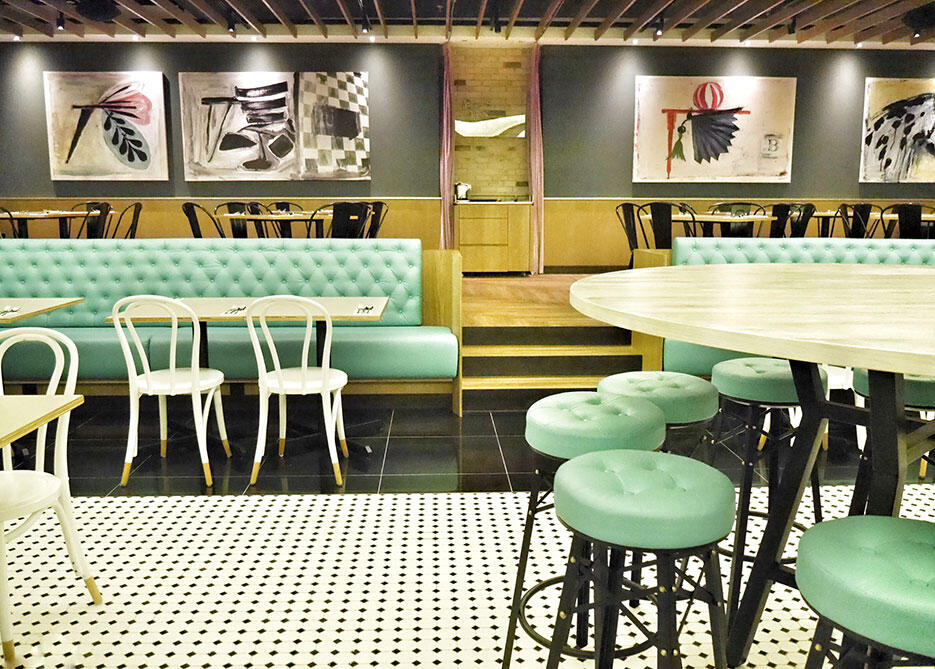 On the raised area is a private dining room that can be cordoned off.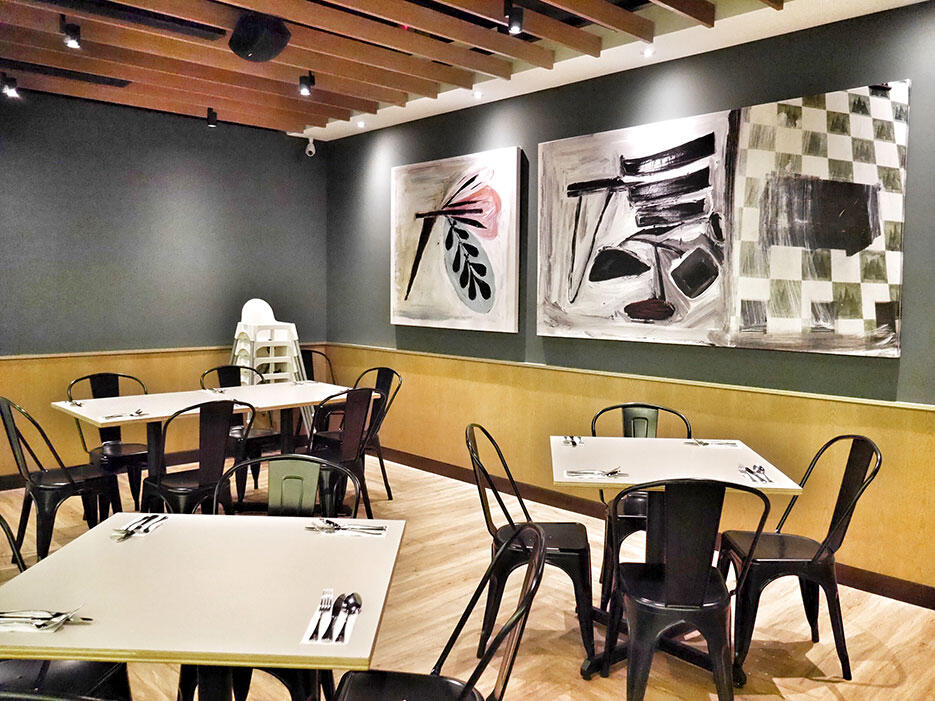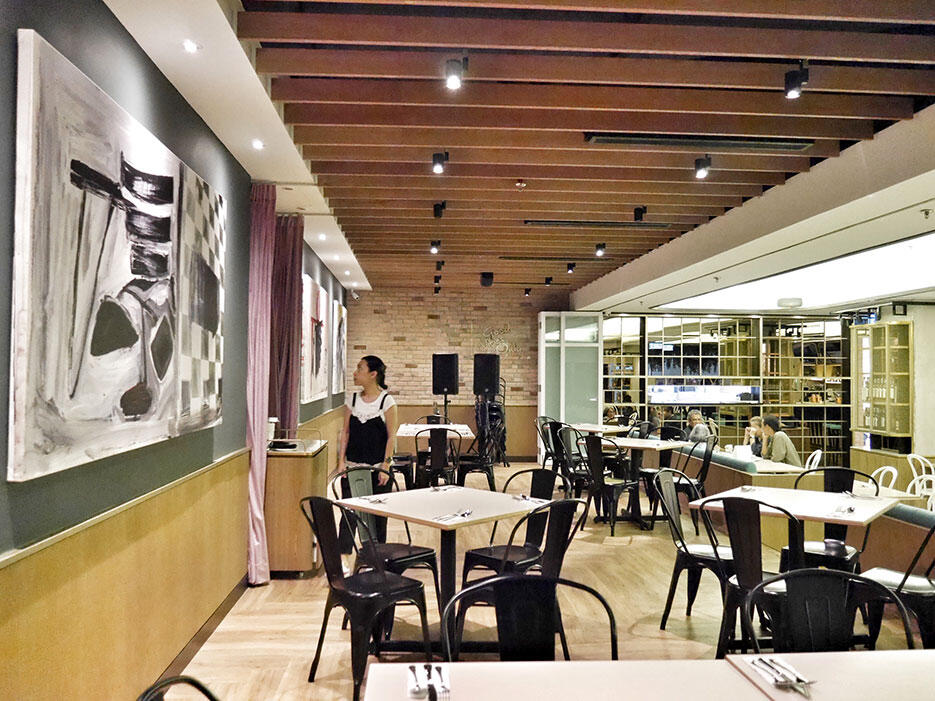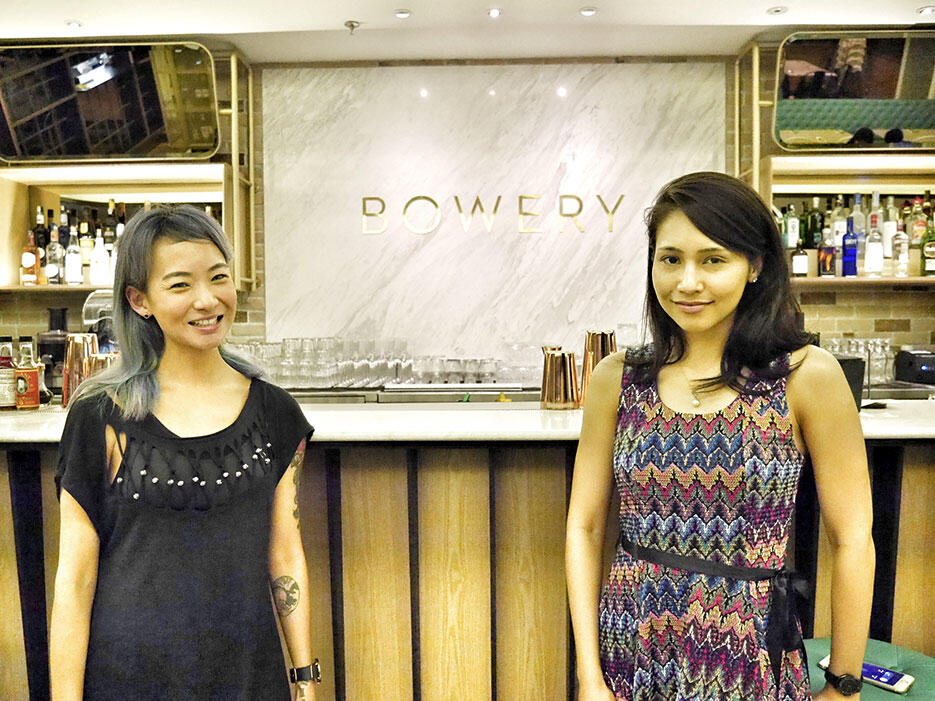 Me (obviously not having a great hair day), with founder Aneesha Veriah.
Fariz and her sat down with us for lunch and told me how they met in Changkat, to which she scrunched her nose at cos it wasn't as romantic a story as she'd hoped it to be on how she met her husband.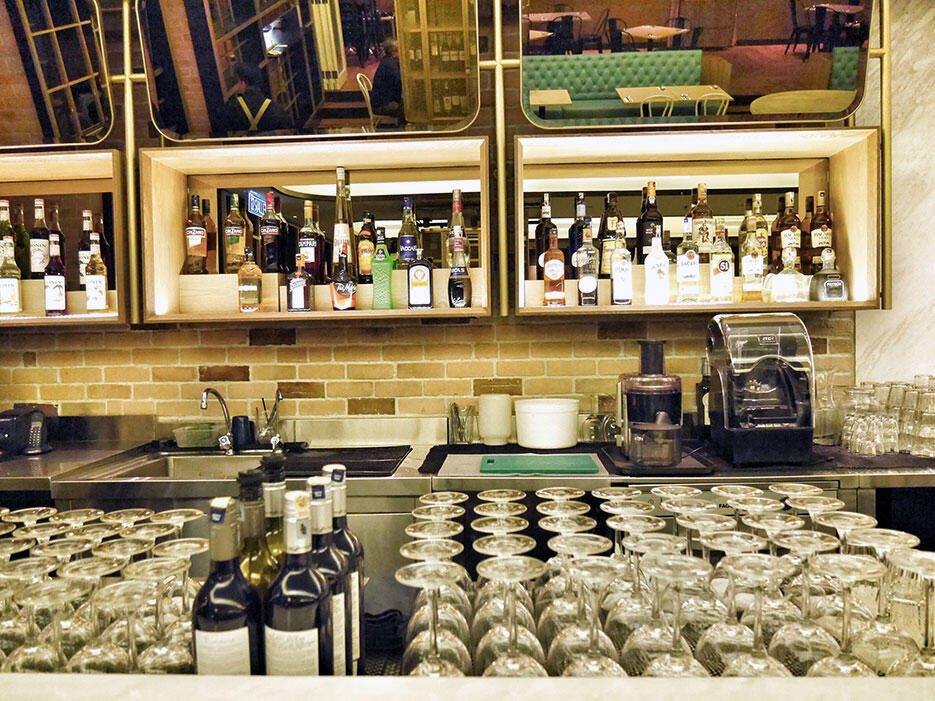 Thursday is ladies night there, where girls get complimentary drinks from 8-10pm!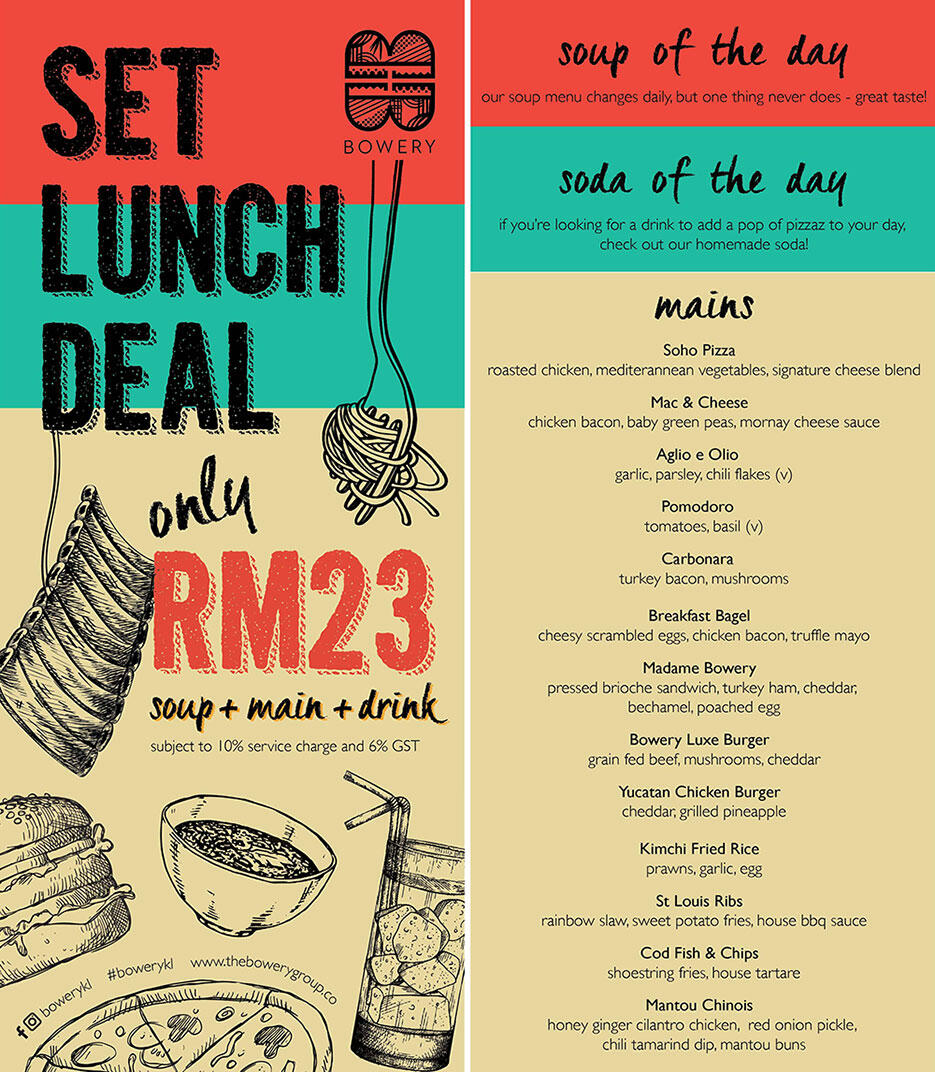 I just saw this in my emails today so thought i'd chuck it in here to share: they've got a lunch set menu for RM23!
If you're interested in ordering Christmas dishes (like roasted turkey, Turkey Parmentier Pizza, Bowery Christmas cake, Cherry Rose Pavlova, Chicken Liver Pâté with homemade focaccia) check out their Christmas party menu: *click here*
As for New Year's Eve, they promise fab promos along with an offering of dishes (like Salted Egg Yolk Chicken Popcorn, Jalapeno Lamb Sliders and Beef Meatballs in Pomodoro Sauce, Roasted Lamb Shoulder Provencal with Caraway Jus & Mint Jelly, Grilled Butterflied Chicken with Honey Mustard Glaze and Stir Fried Chilli Beef) to indulge in before fireworks go off at The Square in Publika on the stroke of midnight
Promos at BOWERY's year end soiree:
– cocktail punchbowls such as Scarlet sangria will come with 2x complimentary nibbles of your choice
– an extra 1/2-pint will be thrown in complimentary to their regular 3 pints promo
– signature handcrafted cocktails such as crowd favourites Passion Fruit Colada and Bowery Brooklyn Blackout will be on a buy 2 free 1 promotion
– selected house bottles will be up for a Twin Bottle promotion exclusively for dine-in customers
+ + + + + + + + + + + +
Open from 8.00 AM to 2.00 AM daily.
The Bowery Group
D4-1-16 Solaris Dutamas
No.1 Jalan Dutamas 1
50480 Kuala Lumpur
tel: +60 (3) 6411 6496
mobile: +60 (12) 629 2588
email: pr@thebowerygroup.co
www.thebowerygroup.co
FB: www.facebook.com/bowerykl
IG: @bowerykl
"The cupboard is wide, the menu ever-changing and the experiments ever-underway."