Happy Merdeka everyone!
Last night, I went for the launch of the #EhWauBulan Art Showcase @ White Box, Publika cos Claudia asked for a date. The last time we spent time together was during our birthdays where went for a quick dinner together, and before that… maybe not for a year. I do miss her, and a part of me feels annoyed when she makes flaky plans that don't happen, so i was almost ready to throw in the towel if she ffk-ed me on this one. :p It turned out to be an awesome night where we just hung out like old times and laughed a lot.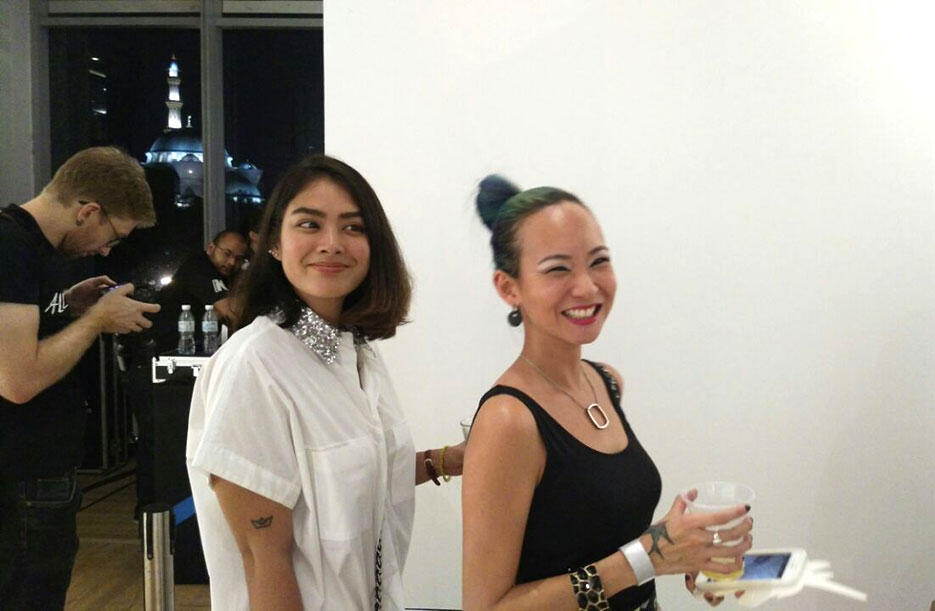 We both wore pointy silver shoes that day! #MFEO No pic oops but i just wanted to remember that.
Paulius (always) at work on the left.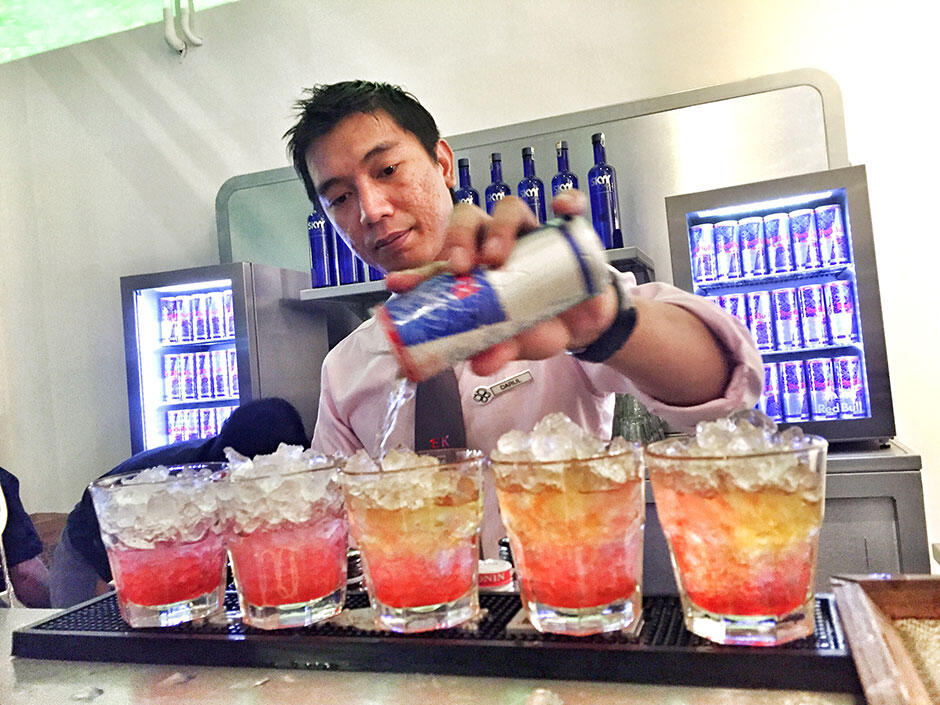 Organised by Red Bull, the #EhWauBulan Art Showcase features 59 artworks in honour of the nation's 59th year of independence and will be open to public till 7th September 2016.
"Held in partnership and with the support of The National Visual Arts Gallery, Red Bull's #EhWauBulan art outreach aims to cultivate Malaysia's art scene and to empower local artists with wings to document their journey through art. An avid supporter of society and culture worldwide, Red Bull's local efforts carries the ethos of its global art initiatives such as the Red Bull Art of Can and Red Bull Doodle Art."
The pieces were chosen in a blind selection process from over 332 unique submissions by a panel – street artist Fritilldea, contemporary artist Ivan Lam, and National Visual Arts Development Board trustee & artist Phillip Wong – who were quoted on being "pleasantly surprised by the number of submissions, varied artistic styles, as well as the experimental energy in subject matter." Of the work selected, one standout artist will benefit from a bespoke artist programme.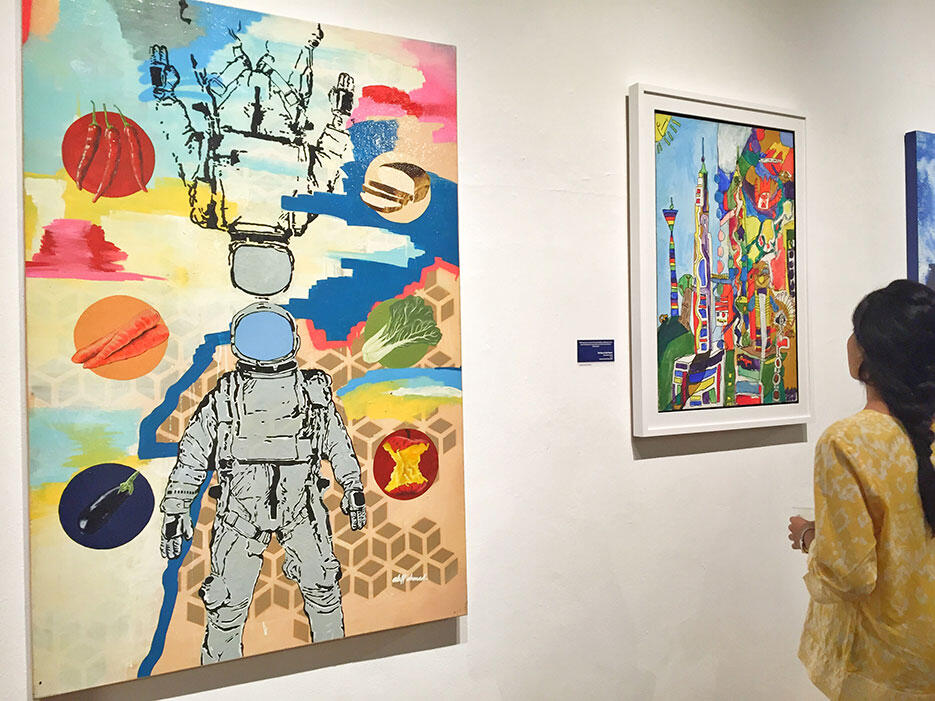 'Sure and Uncertainty' by Aleff Ahmad
Industrial paint, spray paint and acrylic on canvas.
"From his sembilan Art Residency's 'Reborn' series, this artwork focuses us on, first – our current being, and second – to reflect on how our future existence can be directly influenced by our daily choices in life. And since we make choices every day, the opportunity to be reborn therefore exists every day."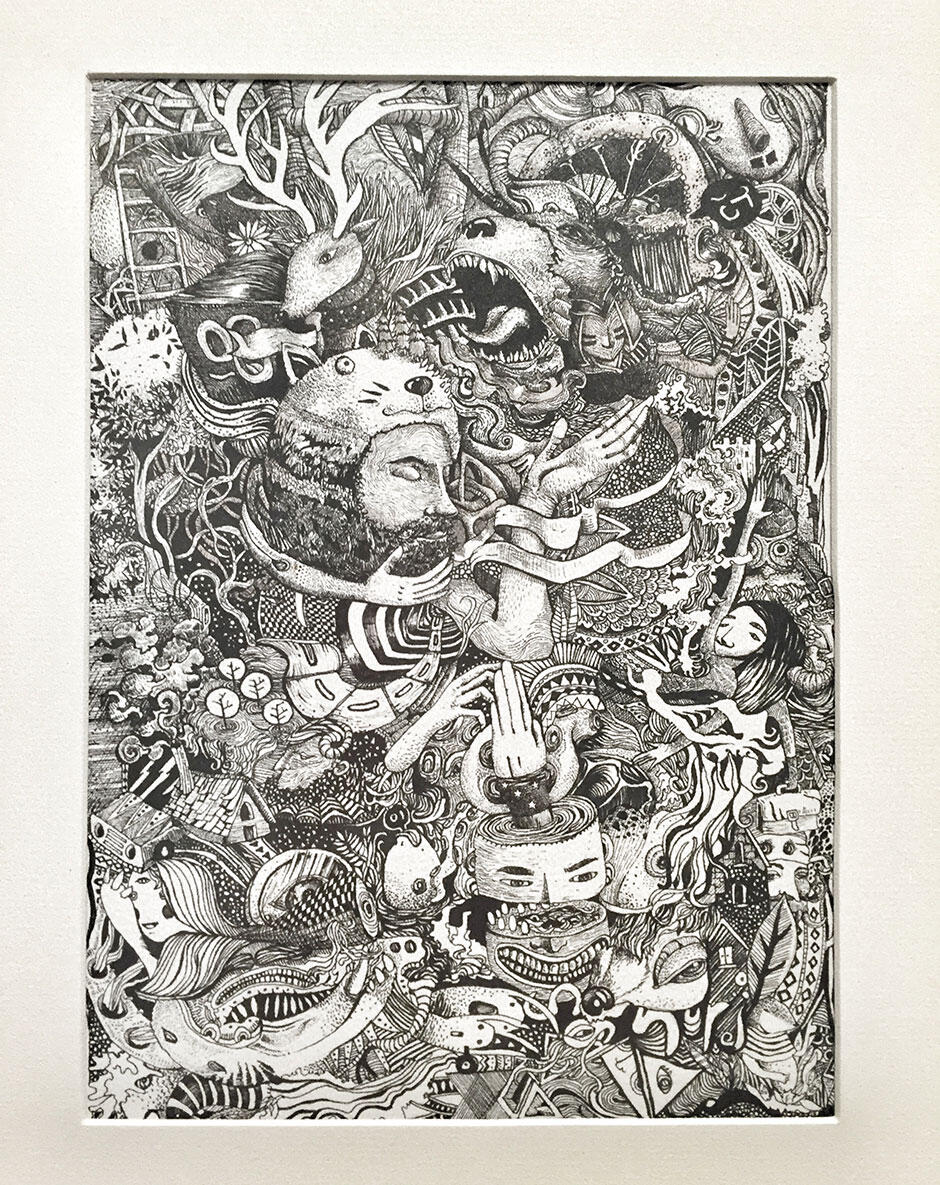 'The Perfect Moment' by Sanuri Zulkefli
Chinese ink on paper.
"A perfect moment is unpredictable. It can occur at any time, unexpectedly. The glory of an artist, will appear when the time comes."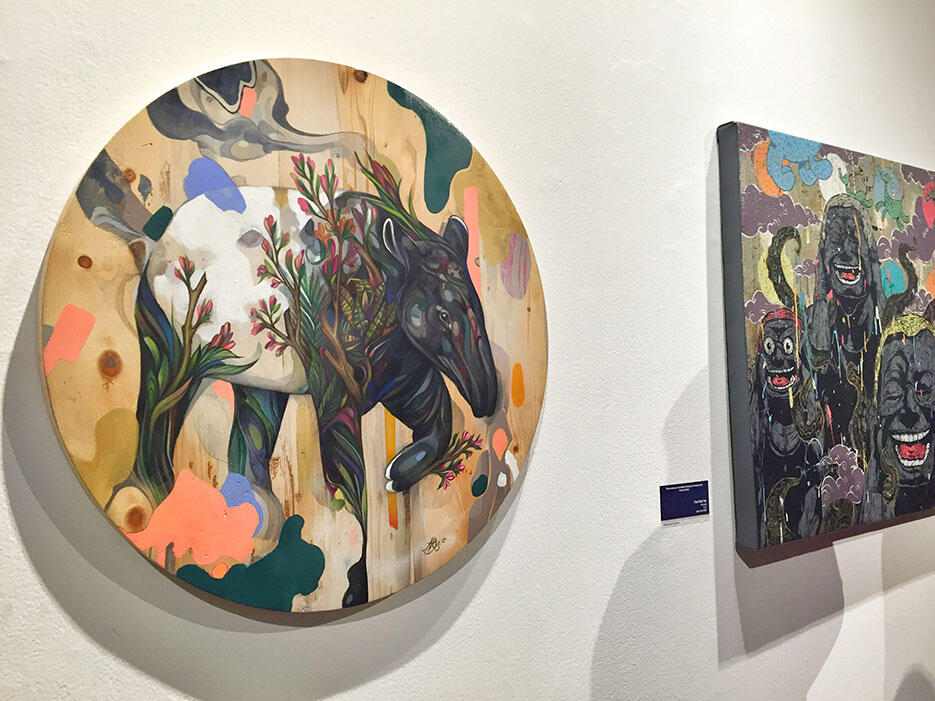 'Tapir' by Haris Rashid
Acrylic colour pencil on solid pine wood.
"I have always been inspired by nature and animals and my concerns of their conservation for future generations. This is a Tapir, an animal native to our lands, it's fading away."
Me: I LOVE the one on the left, i think it's my favourite
Clouds: That one *points to one on right* is like inside my head…
Me: I can totally see that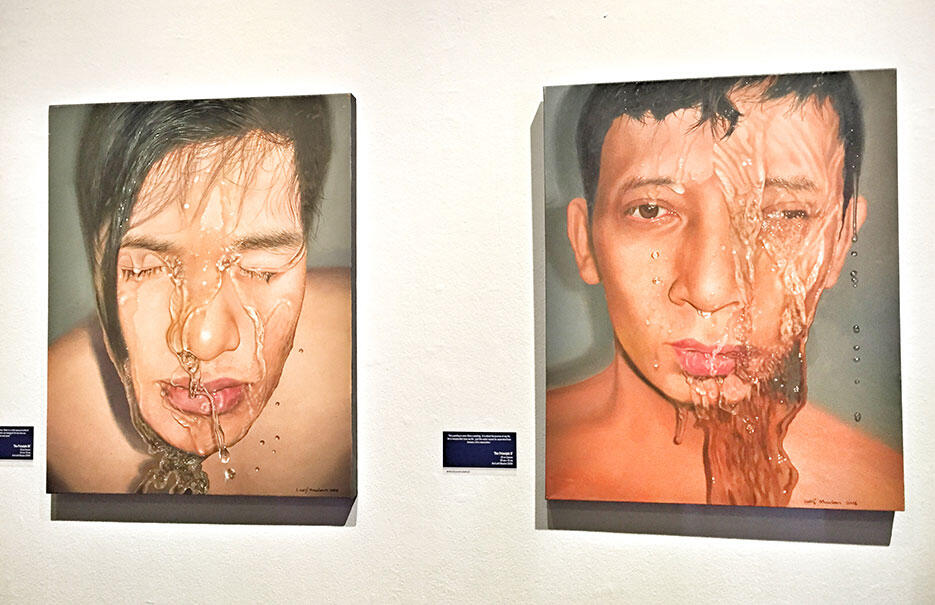 The Principle III by Abd Latif Maulan
Oil on canvas.
"The continuation of my water series. Water is a vital source of cultural meaning, which not only sustains our biological life but also our imagination and spirit."
Clouds: I really like this!
Me: I just want to throw a towel at him. Like, here, dry yourself!
Clouds: Look at that part where the water is running down his nose
Me: Oh yeah, it's cos of the enclave of the nose. I still want to give him a towel.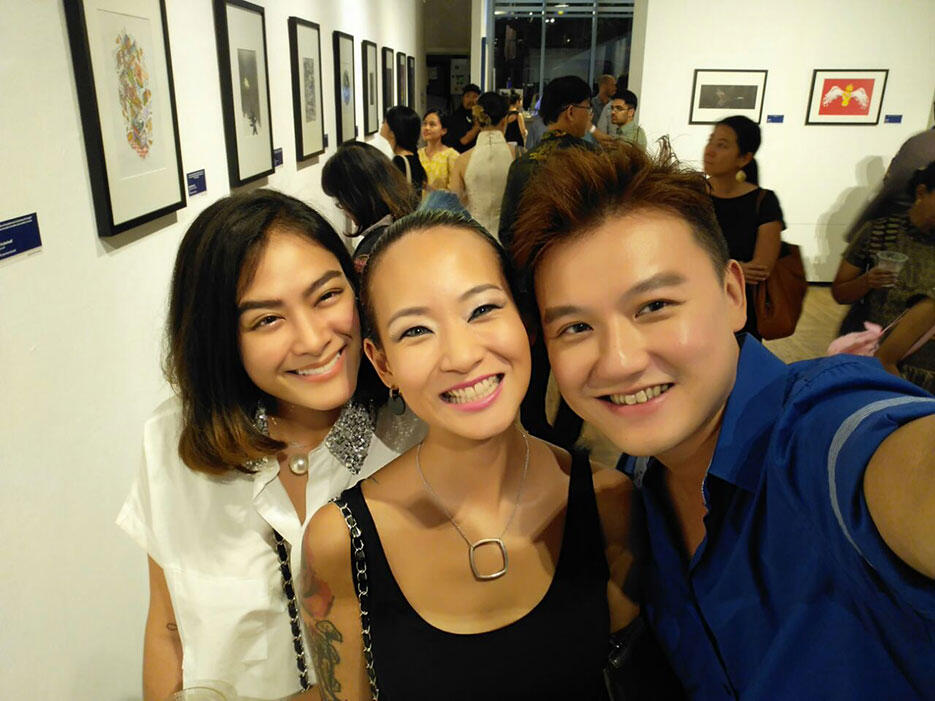 Bumped into lots of ppl including Jimmy!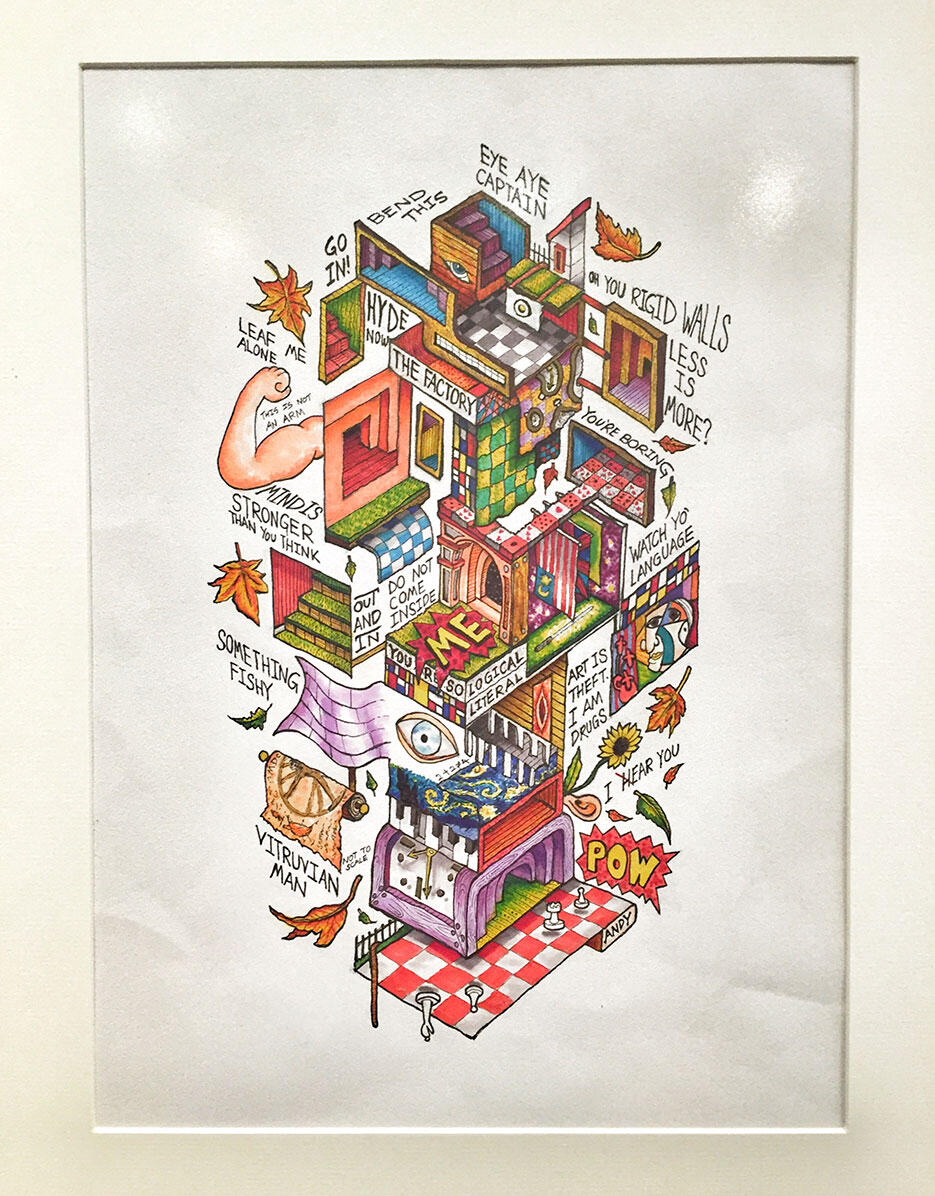 'Under the Influence' by Muhd Adlin
Marker and ink on drawing block.
"Under the extreme influence of art history, philosophy and architecture, this is my journey of creation and understanding of the Visual Arts. Can you identify the artists?"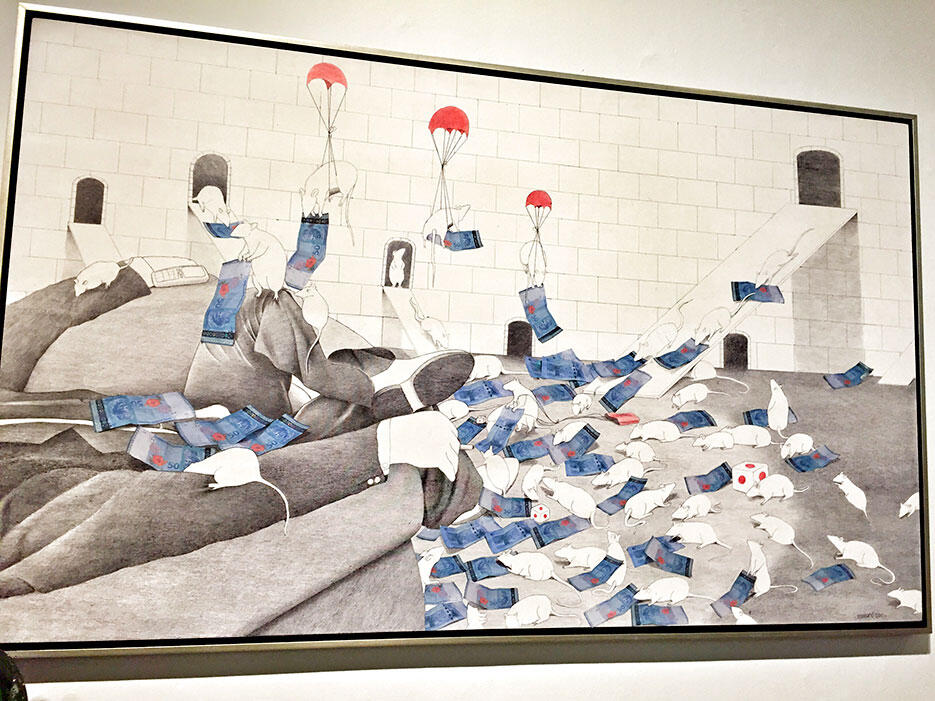 'Politikus' by Syahbandi Samat
Ball point pen and collage on canvas.
"This work shows 'The Man' in power sitting on his sovereignty while his lackeys are depicted as rats with no eyes and no mouth – only ears. The rats are portrayed as being forbidden to speak or ask, allowed only to listen to instructions and collect money for one in control, whilst ignoring all the evil."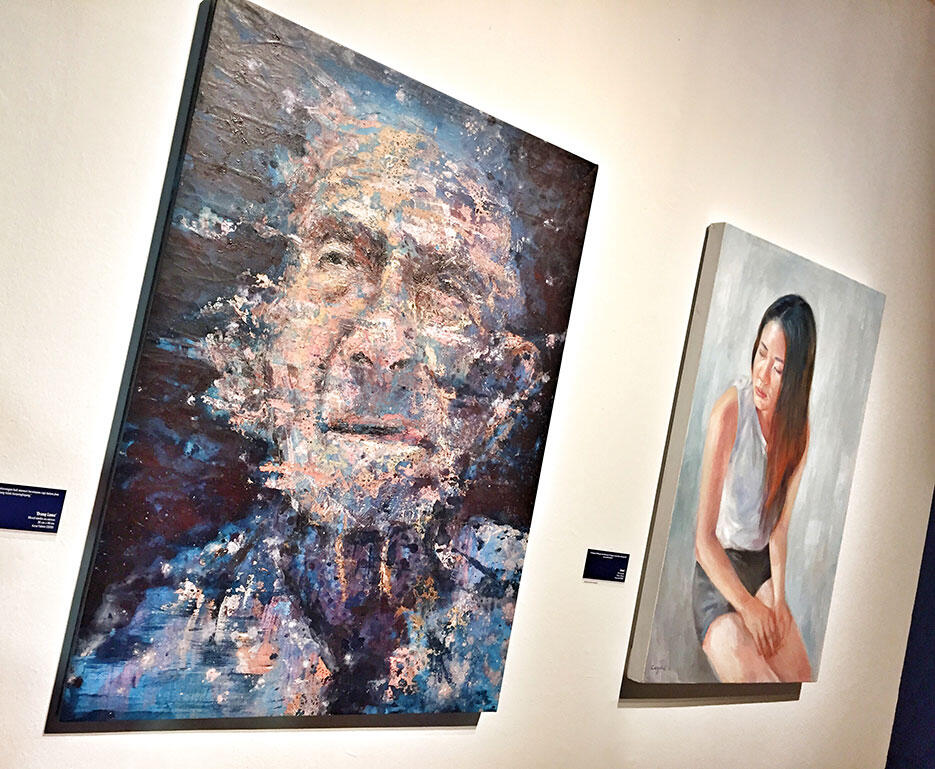 'Orang Lama' by Azrul Fahmi
Mixed media on canvas.
"Kematian membuat kekosongan hati memori tersimpan rapi dalam jiwa yang tidak berpenghujung."
We both bounded up to the one below, trying to guess its title before we could read it.
Me: Honey!
Clouds: *I* was gonna say that!
Me: Too slow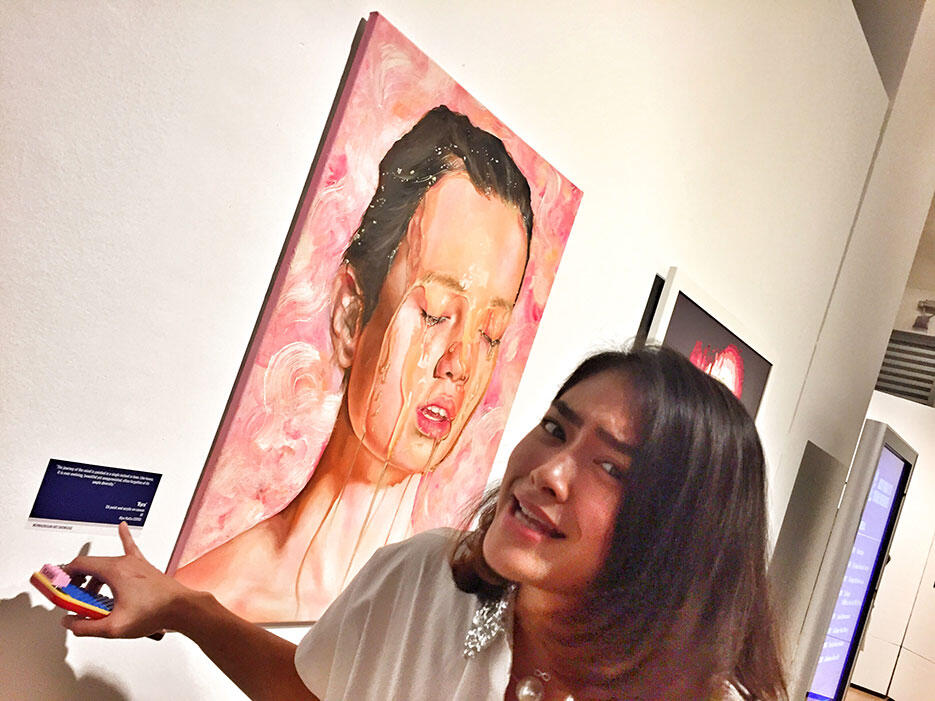 'Kyra' by Alya Hatta
Oil paint and acrylic on canvas.
"The journey of the mind is painted in a single instant in time. Like honey, it is ever evolving, beautiful yet unappreciated, often forgotten of its ample diversity."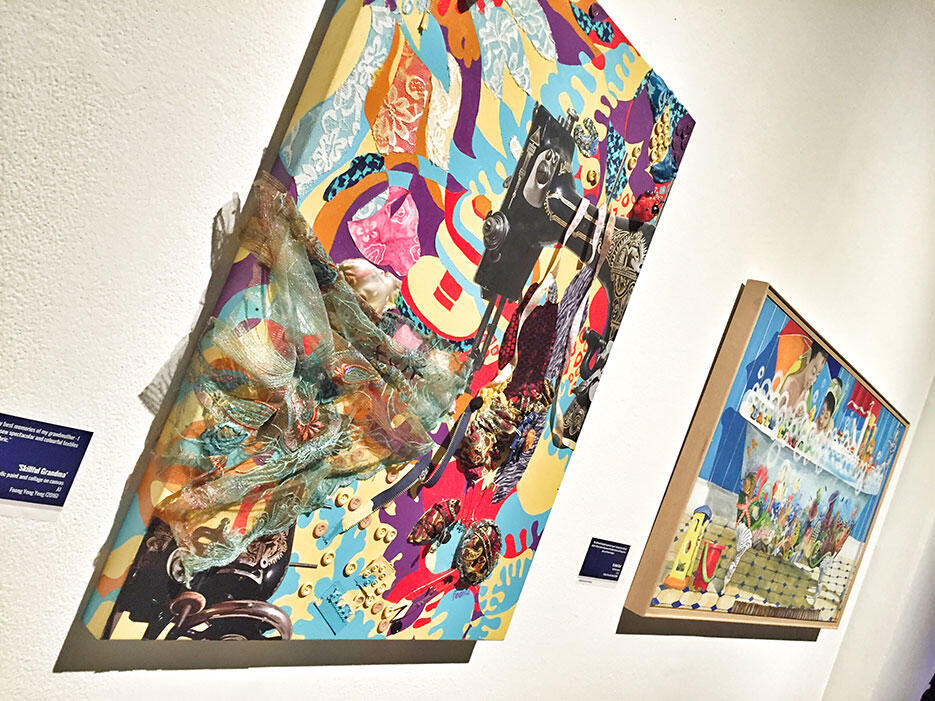 'Skillful Grandma' by Foong Yeng Yeng
Mixed media, acrylic paint and collage on canvas.
"The sewing machine represents my best memories of my grandmother – I used to sit beside her and watch her sew spectacular and colourful textiles and fabric."
Clouds: This is like what you'll be when you grow up
Me: I could see that *reluctant shrug + nod*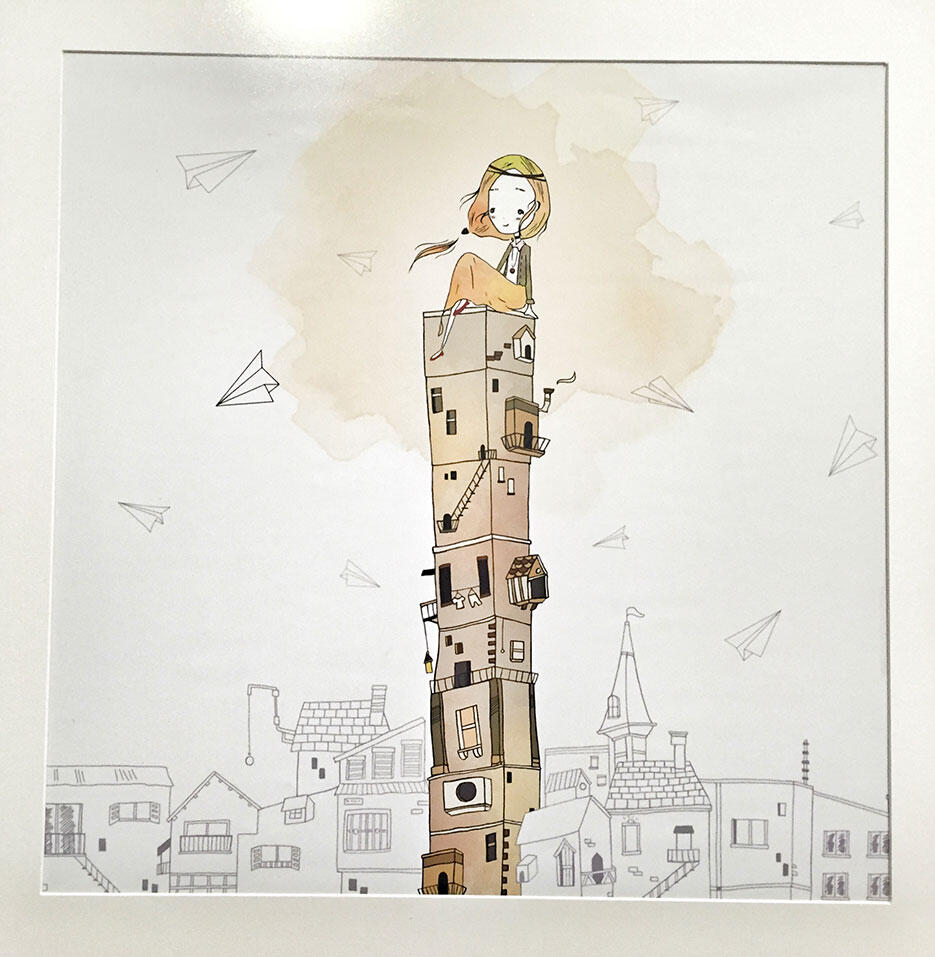 'Officially Missing You' by Catherine Chai Ai Choon
Print on paper.
"True friends are still going to be there for you, even if you're hundreds of miles apart. You're in another part of the world, and I'm missing you right now."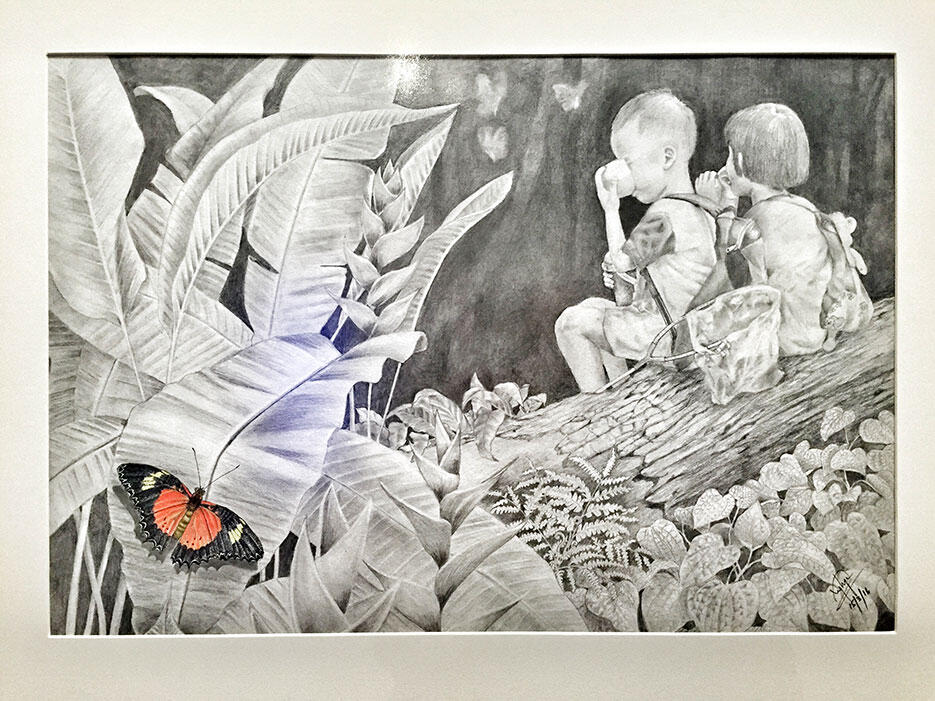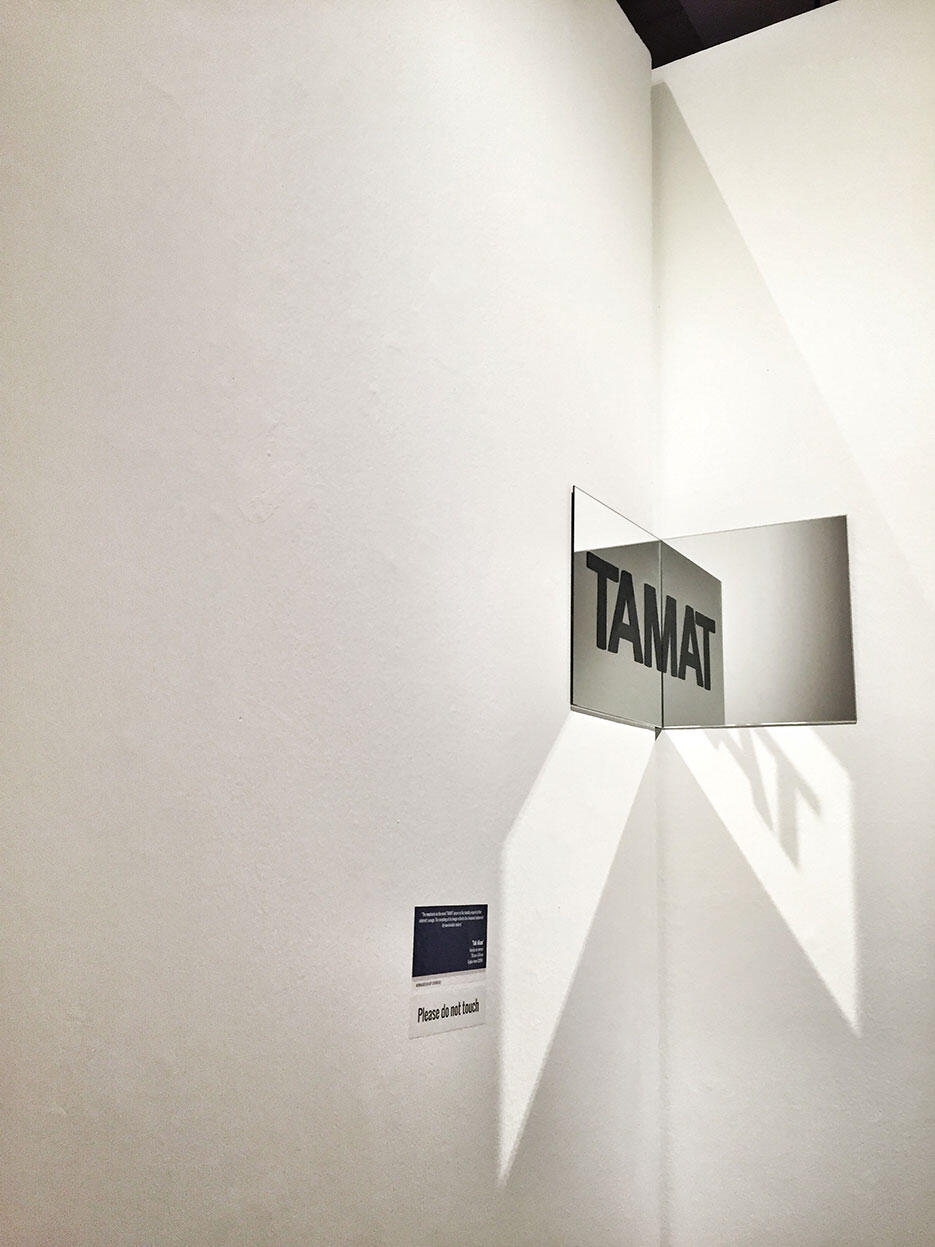 There was another 'please do not touch' sign at one of the sculptures, and Clouds is exactly that person whom the sign is for.
Clouds: *in Little Mermaid voice* Joyce, do you think… *finger goes really close to object*
Me: Claudia! Look at the sign *points to sign*
Clouds: *moves hand away but then her finger starts going towards it again*
#EhWauBulan Art Showcase will be exhibiting at White Box, Publika for one week from 31st August to 7th September.
Check out the Red Bull Content Pool for the latest stories, images, videos and music from thrilling sports to lifestyle, culture to groundbreaking photography, all available for download and editorial use. Log on to redbull.my for more updates from the World of Red Bull.

L – Mary and Chek got parents' night off!
R – Jessica from Red Bull, Ying Nee, Clouds and i
Ying Nee, John, Clouds and i decided to head to The Vault where the Twinkies were playing. They got John to ride with me, while Clouds and Yingy wanted to park their cars back in Bangsar. It's my first time talking to John and i discovered that he's a little strange like me, and we bonded over cultural conditioning, work, relationships, and how we separate our recycling and laundry. He goes the extra mile with diff coloured plastic bags for diff materials.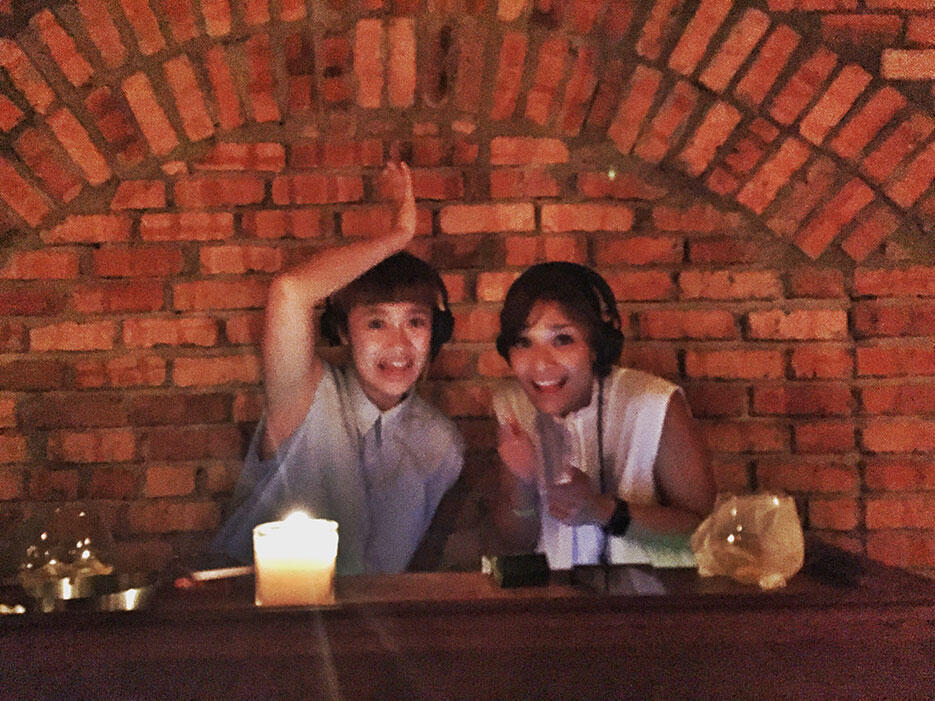 Ara & Nadia, cutest of cuties!
I chatted and gave hugs to Bell, Misha, Josh, Wawie, Sandy and… memory fades. Decided to leave at 2am before staying longer proved dangerous. Thanks for a great night <3