Malaysia just lost one of their leading fashion designers two days ago. But that aside, it's not his being a designer that makes us weep so. It's his being a wonderful human being.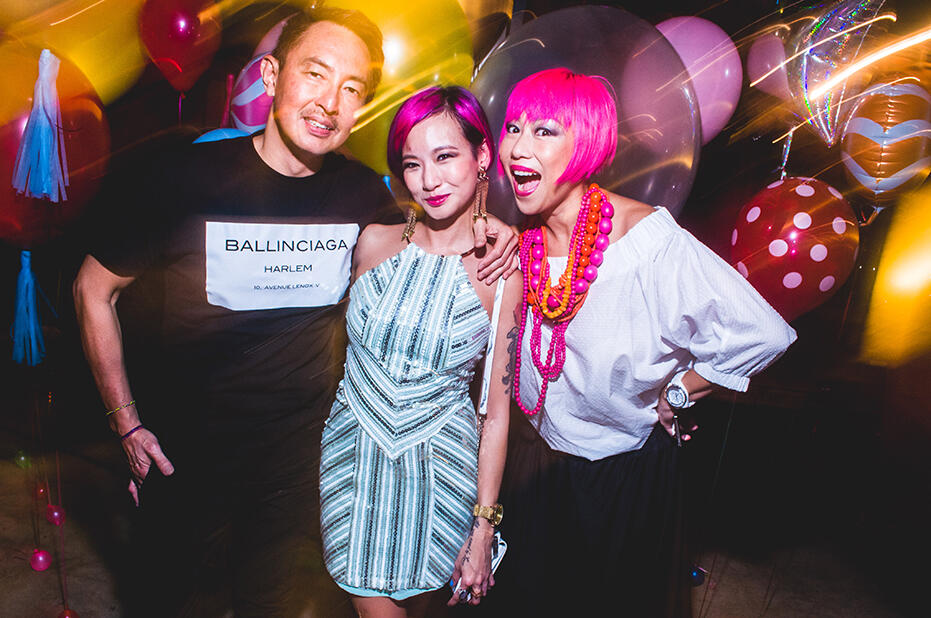 Sonny, me and Mama G at my blog's 11th anniversary party
When i first found out, i thought it was a horrible joke. I just didn't believe it. It wasn't true. It was going to be one of those rumours somebody spread around, everyone would panic, and then tada, a few hours later you'd instagram how it wasn't true. In fact, you'd just instagrammed a funny dream you had that morning, and i'd giggled inwardly while liking it.
"Why don't you whatsapp him?" King suggested, cos he was next to me when i first heard.
I reached for my phone then stopped. I didn't dare. Cos then it might be true if you didn't reply. And it couldn't be true.
Jun came home, awfully sad, cos the friends he was with was mourning your departure too.
And then it seemed a little more real. But i didn't feel it. I didn't feel anything.
I didn't cry. I suddenly felt a headache come on. Like as if my heart wouldn't accept what had happened, so the energy went to my head instead.
After King had left, and things were quiet, Jun and i sat on the sofa in silence.
"Why do the good ones have to go first?"
"The good ones always go first," he hugged me.
It slowly sunk in… with my brain still fighting it.
IT'S NOT TRUE!
But it must be because everyone on whatsapp is already saying so.
It's so sudden, i can't believe it. It can't be.
Back and forth of denial.
When i took a shower, i started crying. Something about the water. Yeah, blame the water.
The next morning, i woke up and thought, shit it wasn't a dream. It's true. And suddenly the whole day seemed to suck already.
I counted the hours that i had to function till i could think about this again.
5-6 hours. I just have to hold my shit together for 5-6 hours for some work, a con call and a meeting that will end by 2pm and then i can think about this.
When i opened my boot to place my laptop in it, i caught sight of the outfit i wore at front row for your last show, and stood there momentarily stunned. Just seeing that outfit made me cry before work. Then after the meeting, and in the car while driving which i tried to stop cos it's a little more dangerous.
But at your wake… i didn't shed a single tear. And i got a little mad at myself cos goddammit, so stupid, the wake is the legit place and time i CAN cry and i couldn't and didn't. I hugged everyone else there i knew, then just sat there and stared at the flowers people had sent. They were really beautiful arrangements and i thought about how the flower industry has upped their game. Or maybe your friends just have the best taste like you, and knew where to get them from.
When Jun and i went to look at you in the coffin, i felt nothing. Again.
It didn't look like it was you, it looked like a fake you. I felt this dysfunctional feeling like again, this could all be a very bad joke and imagined you popping out from behind the flowers going "Surprise!"
You always had a great sense of humour.
Every time i saw you, you never ceased to have something witty come out of your mouth, in full honesty about life or situations.
"You have this glow! It must be the sex. How's the new boyfriend? Ah, love," you'd say. Sometimes you'd say things so extraordinary i would be taken aback not knowing how to respond because it'd be so shockingly honest. To me that's courage. In believing in yourself, your opinions, and being fearless in expressing them.
You never shied away from technology and surprised me with how active you'd be on snapchat. I will miss our random messages about food and travel.
You were always humble and never ever bragged about your success.
Thank you for making me beautiful dresses that i will cherish always.
I'm honoured.
Thank you for being present in my life.
Thank you for teaching me lessons by pure example. You were always exuberant, happy, crazy… filled with kindness, charm, warmth and love. Always reminding us that 'life is short, enjoy!'
I was thinking about how you must have achieved all you needed to in this life, for it to end so abruptly and gracefully. The angels must have needed you back with them, and i guess you're gonna be the Party Angel up there. It really sucks you left a little sooner than the rest of us, but i placate myself imagining how you've returned to being a giant blinding bright blue star that is beautiful and calm and floating up there looking down down at us telling us not to worry cos you're ABSOLUTELY GREAT AND PERFECT AND FINE.
I know you are.
See you on another plane and space, Sonny.