I tend to divide my time between days i get to stay in and focus on my laptop and calls all day,
and days like yesterday where i'm out at up to 6 diff locations in 12 hours!
This is a quick post cos i gotta run out in 20 mins!
If you're looking for something to do this week, check out Collecteral by Design Union. They've got an exhibition i've bought tix for and will check out this weekend, and last night we went for the documentary screening of Stefan Sagmeister's The Happy Film. So glad i bought the tix on the fly when i got the emailer weeks ago.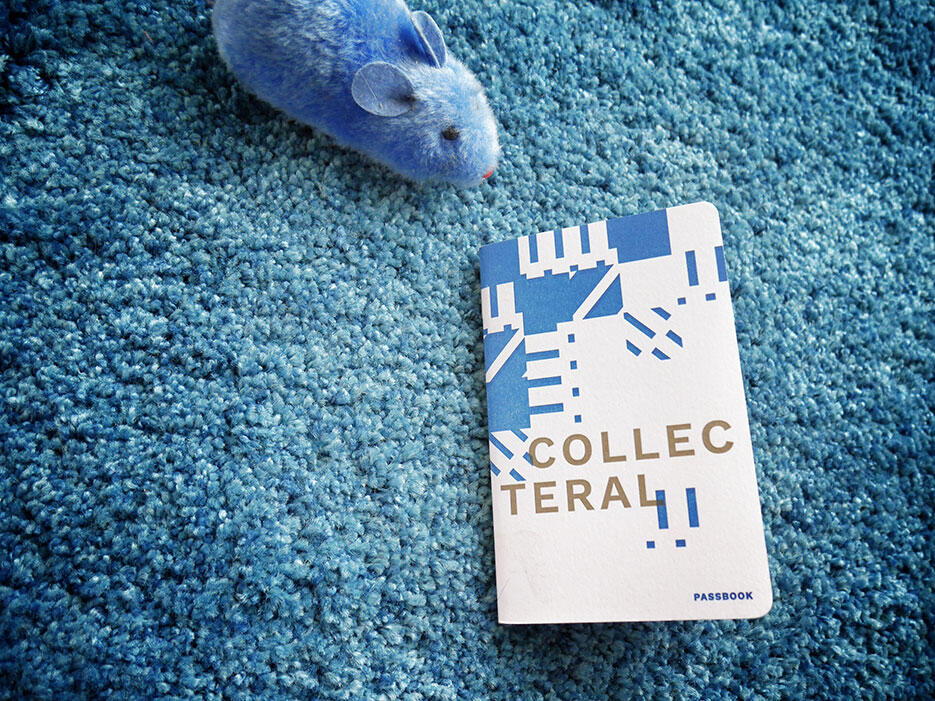 Mouse on my carpet cos i have random things like that.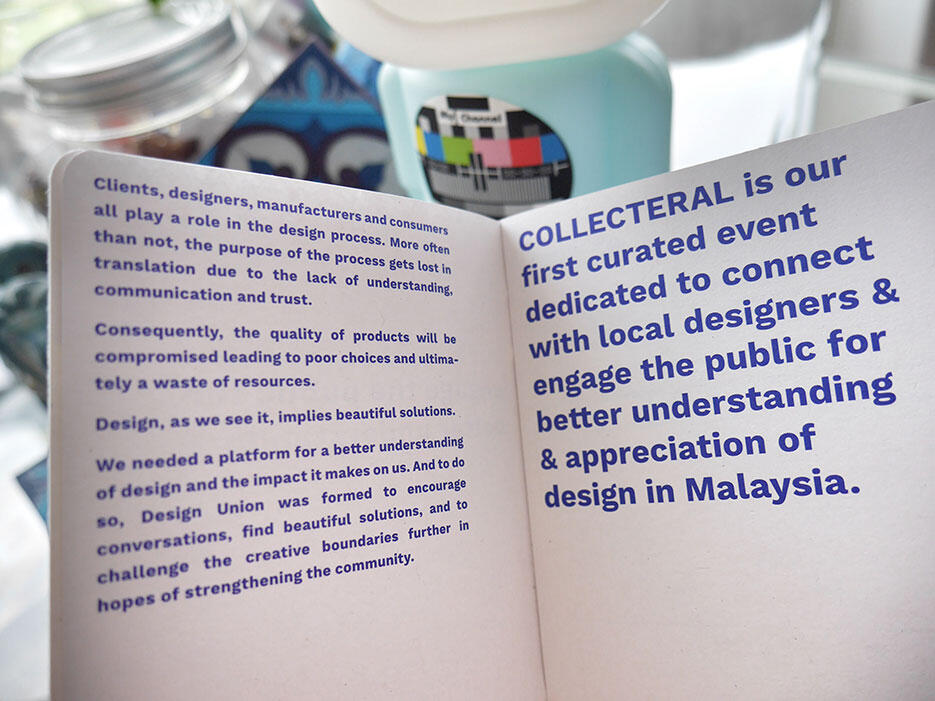 + + + + +
After a workout at Bodytone yesterday, i ran for lunch scheduled with Ai Chiin at our regular Jap spot, Ju Ne. She turned up with Cristina who's in town to promote her new SS17 line!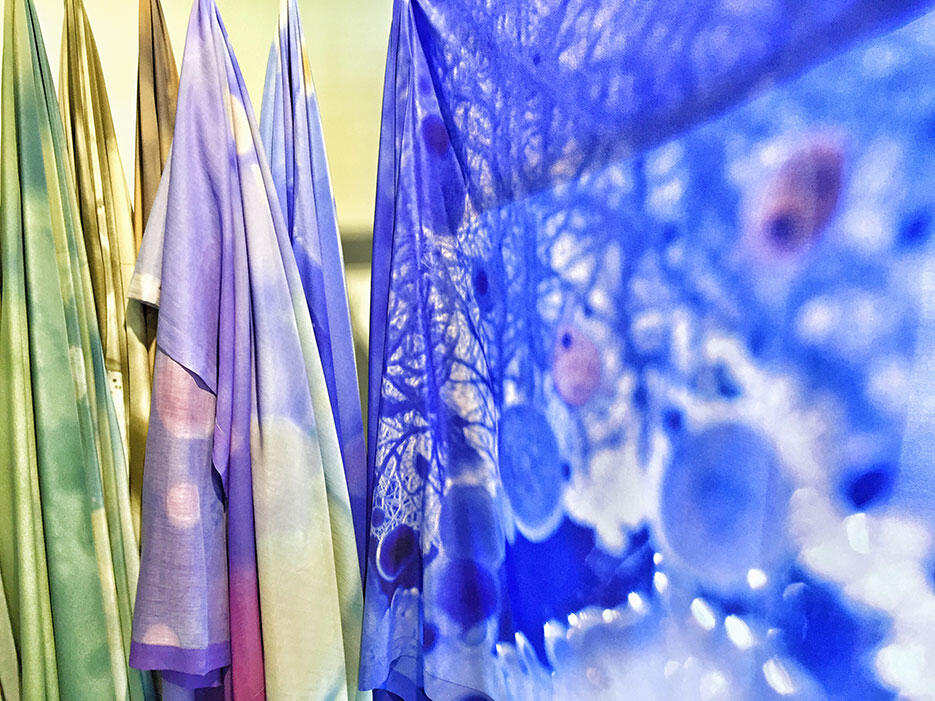 Whereas previous collections featured stunning macro shots of insects and materials, this season Cristina worked with her sister to product a range of equally alluring silk+cotton scarves featuring close-up photography of bacteria found on their personal possessions XD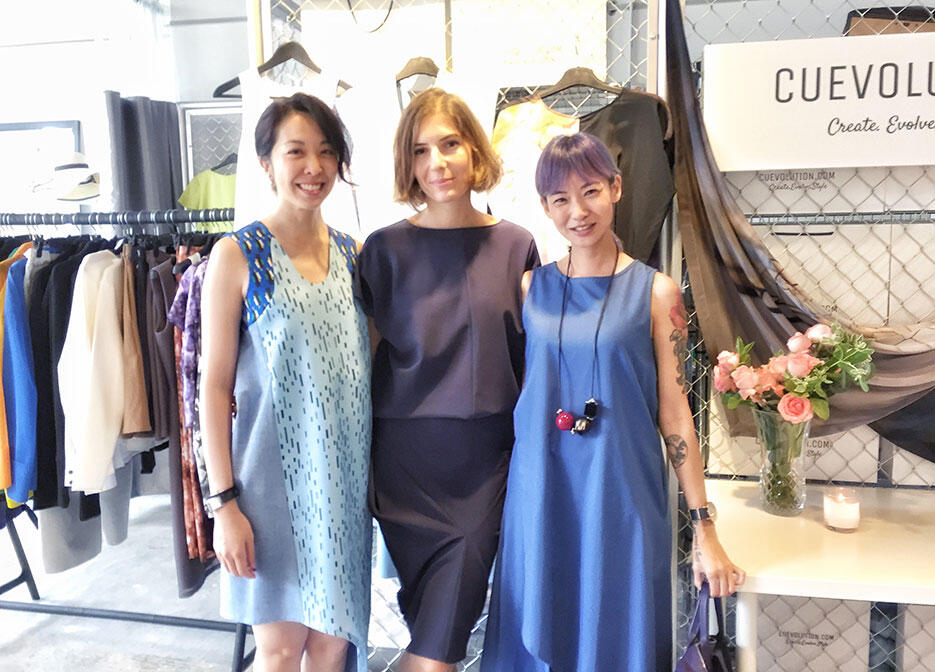 Ai Chiin wearing Cassey Gan, Cristina Sabaiduc, and me wearing Kozo x Justin Chew.
Went back to Cuevolution to take a quick look but i can't shop in 2 mins, so i'll return at a later date! You can view new pieces from designers Cassey Gan, Gayeon Lee, Maricel Pamintuan, Moto Guo, and Steven Tai in the Cuevolution showroom located at Block B2, Level 1, Unit 9 in Publika.
+ + + +
After meeting in Bukit Jalil, drove back, emails, then got ready real quick to head to KL for Isetan The Japan Store launch at Lot 10.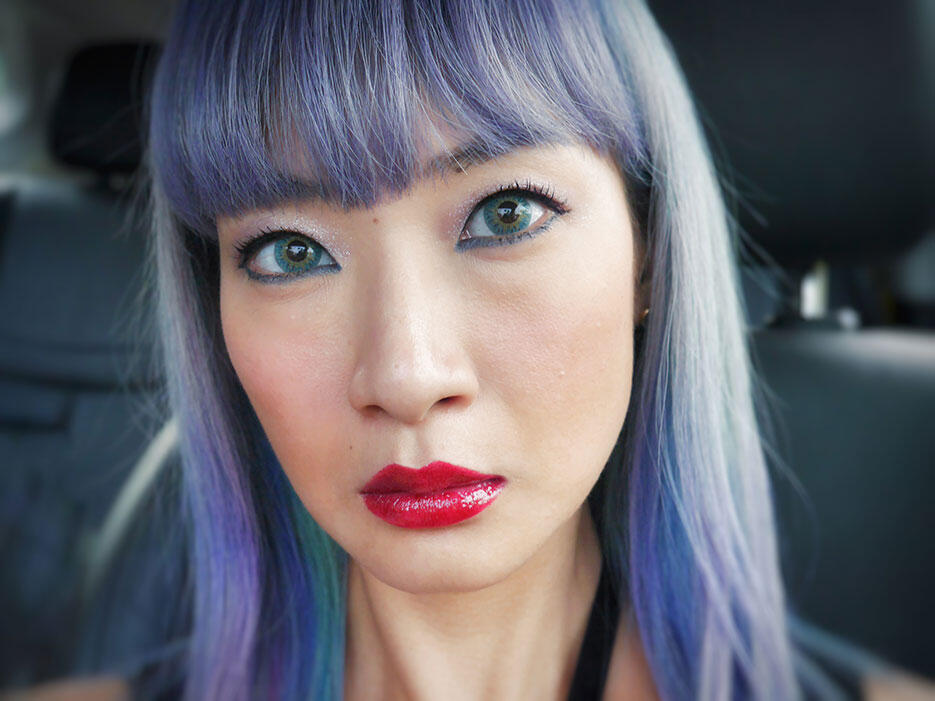 Thanks to Han at Centro Hair Salon for my new blue bangs. I needed a change and he gave me what i felt. Thanks Han 🙂
Eyeshadow: Dream On from Urban Decay's Alice Through The Looking Glass palette
Under eye liner: Dior Pro Liner 272
Lipstick: CLIO Lip Syrup in Silent Wine
Concealer: Too Faced Born This Way
Powder and mascara: Dior
After over an hour in traffic we finally arrived around 6:30pm at Lot 10…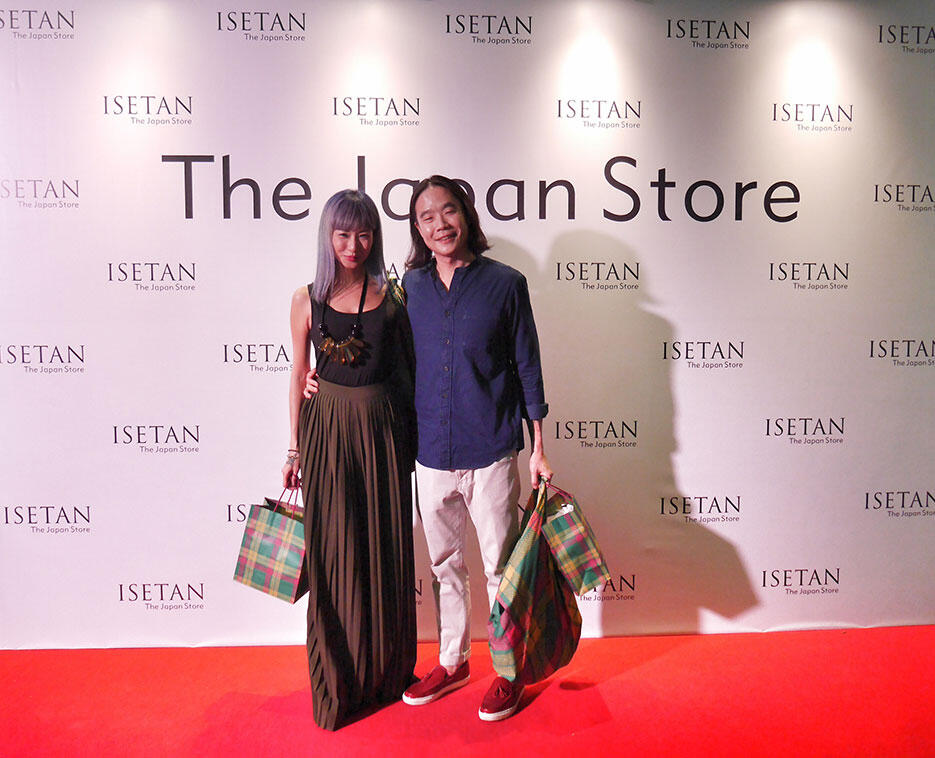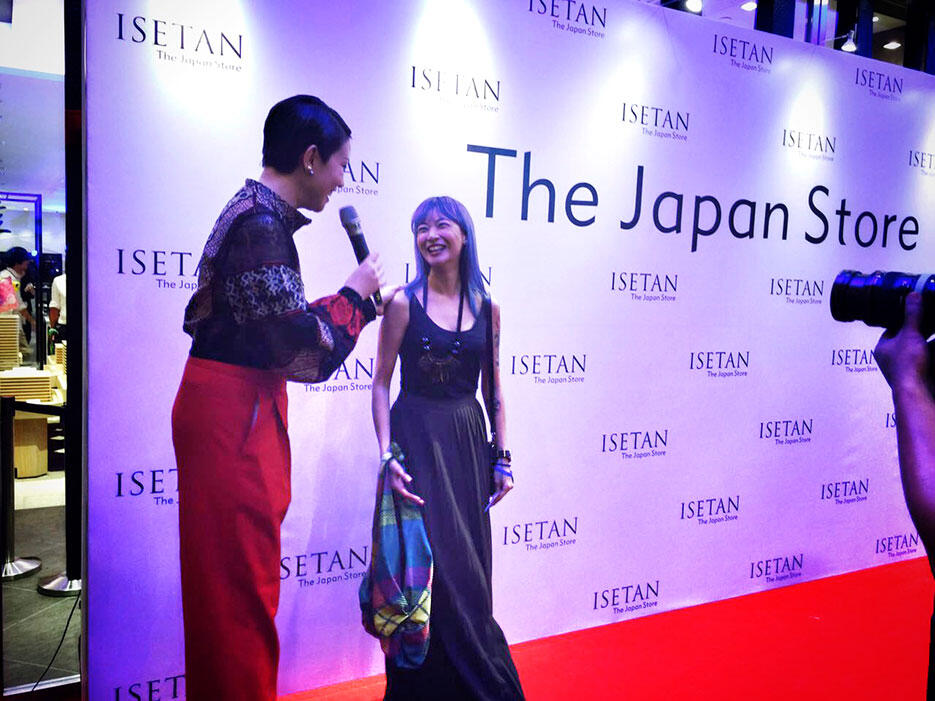 Bernie Chan asking me a few Qs before i skipped in to play. Damn how she towers over me.
There are currently FOUR floors in the new Isetan The Japan Store (with the only other Isetan Store like this one located in Paris, and obviously, Japan). A 5th floor with restaurants will be ready in 2017. We entered on the ground floor aka The Museum, a curation of some of Japan's most beautiful items. The whole store has things you never knew or thought you wanted. Goodbye money.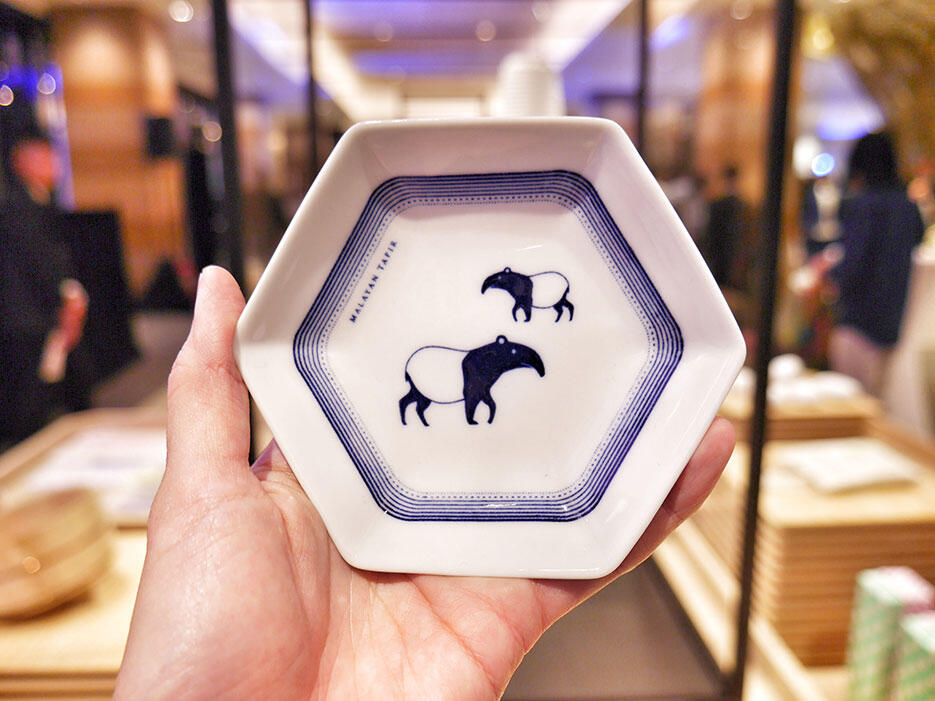 I LOVE the tapir saucer above! Suddenly have a thing for tapirs this year.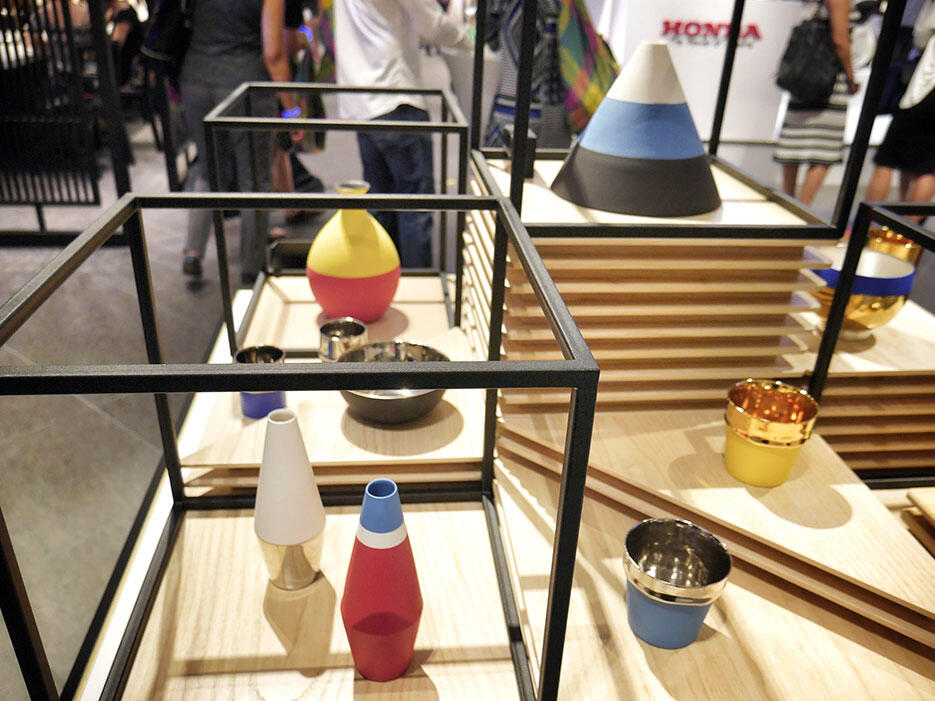 Tai Yong, Jun and i were more interested in the food section, spotted the sign and headed straight for the LG floor where The Market is.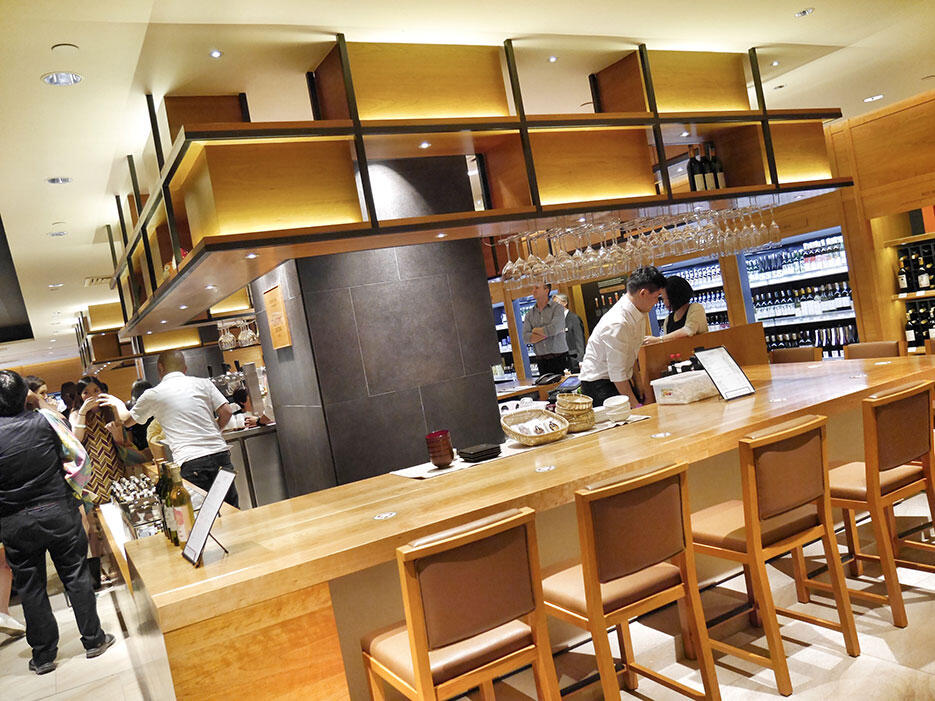 The whole place is massive and this is just one of the beautiful bars there. Lots of Yamazaki, Hakushu and Hibiki sold there too. We gravitated towards the shelf and stared at the selection.
There was so much to see all around us… the whole floor is divided into island bars and counters serving iconic Japanese food at its best, and shelves showcasing the prettiest candies and snacks galore. My eyes couldn't absorb so much going on around me and we were on a strict timeline (cos we had to run off at 8pm to arrive at The Happy Film screening at 8:30). The three of us scanned the room systematically to decide where to walk next, and if two of us got distracted standing in the middle talking and not doing, the third would prod us along. Teamwork!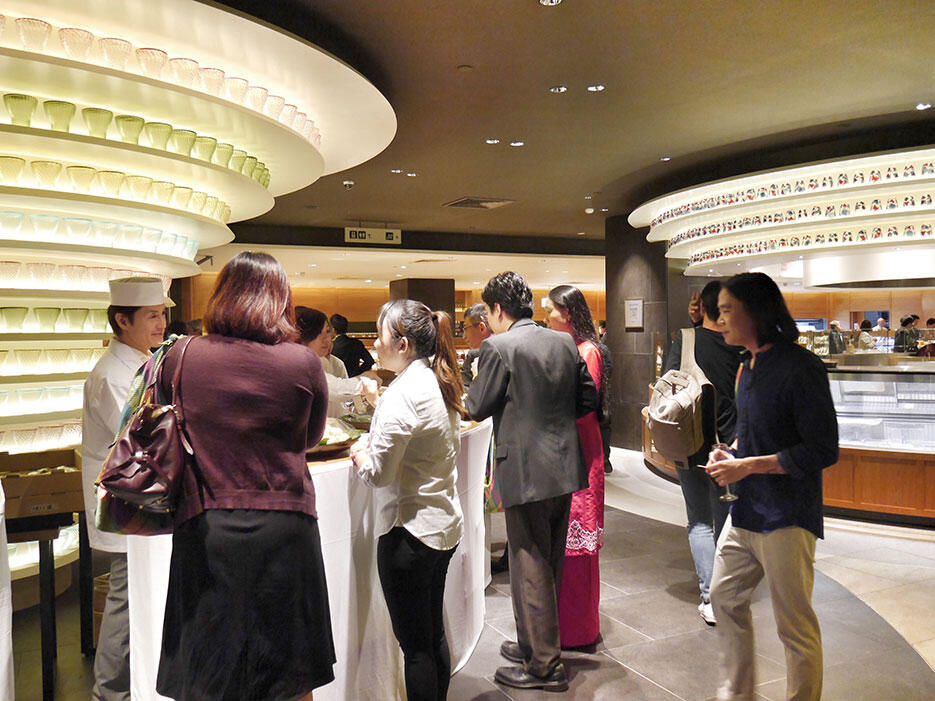 Gracious Isetan staff and brand ambassadors of the various food brands proffered trays of food to try. I love supermarket launches!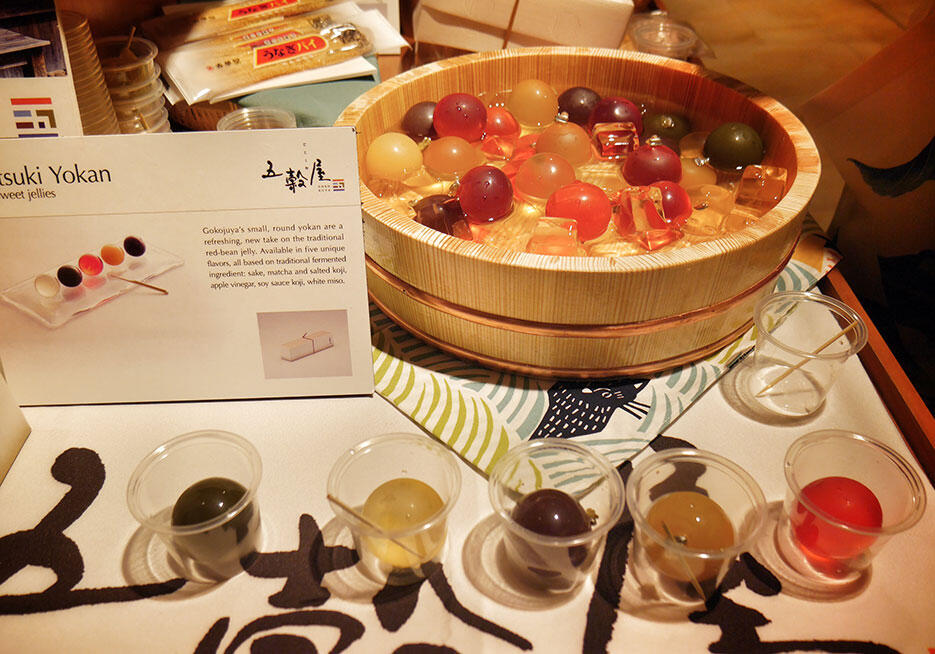 Tried these Japanese jellies that come in a ball which you have to peel a thin sliver of plastic off, before biting into it. Really unique jelly texture that isn't keterlaluan gelatinous, and instead dense and breaks apart into delicate pieces in your mouth.

We tried a few dishes with us proclaiming the miso saba at this particular kitchen island terrific. Yes my mouth is full here.
On the right is the famous award-winning cheesecake… i was so tempted to take another piece but refrained. Will return and buy moreeee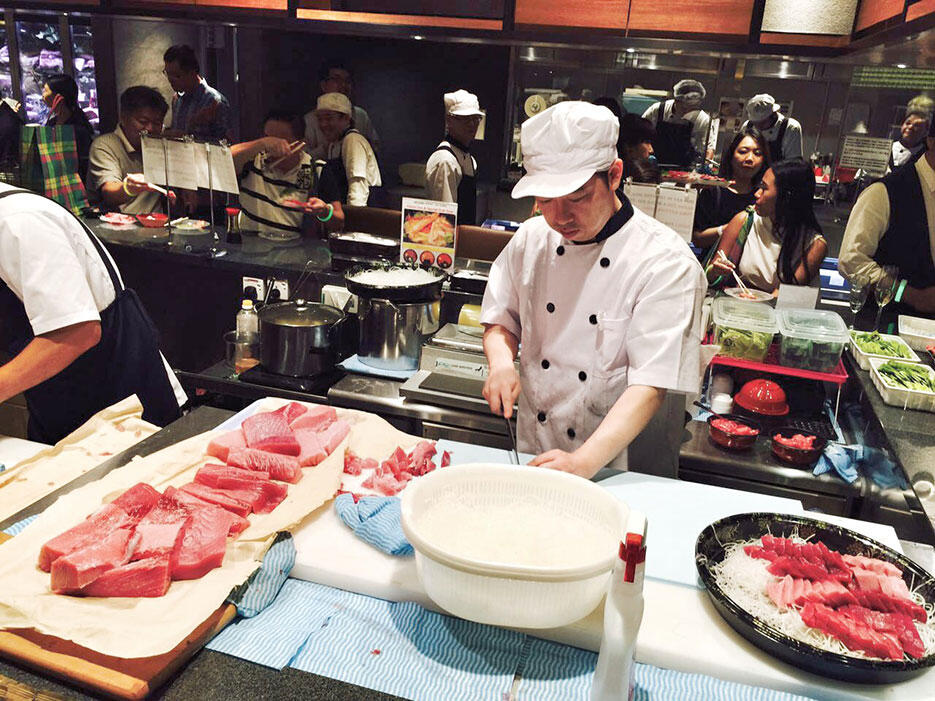 The tuna counter. Holy… they were serving us platters and platters of tuna sashimi of various fatty compositions.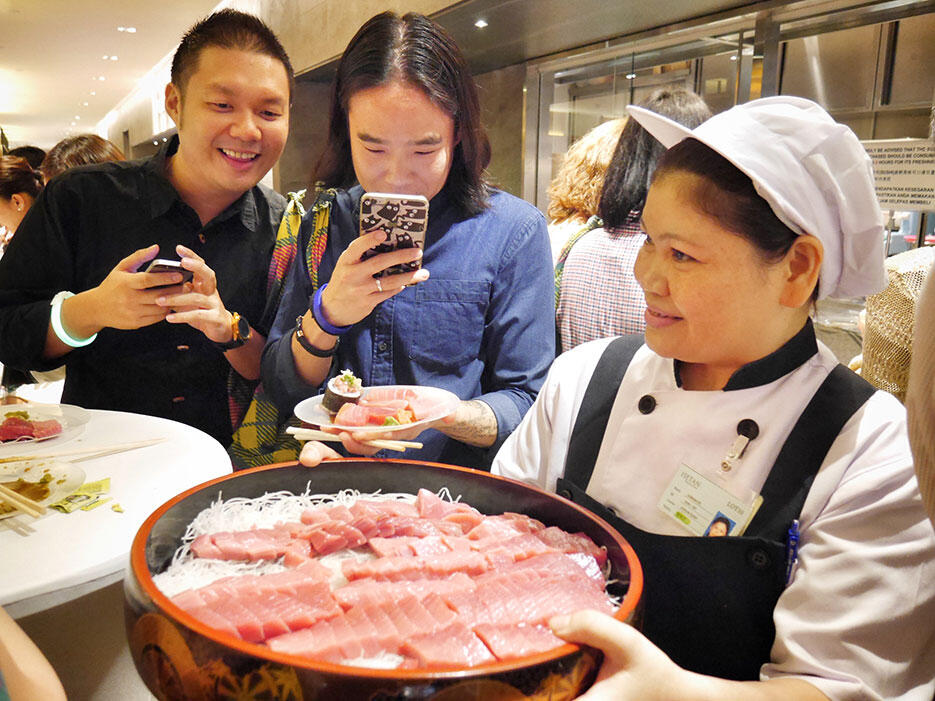 I didn't take lots of pix at this event cos my eyes and hands were too busy focusing on food, sights and people around me!
I'll never forget TY's expression as we all stood quietly in a corner happily nibbling on the tuna and he said, "This is the BEST LAUNCH EVER!!"
The way to a human's heart is through… 😉
I spotted a tasting menu course going for RM250++, served gallantly on a textured placemat that looked like tiny white bubbles joined together, surrounded by clear glass(?) spheres- all designed by a sculptor. You got to eat off art itself! You gotta love the Japanese.
+ + + + +
Jun and i regretfully left and managed to arrive at Collecteral in the nick of time to settle into our Doof bean bags to watch the show.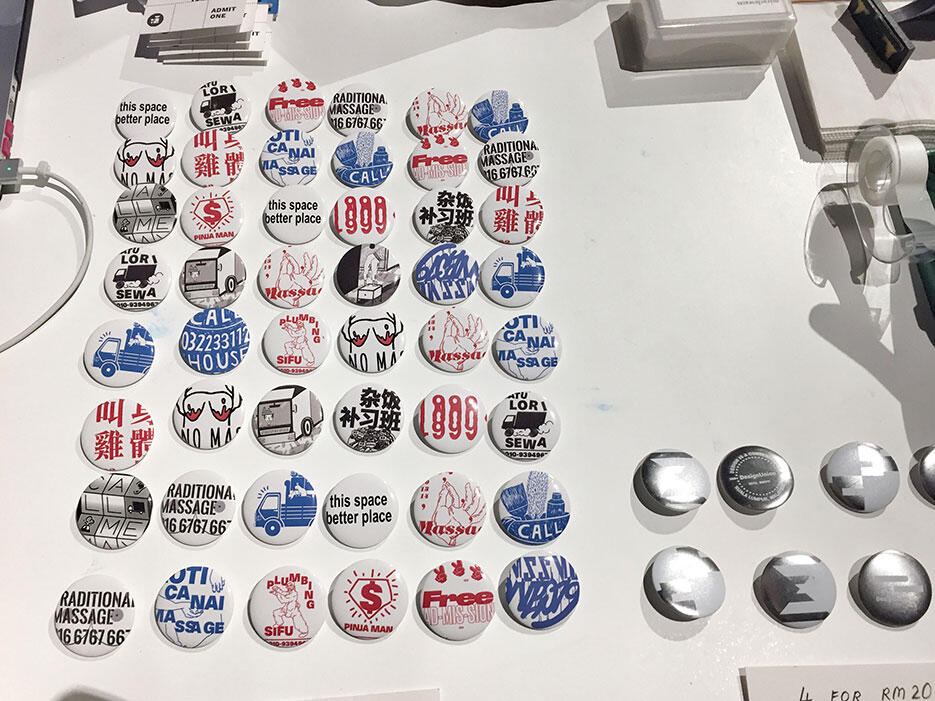 I used to study Stefan Sagmeister's work when i did my diploma in graphic design 15 years ago (damn. that types out as really long ago…) and was instantly drawn to his process and outcome. Always vocal about artists i admire; Kubhaer got to work with him for a project maybe 5 years ago, remembered our conversation about The Sagmeister, told Stefan that i'm a fan and got me a sweet handwritten note on his name card (which naturally, did not artistically disappoint) which i've stored since.
When i saw an email (i subscribe to The Alphabet Press) announcing the first screening of Sagmeister's new 95-min documentary,   there was zero hesitance to buy tickets.
It was inspiring and beautiful to watch, i'm so glad we rushed off to catch it! Totally worth it… <3
Thanks to the guys who organized this, please do more!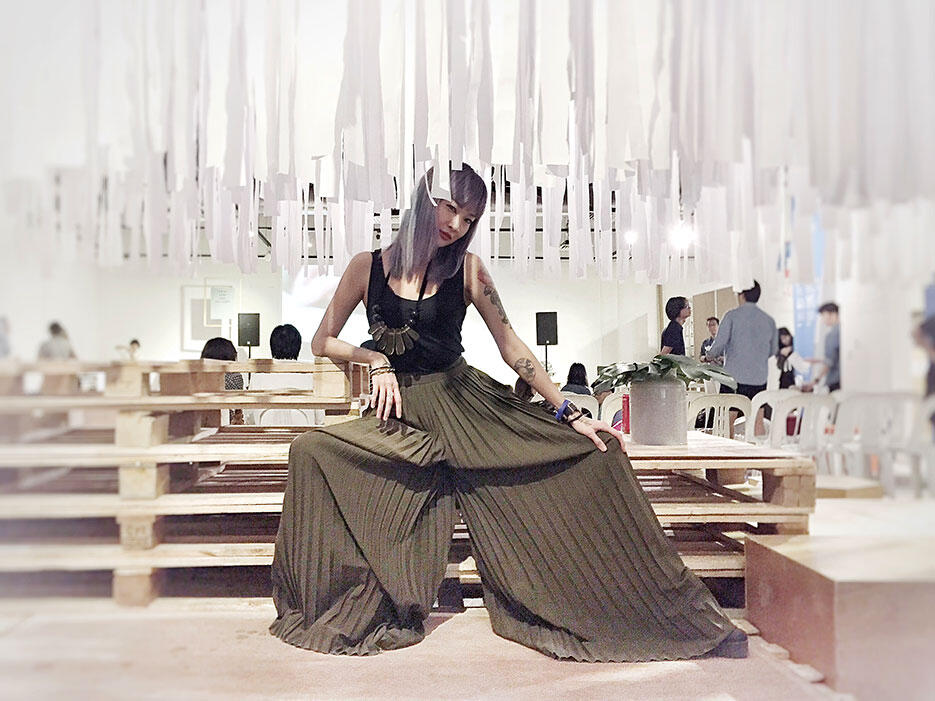 The setting in the venue was so nice, i asked Baby to help me take a shot.
Basic top from Uniqlo (worn 100 times), and pleated pants from Love, Bonito.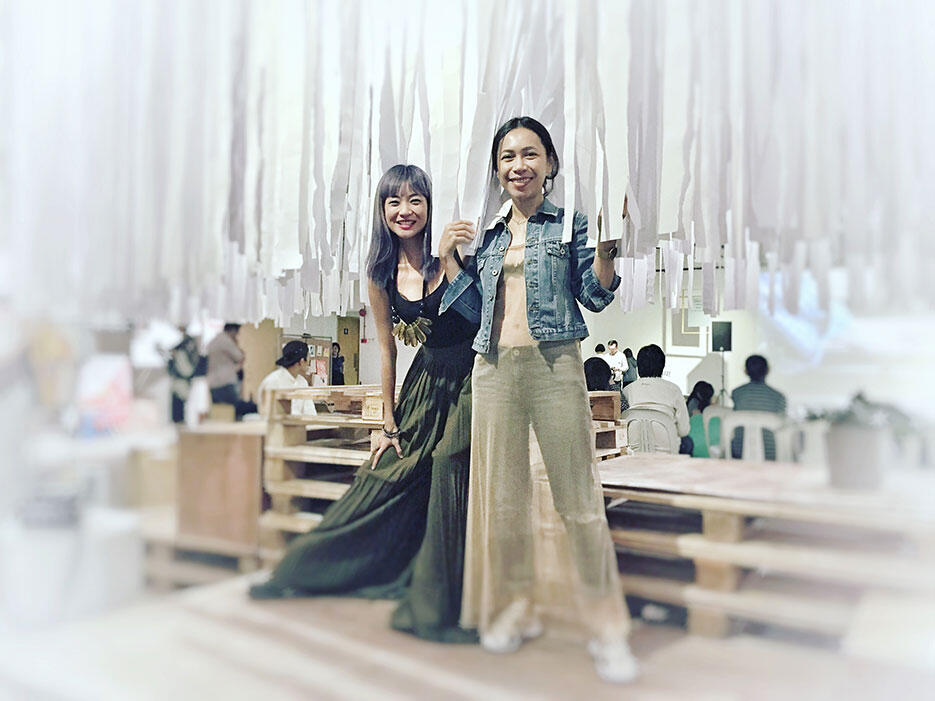 #BabyAndFairy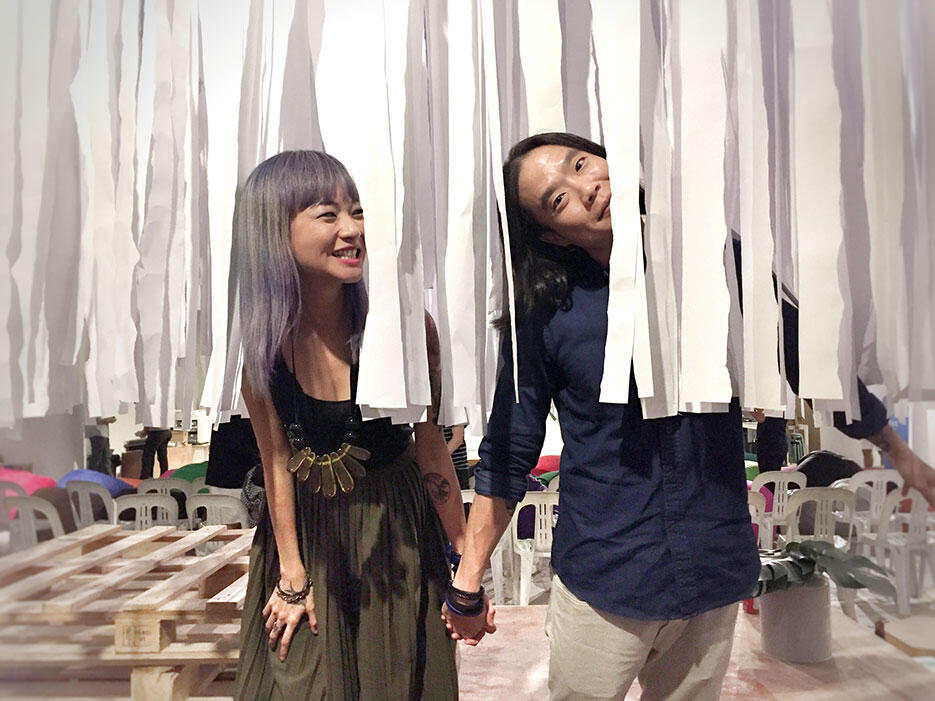 Baby calls Jun 'Abang Jun' 😀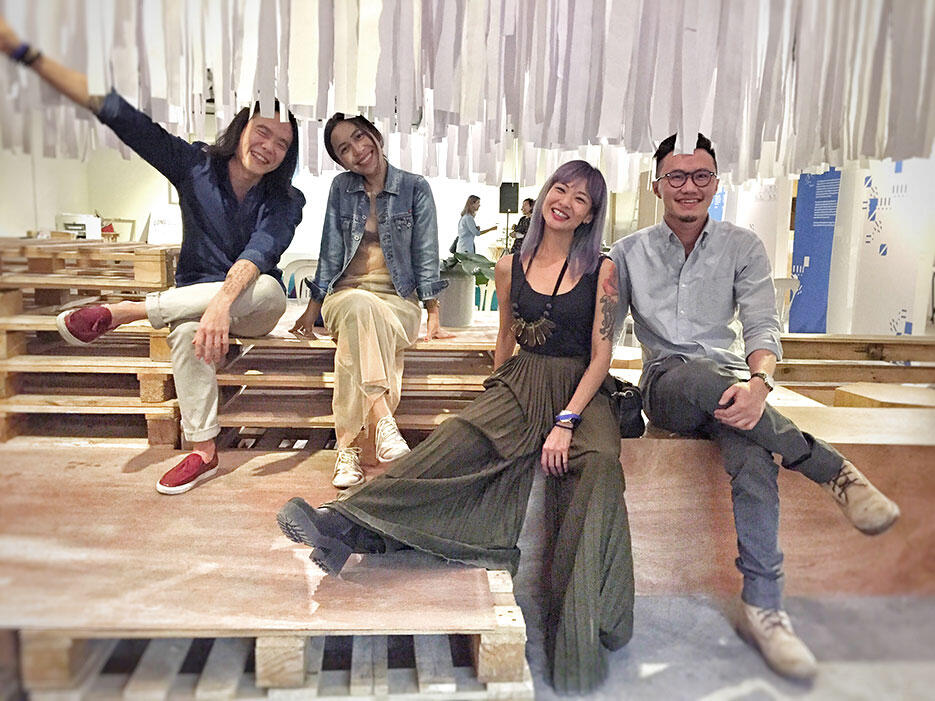 Jun, Baby, me, and Cliff from The Alphabet Press!