Let's be real, finding the motivation to go to the gym can be tough sometimes.
I try to exercise regularly… mostly because I love bread (like Oprah!) and eat too much cheese. Also, I live with a friend who works out religiously and has an ass that won't quit and that makes me think, "Hey, I CAN be like that too!"
Okay, I can't. Haha. What's important though, is that I try, right? Anyway, going to the gym becomes much more exciting when we get new gymwear! I remember how thrilled I was when I got my first pair of tennis shoes as a child, I thought I was going to play at Wimbledon.  😆
Well… Wimbledon didn't work out but I do feel like I can do more squats with new leggings on. The great thing about fitness wear now is that there are so many to choose from!
Here are some that we at KBF think are pretty cool >>
Fit Rebel
Ex-corporate suit turned fitness entrepreneur Nadia Hasbi was importing Brazilian brand Liquido into Malaysia before kickstaring her own fitness wear brand, Fit Rebel.
Being an active person herself, she understands the pains and joys of shopping for activewear and wanted to create a platform where women could get exquisite and affordable apparel.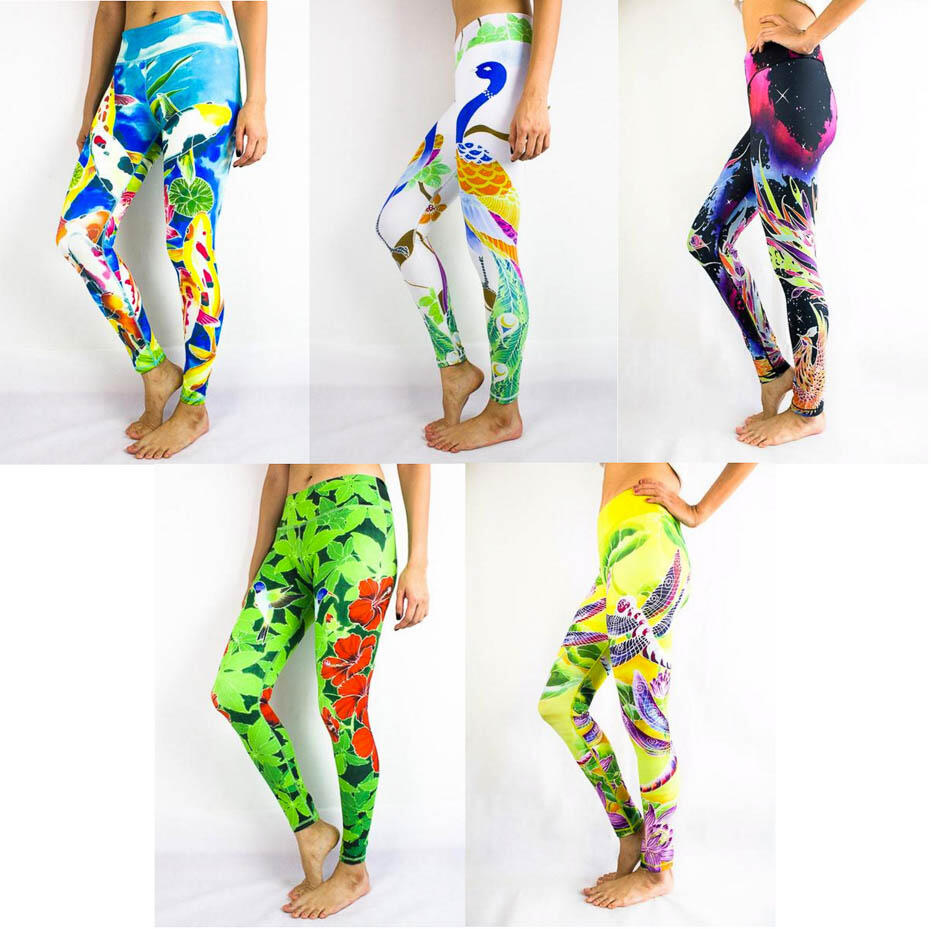 They've recently introduced SENI, a new line of high performance leggings that are the result of Nadia's ongoing crowdfunding  campaign. Featuring hand-painted designs by Malaysian batik artists from the Malaysian Craft Development Corporation, the leggings underwent a series of tests to ensure that they can withstand the movement and impact of high performance activities (such as cross-fit, martial arts, running, dance and yoga) while staying comfortable.
Made of a blend of smooth and durable Lycra, these leggings are RM179.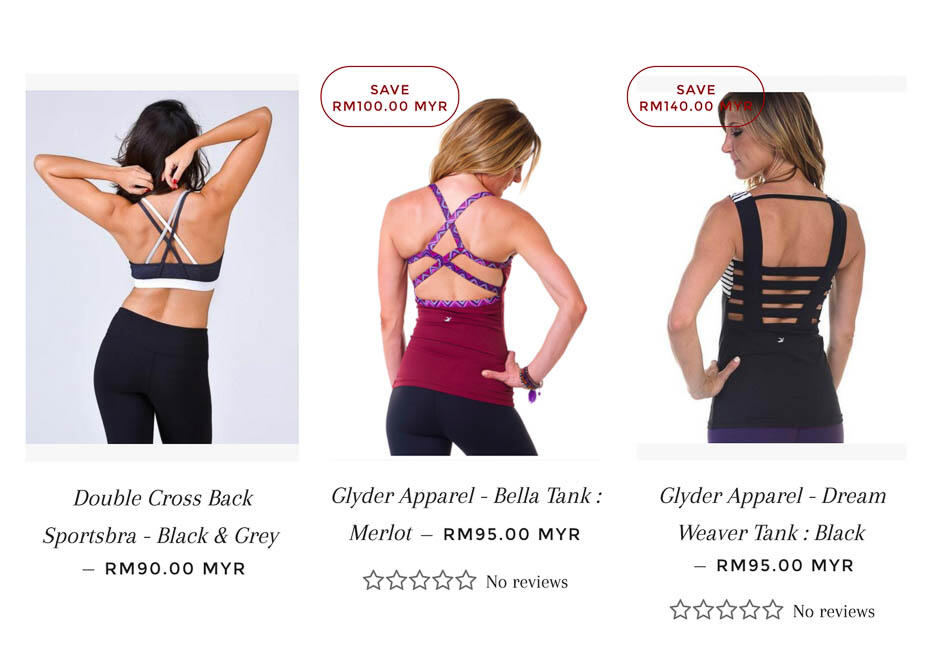 They also have a range of other products such as shorts, skorts, tanks, sports bras and even casual wear. KBF readers get 10% off when shopping off FitRebel with the discount code: KBF10. (Available for limited time only.)
Get moving, people!!
Website: fitrebel.com
Facebook: facebook.com/fitrebelapparel
Instagram: @fitrebelapparel
Stockist:
Tribeca at Bangsar Village II
Lot 1F-31
1 Jalan Telawi 1,
Bangsar Baru,
59100, Kuala Lumpur
Opening hours: 10am – 10pm daily
Contact number: +603 2287 6760
+ + + + + + + + + +
MOVE by Twenty3
Having just shown at KL Fashion Week a few weeks ago, I'm sure most most of you are familiar with Twenty3… but did you know they have fitness wear too? MOVE is their range of fashion forward activewear.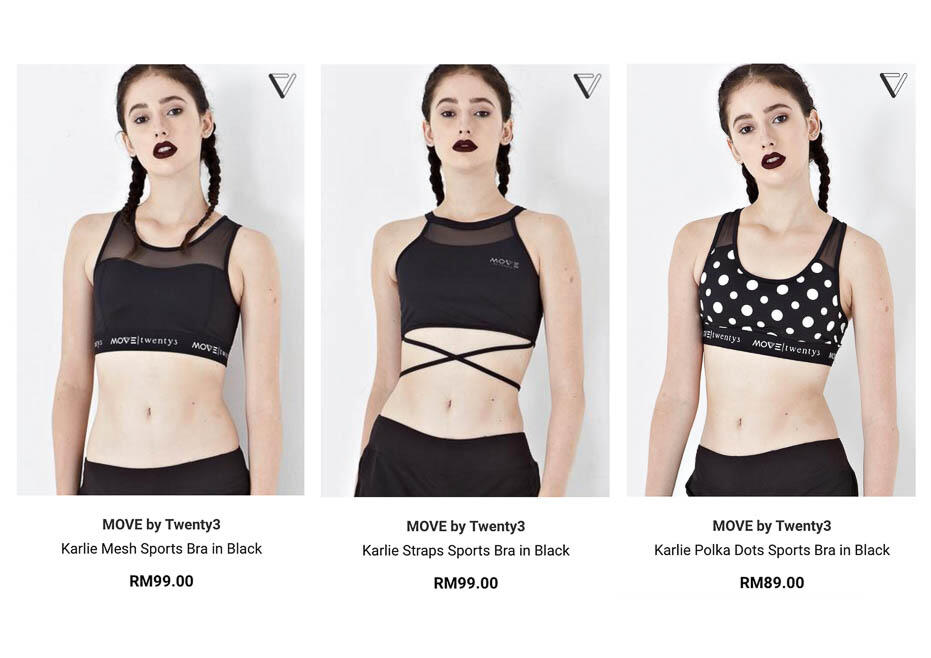 The fully monochrome collection is very edgy for the modern woman. I imagine she'd be the type who walks into the gym and has all eyes on her cause she's ~fresher than you~ think Beyonce and Rihanna put together.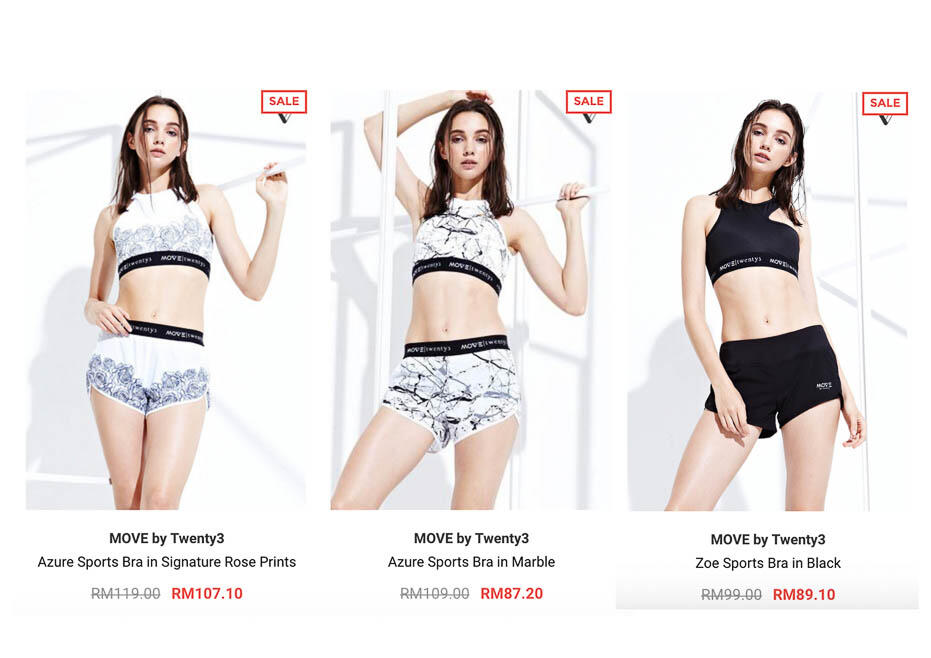 Website: twenty3.my/move-by-twenty3
Facebook: facebook.com/twenty3my
Instagram: @twenty3my
Twenty3 @ Atria 
G35, Atria Shopping Gallery,
Jalan SS 22/23, Damansara Jaya,
47400 Petaling Jaya.
+603 6731 1580
Store Hours: 10am – 10pm
They are currently running pop-up stores at Publika and Bangsar Village II too!
+ + + + + + + + + +
Lorna Jane
Australia's leading activewear label is on a mission to empower every woman to lead her best life through the Active Living philosophy and the daily practice of Move, Nourish and Believe.
They translate that by churning out super fashionable apparel for all women!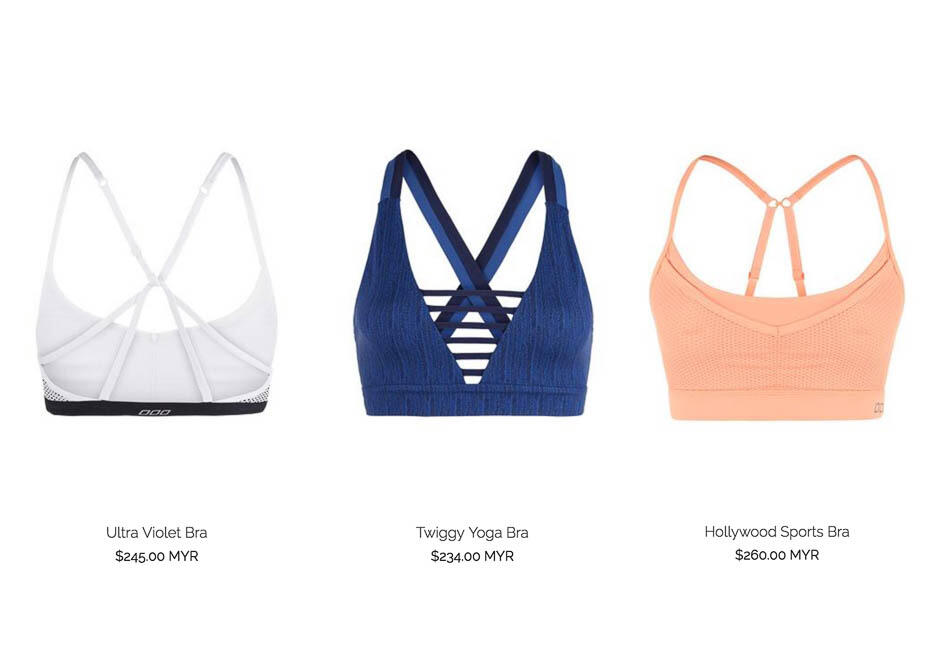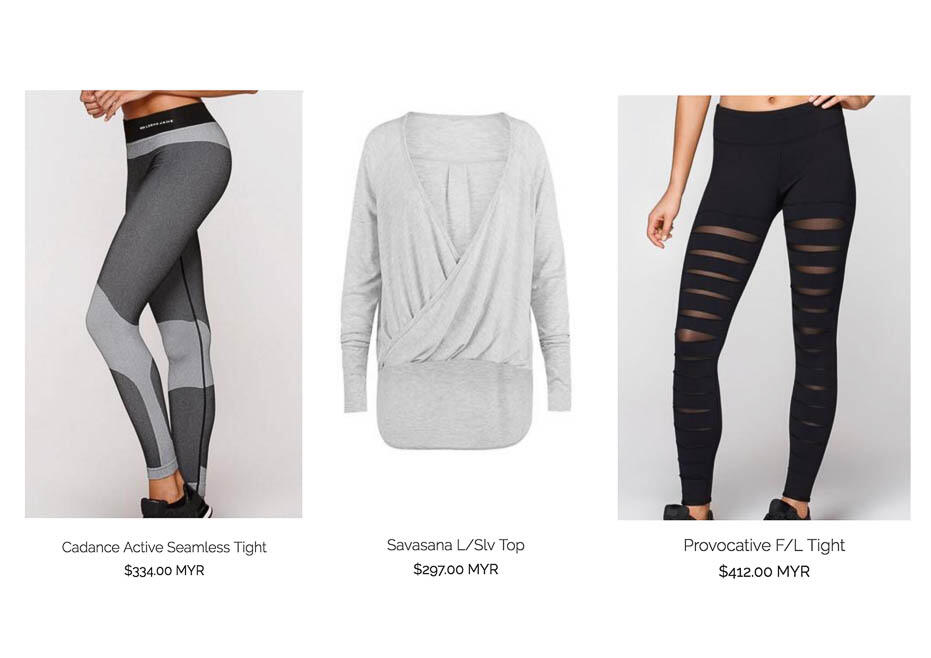 I mean, where else can you actually get fully functional ripped leggings meant for fitness? I love it, I might just get myself a pair right now.
Website: believeactive.com
Facebook: facebook.com/LornaJaneMalaysia
Lorna Jane Concept Store @ BV2
1F-1C, Level 1,
Bangsar Village II,
Kuala Lumpur
Store Hours: Monday – Sunday 10am – 9pm
+ + + + + + + + + +
Ash Be Nimble
Also a home-grown brand, Ash Be Nimble started designing and making fitness wear back in 2014, debuting the brand at the Malaysia Women's Marathon. They pride themselves on their two passions: fitness and fashion. Besides fitness apparel for women, they also have a range of men, children and Muslimah activewear. Having the everyday Malaysian person in mind, they keep their prices affordable and their designs simple and functional for fitness enthusiasts of all sorts.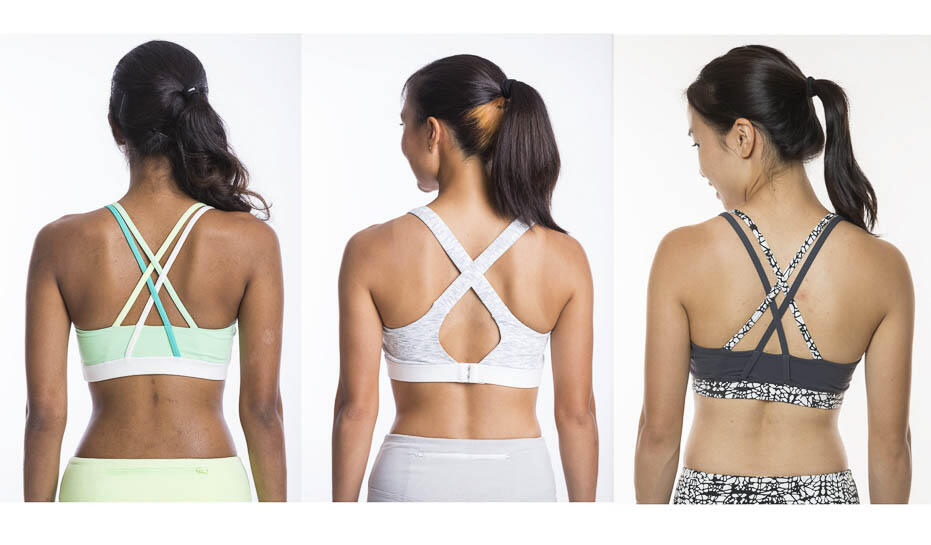 The fabric they use is a blend of nylon and spandex which makes for good stretch, moisture management while being lightweight and soft. The price of Ash Be Nimble's women's activewear ranges from RM80 to RM95.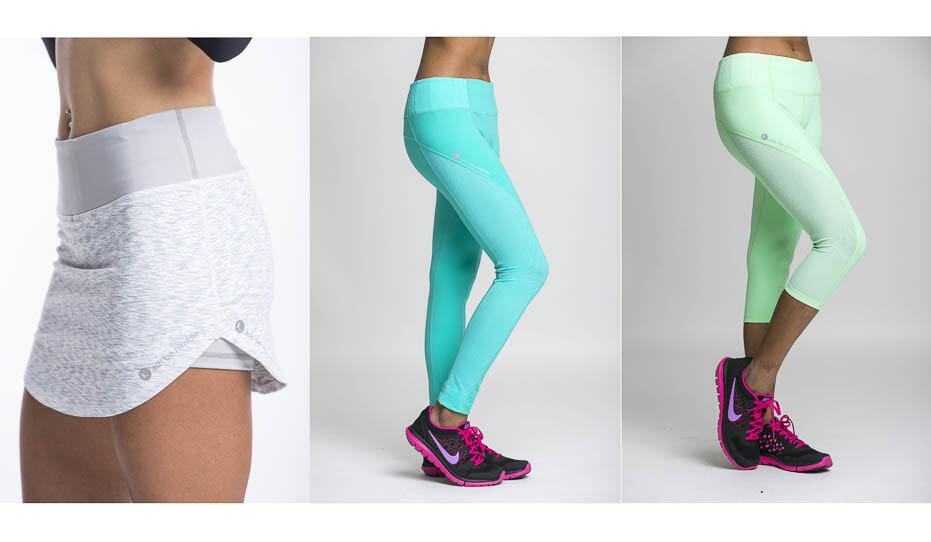 Besides apparel, Ash Be Nimble also features an ongoing project called #GoTheExtraMile, a series that feature ordinary Malaysians going beyond themselves to inspire and influence others. With this series, they hope to inspire everyone to go the extra mile whenever they're in doubt or just need a little push in life.
Website: ashbenimble.com
Facebook: facebook.com/ashbenimble
Instagram: @ashbenimble
Ash Be Nimble (The Fox Den)
30A, Jalan SS20/10,
Damansara Kim,
47400 Petaling Jaya
Store hours:
Tuesday – Friday 11am – 6pm;
Saturday 12 – 4pm
+ + + + + + + + + +
Lululemon
If you didn't already know, this cult Canadian athletic apparel brand adored by yoga lovers everywhere has finally made its way to the streets of Bangsar! Back in London, there's a Lululemon store around the corner of my flat and I love to pass by it every Monday when they have a live yoga session in the morning.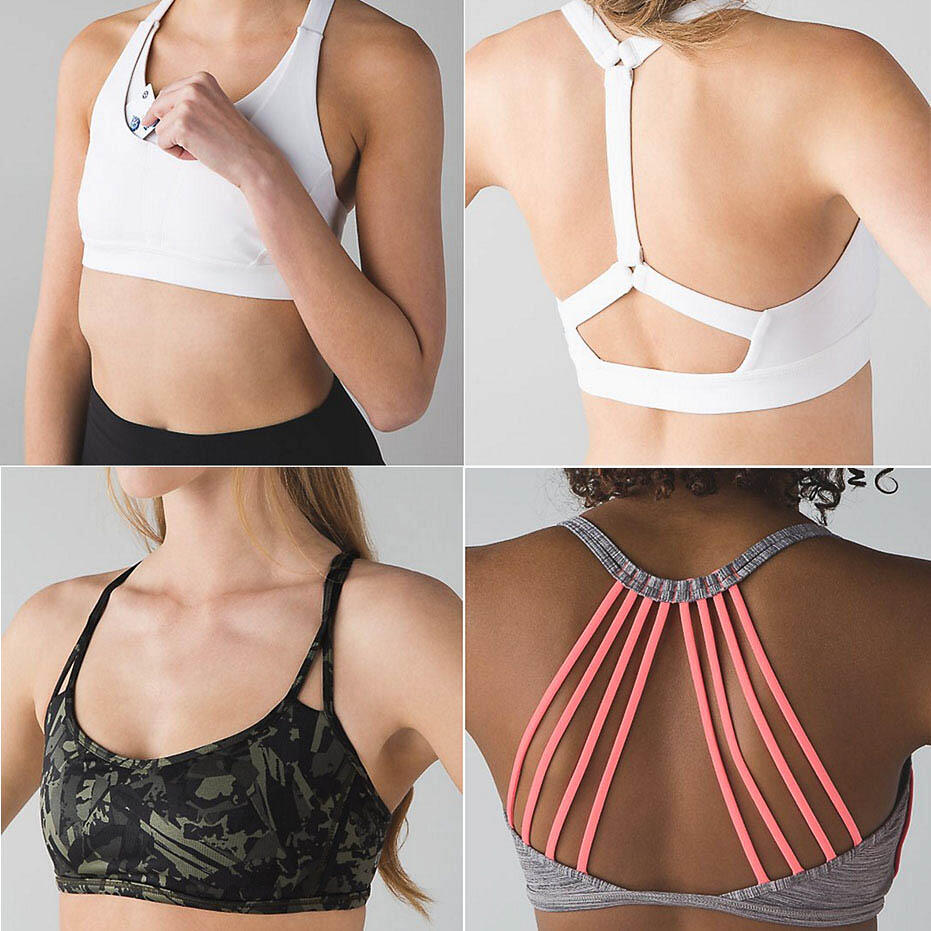 You can probably tell by now that I really love strappy sports bras. I have to also tell you guys about their Pack It In sports bra (the first two pics above); the bra has a compartment at the front where you can keep your cards and other small things! How great is that?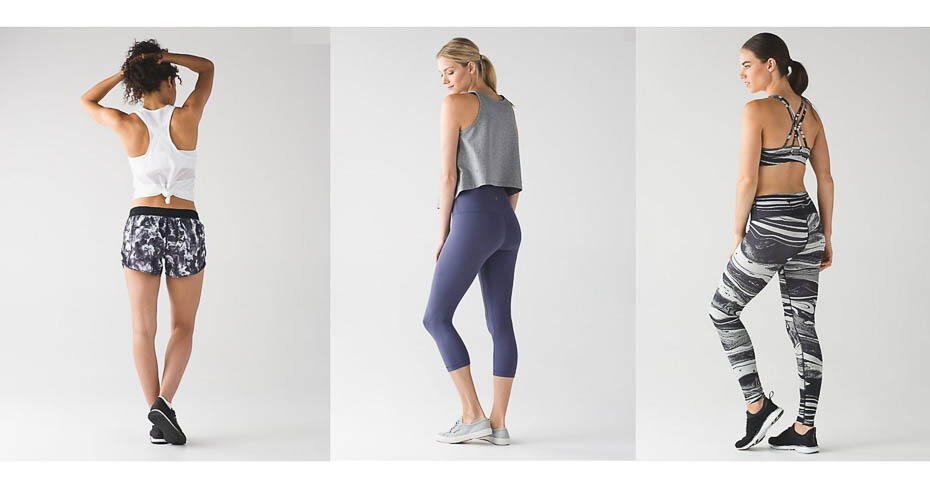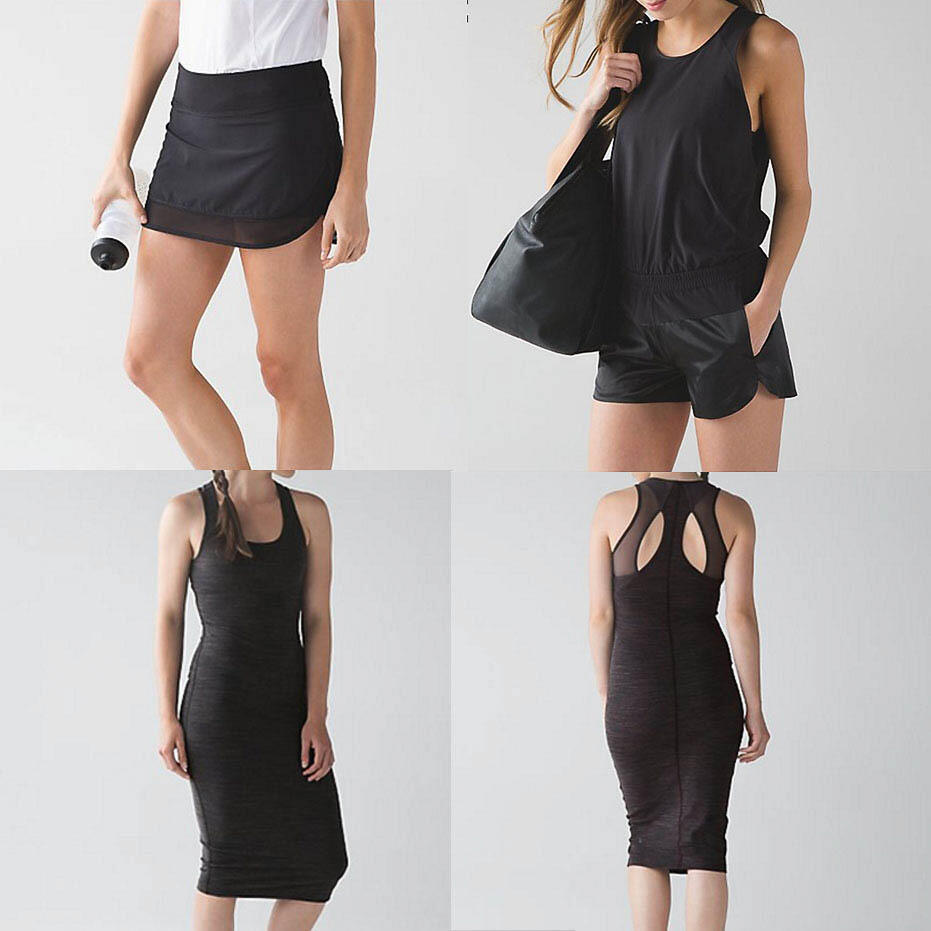 Besides fitness wear, they've also got a range of apparel like dresses and rompers designed to be worn after you've had a sweat session.
Website: lululemon.com.hk
Facebook: facebook.com/lululemonKualaLumpur
Instagram: @lululemonmy
Lululemon Athletica Showroom
20, Jalan Telawi 3,
Bangsar,
Kuala Lumpur
Store Hours:
Wednesday – Saturday 11:00AM – 6:00PM
+ + + + + + + + + +
Under Armour
I remember when Under Armour opened its first store in KL a few years ago, my friends went pretty crazy over the high performance wear.
Fun fact: the founder of the brand was an athlete on a mission to make a superior t-shirt that provided compression and wicked perspiration off your skin rather than absorb it.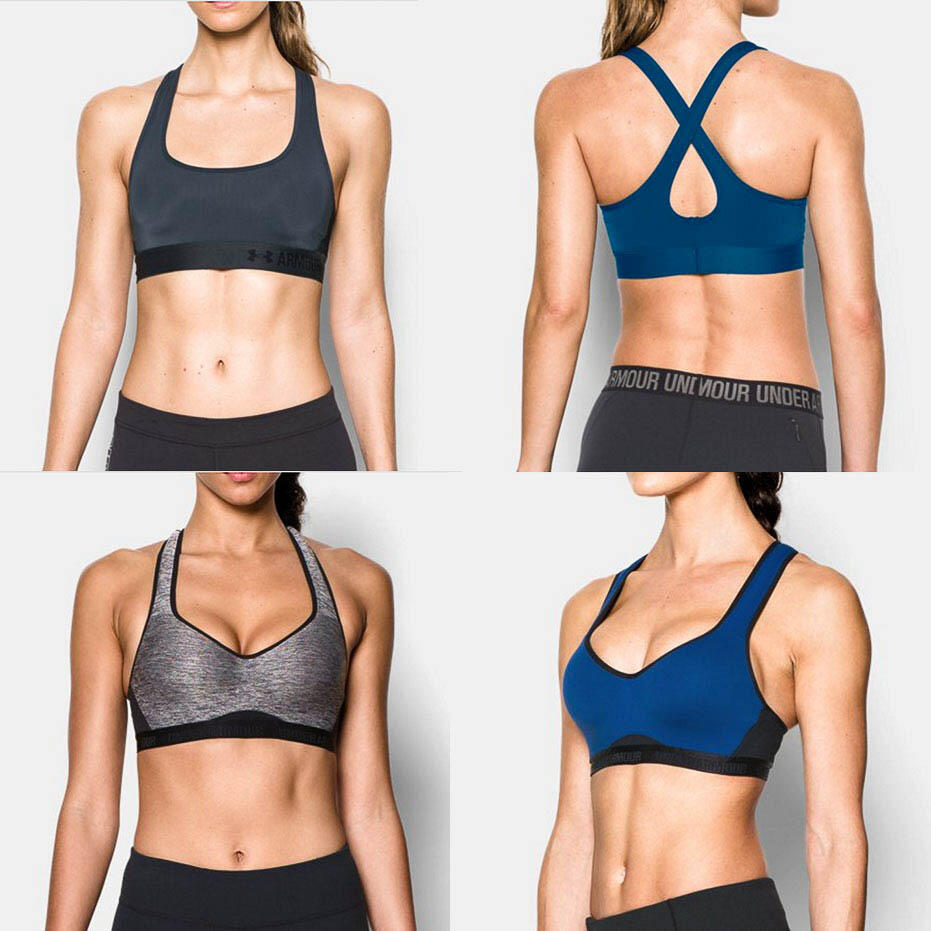 Under Armour now has a wide range of innovative athletic apparel designed to be able to endure all extremes.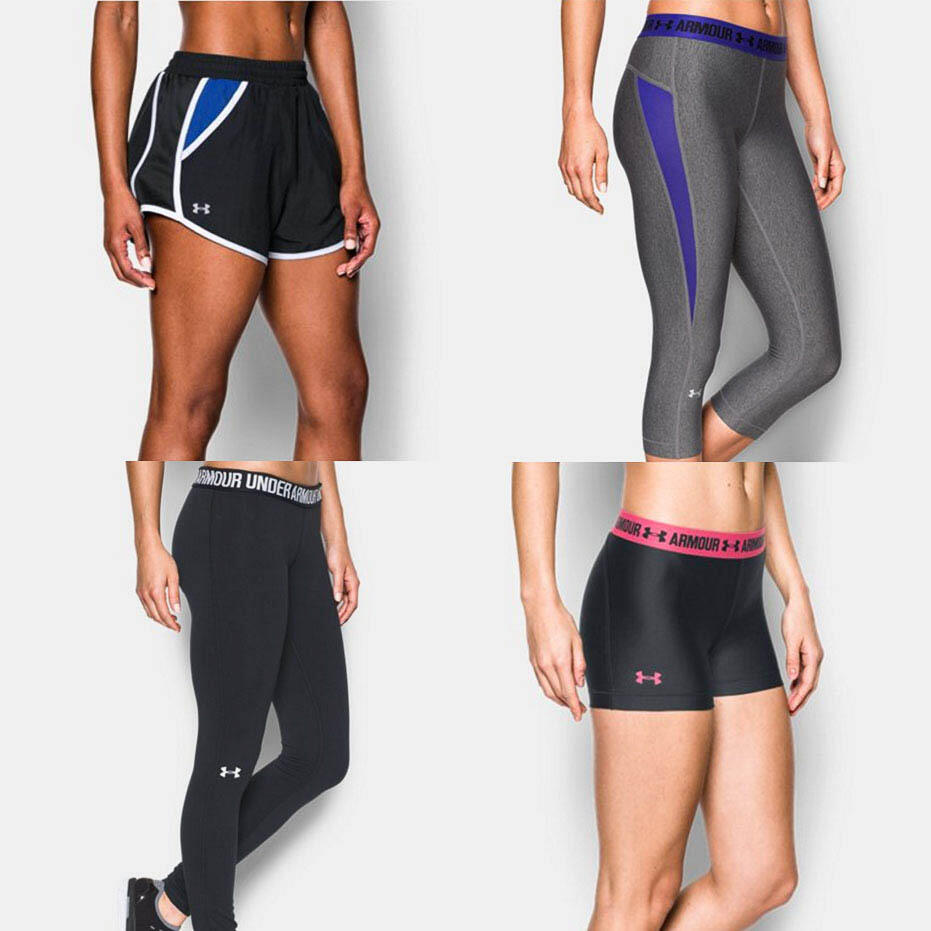 Can I also mention how good their models look? #dreambod #motivation
Website: underarmour.com.my
Facebook: facebook.com/underarmoursea
Instagram: @underarmourmy
Store Locator: underarmour.com.my/en-my/store-locator
+ + + + + + + + + +
Puma
So a couple of weeks back, Rihanna's Puma Fenty Fur Slides came back in stock and I went to three different outlets (all at different locations) in search of grey pair and got the very last pair in my size! Yay me!!! With the all the hype on Rihanna's collection, it's a shame that their main collection doesn't get as much attention.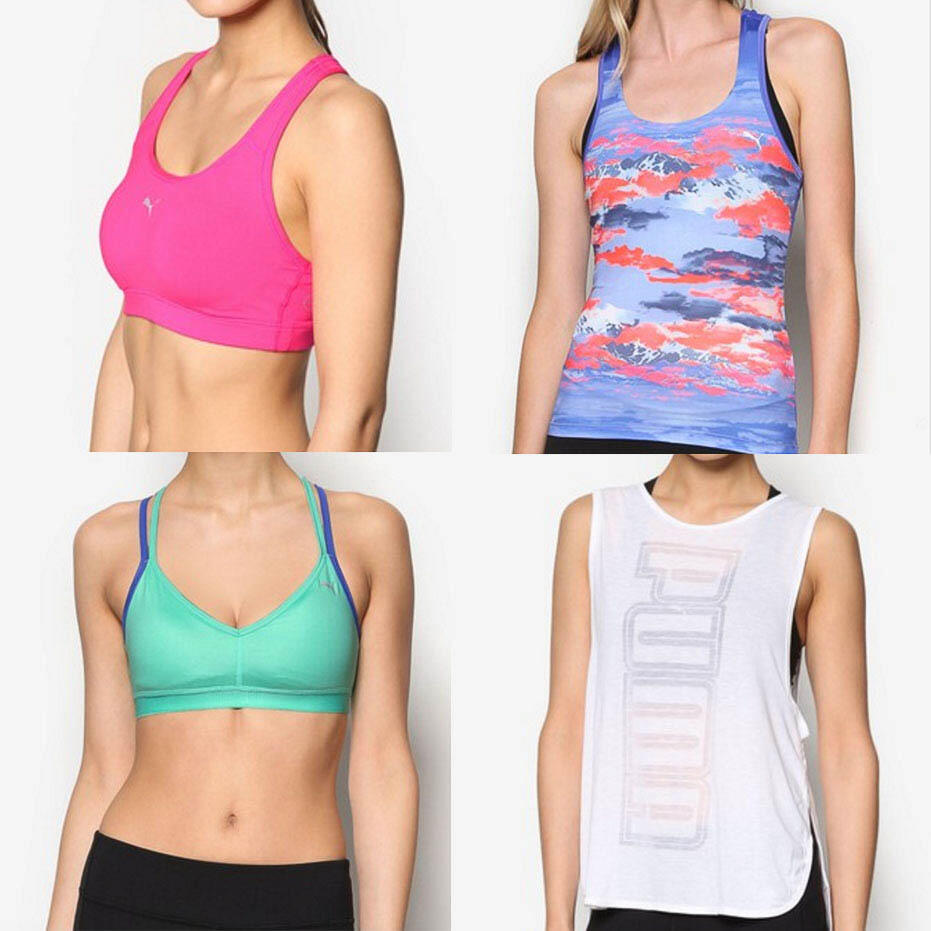 Puma incorporates lots of bright colours and fun graphics in their activewear.
If you prefer to go shopping in-store, there are many Puma stores in KL and if not, Zalora stocks them too!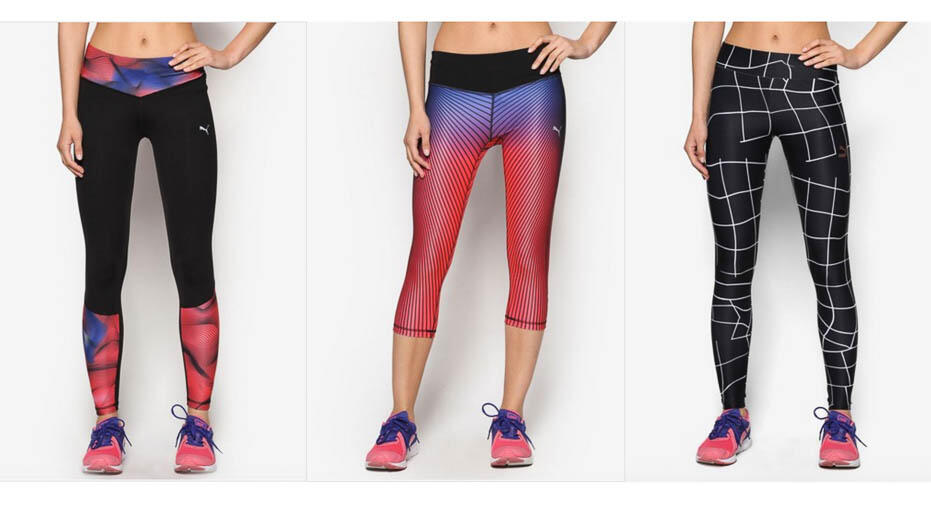 Website: global.puma.com/en_MY
Facebook: facebook.com/PUMAMalaysia
Instagram: @puma
Store Locator: global.puma.com/en/stores
Stockist: zalora.com.my/puma