Ahhh, Urban Decay. What can I say, I've long been a fan of this cult make-up brand ever since I was in high school. If you grew up in the 90s, you would know that Urban Decay was the holy grail of makeup to teenagers in that era. We all read the same magazine – Seventeen, Teen Beat, Tiger Beat, YM (to prep the girls for Vogue, Elle, Harper's Bazaar and Cosmopolitan later on) and in all these magazines, Urban Decay would be featured somewhere and we all wanted it… BAD!
It was also the time when glitter eyeshadow, hair mascara and silver lipstick was ALL the rage! We also convinced ourselves that black/brown eyeliners were boooring and we wanted something different; glitter eyeliner, body glitter, glitter hair gel…. because Y2K! So looking like a walking disco ball on crack was the way to go and how we killed it back then! I remember going to rave parties when I was 16 covered in glitter from head to toe! Part of my trusted arsenal was Urban Decay's Heavy Metal Glitter Eyeliner (to the slightly older demography: REMEMBER THOSE??!!). I had it in every colour! And boy, did it deliver! It stayed on until after the raves (through molly & sweat haha).
When Joyce told me to go to the Urban Decay Vice Afterdark event, I said… HELLZ YEAH, HOMMIE! I picked up my phone and hotline bling-ed my date Sandra Woo and off we went to Uppercase at APW, Bangsar to celebrate the launch of 100 Vice Lipsticks! That's right, their ENTIRE lipstick collection, every last one of them, is now Vice (that's what the inclusive collection is now called) where all of the existing lipstick shades (discontinued ones, some limited-edition selects, and some fresh new ones) are repackaged, reformulated and reintroduced to the world!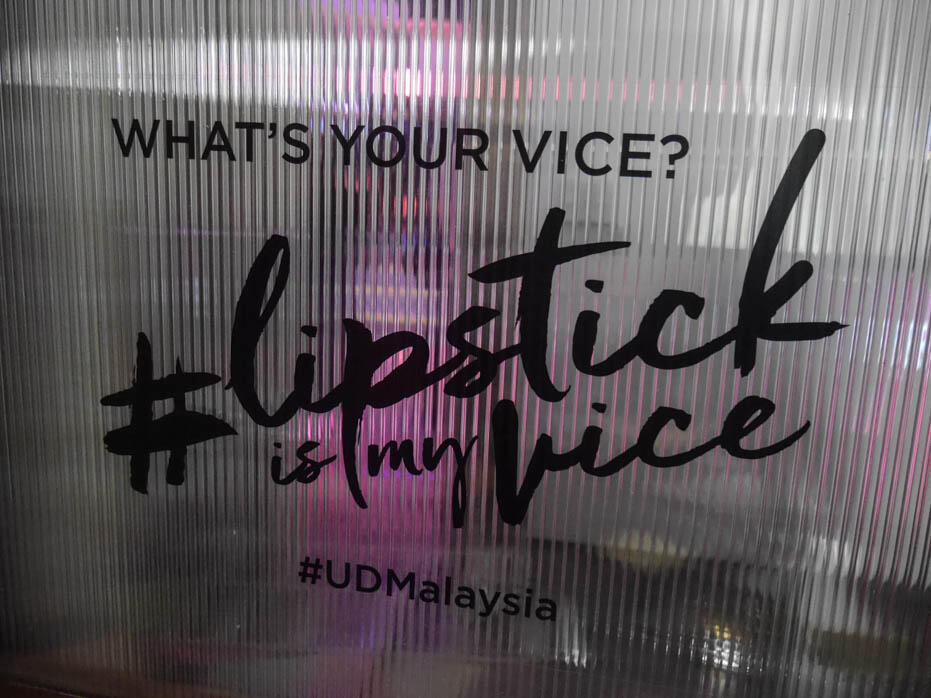 Tadaaaaa… These are not even half of it, guys.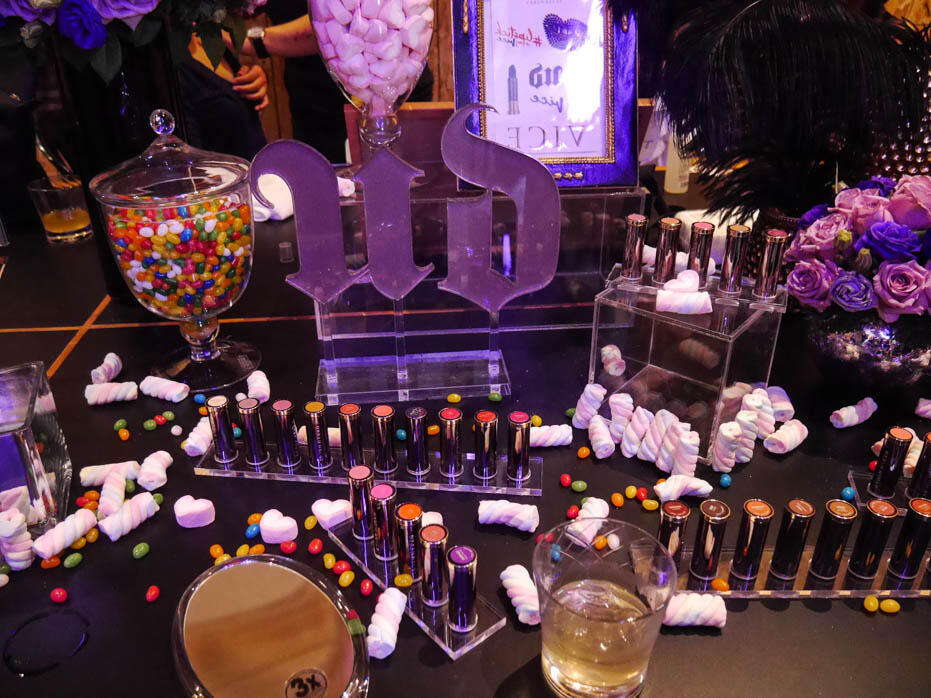 The proprietary Pigment Infusion System™ creates the formula, its super creamy texture and superior colour dispersion; butter blend for moisture; and softness thanks to aloe vera, avocado, jojoba and babbasu oils. The shades span the spectrum of finishes: Mega Matte, Comfort Matte, Cream, Metalized, Sheer and Sheer Shimmer.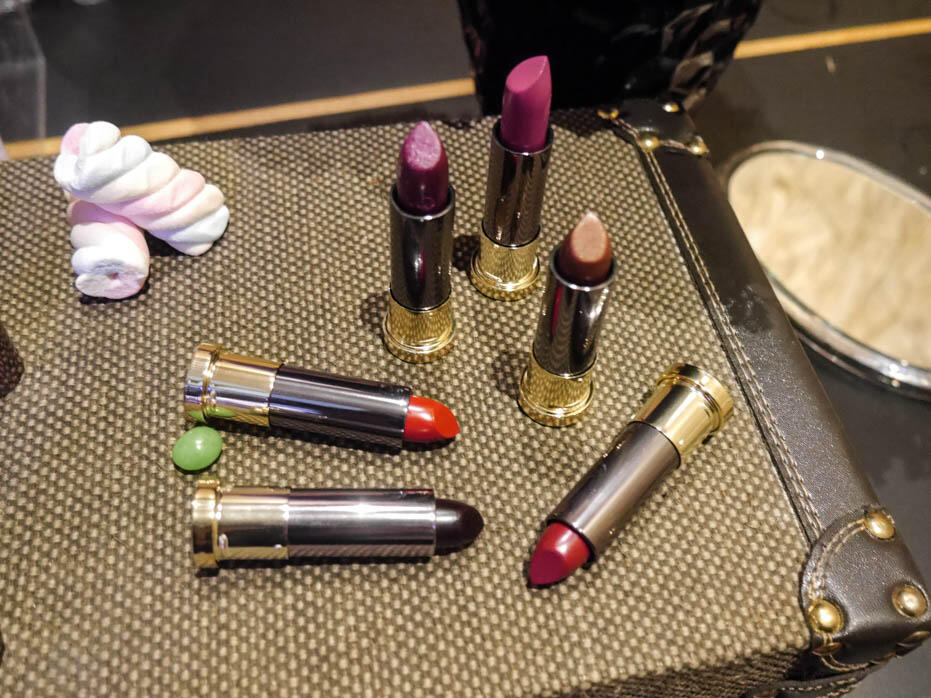 The packaging fits perfectly with UD's "beauty with an edge" dogma, and more. The casing stays true to it's OG packaging – the shotgun shell – but tweaked with a faceted gunmetal case, and a gold base featuring an embossed UD logo. Shade-matched labels make it easy to find in your bag/pocket/jacket for a quick lip fix.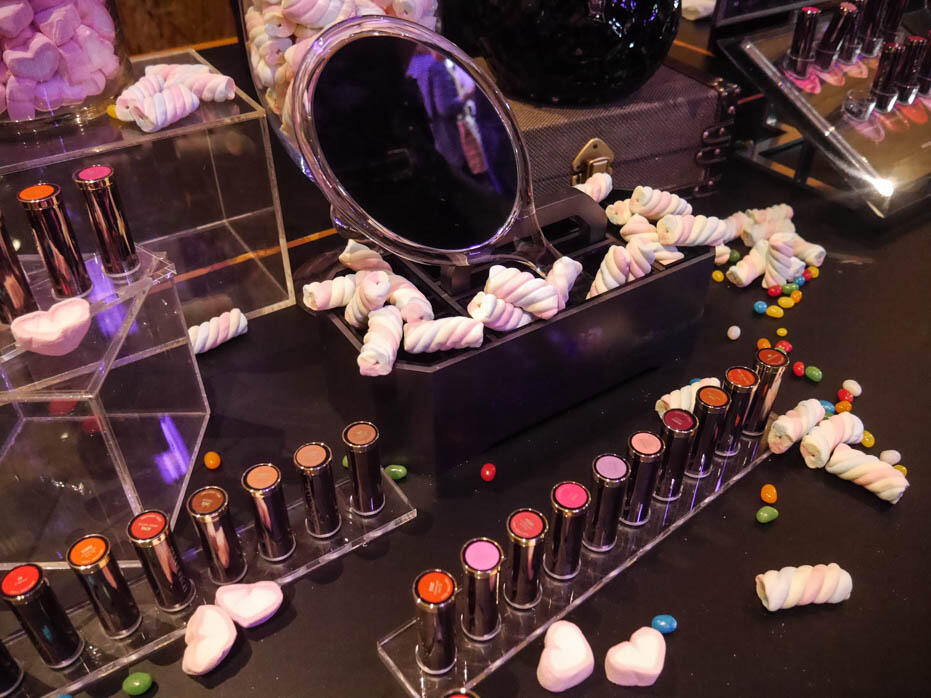 There are 100 shades to choose from. Not close to, almost, or approximately: There are 100 lipstick colours launching at the same time. The choices here are UNHEARD of. I spent about 15 minutes just standing there swapping shades on my arms before deciding which to try on – Pandemonium, Moshpit, Jilted, Mrs. Mia Wallace, Backtalk, Shame, Disturbed, Heroine, Blackmail…
These two, yes…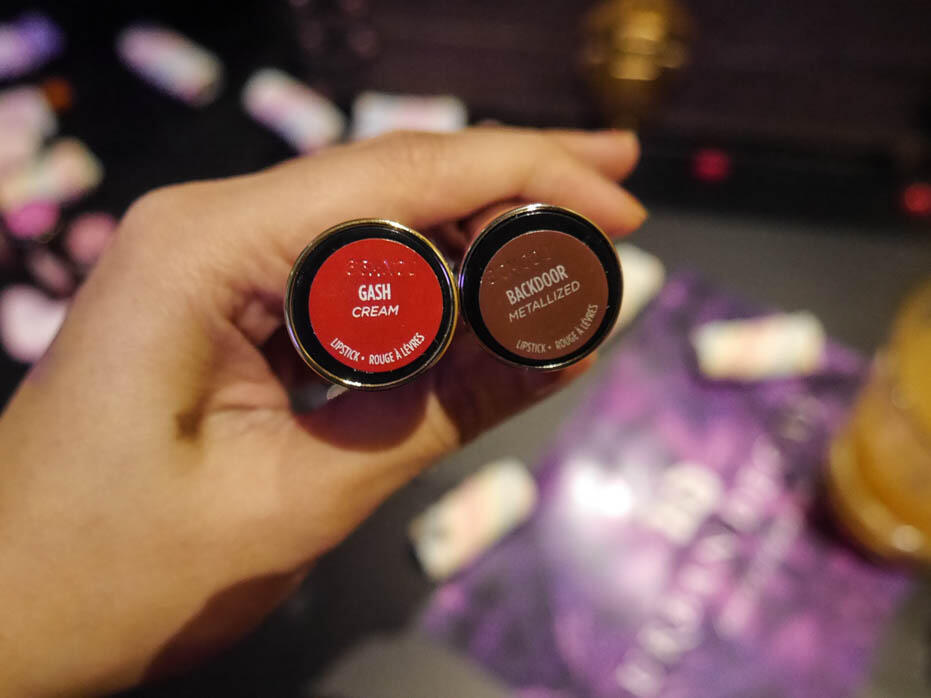 But no…  I ended up with these two!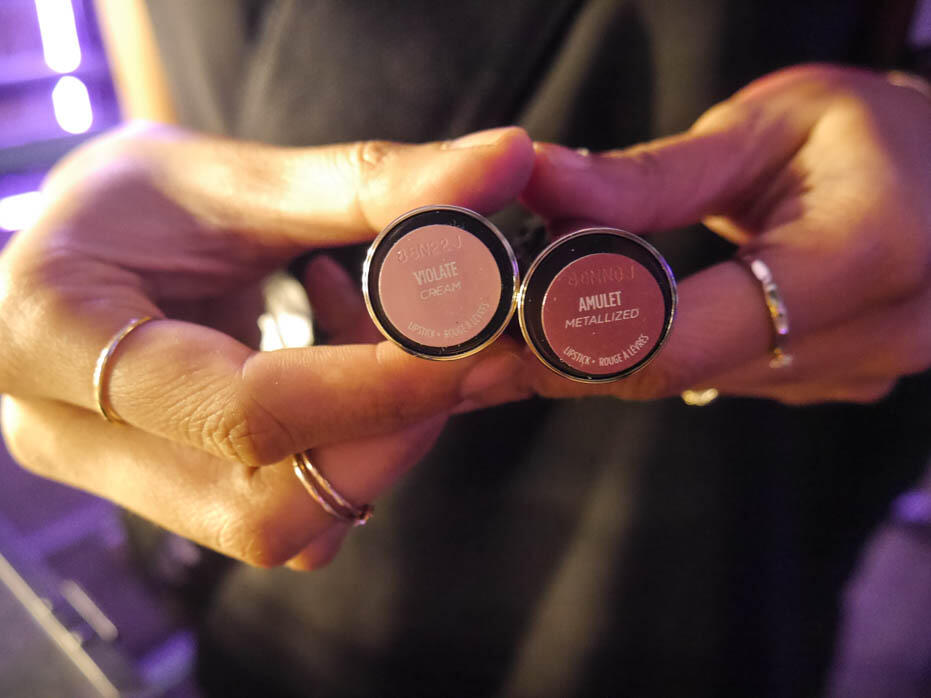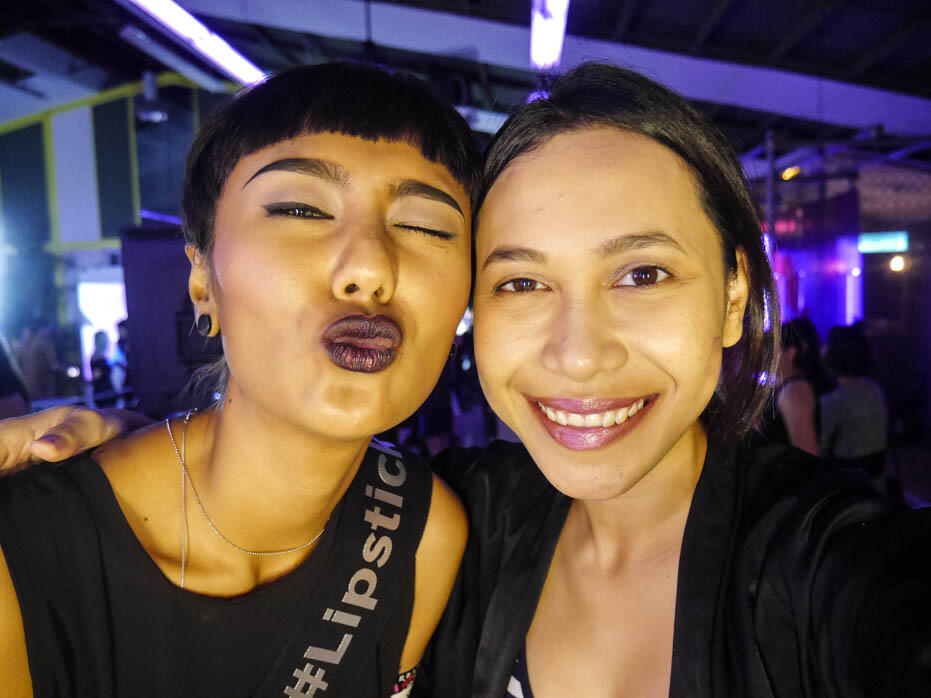 Sooooo spoiled for choices!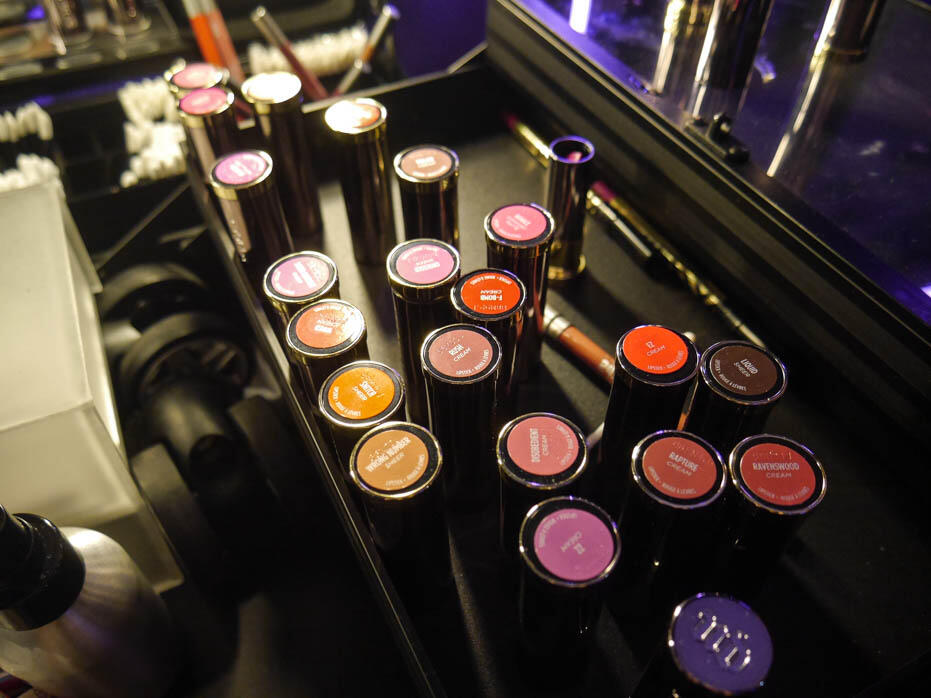 At such a glam event, one would surely bump into glam people…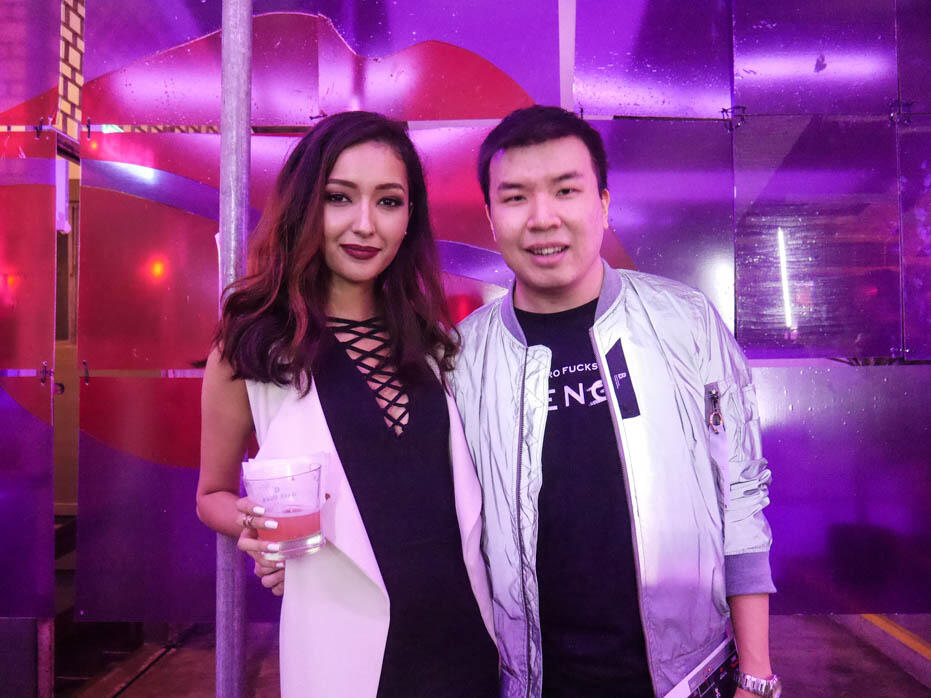 Model Wafa de Korte with manager James Tan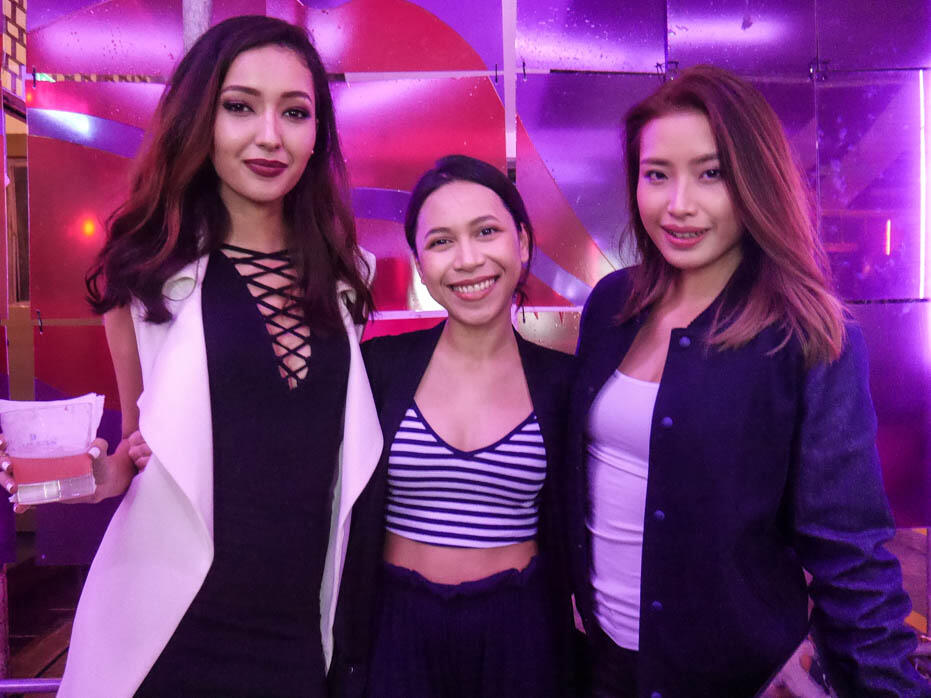 Model sandwich! Wafa de Korte and my hot date Sandra Woo!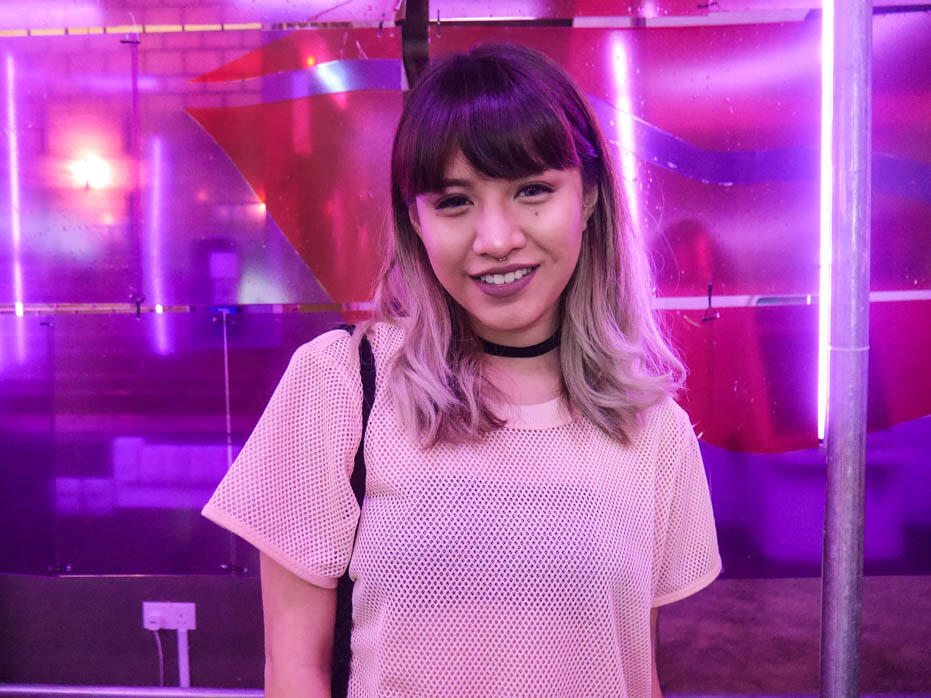 Blogger Hanie Hidayah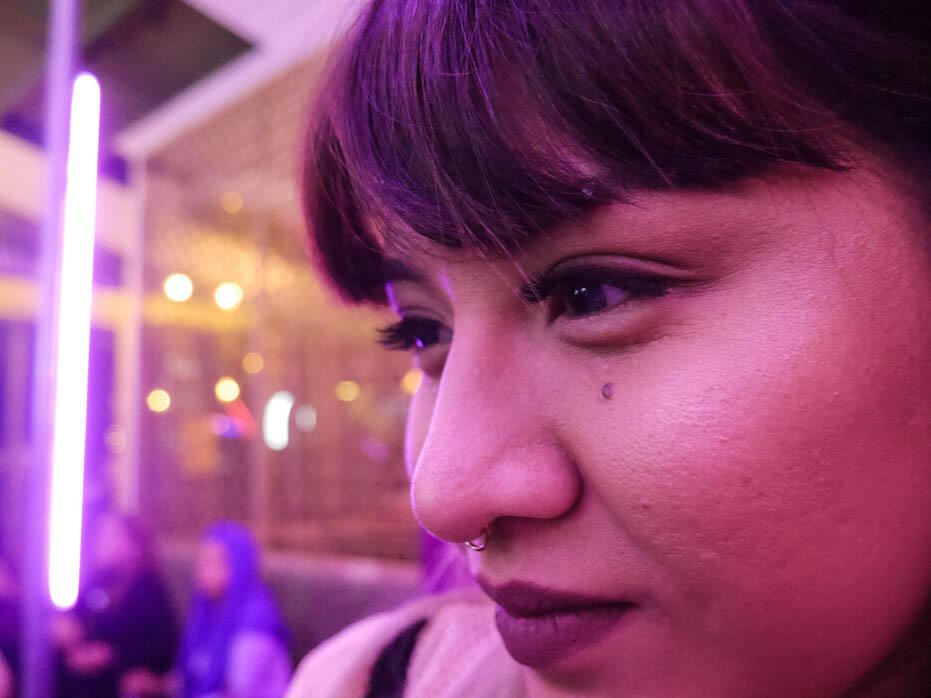 Hanie just had her eyelash extension treatment at Browhaus earlier that day.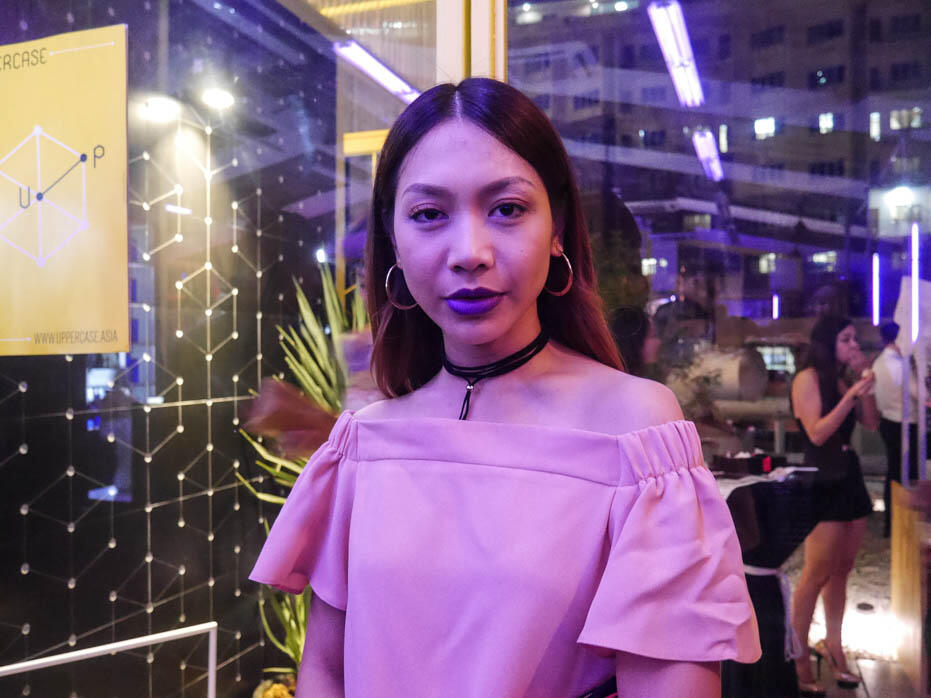 Rapper Hunny Madu looking all kinds of gorgeous!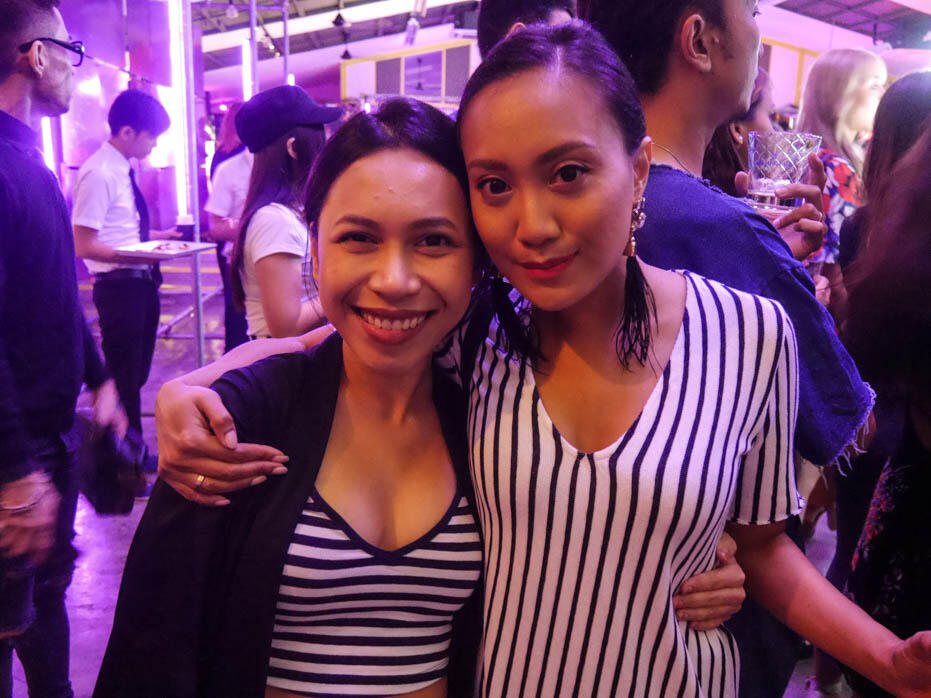 Little People UNITE! Socialite Sasha Yusof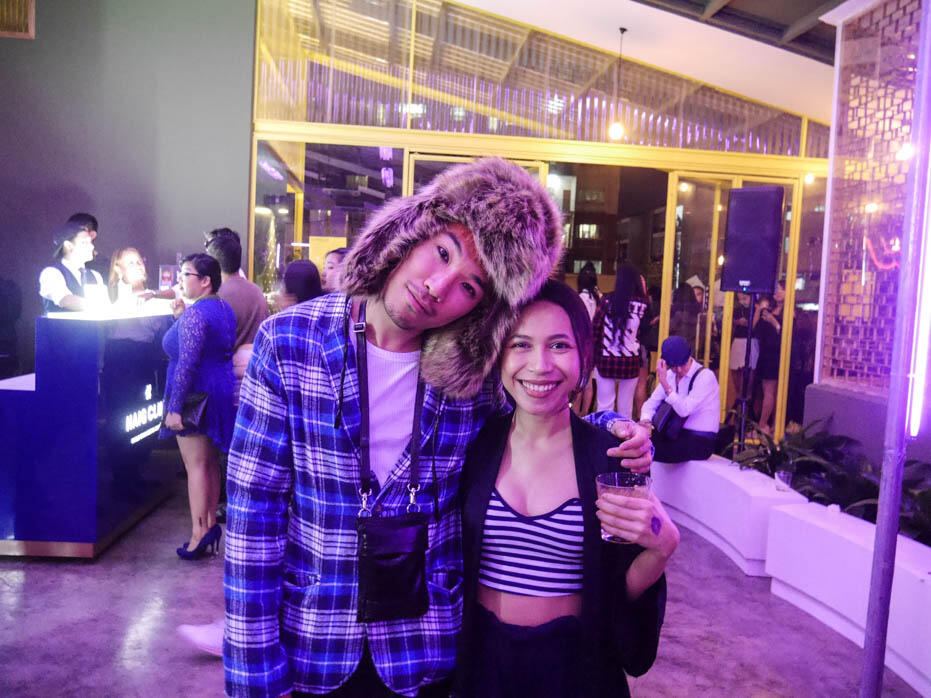 Streething Editor Ethan Chu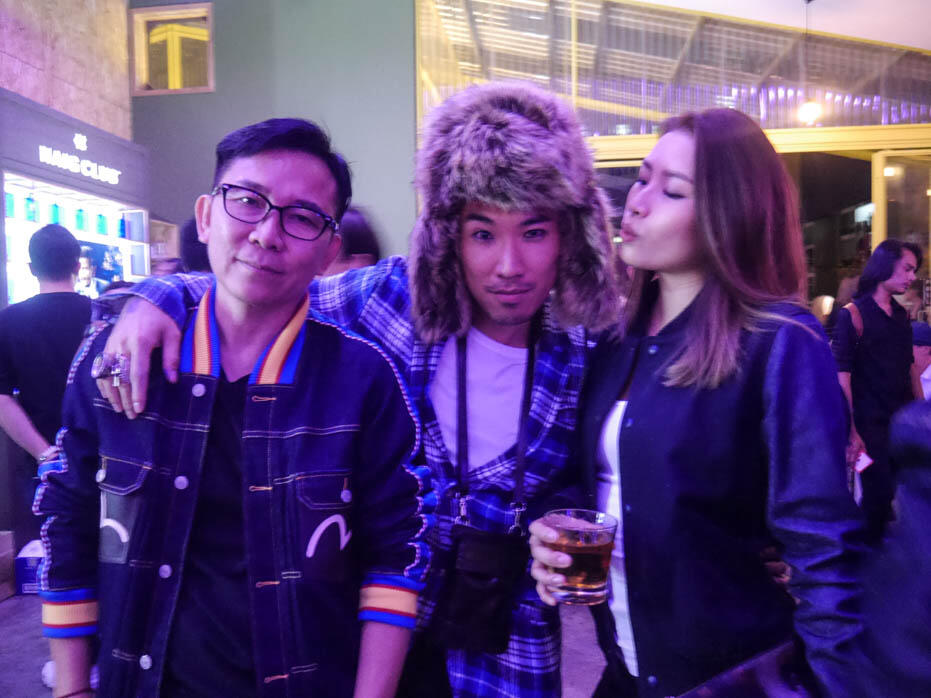 Jimmy Ong, Ethan Chu and Sandra Woo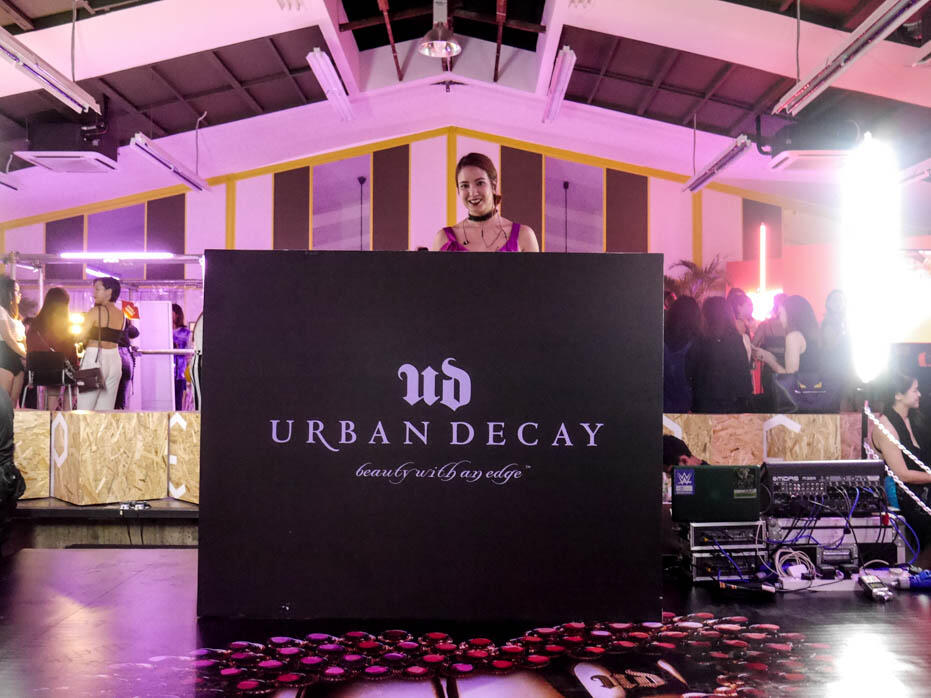 IRAMA IN THE HOUSE!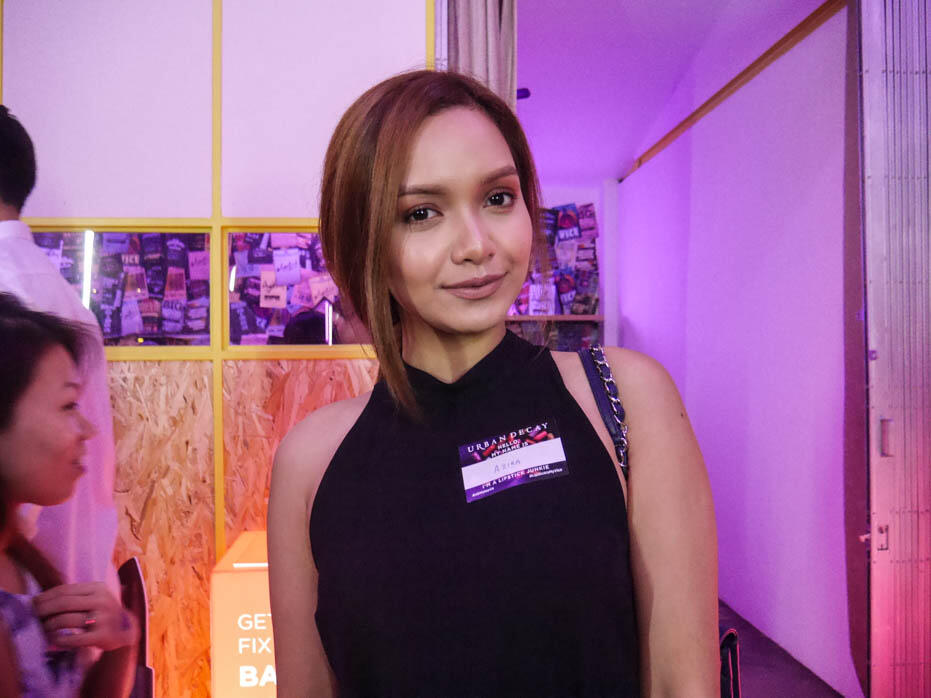 1/3 of musicial trio D'Fam Azira Shafinaz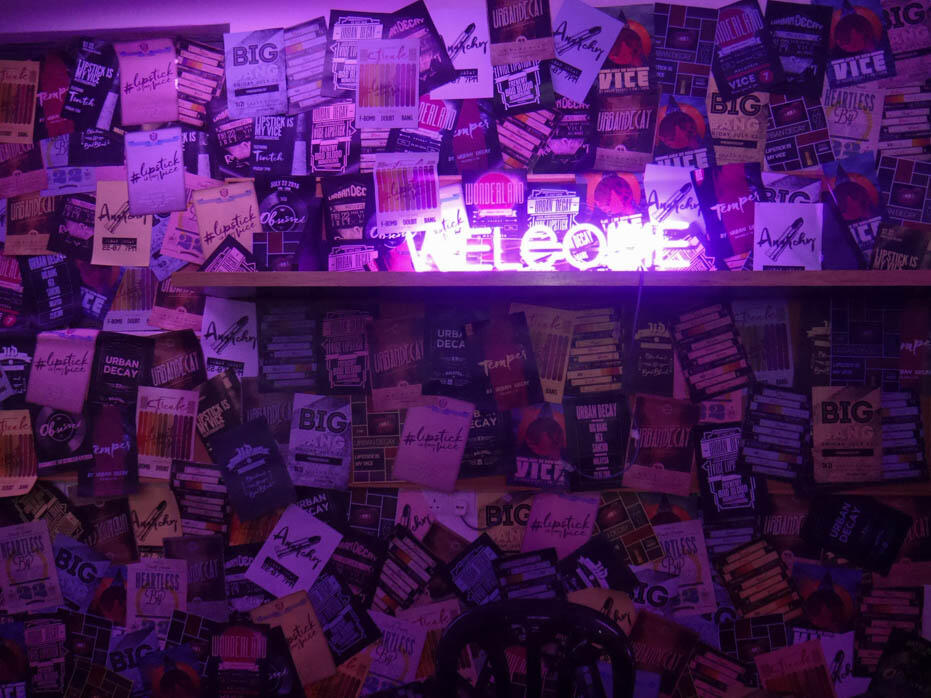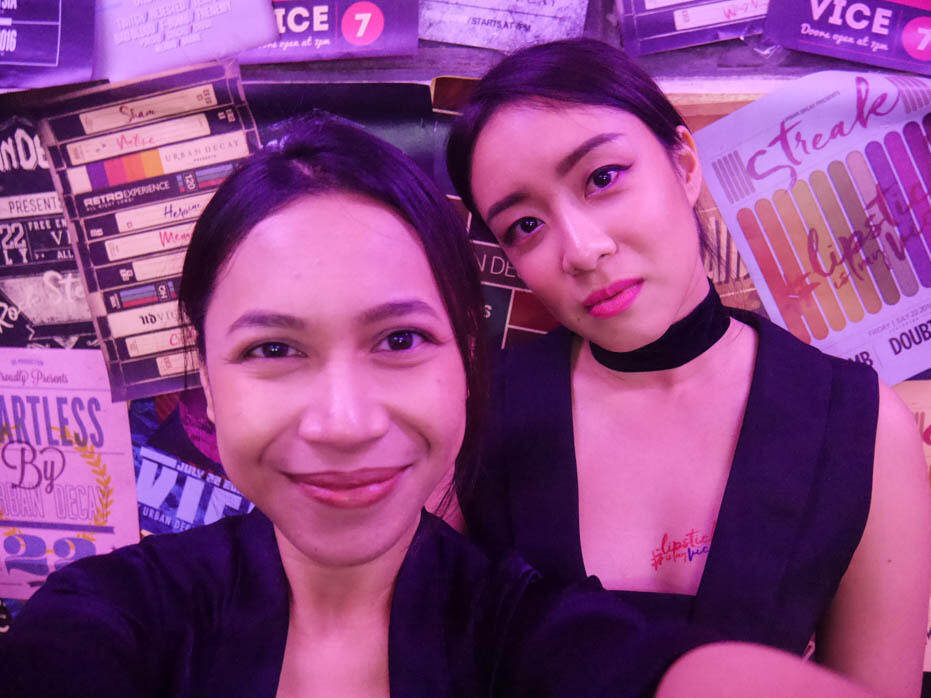 Marketing Manager and part of the UD Malaysia team Elaine Yong!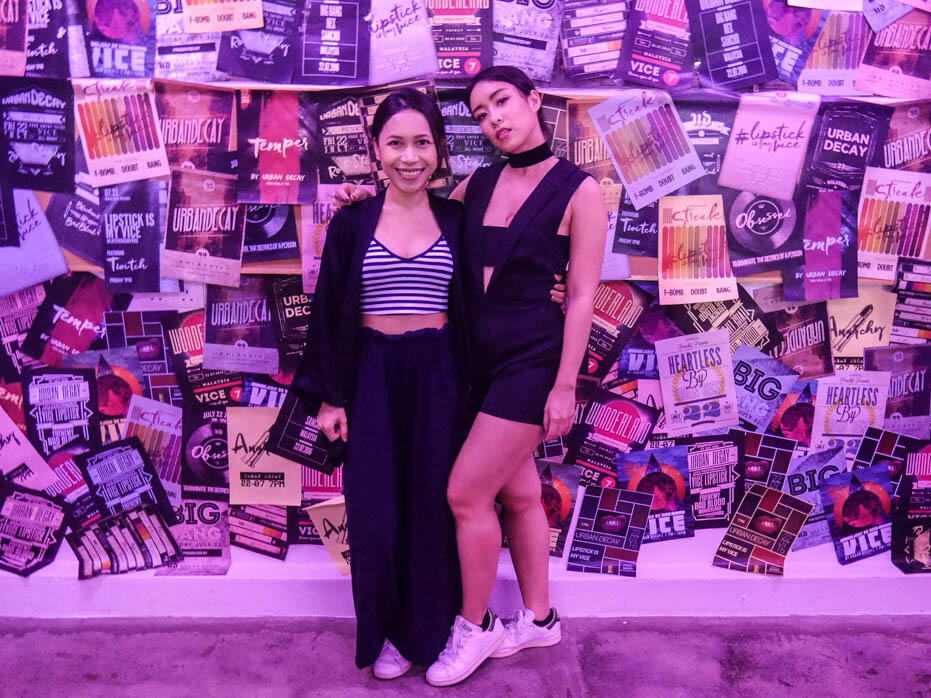 Elaine: Baby, let's take a picture together *pose*
Baby: Okay *awkward penguin*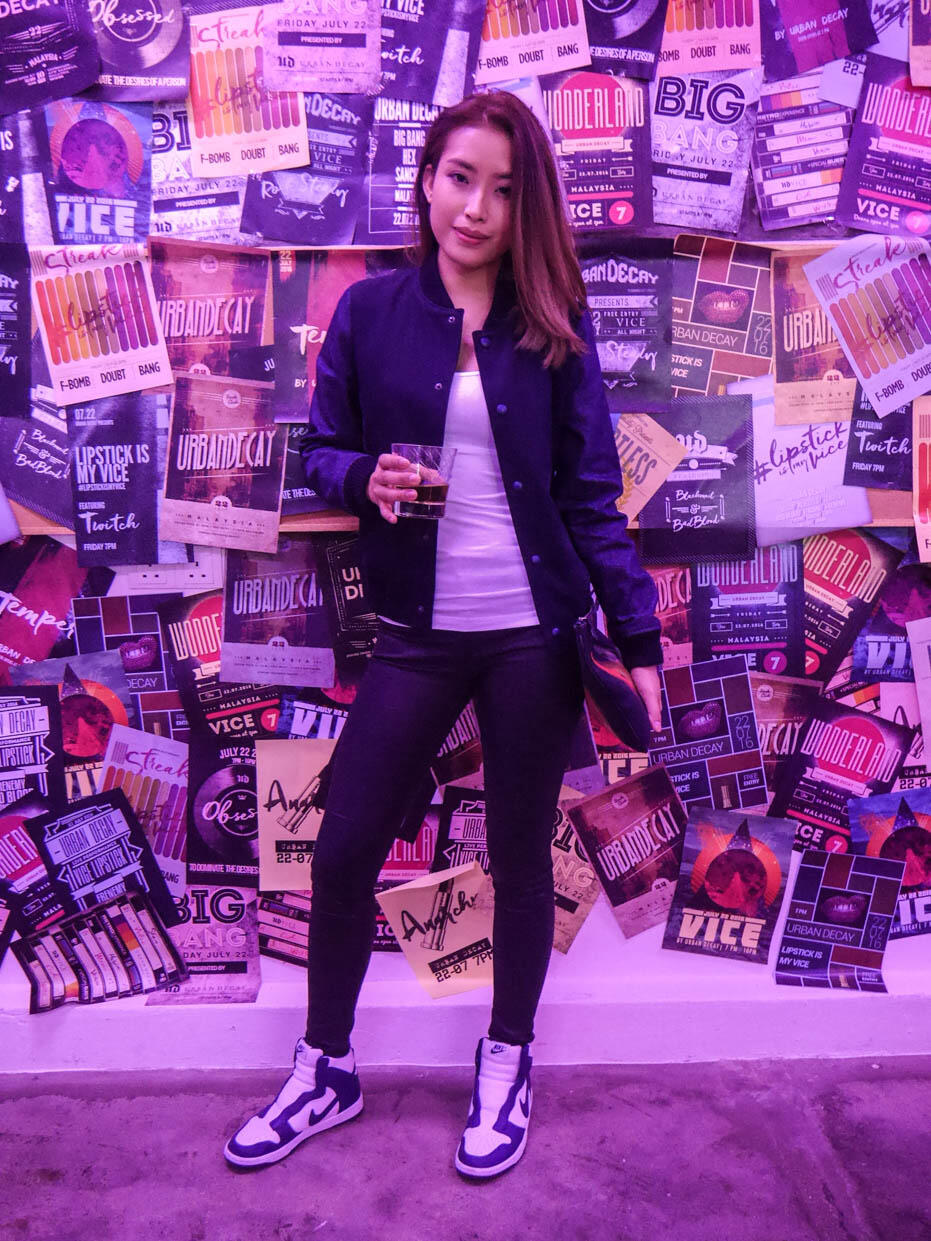 Oh, Sandyyyy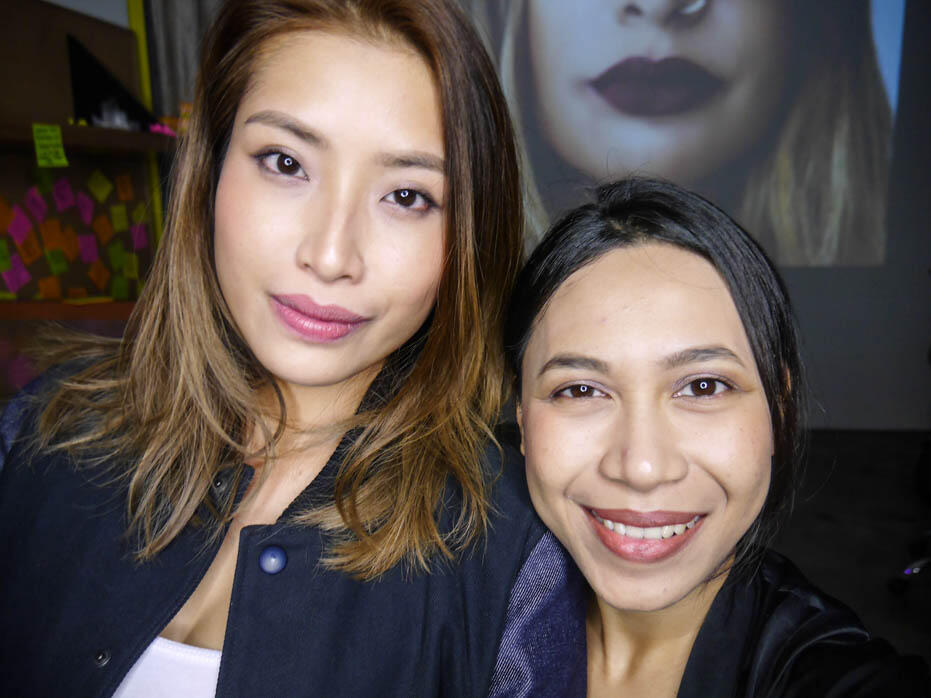 Us playing around with the ring light.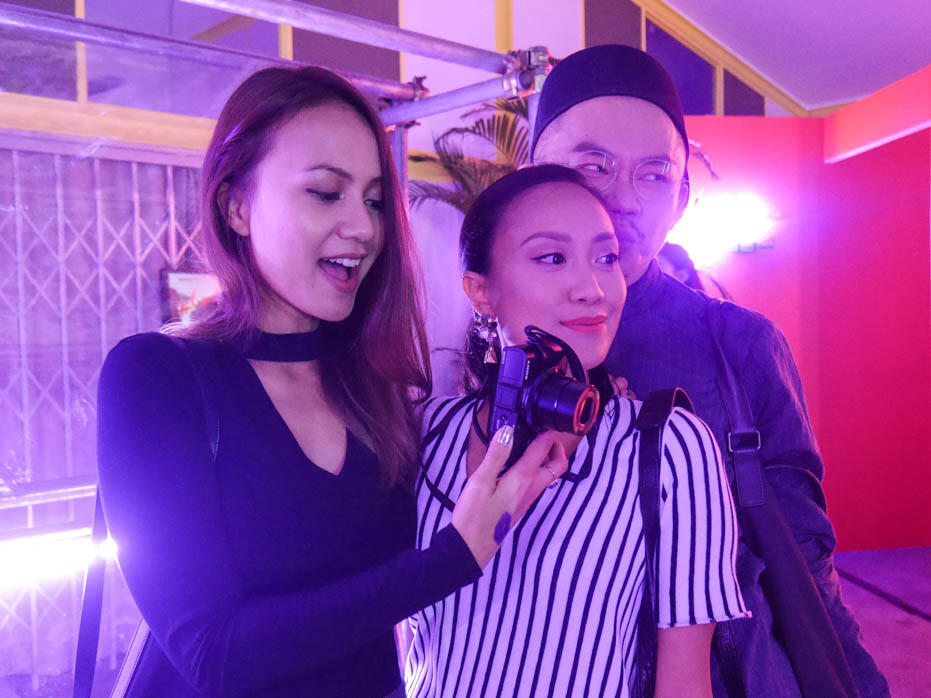 Astro Supersport Host Reem Shahwa, Sasha Yusof, and make-up artist extraordinaire Sheng Saw.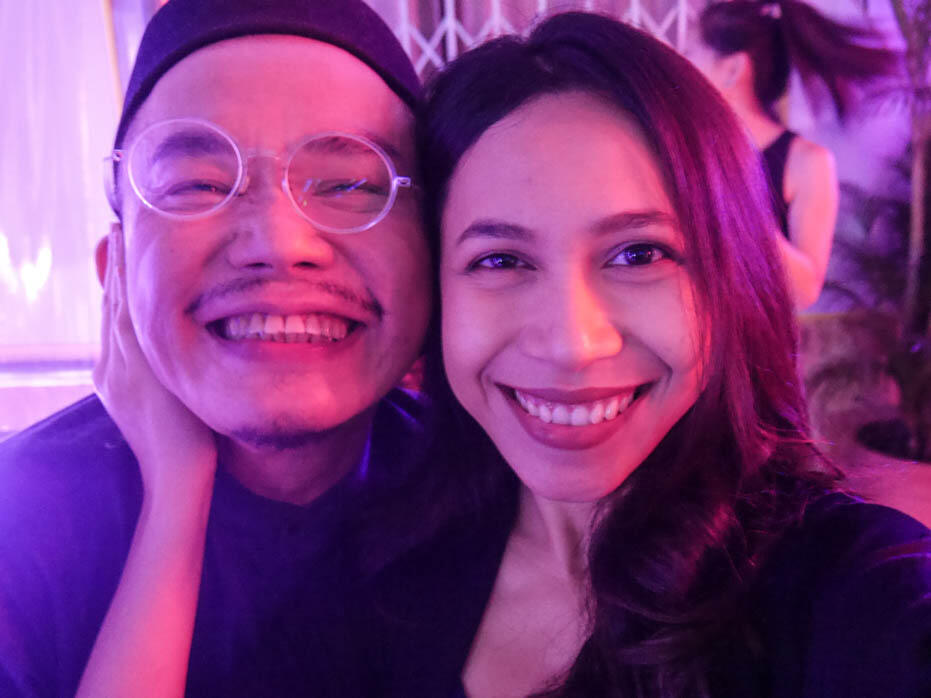 I miss you, mama!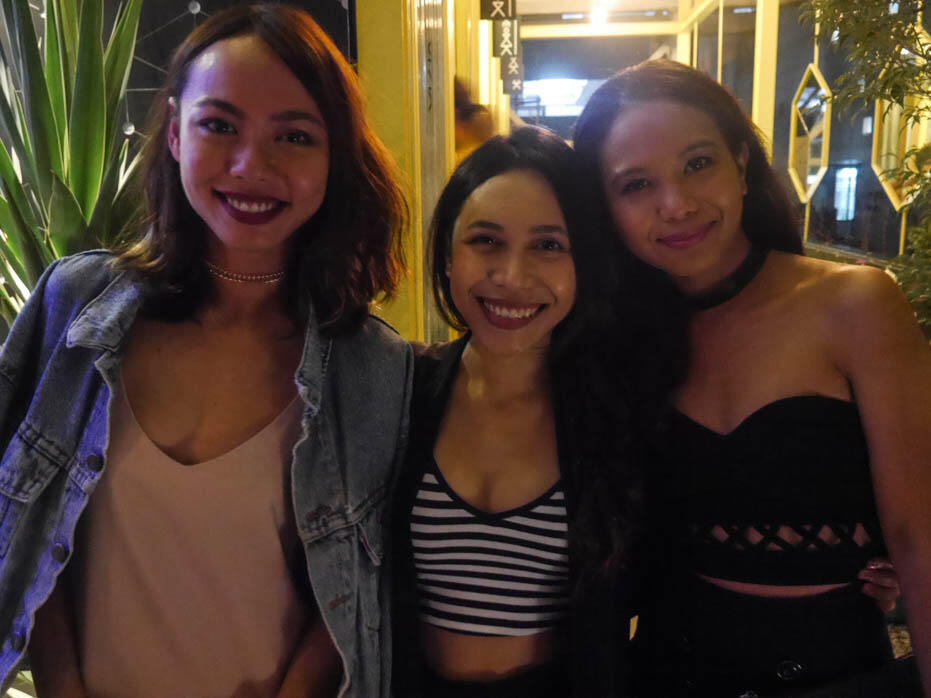 Fly FM presenter Zherpeen, Baby (ME!) and rapper Kayda Aziz.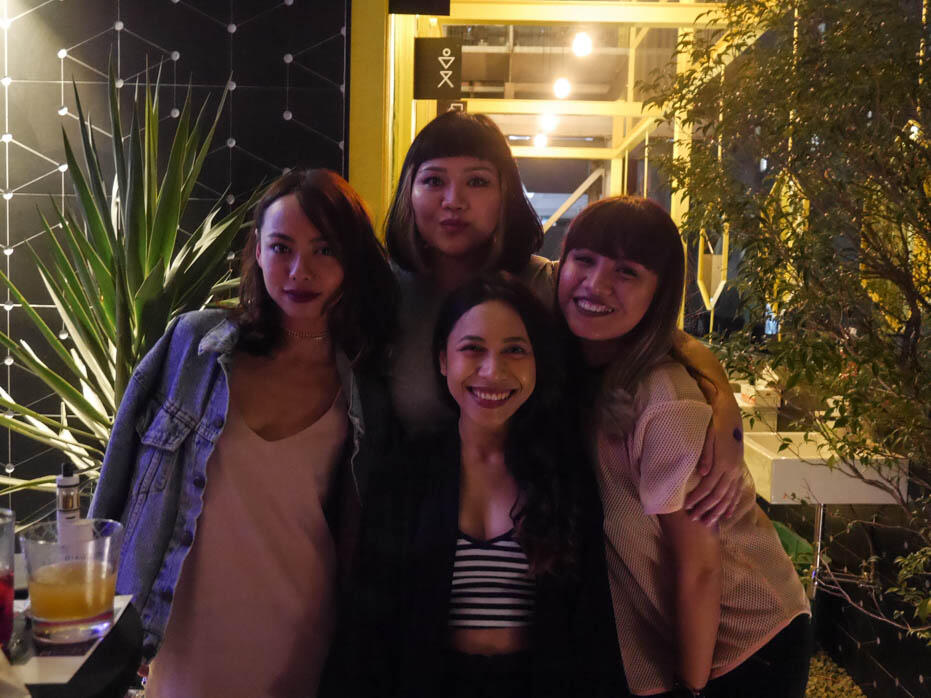 Zherpeen, Hanie Hidayah and make-up artist Teyn Nash.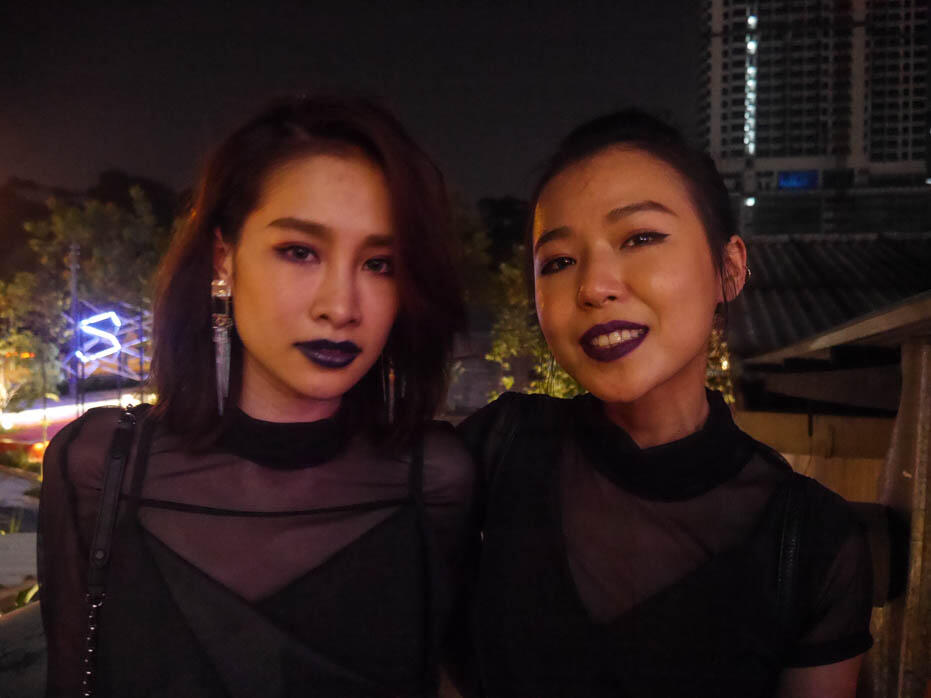 1/2 of Duogigs Cherrie Mun, and make-up artist / fashion designer Laine Wong. Looking good, girls!
Side Note: They're both wearing PLaine, a new label founded by Laine Wong which will launch in November. Can't wait and congratulations in advance, Laine! You heard it here first, people!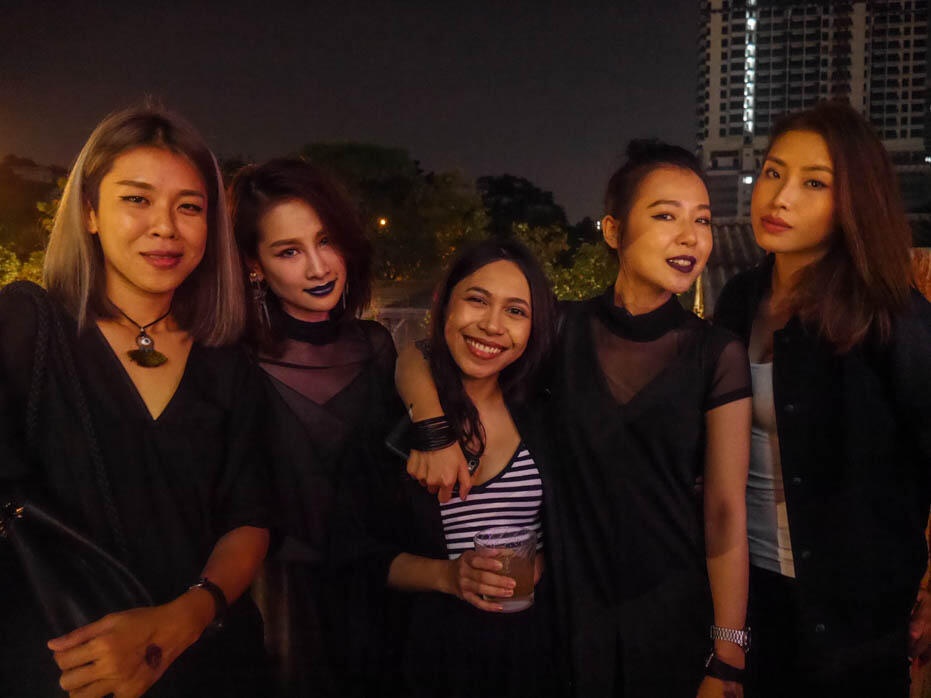 Mei Choi, Cherrie Mun, Laine Wong and Sandra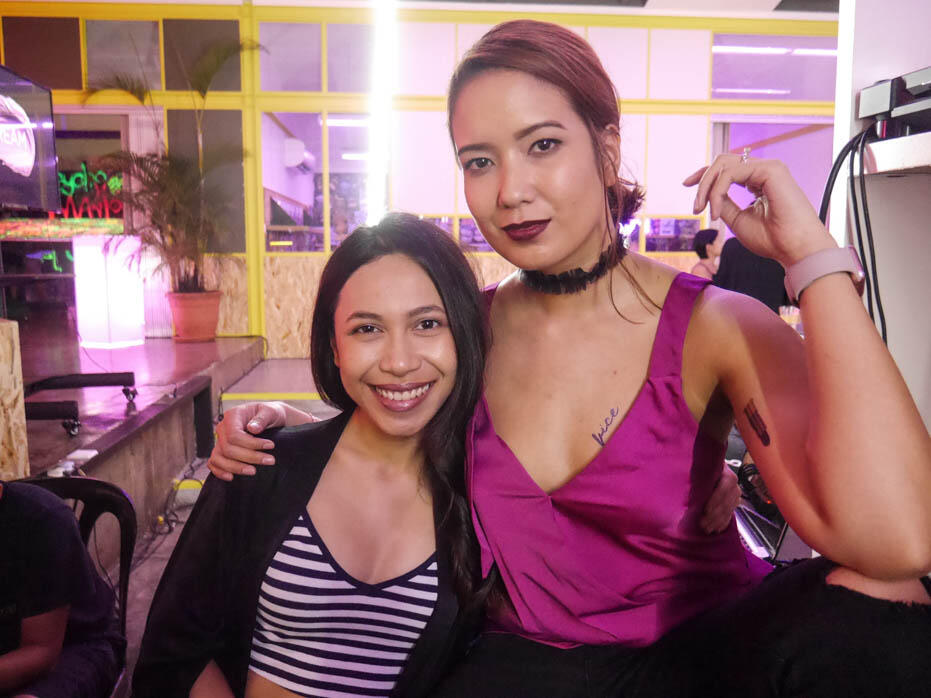 Hot, hottest DJ la this one, IRAMA!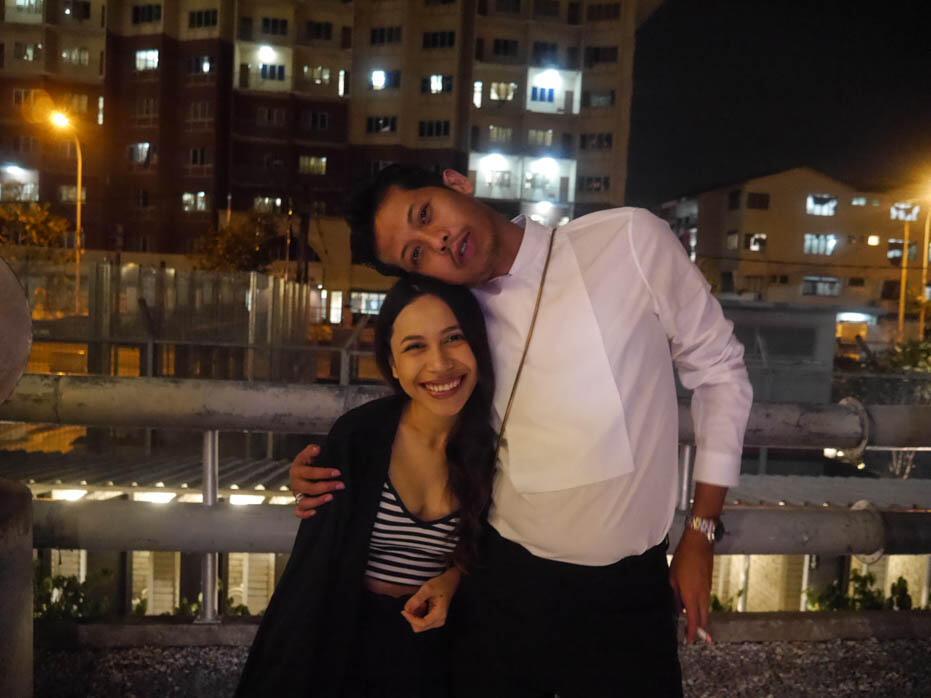 Make-up artist and an all round nice person Khir Khalid!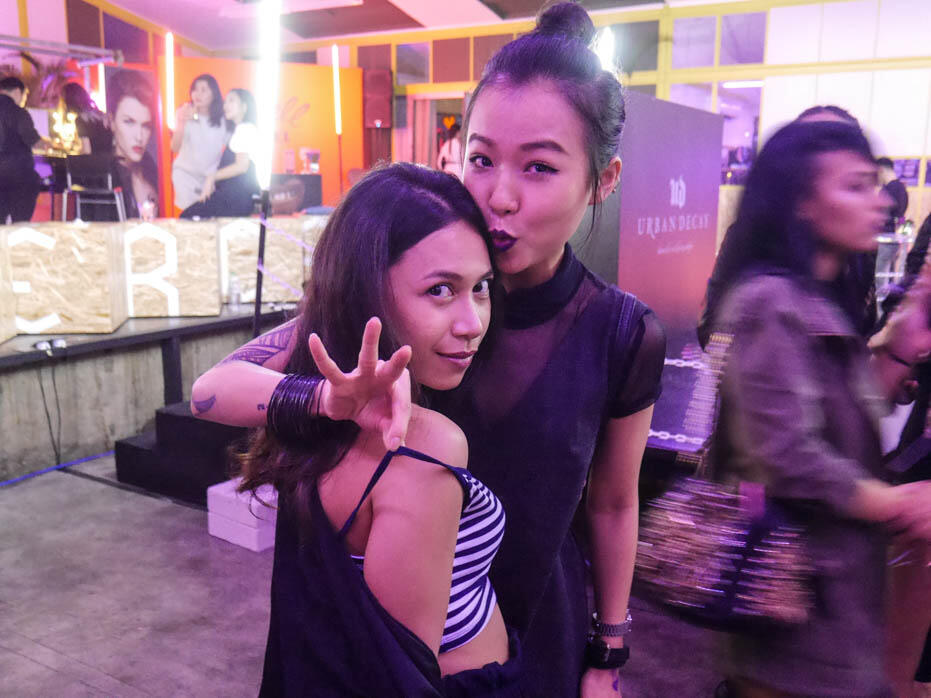 Hiao with Laine.
The Uppercase workspace was transformed into a Vice Utopia with scaffolding structures and colourful lighting to bring the "after dark"spaces of city life.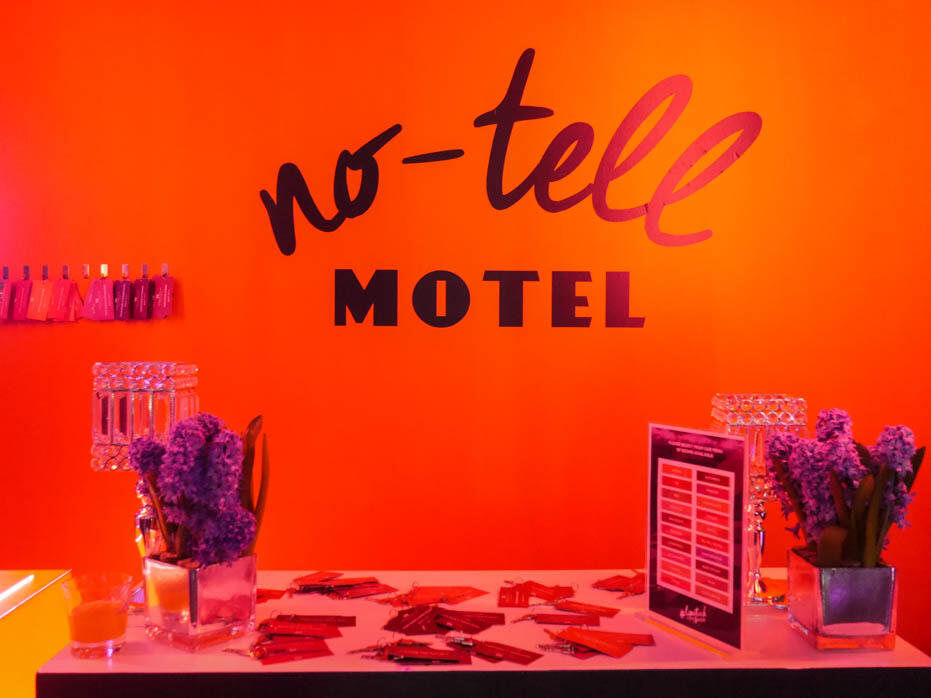 No-Tell Motel: An invite-only motel with Vice room keys that granted access to the Vault of prizes. I didn't win anything 🙁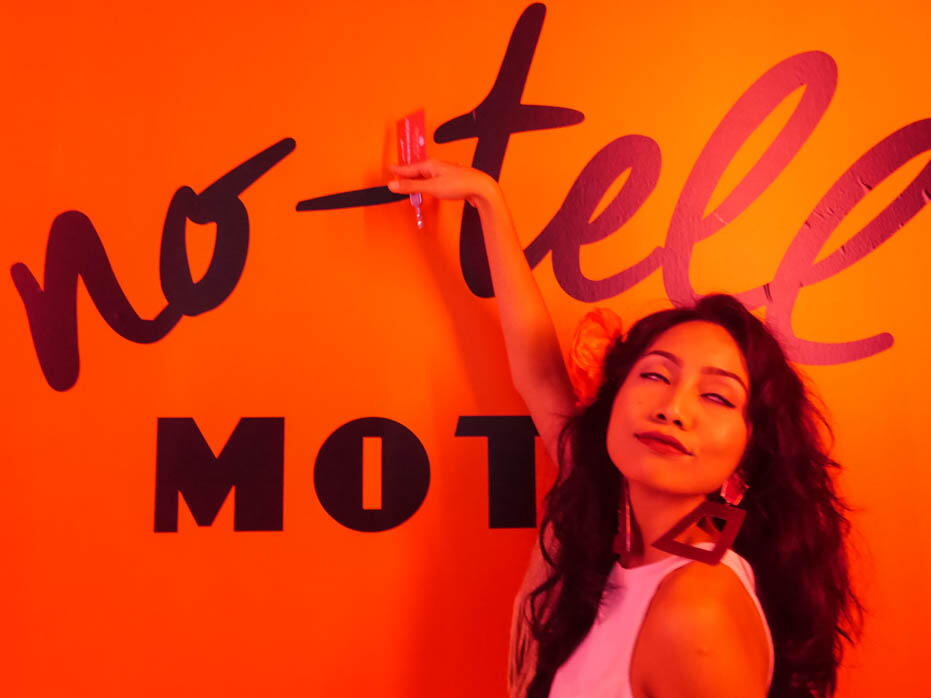 The receptionist was so in character. Like she's in charge of a brothel or something.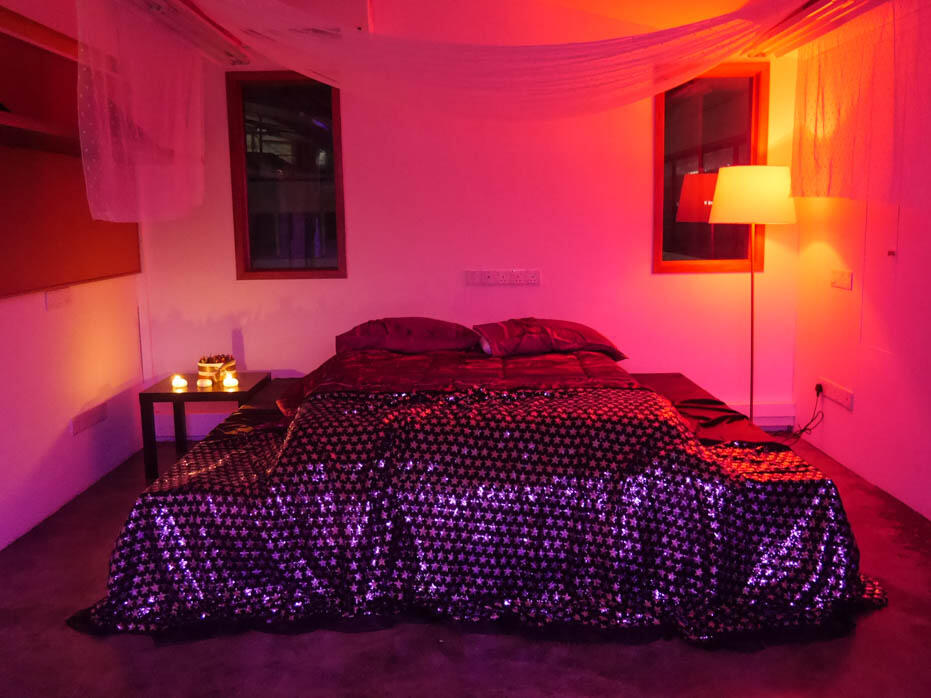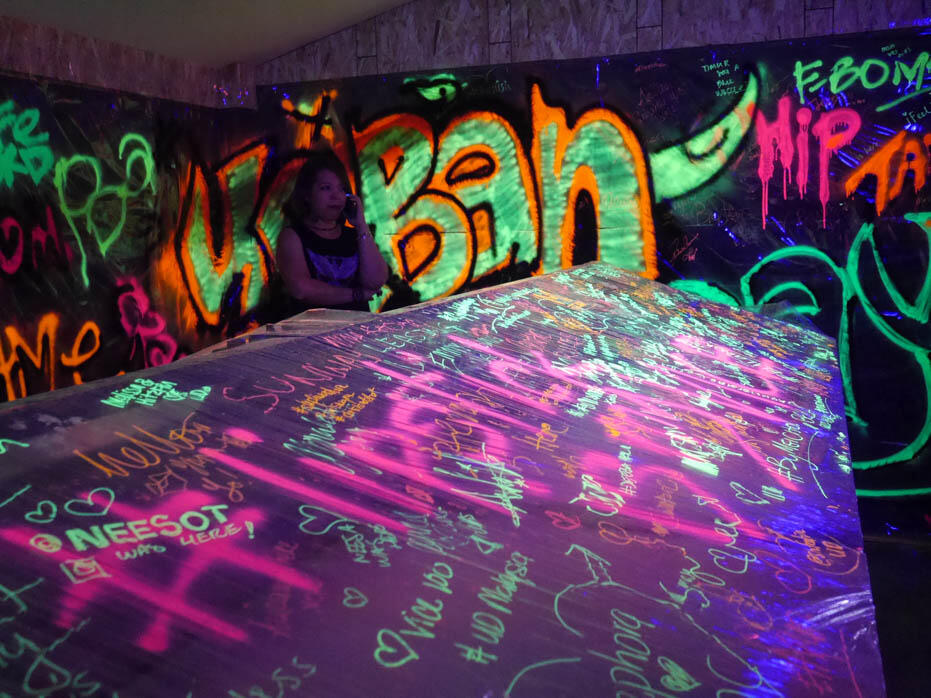 Graffiti Room: A glow-in-the-dark urban space for the non-conforming guest to leave their mark and get temporary Vice tattoo.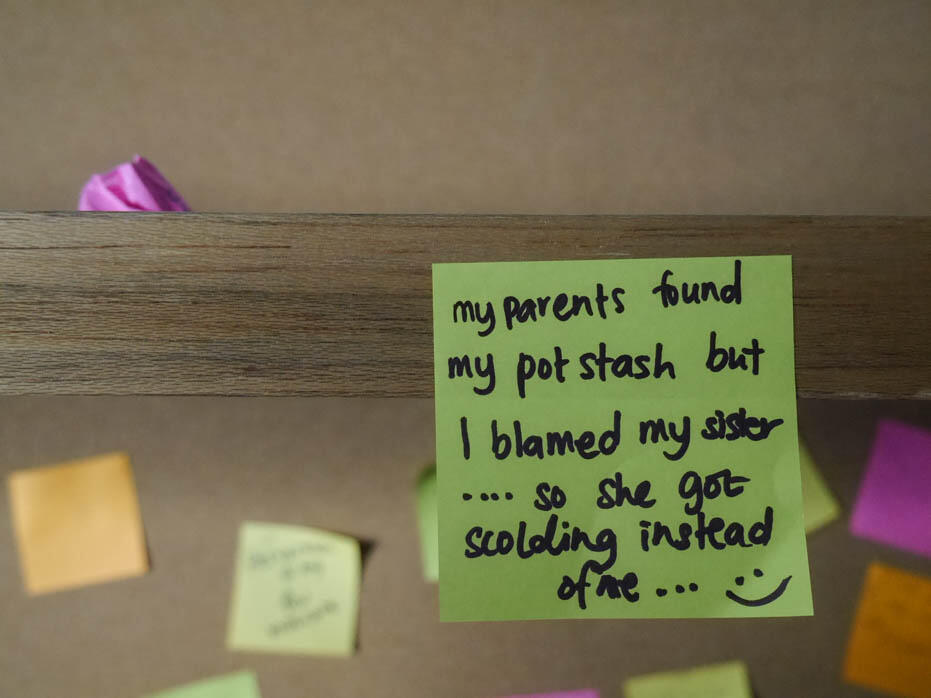 Vice Confessions Booth: A sanctuary for lipstick junkies to confess their vice.
And some of them are just insane. Makes me wonder if these are all true….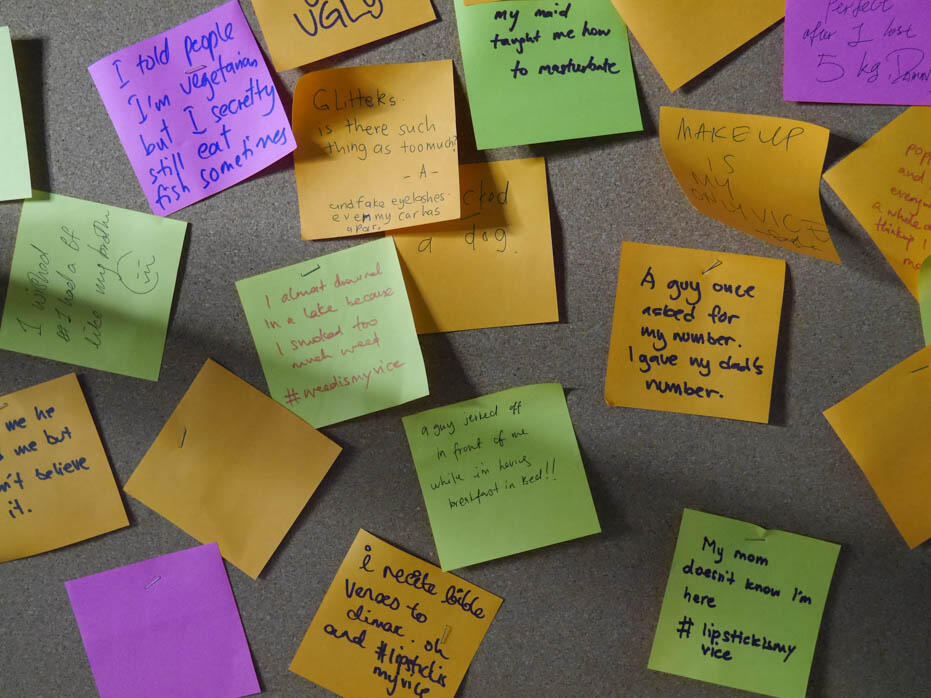 The 100 shades of Vice….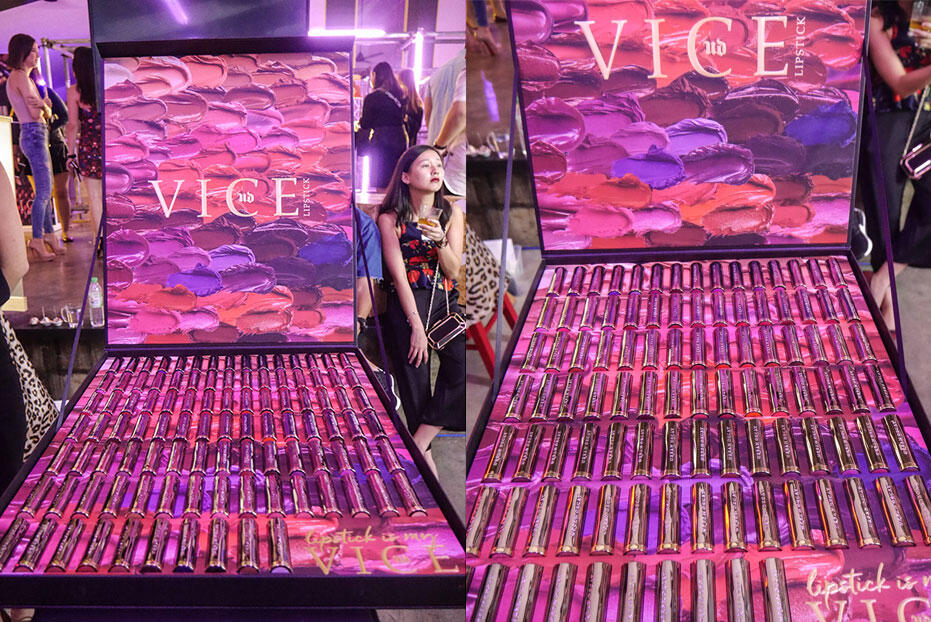 Does anyone have RM 7,000 to spare?
The 100 Vice Lipsticks are available now at the Urban Decay store in KLCC and all Sephora stores nationwide. So, WHAT'S YOUR VICE? 😉
+ + + + +
URBAN DECAY
C27, Concourse Level,
Suria KLCC,
Kuala Lumpur City Centre
50088 Kuala Lumpur
Phone: 03 – 2165 1118
Facebook: www.facebook.com/urbandecayMY