*Written by Joyce, Baby & Andrew *
Joyce's text in black
Andrew in blue
Baby in maroon
+ + + + +
Joyce:
This is a major throwback post to one of the projects KinkyBlueFairy did with Asia's biggest cruise festival at sea – It's The Ship! KBF went on as a team of a dozen ppl to decorate particular rooms, dispense floats at the pool daily (they kept disappearing cos people loved them too much), sell merchandise and… party!
The 4D/3N party cruise sailed from Singapore to Langkawi before docking at Singapore again on the last day.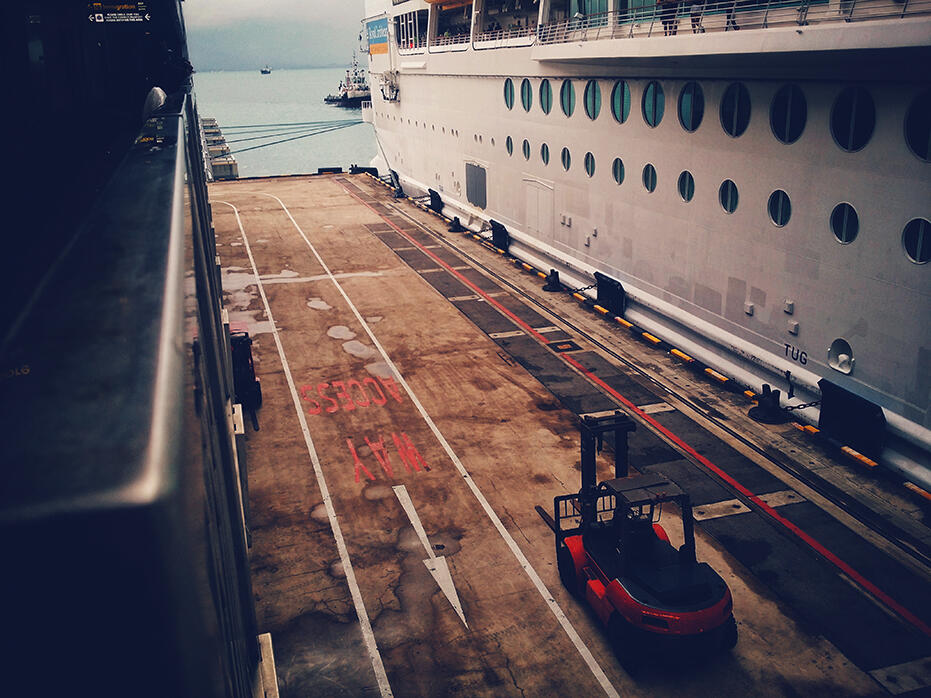 I flew in to Singapore with Jun so we could get started on decorating the rooms of influencers from Malaysia, Singapore, Australia, and Bangkok.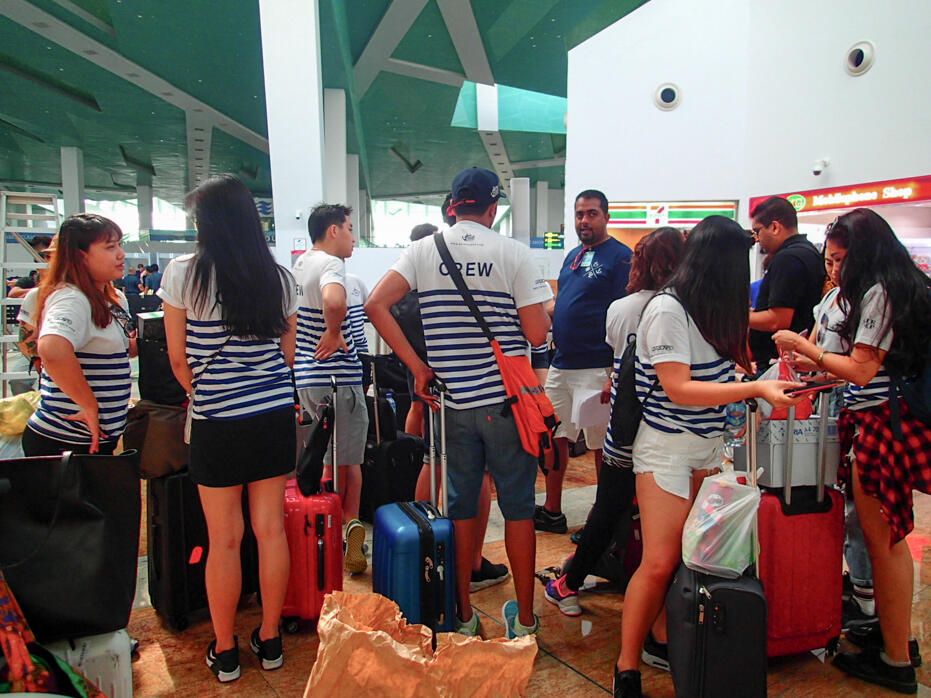 Waiting at the cruise centre with the Livescape team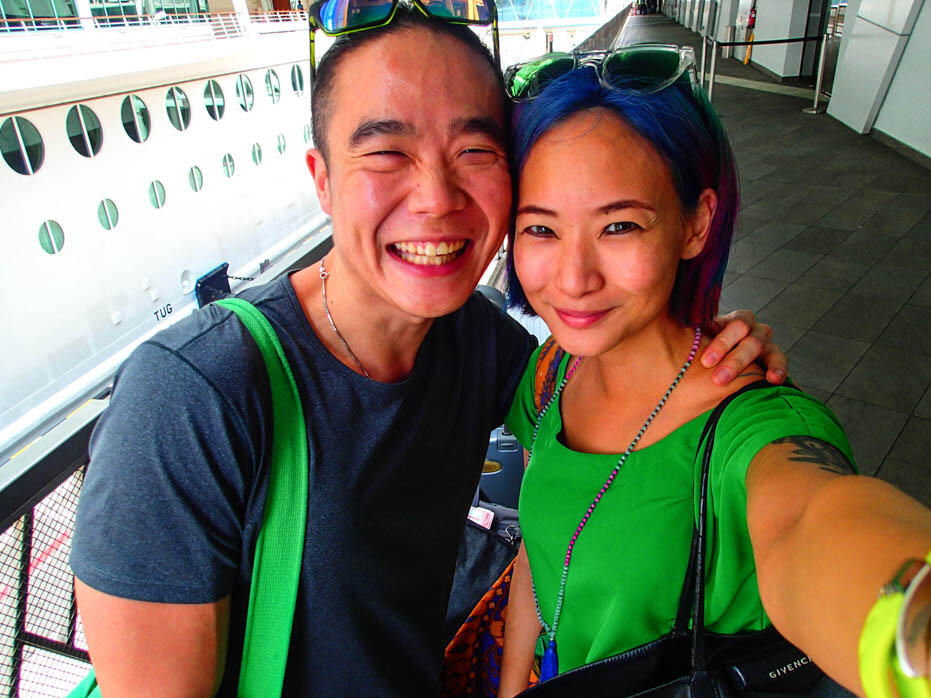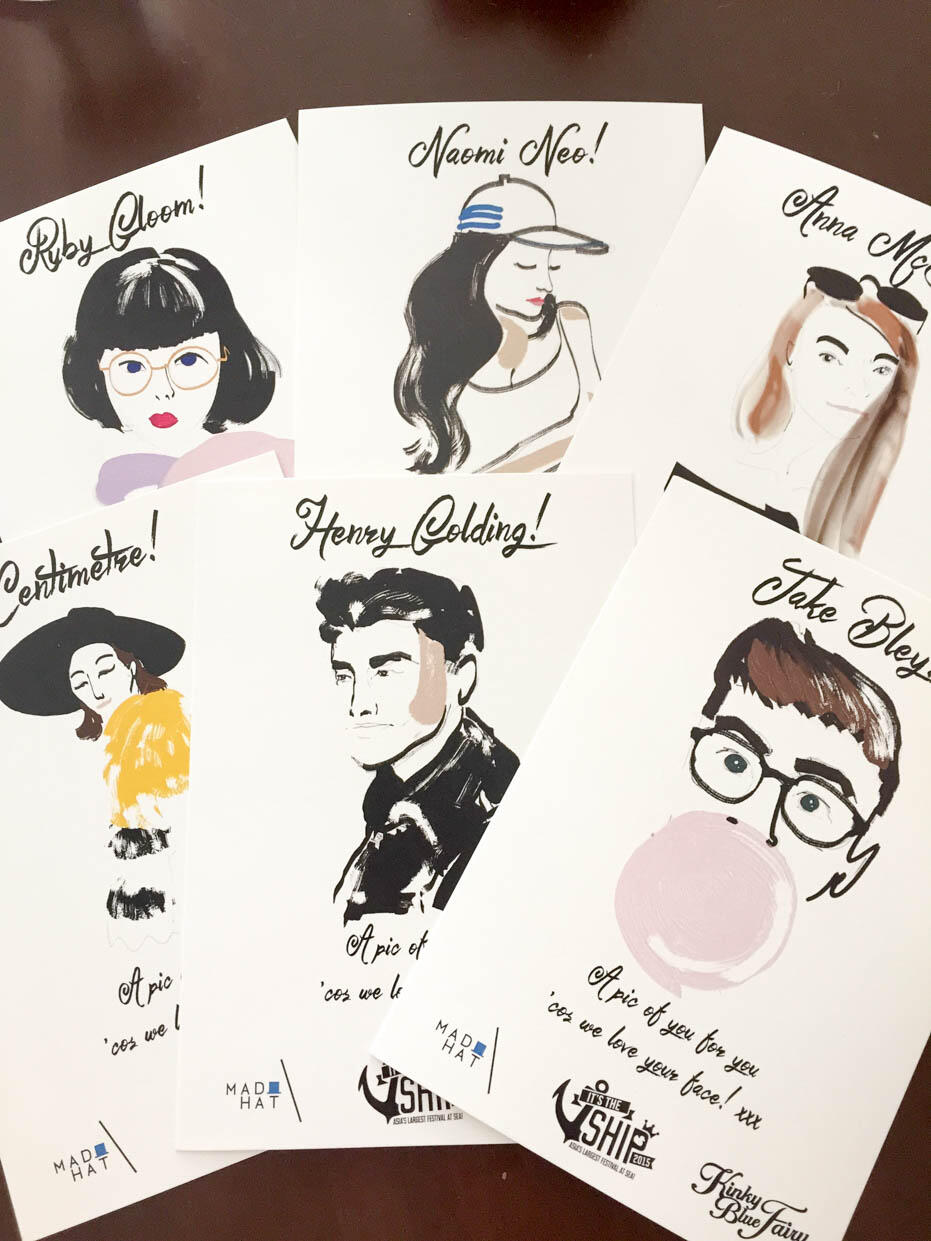 We commissioned Adrien Kent to draw caricatures of the KOLs to give as a token, along with lots of complimentary festival goodies to keep them going throughout!
There was a little drama getting access to each of the influencer's rooms so Jun and i were running up and down the corridors, looking around in case they were already on board to check in, and decorating feverishly without talking. It was like Amazing Race but to decorate -_- We did each room up in about 10 minutes flat and high-fived after we were done.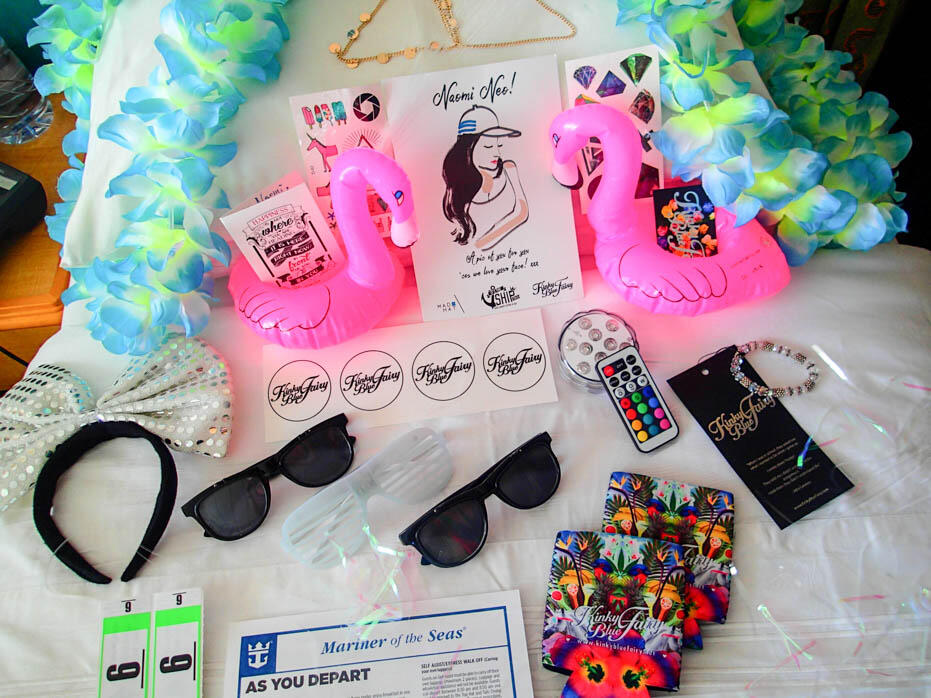 Naomi Neo's room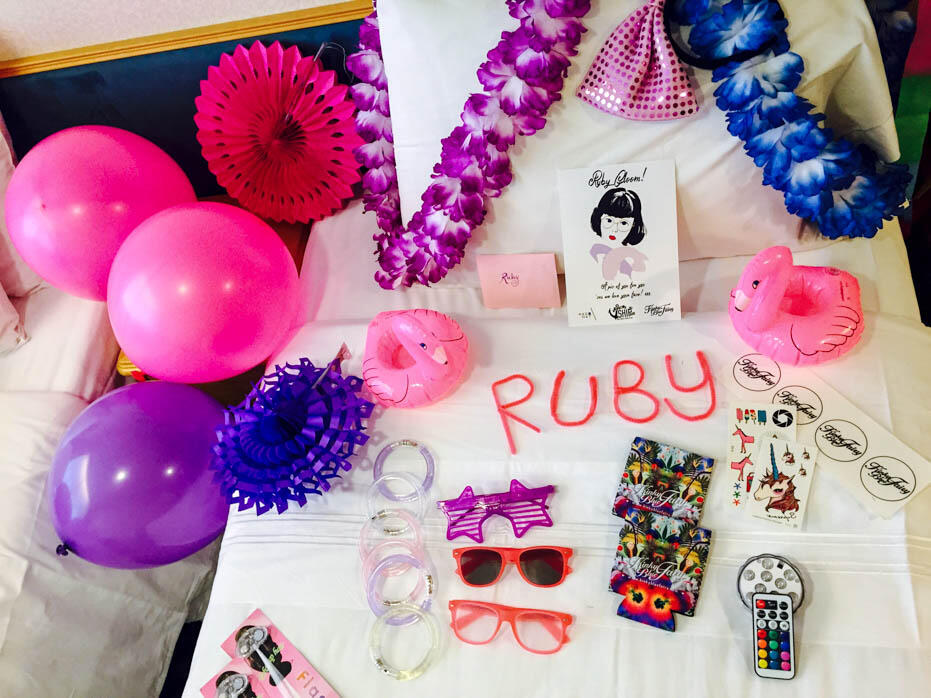 Ruby Gloom is an obvious fan of pink and purple so it was all-out pink and purple for her!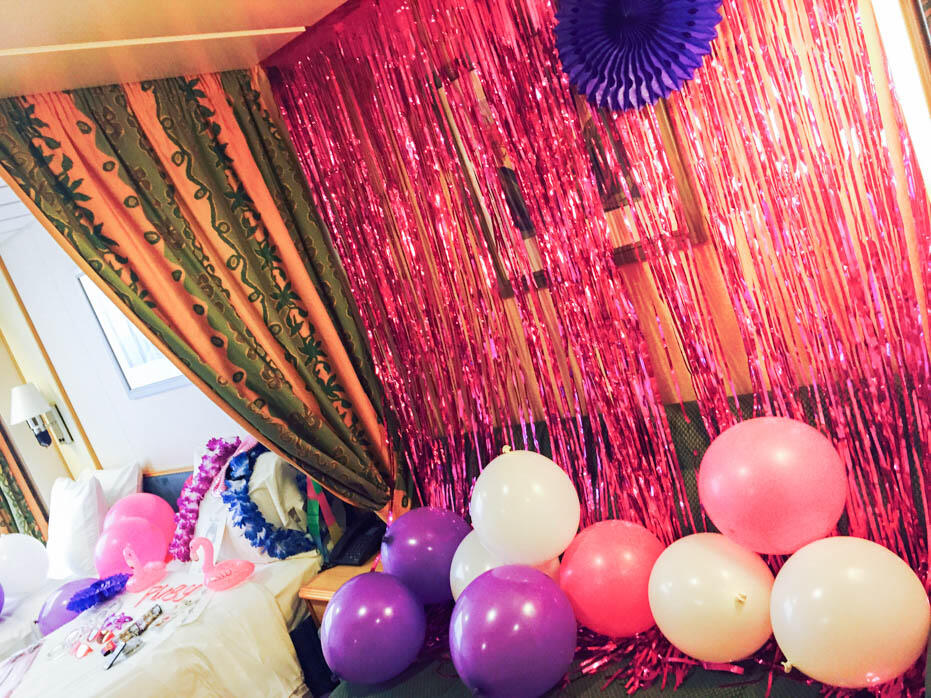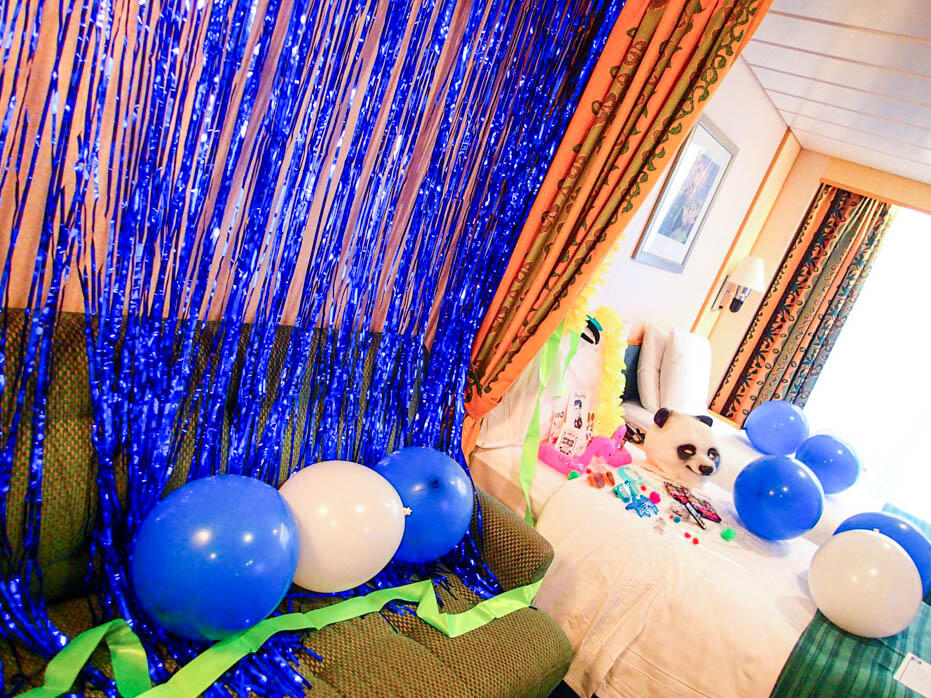 Henry Golding's room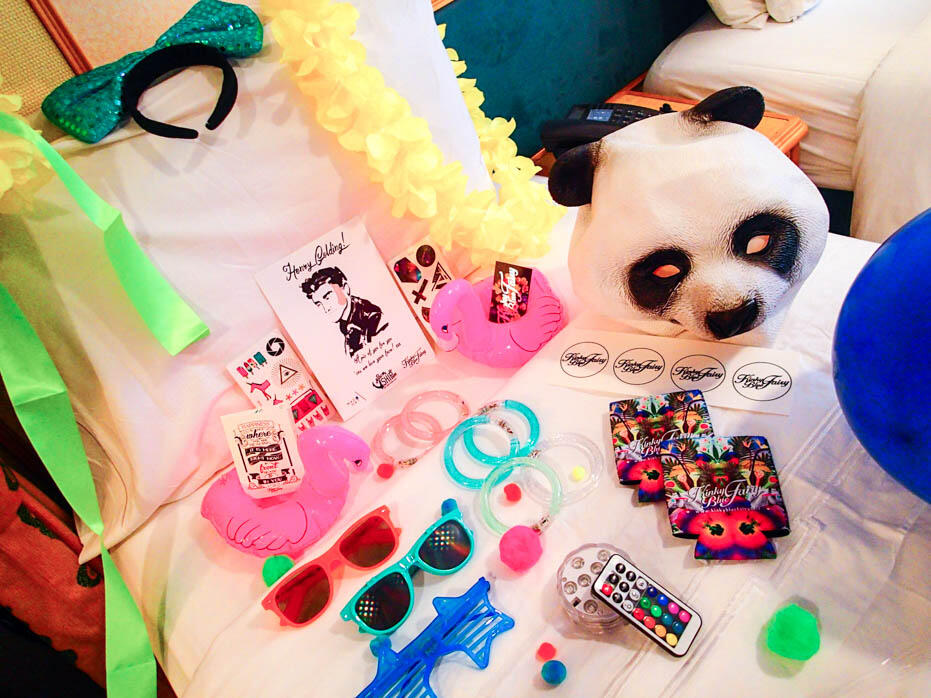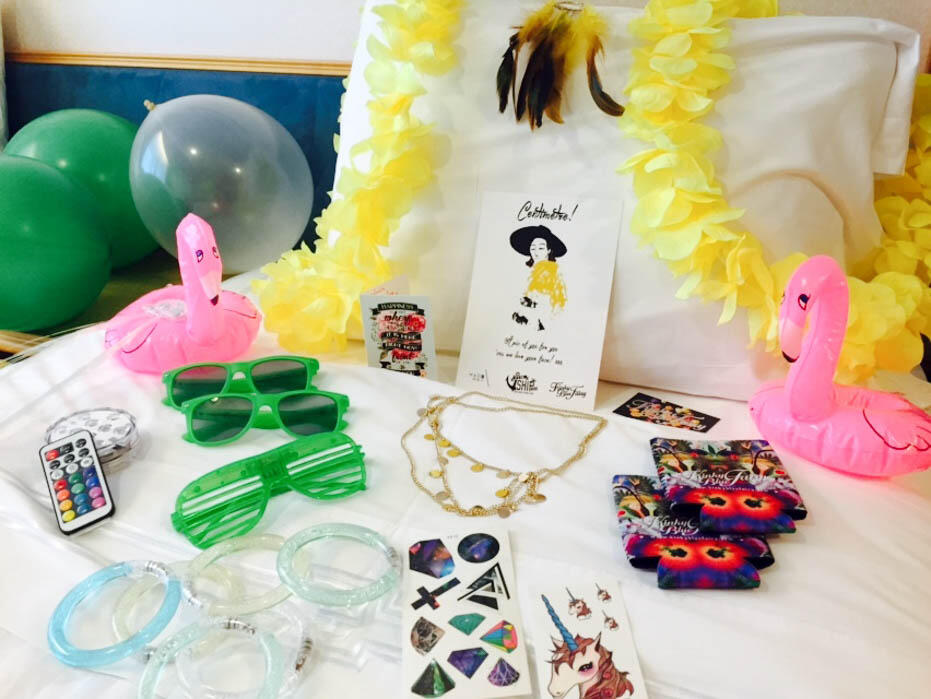 Centimetre from Bangkok's room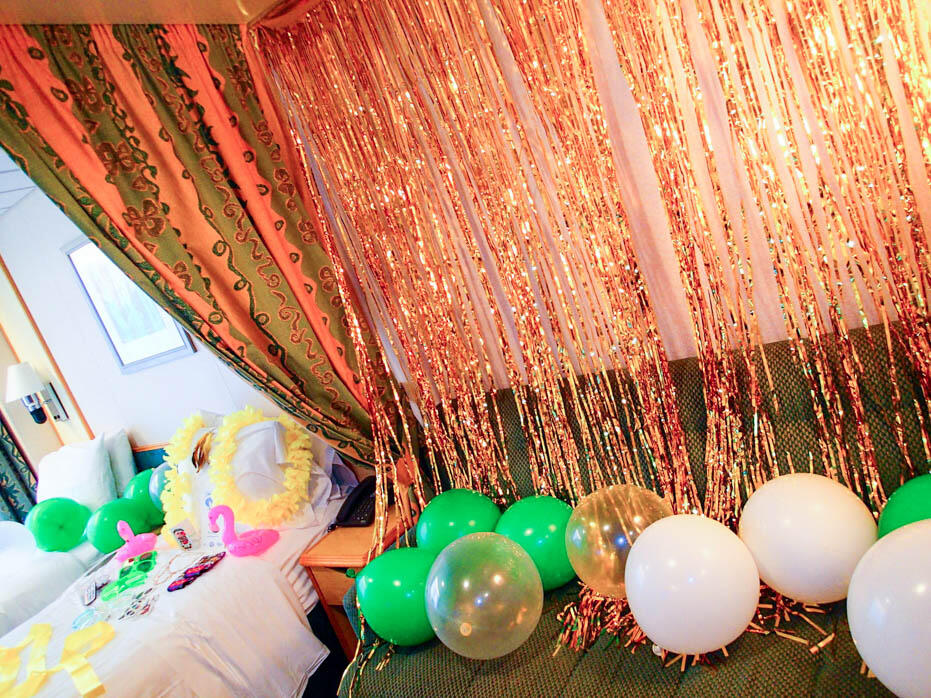 Also did up rooms for Jake Bley and Anna McEvoy from Australia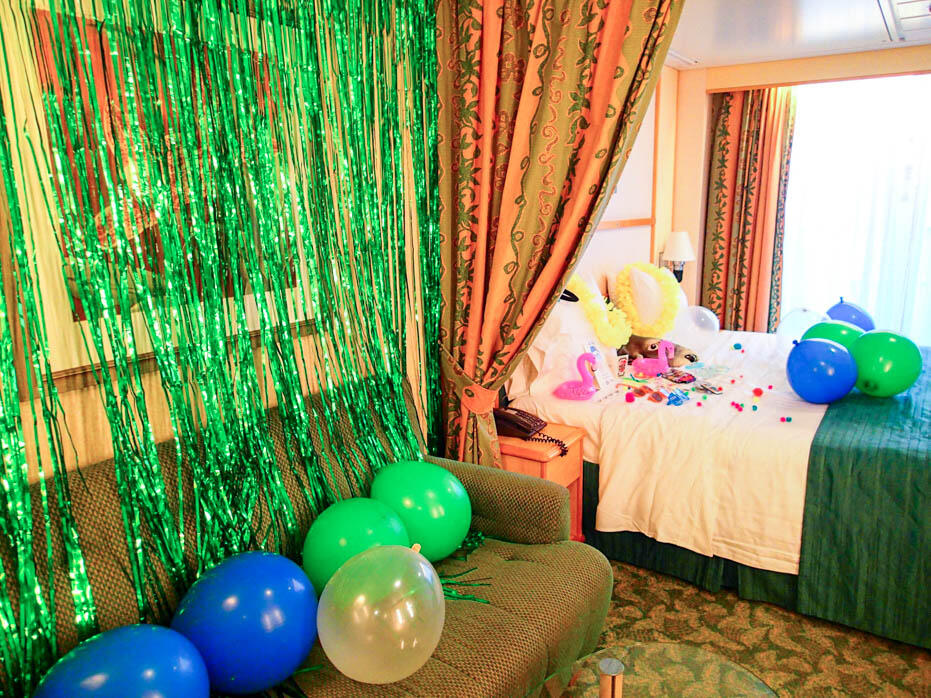 Rushed so much i forgot Jake's ribbon so i hung it on his door :p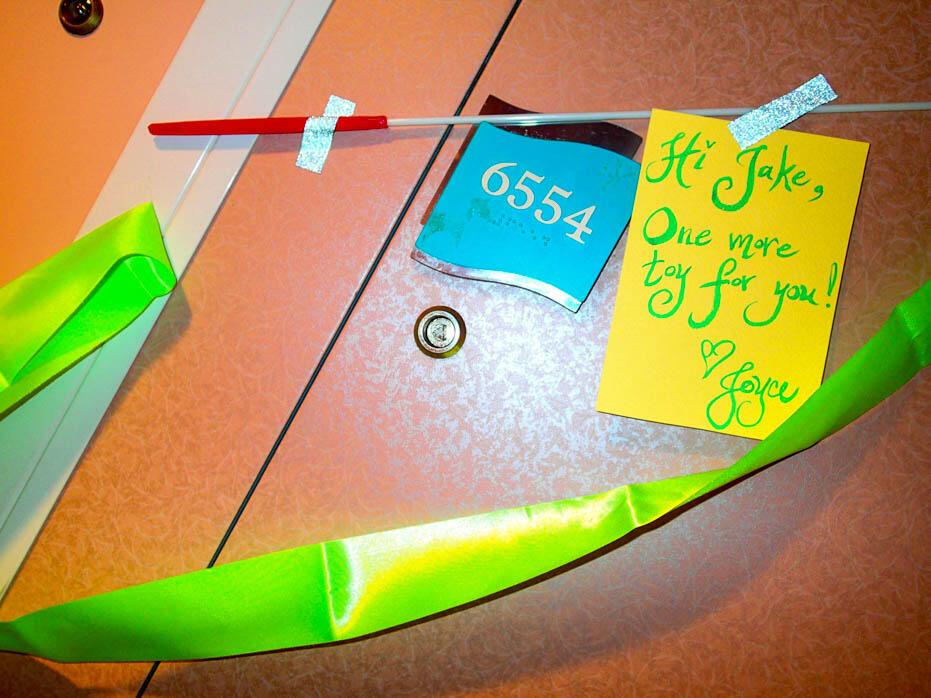 Andrew:
During my first month at KinkyBlueFairy, i was told, "We have an event on It's The Ship." OH MY GOD, do I really have to go? I had a terrible cruise experience years ago. I was seasick the whole five days at sea! According to Joyce, this event will be on a huge cruise ship, so we won't feel any movement on the ocean. That made me feel better…
It was very busy a month before the event, as I was in charge of buying decorations for party rooms and preparing the stock list of items. Luckily most of the decorations reach on time (timing was the most stressful thing for me because the final decoration list was approved only 3 weeks before the event! Phew!)
Baby:
I've never been to anything like It's The Ship. Sure, I've been to plenty of rave parties before but not as crazy as ITS. I mean, I've heard stories from friends who went on board last year, but experiencing it first hand is a whole different story.
Gotta be honest, I wasn't really looking forward to ITS at first. Mainly, because I don't like being in a large crowd and that I just don't party anymore. Unless it's work. But you know what, I'm glad I went. And am grateful that I have a very good team under me – Andrew, Keiron, Theodore, Jaws, Matt, Anthony and Michelle. Everyone was in high spirits and most importantly, they listened to me! I had the perfect team and everyone got along really well. I loved my first ITS experience, mainly because of these kids. Thank you!
My first day experience was just insane. Bear in mind, I have never met half of my team mates – Michelle, Jaws, Matt and Anthony – I don't know what they're like and from my personal experience managing people, especially those younger than I am, they tend to not take me seriously mainly because of my size. So, to make sure that they WILL listen to me and my instructions throughout this whole trip, I had to show them who's boss.
Once we arrived in Singapore, naturally, I have to feed the kids as it's lunchtime! I just said, "Okay, we're gonna have lunch first." And walked ahead hoping that they will follow (they did, phew!) and then stopped at MOS Burger, parked my luggage and queued up without even asking if they wanted to eat there.
Matt: Errr… Is this where we're eating?
Baby: Yup.
Matt: Shall we check-out the food court?
Baby: Look, I'm gonna eat here. Ya'll can go eat wherever you want, I don't care. But meet me back here in 15 mins.
Matt: Okay, now I know why you're the Little Dragon. Okay, no. We want to eat with you. Together.
Baby: Okay, fine (but in my heart I'm all awwww…)
Right after lunch, we took two cabs to Marina Bay Cruise Centre. Dropped our luggage at the concierge and proceed to join the looooooong line to check-in. Guess how many hours we were in that line? 2 freaking hours. I wanted to die. And all the while Joyce was texting me, "WHERE ARE YOU?". I felt sooooo bad that she and Jun had to decorate the KOLs rooms by themselves. That was the plan anyway, but I still felt bad.
We (Faridah/Baby, me, Theodore, Keiron, Anthony, Matt, Jaws and Michelle) depart from KL to Singapore at 6 in the morning and reach Singapore around 1pm. Our bus stopped at cruise centre.
Andrew: This cruise centre is different from Marina Bay Cruise Centre right?
Baby: Ya. We need to get there by cab, but we can have lunch first!
Andrew: YASSS, FOOD!
Theodore, Keiron and I stopped at McD (because MOS Burger have a long line, and McD have a shorter line + Keiron really hungry, and look at his body size…oops!) While we waiting for everyone in Starbucks, we were busy getting free wifi on our phones. (It's really difficult to get free wifi there because even you get passed the log in, it will bump you out after few seconds. D: )
Mishie: Is weird that you can easily get Wifi everywhere in Malaysia, but not here.
Jaws: YES! I finally connect to the Wifi!
Andrew: Why are you so lucky? (T.T)
Seconds later…
Andrew: I finally got connection!
Baby: … but we have to go now!
Andrew: Okay… T.T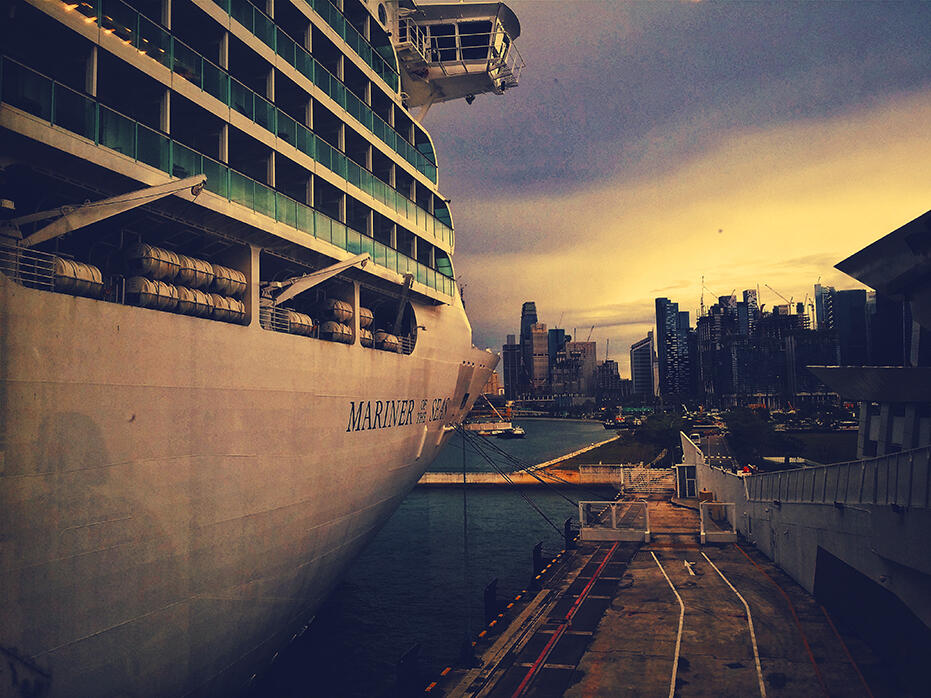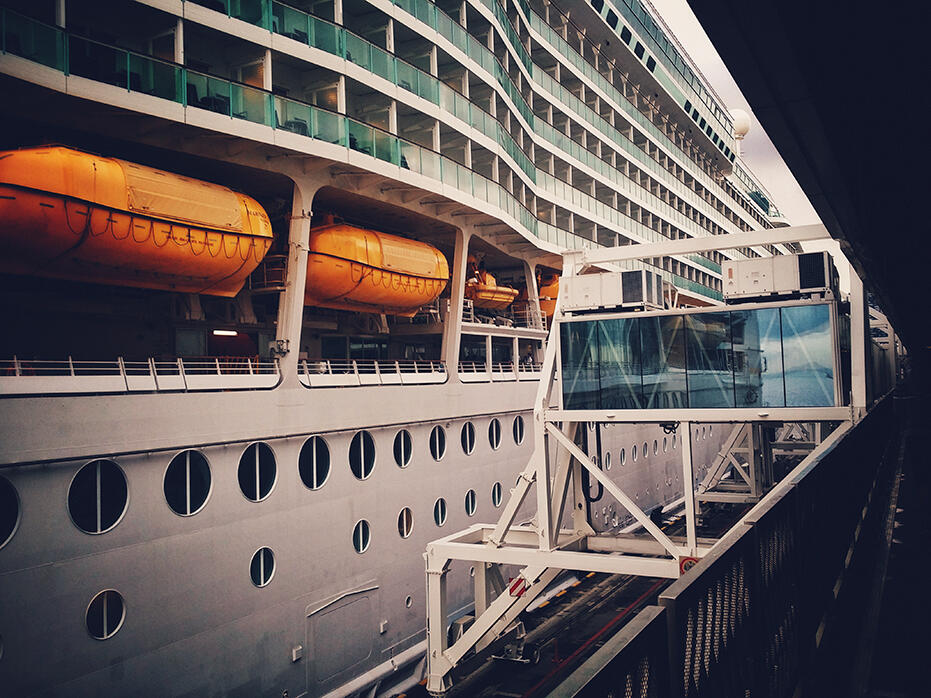 Us at the gangway, waiting to be let in after the fire drill.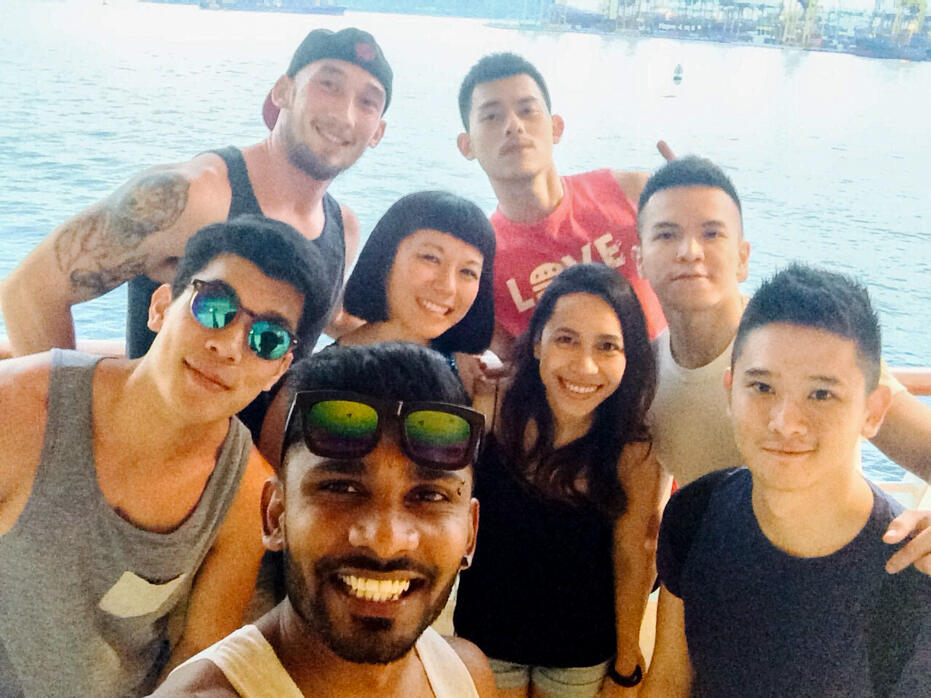 After we got into our respective cabins, I told them to regroup at my room for a briefing in an hour so we could all freshen up. Our rooms were all next to each other so it's easy for me to knock on their doors and be all bossy if need be. My roomate was Michelle Hoops a.k.a Hoop Barbie and she is a doll! [Joyce: Btw, Mishie just won Best Asian Hooper of the Year Award!]
45 mins later, the boys came knocking on my door. Michelle and I were in the middle of putting our faces on when Jaws went, "Hurry! They're giving out free champagne at Deck 5!" And naturally all of us rushed to get alcohol in our systems. Haha! After we each had two (or more), we decided to walk around just to familiarise ourselves with the surroundings.
A few days before ITS, Joyce and I went to Port Klang to drop off the KBF boxes to sail to Singapore first.
Andrew: Joyce! I just Facebooked who my roommate is and I feel super stress now!
Joyce: Why?
Andrew: They have nice body and I'm super fat!
Joyce: Then you have to work out more! *evil smile*
Honestly, I can't get rid of my belly and decided not to go shirtless during ITS. LOL.
We walked into the casino where the boys took turns to play this slot machine where they had to slot a key in a hole to win USD 1000. Sounds easy, huh?
Matt: Little Dragon, if we win this, we're getting you a bottle.
Anthony: Yeah. We'll buy you drinks!
Jaws: We're gonna win this and we're buying everyone drinks!
They didn't win anything -_____-". But that was fun though.
Thanks for being so thoughtful, boys.
Jaws, Matt and Anthony decided to play this slot machine.
First few tries, failed.
Jaws: Just a little bit more! Sure will get it next round!
(Failed, try again, failed, try again… infinite loop! LOL)
Jaws: Now I know why this thing is so addictive! Hahahaha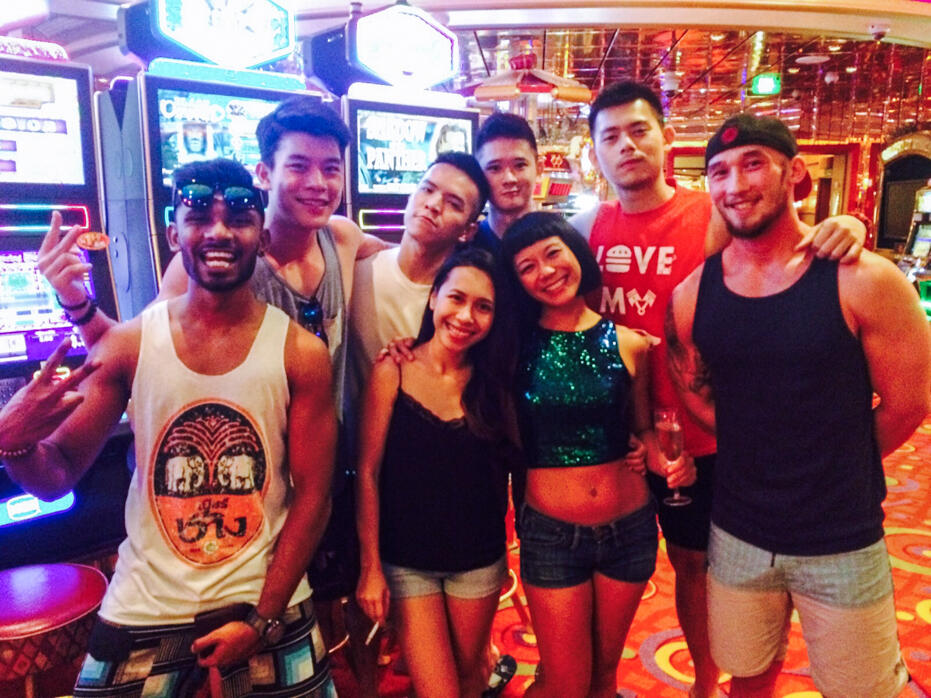 Me and my lovely kids!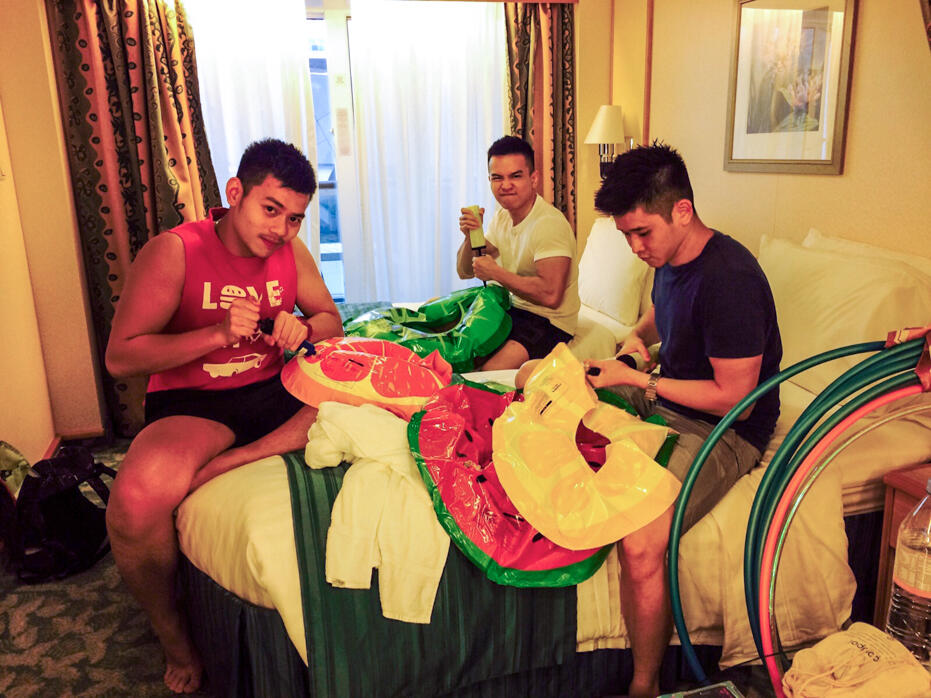 They're such hardworking boys! These are the fruity floats that we gave out at the main pool and hot tub area. But by nightfall, everything just vanished. Mental note: Order 500 pieces next year! And get electric float pumps!
Guess what time this was? 11:30PM! I'm such a grandma!
Joyce: Baby, do you want to party with us?
Baby: No, I want to sleep. You guys have fun.
Michelle: Are you sure you don't want to party with us?
Baby: Yes, I'm sure.
Joyce: Okay, you rest. I'll see you tomorrow. Goodnight!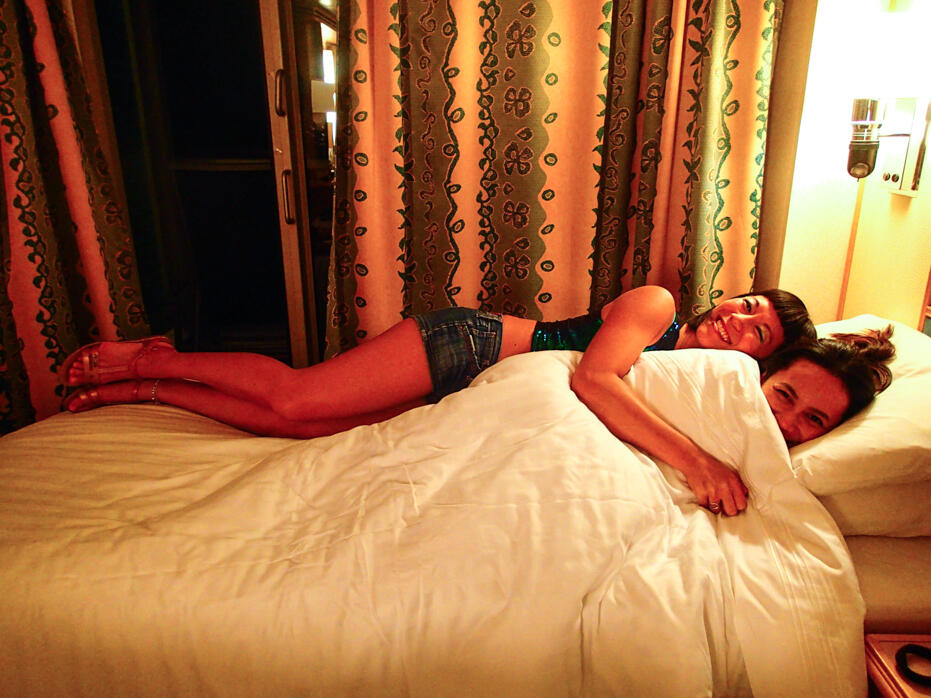 At 11:45 PM, Saufi came to my room, looked at me all cozied up and yanked my blanket… HARD!
Saufi: WE ARE GOING OUT! Go change your clothes. NOW!
Baby: But… But… I'm tired!
Saufi: Bullshit! You're here on freaking ITS and you want to sleep? Like hell I'm gonna let that happen. Change… Now.
So, I changed and partied at the VIP area. Oh. My. God. I'm sooooooo glad Saufi dragged me out. I had sooo much fun. Bumped into Joyce, Michelle and Jun and the hot tub area…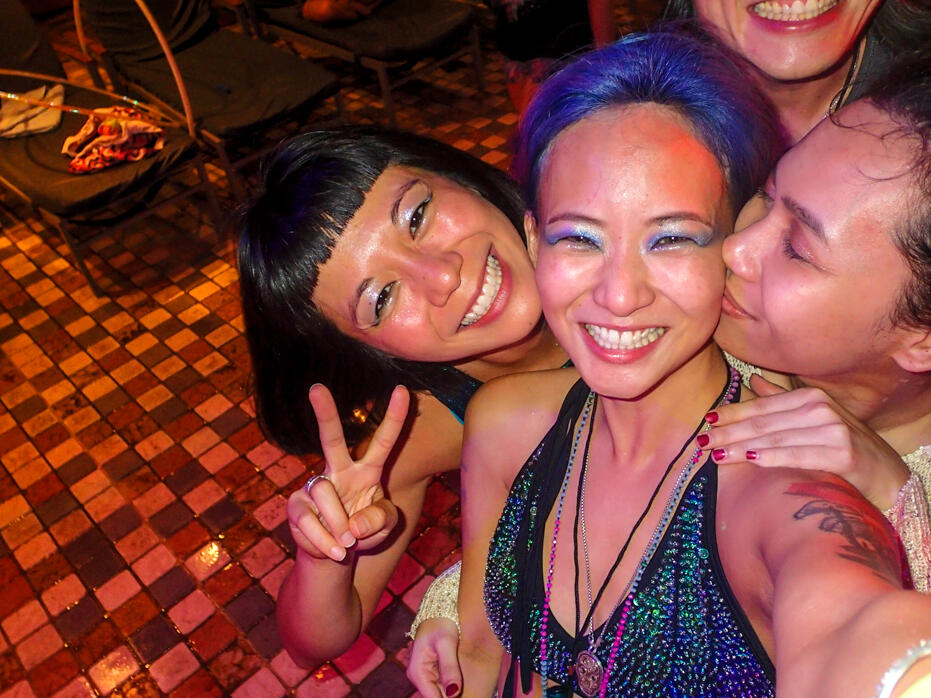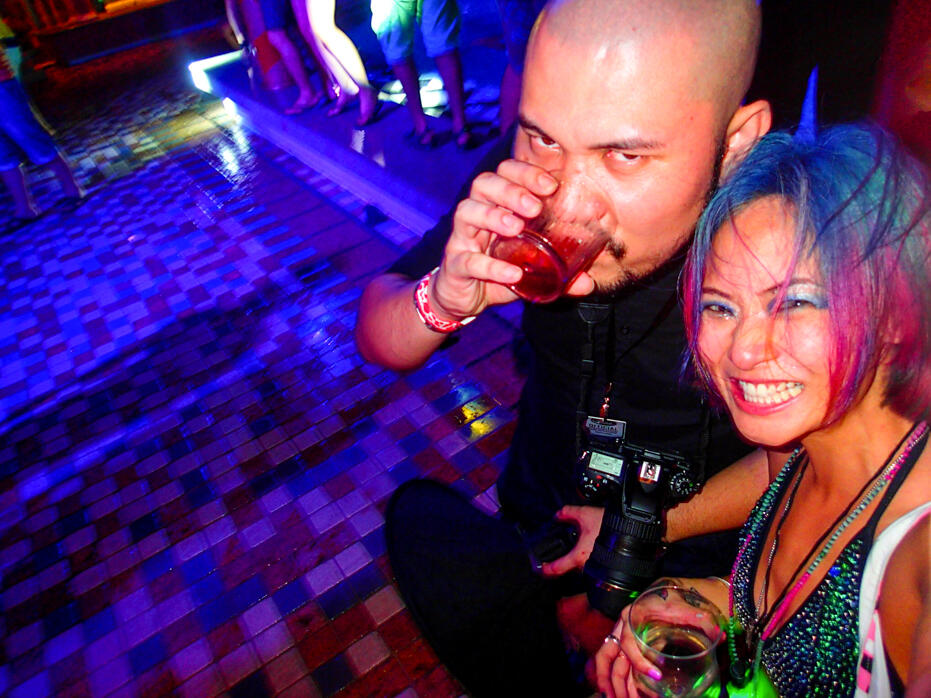 Joyce: Ooooooh, don't want to party… Want to sleep… Don't want to party with us say la…
Baby: Noooo… Saufi dragged me….
Joyce: Ooooh, Saufi drag only you come out la… Hahaha…
Baby: Hehehe…
And we danced and laughed and had a really good time. It's been awhile for me, I totally forgot how fun all of this was. Michelle and I walked back to our cabin at 5AM. Party animals!
Second day, wake up with this view! Isn't that wonderful? After I grabbed my breakfast, I headed to the cruise office to sort out the inventory list and price tags.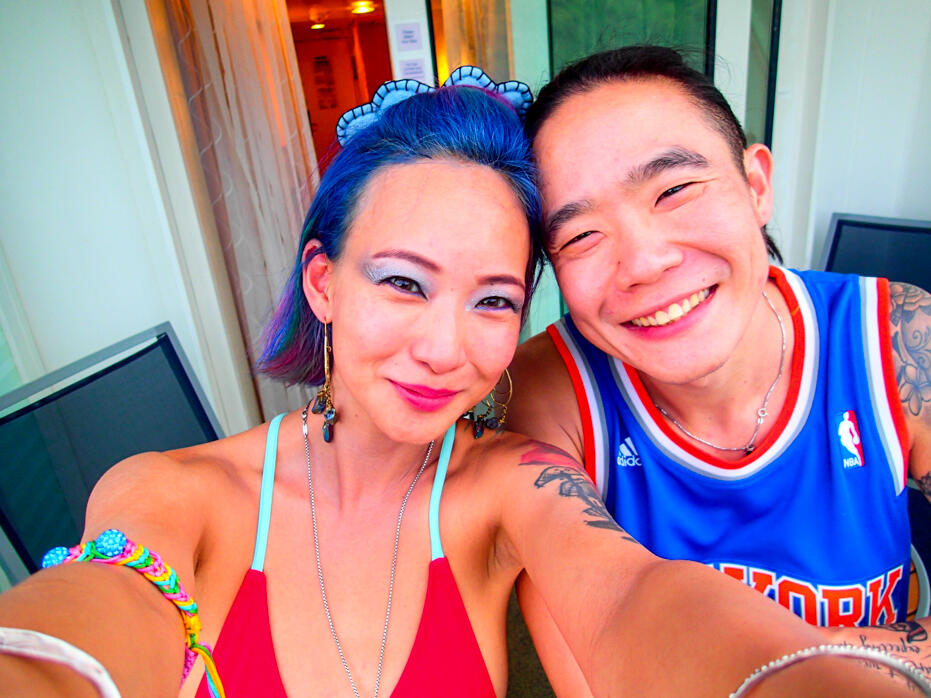 After a few hours, our store was finally set up!
Malibu Beachwear passed us some of their bikinis to place in the store too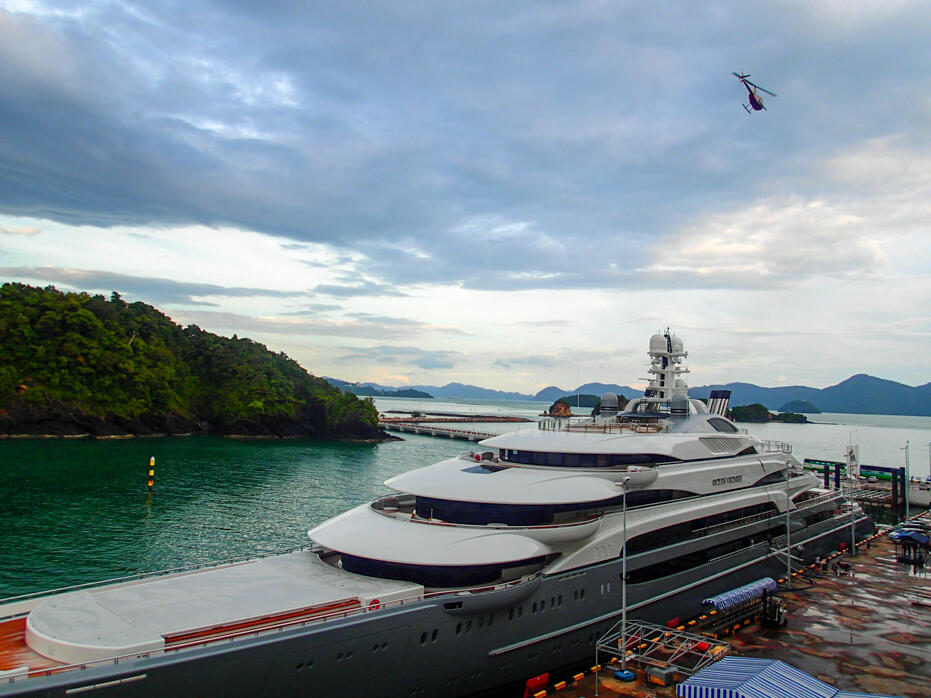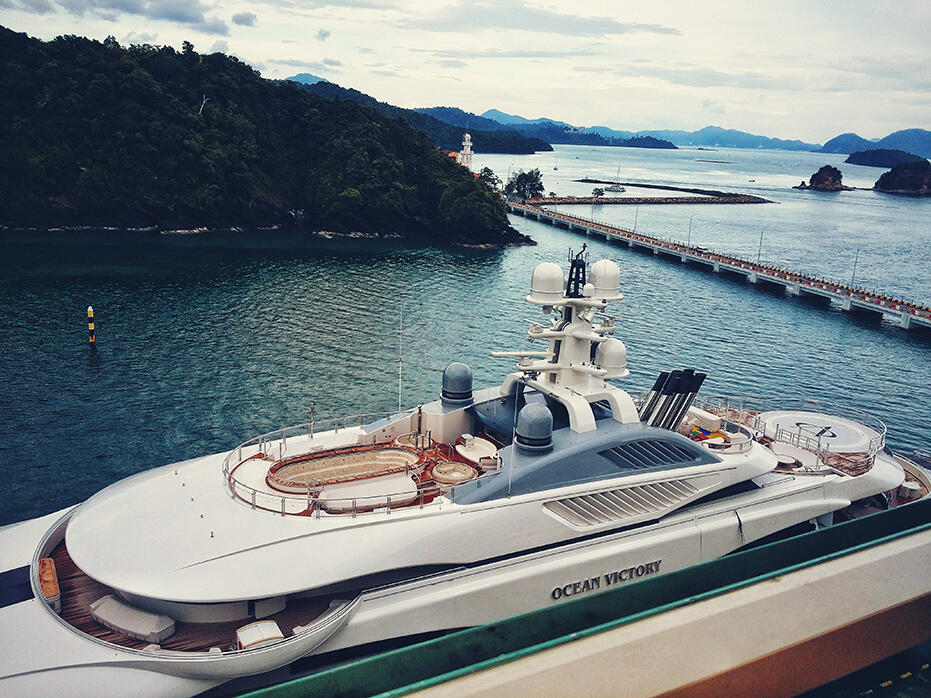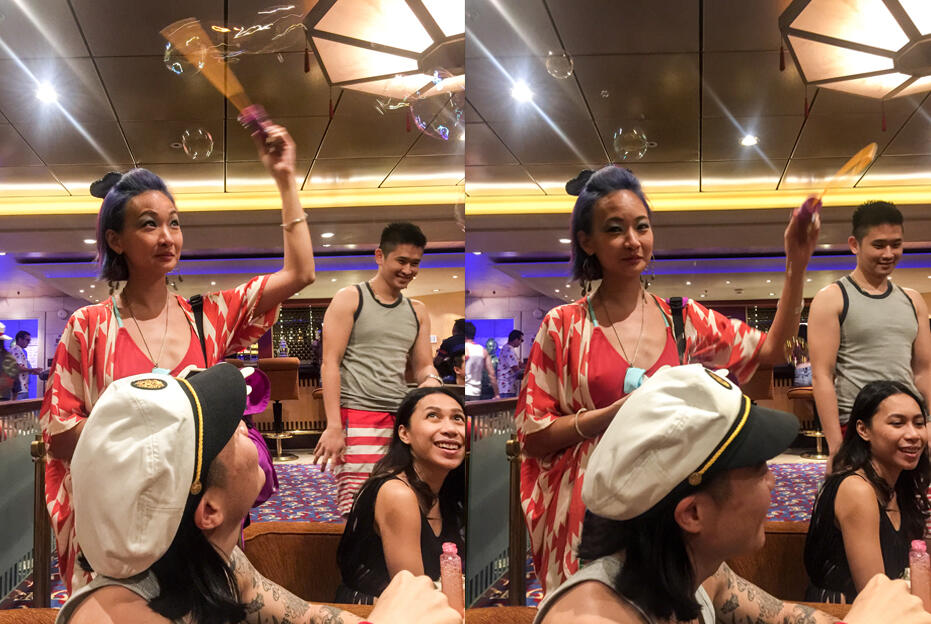 Entertaining ourselves while waiting to disembark for the private party in Langkawi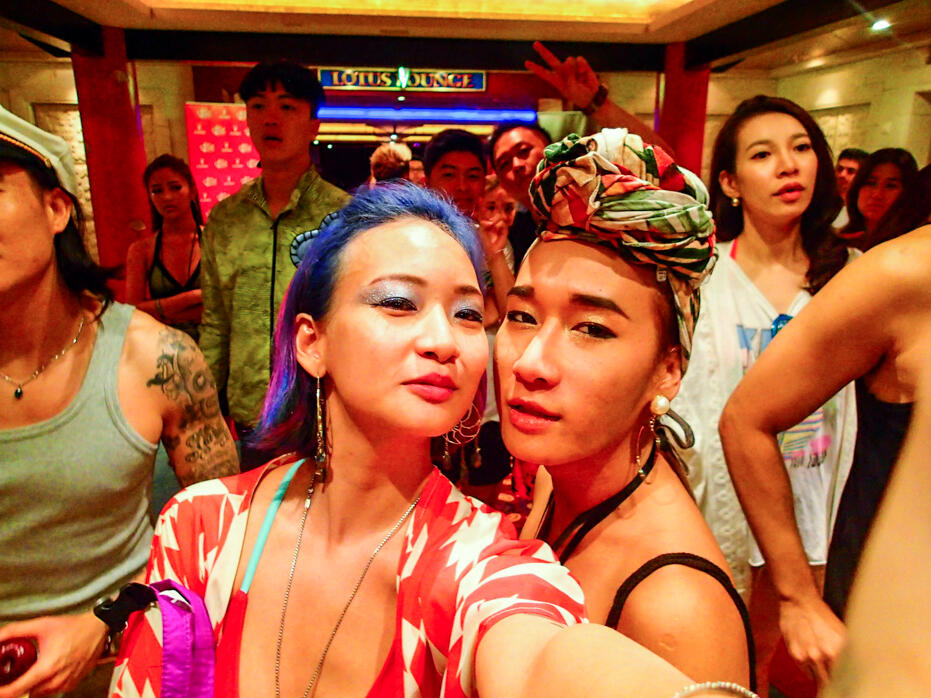 With Centimetre!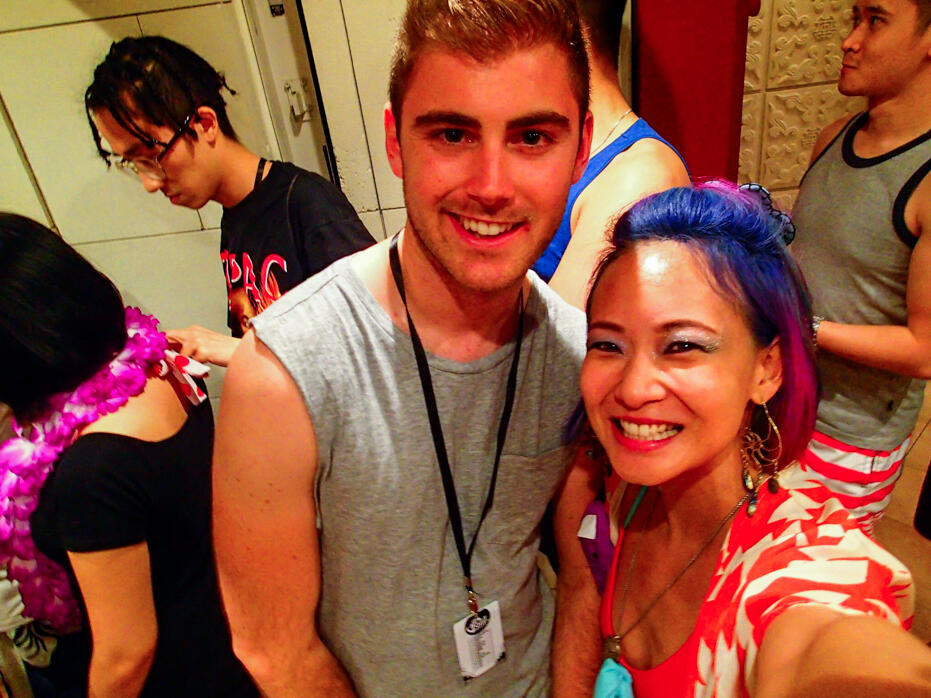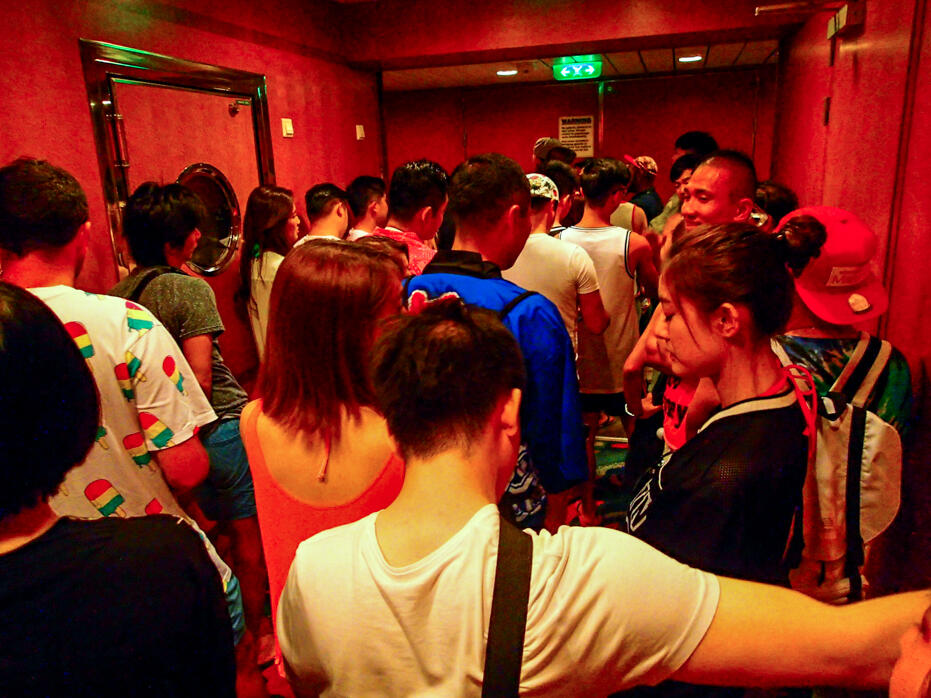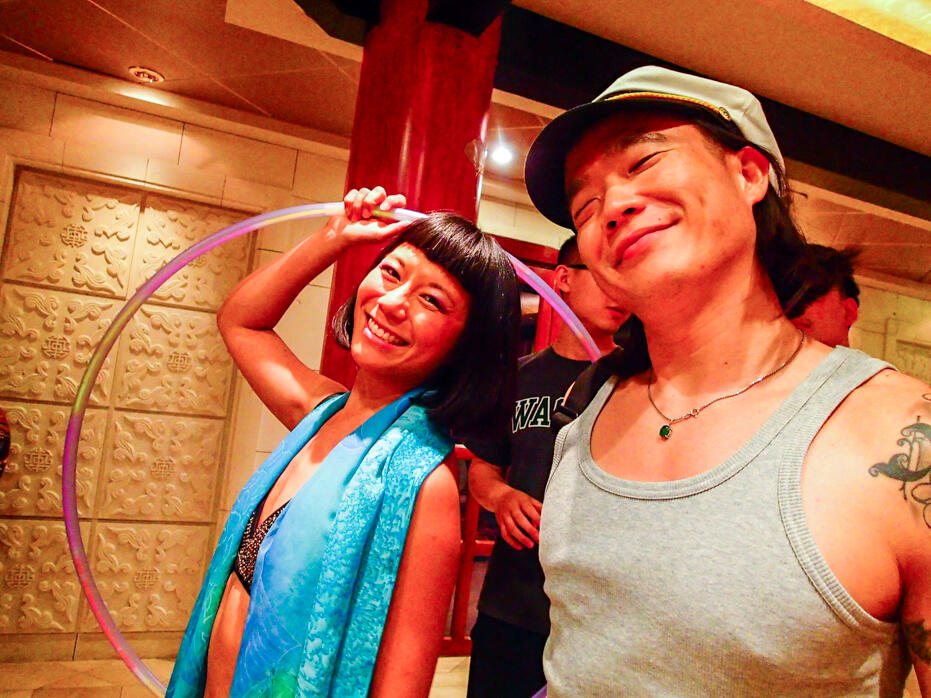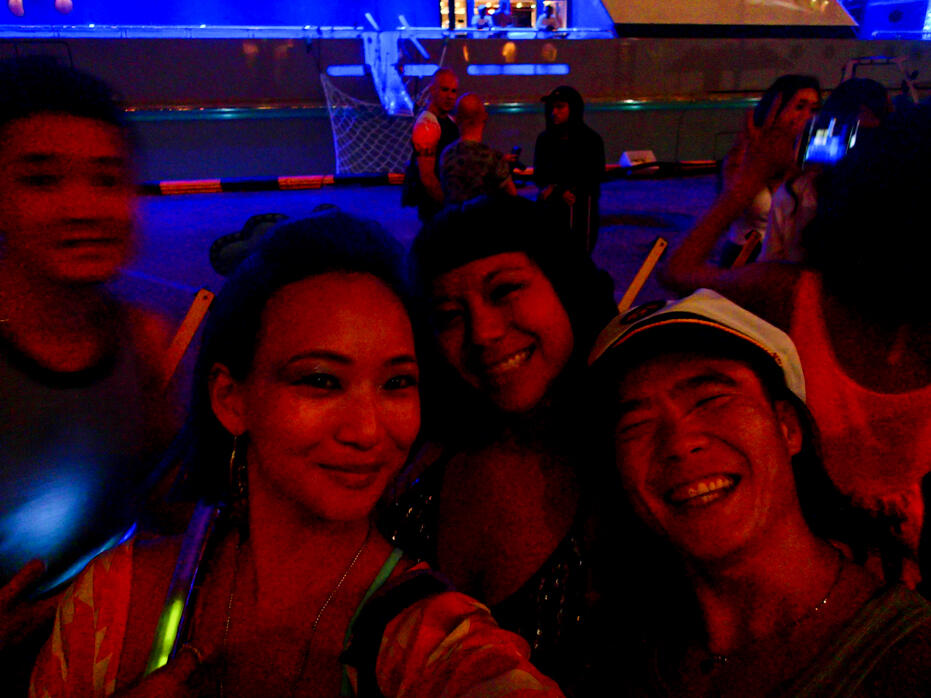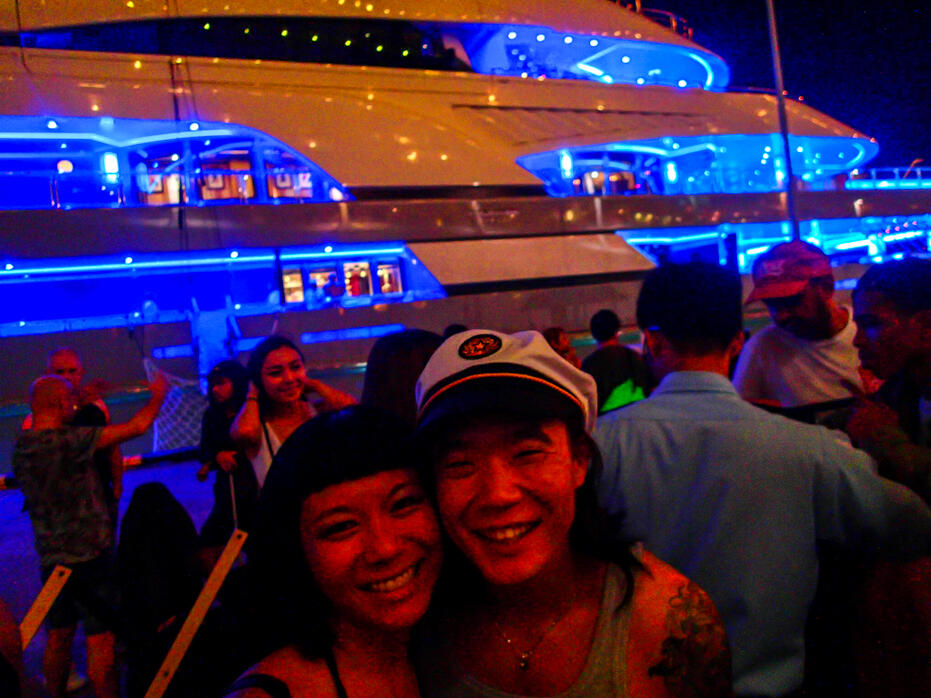 Our then-KBF-freelancer Michelle Lim was a lifesaver by flying in from KL-Langkawi just to pass us a bunch of floats that arrived through customs late!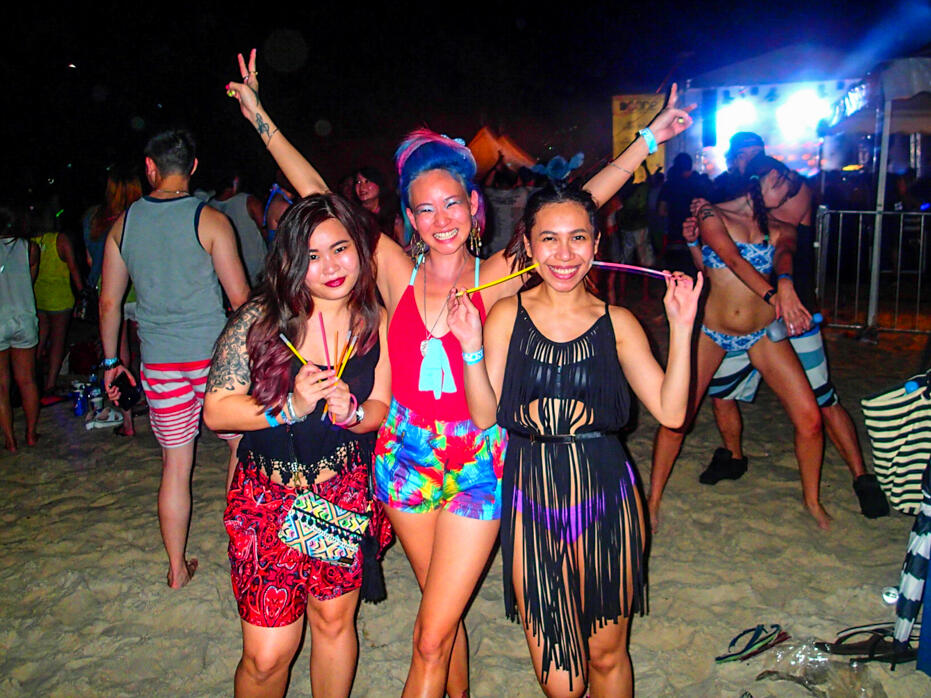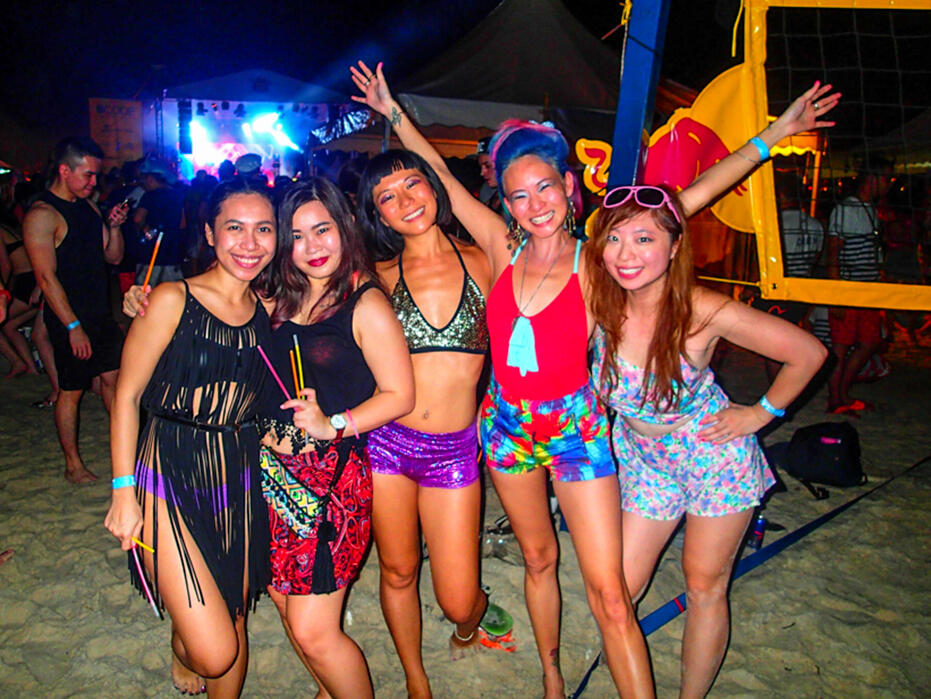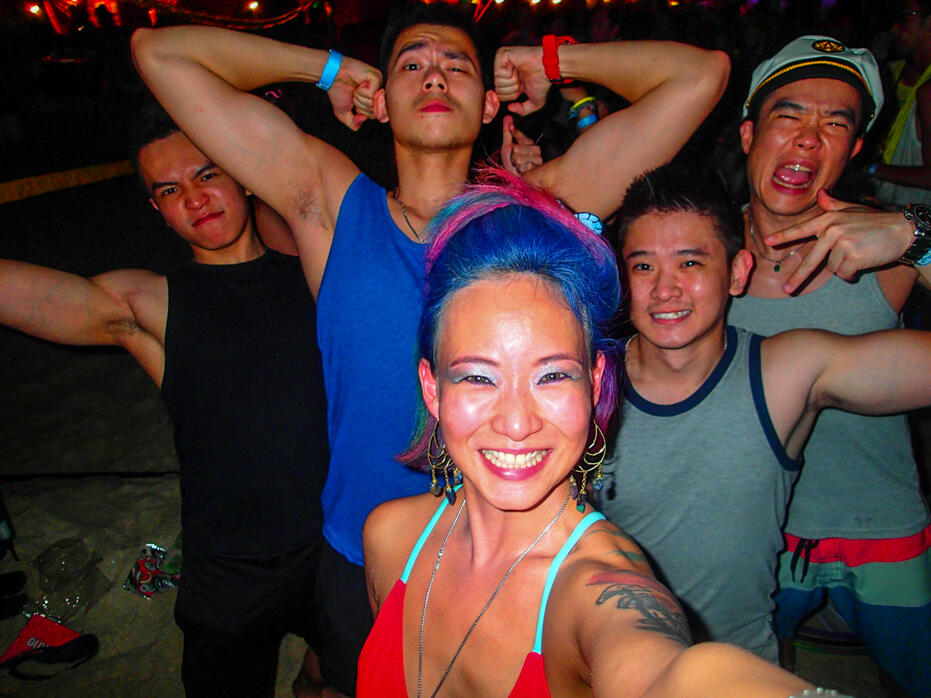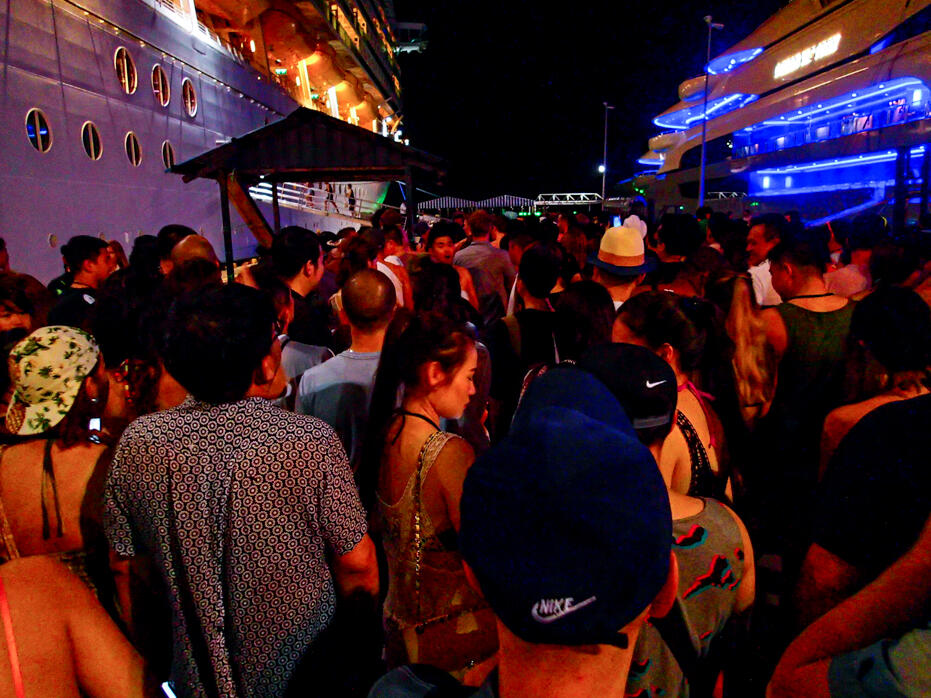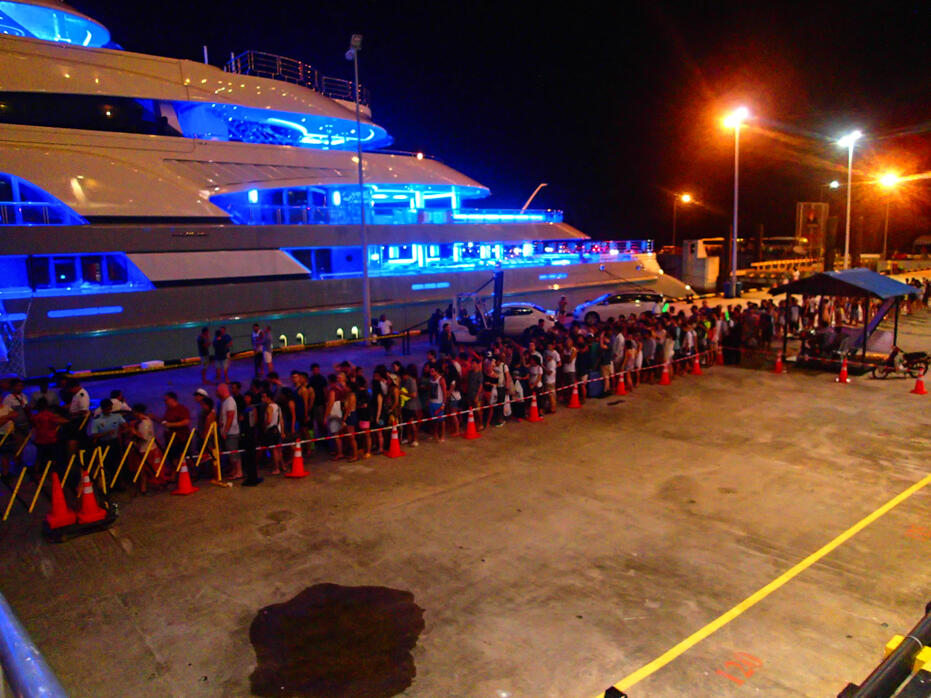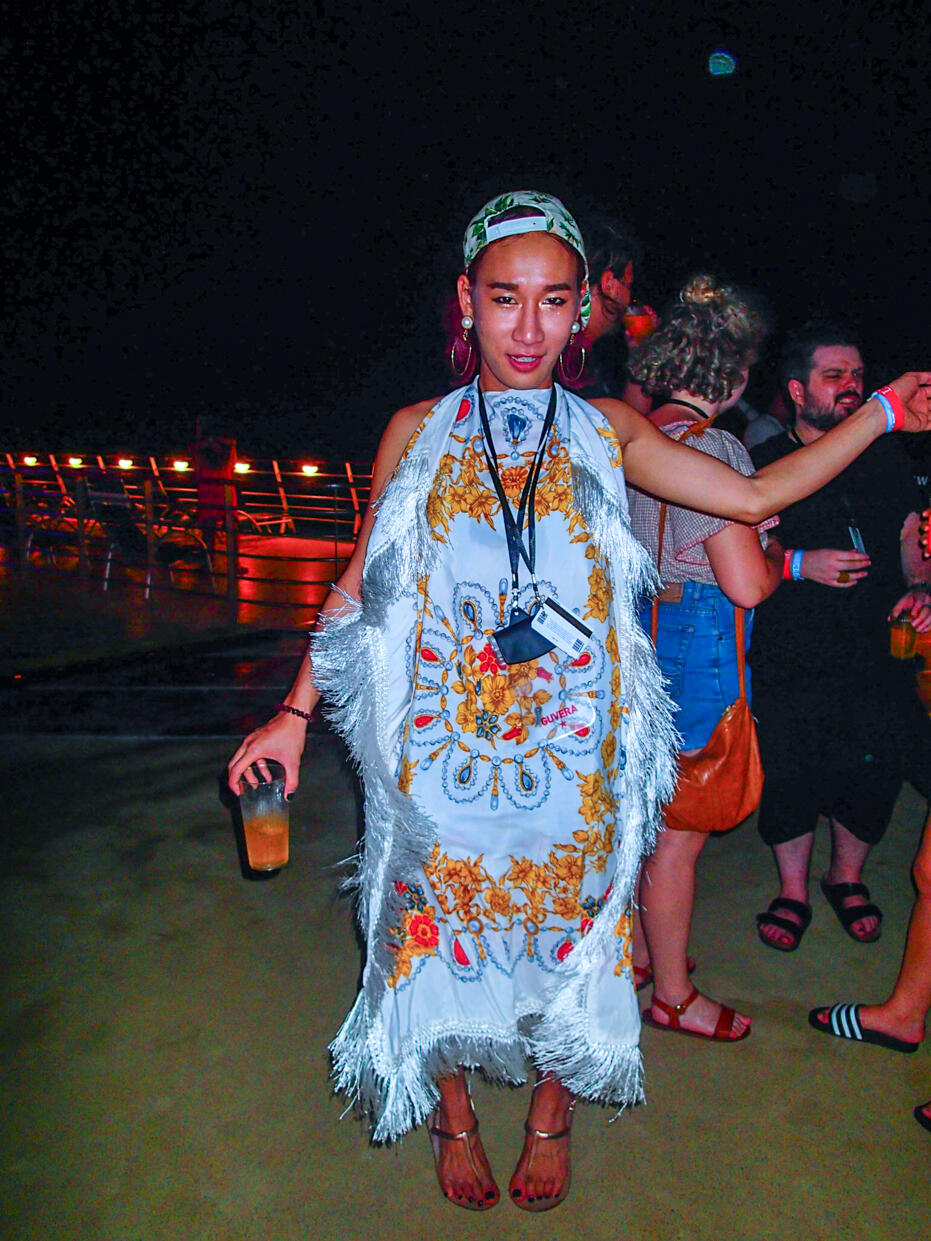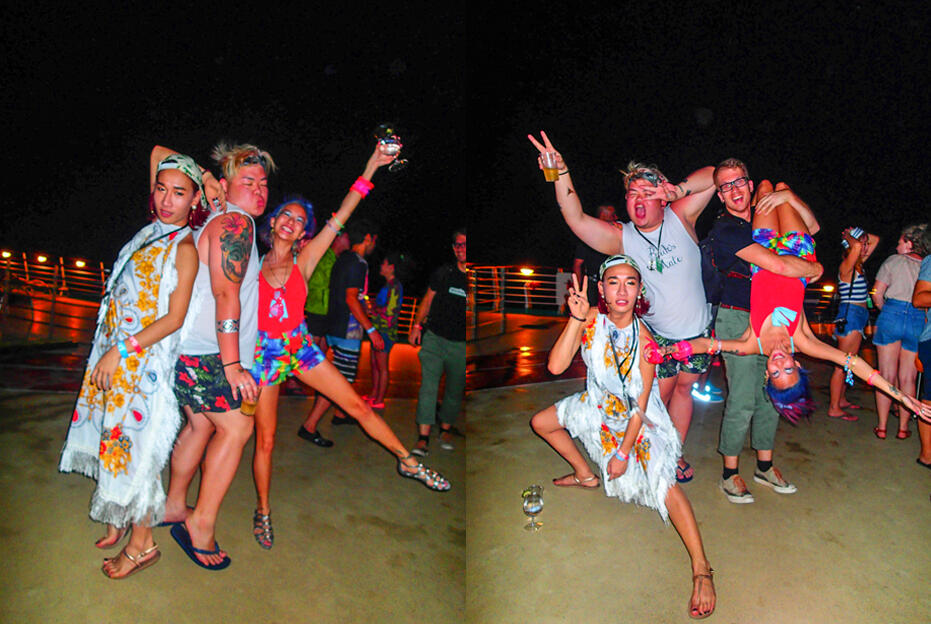 Pic on the right is just the best hahaha
After Langkawi beach party, it was time to work! So me and my guys went to the Hot Tub Time Machine to pump up Donuts & Pretzel Floats. 
What to do after work? PARTY of course! 😀 Supposedly a dry party look for me until Keiron pushed me and Theodore into the pool while we checking on the floats. =___= The water in the pool is so SALTY!
Baby: Andrew, why don't you dance?
Andrew: Err, because I don't know how to dance.
Baby: Sure or not you!
Andrew: Maybe after a few drinks?
Jun bought us drinks and I drank all the beers.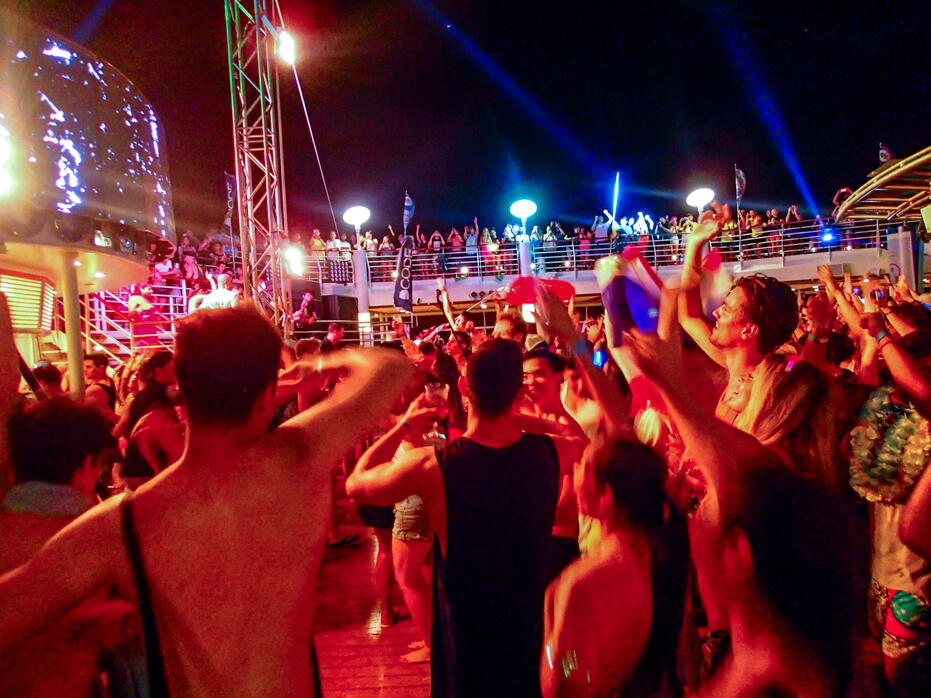 Damn a lot of pictures wasn't that…. Part 2 up in a month! Haha.
xxx