With Raya just around the corner, we've decided to round up a series of Raya Collections from our local designers to help ease everyone's process in making last-minute purchases of baju raya! We were spoilt for choice! Below are some of Joyce's picks from all the collections >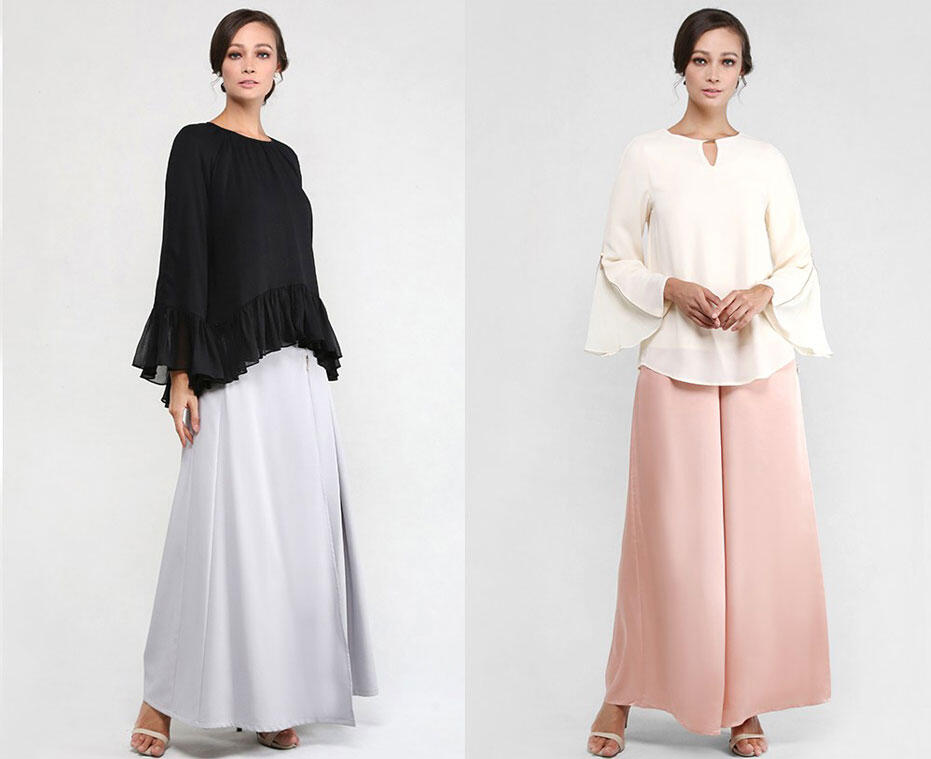 Left: Aella Flowy Ruffle Top in Black (RM 159.9)
Right: Stella Adjustable Zipper Pleat Top in Nude (RM 169.9)
Rhea Palazzo Pants in Dusty Blush (RM149.91)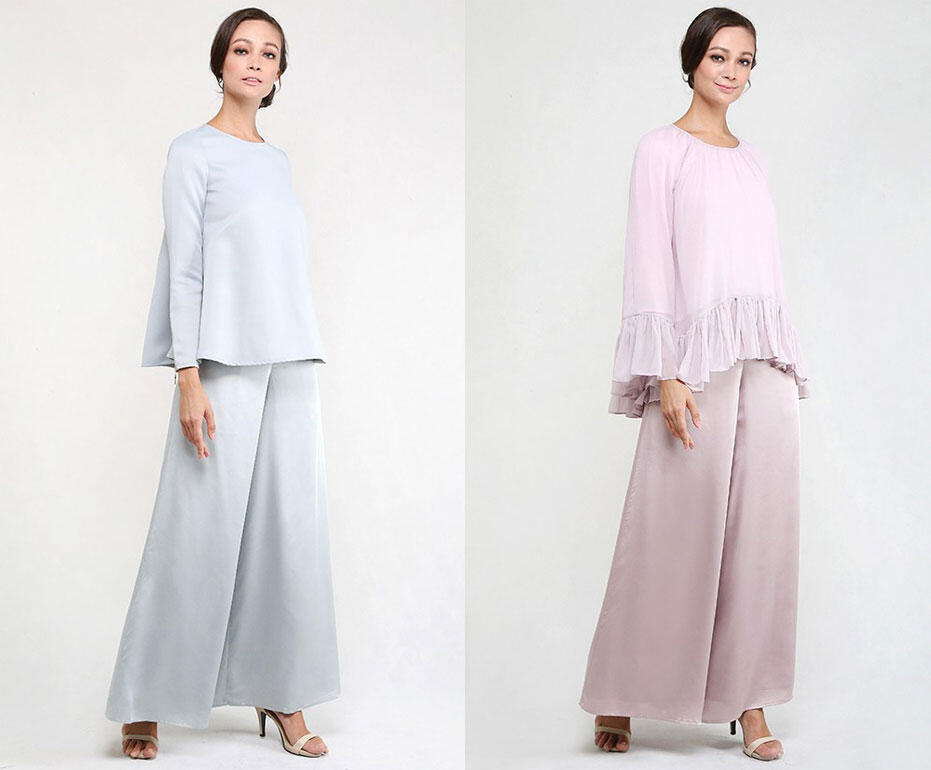 Left: Rhea Palazzo Pants in Dusty Grey (RM 149.91)
Right: Aella Flowy Top in Dusty Purple (RM 159.9)
Rhea Palazzo Pants in Dusty Purple (RM149.91)
aere is a contemporary ready-to-wear label founded by well-known fashion blogger Raja Nadia Sabrina. Crafting creative, innovative, versatile and fashionable pieces; aere has been making waves since its launch in October 2014 and was invited to the prestigious Kuala Lumpur Fashion Week Fashion Show back in 2015, winning the Best Womenswear Collection Award.
Where to buy: fashionvalet.com/fv-raya-2016/aere
Instagram: @aere
+ + + + + + +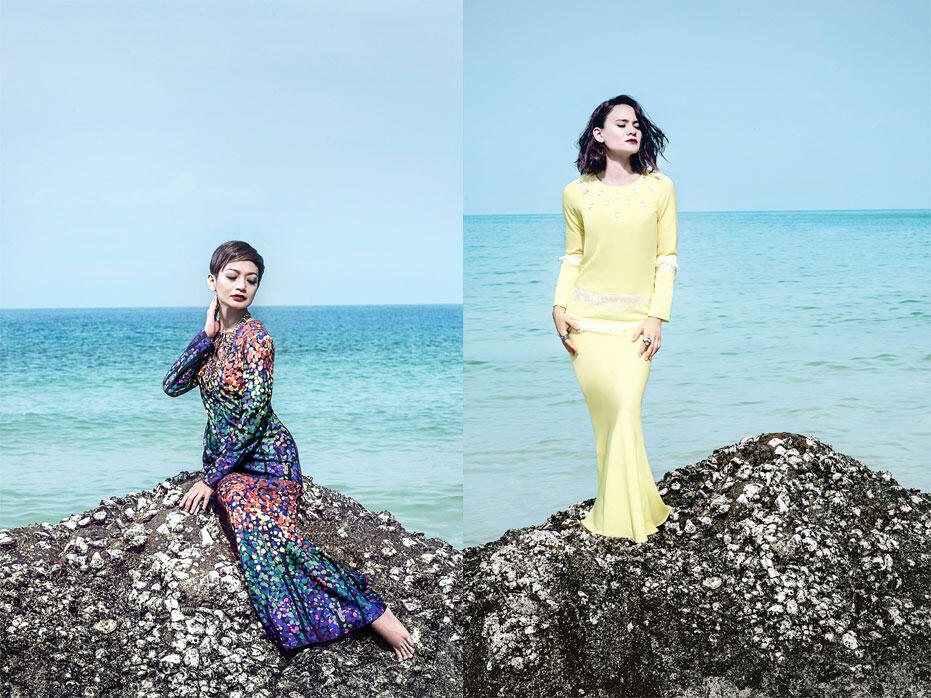 Atilia Haron in Sindonis (RM 390); Aishah Sinclair in Peroni (RM 275)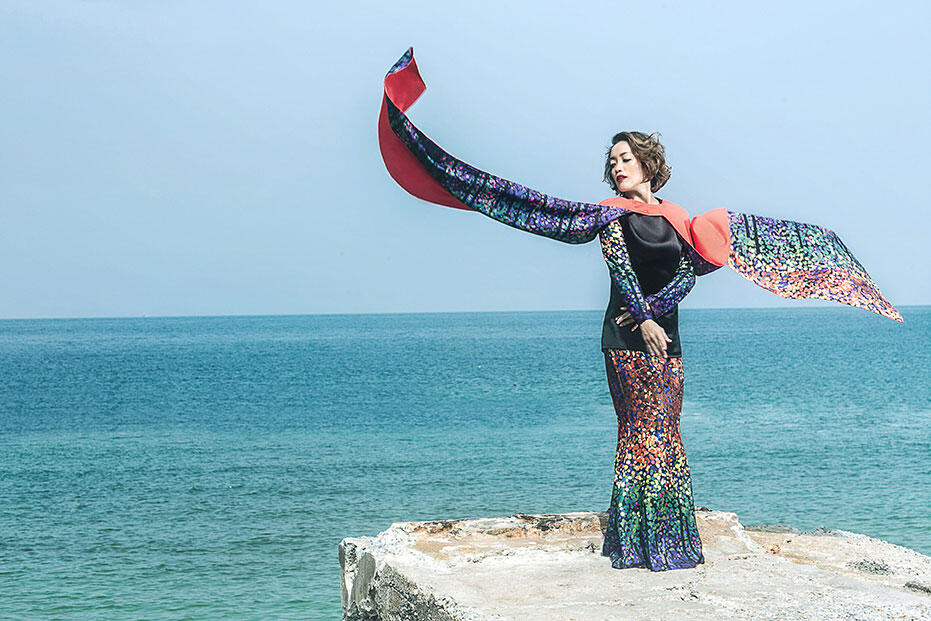 Serena C in Plana & Atolla (RM 250)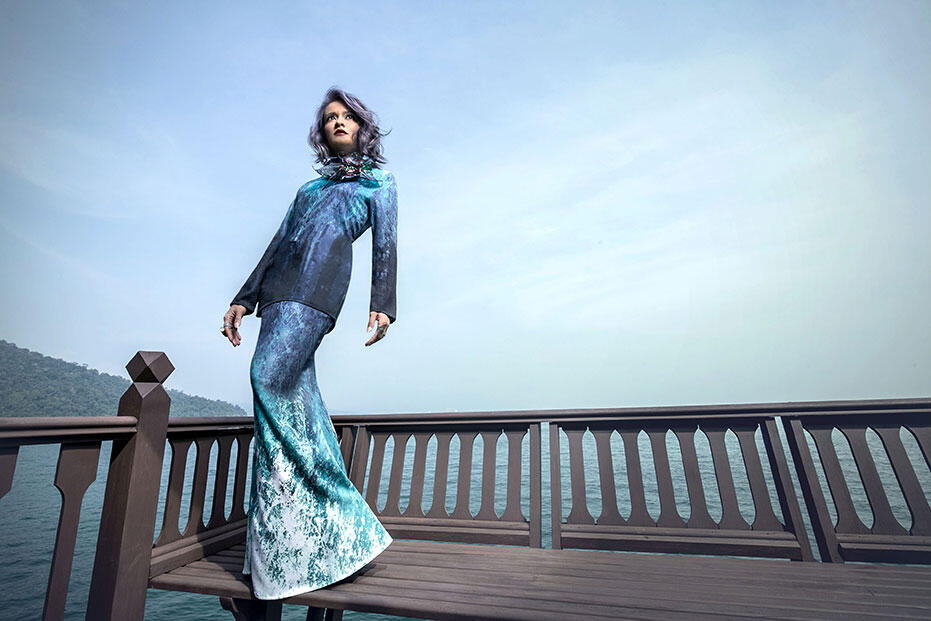 Sazzy Falak in Blue Sea Star (RM 495)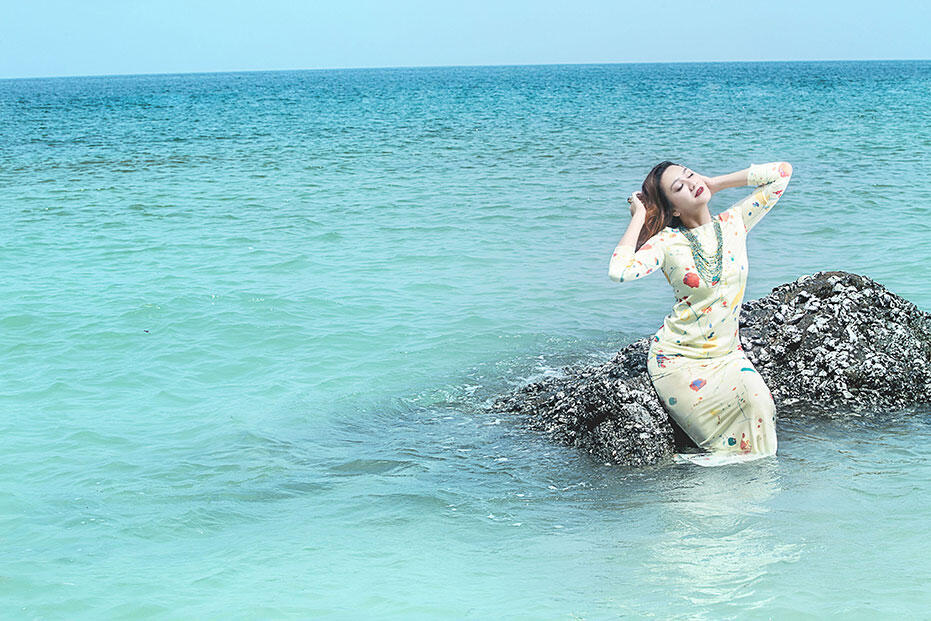 Dynas Mokhtar in Aurelia (RM 295)
emel by Melinda Looi is an annual fashion initiative that uses the power of celebrity influence to promote visibility of deserving charities and spread the joy of giving during the month of Ramadan. In addition to supporting worthy causes, the collection is affordably priced to enable all women to own limited edition Melinda Looi designer clothes.
Melinda has been involved in various stage productions in Malaysia, as well as the television and film industry in Canada. She has consistently proven her ability and creativity through many awards locally and internationally, especially the prestigious Designer of the Year Award, in 2004 and 2006 at the Malaysian International Fashion Awards, and once again in 2009 at the Mercedes Benz STYLO Fashion Awards. Melinda's latest achievements include an award for 2014 Sport and Art Trophy from International Olympic Council, Switzerland.
Website: emelbymelindalooi.com
Instagram: @emelbymelindalooi
+ + + + + + +
Alia B. for Fashion Valet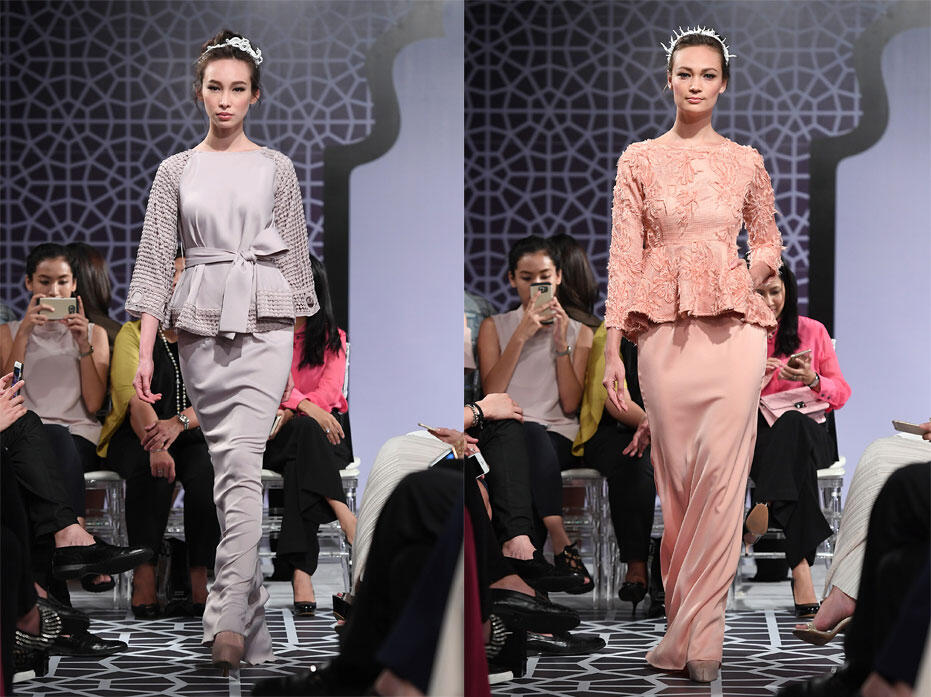 Right: The Lace Peplum Kurung in Coral (RM 569)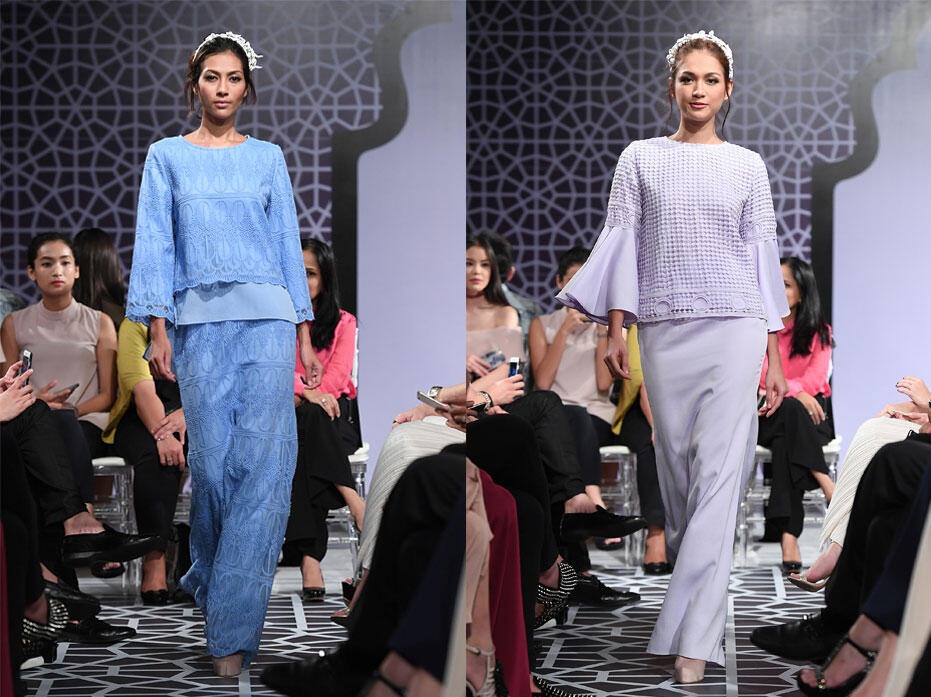 Left: The Full Lace Kedah Kurung in Sky Blue (RM 569)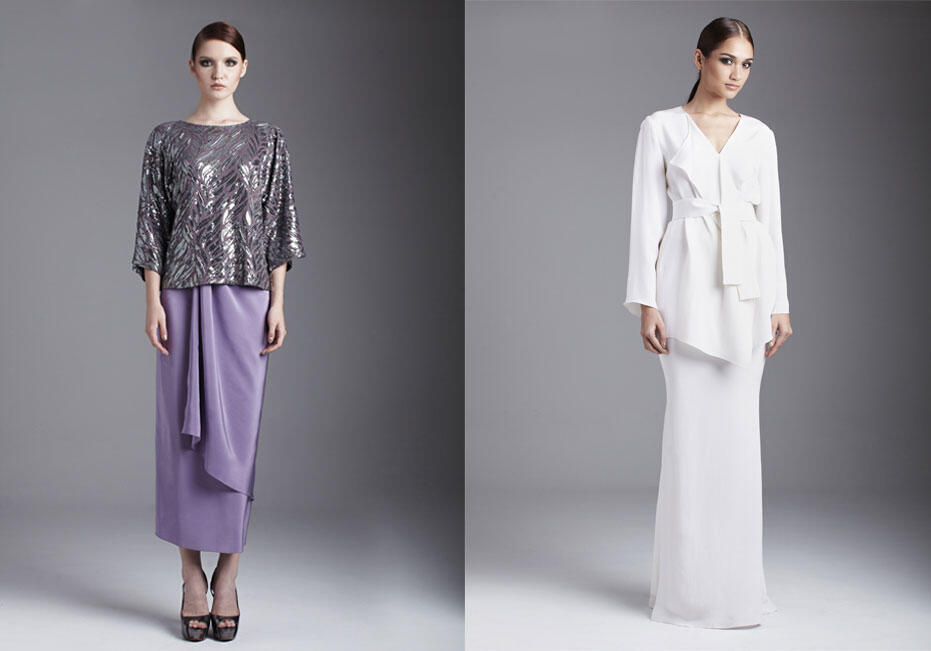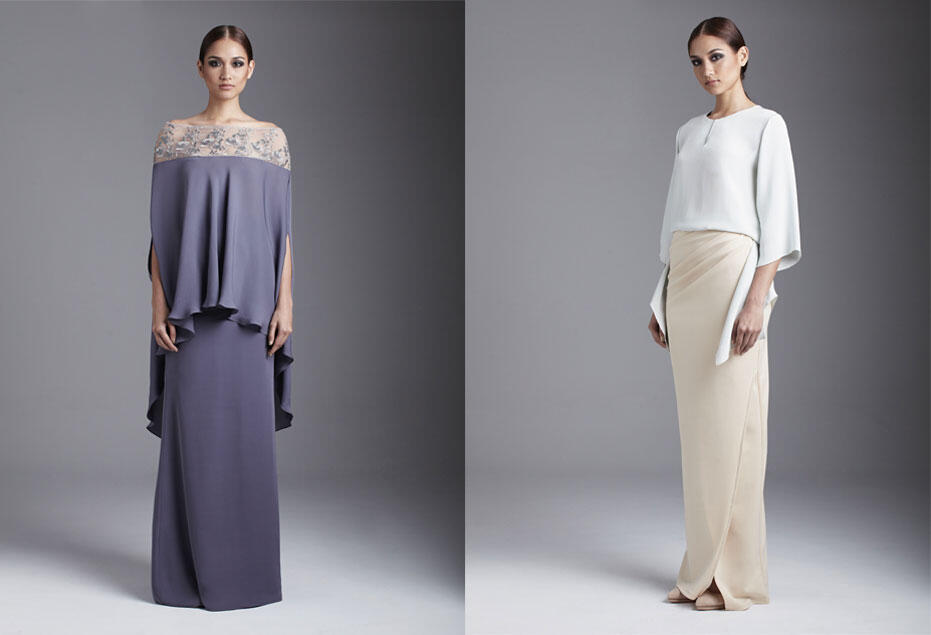 Starting off with custom and bridal orders from a very humble workshop in the label's formative years, Alia, the Creative Director of the brand, has since become one of Malaysia's leading fashion designers. From there, the Alia Bastamam brand has expanded into its diffusion line Alia B., skewing more focus on the expansive RTW market, while the the high-end Atelier line keeps focus on a private clientele and the Bridal line on brides-to-be. The Alia Bastamam collective now includes:
– Alia Bastamam: The main line that focuses on luxury ready-to-wear.
– Alia Bastamam Bridal: Custom bridal designs produced in-house.
– Alia Bastamam Atelier: Made-to-measure designs produced in-house.
– Alia B.: The secondary line that focuses on accessible ready-to-wear.
Website: aliabastamam.com
Instagram: @aliabastamamkl
Facebook: www.facebook.com/Alia-Bastamam-KL
+ + + + + + +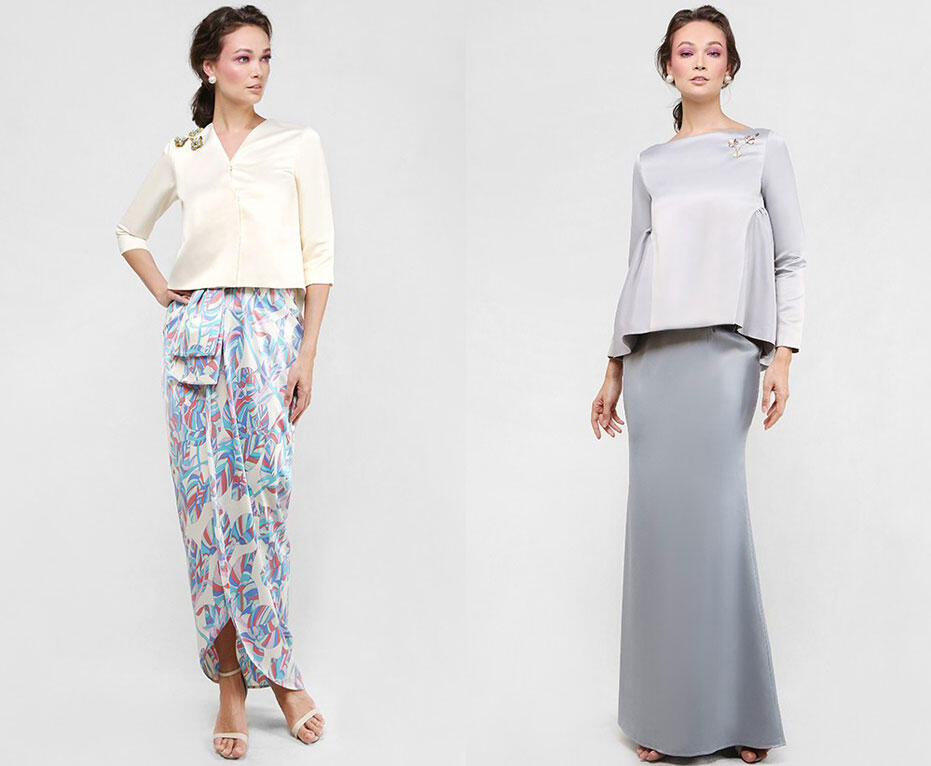 Asha Kurung Set in Cream (RM 1,272); Arissa Kurung Set in Grey (RM 1,208.4)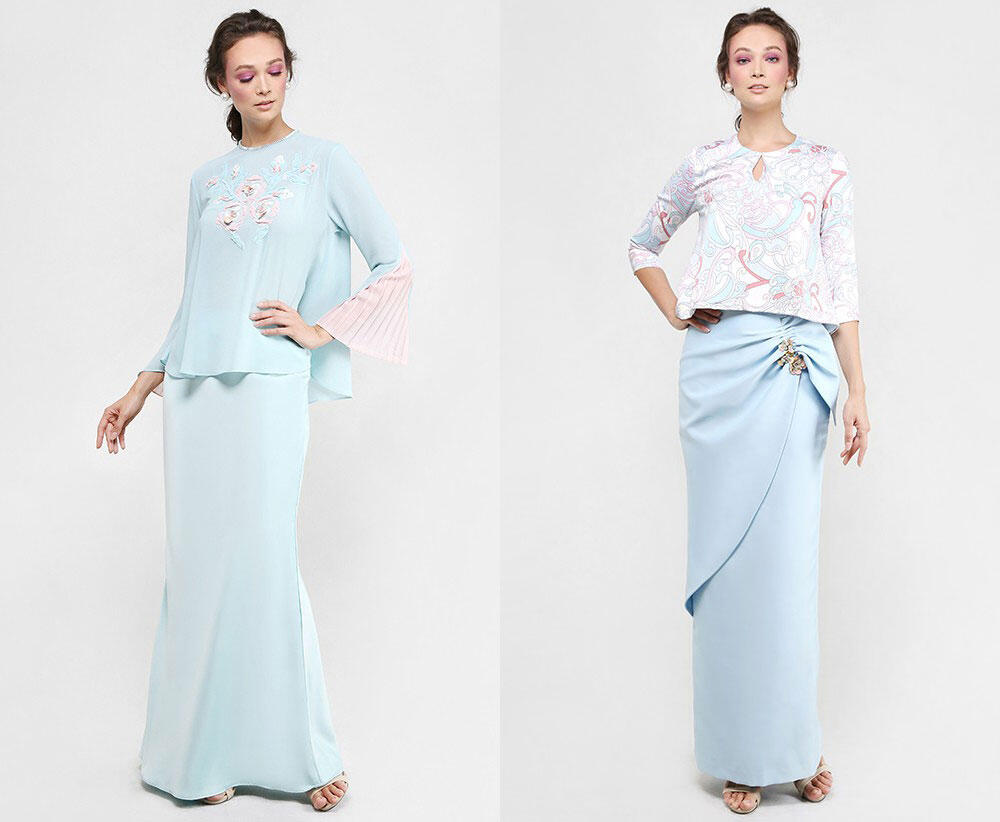 Rossa Kurung Set in Sky Blue (RM 1,378); Naila Kurung Set in Icy Blue (RM 1,272)
The label is fronted by two talented names Arene P. Khairudin and Juliani Jamal. Driven by its design philosophy of creating a new and contemporary femininity, Innai presents designs that are scene-stealers yet through a quiet elegance that reflects on the stylish confidence of its owner, Izrin Ismail.
Website: www.innaired.com
Instagram: @innaigroup
Facebook: www.facebook.com/InnaiRed
+ + + + + + +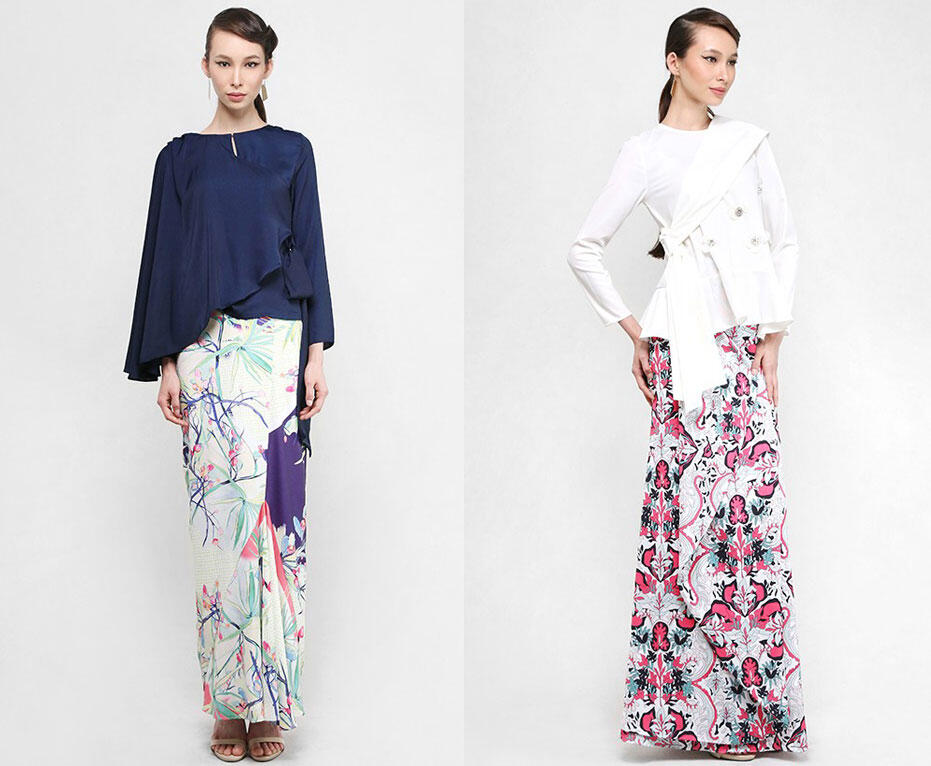 Bloom Cape Set in Navy (RM 570); Embellished Sash Top with Hera Fold Skirt Set in Lilac (RM 630)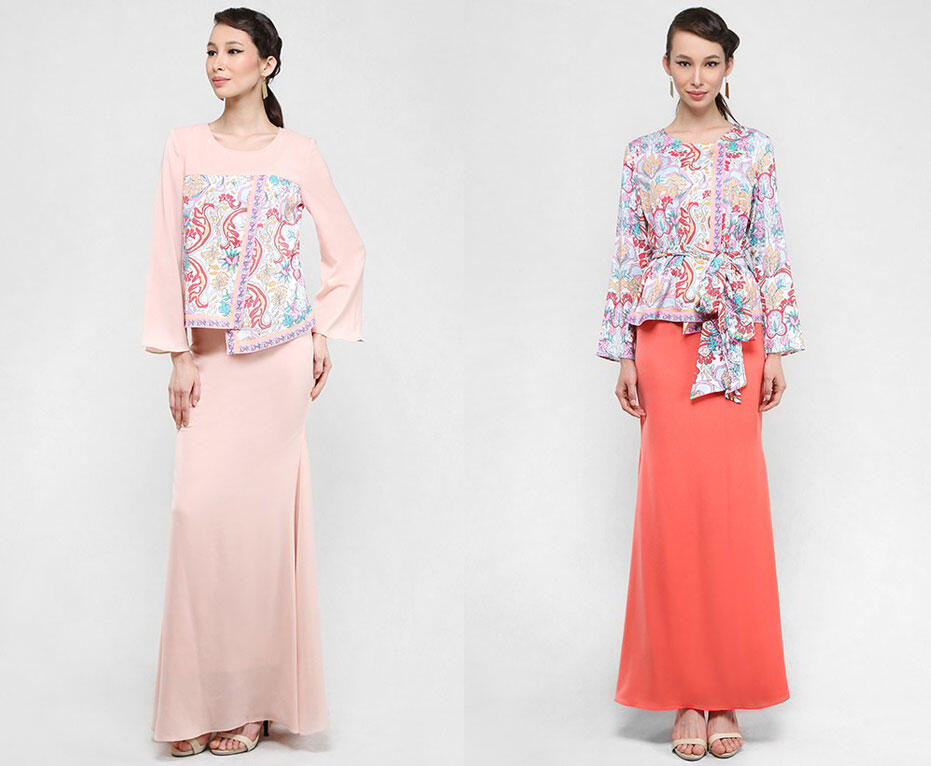 Hera Block Kurung Set in Peach (RM 570); Hera Wrap Kurung Set in Coral (RM 570)
The Zulkifli sisters, Nurul and Mira, launched Mimpikita in 2009 and have since transformed the company into an international fashion house with bridal and ready-to-wear collections. Known for combining the highest quality materials and impeccable craftsmanship with a modern design sensibility, Mimpikita aims to create cosmopolitan yet functional designs. Their RTW collections blend traditional infusions, exquisite detailing and beautifully embellished fabrics with a modern interpretation.
Website: mimpikita.com.my
Instagram: @mimpi_kita
Facebook: www.facebook.com/mimpikitaofficial
+ + + + + + +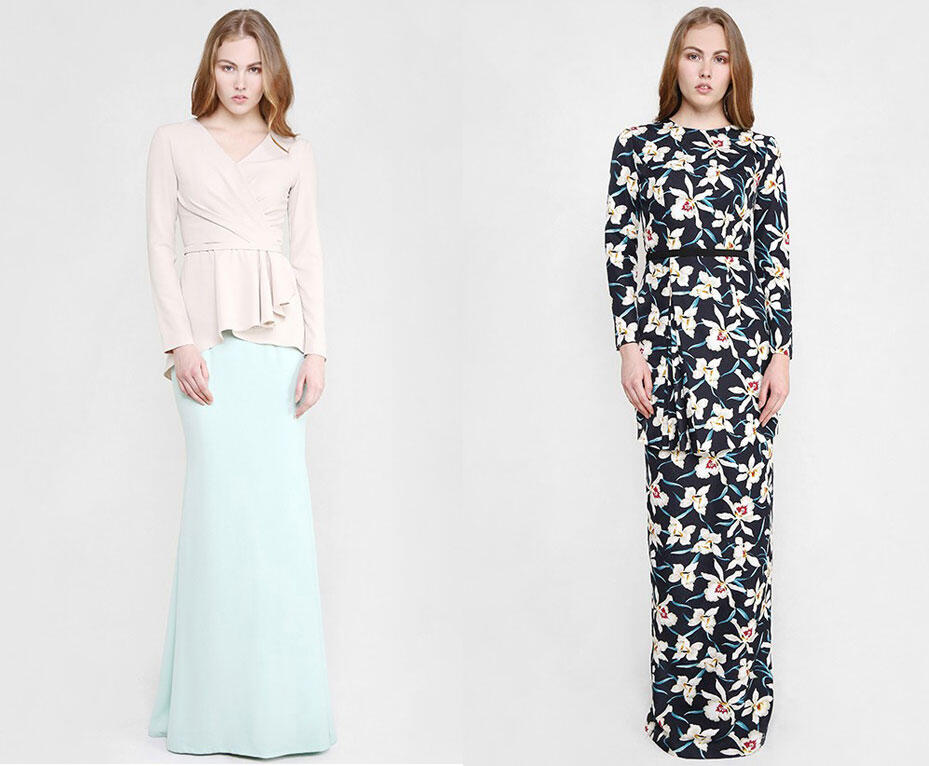 Lara Modern Draping Two-Piece Kurung in Beige and Mint Green (RM 659); Edie Kurung in Blue Black Print (RM 569)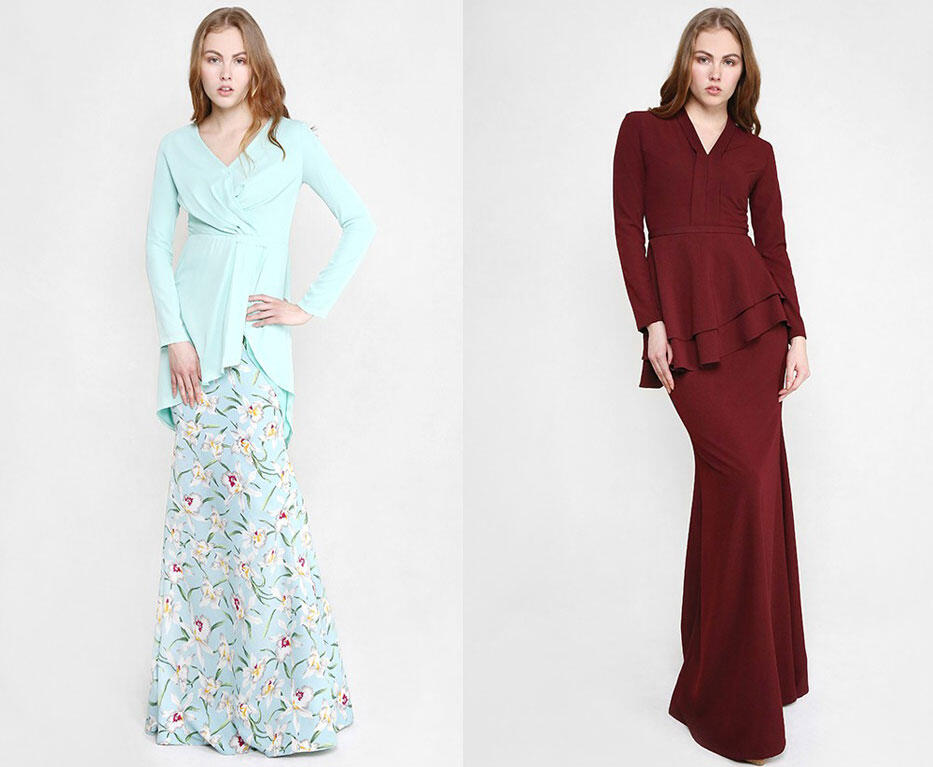 Daria Modern Draping Two-Piece Kurung in Mint Green with Soft Blue Print Skirt (RM 719); Lily Modern Kebaya in Maroon (RM 659)
Nurita Harith, passionate and ambitious; has always had an eye for Fashion and Arts. Her use of interesting silhouettes differentiates and defines her own style in this ever-crowded fashion industry. Before pursuing her Bachelor of Fashion Design at Surrey Institute of Art in London, she was a fine arts major and had her fair share in sculpture, which undoubtedly has contributed in developing her style and sense of creation.
Website: nuritaharith.com
Facebook: www.facebook.com/NuritaHarith
+ + + + + + +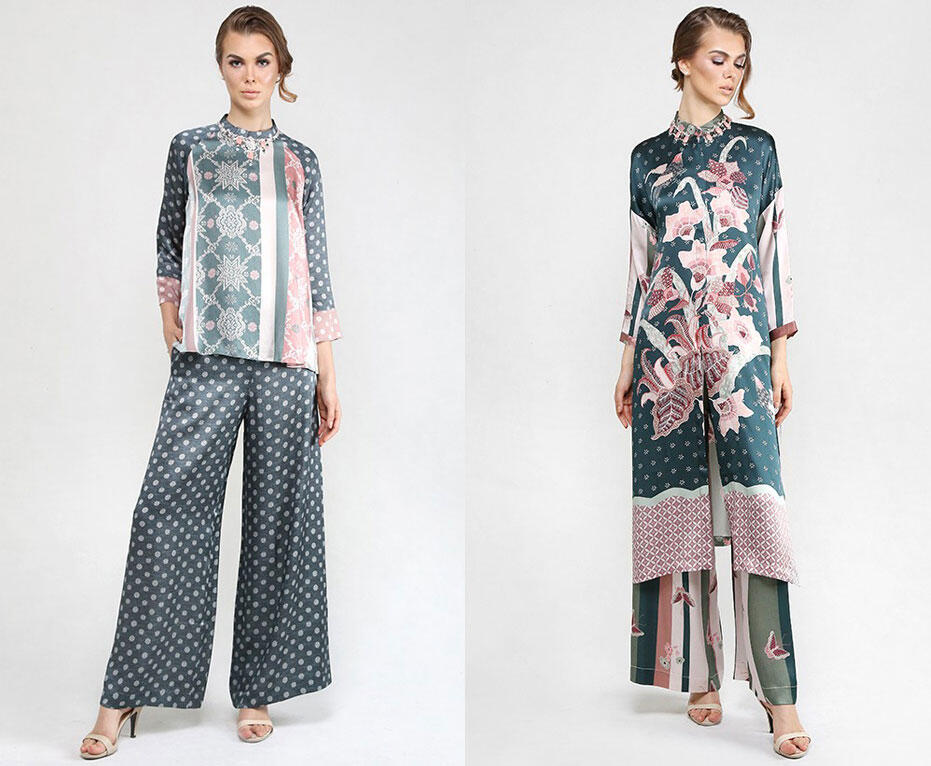 Left: 
Songket Print Blouse with Embellishments in Pink (RM 1,129)
Batik Print Palazzo Pants in Blue (RM 699)
Right:
Batik Print Shirtdress with Embellishments in Pink (RM 1,579)
Batik Floral Print Palazzo Pants in Green (RM 759)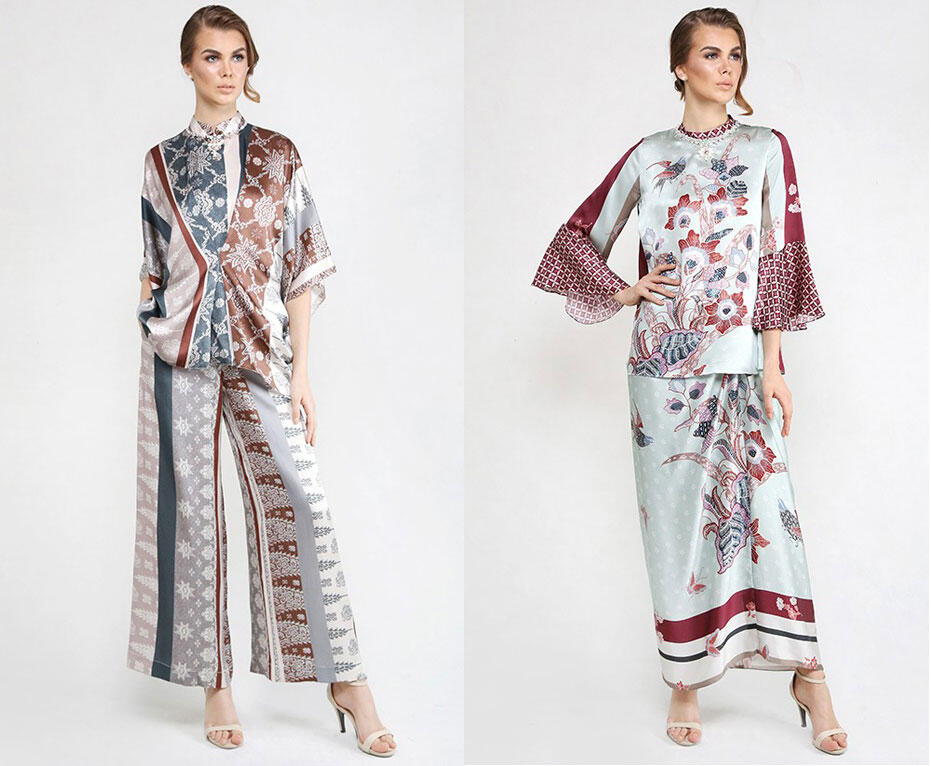 Left:
Songket Batwing Print Top with Embellishments in Blue (RM 1,129)
Songket Print Palazzo Pants in Blue (RM 759)
Right:
Batik Print Sarong Skirt in Green (RM 769)
Born in Surabaya-Indonesia, Biyan Wanaatmadja's formative years were spent at Muller & Sohn Privatmodeschule in Dusseldorf, Germany and the London College of Fashion where he graduated as a fashion designer. He started to produce and retail his own designs in a small atelier in Surabaya-Indonesia, which then formalised as his first clothing line Biyan for women in 1984, followed by his second line Studio 133 Biyan in 1985.
Website: fashionvalet.com/fv-raya-2016/biyan.html
Instagram: @studio133biyan
+ + + + + + +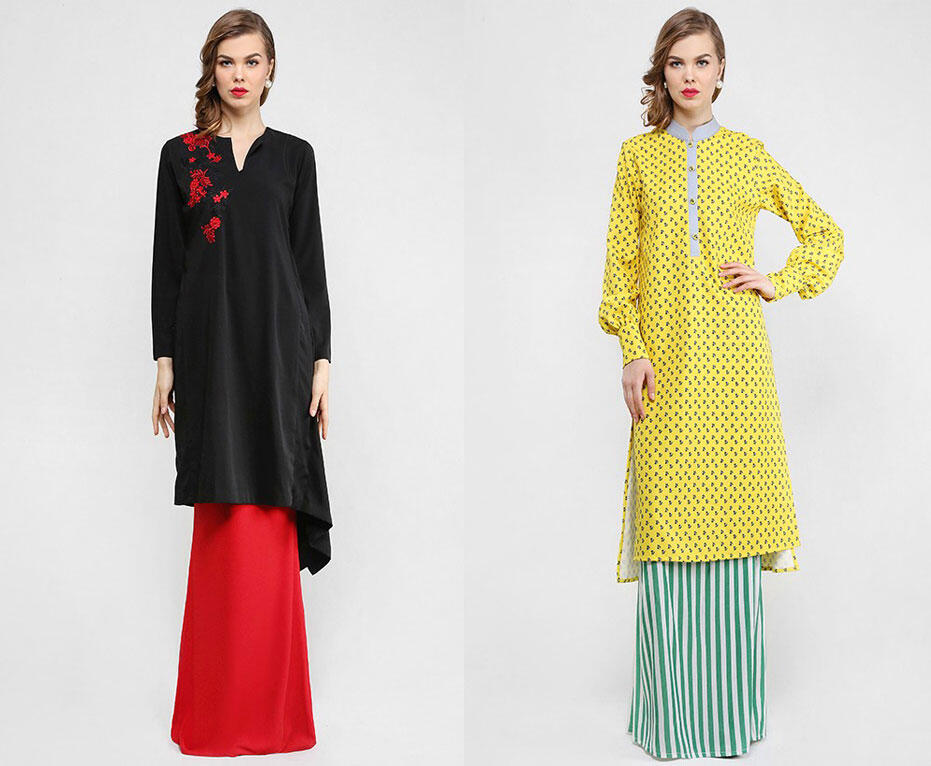 Left:
Mona Kurung Top in Black (RM 420)
Natalia Skirt in Red (RM 300)
Right:
Bianca Print Long Kurta in Yellow (RM 420)
Nicola Stripe Skirt in Green and White (RM 380)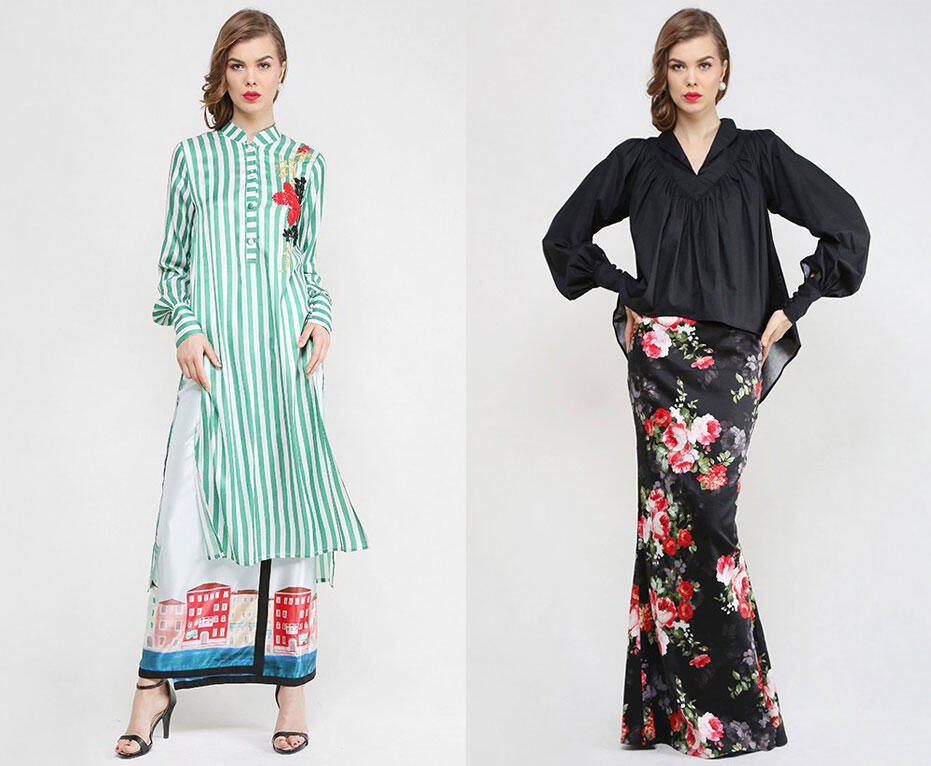 Left:
Carla Stripe Long Kurta in Green and White (RM 430)
Clarissa Print Skirt in Multi (RM 340)
Right:
Roma Top in Black (RM 340)
Isabella Skirt in Floral Print (RM 340)
Born Syomir Izwa Sen-Gupta, the designer completed his secondary education at a local vocational school, before receiving his Diploma in Womenswear at the renowned La Salle International Design School in Kuala Lumpur. Since then, the designer has come a long way in paving a name for himself in the local fashion industry, and today is the Creative Director for his own fashion powerhouse Syomirizwa Gupta.
Website: syomirizwagupta.com
Instagram: @syomirizwagupta
+ + + + + + +
Upon graduating from Paris American Academy and Pattern Making at L'Union Des Chambers Syndicales Parisiennes with a Bachelor's Degree in Fine Arts, Bernard returned to Malaysia to start his own destiny in fashion, in his words, "to be the Chanel of Malaysia". He introduced a new silhouette and technique of using embellishment and fabrics in the traditional Malay outfit.
The new innovation has since carved a pivotal turn for the way traditional outfits are designed and worn. Well ahead of his time, his talent is well acknowledged amongst the aristocrats in Malaysia and the shores of Brunei. His dream certainly came true and today, he still attends to royal patronage from Brunei, Malaysia and has been donned by international celebrities like Michelle Yeoh, Lady Gaga, Estelle, Tori Amos and many others.
Website: bernardchandran.com
Instagram: @bernardchandran
Facebook: www.facebook.com/Bernard-Chandran
+ + + + + + +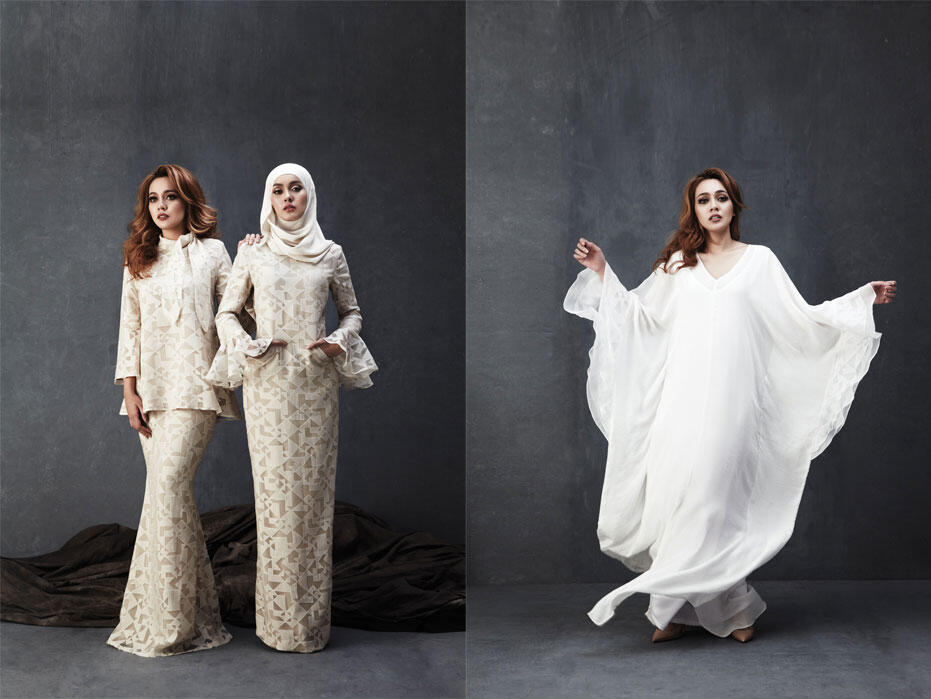 Right: Valarie Jubah in White (RM 480)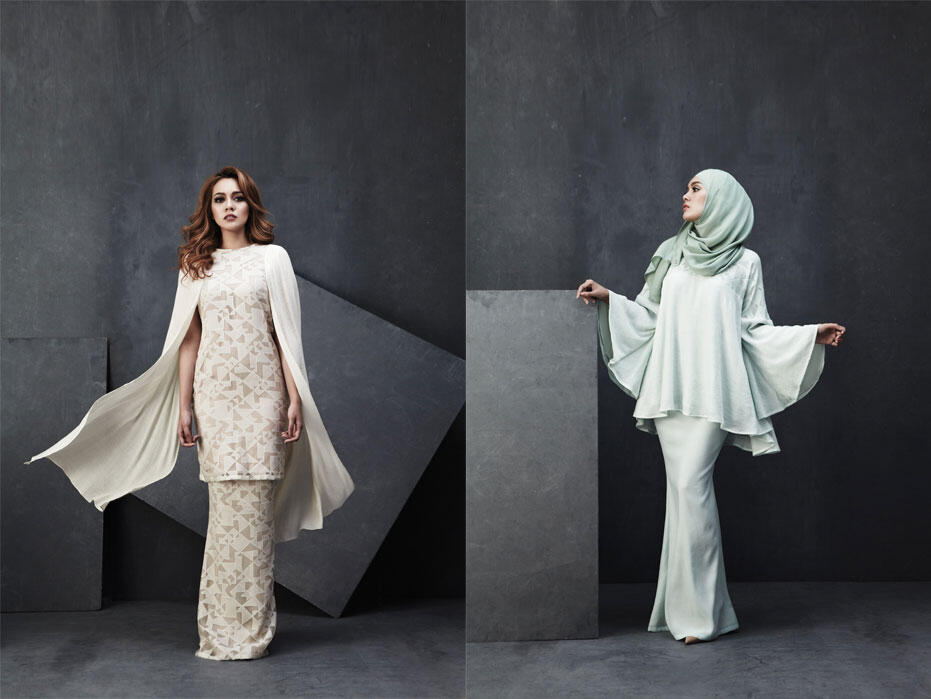 Viviana Kurung in Nude (RM 550); Velda Kurung in Green (RM 450)
Immediately recognizable for his crisp and tailored look, Syaiful injects modern and urban touches breathing freshness and modern sophistication. Syaiful appeals to the fashionable woman who appreciates beautiful well-made clothes that stand out. His penchant is to delight and titillate, mixing lace with modern encrusted bijoux beadwork, juxtaposing linens with fine silks, placing Peranakan Nyoya embroidery on Malay songket, cutting tweed for traditional garments, and melding stiff fabric with petal like flowing chiffon.
Website: www.syaifulbaharim.com
Instagram: @syaifulbaharimkl
+ + + + + + +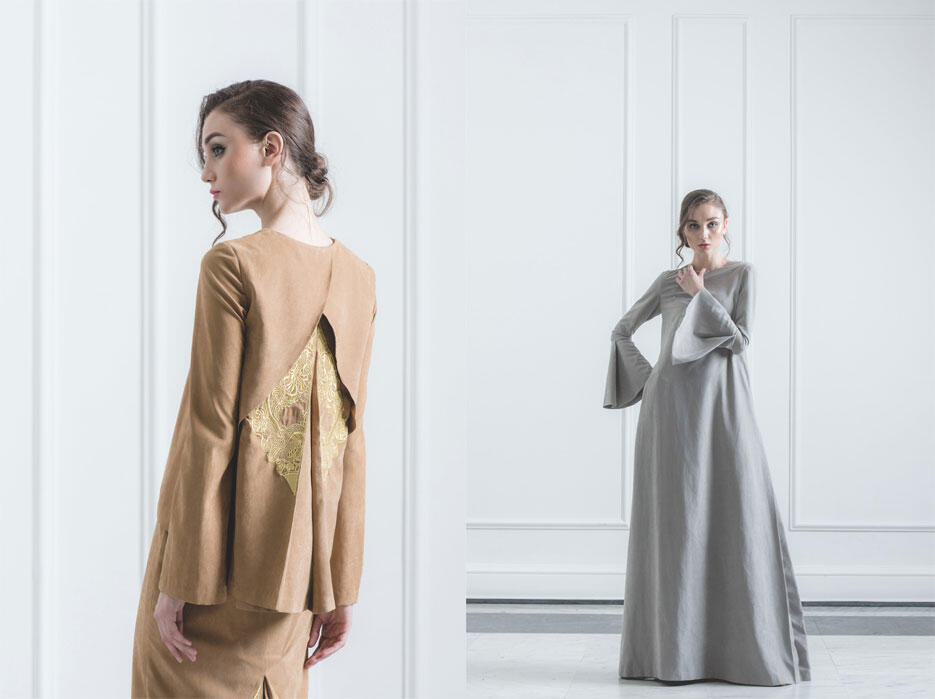 CHE' Ku Top with Gold-embroidered Cross-layer Back in Brown (RM 360);
Wan Jubah in Grey (RM 380)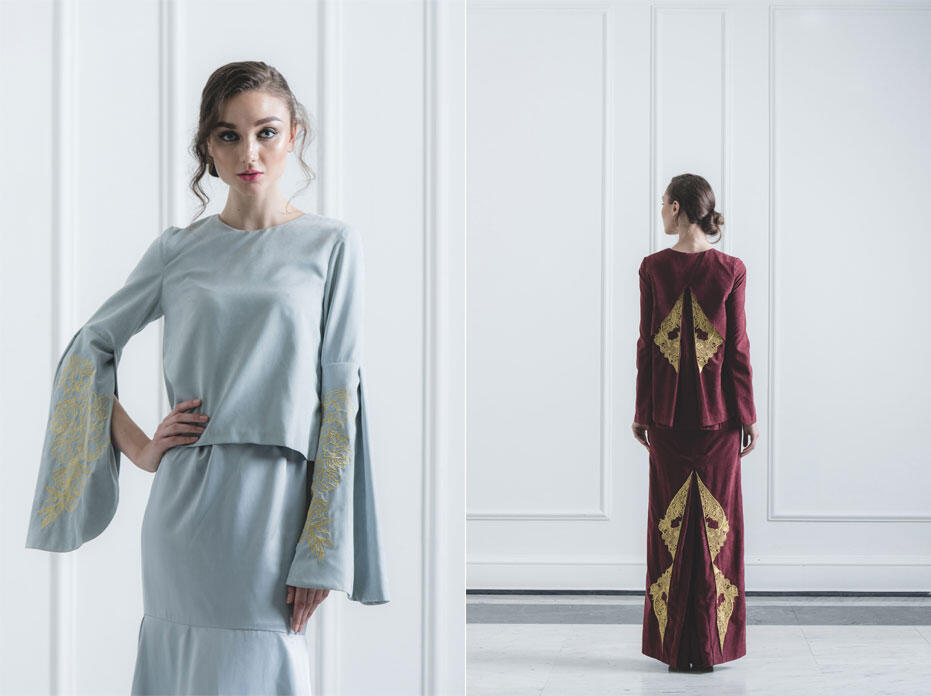 CHE' MEK Baju Kurung Set in Light Blue (RM 600);
CHE' KU Top with Gold-embroidered Cross-layer Back in Maroon (RM 360)
CHE' KU Pencil Skirt with Gold-embroidery Fan-pleat at back in Maroon (RM 300)
Tsyahmi is a fashion label concentrating on accessible luxury ready-to-wear for women and men. They celebrate their penchant for art & design in the dynamic portrayal of culture progression. Tengku Syahmi reinforces classic timeless colour palettes in complementary fabric-play in his EID 2016 pieces.
Website: www.tsyahmi.com
Instagram: @tsyahmikl
Facebook: www.facebook.com/tsyahmikl
+ + + + + + +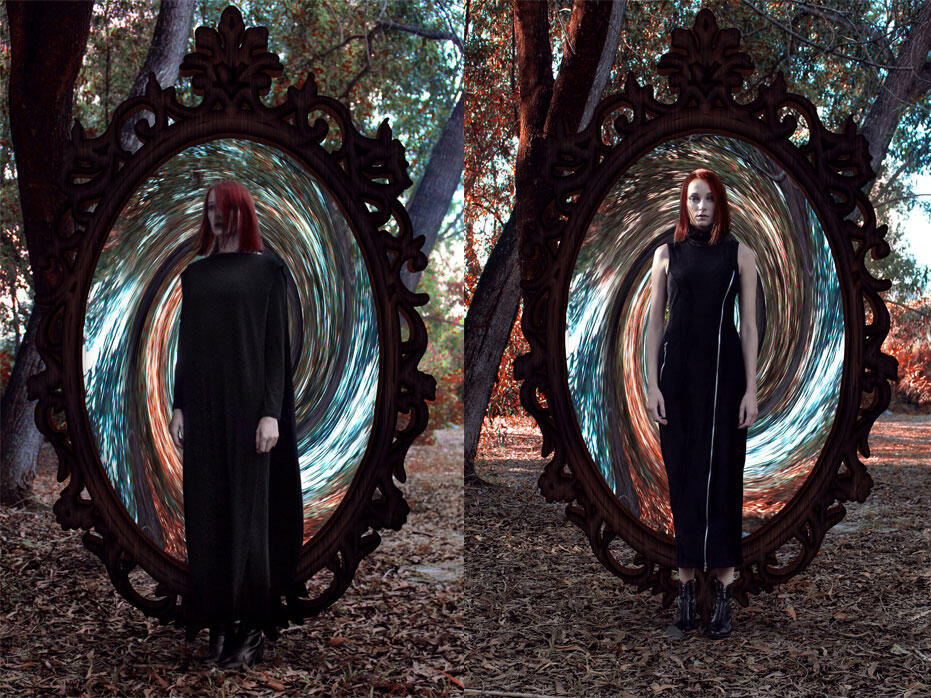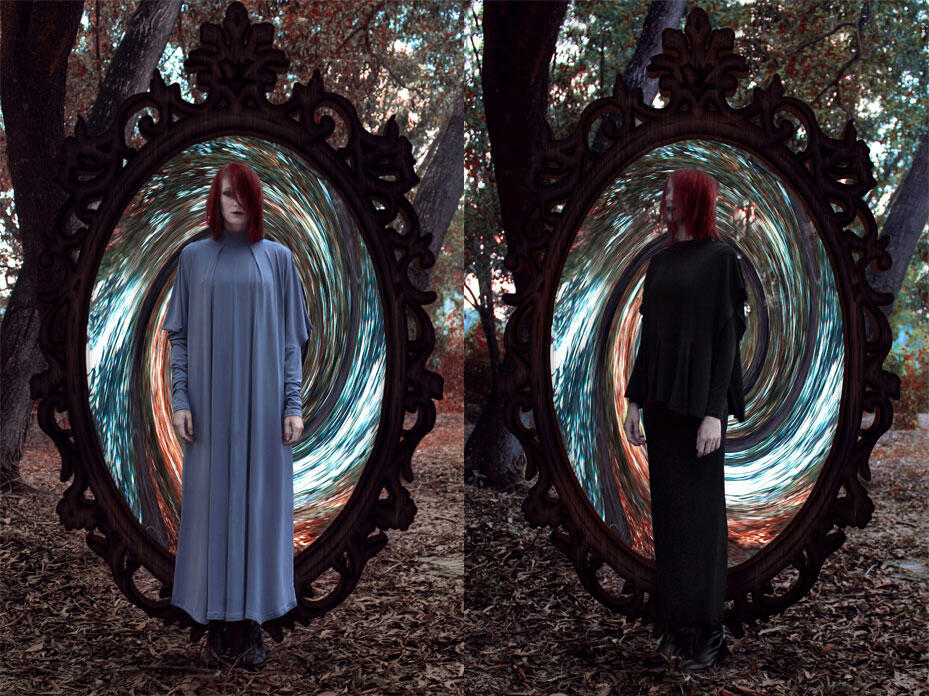 Yasmin Ramli's tune is punk. She has has always been about rockin' it out and being completely different. Her love for the punk movement has evolved into a more grown-up idea – to make the punk ideal fashionable and wearable. When Our Eyes Met is a label highly inspired by her years in London and the "street meets high street" London style that has defined her personal wardrobe. Her fashion label brings the punk influence of The Sex Pistols and Vivienne Westwood into a more classy perspective. Her collections are available for purchase on Fashion Valet. 
Website: whenoureyesmet.com
Instagram: @whenoureyesmet 
Facebook: facebook.com/WhenOurEyesMet
+ + + + + + +