Andrew and I get very excited whenever we get to eat something healthy for lunch. Fridays are usually our #eathealthy day because of a longer lunch hour which allows us to travel further [Joyce: What longer lunch hour? I didn't know about this], and that somewhere is usually at Goodness Greens. You can read about why we love having lunch there HERE.
Raisin' the Roof is a new healthy establishment in town which Joyce was invited to. I foresee the #KinkyBlueFairyTeam alternately visiting here on Fridays from now on, YAY!
Run by a trio from Germany, Singapore, and Thailand; Raisin' the Roof's goal to elevate nutritious to delicious is carried out by offering healthy alternatives to savouries & desserts that are conventionally very unhealthy. Most of my friends only visualize a bowl of garden salad whenever I suggest we have something healthy. Little do they know that eating healthy these days includes vegen options that can be fun and flavourful!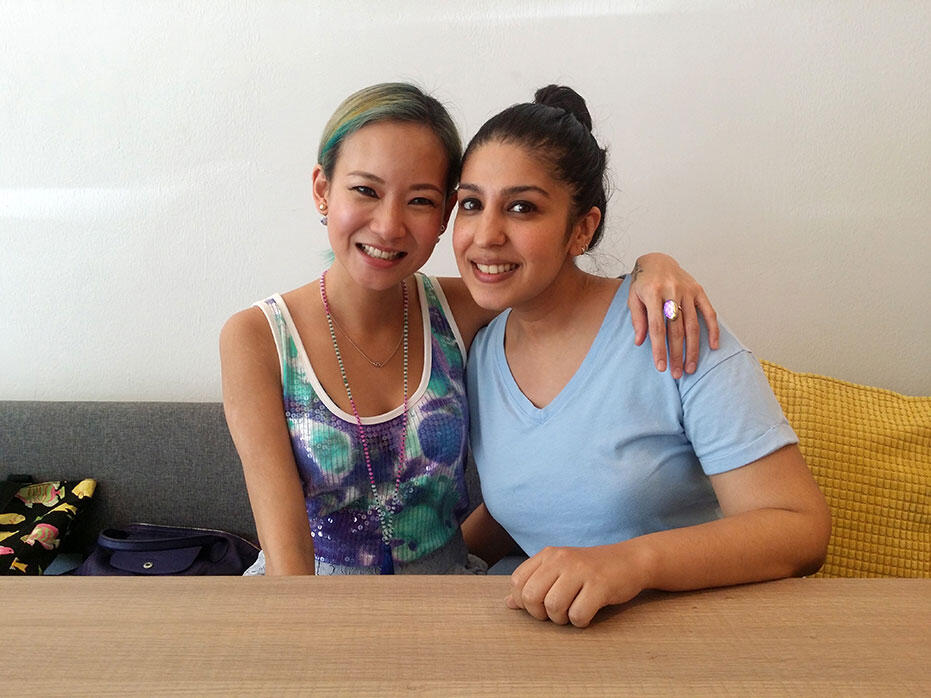 Joyce: Here i am with Sarinna, one of those super women who launches LYN (shoe and bag store) in KLCC, opens this health restaurant, and gives birth to her first child; all within 10 months.  ? *crying in disbelief*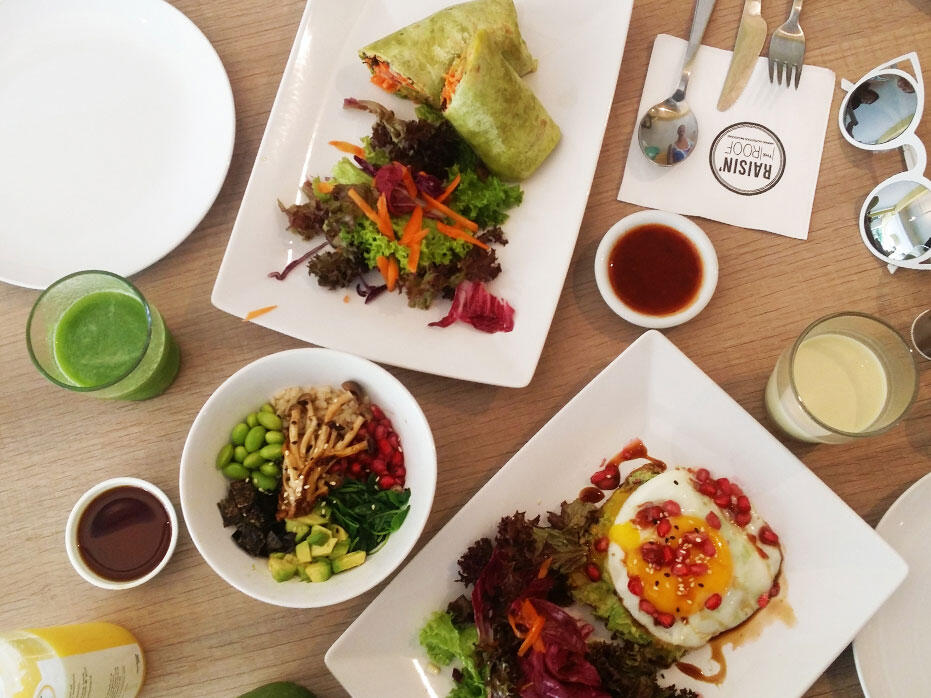 At bottom is the gluten-free Avocado Toast (RM 20.90) spread with lemon tahini sauce, mashed avocado and topped with a sunny side up egg, pomegranate molasses and seeds.
There's a wide selection of milk and juices on their menu which are cold-pressed daily in store.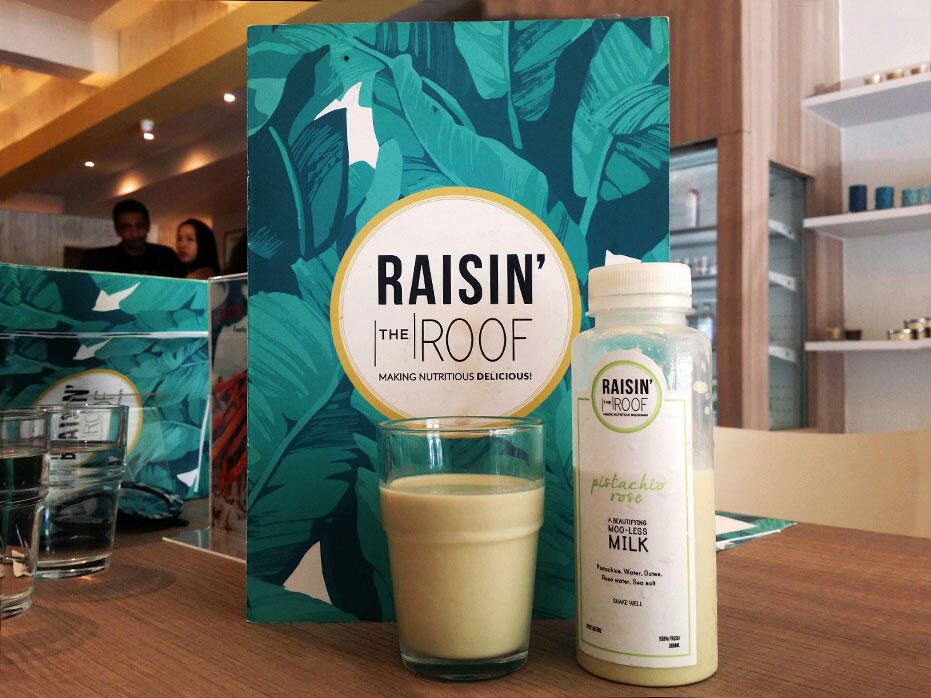 Our favourite is the Pistachio Rose (RM19.90) – pistachio, water, dates, rose water, sea salt. The texture of the milk is silky rich and creamy, with the hint of both elements in its namesake perfectly balanced out.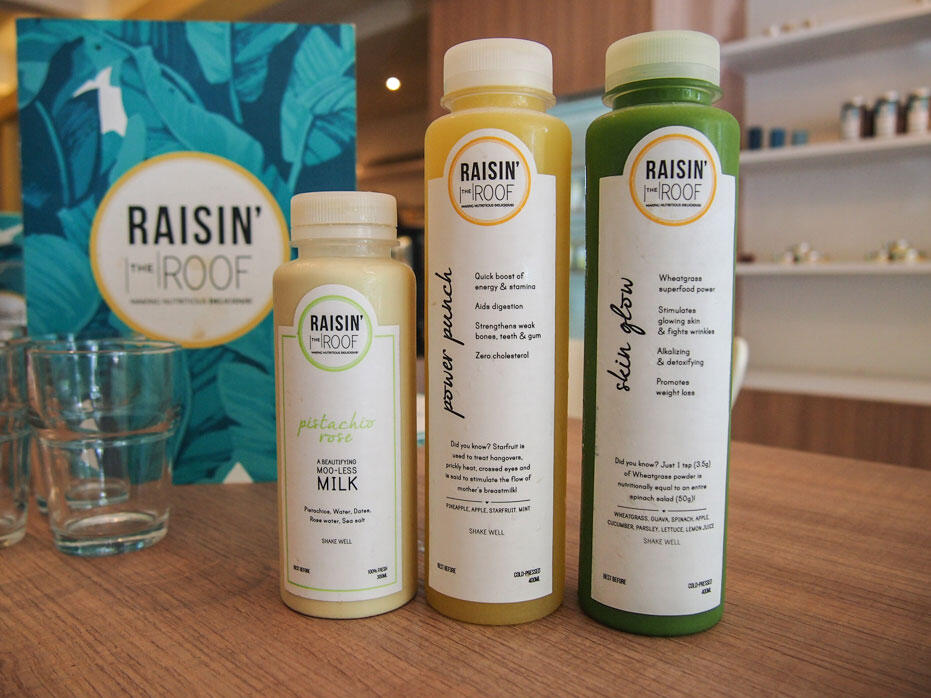 We also tried the Power Punch (RM 14.90) – pineapple, apple, mint, starfruit; and Skin Glow (RM14.90) – wheatgrass, spinach, lettuce, parsley, cucumber, apple, lemon and guava. The latter has the reputation of being a popular order.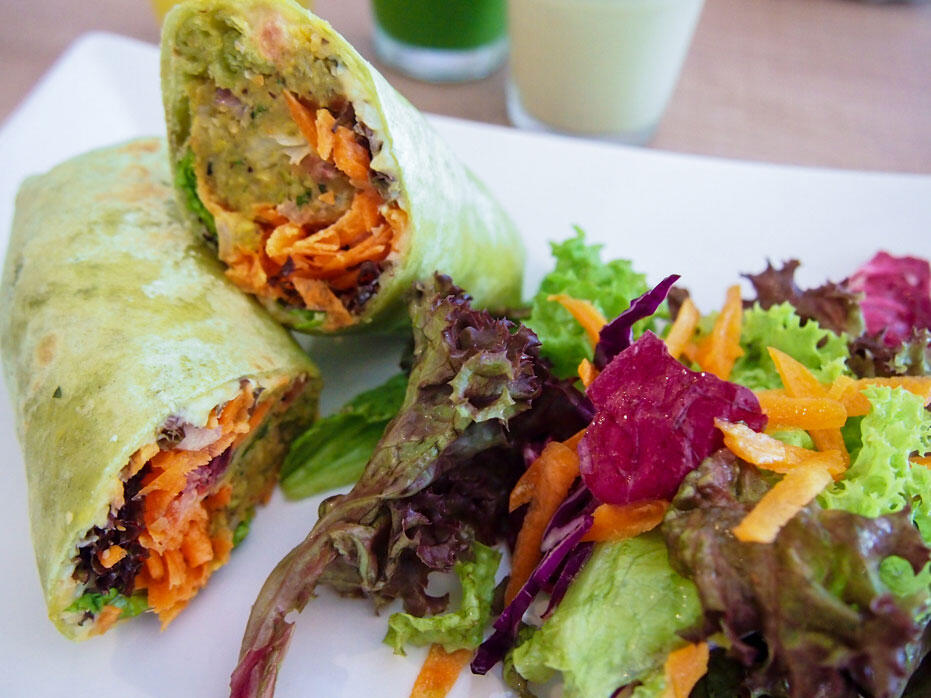 The Pistachio Falafel Wrap (RM22.90) was Andrew's facourite. It's a Middle-Eastern style pistachio and herb falafel dish wrapped in wholemeal tortilla with roasted beets, grated carrots, lettuce, house-made hummus, drizzled with mint yogurt.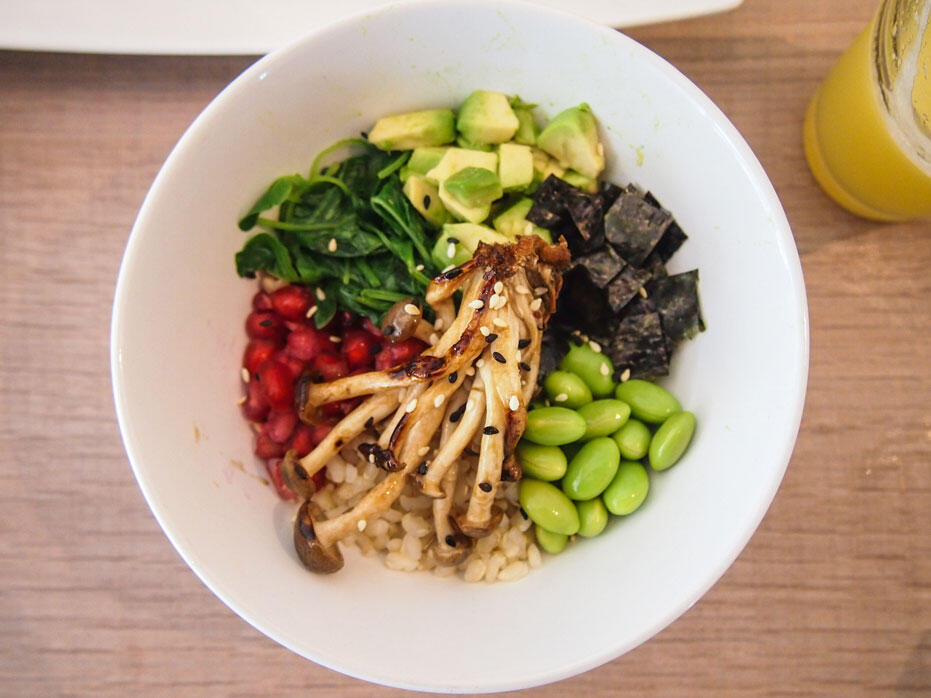 Brown Rice Sushi Bowl (RM17.90) – served with avocado, edamame, sauteed spinach, pomegranate seeds and toasted seaweed, dressed with sweet soy dressing. They call this dish the deconstructed sushi.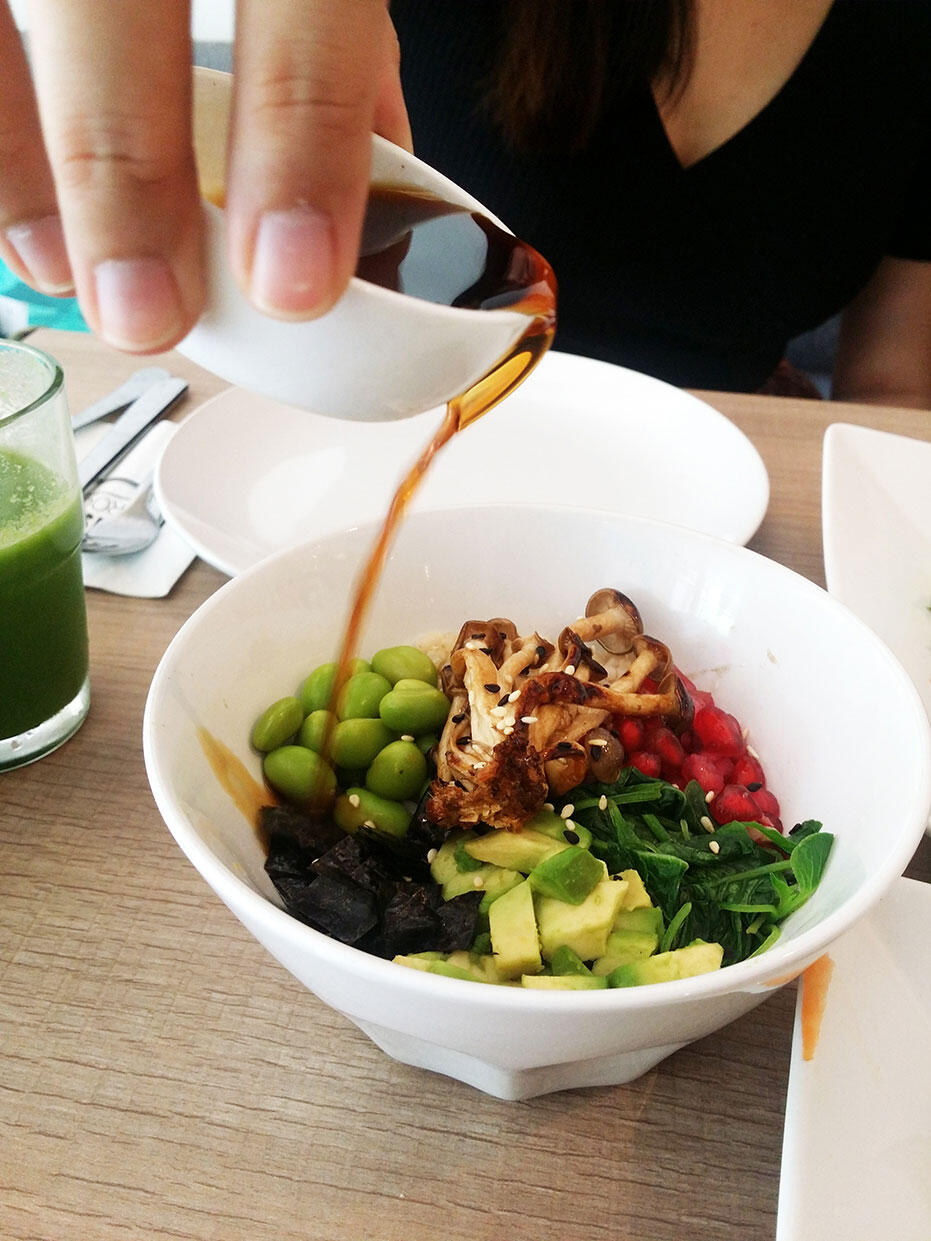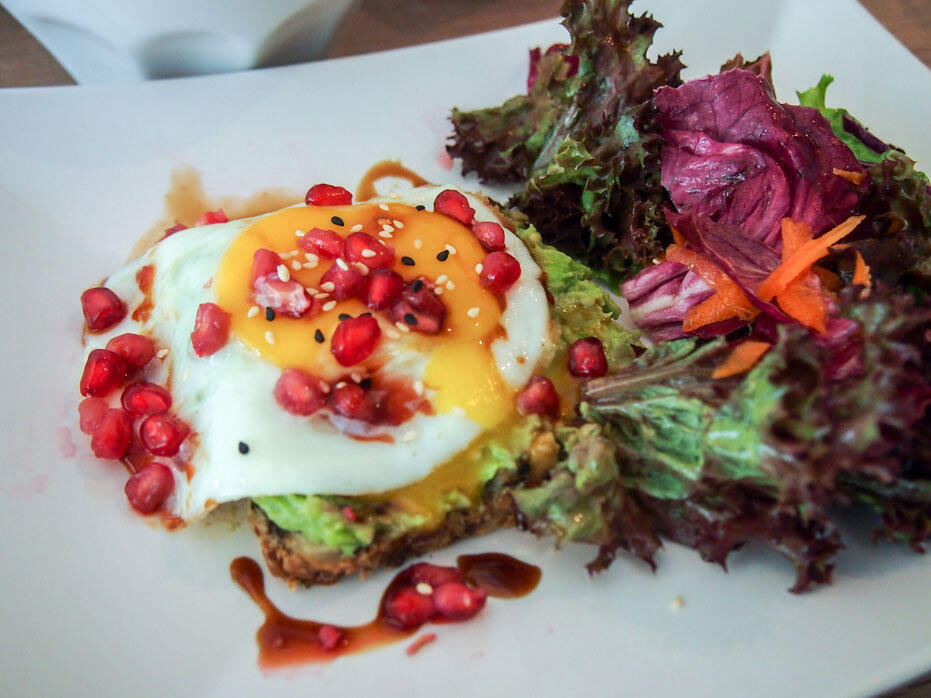 The aforementioned Avocado Toast pictured closer.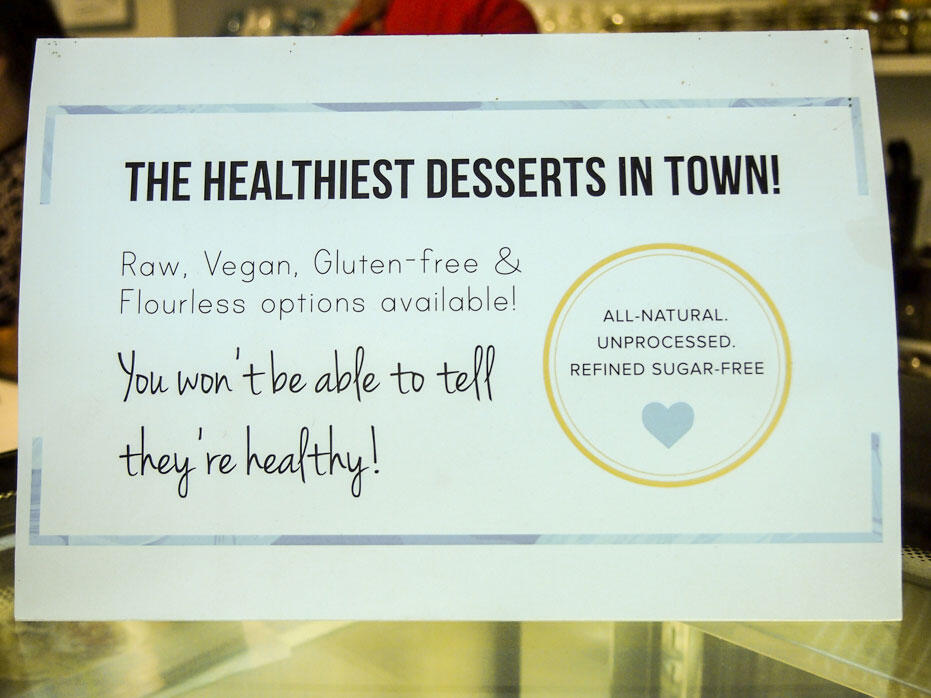 Dessert time at Raisin' the Roof means it's time to "Do your lips a flavour and hips a favour." All their sweet treats are made using real food ingredients and unrefined sweeteners. They're raw, vegan, gluten-free and dairy-free!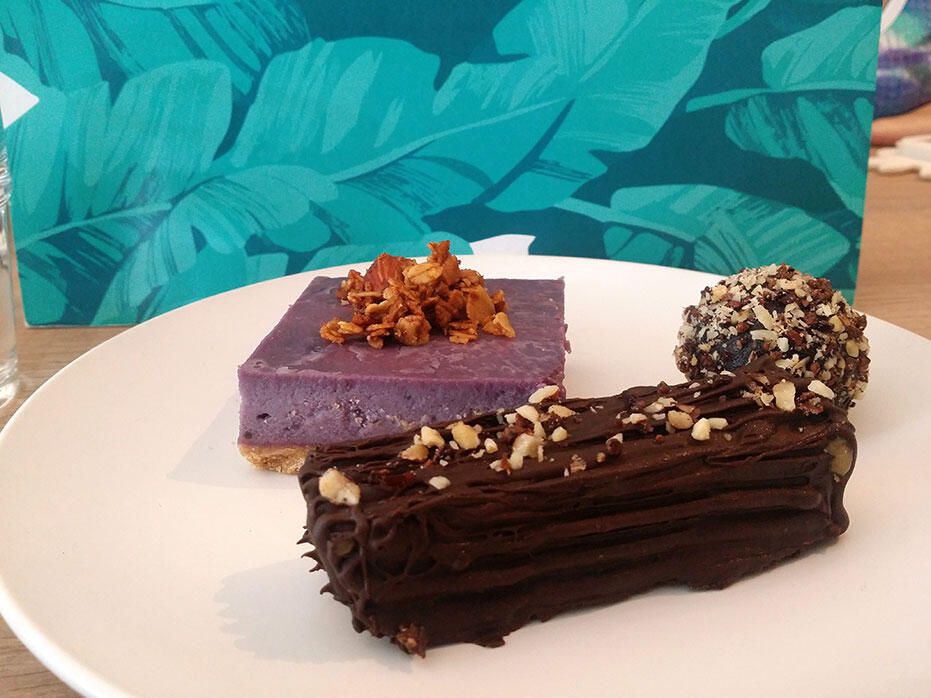 Clockwise from top left; Purple Pecan Pie made from sweet potato, Ferero Rocher, and Snickers Bar. They're raw emulations from the original and processed version.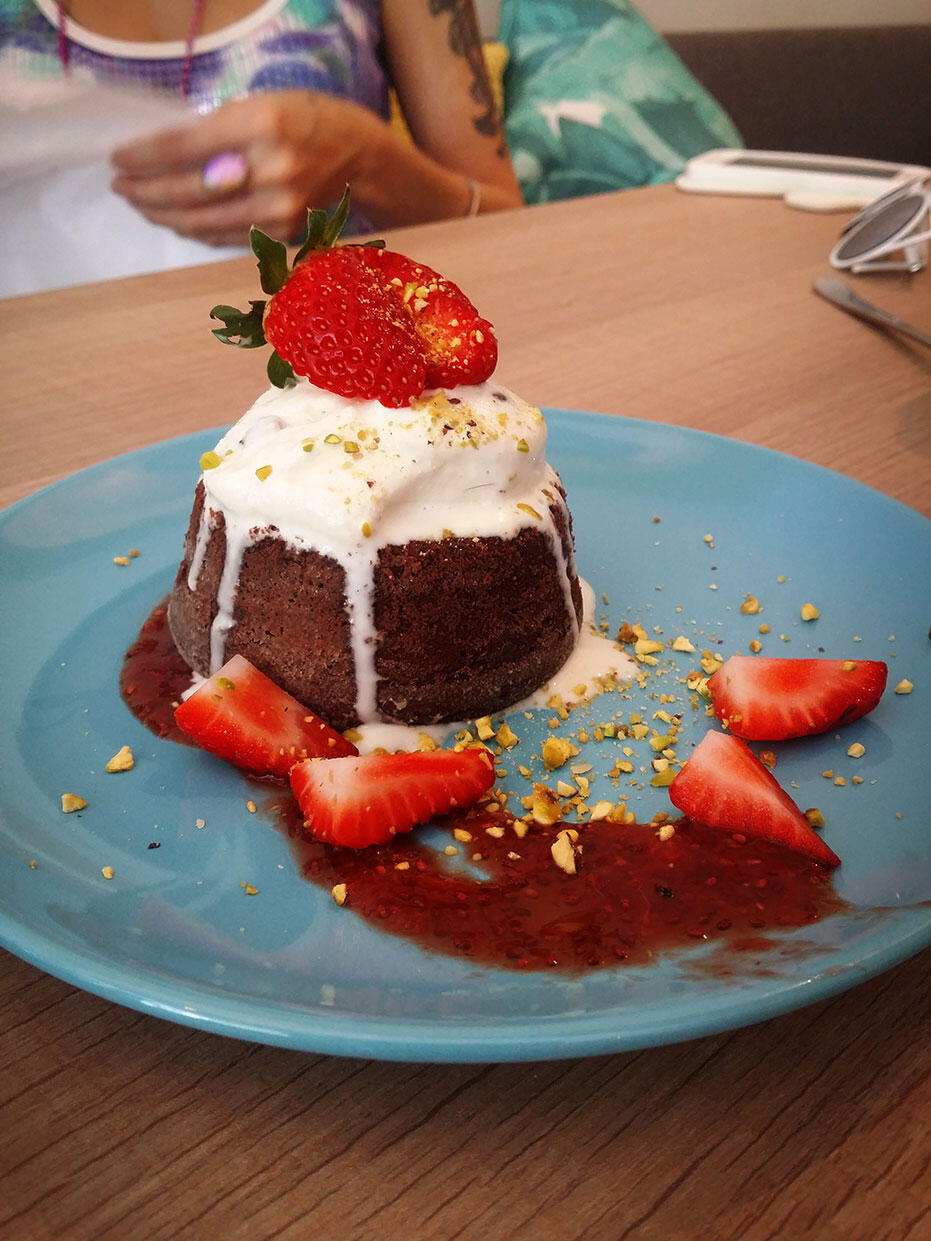 Chocolate Lava Cake (RM 15.90). The texture of the cake was perfect. It wasn't dense like the usual lava cakes that will make you jelak after awhile. Not only was it photogenic but divine!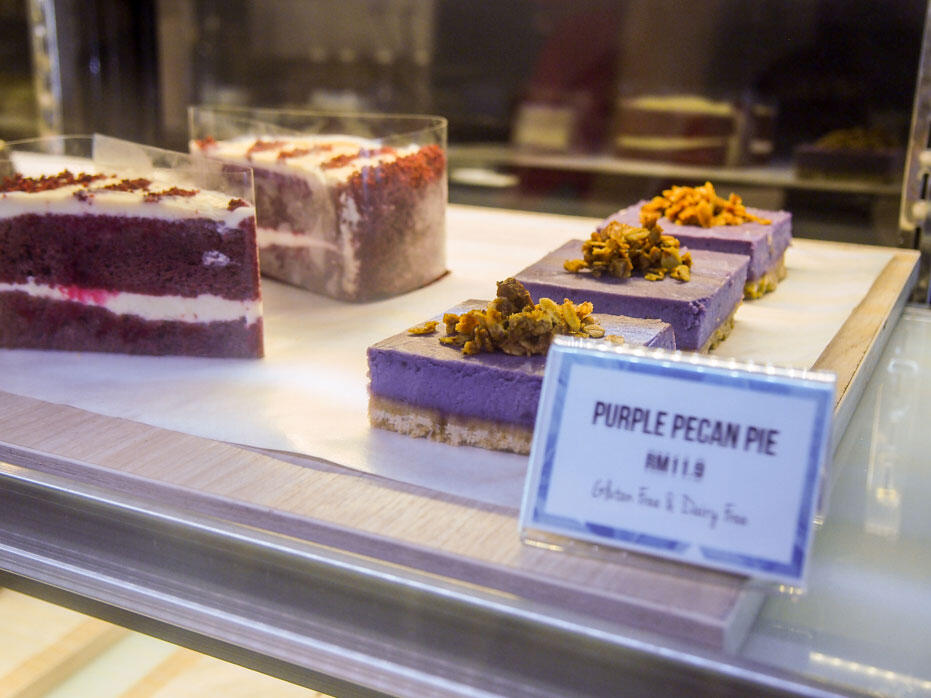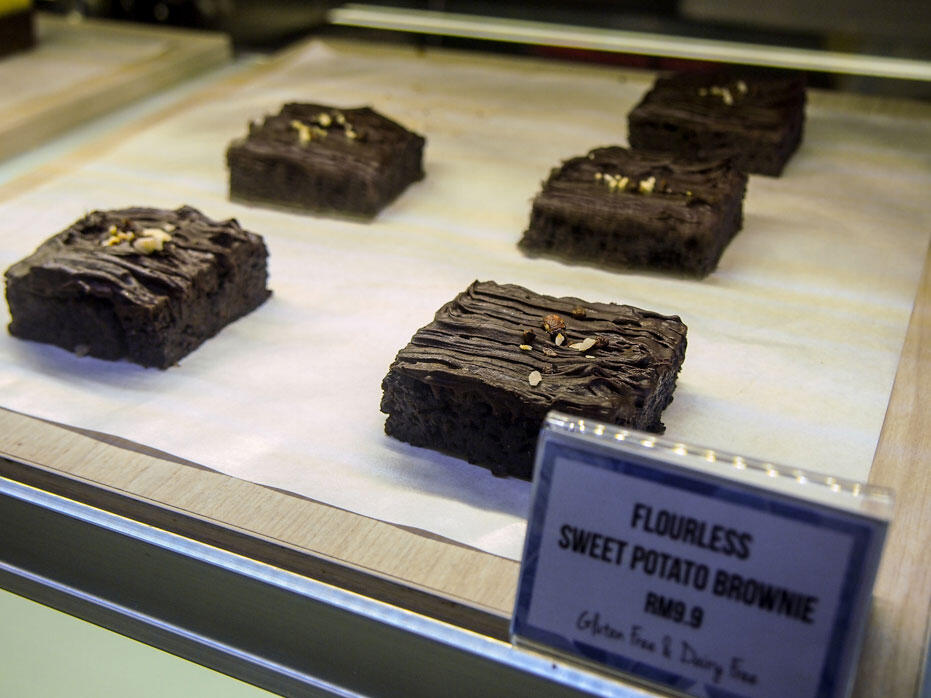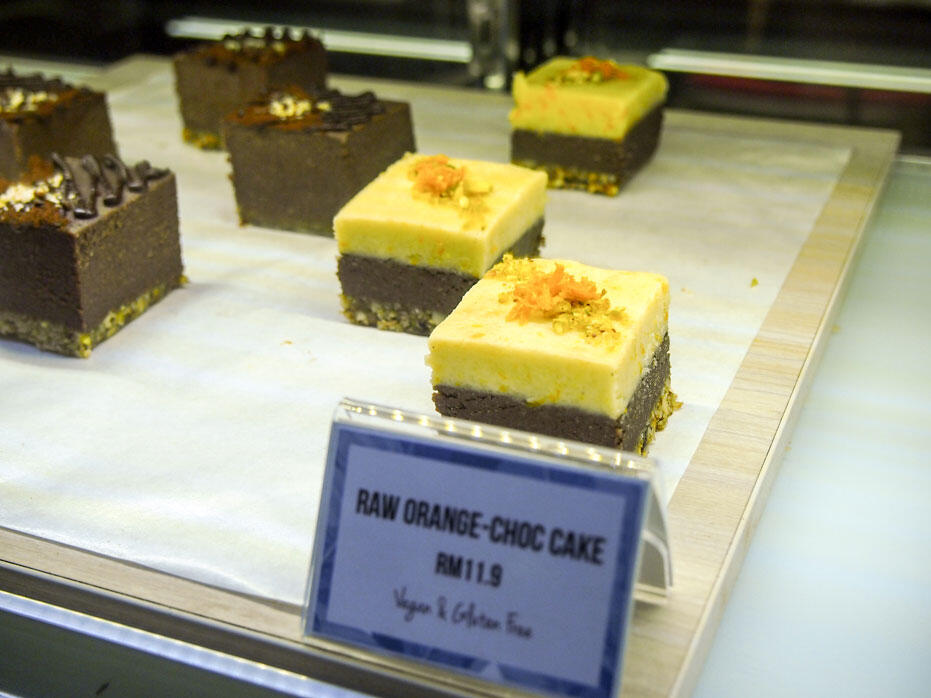 Raisin' the Roof also has a selection of wholesome and nutritious granola made of all-natural ingredients, priced from RM 39.90.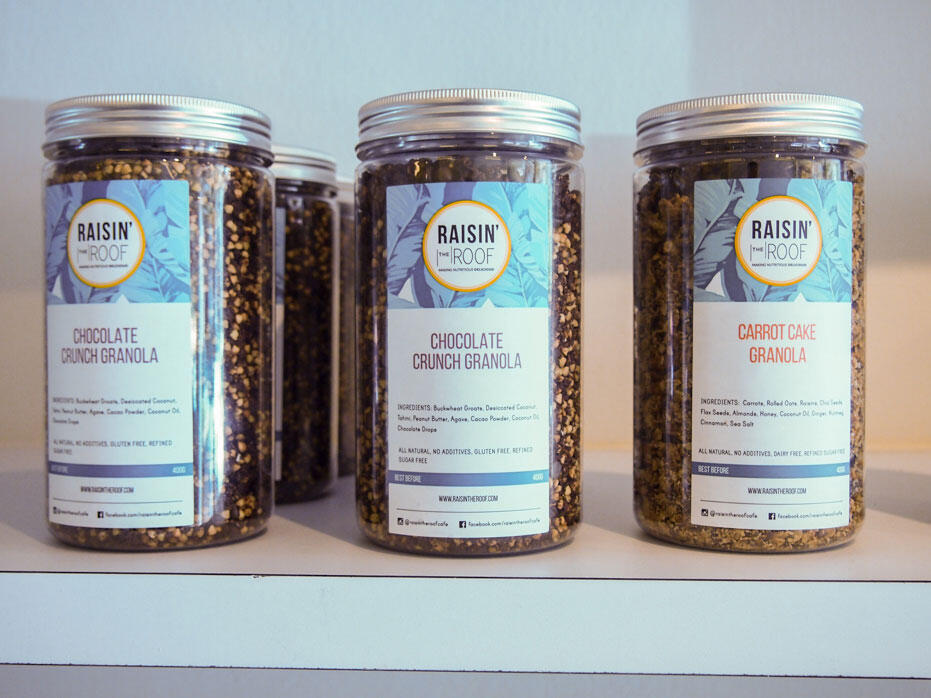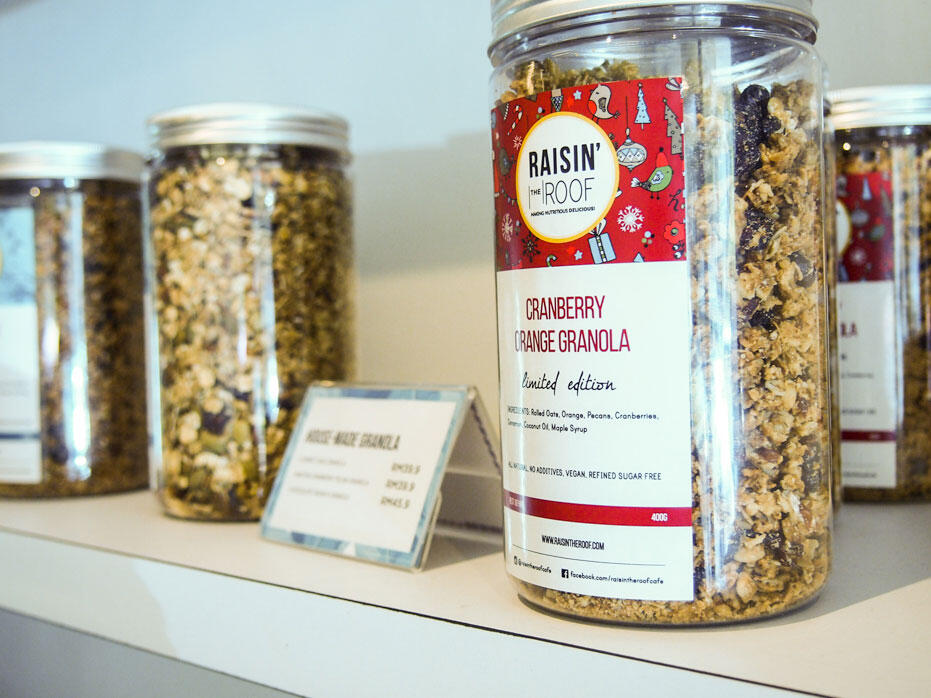 There's also a range of loose tea leaves where each tea contains unique benefits, ranging from lowering blood pressure and cholesterol to improving digestion to simply mood lifting.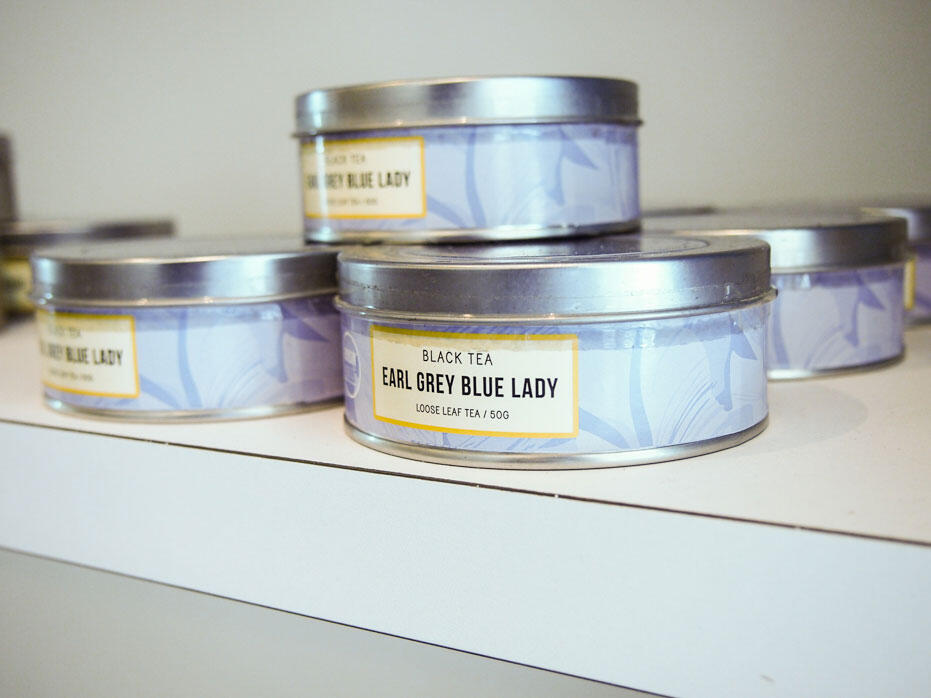 Raisin' the Roof will soon introduce delivery of their lunch boxes where you can have a healthy and wholesome meal delivered to your desk or doorstep! To Joyce's delight, they will be working on using packaging which is as environmental-friendly as possible.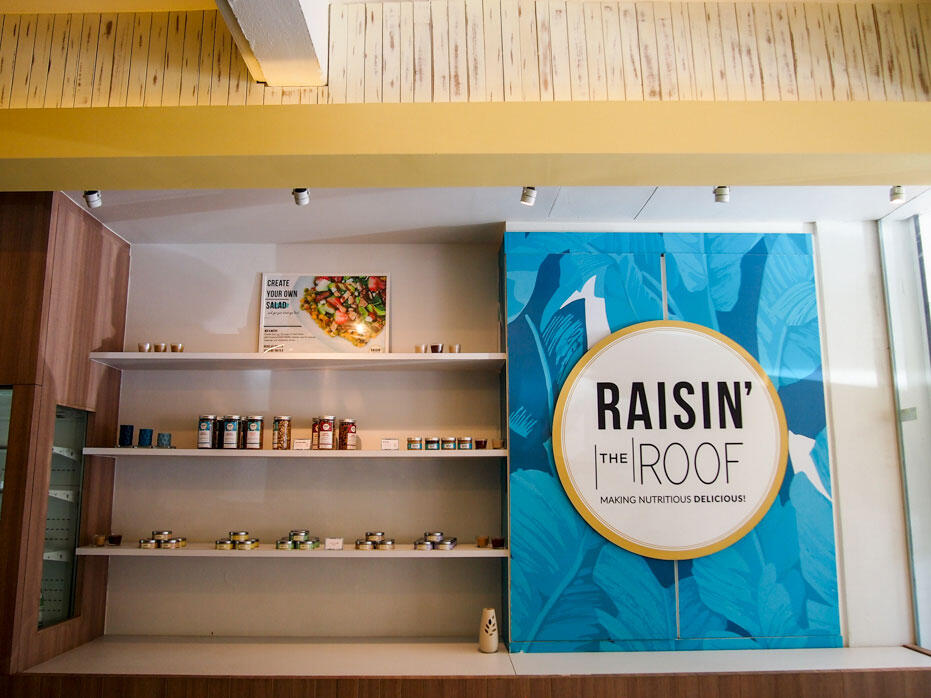 Thanks again for having us and for sutffing us silly with a hearty and wholesome lunch!
+ + + + + + +
Raisin' The Roof
No. 61, Jalan Medan Setia 1
Bukit Damansara
50490 Kuala Lumpur
Tel: +60 3-2011 5313
Open:
Monday – Thursday  (10AM – 8PM)
Saturday & Sunday  (9AM – 6.30PM)
Website: www.raisintheroof.com
Facebook: www.facebook.com/raisintheroofcafe
Instagram: @raisintheroofcafe