Jun took me to Bukit Tabur East to break in my new hiking shoes (cos we're climbing Kilimanjaro this Thursday. Erm yeahhhhh)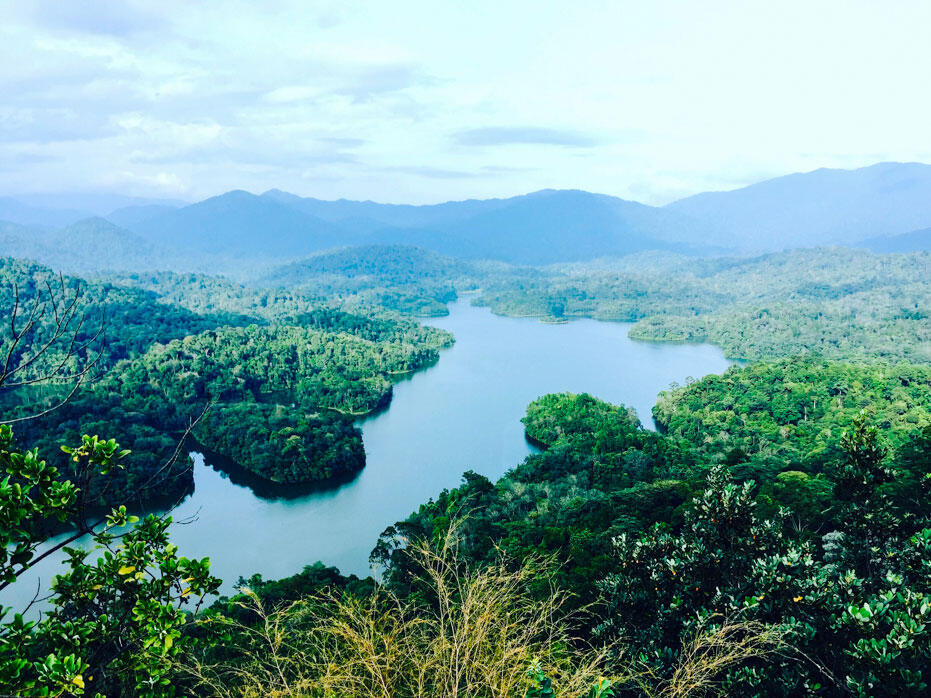 We fit it into a busy Saturday in between me running for Mya's 101-birthday Christmas party and some other errands i forget now.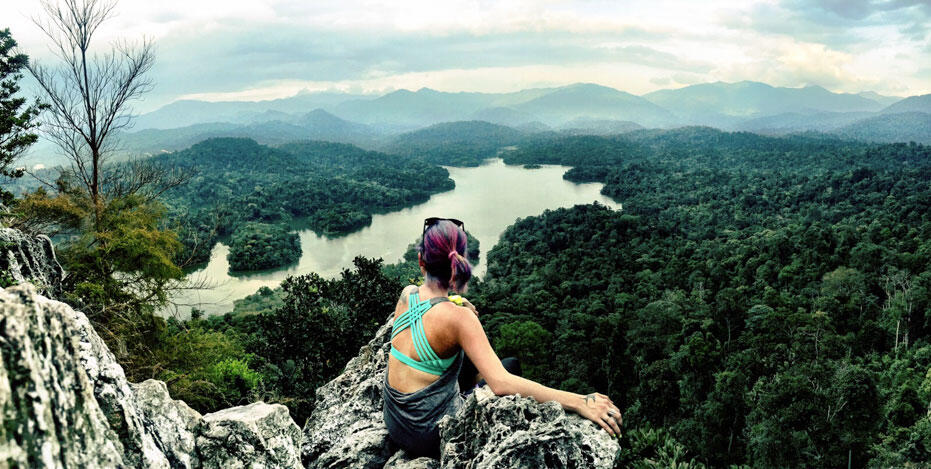 It was beautiful.
After some actual rock-climbing, where i was too busy trying not to fall off a rock face to take pictures, we chilled on the edge of a little cliff and observed the city on one side, and nature to our left.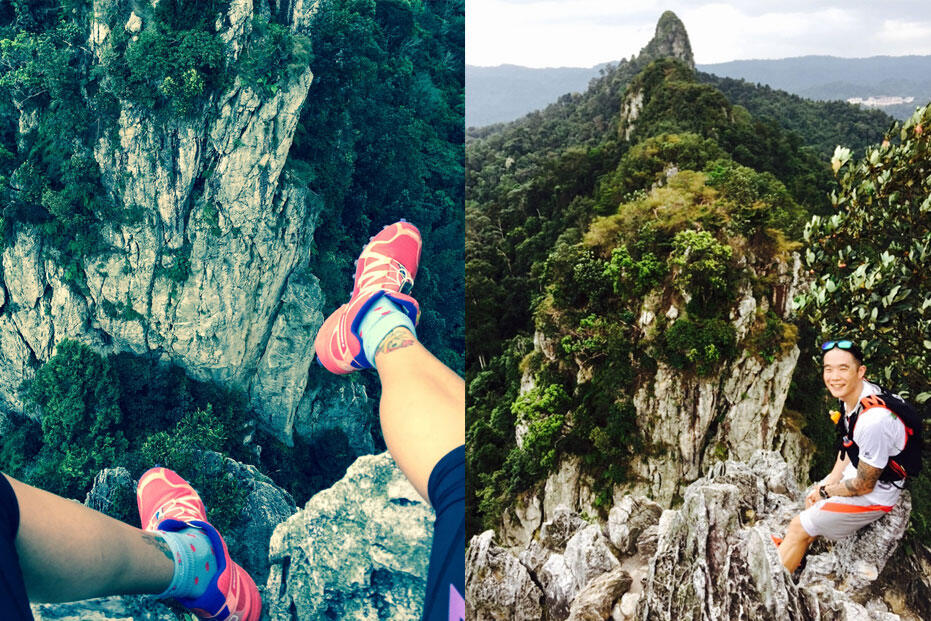 My new shoes from Salomon! I never even heard of this brand because actual hiking/sports accessories are a new world to me.
They are AMAZING. I just realised i've been hiking all over the world in shitty old (dangerous) sneakers!
I got these Salomons upstairs at Mid Valley (around RM500 on 30% sale) and they've got excellent grip on natural terrain!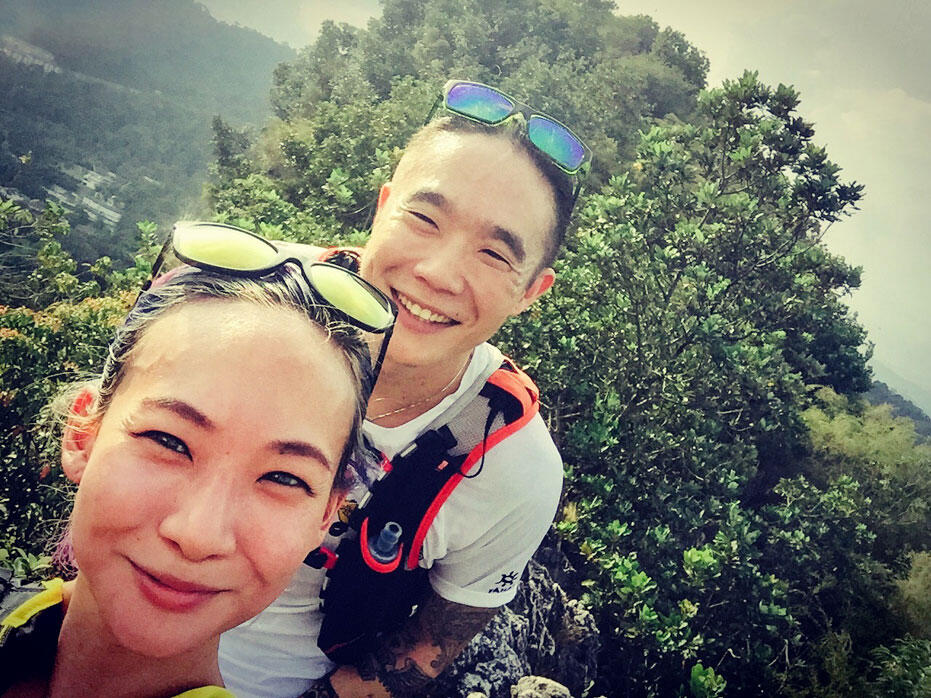 When i first started taking pix with Jun, i'd go, "Open your eyes!"
Him: I can't!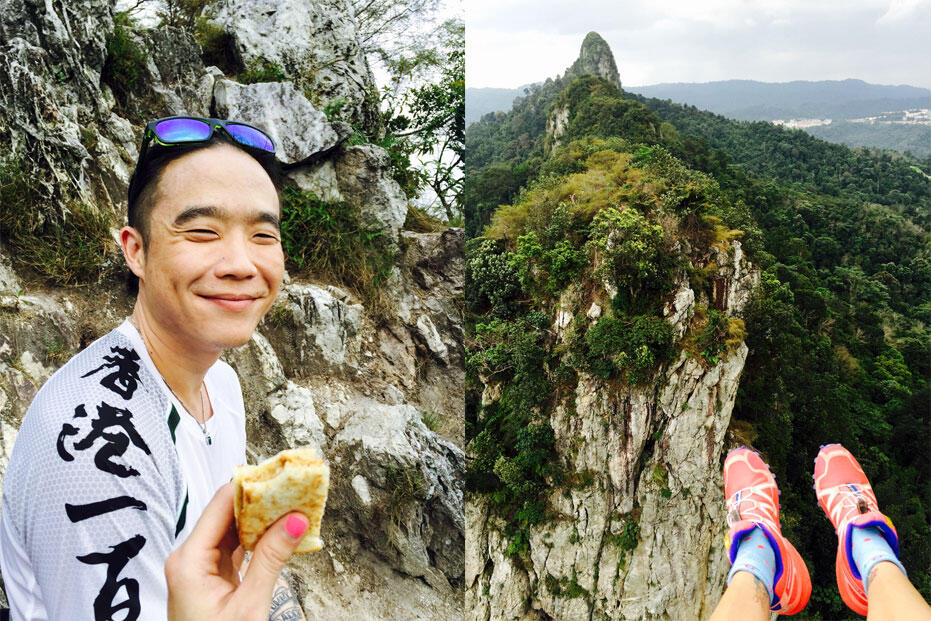 Look at that cute face! He packed my hiking bag, sandwiches, snacks and even filled my water bottle for me! ?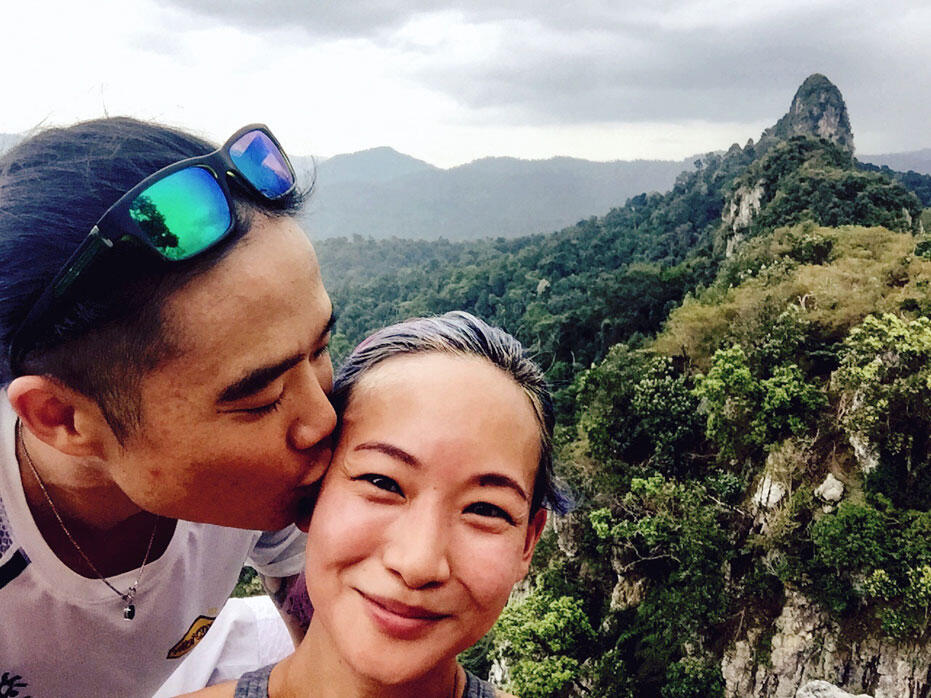 So… I have been very hesitant to write about the new man in my life.
Because i wasn't sure where it was going.
And also… i was afraid, of it not working out after i talk about it.
I mean, it might still not work out, i don't know right?!
Who knows what can happen in life!
I met Jun through Tinder in August and our first (non-)date was a Sunday night dinner with a couple of his friends.
He's the first and only guy in Malaysia i've met through tinder, and he was so openly communicative on chat that i felt like i could talk a lot to him/he wasn't a freak. Through his profile i knew we liked a lot of the same things – indie music, food, nature – and his career impressed me- he studied engineering, is a chef, and an athlete. The one picture that made me swipe right (is it right? i haven't gone on since i met him ?) was a shot of him holding out a bowl of ramen and grinning. Food and smiley face? Win. 
After our first meet-up he invited me to KK where he was doing the TMBT trail-run.
We hung out after his run, went for seafood, spent a day on the beach, and talked till late at night while having drinks.
When the girls asked me how it went, i said i was gonna friendzone him cos he was too awesome and i didn't want to lose him as a friend if i casually slept with him :p
Things just unfurled very slowly and naturally from there…
He would ask me out and i would go cos i wanted to see him.
i found out more things about him, and liked/loved every single thing about him.
He made/makeS me really happy!
I couldn't stop talking about him to my closest friends, and everything about him seemed so amazing, that they'd just stare at me and go, "IS THIS GUY FOR REAL?"
I told Rahul how he runs 100km and saves animals and Rahul was like, "Who is he? Jesus' son?"
I told Lexie about all the sweet things he'd do, and she'd go, "You're fucking kidding me. Are you making this up?"
I told Ben how he's a chef, and Ben told me it's a serial killer sign.
Me: How is that so?!
Ben: Hellooo, chef, knives, cutting? BIG SIGN WEI
I couldn't stop laughing.
Jun & i kissed when we went on a roadtrip to Penang, and then the courting really started.
He'd send me Spotify songs every morning and night, pick me up, open doors for me, bring me flowers, snacks from his kitchen… he brought food for the KBF team twice and got them to love him (-_-), cooked for me, remember what alcohol i liked best, introduced me to new topics of interest i never explored before, and i was just… really getting to know him slowly. Tell what kind of person he is. Weigh out realistically if this was something to pursue.
There are so many more factors to take into account when you're older and looking for a partner.
When i was single, i started listing down all these things i wanted in a man. Everything. I wanted this guy to be everything i wanted, or i wouldn't want him at all. I wanted him to be driven, hardworking, intelligent, caring, kind, loving, giving, affectionate, sensitive, creative, open-minded, adventurous, well-traveled, understanding, trusting, encouraging in my pursuits, family-oriented, spiritual, always evolving… and Jun happens to be all of that, and more that i probably still haven't discovered. So far he's the nicest person i've met in my life. He's so nice, he makes me want to be nicer, and i think i'm quite nice already! ???
I definitely fell in love with him more over Christmas season, when he helped me entertain groups of friends and helped me cook for family and friends on Christmas Day. He was/is an absolute dream. Baby keeps on telling how he's the best. Ira dubbed me Tinderella.
A couple of months ago, Jun asked me a couple of times to go to Kilimanjaro with him cos his cousin would be doing a climb in January.
Part of me didn't feel like it was the right time to go. I'd just moved into my home (read: broke), and already traveled so much in the past 6 months (the States, Europe, Japan, Europe again)… it just felt WRONG to go.
Then news of the passing of my college friend Michelle came to me. And it made me think about life.
How short it is. And how if i didn't take into consideration all these things i SHOULD or SHOULD NOT be doing, i'd just go.
So i told Jun i'd go to Kilimanjaro with him, cos i do love climbing mountains and who else better to do it with but responsible him.
I was quite unfazed by my decision and excitedly told friends about my trip.
Baby went to research it the day i told the team i'd be away in January, and came back to me the next day saying, "Panjat gunung? Bahaya tau!!!!"
Rahul was practically shouting, "Kilimanjaro?? Joyce, it's KILIMANJARO!"
I told Clem how it's gonna be a test of my endurance.
He said, "It's not a test, it's the final exam!"
Louis made me promise to train at Bukit Kiara at least thrice before my trip.
I was amused by everyone.
Jun said i was exceedingly calm for someone who's gonna be climbing one of the highest mountains in the world.
That was till yesterday.
It finally hit me that i'm attempting to really do this.
Like, there is no turning back.
I mean, realistically, i could turn back and walk back down the mountain, but i don't want to!!!
We've got our yellow fever shots, started taking our anti-malaria tablets, and Jun has bought me all these new things for camping i've never even heard about/needed before.
Compression pants, dry shampoo papers, baseliners to keep water out, you know what, i still don't even know what i'm talking about. He's basically prepared most of the things for me. All i did was get the lonely planet book on Tanzania (and even then i got Bespoke/Be Malas to get it for me :p), borrowed waterproof pants from Didi (THANK YOU FOR SAVING ME RM400), bought snacks, and external chargers.
It just hit me i'm going to be CAMPING for 8 days on a mountain.
CAMPING.
Me. Camping.
The only camping i've done is at the Isle of Wight festival.
I was so impressed by this solar-powered light Jun bought for our tent (that will be set up by porters) that i blurted, "The only time i camped in a tent, Yishyene and i used glowsticks as our light…"
There is a bit of apprehension and naturally, fear. But i'm trying to push it away and just ENVISION myself on the peak of that mountain, wearing my care bear costume.
Oh yeah, that was the first thing on my packing list. (I'm obviously so made for this.)
As i watched him test out our sleeping bags last night, i thought to myself, "I can't believe i'm going camping for 8 days. You asked for this Joyce. You asked the Universe to give you someone who loves nature and you got it. Great."
Of course i'm loving this deep inside.
I always wanted someone to take me out of my comfort zone into things i want to do more of – like travel and hike!
Over NYE, i felt something physically shift in my body.
I felt like my heart expanded and there was a big gaping space that looked like bright blue sky and fluffy white clouds.
My vision got clearer and brighter.
I felt like i was high but i was sober.
It was so strange.
I suddenly felt so ALIVE.
I have this knowing in me that i'm going to go through something extraordinary, and this is gonna change me for life.
I've gone through so many wonderful experiences and done a lot of crazy things (cliff dived 15 metres in Boracay, bungy jumped off the highest one in the world, etc) but i just FEEL like this is gonna be the one of the craziest ones yet…
Our climbing itinerary:
+ + + + + + + + +
Mount Kilimanjaro climbing itinerary:
7th January 2016 Day 1 Arrival Tanzania transfer to Moshi for overnight Park View Hotel www.pvim.com
Park view hotel in Moshi.
8th January 2016 Day 2 Drive to Londorossi Park Gate (2,360m or 7,420 ft) and climbing to Mti Mkubwa Camp (2,895 meters or 9,498 feet)
Hiking hours 5-6 hours.
Distance 8 Km or 5 miles.
9th January 2016 Day 3 Climbing from Mti Mkubwa Camp to Shira Camp 1 (3,505 m or 11,500 feet)
Hiking hours 3-4 hours.
Distance 6 Km or 6 miles.
10th January 2016 Day 4 Climbing from Shira Camp 1 to Shira Camp 2 (3,840 meters or 12,600 feet)
Hiking hours 5-6 hours.
Distance 8 Km or 5 miles
11th January 2016 Day 5 Climbing from Shira Camp 2 to Barranco Camp (3,976 meters or 13,044 feet)
Hiking hours 8-9 hours.
Distance 8 Km or 5 miles
12nd  January 2016 Day 6 Climbing from Barranco Camp to Karanga Valley Camp (3,995 meters 13,106 feet)
Hiking hours 4-5 hours.
Distance 5 Km or 3 miles
13th January 2016 Day 7 Karanga Valley to Barafu Camp (4,600 meters or 15,100 feet)
Hiking hours 4-5 hours.
Distance 4 Km or 2 miles
14th January 2016 Day 8 Climbing to Uhuru Peak (5,895 meters or 19,341 feet)
Hiking hours 7-8 hours and distance 5 Km or 3 miles, then descend through Barafu for short rest and continue to to Mweka Camp (3,060 meters or 10,065 feet) 4-5 hours with distance 12 Km or 7 miles.
15th January 2016 Day 9 Descend to Mweka Gate (4,600)
Hiking hours 4-5 hours.
Distance 4 Km or 2 miles4 hours transfer to at or Park View Hotel www.pvim.com
Hiking hours 4-5 hours.
Distance 4 Km or 2 miles
16th January 2016 Day 10 Continue with Serengeti migration safari
+ + + + + + + + +
I think it'll be most challenging for me Day 5 onwards… as the altitude will be much higher.
Send good thoughts and imagine us on the peak, please?
I love you!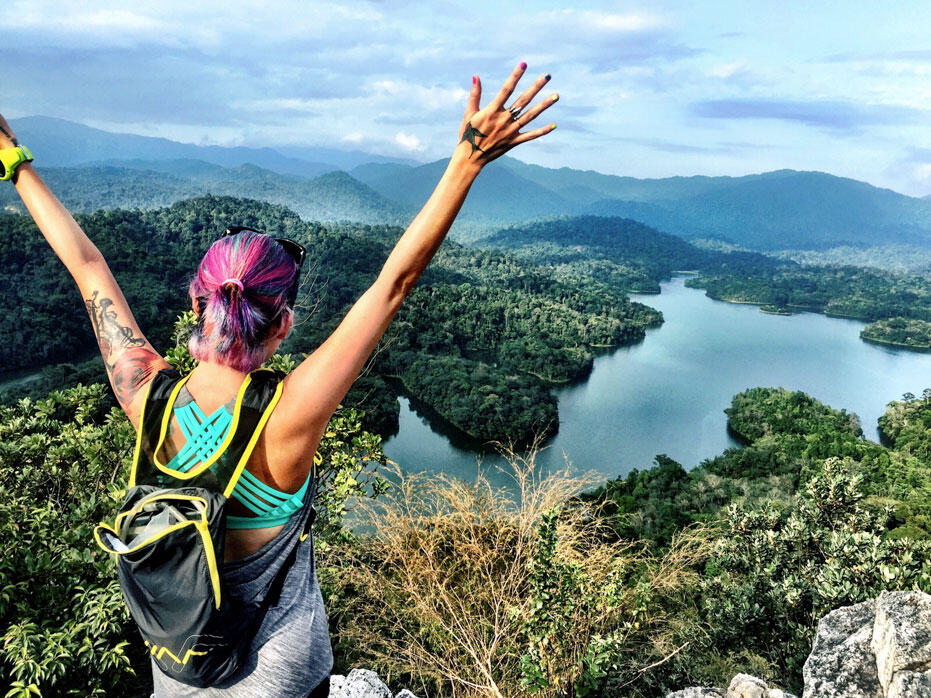 I want to be like this on the peak of Mount Kilimanjaro in 8 days' time.
And i will be.
Little prayer: Please Universe give us the strength and focus to take every step and stride with safety and confidence, and keep us safe. I want to explore this magnificent mountain on this beautiful planet. I want to weep at the beauty of your grandeur. I want to live this life as strongly as i can. Lots and lots of love.