One evening i joined Josh, Cammy and Kenny for the Hennessy dinner at Zebra Square. Josh picked me up in the evening and it was the first time in ages since i'd managed to catch up with him. It was such a pleasure to chat leisurely in the traffic (maybe not as leisurely for him driving) and delve into deep personal perspectives about work and relationships. I tend to thrive more on drawn out one-on-one conversations these days. Age showing? Oh stop it, age is but a number, i always tell myself that.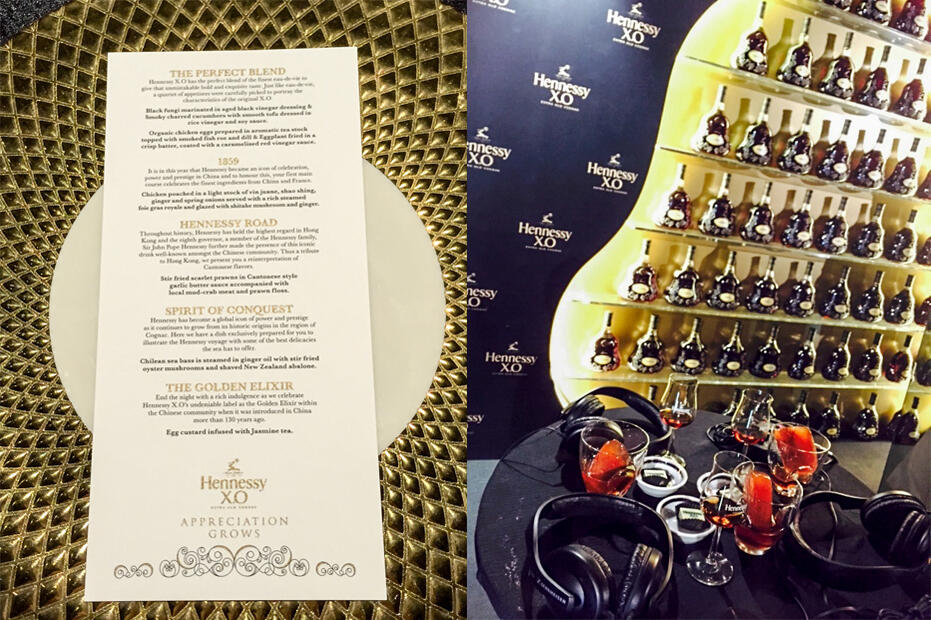 We were ushered through the red carpet entrance of the venue into a greeting area where glasses of Hennessy, chocolate, and ice made from pu erh tea were carefully laid out next to headphones. The host gave us an introduction to appreciating Hennessy, via the headphones (good call on decreasing distraction!).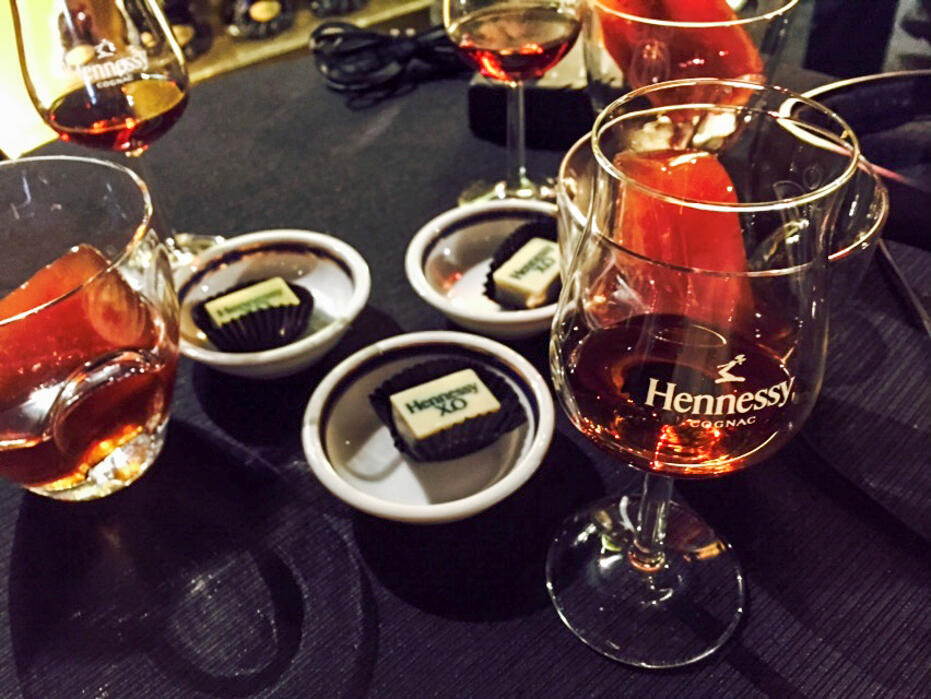 Nibbling on branded morsels of chocolate in between sips of Hennessy opened up my eyes tastebuds on how marvelous an unassuming yet delightful concoction it could be. If you haven't yet tried chocolate with Hennessy, do yourself a favour! The sweetness of the choc opened up notes in the cognac that took me over by surprise.
We entered a larger decorated area made to look like a garden, where we met Cammy and Kenny, and bumped into a few more friends. Cammy and Josh started taking vocal jabs at each other, and i had fun taking Josh's side (just cos it's amusing to observe Cammy's annoyance haha). They've known each other since school so the sibling-like bickering is typical. There are stories of Josh being chased by Cammy's dad in a car when they were teenagers, being reiterated.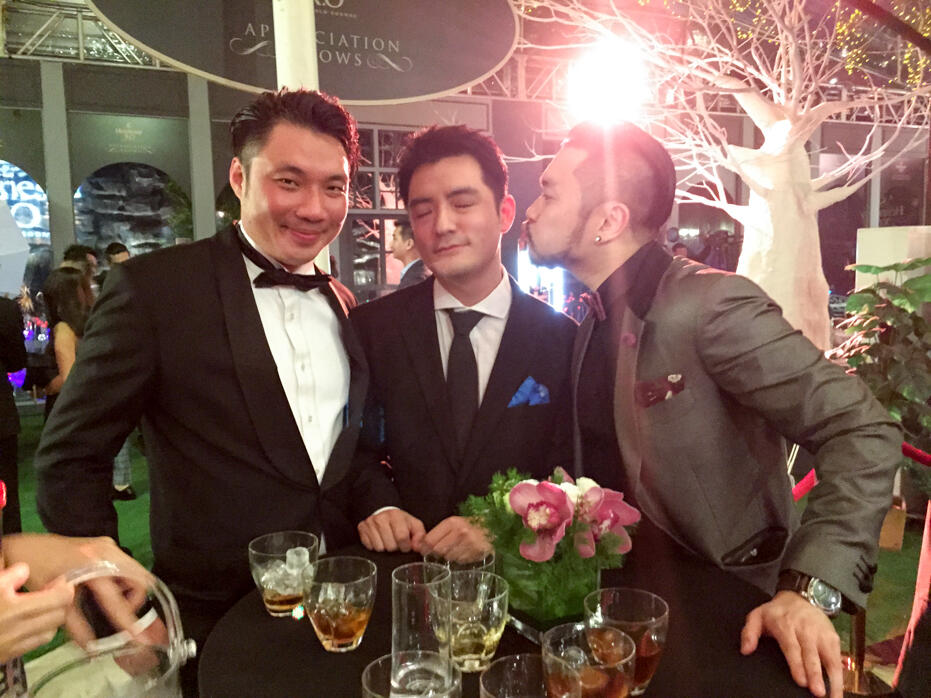 Kenny, Josh, and Dennis trying to give a smooch.
Josh is all 'please don't' and shuts his eyes while the pic is being taken in the process.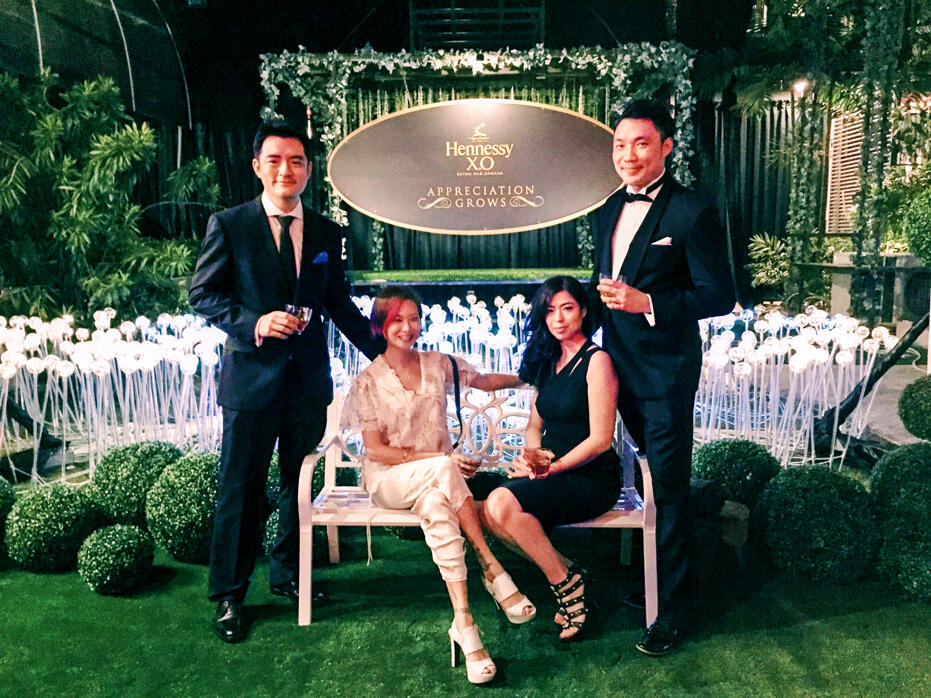 Wongs and the Loh-Lohs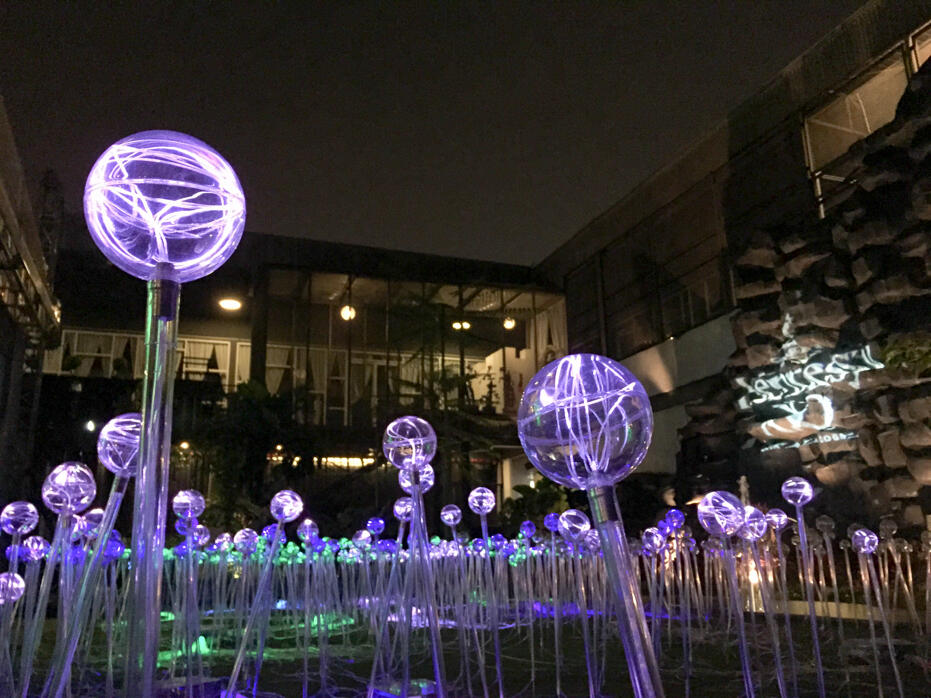 To celebrate 250 years of appreciation, Hennessy flew down Chef Victor Liong of Melbourne's Lee Ho Fook to prepare a contemporary Chinese dinner to complement our Hennessy drinks for the night. A nominee for best new talent in Gourmet Traveller 2014, Chef Victor loves using locally-sourced ingredients, modern techniques and an innovative style from previous fine dining training teamed with his passion for the rich history of Chinese food and culture.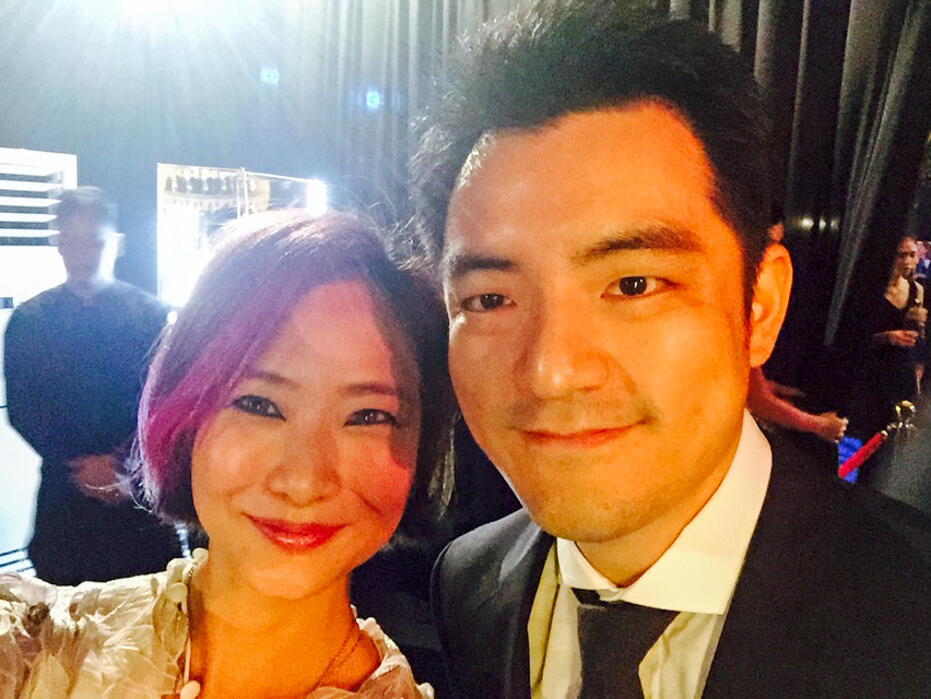 With Josh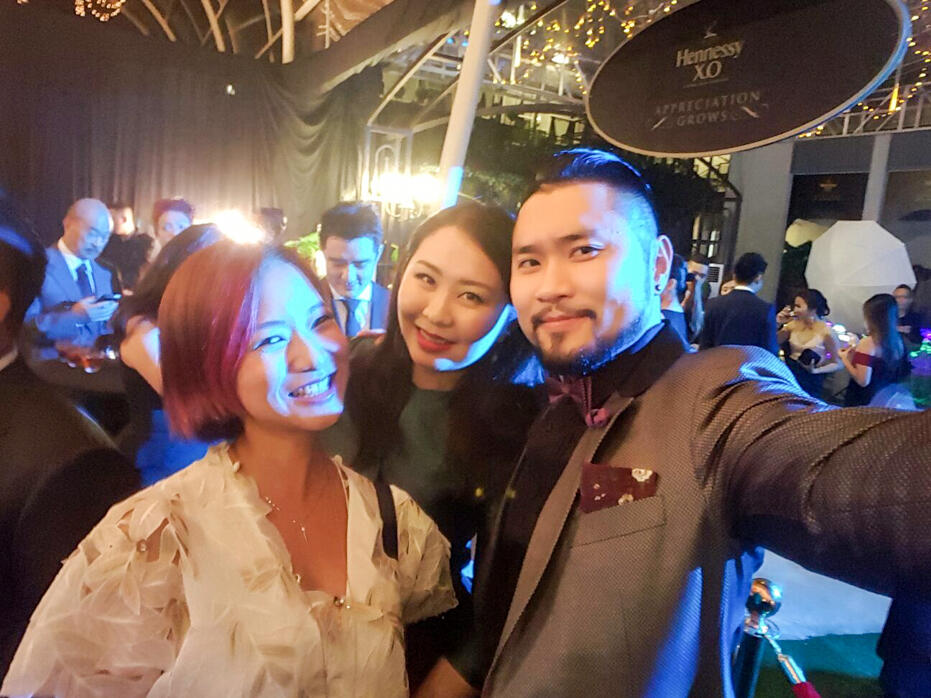 Me, Aisan and Dennis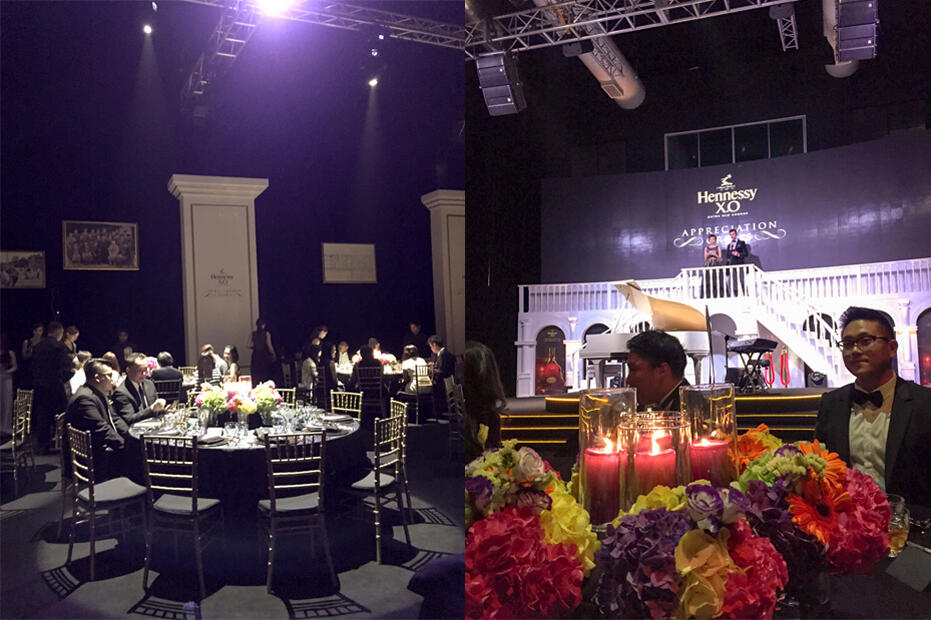 Will Quah emceed in English, while his female Chinese counterpart, in Mandarin. I have no idea who she is. My disability in understanding Mandarin is my excuse.
Appetiser:
"Hennessy X.O. has the perfect blend of the finest eau-de-vie to give an unmistakable bold and exquisite taste. Just like eau-de-vie, a quartet of appetisers were carefully picked to portray the characteristics of the original X.O."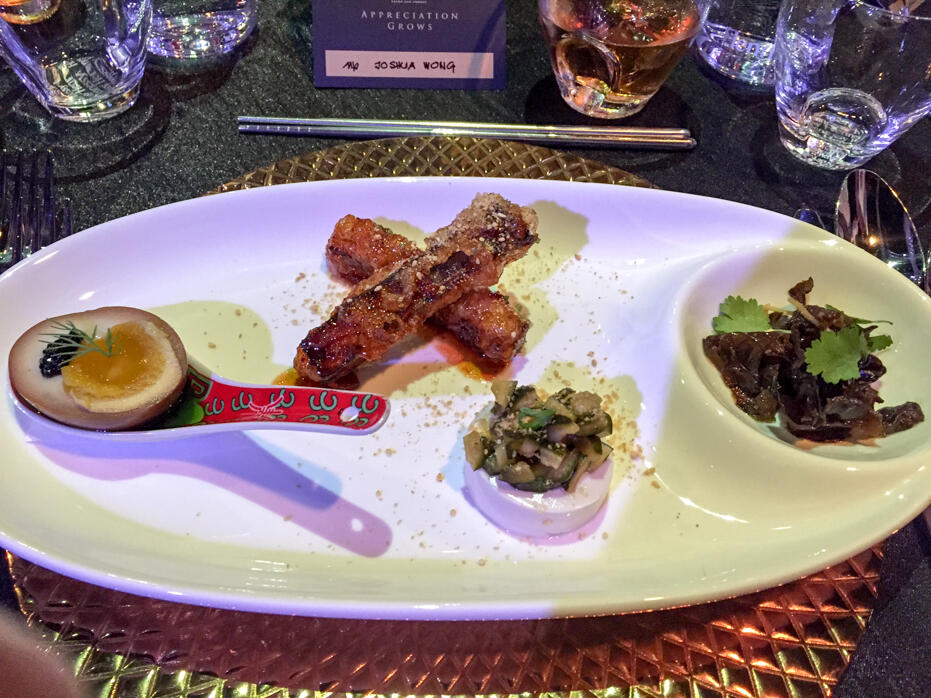 Organic chicken eggs prepared in aromatic tea stock topped with smoked fish roe and dill;
eggplant fried in a crisp batter, coated with a caramelised red vinegar sauce;
smoky charred cucumbers with smooth tofu dressed in rice vinegar and soy sauce;
black fungi marinated in aged black vinegar dressing.
I tried to start with what i figured would have the most subtle taste (tofu) and work my way up to the eggplant, but in retrospect i really should have gone left to right. Though i would stubbornly still have finished with the eggplant for my last mouthful – cos it had a thin deep fried coating that was crisp to perfection. I'm still fantasizing about eggplant done that way.
First main course:
"1859 – It is in this year that Hennessy became an icon of celebration, power and prestige in China and to honour tis, your first main course celebrates the finest ingredients from China and France."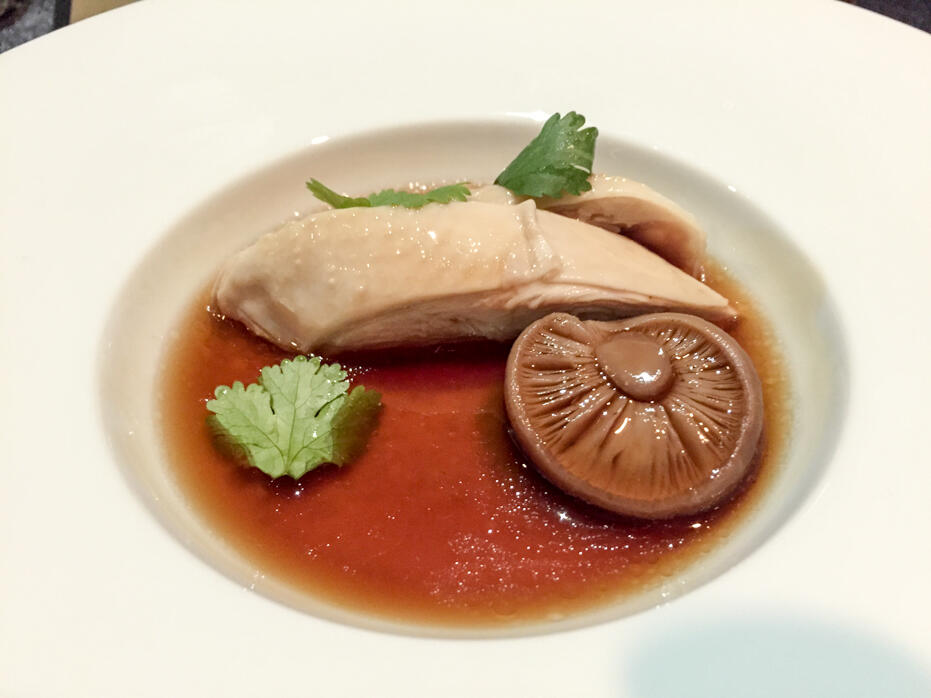 Chicken poached in a light stock of vin juane, shao shing, ginger and spring onions served with a rich steamed foie gras royale and glazed with shitake mushroom and ginger.
Second main course:
"Hennessy Road – Throughout history, Hennessy has held the highest regard in Hong Kong and the eighth governor, a member of the Hennessy family, Sir John Pope Hennessy further made the presence of this iconic drink well-known amongst the Chinese community. Thus a tribute to Hong Kong, a reinterpretation of Cantonese flavours."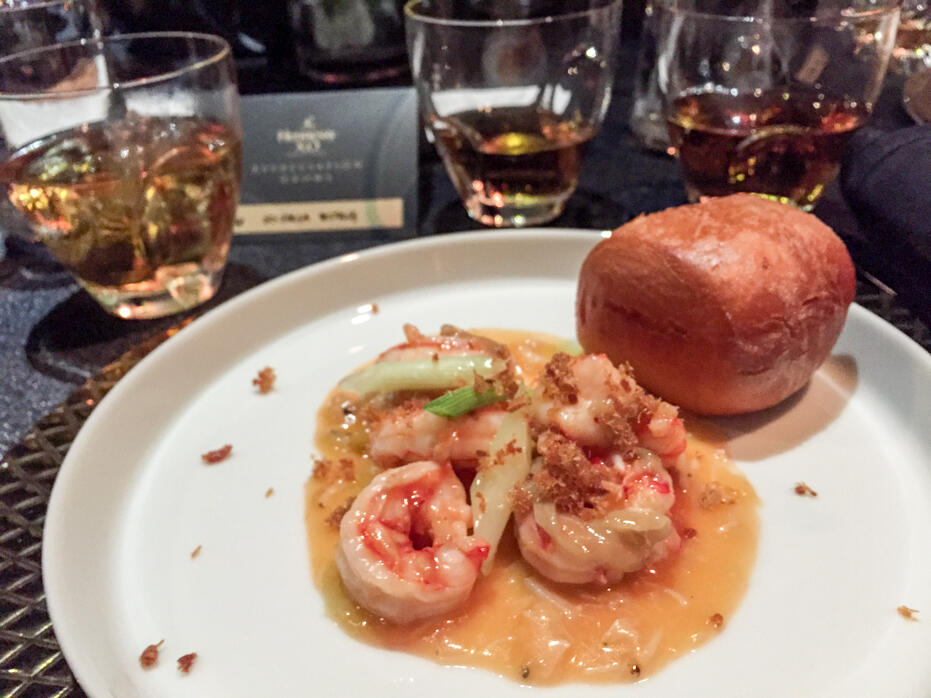 Stir fried scarlet prawns in Cantonese style garlic butter sauce accompanied with local mud-crab meat and prawn floss.
For our third main course, we had Chilean sea bass steamed in ginger oil with stir fried oyster mushrooms and shaved New Zealand abalone.
It was soft, delicate and delicious. There isn't a picture. My excuse is the drink.
Our final course of the night was dessert – egg custard infused with Jasmine tea.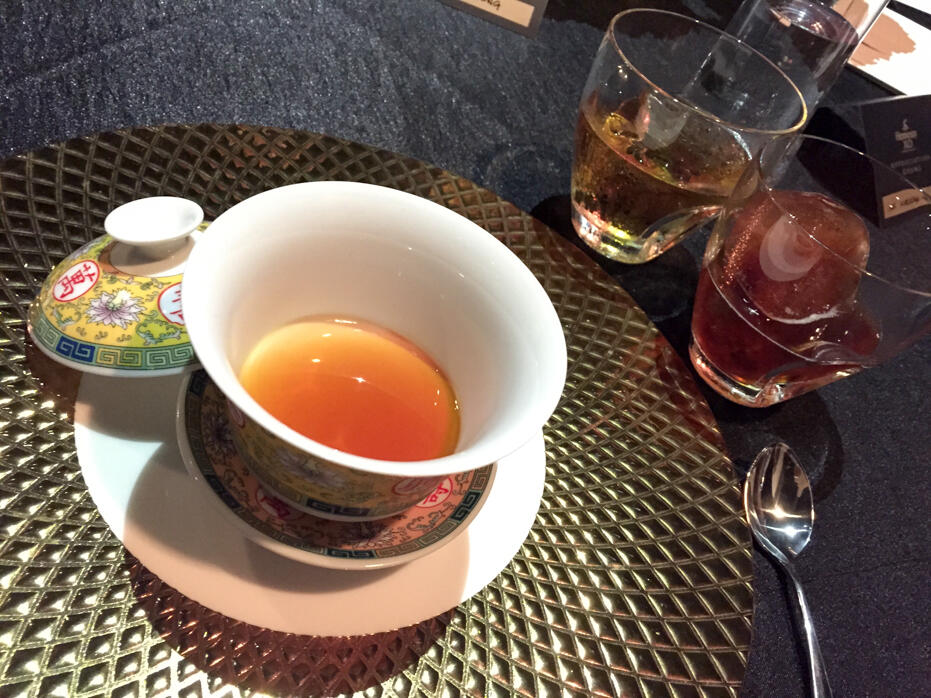 By the end of the night, my body and heart were full from spirited conversation and delectable food.
It was one of those nights i went home tired from a long day's work and activities, but with the thought, "Life is good."
I'm so easily tided over by satisfying food and drink!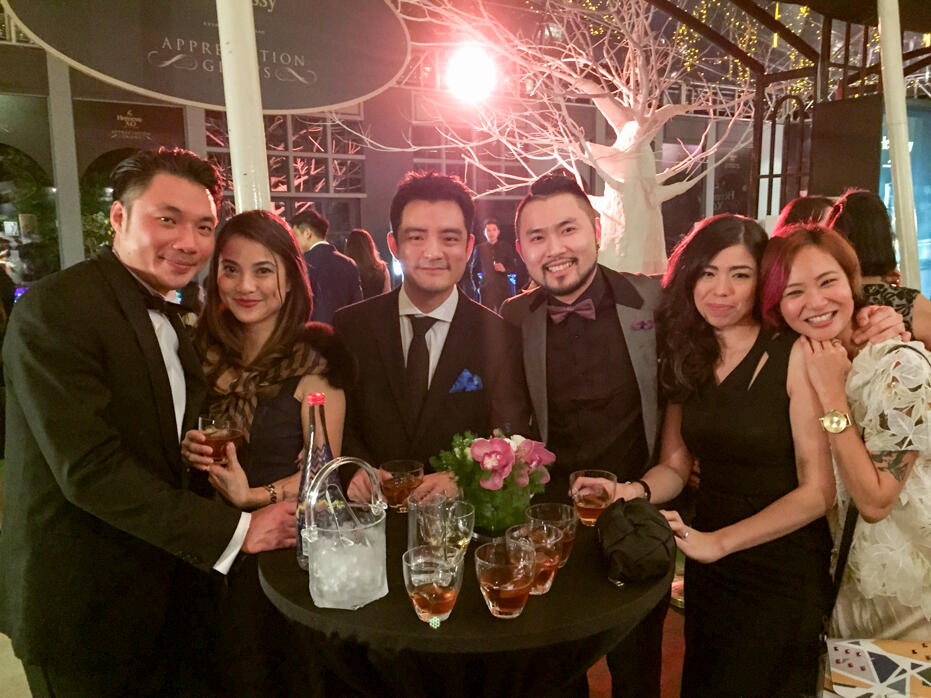 Kenny, Huey Min, Josh, Dennis, Cammy (making an annoyed face) and me.