I was flown to Singapore for a whirlwind trip to attend a fashion show by Triumph.
Little did i know the magnitude of the event… i thought it might be me and a few other media, but there was a big group from Malaysia and i was seated next to Deborah on the plane, during which i passed out the entire time!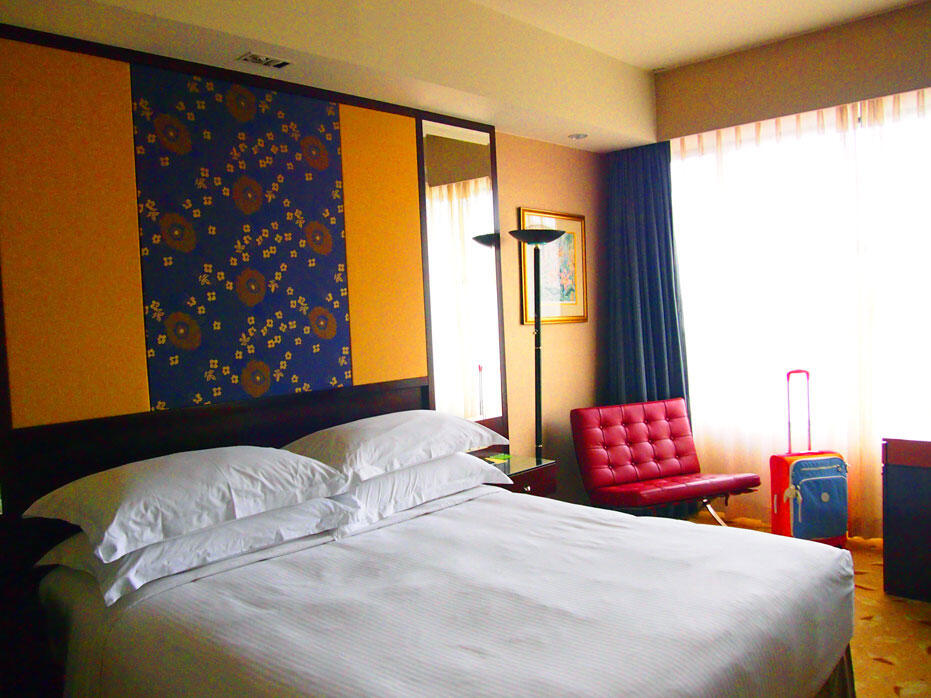 Spot my cute Kipling x Natalie Joos cabin bag in the corner. We were promptly checked in to the Royal Plaza on Scotts where i hurriedly jumped to getting some emails done, make up and dress up; while stuffing large bites of delicious cod fish + vegetables and creme brûlée into my mouth in between!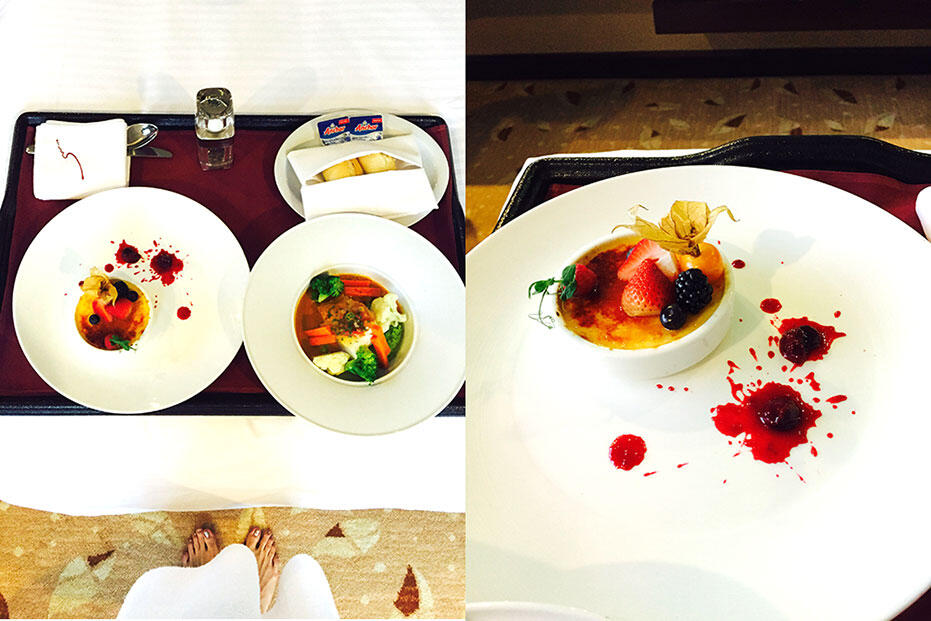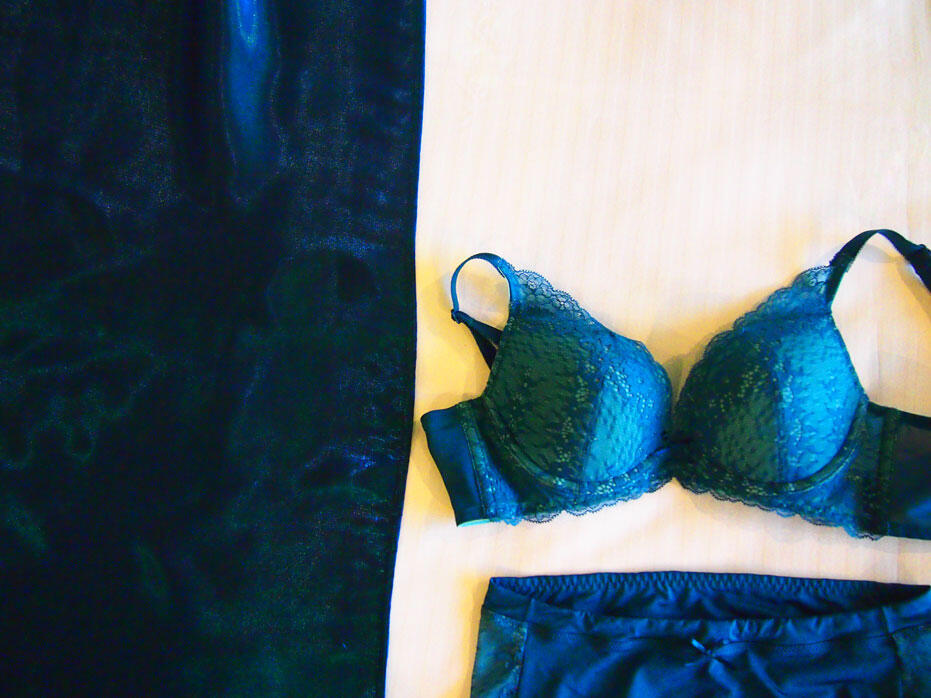 Unashamedly showing how i got my Triumph Aqua Maximizer bra and underwear to perfectly match my dress.
The theme that night was "Enchanted Glamour" and i decided to grab a shiny blue dress i got from Ecstatic Empire cos it seemed the most appropriate, and went with my hair!
[Btw KinkyBlueFairy readers enjoy RM20* off when purchasing a Triumph Maximizer bra till end of this month.
Just give a Magic Code "JoyceMagic20" at selected Triumph counters.]
There were so many of us Malaysian media and personalities that the Triumph team got a coach to transport us to MoCA Museum of Contemporary Arts @ Loewen, where the event was held.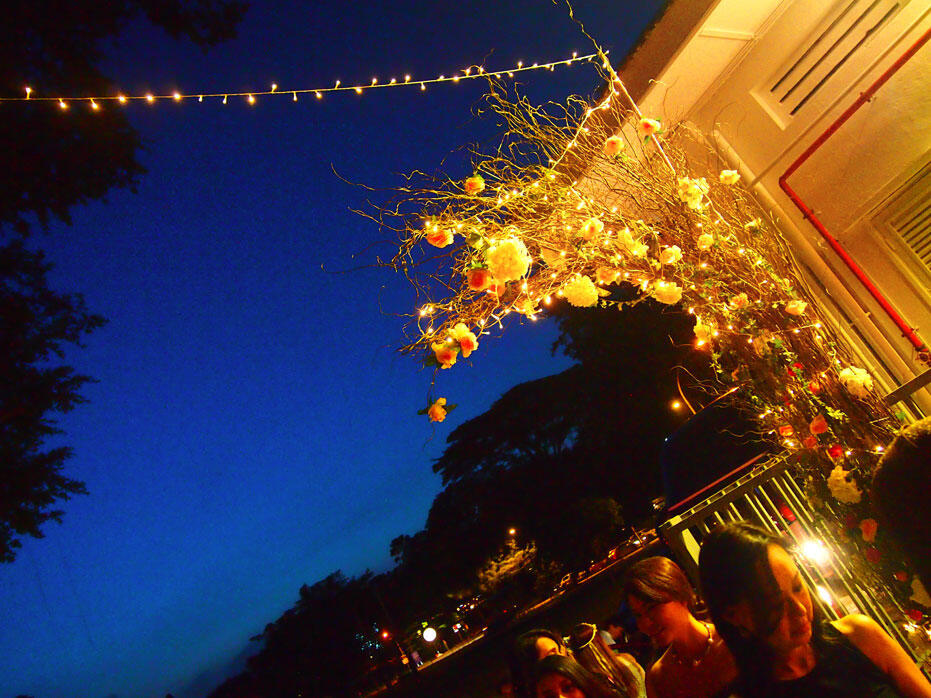 I was feeling some enchanted garden vibes at the entrance already!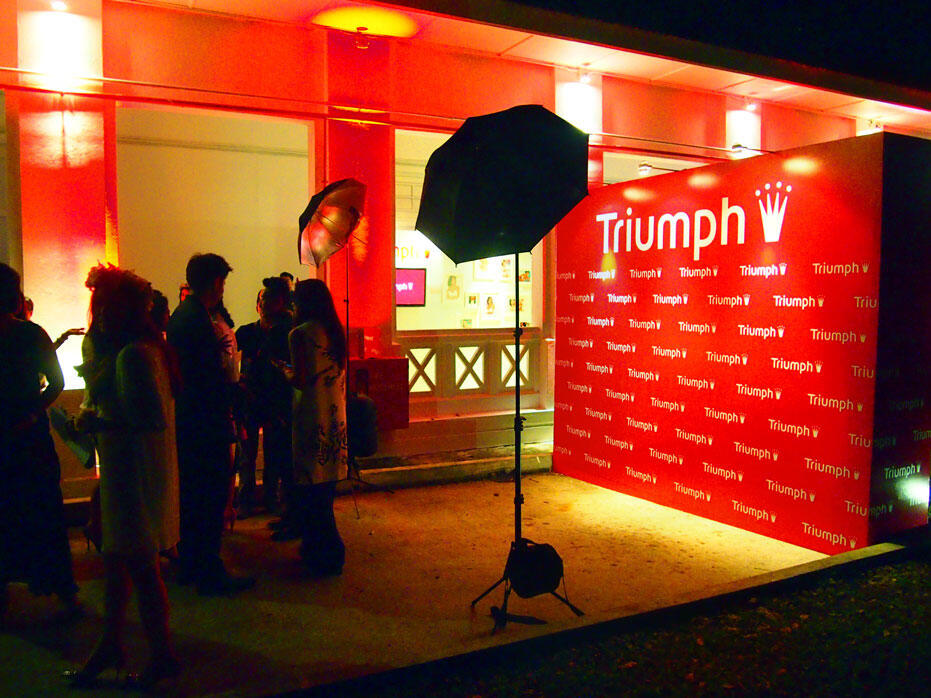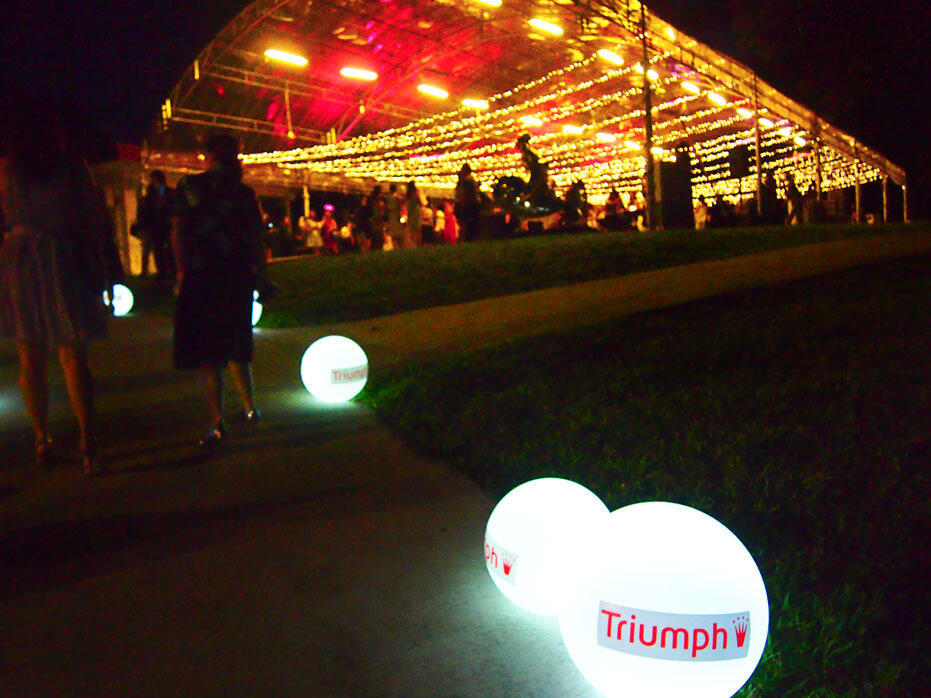 We headed up a little incline to a huge tent strung with scores of fairy lights,
champagne and canapés going around, and a band playing.
This was a real party going on! (Apparently over 400 guests were invited)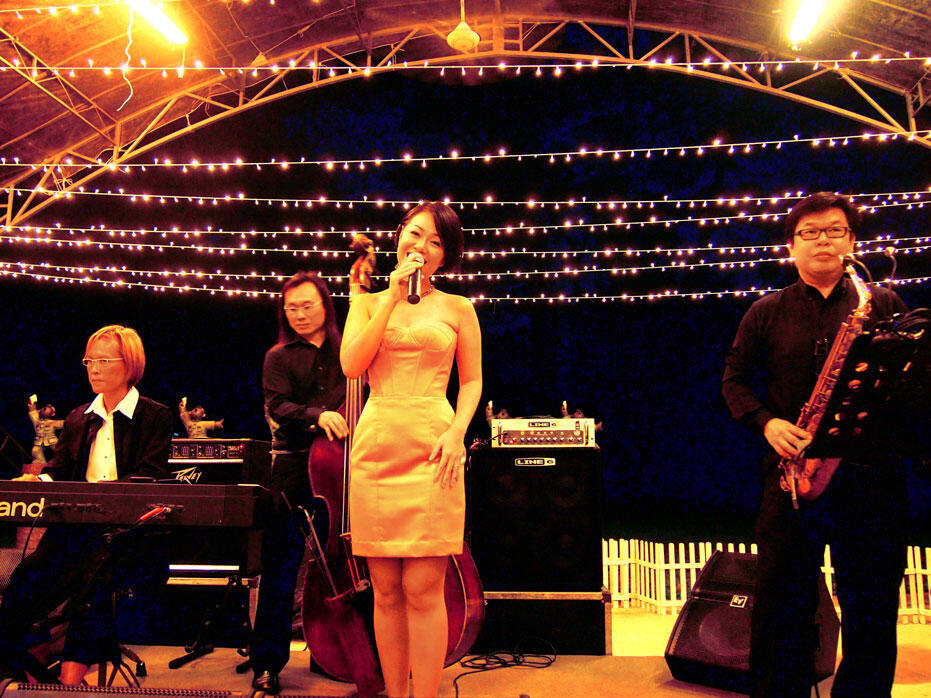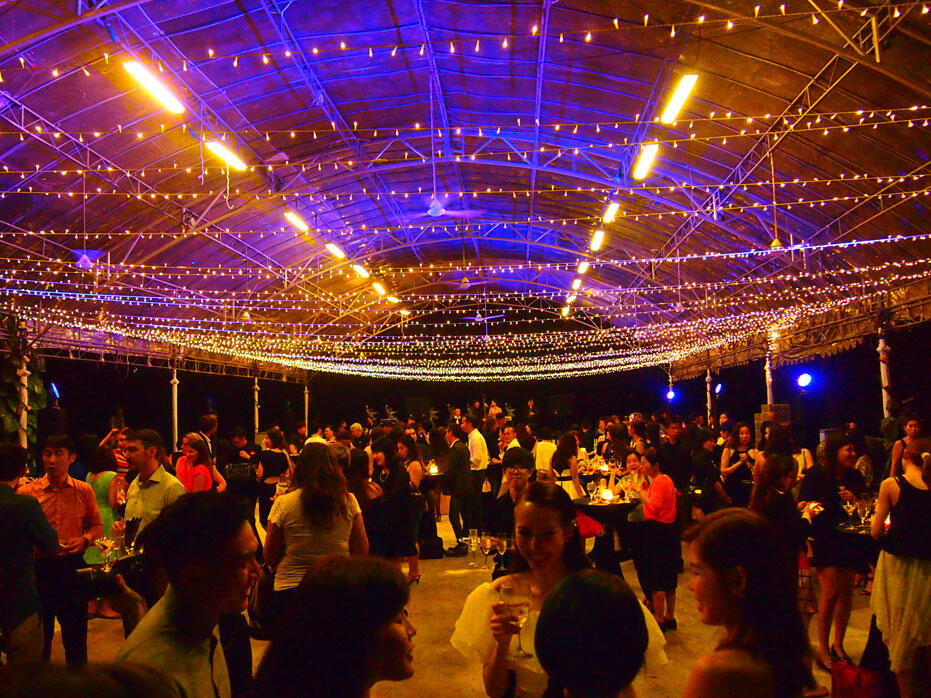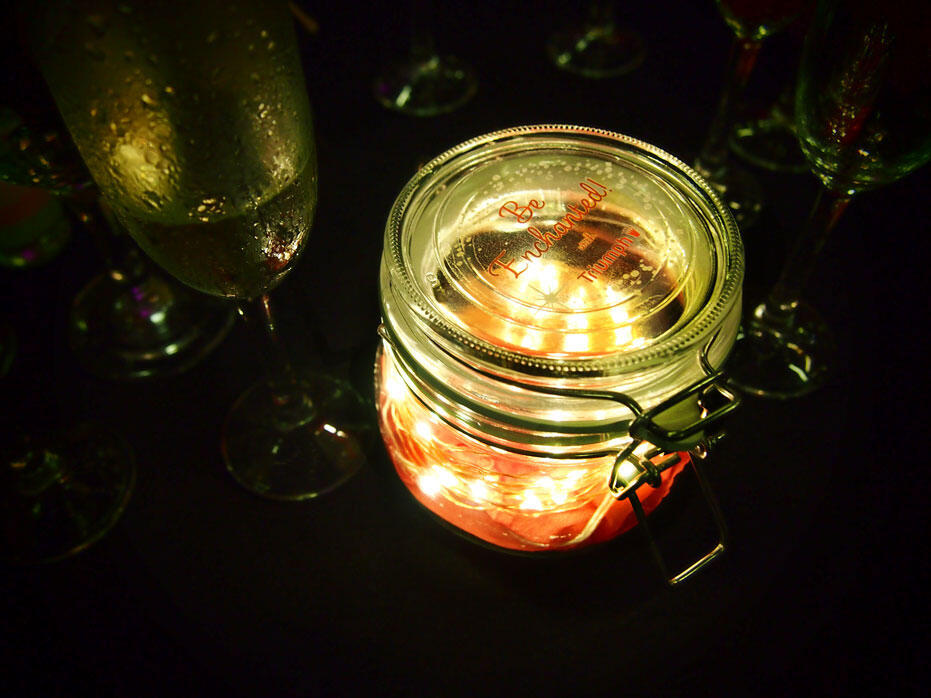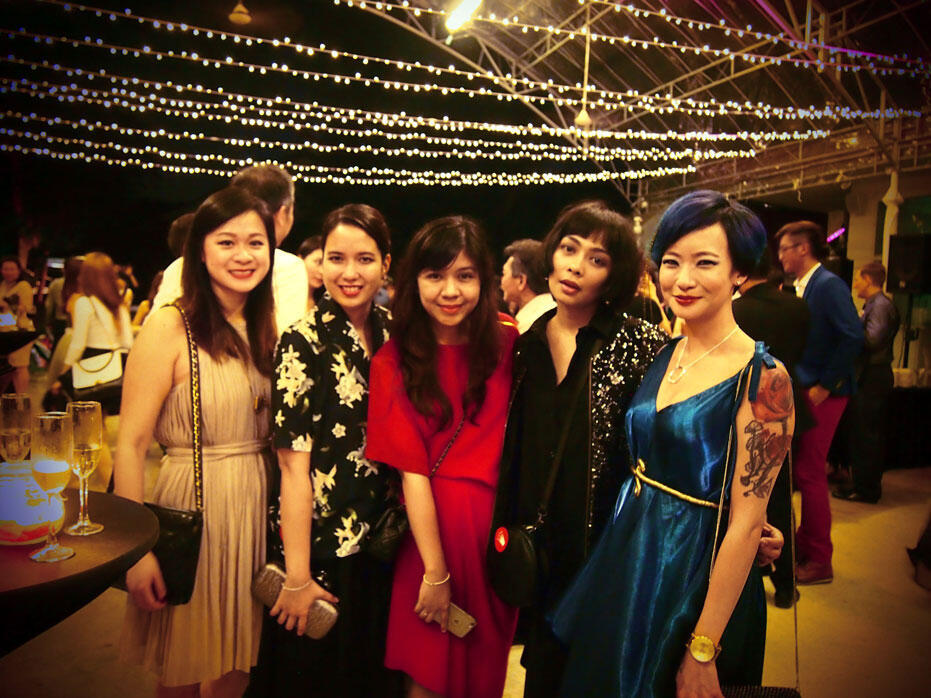 Emma Chong from Tongue in Chic, Ira Roslan from Cleo Malaysia, Liz Bautista from ELLE Malaysia, Yana Baharudin from EH!, and… me!
I spotted Amber's dress before i even spotted *her*.
I was staring at her gown thinking how exquisite it was before recognising her side profile, "Eh Amber!"
Her dress is by Daniel Ngoo for Le Grand Wedding.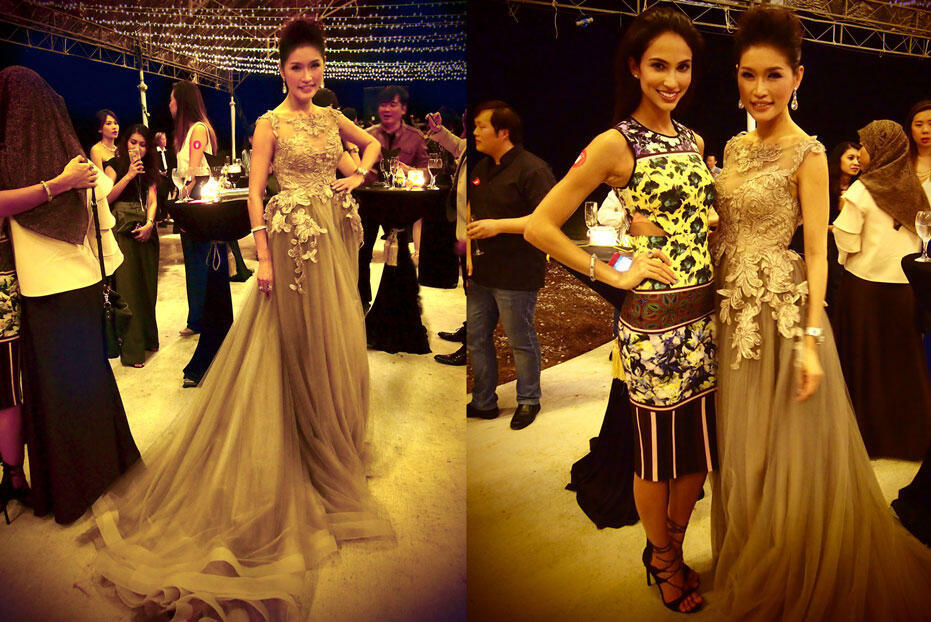 On right is Deborah and Amber. I'd rather not stand next to them in pictures and appear like a smurf thanks XD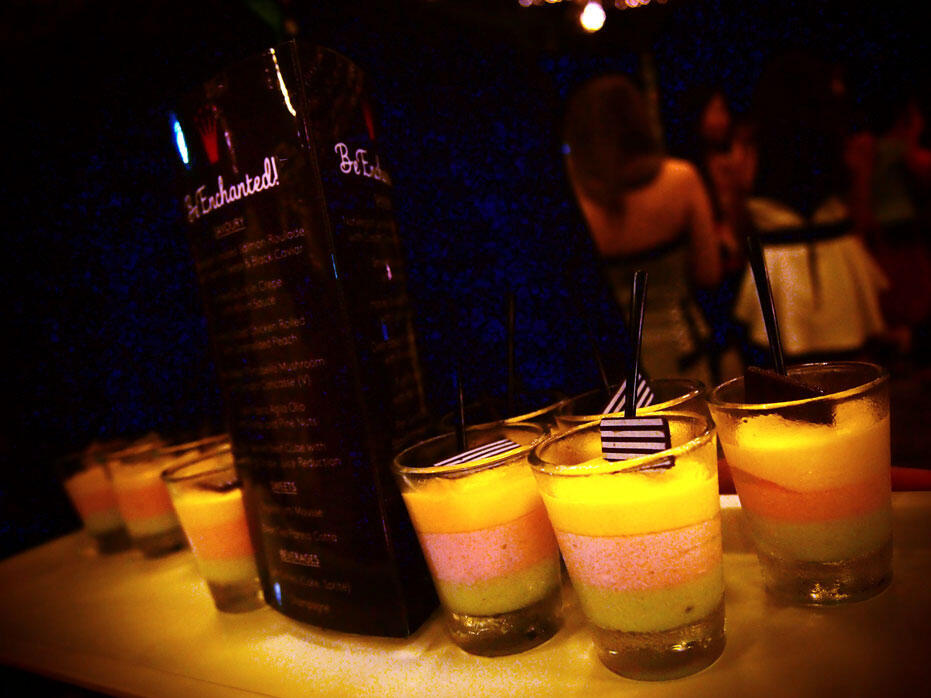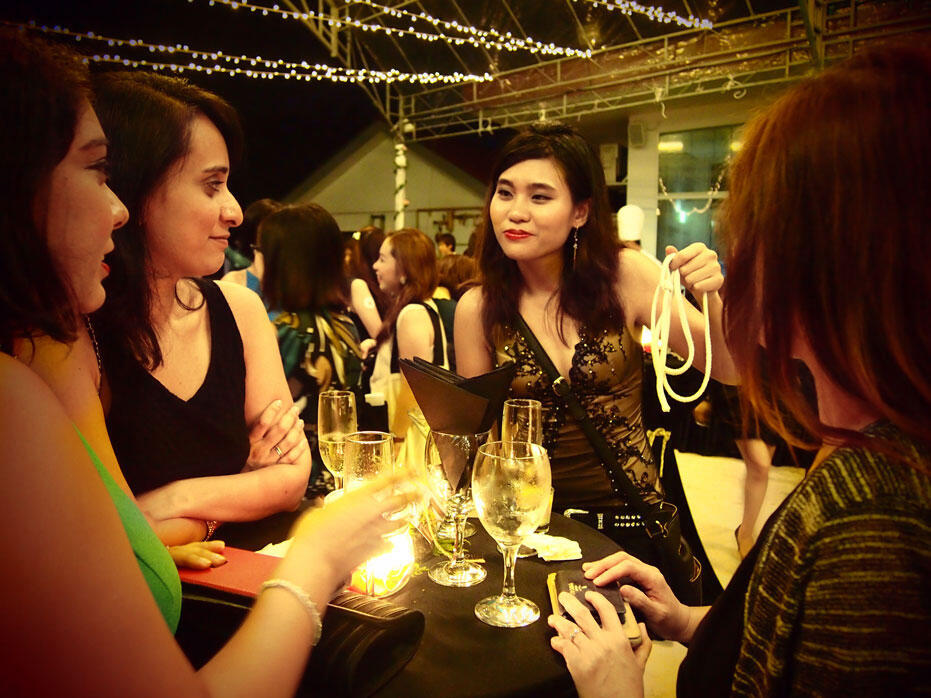 A magician with an equally arresting décolletage. No guesses why!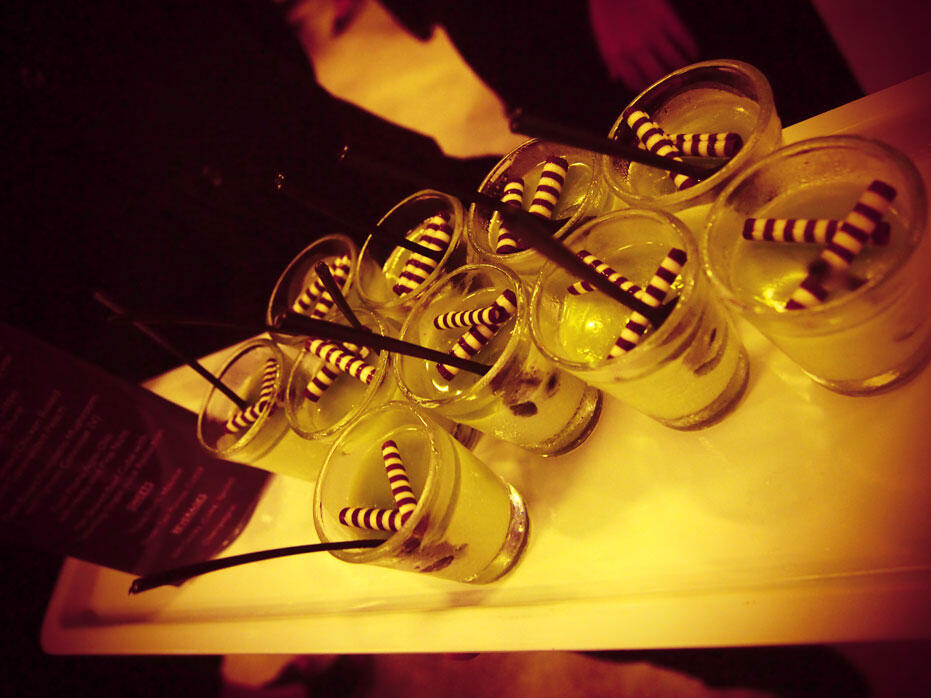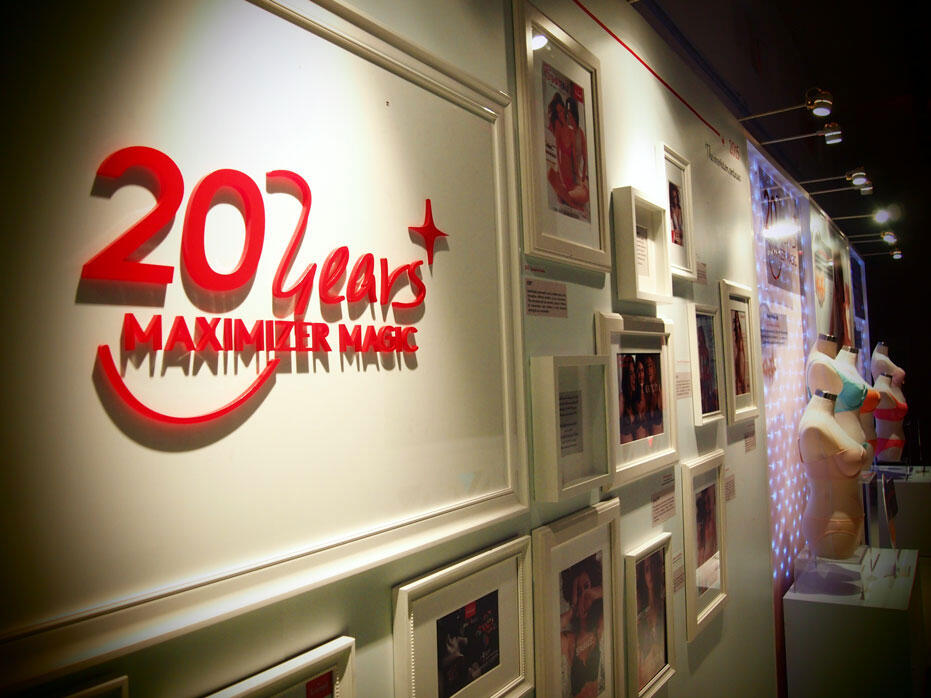 There was a wall exhibiting vintage print ads and interesting bits of info i never knew about Triumph.
It's such a fascinating brand, having a history of 129 years since its beginnings when corset maker Johann Gottfried Spiesshofer and businessman Michael Braun set up a corset factory in 1886. It was Spiesshofer who coined the term "Maximizer", that became the name for the collection that catapulted Triumph into the household name and elevated it further into the global lingerie brand it is today.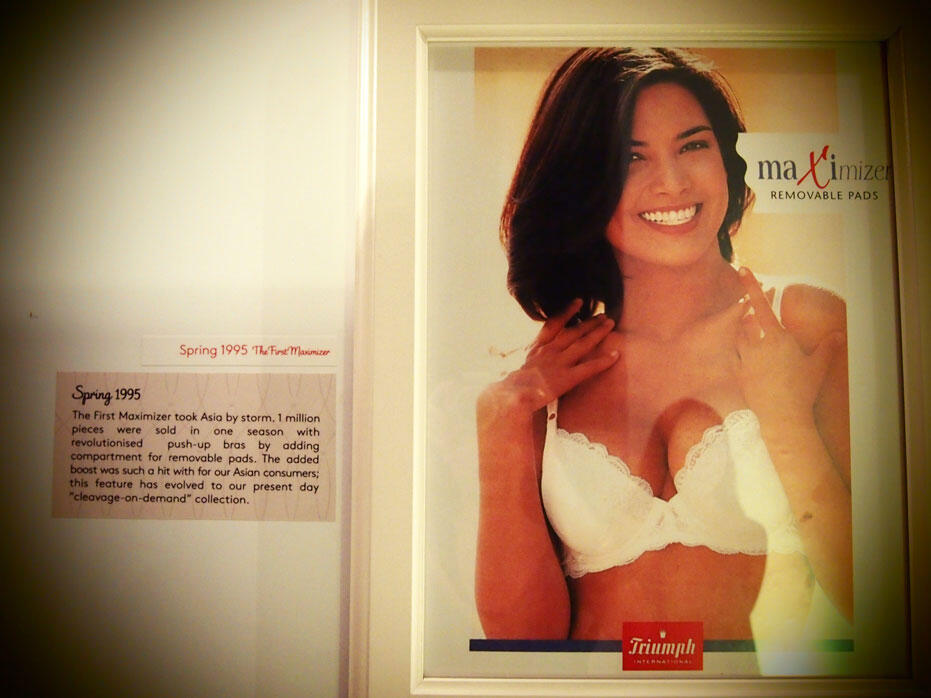 When the first Maximizer was launched exclusively in Asia in 1995, 14,000 were sold in its first two weeks in Singapore alone!
To date, a record-breaking 100 million pieces have been sold in Asia making it the ultimate push-up bra amongst fashion-conscious Asian women that comes in a full range of styles and designs.
There are a lot of "firsts" in the the undergarment history that falls under Triumph's belt i never even knew existed:
– the first piece of underwear made entirely without sewing thread
– first sports bras with integrated pulse measurement devices
– first cotton underwear with almost no wash shrinkage
The brand has a record number of patent applications, and used the success of the Maximizer to constantly push the innovation of brassieres.
The Maximizer has seen many variations through its 20 years of evolution:
– the cult T-Shirt Bra made with lightweight or diaphanous materials, looking invisible even under tight tops (i remember my mum was so into it when i was young!)
– the sell-out seamless bra
– addition of Dorlastan (to give fabric more elasticity, lightness and softness) in 1999
– silk protein and aloe vera was added in 2002 and 2008
– in 2003, the first 3D cream pad Maximizer bestowed more 'bouncy' cleavage to women
– the ability to "customise" one's cleavage boost by adding/removing padding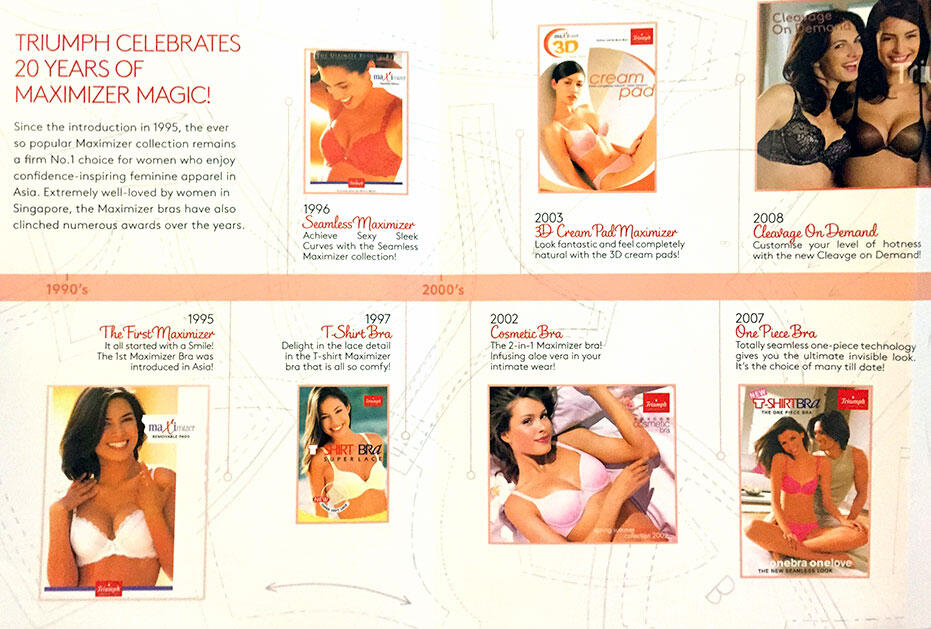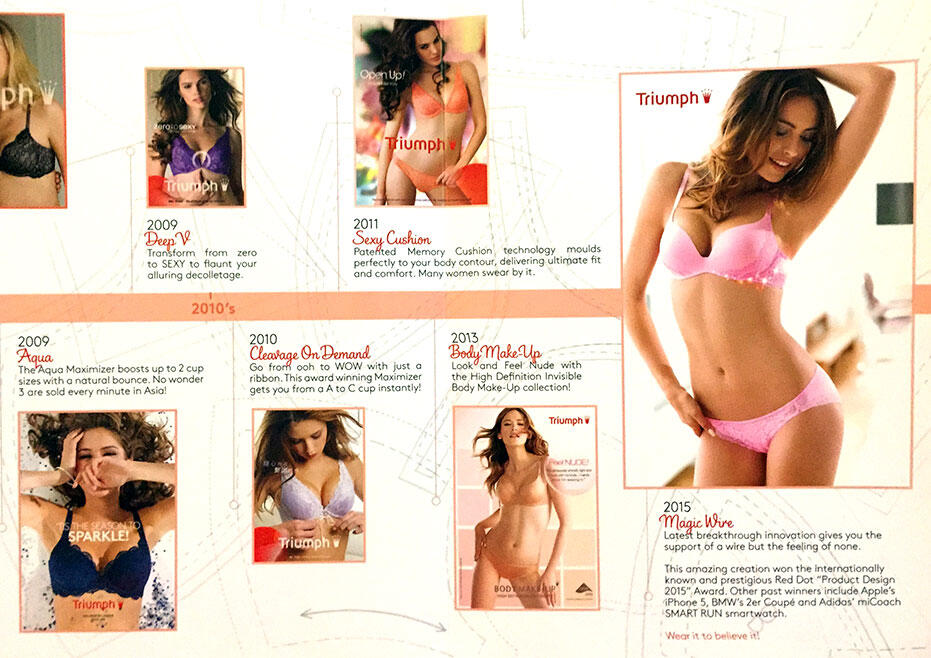 The collection got even more popular as 2010 approached.
3 pieces of the Aqua Maximizer sold every minute in Asia, and new mind-boggling bra technologies were launched, like the Sexy Cushion collection (uses intelligent patented memory cushion foam allowing bra to "remember" breast contours for a comfortable fit) and Touch Cool collection (fabric technology that reduces one's body temperature by 1.27°C) which won the Top 100 Innovation Award in Taiwan in 2011.
Today, in conjunction with Triumph's 20 years of Maximizer, they've launched the Magic Wire bra, designed to provide support with a soft flexible shield instead of a traditional metal wire. It's already won the Red Dot: Best of the Best award (which i'll expand on at the end of this post cos i *KNOW* this award).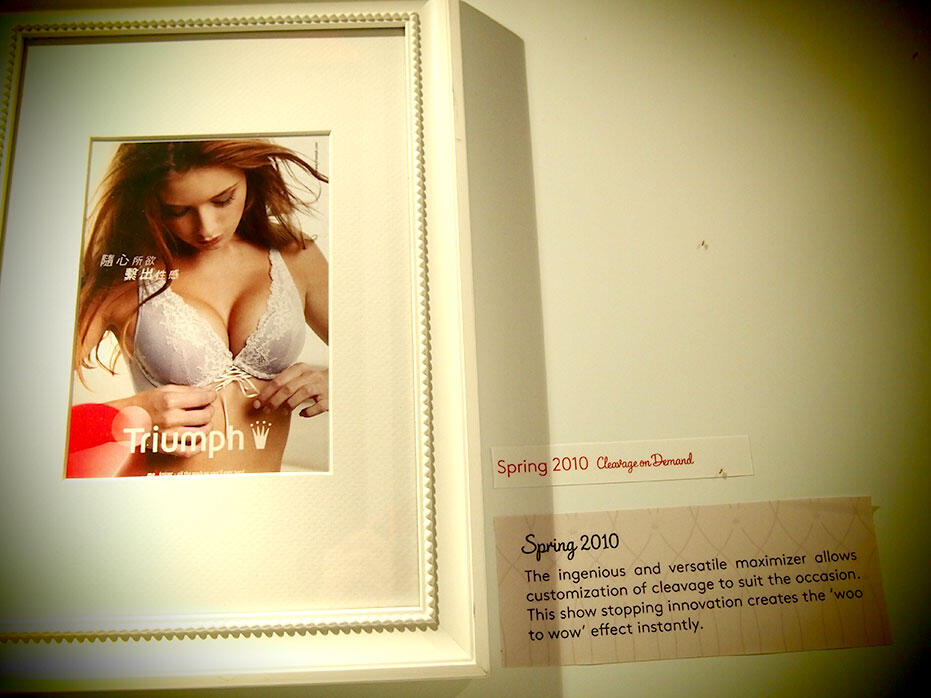 I tried on the Cleavage on Demand bra before and it is really sexy, i love how you can effortlessly adjust the little ribbons for occasion. I mean, there *are* some days you just don't want the attention, and some days an outfit asks for it 😉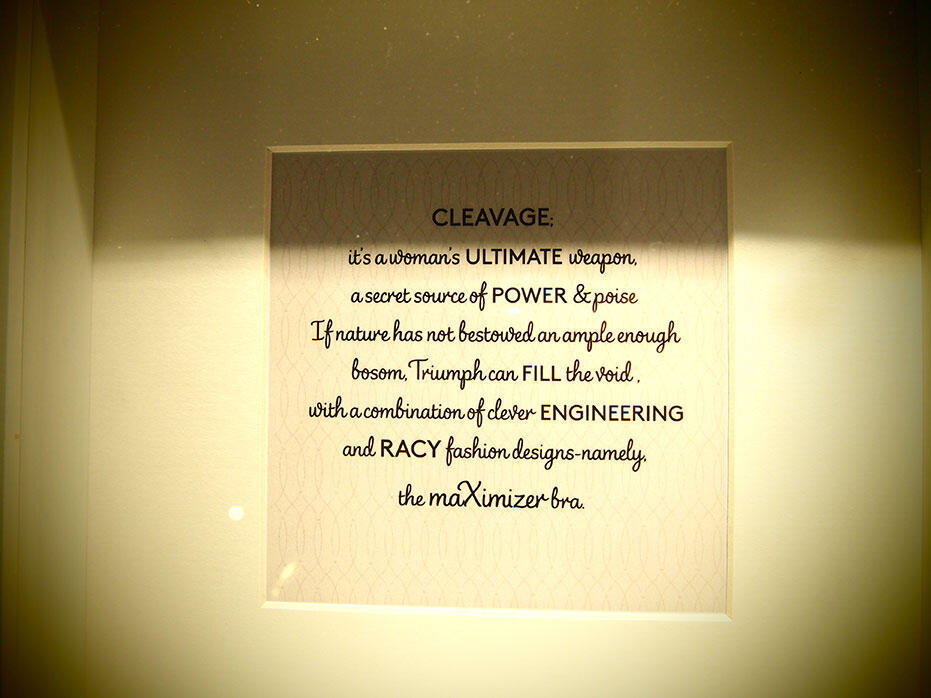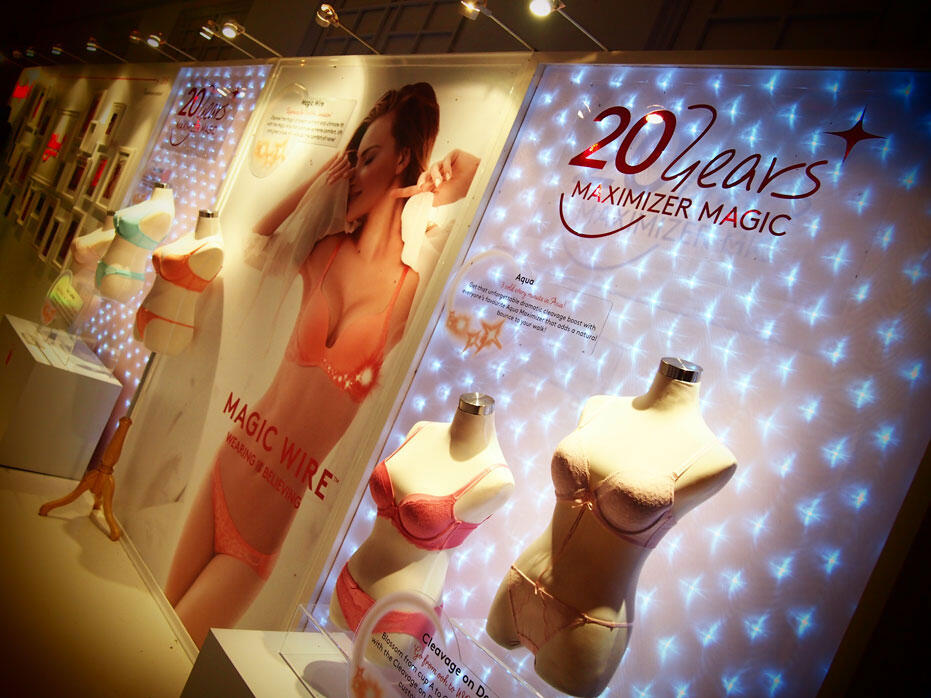 We were ushered into a separate room for the fashion show, where i met Triumph's Head of Design Asia, Uta Witting.
I liked her immediately, with her bright piercing eyes and gentle yet commanding presence. We chatted a bit and i learnt that she's from Germany but based in Asia for many years for the lingerie brand. Despite being a German brand, Triumph knew that Asian women's bodies are very different to her Western counterpart, hence the efforts to design specifically for an Asian body.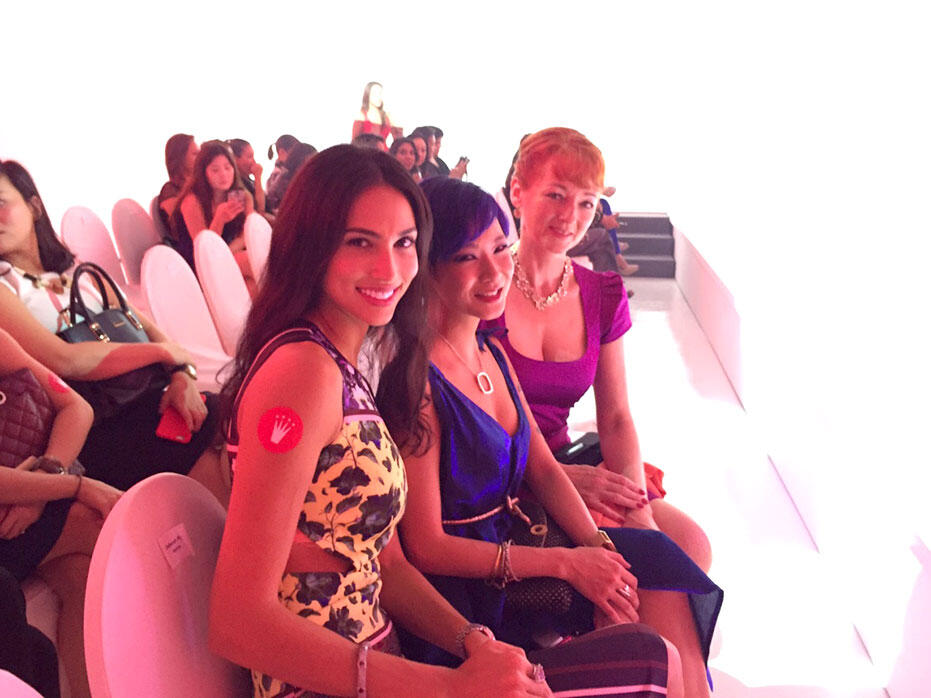 Deborah, me, and Uta.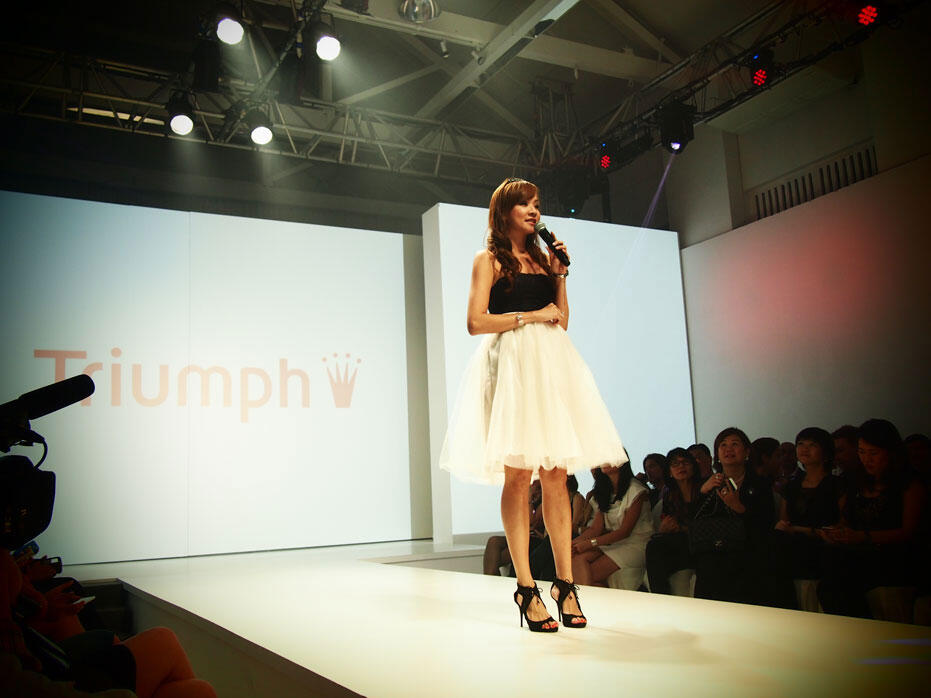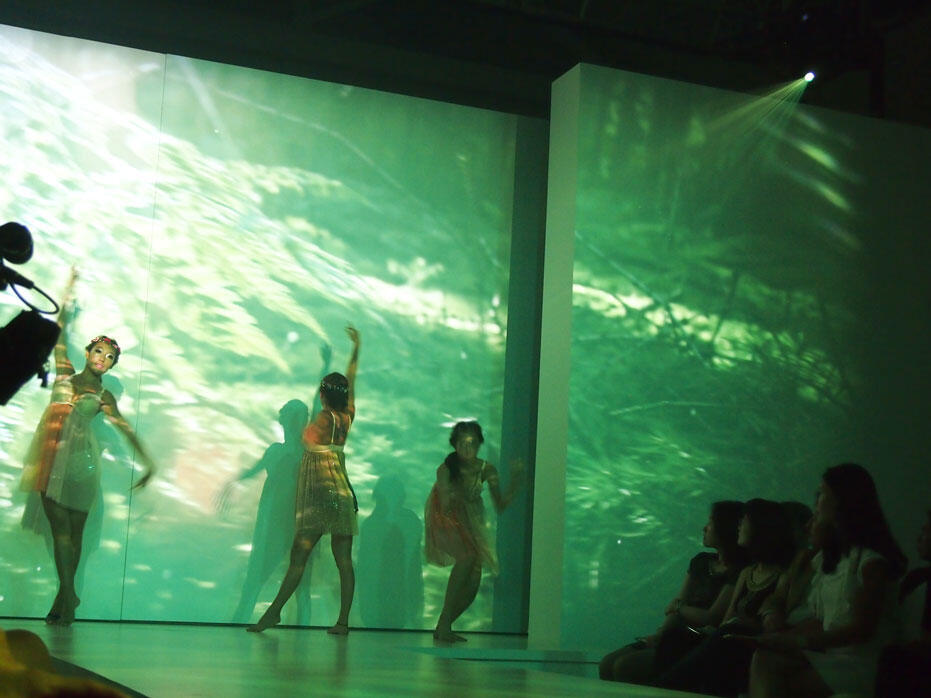 The show started with these beautiful visuals of greenery being projected onto the backdrop, and fairies came prancing out!
Oh my goddess, the theme obviously resonated with me so much i was practically bouncing in my seat in excitement.
The pictures here just don't do the presentation justice…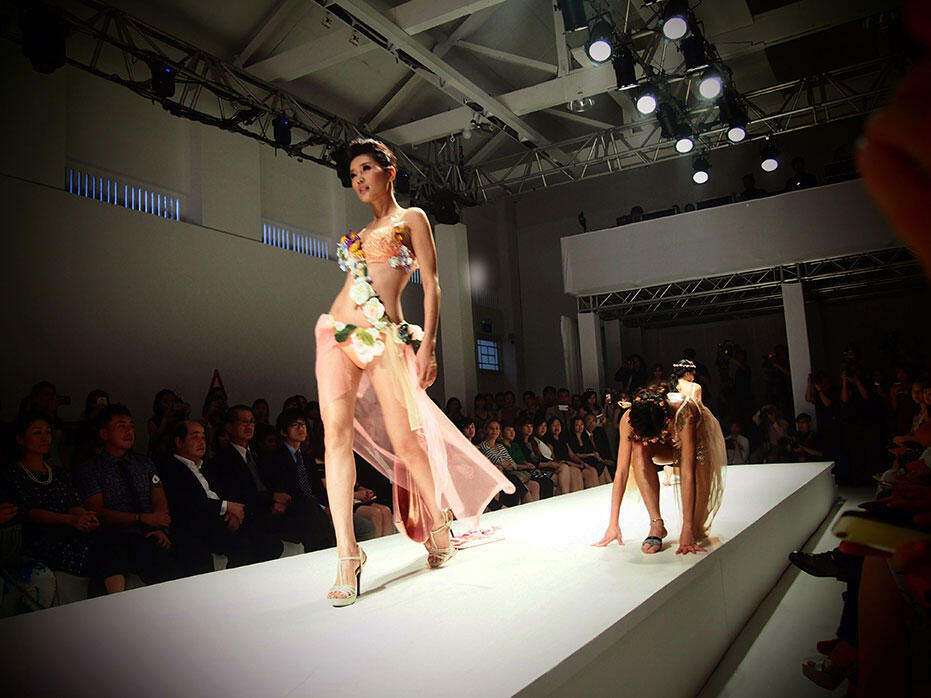 Malaysian supermodel Amber Chia opened the show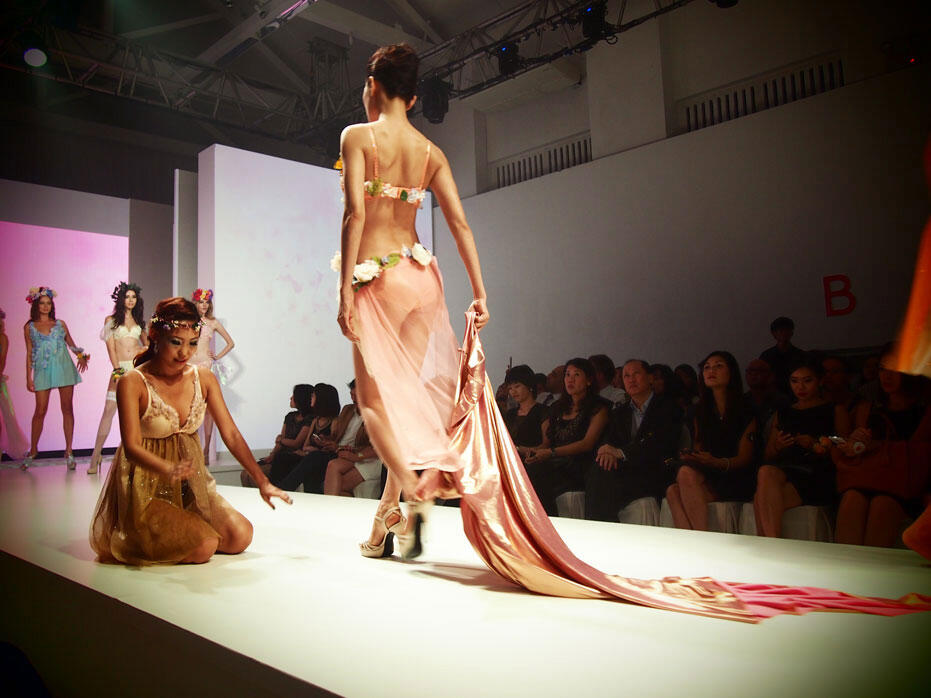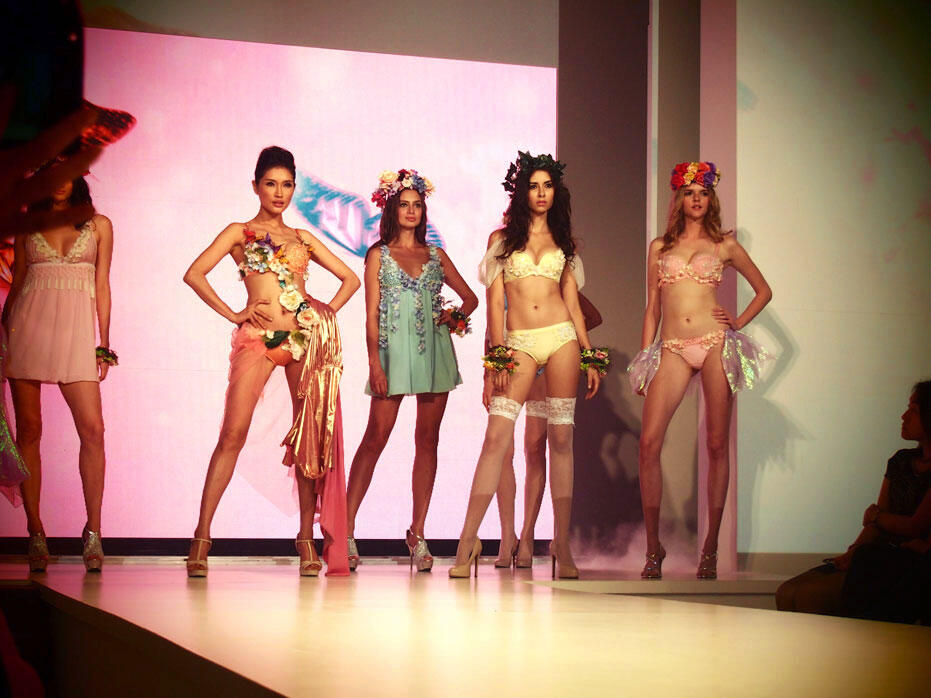 Amber is killing it with her confidence <3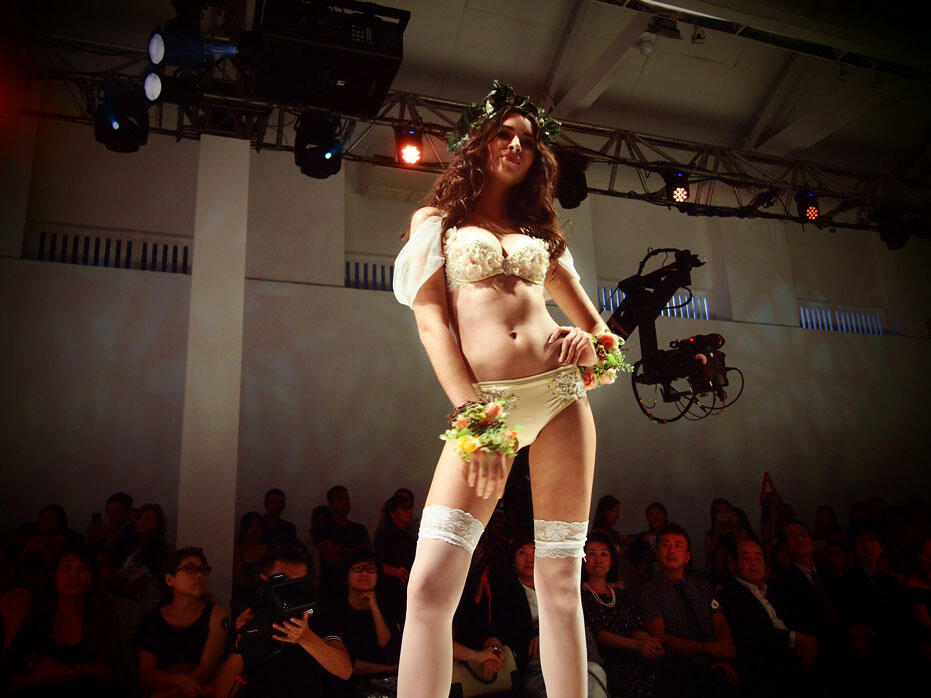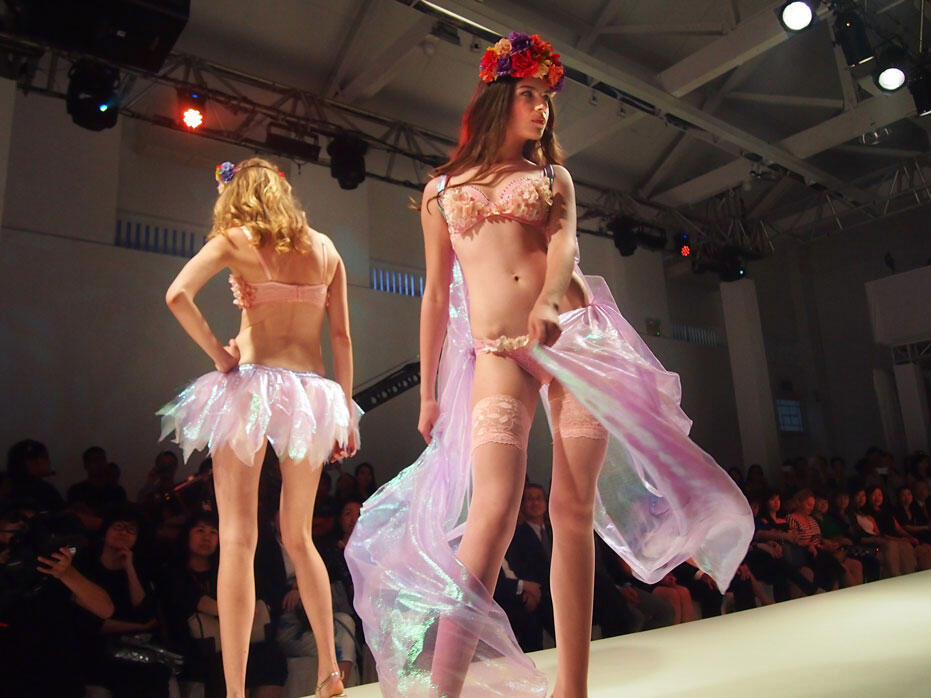 I can so imagine myself wearing this at a festival! (but maybe not in Asia :p)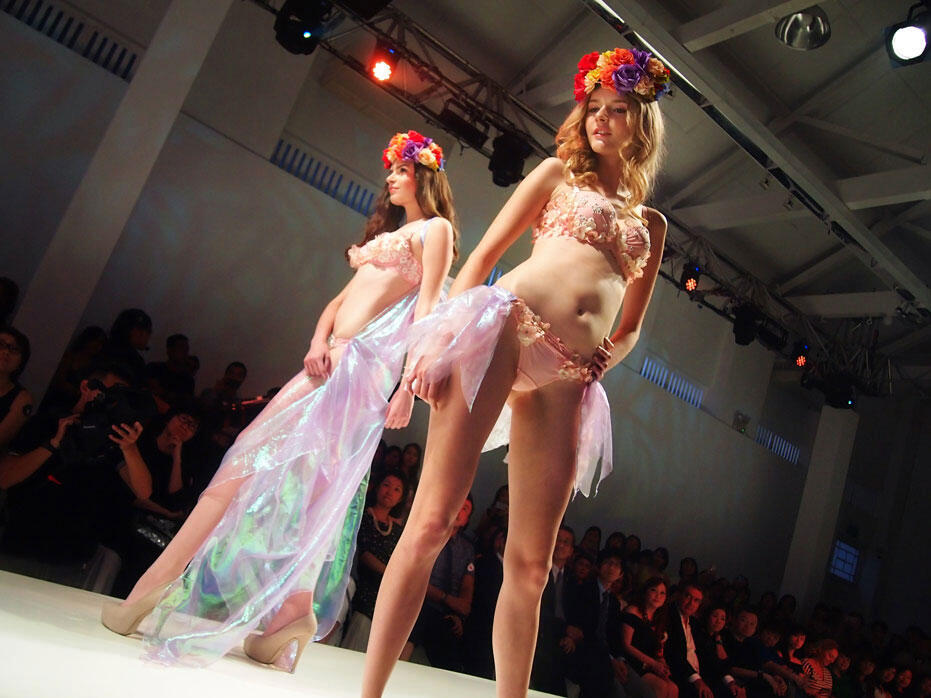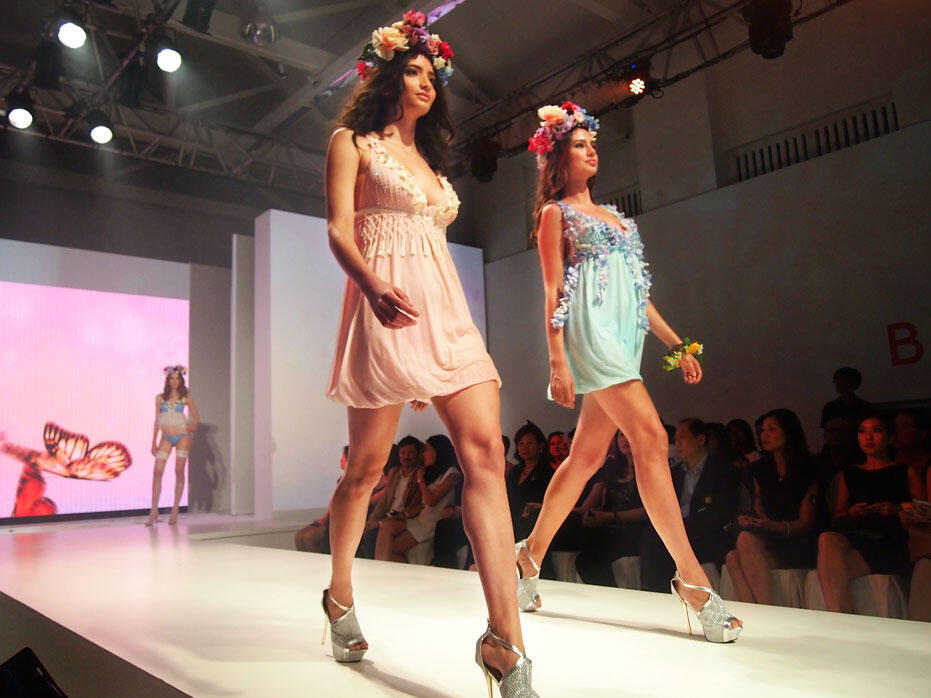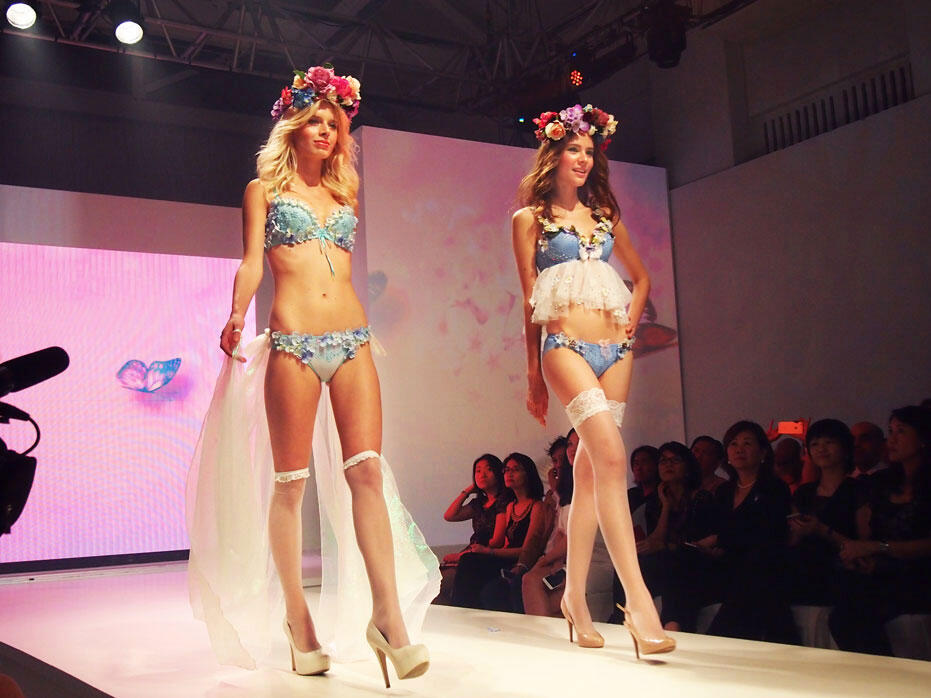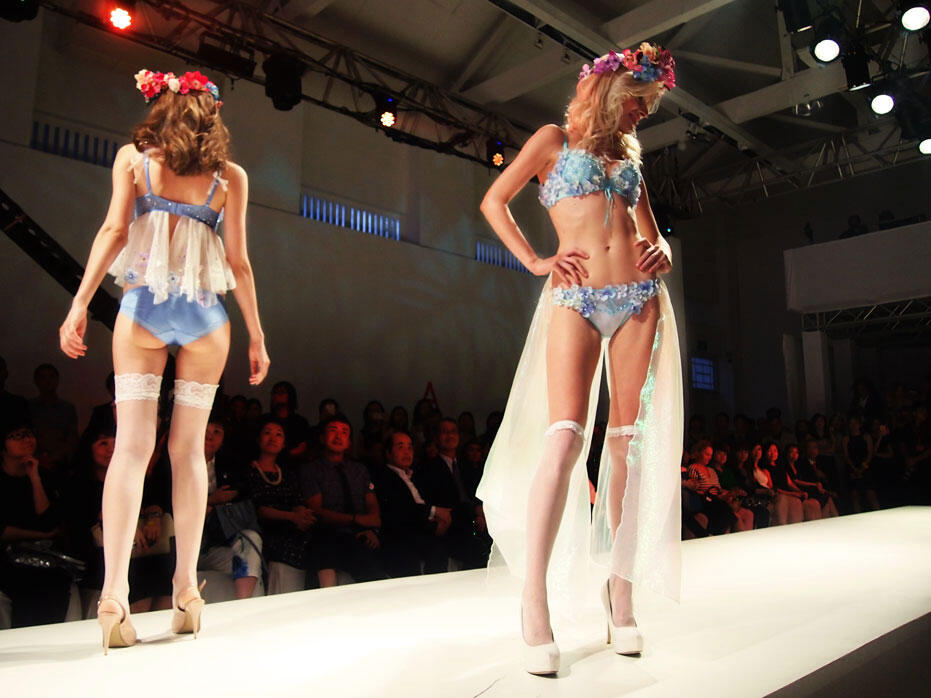 They were all so pretty and cute and intricate with nice details can i just have them all NOW.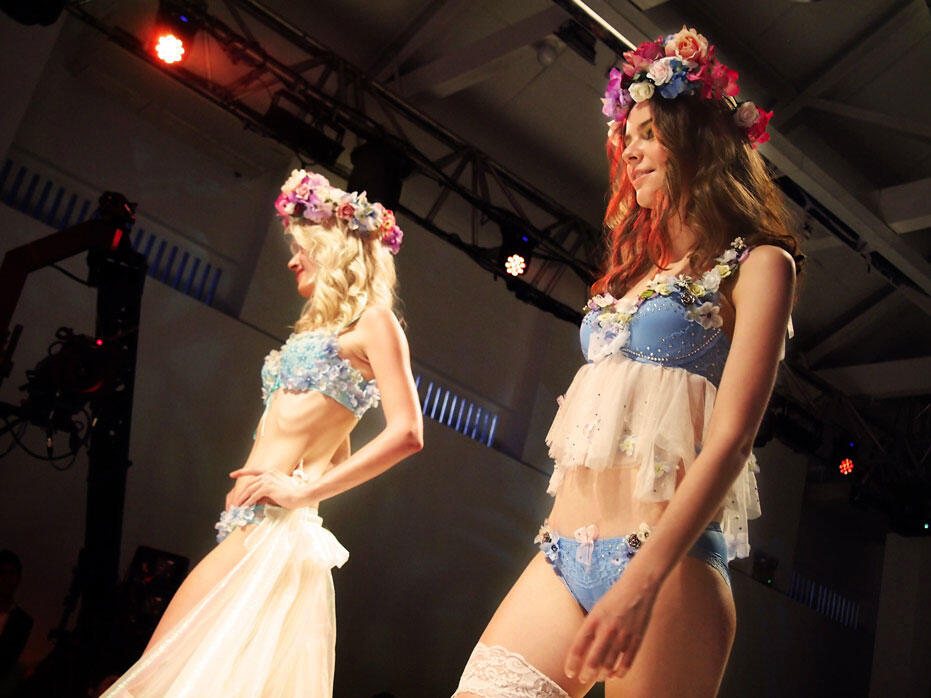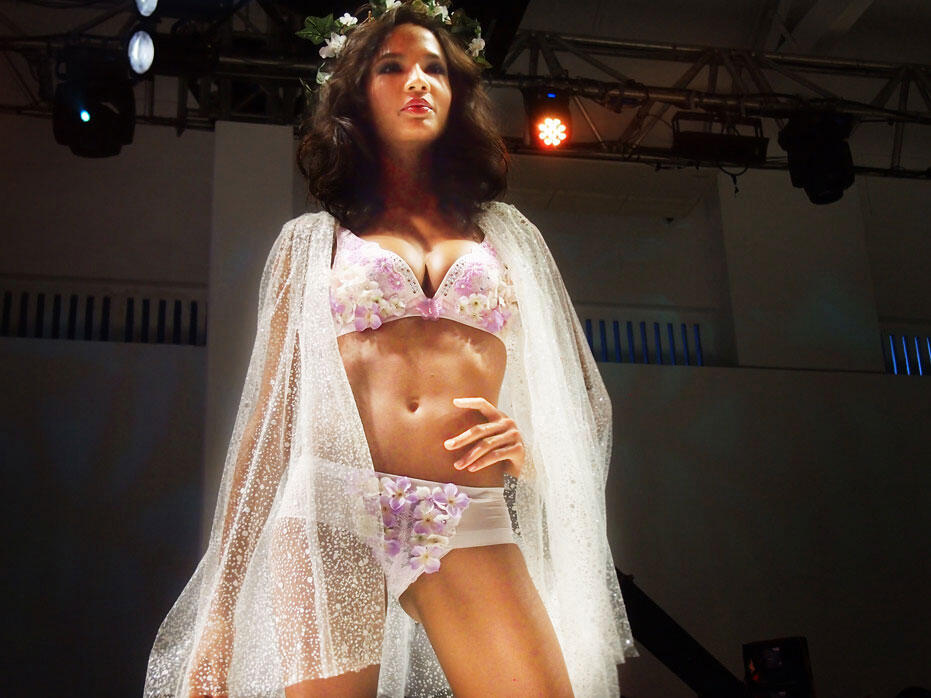 Oh this girl was my favourite model of the night! She's so toned and fit = love!
I know i love fairies a lot, and the first projected visual got me at hello,
but THIS was my favourite visual of the night >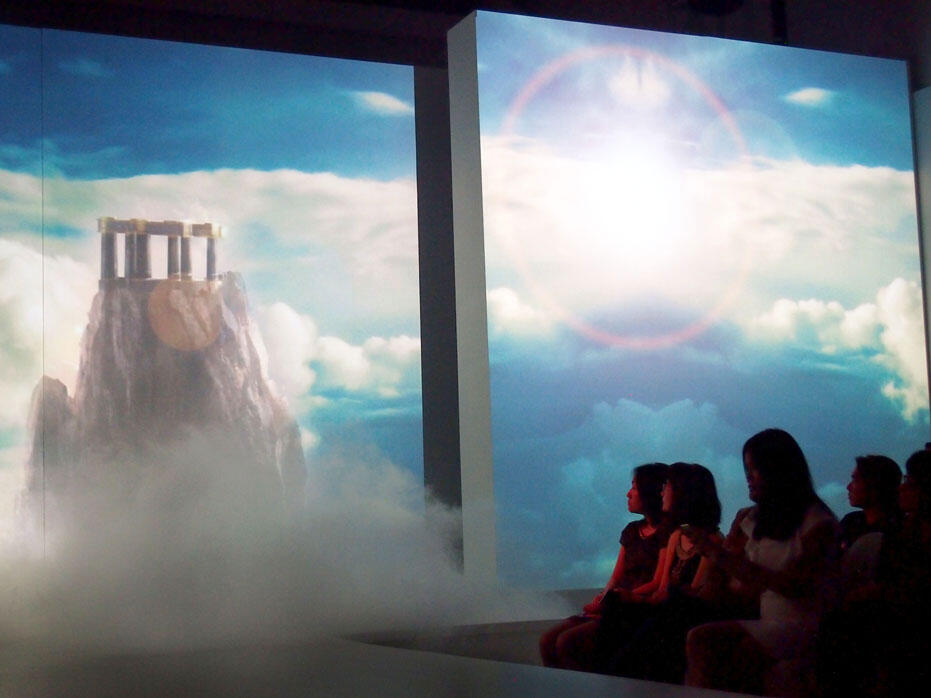 It was so beautiful… i tried not looking through my camera when i shot it so i could admire it with my own EYES.
They even had smoke coming out at the bottom to make it look as if the model was really walking amongst clouds.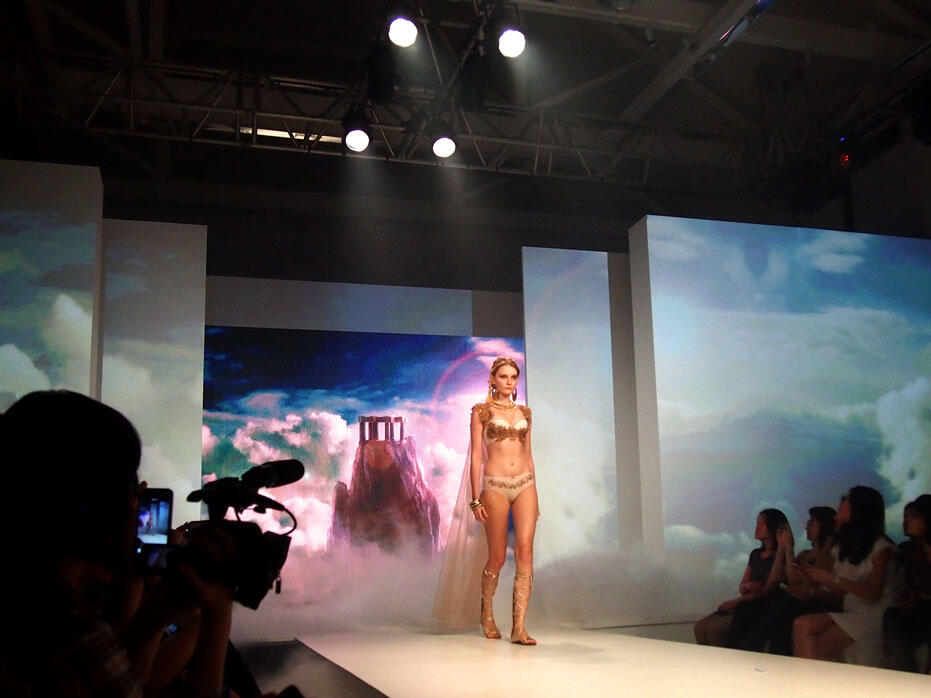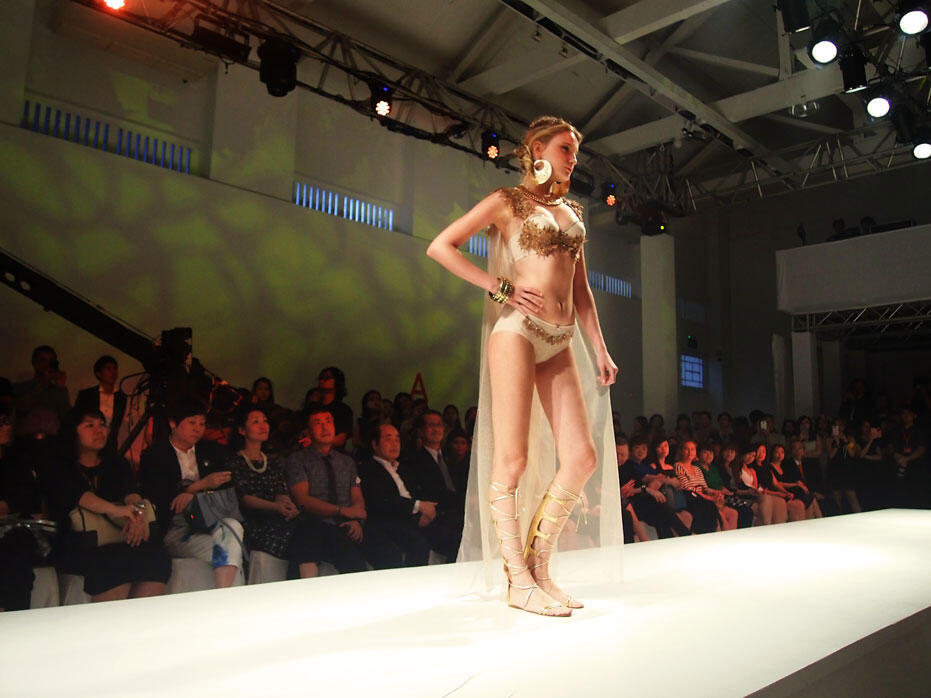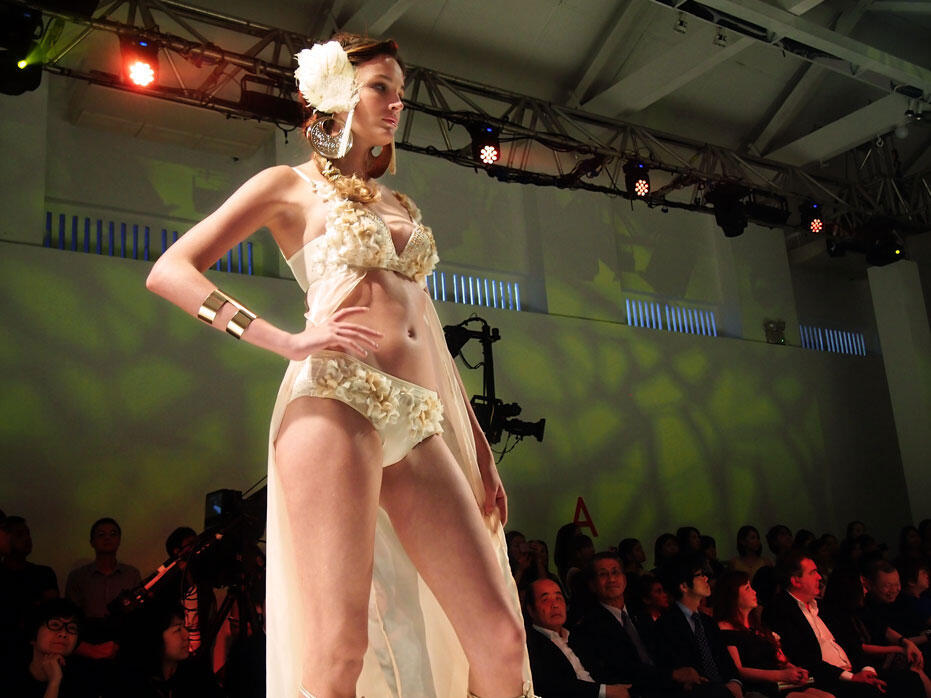 Love love loved the styling, the giant feather ear cuffs, the oversized earrings, arm bands, body chains, gladiator heels, ALL of it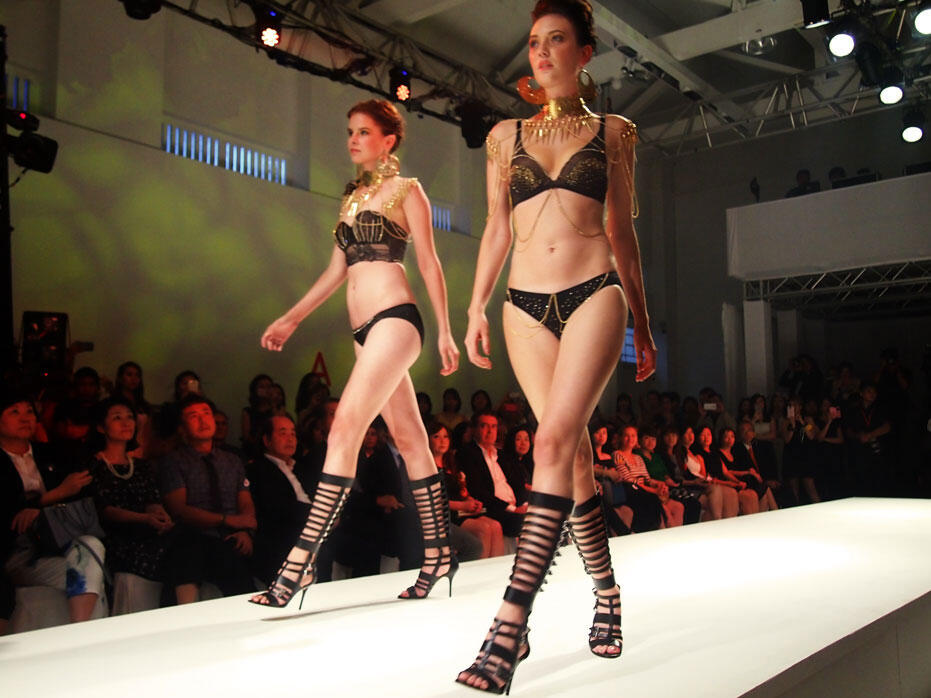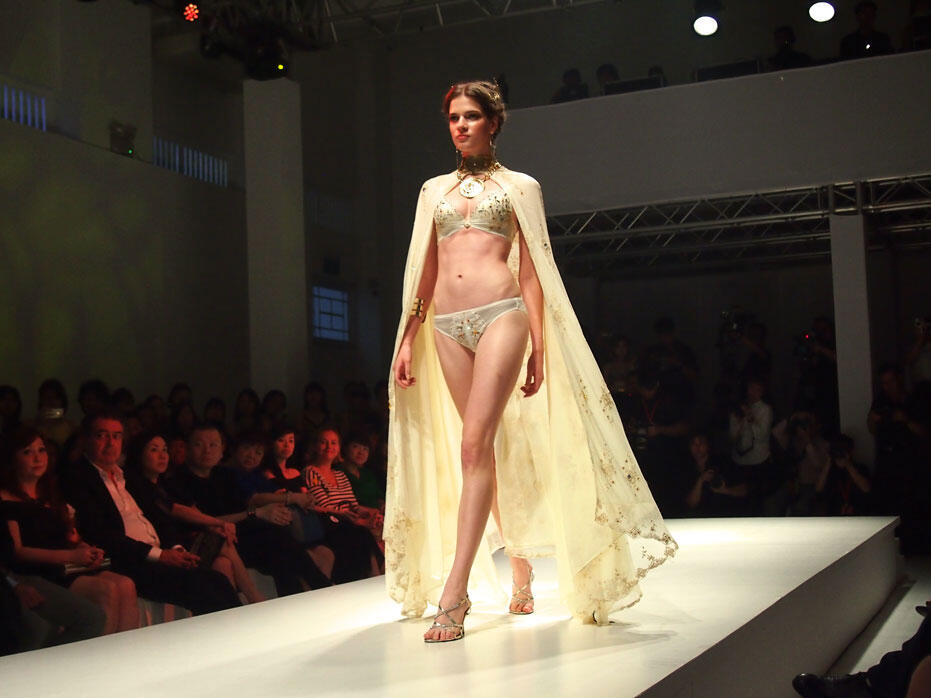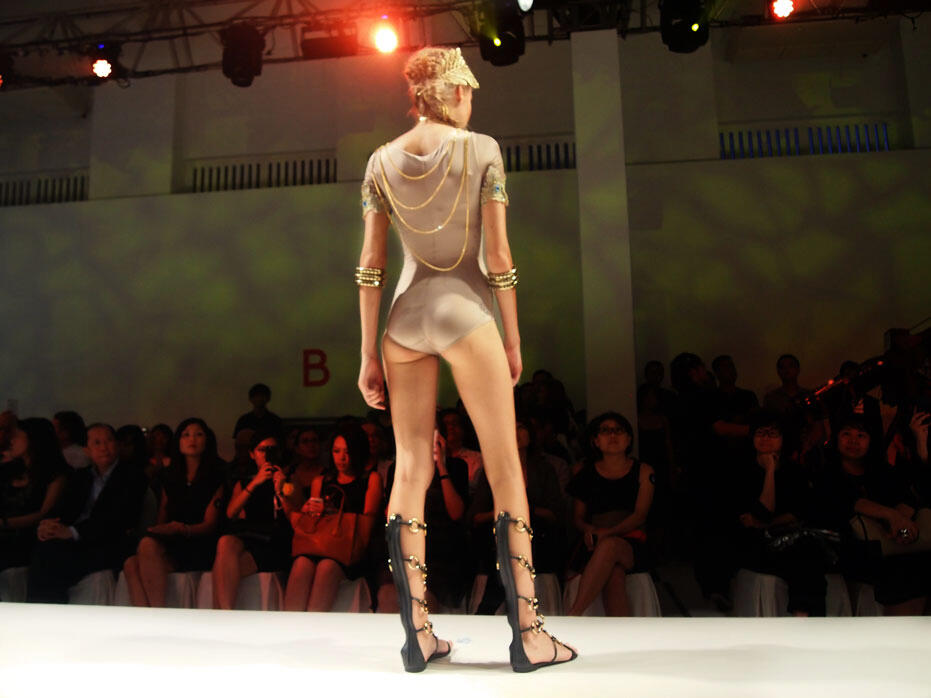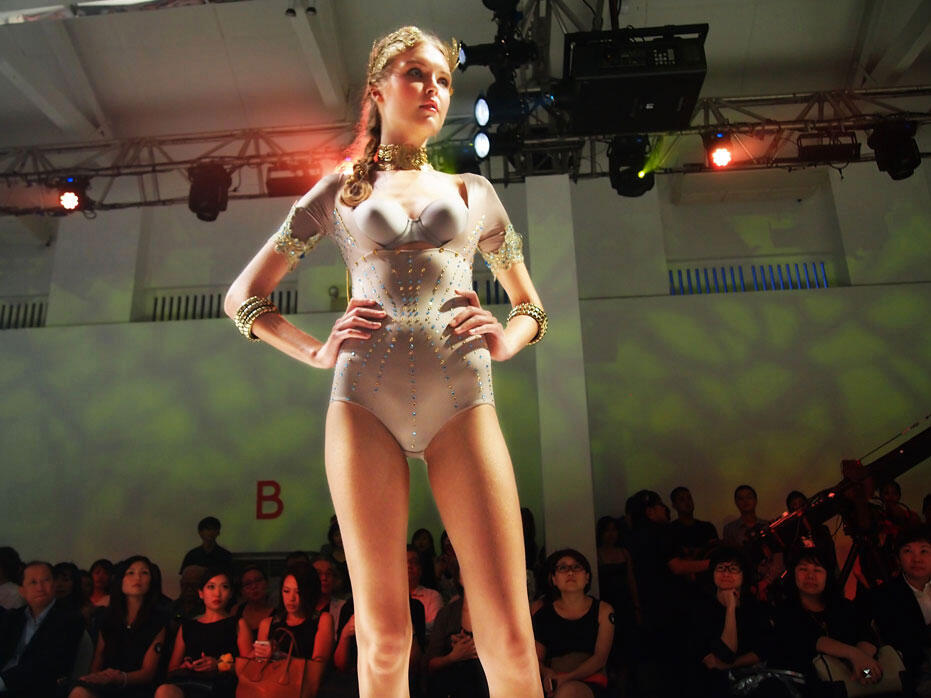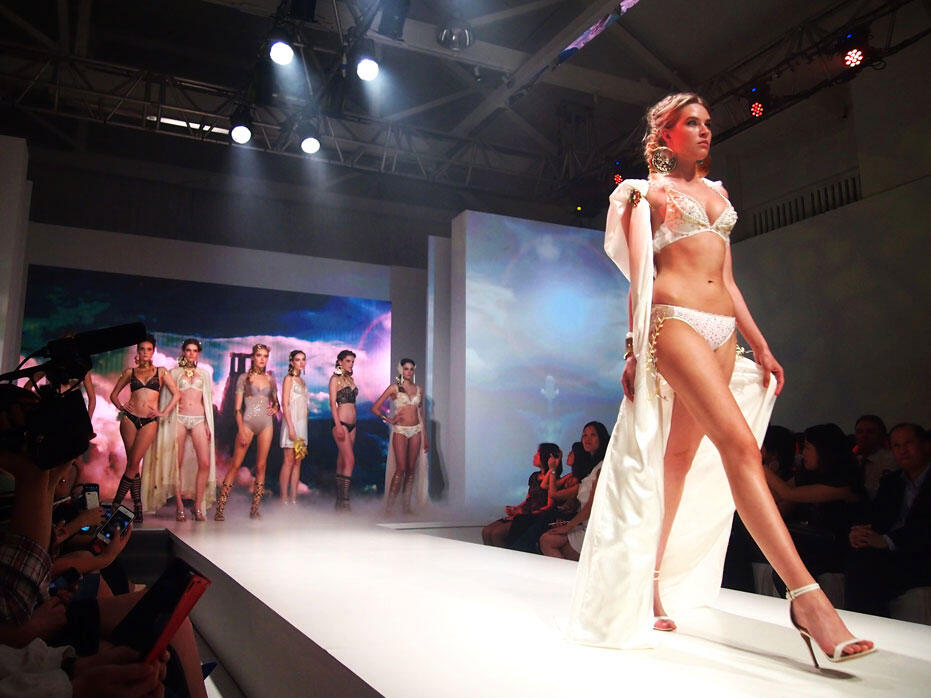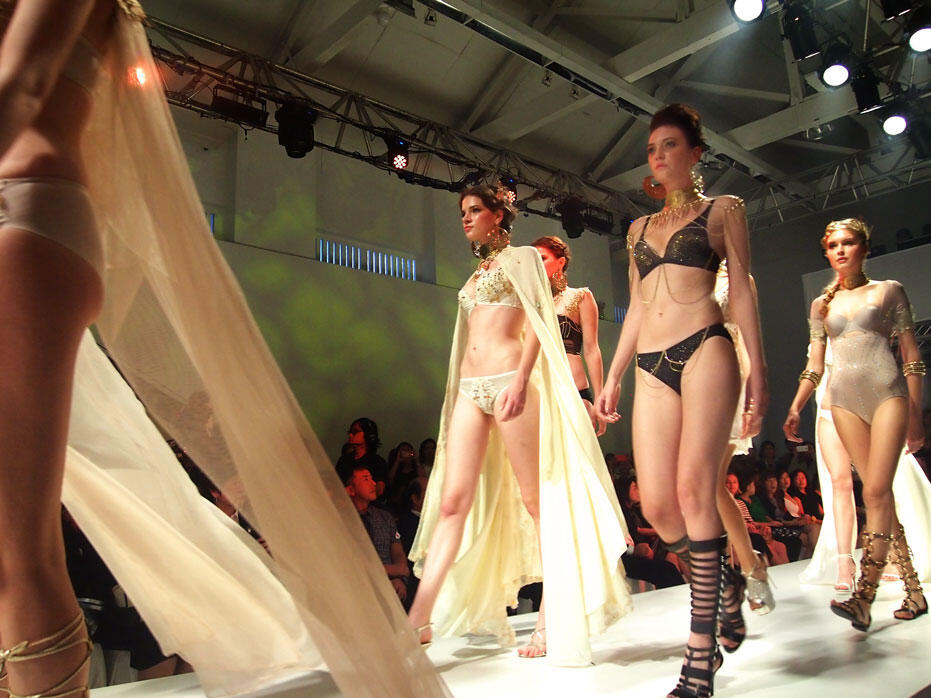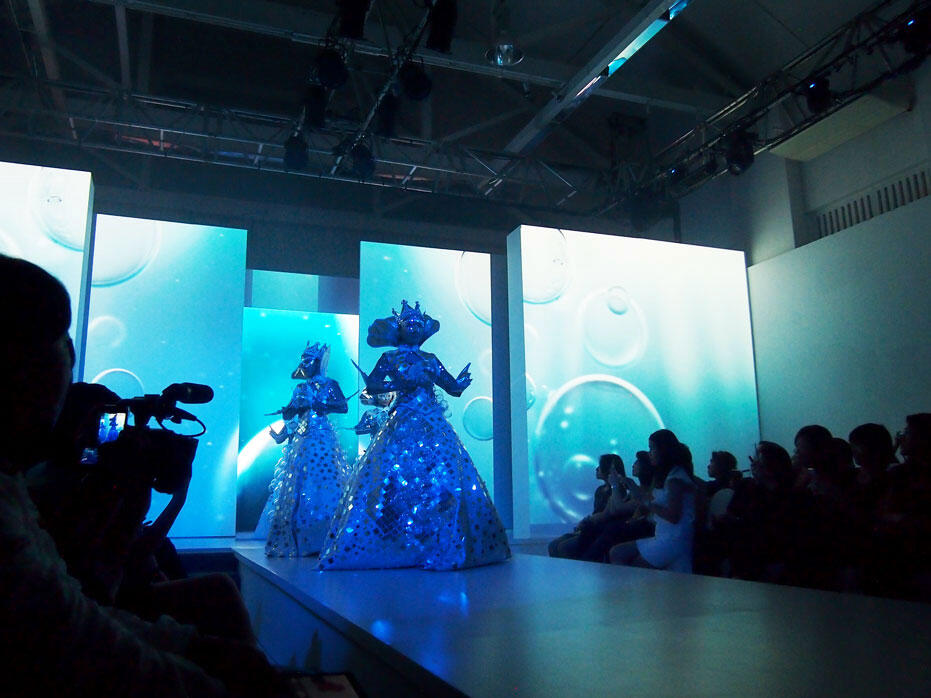 The third theme that night was water. A serene visual of shallow sea and its sand bed was projected before these silver creatures came dancing out with balls of light.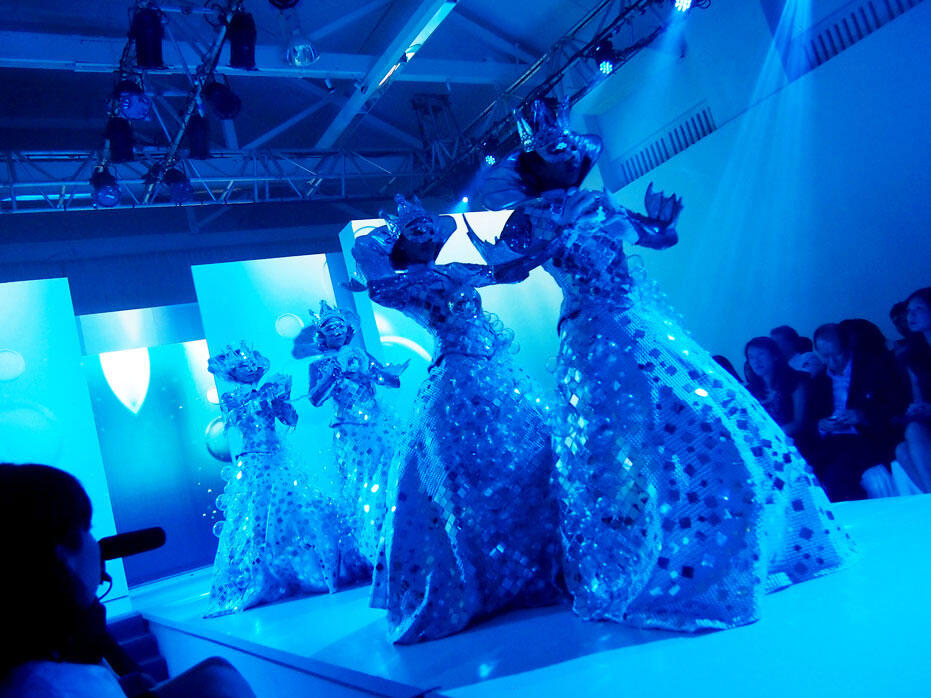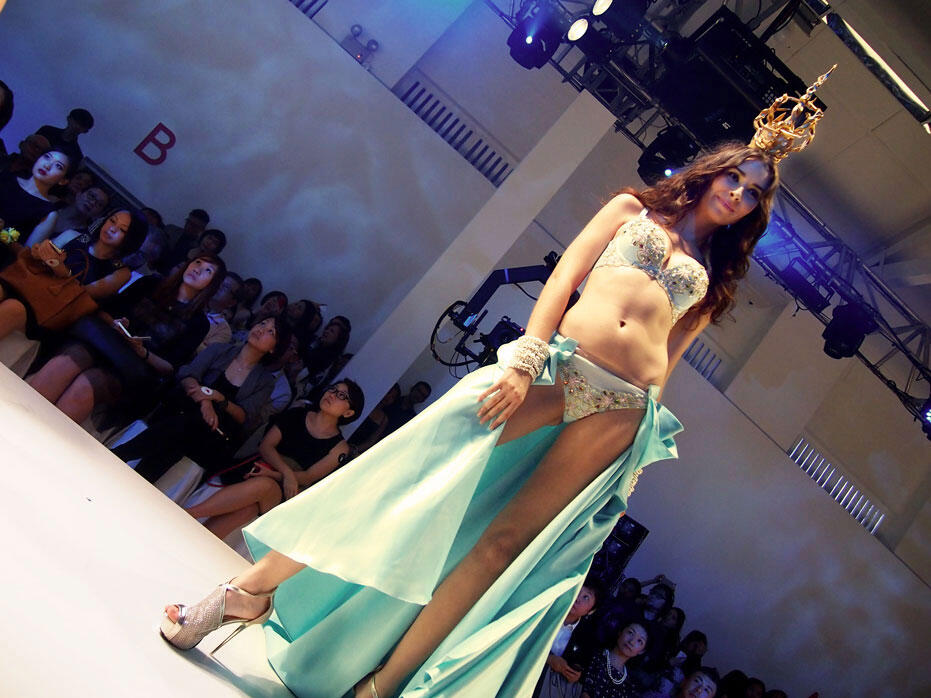 Mermaid theme!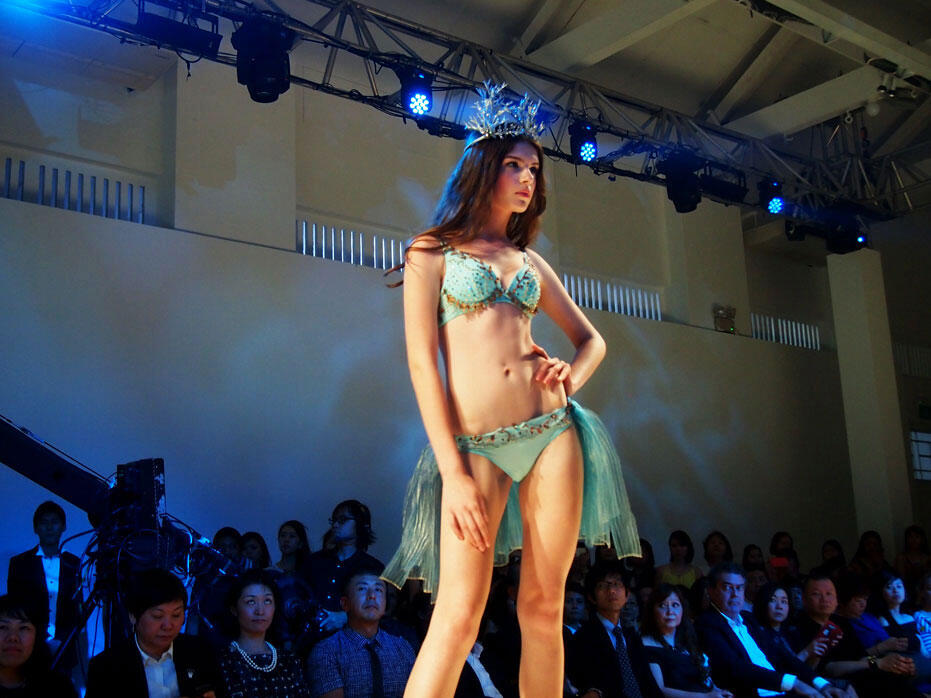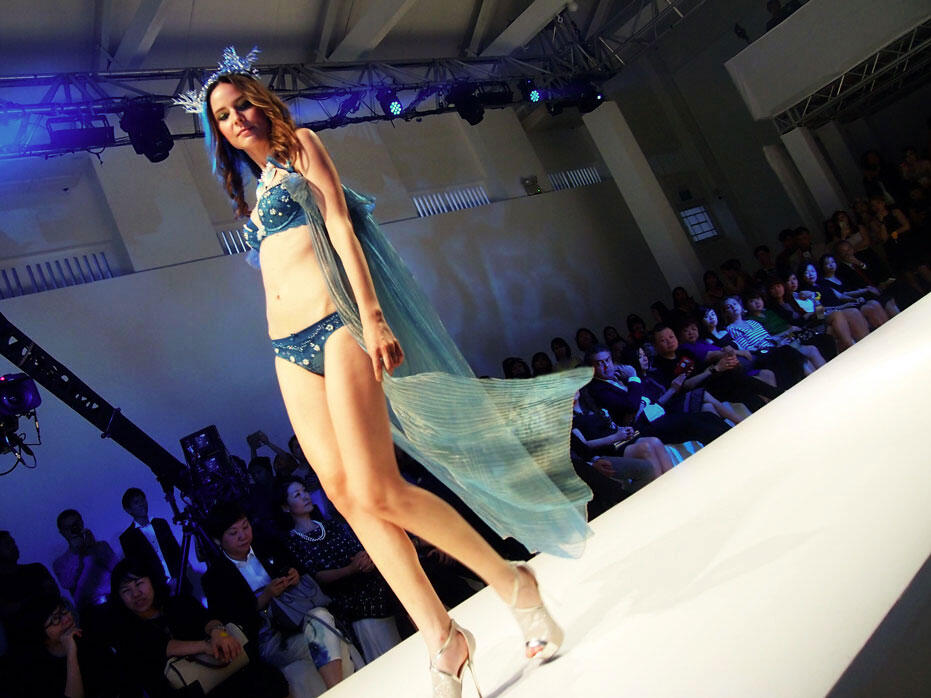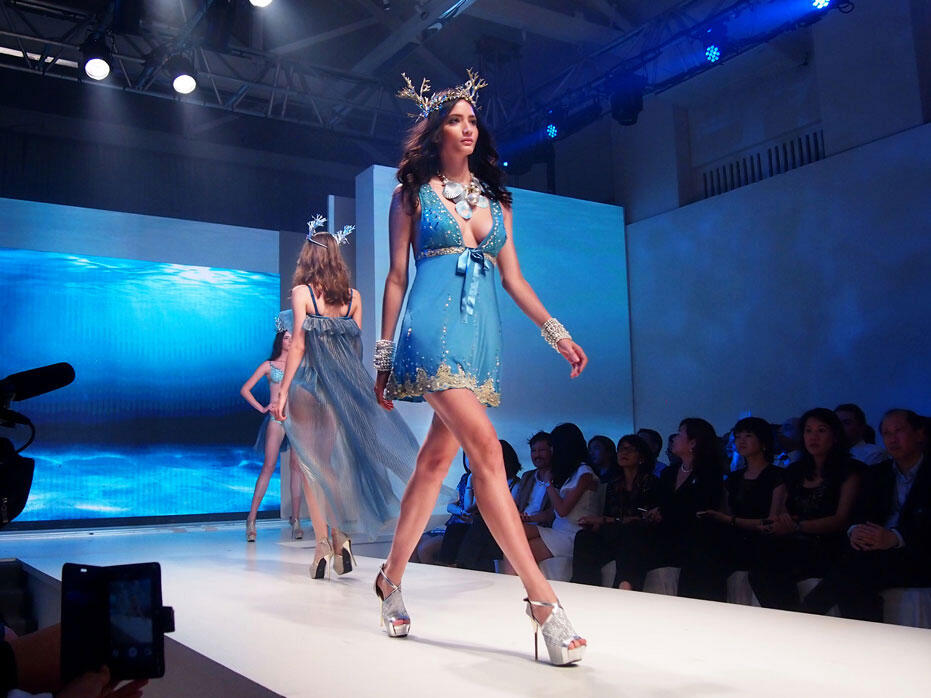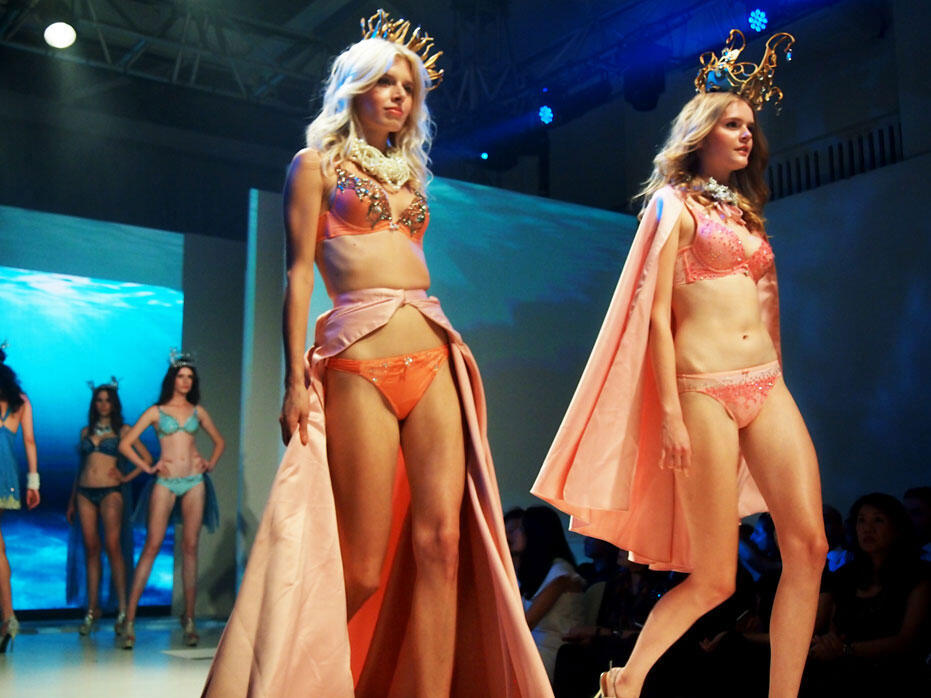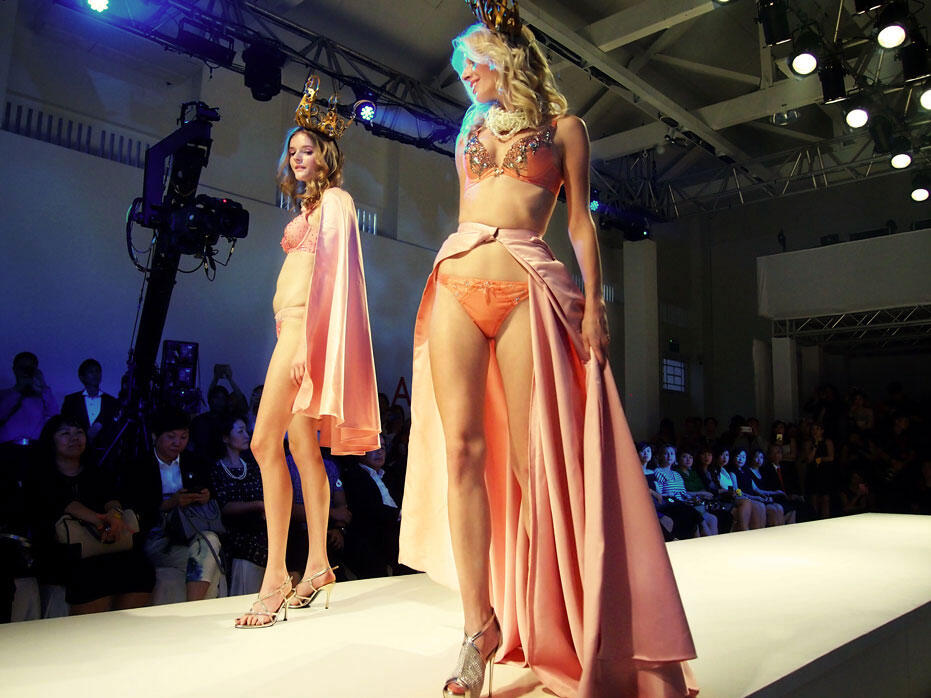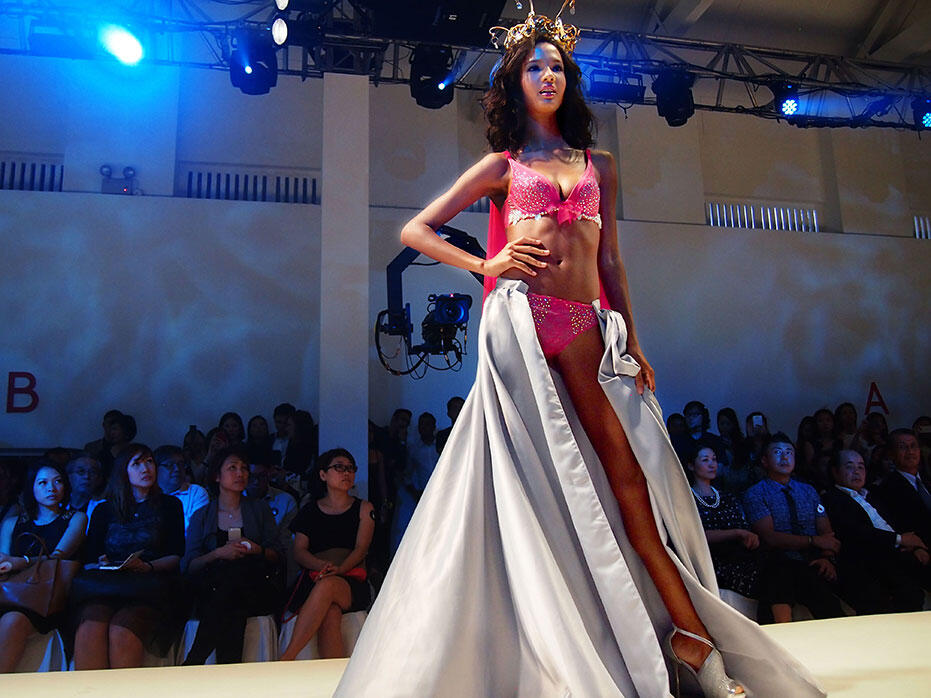 OHAI my favourite again!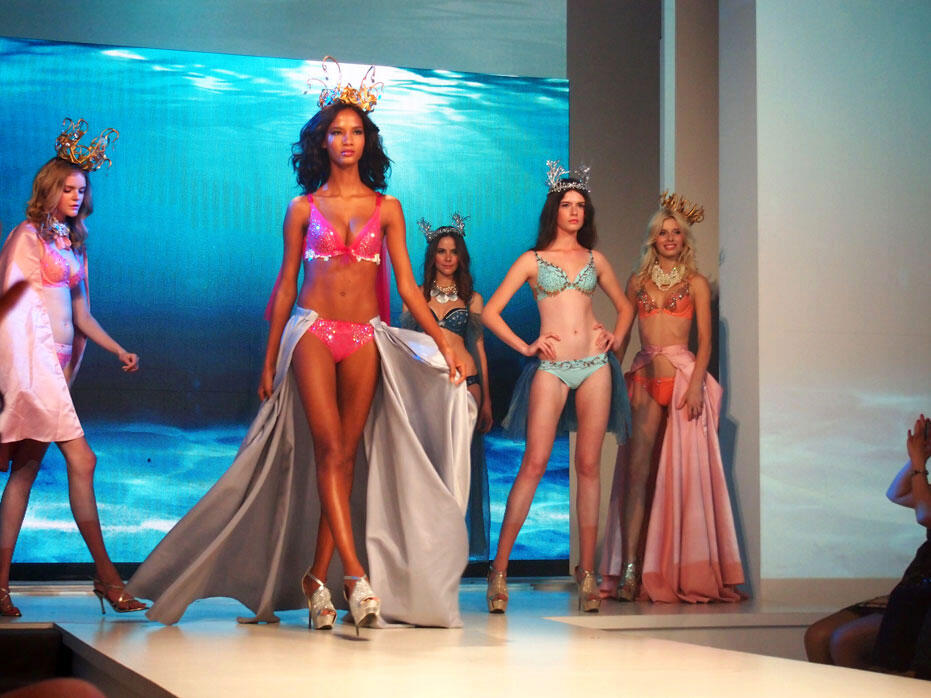 After the water theme, the lights dimmed and the mood changed to giant chandeliers with candlelight flickering, deep baroque red tones, dramatic oversized feathers, voluminous tulle, and heavy drapery.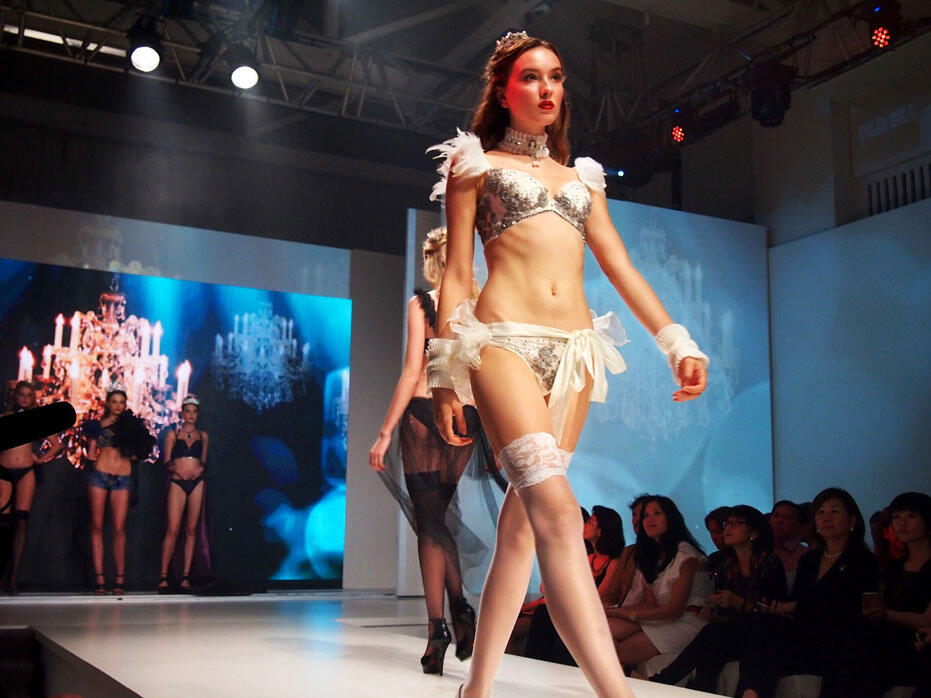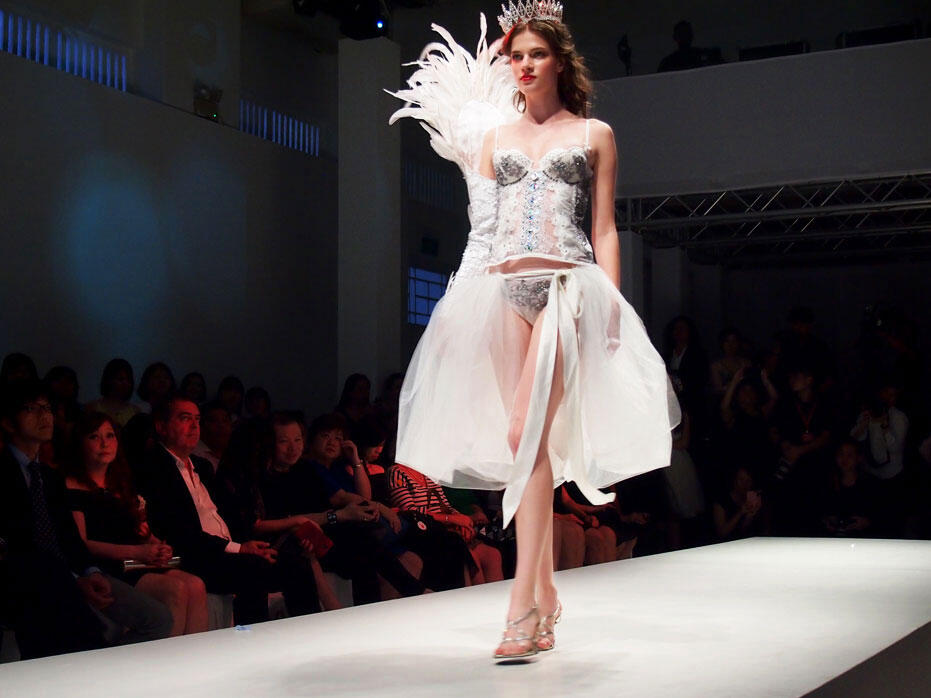 Again, loved all the styling. Very sexy and decadent yet keeping it classy.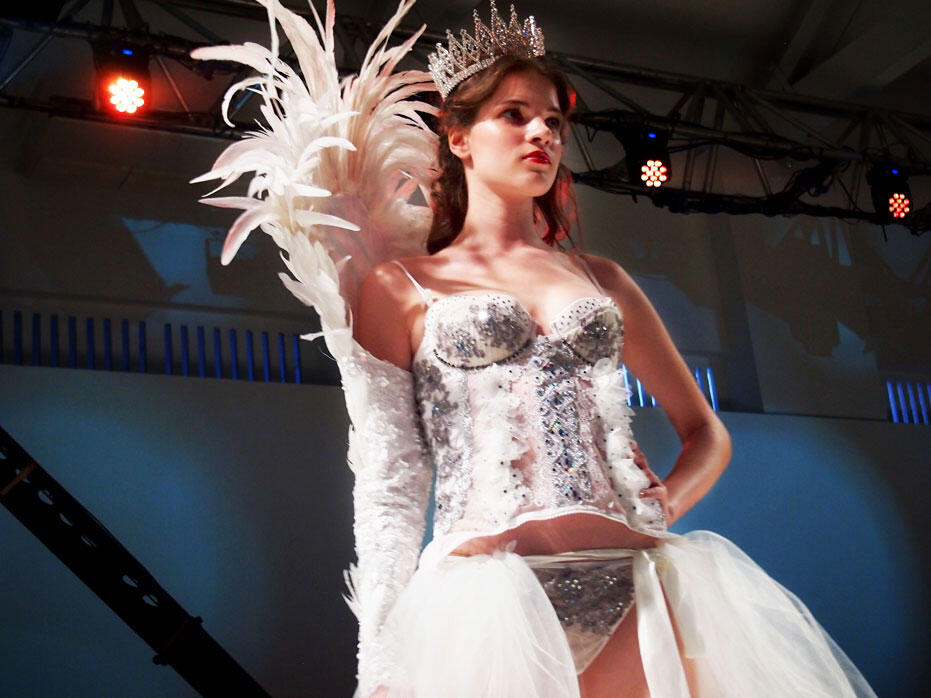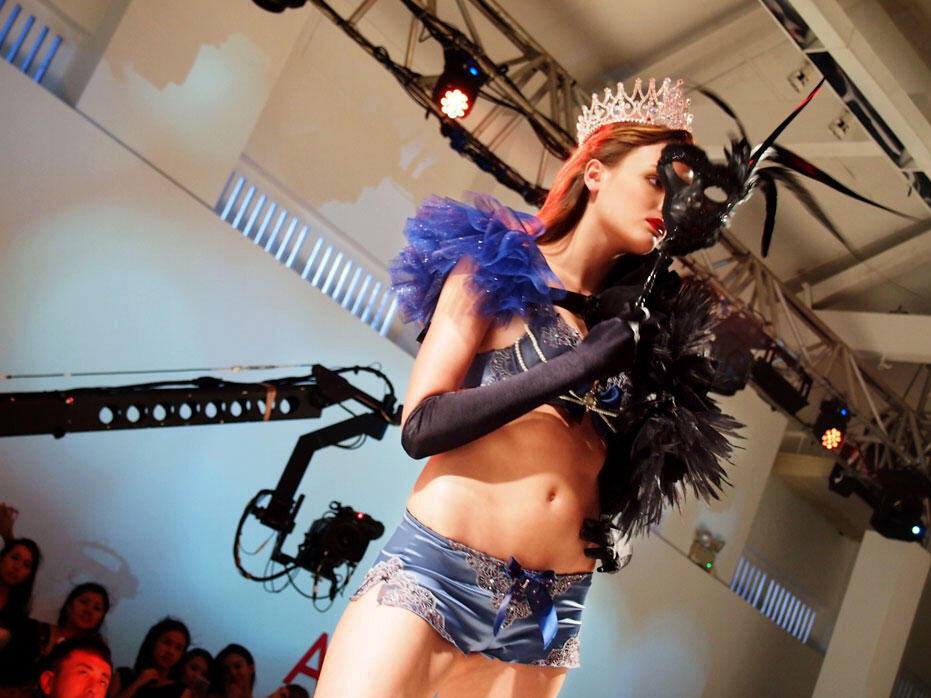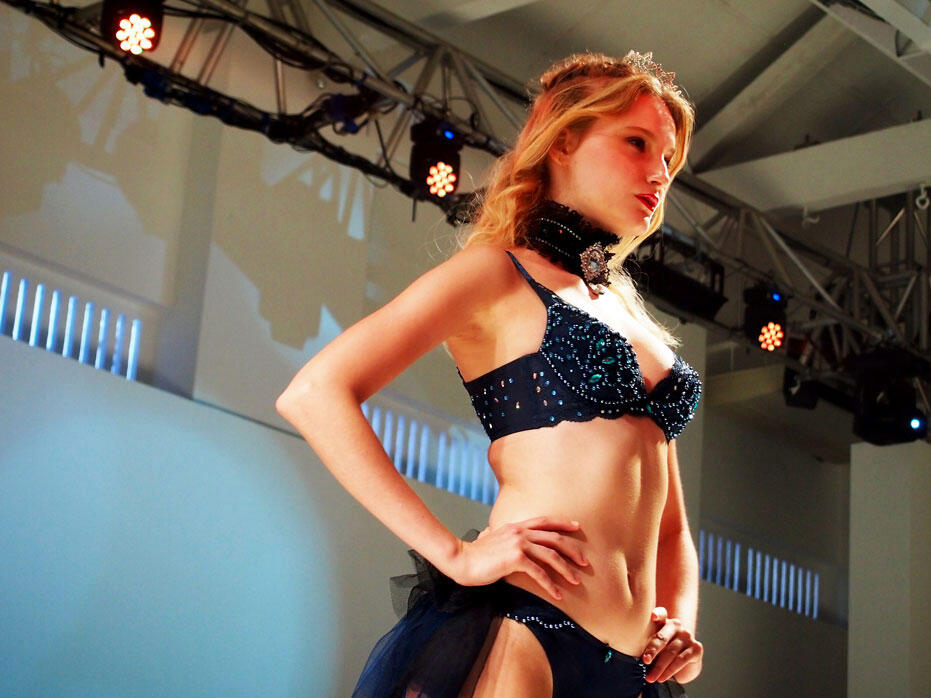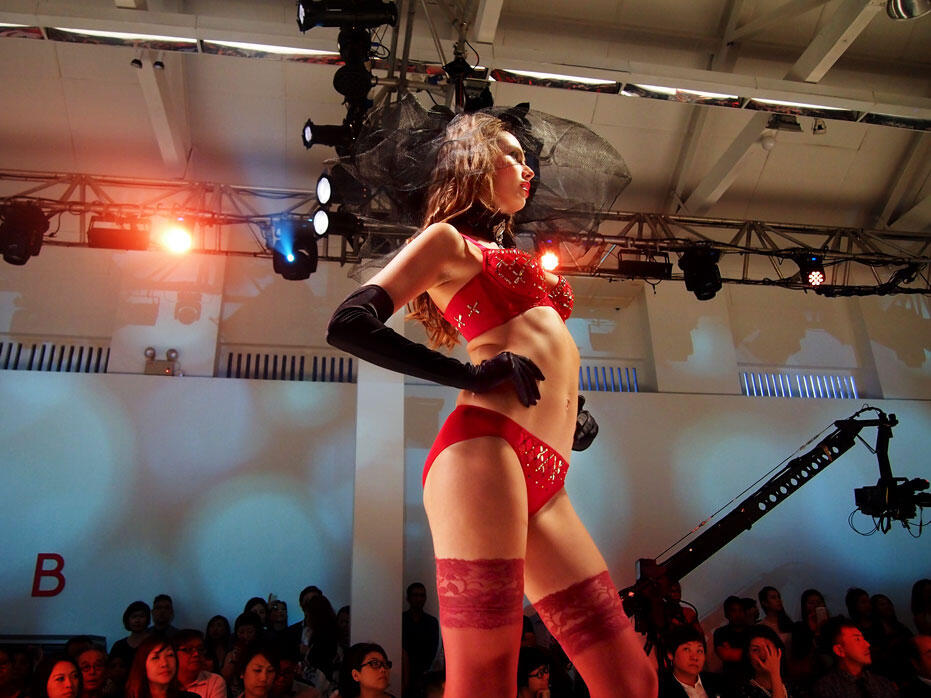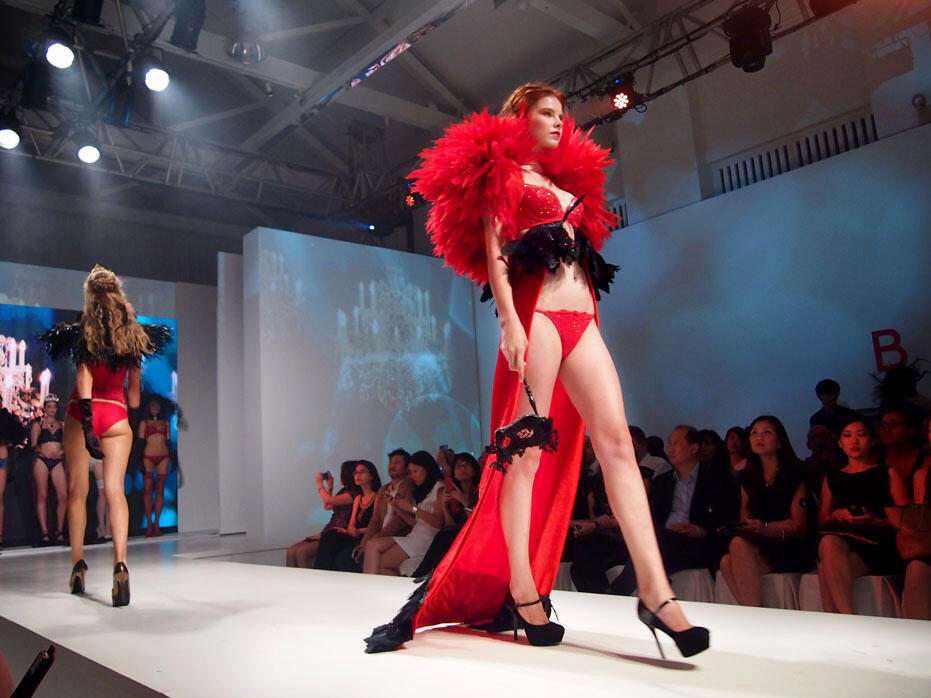 This ensemble above was the biggest show-stopping piece for me when it came out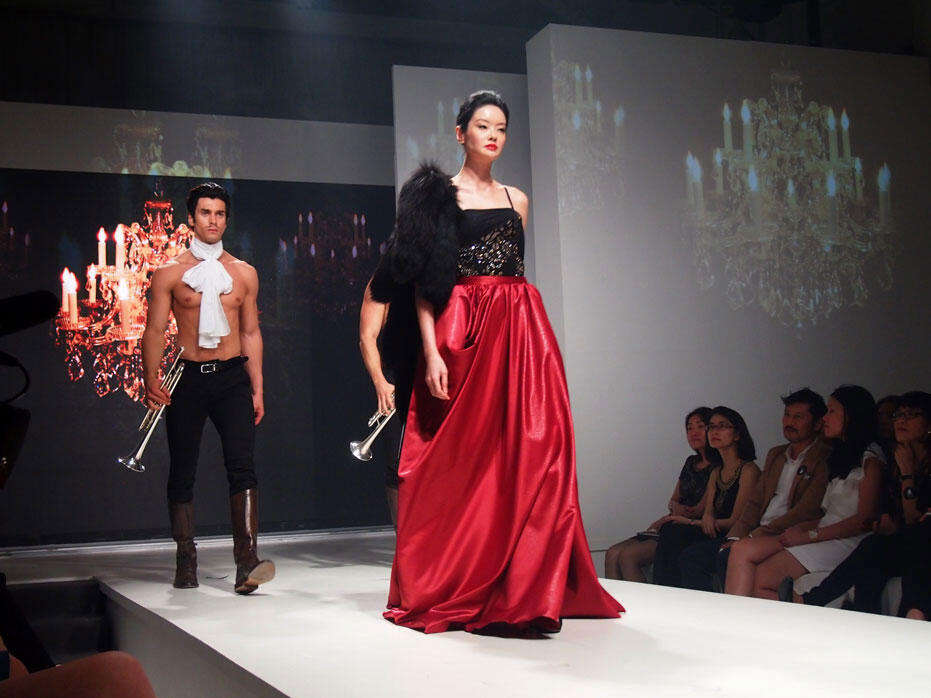 Singapore supermodel Sheila Sim took the last solo walk down the runway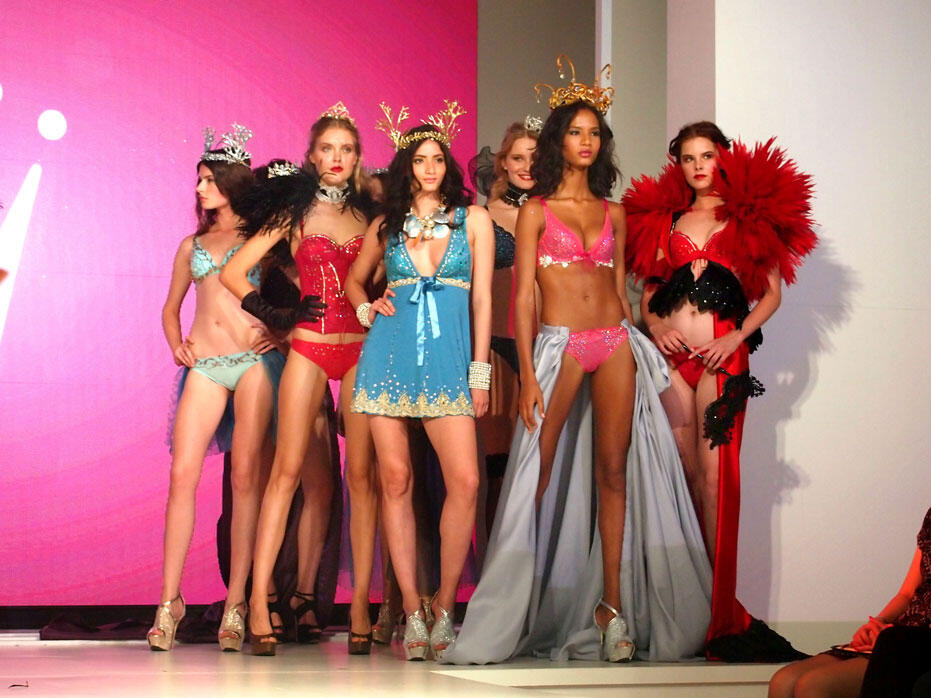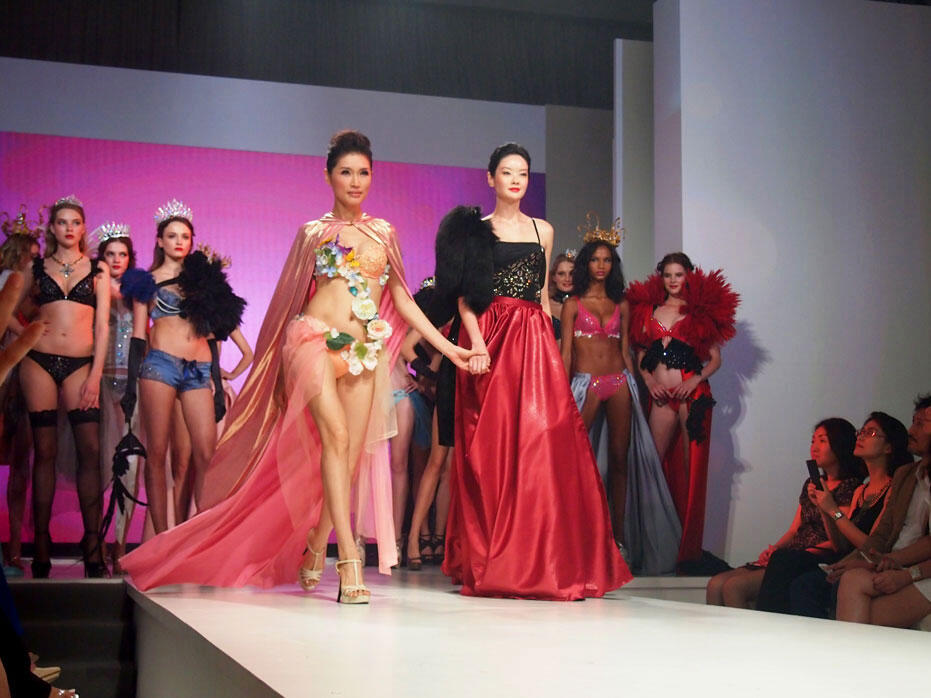 Malaysian supermodel Amber Chia and Singaporean supermodel Sheila Sim closed the show, holding hands #aww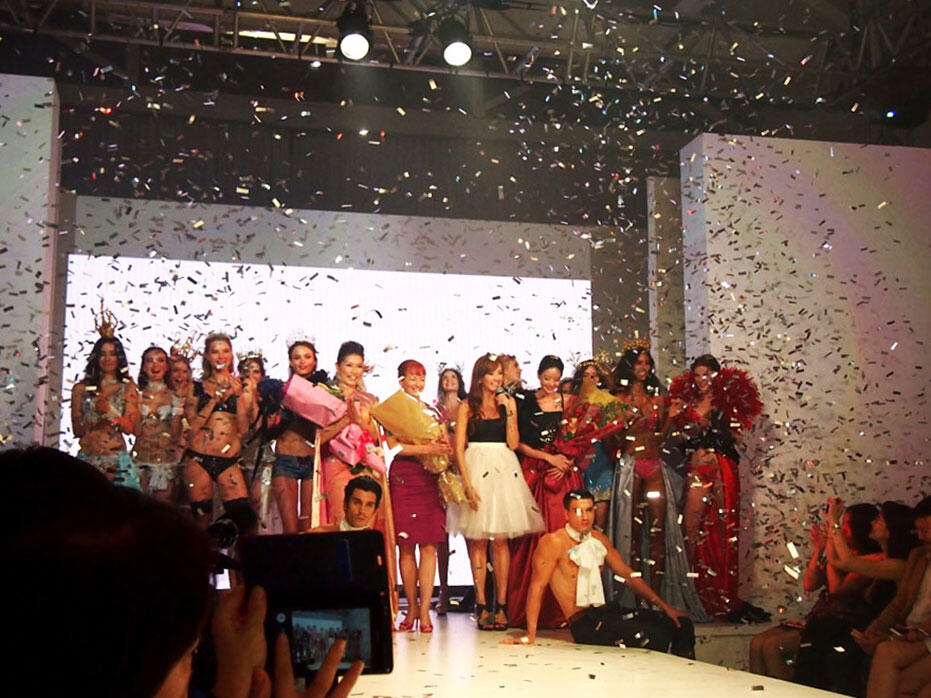 That was a really memorable show… the accompanying music and lighting effects made it all the more theatrical and i'm so glad i managed to experience it!
Catch the filmed lingerie show on:
– Channel U on 30th May, 10.30pm – 11.00pm
– Channel 5 on 31st May, 10.30pm – 11.00pm
All the lingerie pieces presented during the night were made available real time at triumphfashionshow.com 
You can view the full event pictures on the TriumphMY Facebook page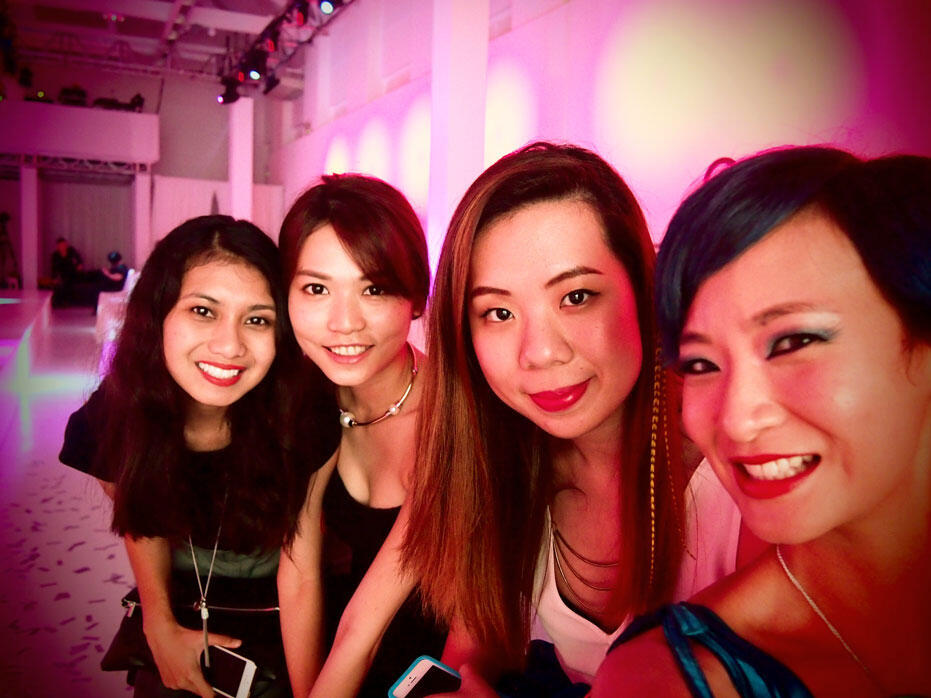 Nabilah from Her World Malaysia, Moi Suan from NUYOU, Joan Kong from Female Malaysia, and me.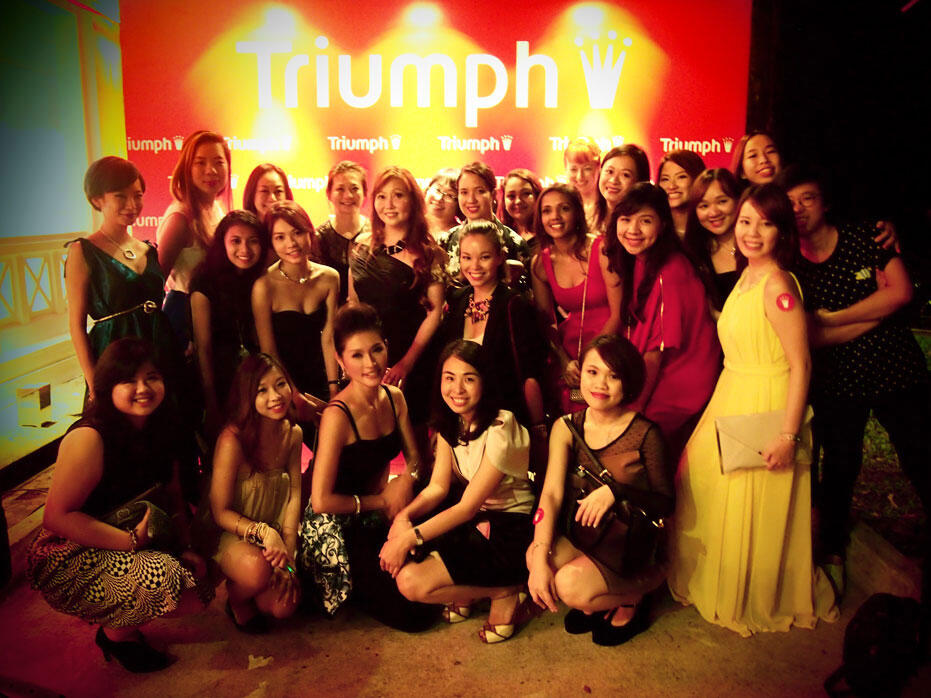 The Malaysian contingency! Hmm i think Deb is missing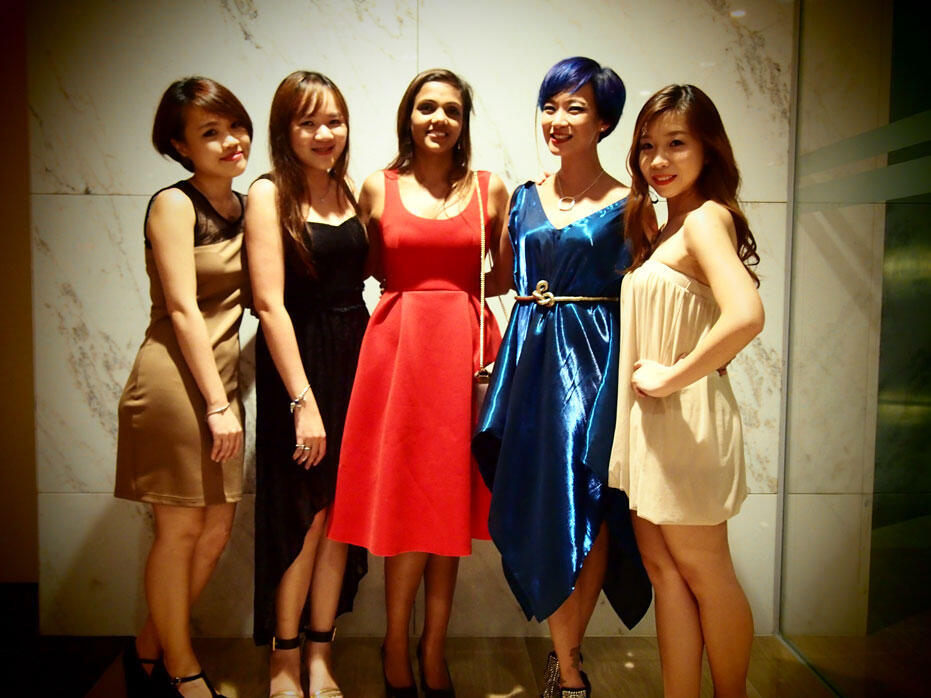 Me with the Triumph Malaysia team! – Lixin, Chantella, Kathleen, me, and Elaine
Thank you for having me!!!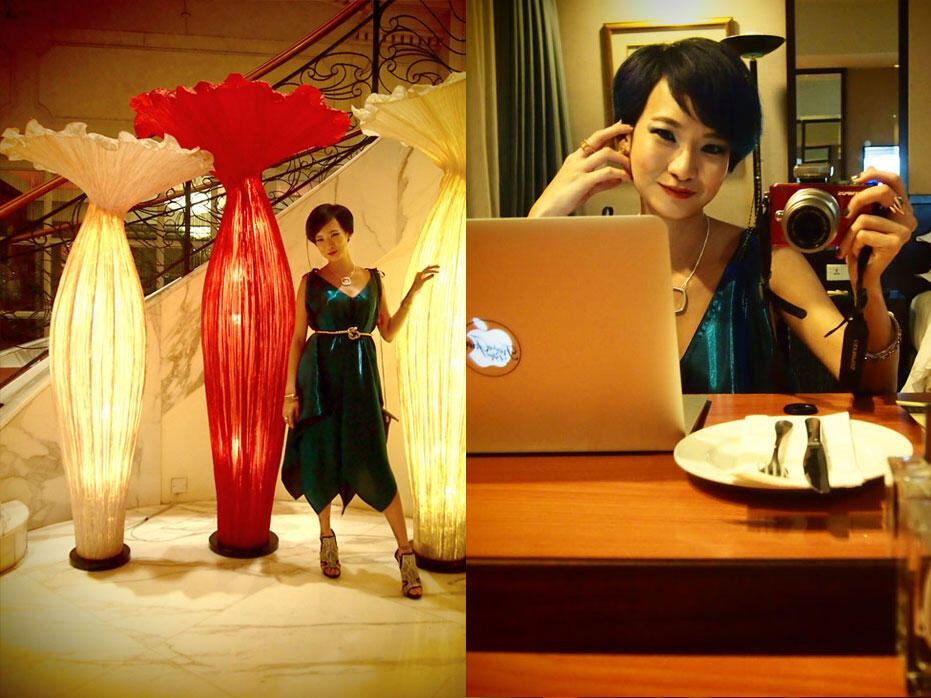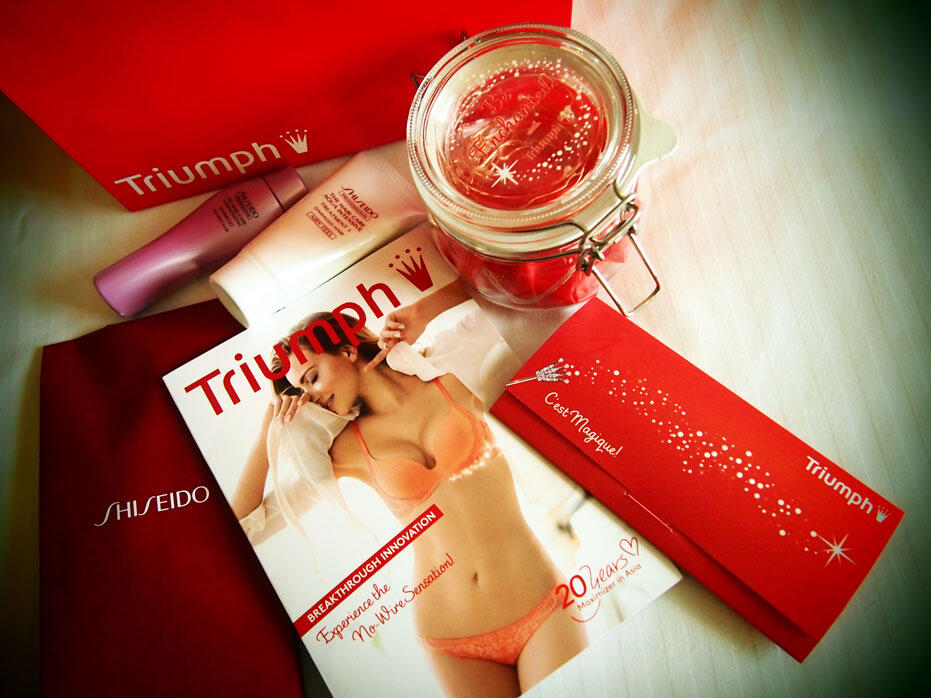 Goodies i got from the event that night – Shiseido products, Triumph vouchers and fairy lights in a mason jar 🙂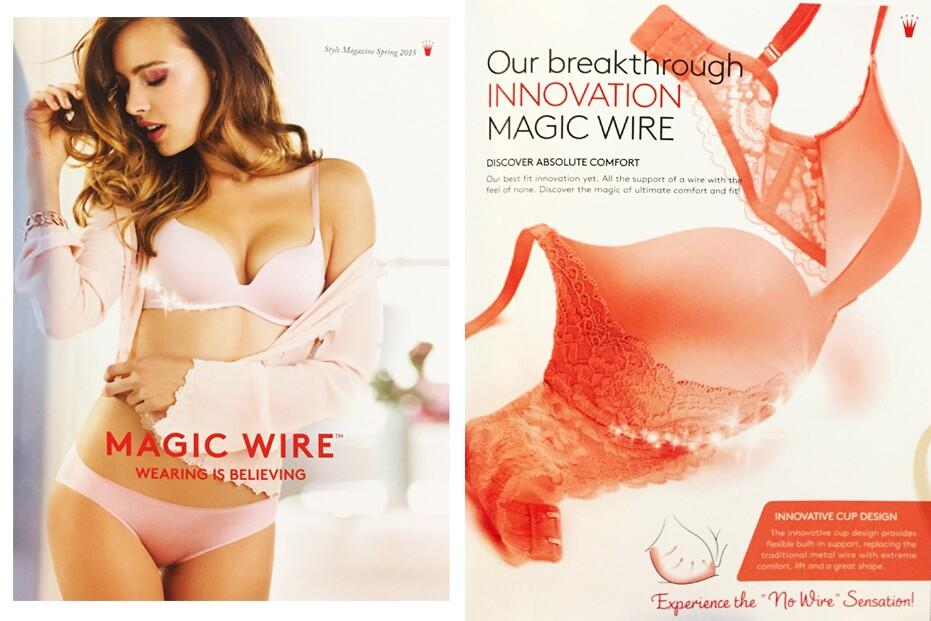 I have one of Triumph's latest Magic Wire bras and it's the softest bra i've ever put on, yet not feel like i don't have any support. The way i've described it to my friends is: It's quite amazing, like bra technology on another level. You just have to try it on to see for yourself. Just go get one.
I don't know how else to describe it! It's one of those things you have to wear for yourself to see what i mean.
Uta Witting explains it better:
"So what is so magical about this product, you may ask? This latest breakthrough in technology adopted by Triumph allows us to create the perfect bra that does not dig nor irritate the wearer, even after long hours of wearing! We have always heard of women complaining about the discomfort of wearing a wired bra and many can't wait to remove their bra once they are home. With the Magic Wire, women now can enjoy the support and lift of a wired bra, plus the uninhibited freedom and comfort with the clever built-in soft flexible shields.
Even without the traditional underwire in the bras, this Maximizer bra magically enhances your cleavage and offers full support that used to be only achievable with a wired bra! This innovative product was not only well received  by customers but also the design professionals as it has won the Red Dot Best of the Best 2015 Award amongst 5,000 other nominees from 56 countries."
This places the Magic Wire bra on the same design ranks as Apple's iPhone 5, BWM's 2er Coupe and Adidas' miCoach SMART RUN smartwatch.
Try it out for yourself and make up your own mind 😉
You can surf for Triumph stores using the store locator on their website.
KinkyBlueFairy readers enjoy RM20* off when purchasing a Triumph Maximizer bra!
Just give a Magic Code "JoyceMagic20" at selected Triumph counters.
Valid till 31st May 2015.
LIKE Triumph's FB page here: www.facebook.com/triumphmalaysia
Website: www.triumph.com/my