I had such an awesome trip in Seoul that i really want to blog about it…. even tho i didn't bother taking my camera out with me all the time and just wanted the convenience of snapping it with my phone :p #SorryNotSorry I didn't even edit these myself… i've been so busy and whining to Sweet Ee that i don't have time to blog about the fun stuff i do, that she said she'll help me photoshop and resize them 😀 SPANKS!!!
The group of Malaysian media consisted of 4 other ladies from newspapers and mags, with all of us accompanied by Cath from Omega Malaysia. When we walked through the arrival gate in Seoul, i spotted a TEAM of people dressed in suits holding up giant Omega placards. "I guess that's us…" i slowly said to one of the girls walking next to me. Usually there is a person or two who greets a media group at the airport, but this time there was almost one for each person. This Korean dude in a suit politely insisted on pushing my Rimowa bag along, as we were escorted to a sleek black car. That was just the beginning of the flawlessness in which Omega designs and executes their events.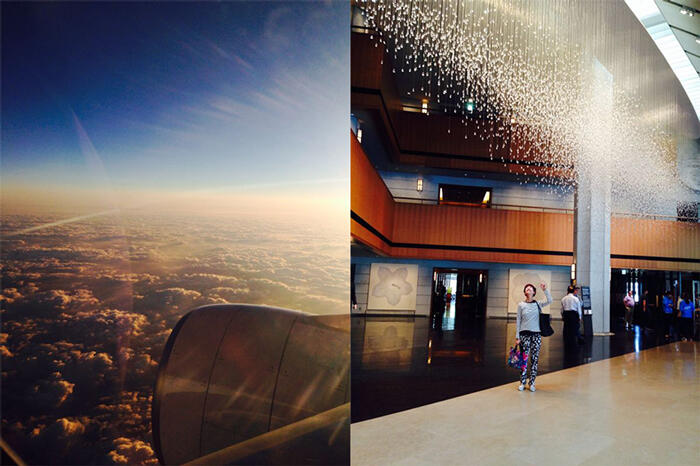 I instagrammed the sky pic: "I was so glad that @omega booked us flights on @MalaysiaAirlines. Previously I would fly all the other airlines to try them out… Qatar, Emirates, Cathay Pacific, Thai Airways, Sg airlines, etc. But at a time when MAS is tryna get over a double tragedy (as is the rest of our nation), now is the time to support our airlines. I actually had this morbid thought on the plane – that if I happened to die on a flight, I would readily accept my dramatic fate and decided it might as well be one from my own country."
Emo or what? Haha.
I've become emo in a good way when i have these few quiet moments at home alone. I listen to spotify and think about all the enriching experiences and wonderful people i've been coming across. It's like all the right things happen and the right people come into your path, exactly when you need them. Life is amazing. (Look, i'm emoing again.)
We stayed at The Shilla, a stunning establishment whose buffet spread is comparable to that of the Kempinski.
The pic of me on the right is of me pointing up at this captivatingly sparkly installation in their lobby. Seriously i never got tired of staring at that thing. Every night when i came home, i would take a few seconds to stand RIGHT underneath it and stare up with my mouth open. There was one occasion i was talking to someone in the lobby before we were leaving for the night event, and i lost concentration on what they were saying cos i spotted the sparkly stuff again and went, "Ooh…" Crazy how sparkly stuff makes me trip out like that.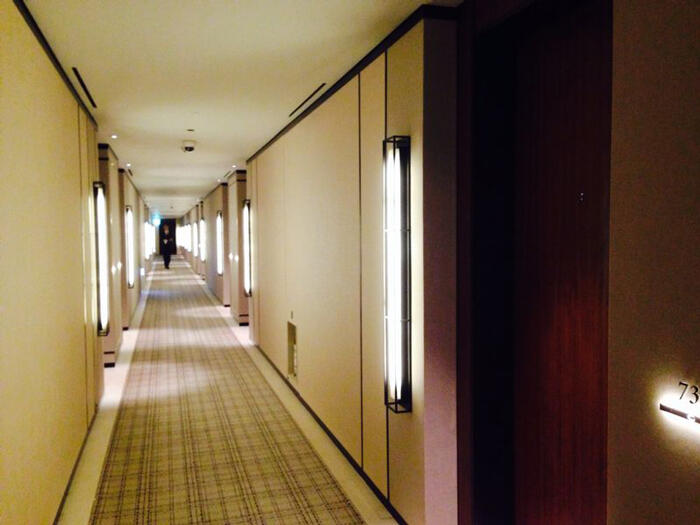 I really wanted to do a catwalk up and down the corridor but i never got to it.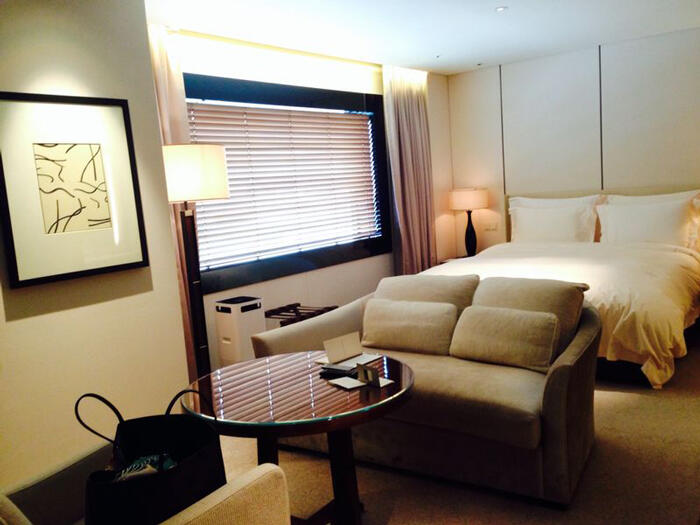 Where i holed myself up for a few days to work. I didn't sightsee much this trip cos i was SO busy with work, and i'd already done a big exploration in June (sorry, i never did get to blog about that :p). This room was a pleasure to work in.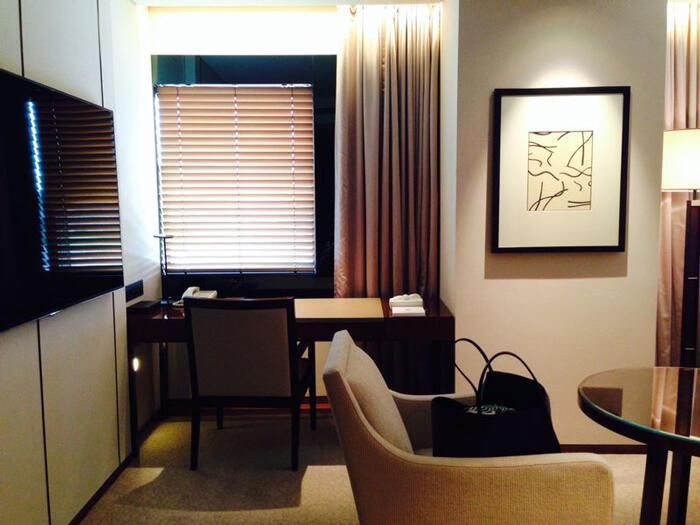 I used the desk to lay out all my accessories and handbag contents on. It was so much more comfortable working from the sofa!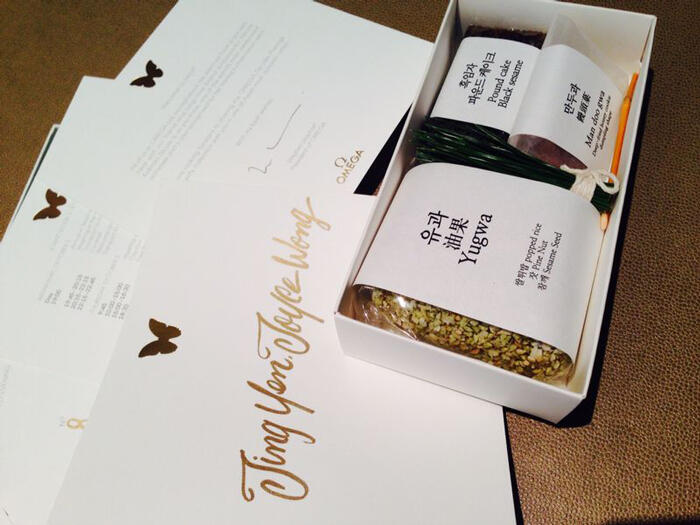 My schedule and welcome notes were printed on pristine white paper, held together in an equally pristine white box which i'd open by tugging on a tiny ribbon. I've kept that box to keep a necklace or something in, it's perfect!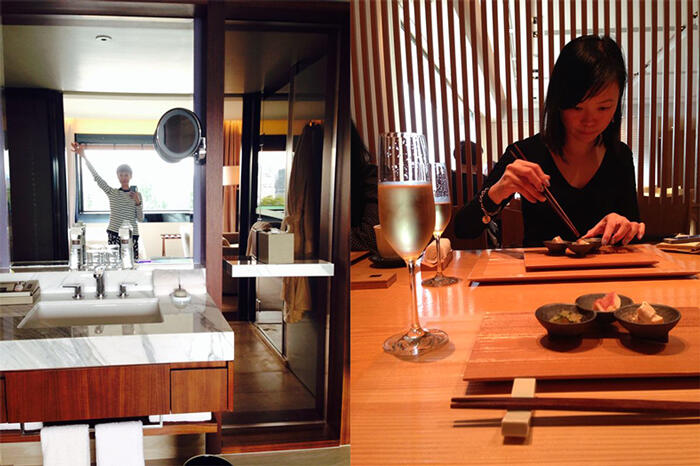 Bathroom on left. On right is Cath when she took us for lunch in one of the hotel's restaurants. I could see the relief on everyone's faces cos we were all knackered from the night flight and didn't want to venture far.
I didn't want to have champagne during lunch cos i've been drinking too much. But when Cath and Kate got one and Cath kept on nudging me to get one too, i caved in. It was a good choice. I must say the champagne went really well with the sashimi. And the lunch in general XD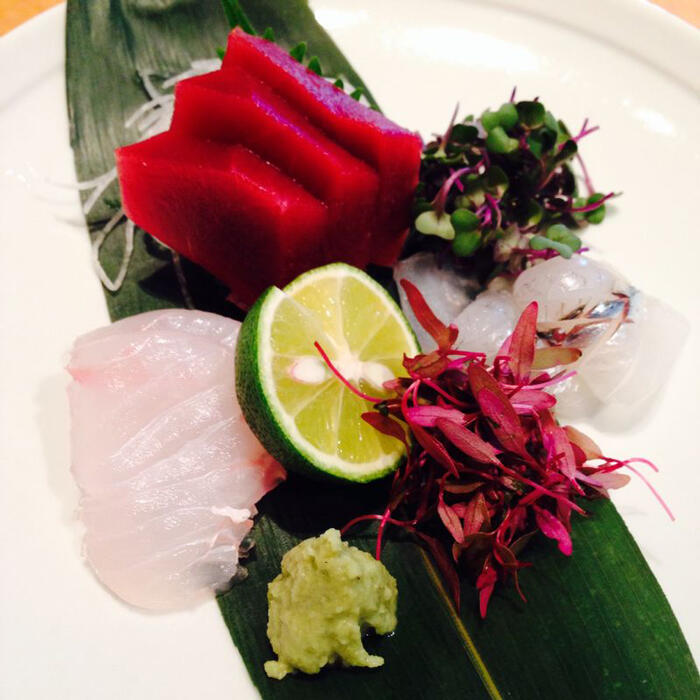 I had a beautiful set meal.
Flowers on the right were so pretty that everyone thought they were fake. I insisted they must be real cos i've seen Korea's crazy ass gorgeous flowers before, and got up from my seat to confirm it.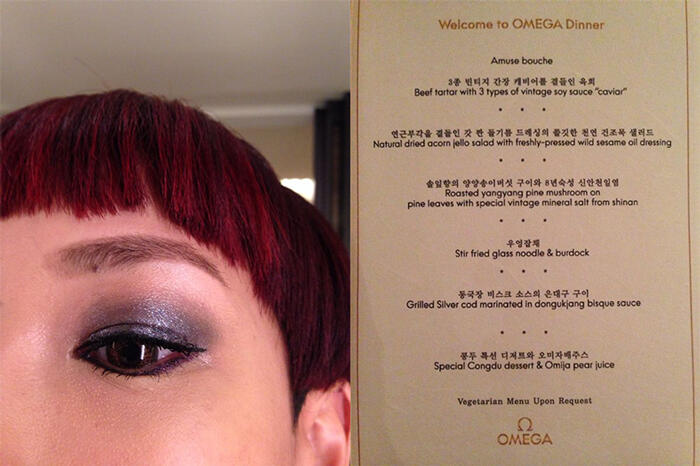 Make up on the left, i used Shu Uemura eye shadow base and dark eye shadow, then layered the top with Stila's metallic one in dark blue. The combination gives a great intense shimmery effect!
That night we were ushered for a welcome cocktail party on a rooftop bar, with an exquisite canape buffet spread of traditional Korean tidbits, and plentiful of champagne. After that we were chauffeured to Congdu for dinner.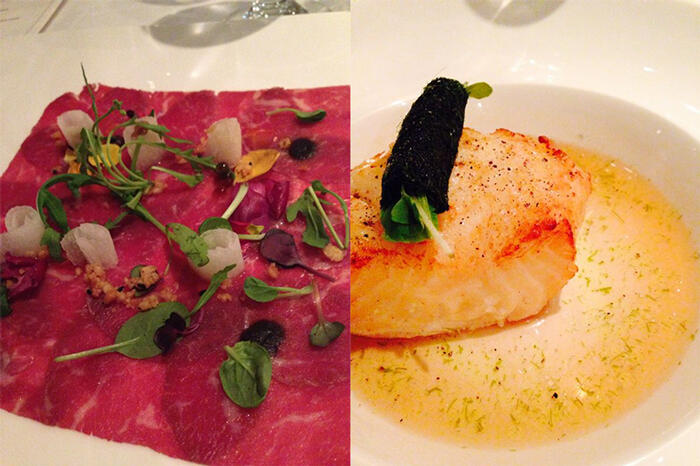 These are not even all the pictures of all the dishes i consumed.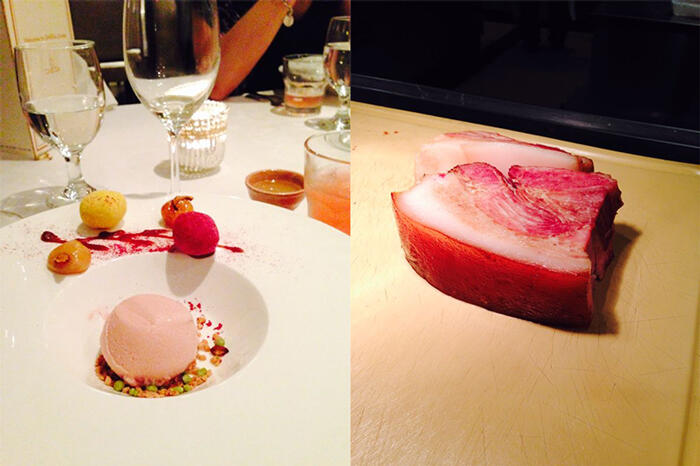 On left is dessert at dinner. On right is pork piece i spotted at breakfast the next morning. It was too early for me to have pork like that (especially after drinking with some of the Omega peeps till 1am in the hotel lounge).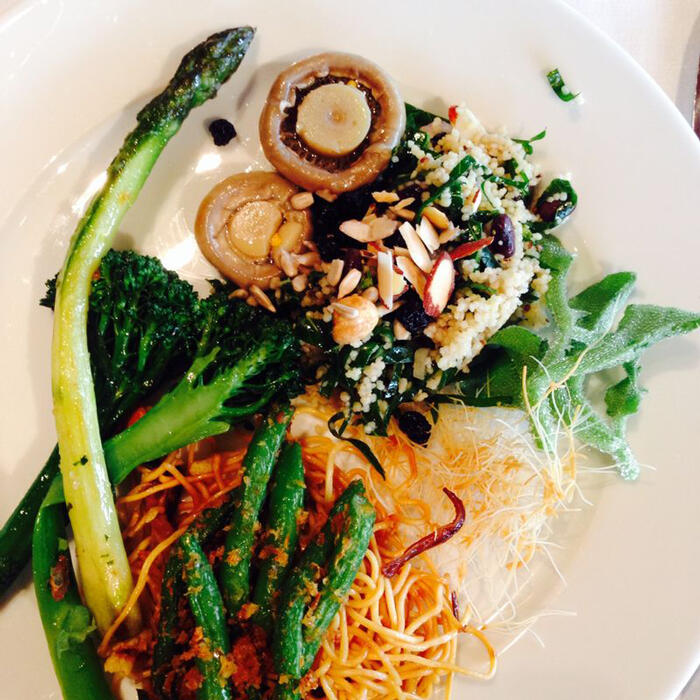 The breakfast i DID take.
That morning, the bloggers were taken for a surprise outing. Omega was so secretive about it, that all i knew was that i had to give the size measurements for my body and feet.
Turns out they'd arranged for us to be dressed by famous traditional Korean hanbok designer Park Sul Nyeo. Her boutique's wall is plastered with pictures of celebrities who've been there to do the same. I spotted Britney and Pharrell.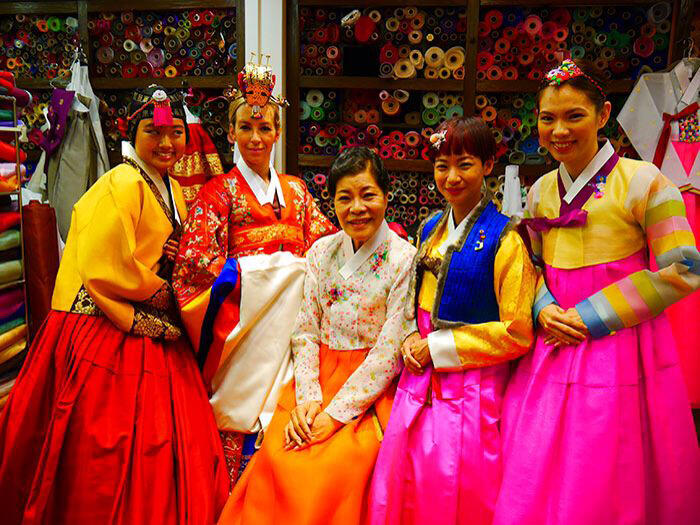 Crazy Miki from Japan, Helena from the US, Park Sul Nyeo, and me and Mei Sze from KL.
Miki blogged about our day out *here*
Park Sul Nyeo was extremely accommodating, and the hostess with the mostest. She served us tea and snacks, fussed around us adjusting the final touches to our looks after her team was done, and posed for a gazillion pictures. There was so much going on that we spent a lot longer there than scheduled and poor Julian (from Omega) was tapping his foot nervously. Haha women and fashion…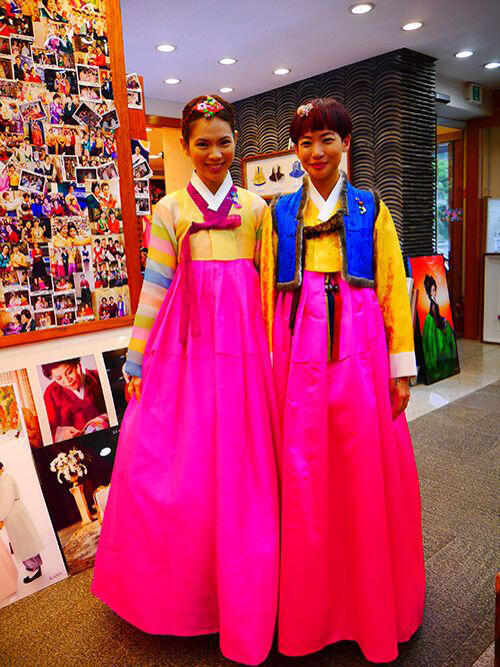 The hanbok is such a cute glamourous costume!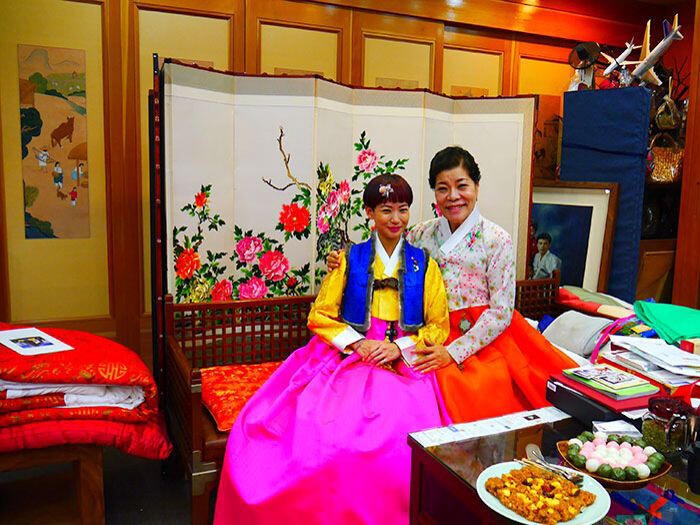 Quick visit to the palace, where i learnt that:
– the ground was intentionally made uneven so that everyone has to watch their step and tread carefully in front of the King
– the middle walkway is raised slightly higher than the ones flanking it on the left and right, because the King must always be higher than everyone else
– the pillars on the side marked where those of different rankings should stand in order of importance to be close to the King
(See i was paying attention!)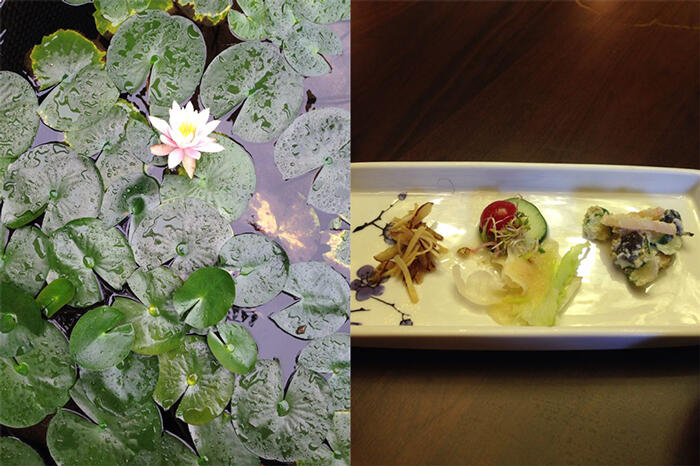 Lunch after. I took the picture of the lotus on the left cos my mom was OBSESSED with lotuses during our trip to Bali in June, but it wasn't that nice of a pic so i decided not to send it.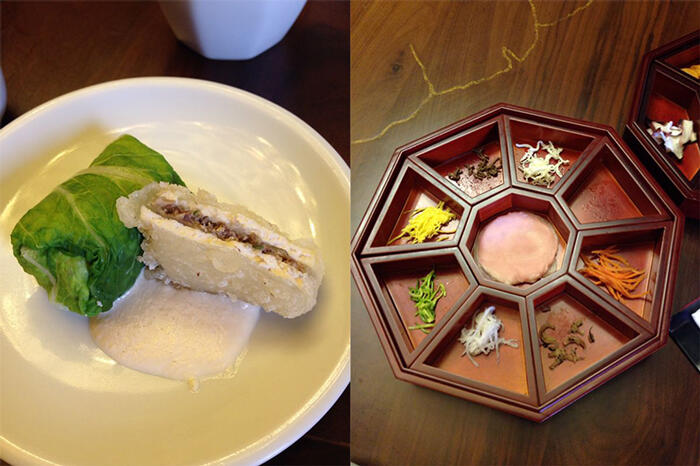 We had very traditionally-prepared Korean food (except i heard we got the royal kind), and everything was explained meticulously to us by our tour guide.
The awesome lit flower field and ME at the launch of the Omega Butterfly.
I'm wearing make up from Shu Uemura and Stila, and earrings from Thomas Sabo.
I already blogged about the event *here*
That night was mad. I slept at 4 and had to wake up at 7:30 cos we were all meeting at the lobby at 8am to head to the Park Hyatt to interview Nicole Kidman. She's such a sweet person IRL! At one point during the interview the topic of her father's recent passing came up, and she almost cried. She bravely talked about it, and how she was dealing with it, and there was complete silence for a while. Everyone just froze, not knowing what to do. I felt like giving her a hug!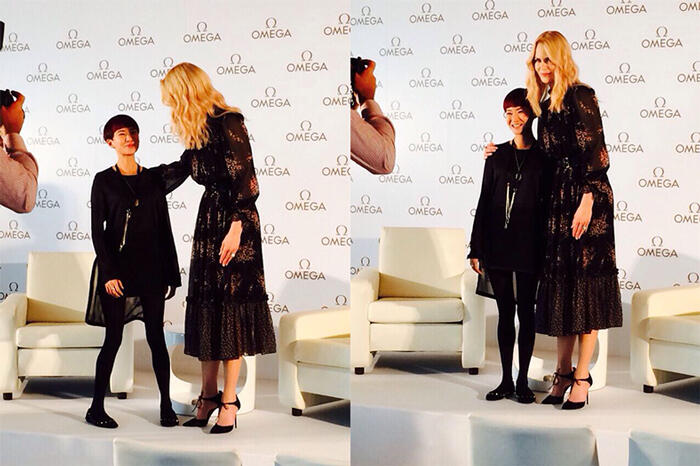 We got a picture, which is kinda cool. She's so nice to agree to let everyone have a picture with her.
Everyone says i look like a kid next to her, haha i do!
Dhanya asked whether she felt like adopting me, cos that's what SHE feels like.
I knew that Nicole is tall at almost 6′ but i didn't care that i was wearing flats… i'm comfortable with my height! I am a fairy, after all.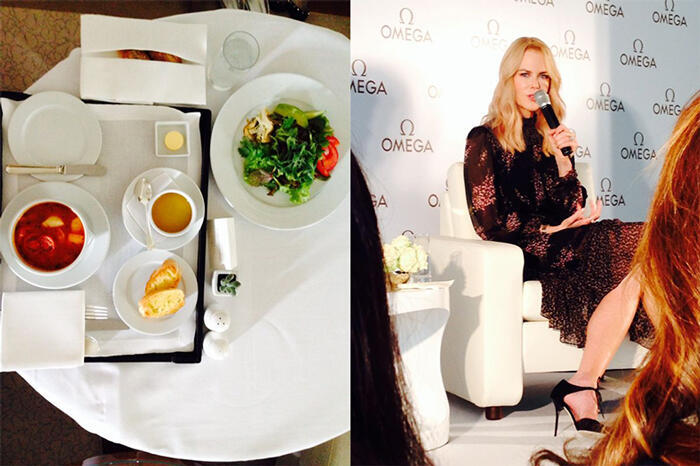 After the interview, i opted to go back to the hotel to work instead of sightseeing cos… i had a lot of work?
On the left is my lunch of a delicious seafood soup with giant fresh prawns, and an avocado salad.
Rushed work till 7pm, then went out.
I ended up in Hongdae, then headed back towards Itaewon to meet Mac and his friends.
I got to the bar they were at, and decided to get a drink at the bar cos i couldn't spot Mac. Turns out i was at the wrong bar, one directly below where they were. (The sign was confusing and this guy next to me said it was when i asked him. He was wrong -_-). My full pint of Guinness came and Mac appeared to get me.
"What about my drink?" i asked.
"Just grab it, let's go!" he picked it up and turned to walk out.
"But… is it okay?"
"We come here all the time, mmm what is this?" he helped himself to the drink.
That boy has no barriers.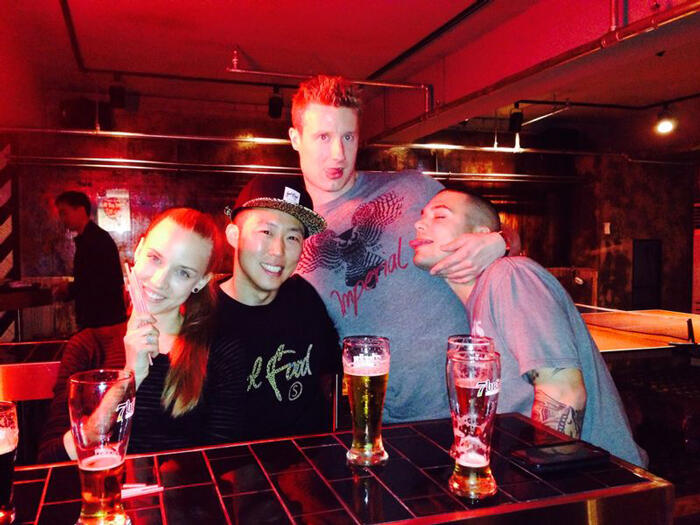 Sarah is a model from Budapest, Mac is well, Mac, Gabriel is a medic's assitant who likes to put his big hands on my head which i found annoying, and Howie has a lot of tattoos. They were all really sweet and i felt like we were a little family moving around that night.
We started off with playing darts. Mac flung his arms around Sarah's and my shoulders and said, "Okay! We're Team Pretty!" I'd never played darts in my life. I hit the board the first couple of times, but there were a couple more times i missed completely, or the dart fell to the ground. Okay fine, more than a couple.
We played rock paper scissors to drink. And i swore i wasn't gonna drink so much after the previous two nights, but THAT didn't happen. At the last round, i was supposed to get a bull's eye to finish the game. And on my second throw, i was thinking, "Oh come on Universe, it would be pretty cool if you could let me get this right now." And you know what? I threw it, not expecting too much, and had to blink twice to confirm that it had fallen RIGHT on the red bull's eye.
I couldn't believe it!!! I was like, "Whattttt", Mac was screaming and hugging us, and Sarah's mouth fell open for 15 seconds. Hello, magic. I love having you in my life.
We ditched the place after cos these guys were waiting for the darts board, and walked to another bar for beer pong. Couldn't get a beer pong table so we played ping pong instead and sucked so bad. We were SO bad that i had to place my forehead on the ping pong table laughing cos Mac was trying to teach Gabriel how to play and we all sucked. I tried to teach them 5/10/20 but Howie couldn't get it so we stopped.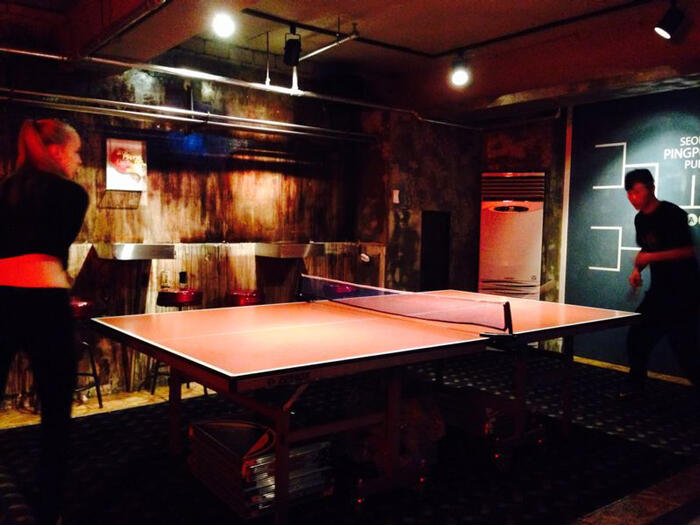 Gabriel and Howie left at 1am cos G was gonna do volunteer work the next day with Mac. But we were still good for hanging out, so Sarah and Mac came over to mine. The moment we walked in, he headed straight to the shower declaring, "I'm gonna take a shower! I stink from basketball!" Cos he and Sarah played basketball that afternoon. Sure dude, go ahead, use my shower without giving me a choice.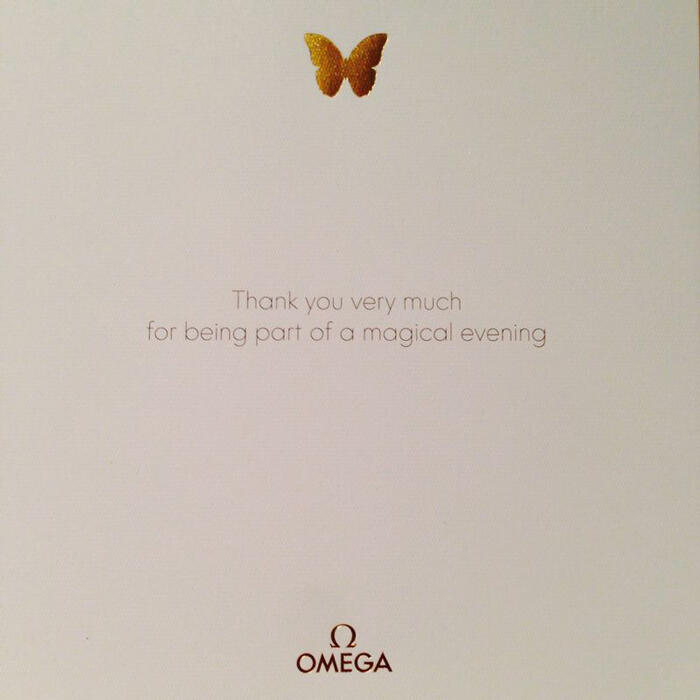 A goodbye card and gift were left on my bed just before my last night there. Sarah and i opened it together to find a delicate porcelain tea light holder with butterflies embossed into it. Thank YOU Omega.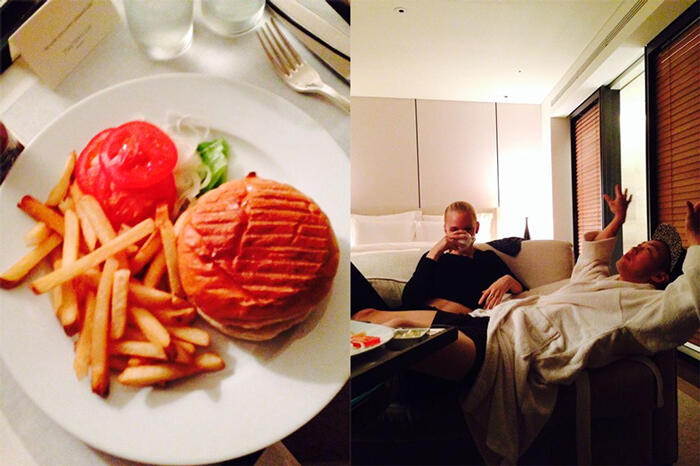 I felt naughty and ordered a burger. I haven't had a burger for months!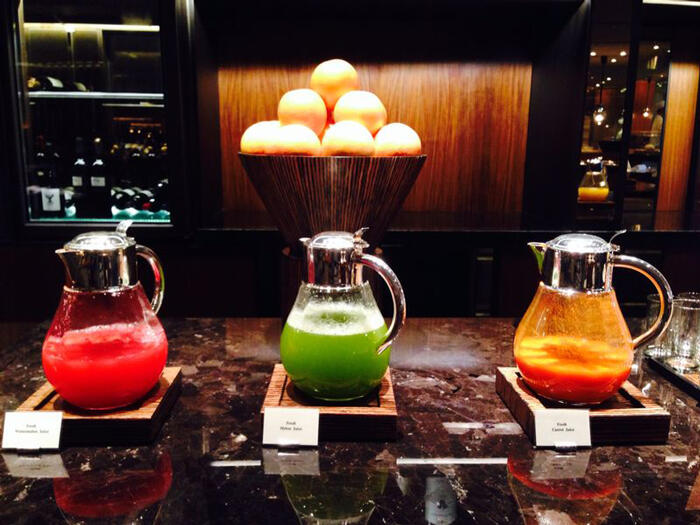 Loved the juices at the breakfast buffet, i tried fresh melon, carrot and watermelon juices during my stay there. The melon was exceptionally special.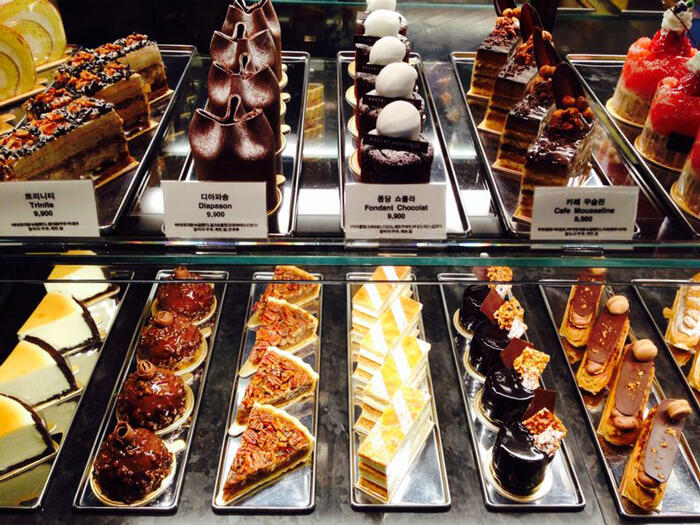 The cakes thereeeee, i didn't get to try one. I wish i could just LIVE at the Shilla and have all this awesome food at my disposal at any given time.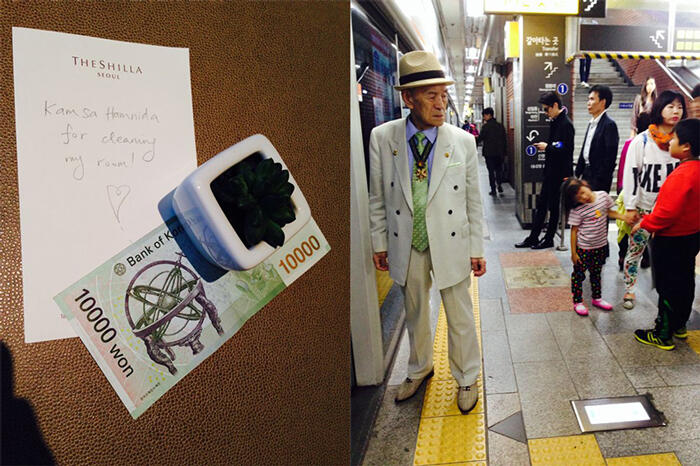 I try to remember to leave tips for the cleaners at every hotel i stay in. We tip masseuse, bellboys, and taxi drivers… but we forget to tip some of the people who get paid the lowest while servicing us! I'll probably be slayed for this cos i only learnt after that from another Korean friend that tipping isn't customary in Korea. Oops.
Spent most of Saturday doing work too (i guess i went out mostly at night this trip!!) then made my way to the Freemarket in Hongdae. I remembered how much i loved it from my first trip last June, as all the vendors there sell things that are handmade or designed by themselves. It happens till 6pm every Saturday at the Hongdae Children's Park, from March till November when it isn't too cold.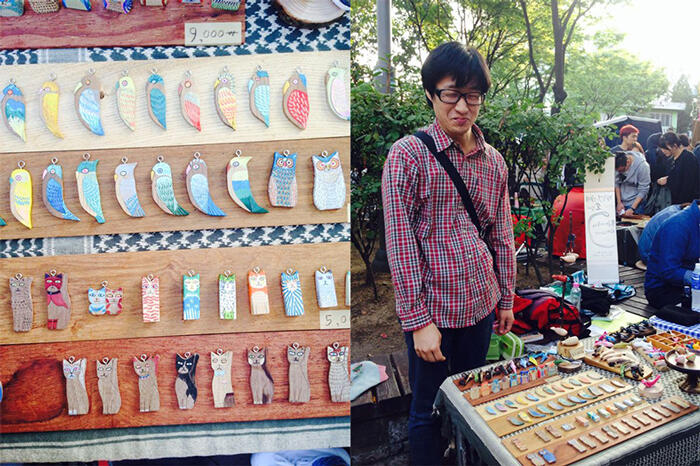 I bought some hand-painted wooden pendants of cats and parrots from this sweet Korean dude. He's got some painted hand-carved whales too! I wish i bought this specific blue whale i saw the last time, it wasn't there anymore (obviously) and the other whales just didn't speak out to me.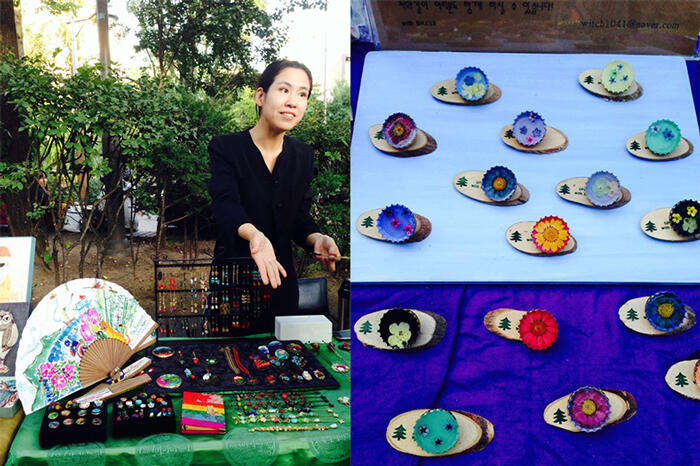 I got a closable gold mirror with a hand-painted dragon on it from the girl on the left. She also sells fans which she painted cartoon versions of the Avengers on. On the right was another stall selling upcycled bottle caps with flowers and colours embedded into it. So pretty! I bought a brooch.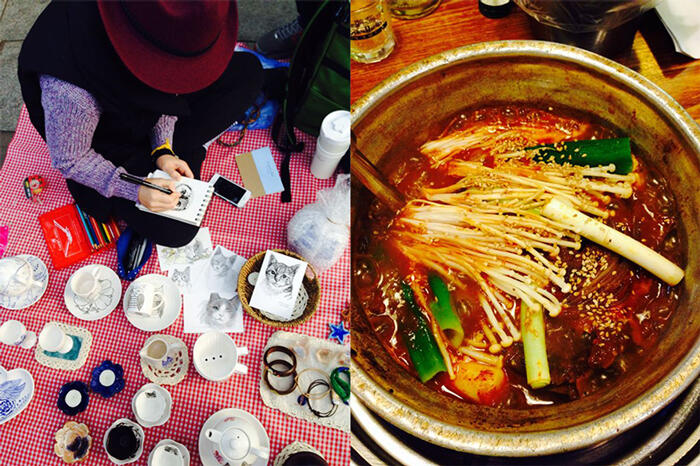 On the left are hand-drawn postcards of cats. I bought one cos it was too nice not to! I'm collecting all these cool hand-painted and designed postcards from all my travels to put up on one wall in my new upcoming home 😀
Sam came to meet me while i was at the market. It was so crowded he couldn't see where i was so he msged me to put up my hand. I did while continuing shopping and felt like it was taking so long that i messaged back, "I feel dumb." The message back said, "Turn around," and he was behind me laughing. He took me for Korean food and laughed when he saw i brought my own bib. Korean restaurants provide bibs at the BBQ, but they're so unflattering! I think i could get in on the market in Korea with my soon-to-be fashion bibs. I just dropped by my tailor today to get her to make more to sell!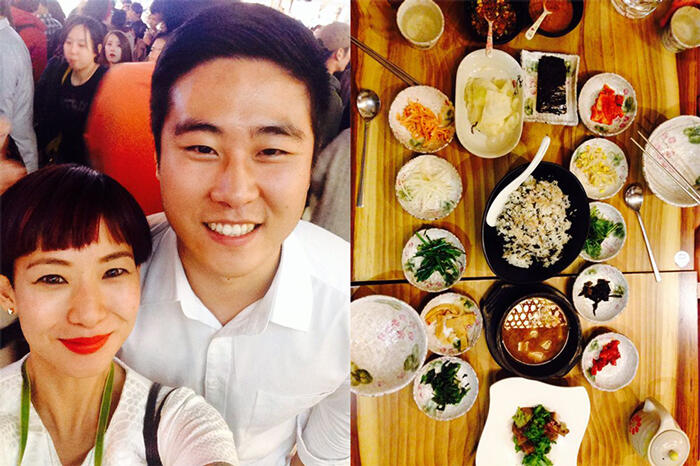 Sam spent his high school years in boarding school in Sri Lanka before moving to Hong Kong, so he only JUST got back to Korea. He was almost as lost as me at times (okay, most of the time) but he did know how to spot a good Korean restaurant.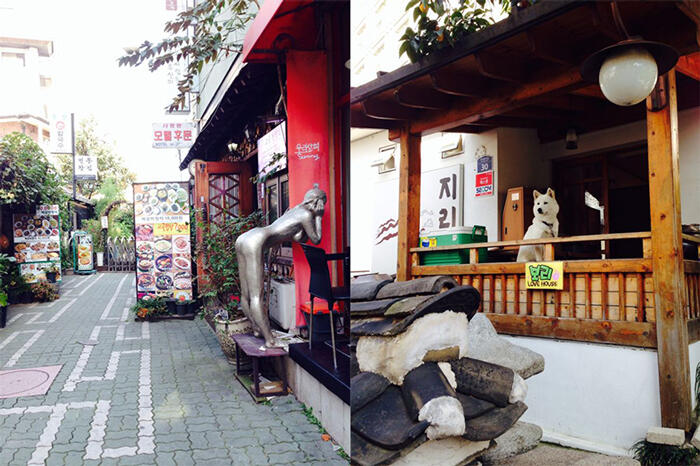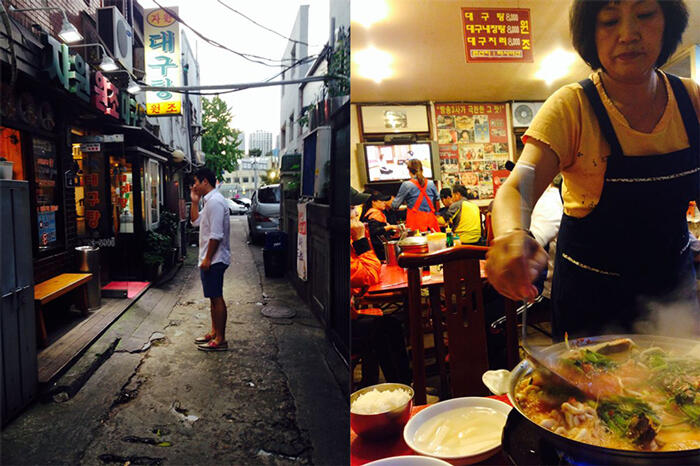 We went for dinner in this restaurant he last went to as a kid, where he swore upon the cod fish intestines, which i'd never tried before. It sounds and looks gross, but it was REALLY good! I'm a fan of eating cod fish, and the intestines were even NICER. It was smooth on the outside, with a slightly grainy texture. Nothing quite like anything i've eaten before.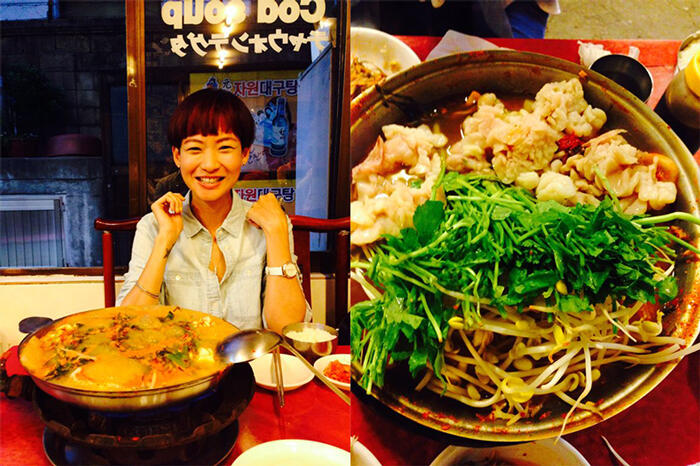 Wearing the denim shirt i got from the recent Live in Levi's project. 
I was supposed to stay in Seoul till Sunday, but i decided the Thursday before that i was having so much fun loving the city that i decided to extend my trip an extra two days. Plus the fact that Rahul was flying in on Monday so we could hang out!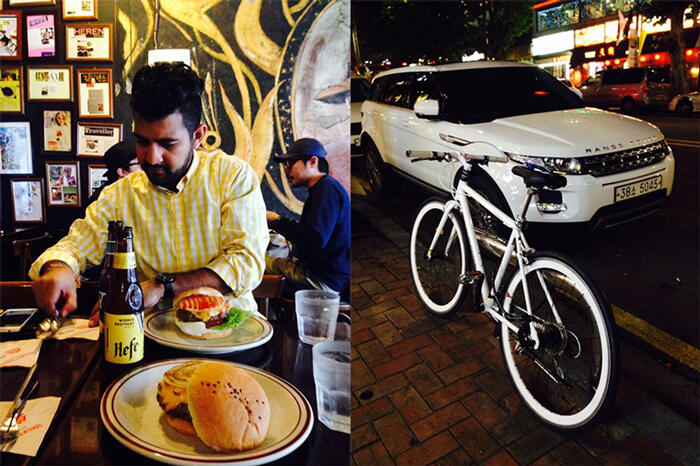 We had burgers for lunch. I know right! I had two burgers in one week. What is going on!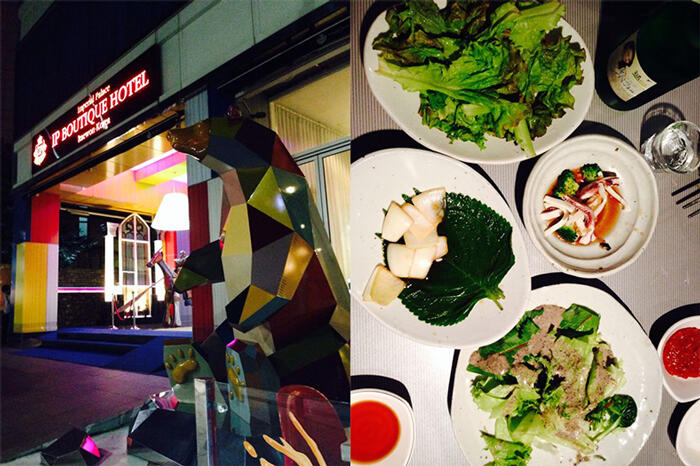 I worked from the hotel all day (again) before joining Rahul at the MUCOM (music festival conference) thing for which he flew in.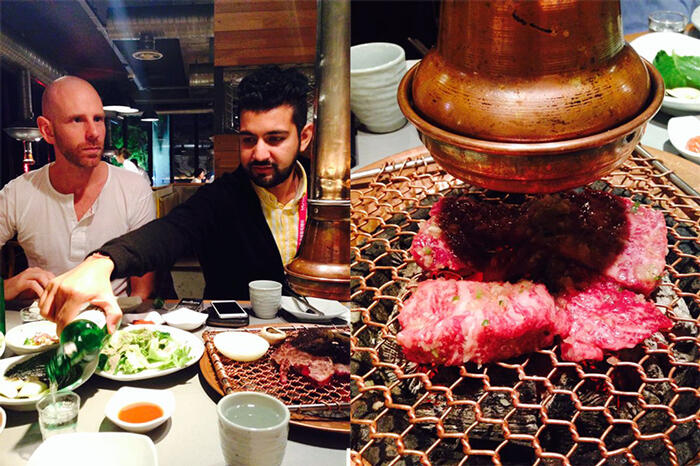 Priya got a tip off a friend about this Korean BBQ restaurant and we hunted around for it. The interior was swanky, and there were only Koreans in there (which is always a good sign).
On the left is Jay, he organises Clockenflap, Hong Kong's music and arts festival that's happening soon 28-30 November!
On right is Rahul… topping up the shoju.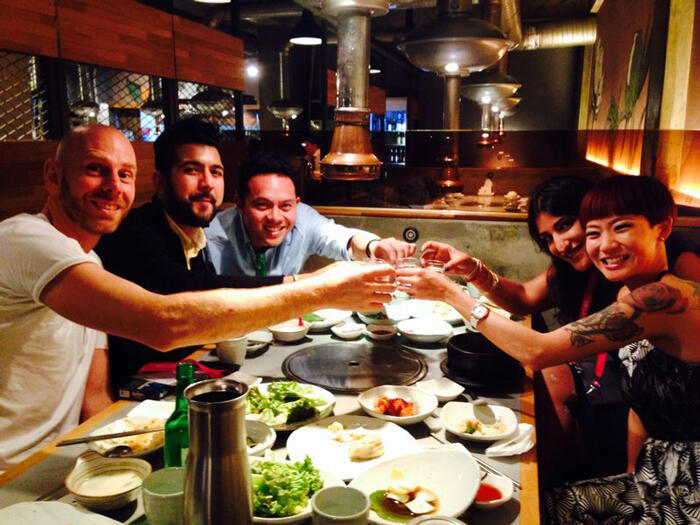 Jay, Rahul, Yuda from Jakarta, Priya from Singapore, and i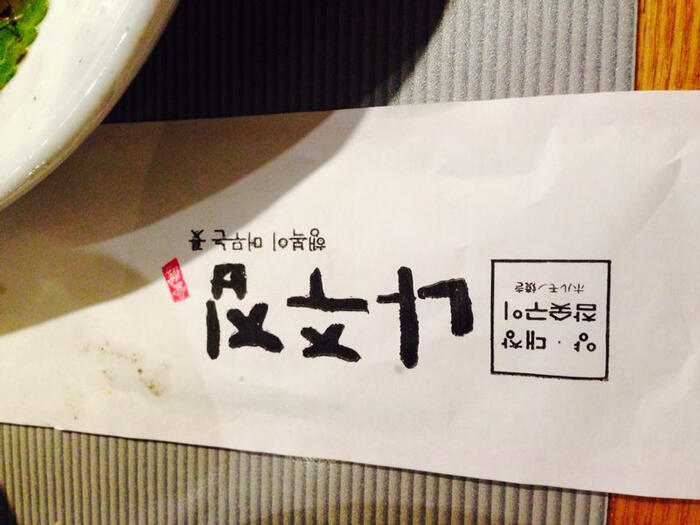 The restaurant we went to.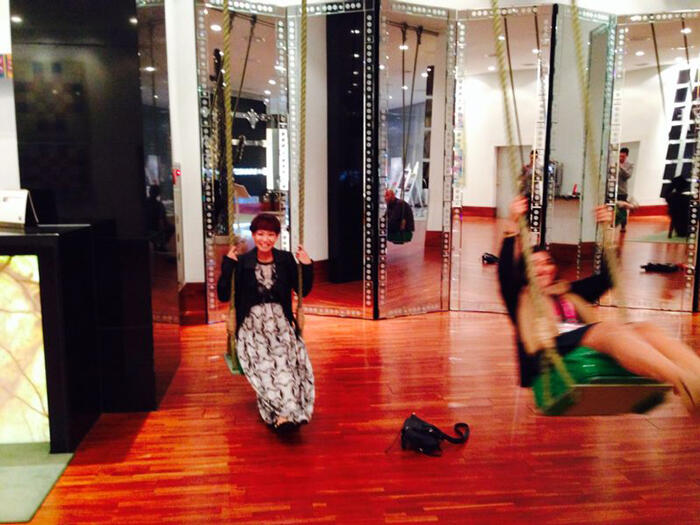 Went back to IP Boutique hotel to pick up a couple of people to join us. There are swings in the lobby! I'm still adamant i want one in my house in a doorway or something!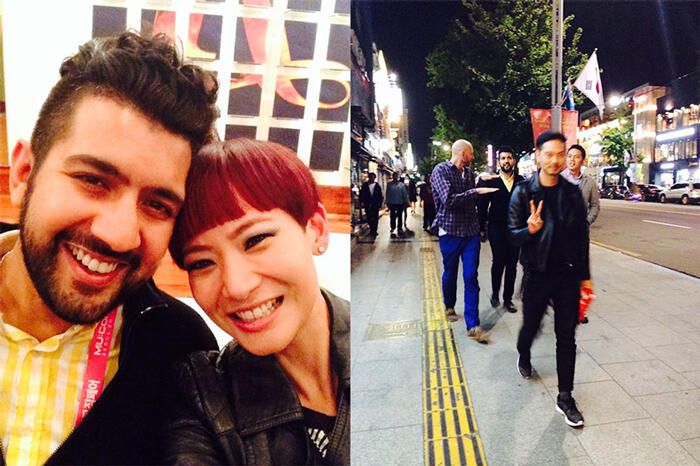 Rahul's upcoming event for Livescape is The Ship!
It's a 4-day cruise set to sail from Singapore to Langkawi and will be Asia's biggest party at sea. Private party on island in Langkawi, 3,500 people, Basement Jaxx, Dash Berlin, Churches, Aeroplane, Sasha Grey. 10 clubs, a casino, spa, gymnasium, climbing wall, it's gonna be mad.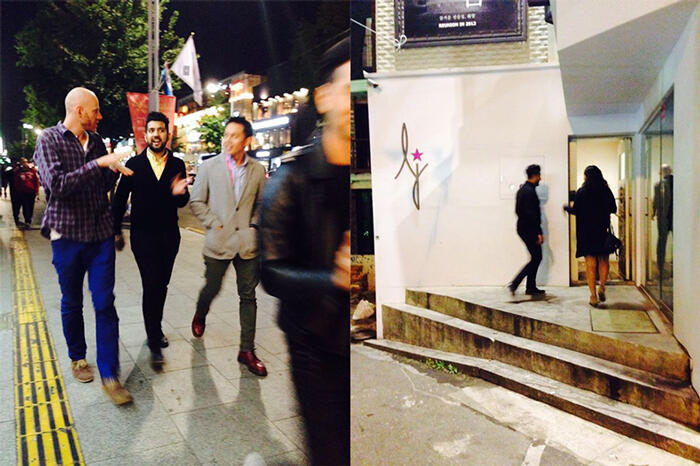 We went bar-hopping around this area Nevin took us to.
With Joel who's in a band called White Gallery. We talked about music and ways of creative expansion, before i found out he's a musician.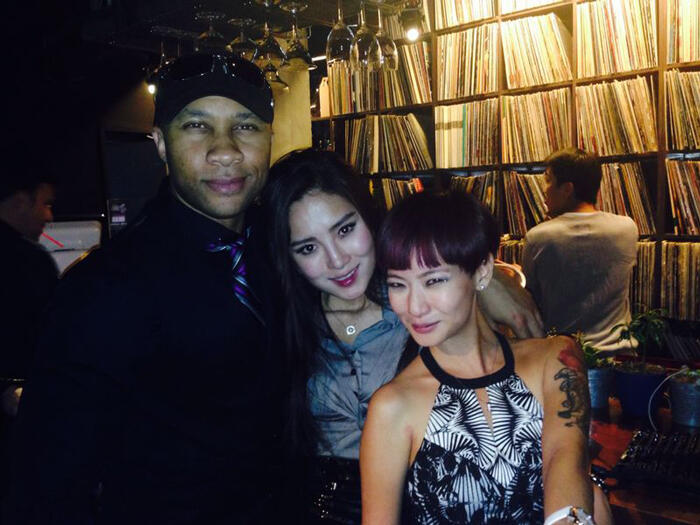 Skai, Kiara and i.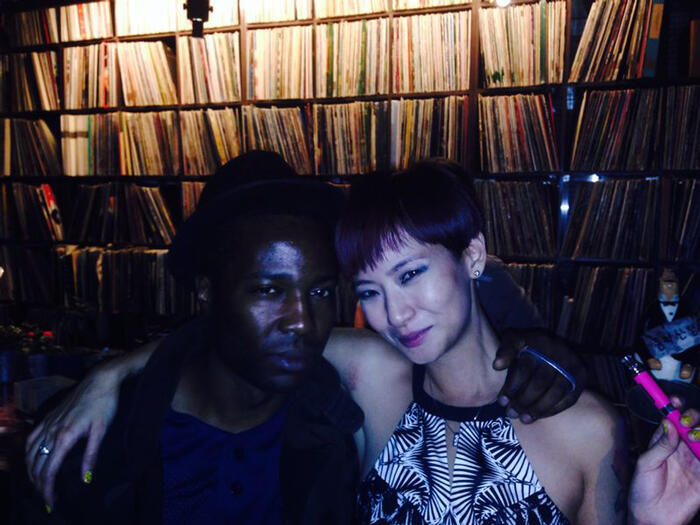 Nevin from Canada, he's an artist (DJ?) currently living in Seoul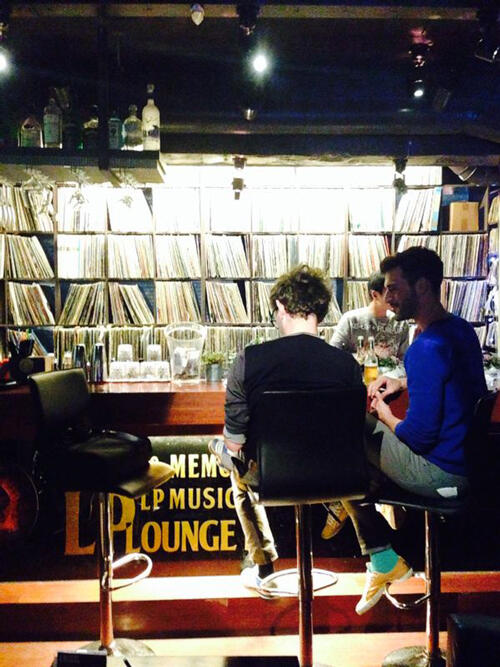 The bar we were at had shelves of vinyls as deco.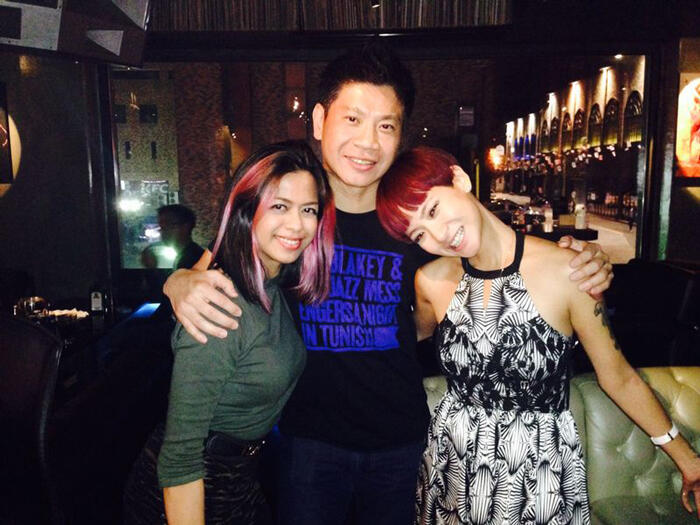 Laughed a lot with Gina and Elvin from Singapore.
I'm wearing a dress that i picked out at the Love Bonito soft launch.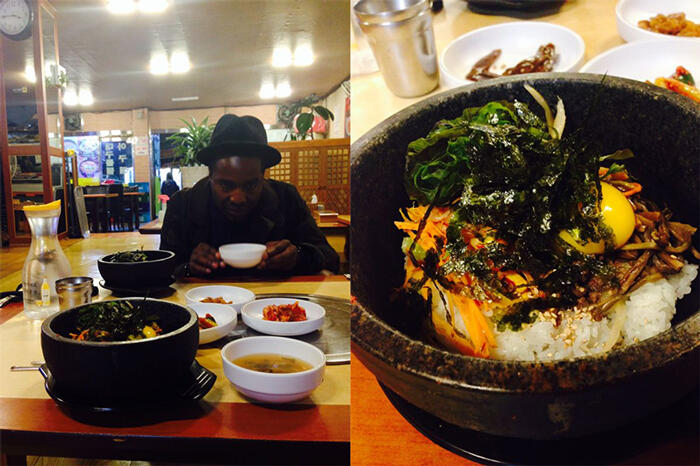 I felt like eating so Nevin offered to have supper with me and walk me back to the hotel which was nice of him.
We had food whipped up for us by an old Korean couple in the middle of the night. Damn it was good… i miss it now looking at the pix.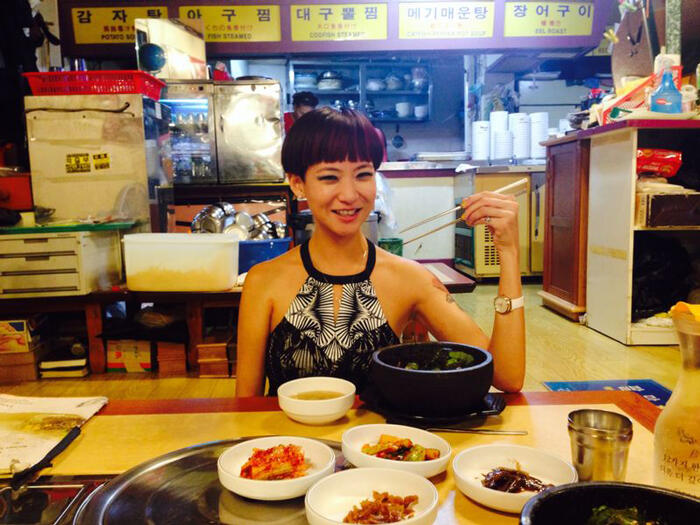 I got home at 4am (again!!) and dragged my half-dead ass outta bed at 7:40am to head to the airport.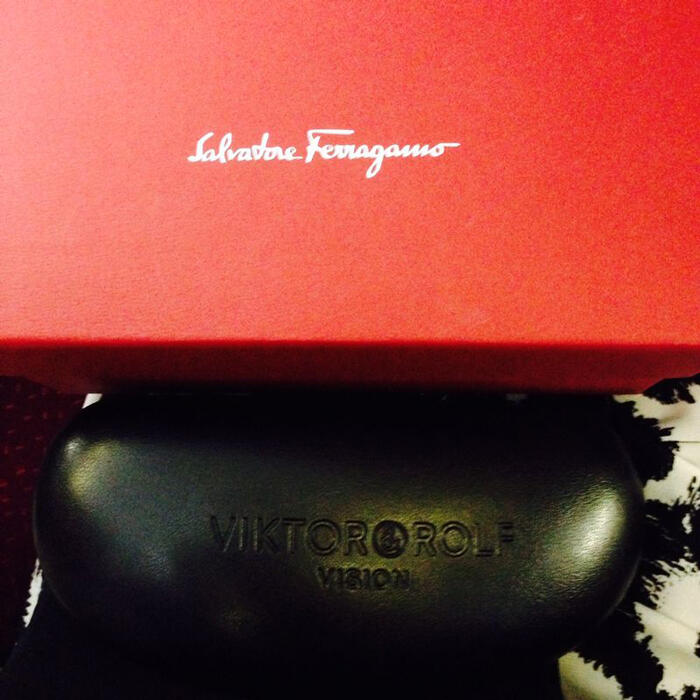 Still managed to shop there.
In my defense, the selection of duty free sunnies in the Seoul airport is amazing!
I had such a great time in Seoul and love that city so much! It's definitely my favourite city in Asia at the moment. I keep wanting to stay longer, or return when i'm here now. I even installed Kakaotalk on my phone cos everyone uses that instead of whatsapp and i figured i might as well get with the program.