I thoroughly enjoyed my stay in Frankfurt, thanks to being put up at luxury 5-star hotel Kempinski. To see more pictures of my room there, click *here*.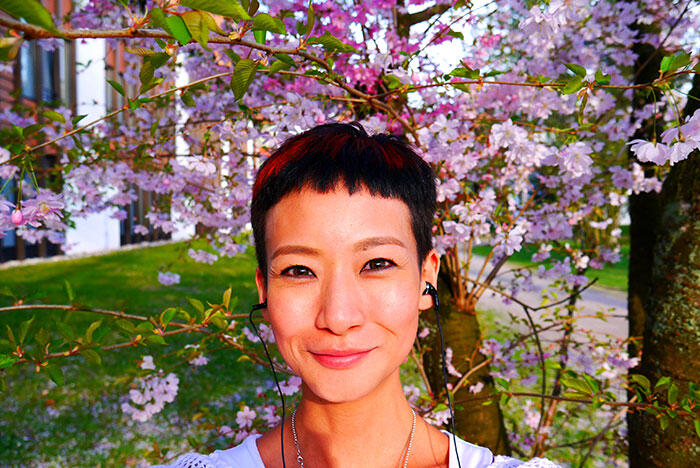 For a second i was staring at the picture thinking, "What's wrong with my ear??"
Forgot i was wearing headphones then!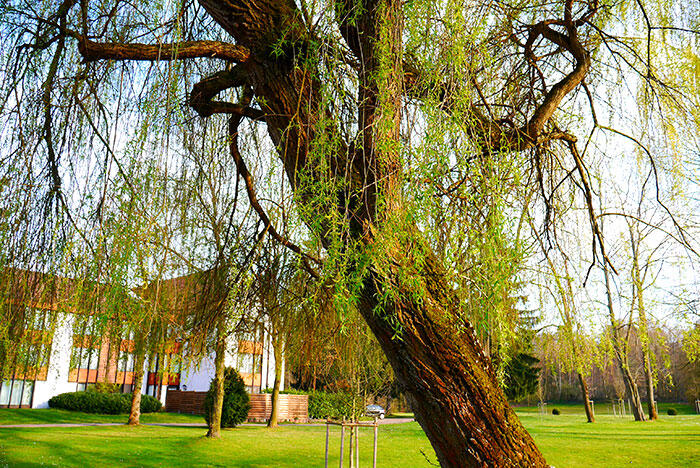 I love this willow tree. I would pick up a long fallen branch from the ground below it, and rattle all the hanging ones with it to make a swishing sound and watch them all sway. Swish! Swish!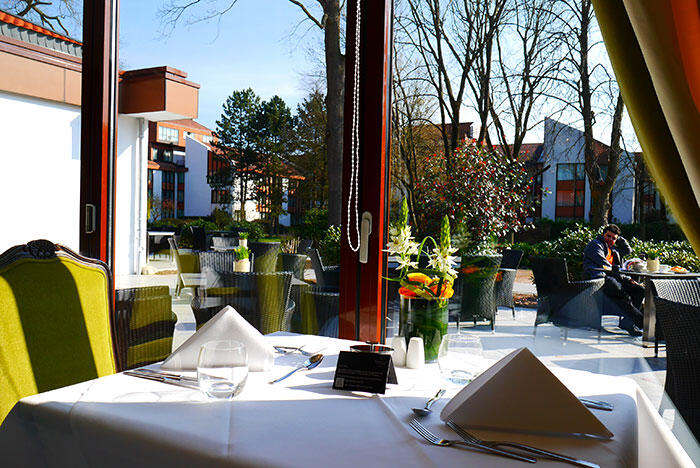 Every morning i would have breakfast in a beautiful dining room that overlooked the lush hotel grounds via floor-to-ceiling glass windows. (There's an even better pic i posted on Instagram *here*.)
Everything in that room would be perfect and serene.
The brilliant white tablecloths and napkins.
The smiling waitresses.
The polite murmur of other guests' voices (no one was too loud).
The cute clink of teacups on saucers.
The gentle waft of steam from hot tea and coffee.
The shining silver laid on the tables in such a way that even someone as OCD as me couldn't spot a tad out of place.
The lounge music playing… some of the songs were exactly the same that play in Sri Panwa and X2 Samui. I know cos i copied their playlists from their ipods into my mac 😉
It was just so perfect and calm and i think, in all seriousness, possibly my favourite breakfast room in the world. (Not counting dining with a beach side view, close runner ups would be Westin Langkawi and Emporium Suites Bangkok.)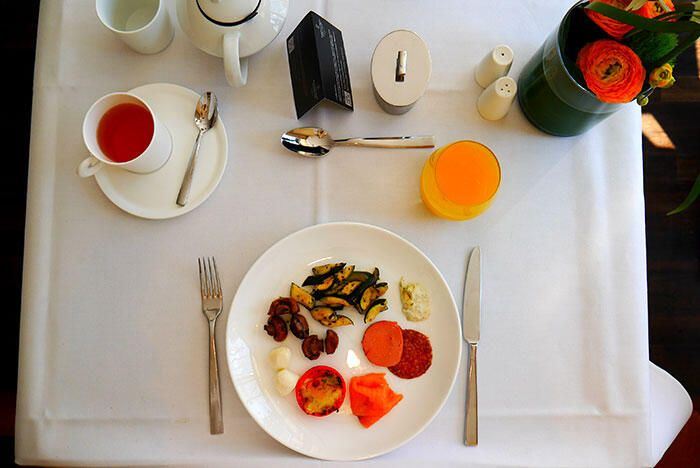 Oh don't worry… i didn't eat just that for breakfast,
i had a go at everything in the buffet across my entire stay there 😉
Every morning when i stepped out of my hotel room, i'd walk along the corridors to the breakfast room while taking in this scenery:
So wonderful to be surrounded by nature!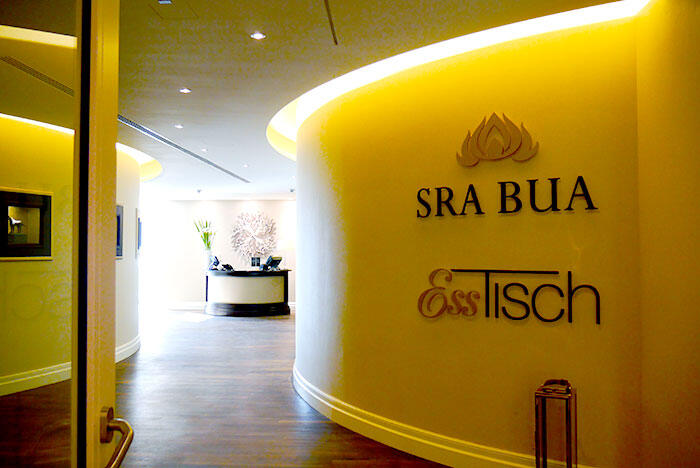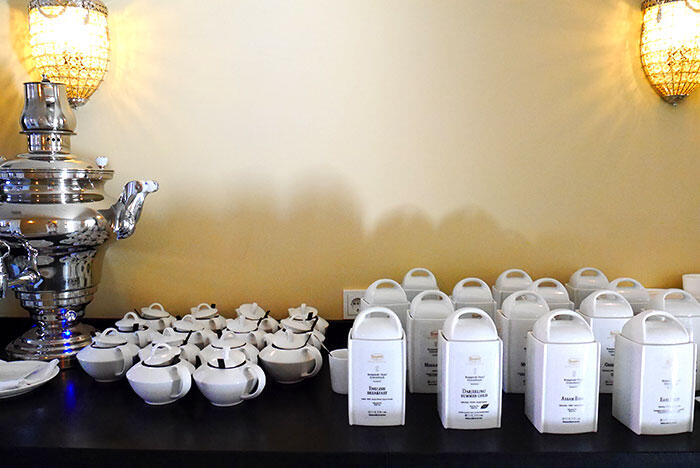 There were dozens of types of teas (above on the right). There were even teas called Green Dragon, and Get The Power.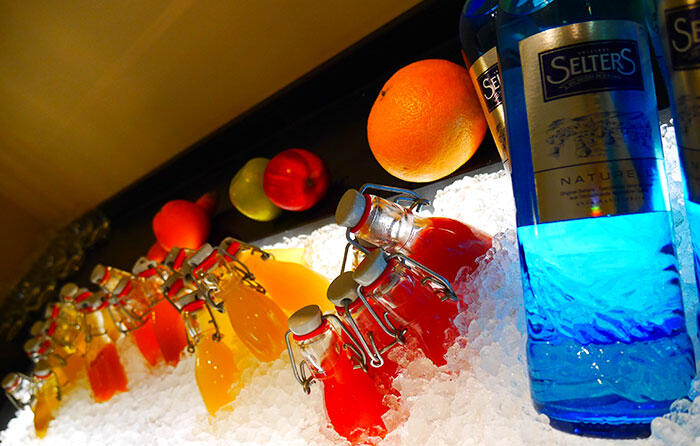 Freshly-squeezed juices in bottles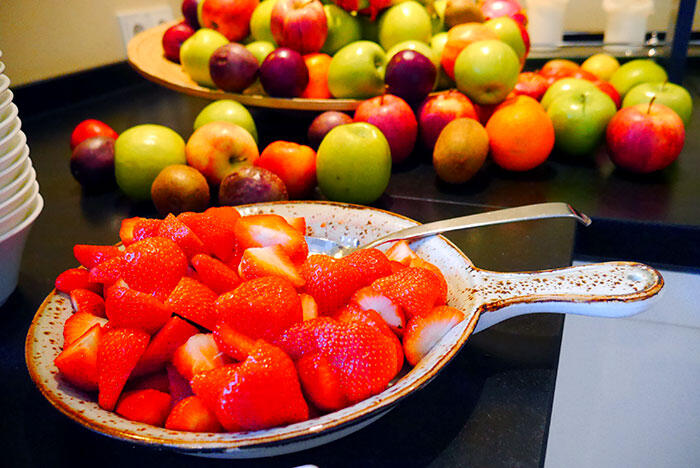 There was a wide selection of cut fruit i would eat with yoghurt every morning – mango, strawberries, different types of grapes, honeydew, watermelon… every single one was fresh and juicy and cut in small bite-sized pieces. It's such a pleasure to eat ready-cut fruit without having to prepare it yourself :p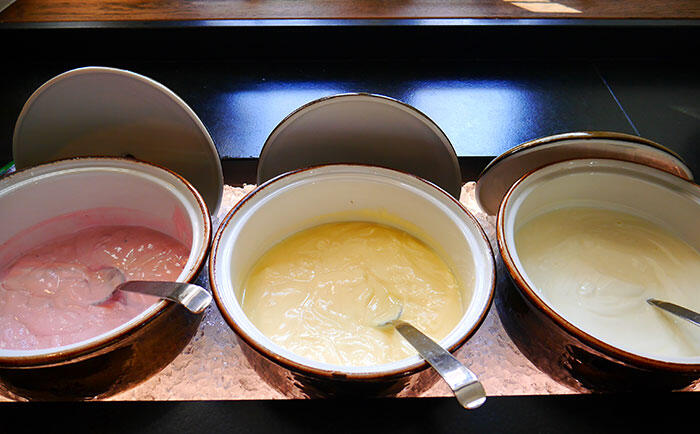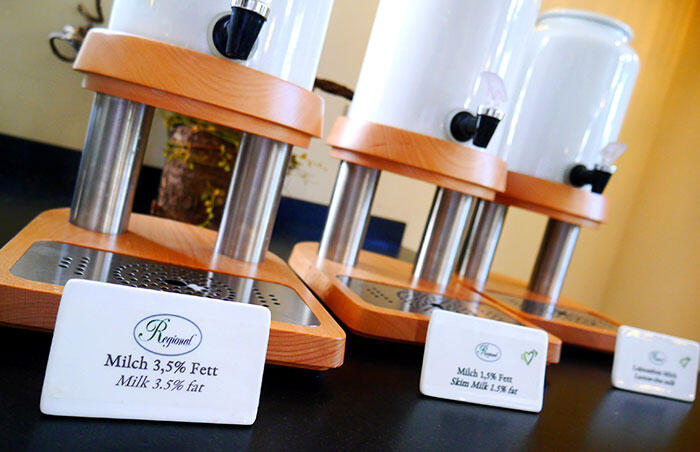 For someone who doesn't drink milk, i even appreciated the sight of milk options with various fat percentages.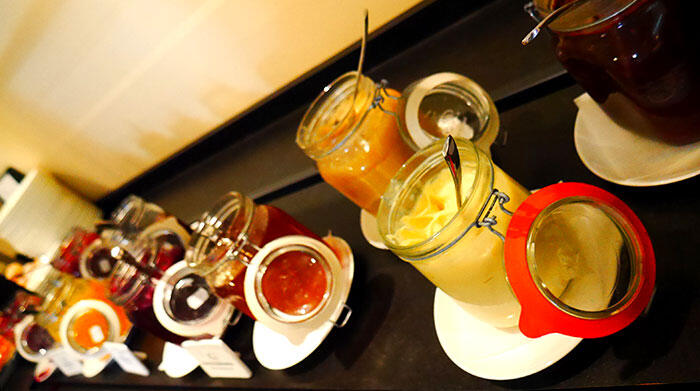 A row of spreads – honey, chocolate, white choc, jams, marmalades…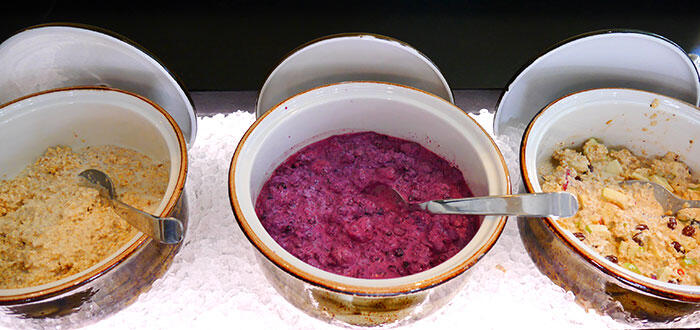 I would take some smoked salmon (it was so fresh and PROPER smoked salmon y'know) with courgettes, mushrooms and peppers to fill me up. There was so much delicious food! I loved taking my time going thru my meal slowly and just enjoying it as much as i could. Sometimes i'd even be in the breakfast room for over an hour, eating and daydreaming away. It was heavenly. Again, i thought to myself: I can't believe i have to go so far away to get some quiet time… I need to find someplace i can do this in KL and not tell anyone about! But then again, i don't think i'd make the time to go through the traffic to sit still for awhile… i have too much to do -_-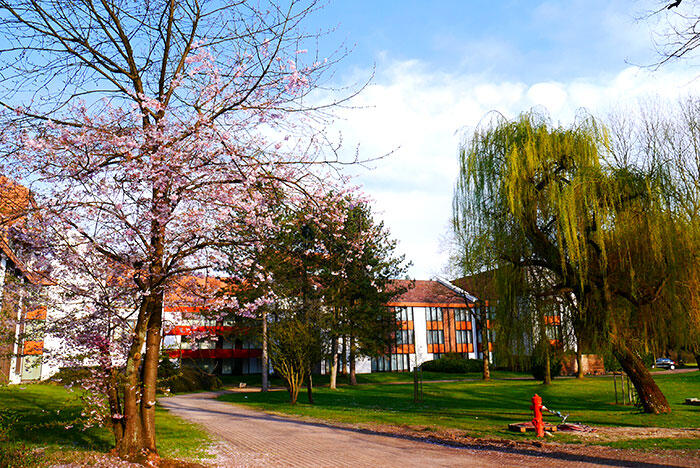 Every day after breakfast, i'd do the same thing, which is take a walk outside and stand under the cherry blossom tree.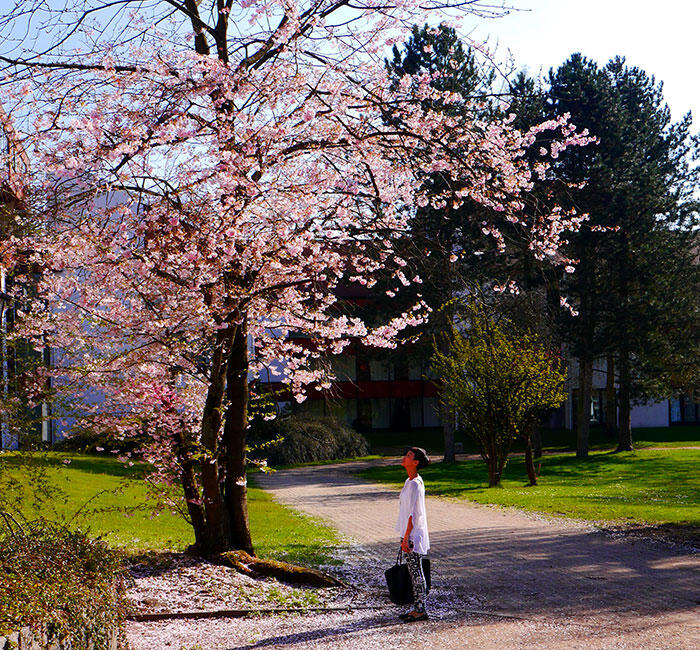 I saw one person outside one day and dashed to ask them to get a picture of me haha.
When i went back inside, i noticed *they* went to the exact spot to admire it too!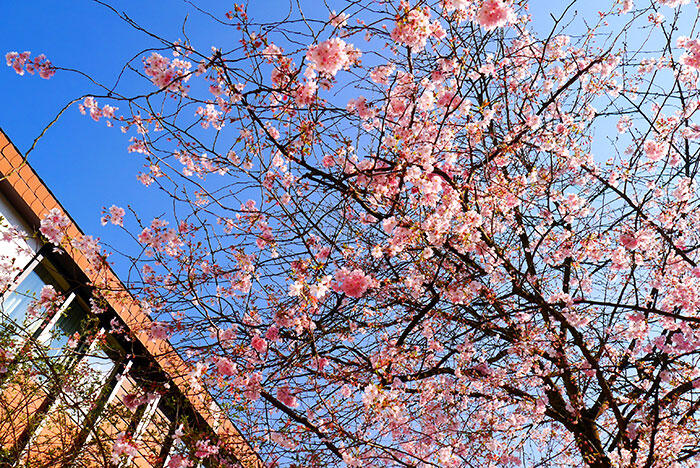 So pretty…
When the wind blew, scores of tiny pink petals would sprinkle down to the ground.
I gave myself a challenge to catch one and i did!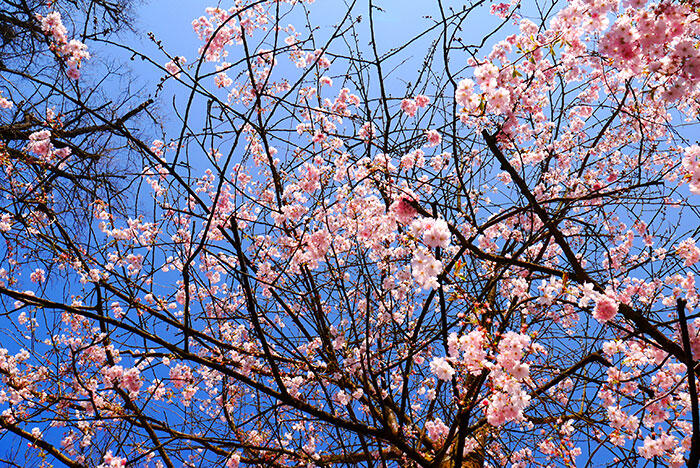 Oh here, just ONE more picture cos it's so pretty!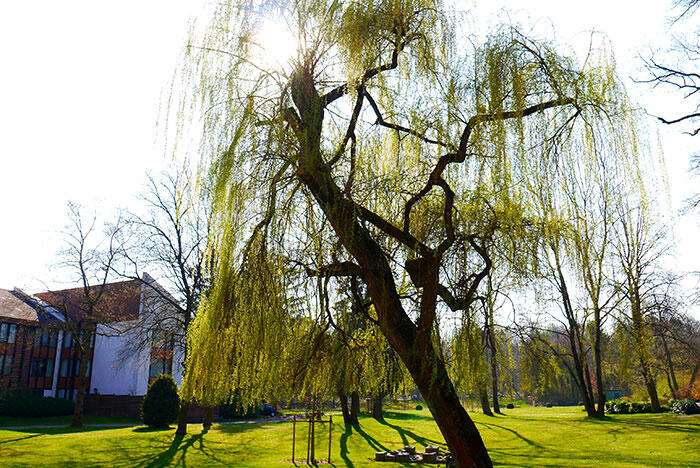 The willow tree was my second favourite tree on the grounds.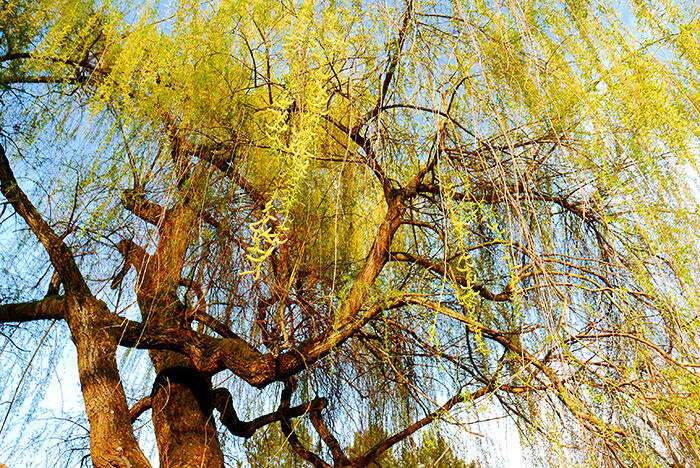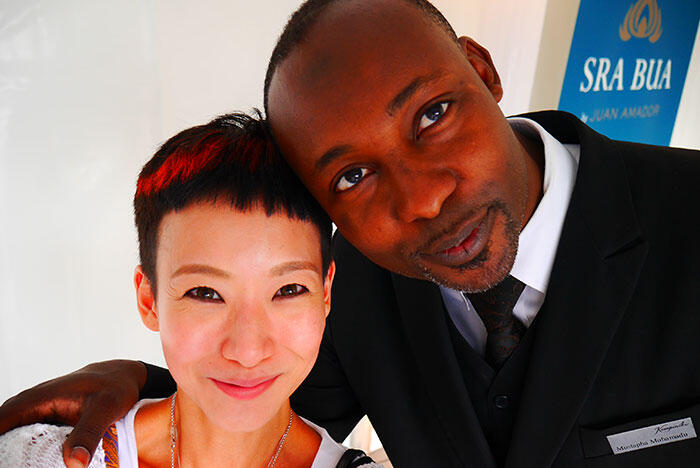 This is Mustafa, who works at the concierge (i remembered his name so easily cos he had a jovial African accent and i just had to think of the Lion King :p). He made sure i didn't get lost and caught the right bus at the right time to get to wherever i wanted to go 🙂
I had such a beautiful stay there! Will always think of Kempinski with such fond memories!
+ + + + + +
This trip was made possible by Lufthansa – www.lufthansa.com/my
From 1st April 2014, Lufthansa will be operating a new direct route between KL-Frankfurt 5 times a week. Read: www.lufthansa.com/my/en/nonstop-to-europe
I spent three days at Kempinski Hotel in Gravenbruch – www.kempinski.com/en/frankfurt/hotel-gravenbruch
The Kempinski hotel group is Europe's oldest luxury hotel group and has amazing establishments the world over. www.kempinski.com
+ + + + + +
For other blogposts on Frankfurt, click the links below:
* Frankfurt Day 1: All i wanna do is say "auf wiedersehen" like Heidi Klum. *
* Frankfurt Day 2: Kleinmarkthalle, wooden toys, modern art & a picnic by myself! *