We decided months ago to spend New Year's Eve at Awanmulan and there are urm a lot of pictures i flooded Instagram with when we returned to the city. For the benefit of those who don't know where Awanmulan is (cos so many asked me on IG), it's in Jelebu in Seremban and only an hour's drive away from KL. Hence so convenient for us to get to when we wanna get AWAY.
We didn't want to go somewhere too far cos Cammy's almost 7 months pregnant, and we didn't want to be in the city so Awanmulan was our best option. Days before the trip, Clem kept saying, "I cannot WAIT to go to Awanmulan." And Cammy told me that Kenny would walk around the house going, "Awanmulannnn awanmulannnn" Hahaha.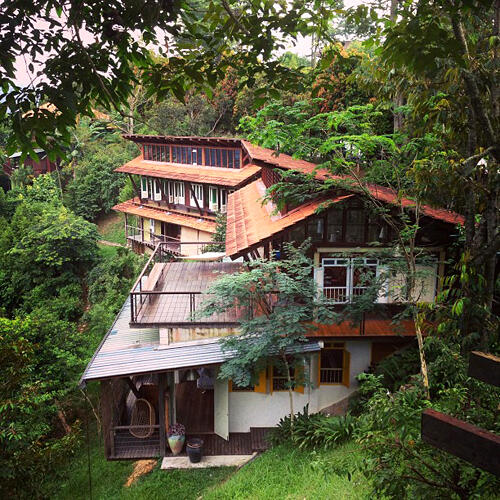 This time we just had a small group of us that took up Teratak Bonda for two nights.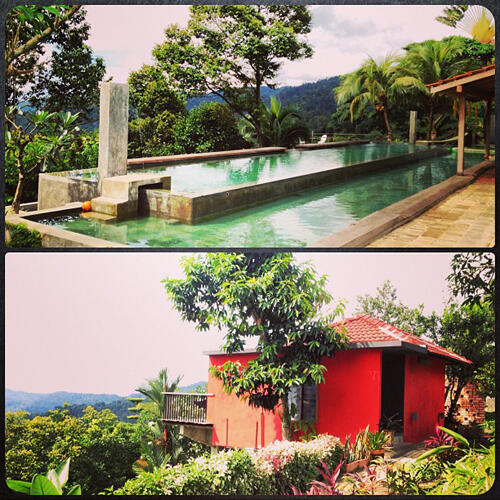 Clem and i stayed at Evensong, a new room for couples next to the new pool Uncle Teng and Anne have built. The pool even has a shallow portion for children to swim in, while adults can be in the deeper area.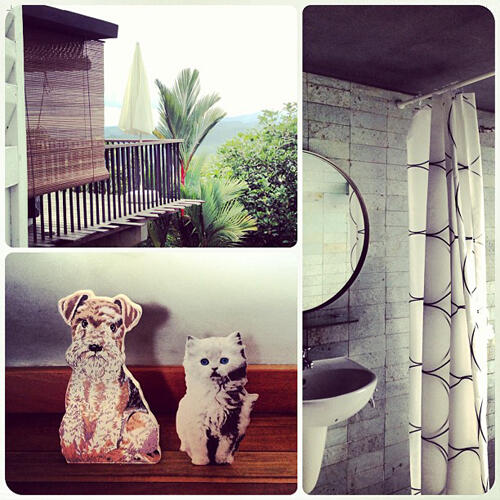 Cassie met a new friend in Evensong!!! Match made in Flat Pet heaven.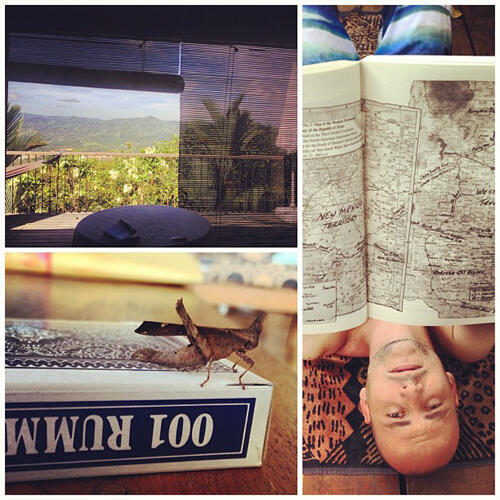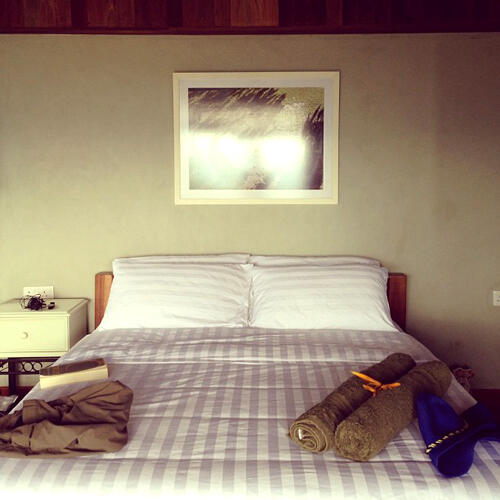 The bed in Evensong faces a large terrace which is spacious enough for me to roll around and play in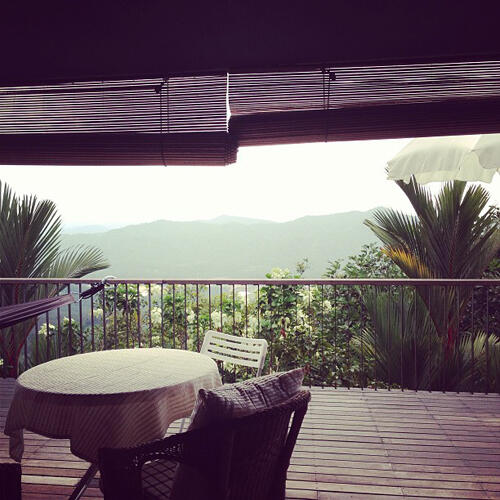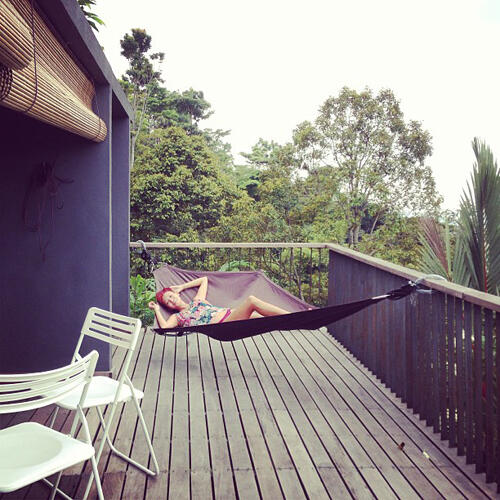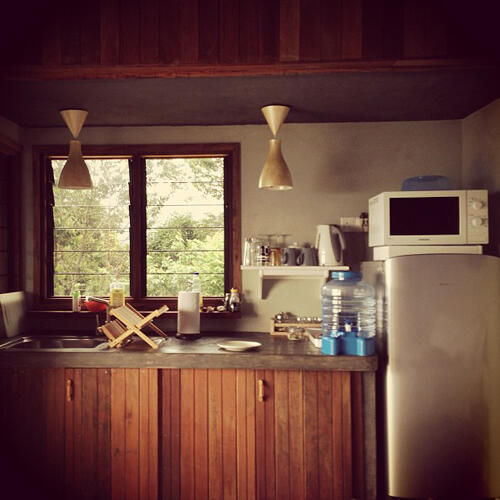 Kitchen on the side too! I think one day Clem and will have to return, just the two of us, and not LEAVE the room at all. We wouldn't have to. Just HIDE there all day to eat, play and have lots of youknowwhat.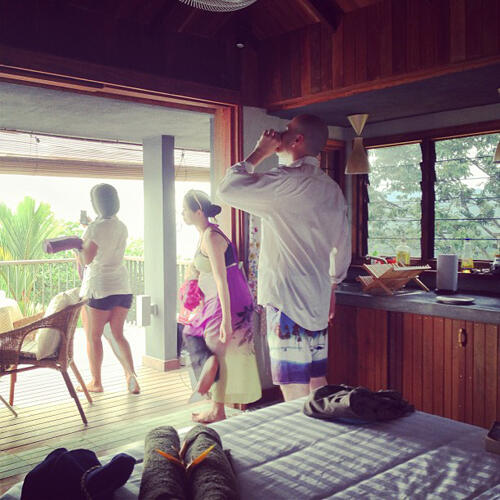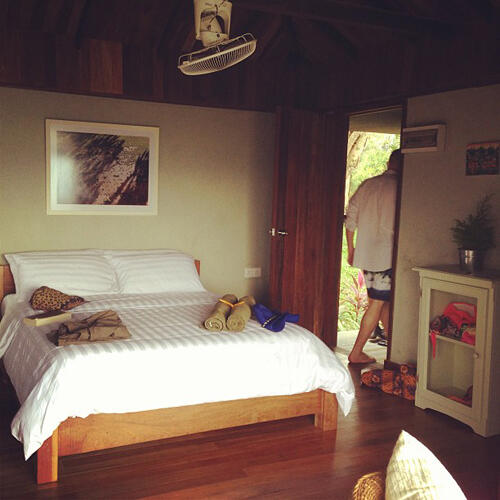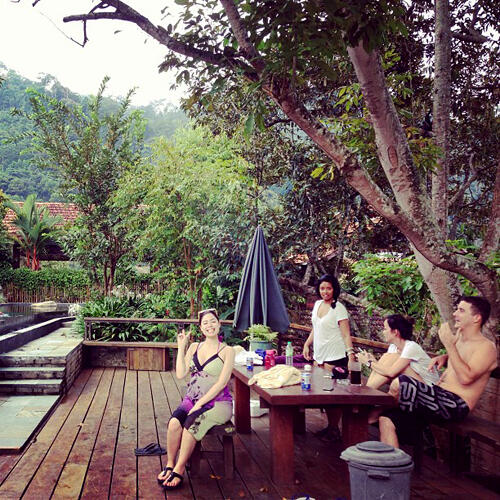 There wasn't much sun on the afternoon we arrived but we went to hang out at the pool anyway (this is the older pool)
We were trying to convince Matt NOT to do some crazy stunt where he might hurt himself in the shallow pool. And as always, he heard but did not listen.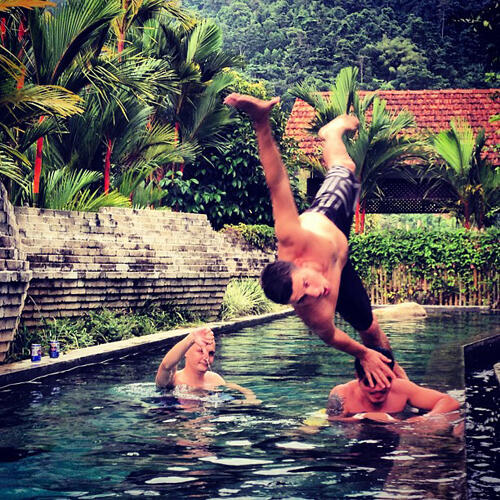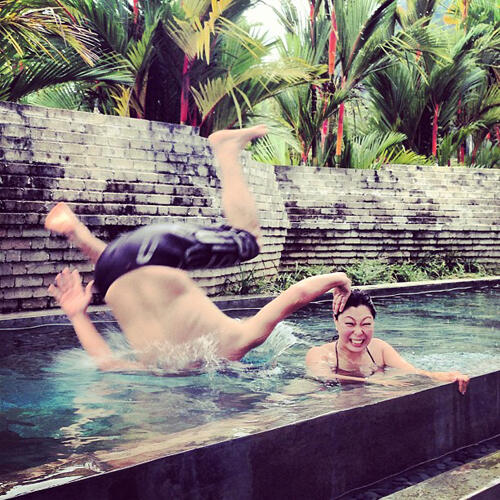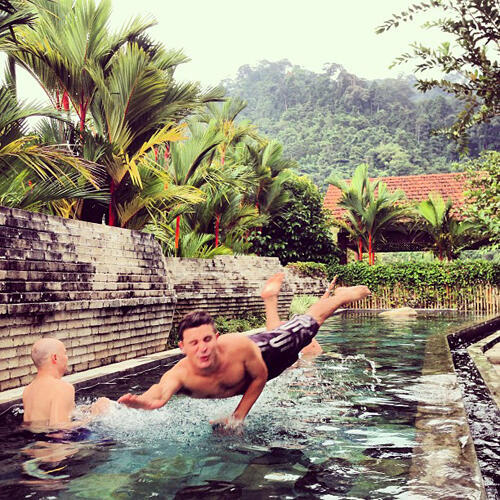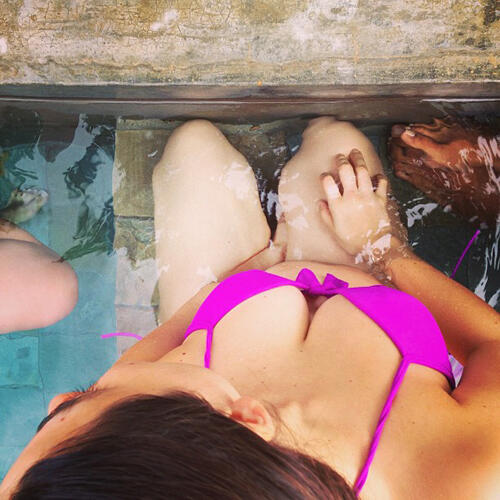 I took pictures of boobies. Cammy told me days later: "DID YOU KNOW that all these strangers / guys suddenly started following me on Instagram after you put up the picture of my boobs!!!"
I was laughing quite a bit but said: "I'm so sorry about these shallow people! Just instagram a picture of your pregnant belly and i'm sure they'll go away…"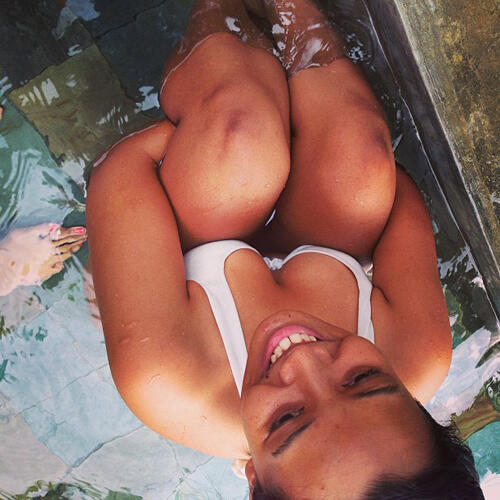 More boobies.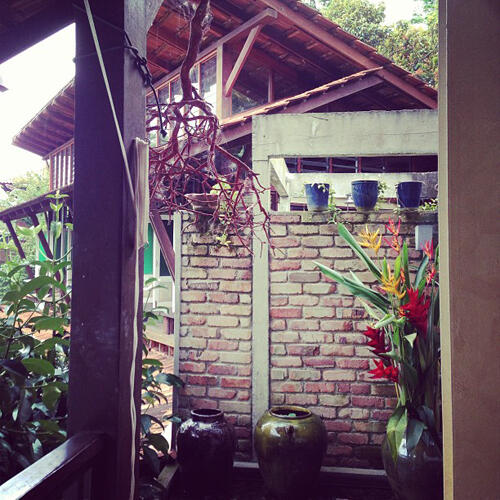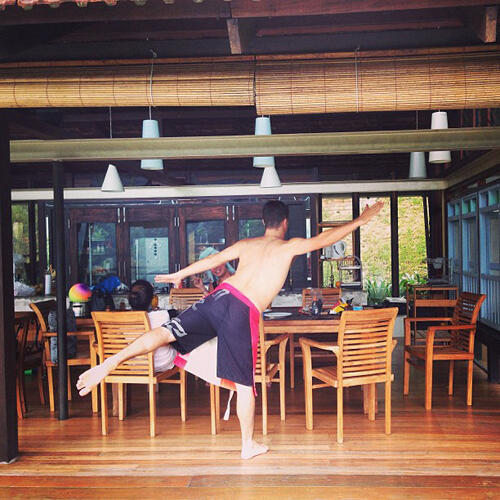 I was taking a picture of the dining area and Jacie, when Matt just jumped into the limelight.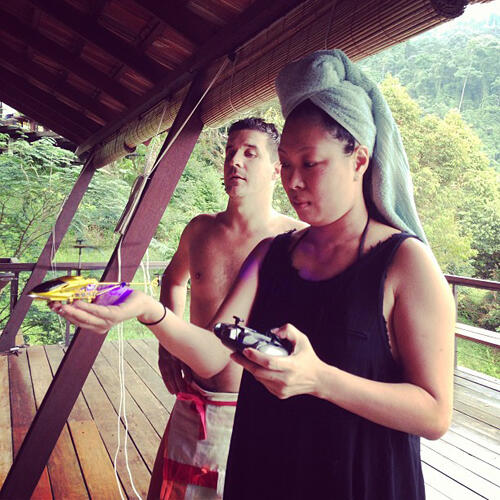 Jacie trying to fly Matt's heli. They finally stopped when they almost took someone's eye out.
Clem prepping the French hams for dinner – viande des grisons, chorizo, serrano…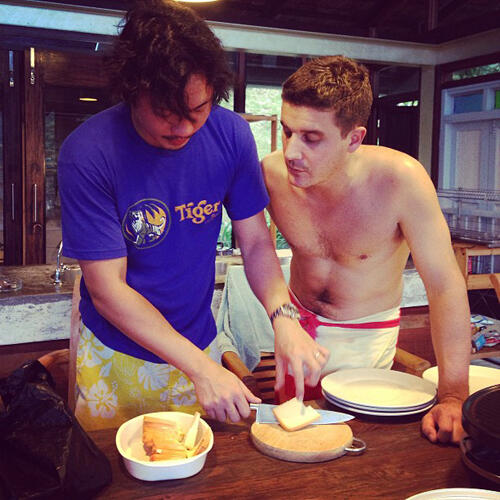 Kenny and Matt prepping the raclette (cheese)
This is the French way, the men all prepare dinner while they women do nothing. I wish it happens more often.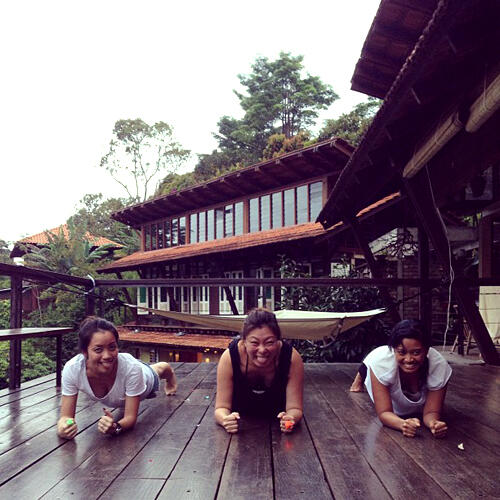 CC, Jacie and Tania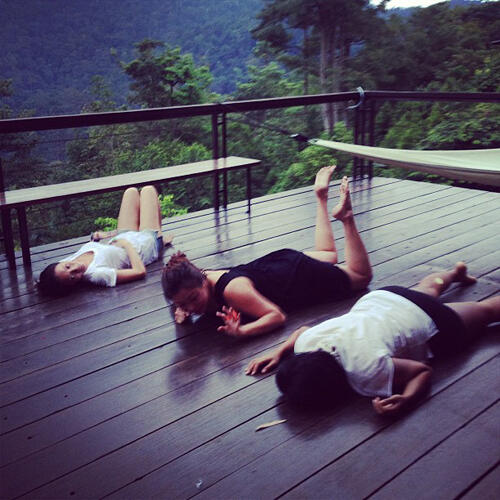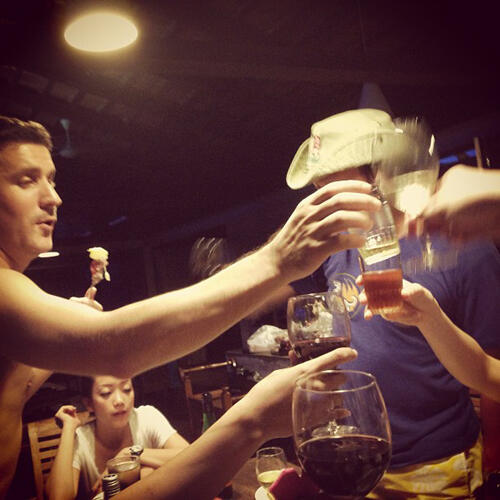 TIME TO EAT! We'd been drinking since we arrived anyway.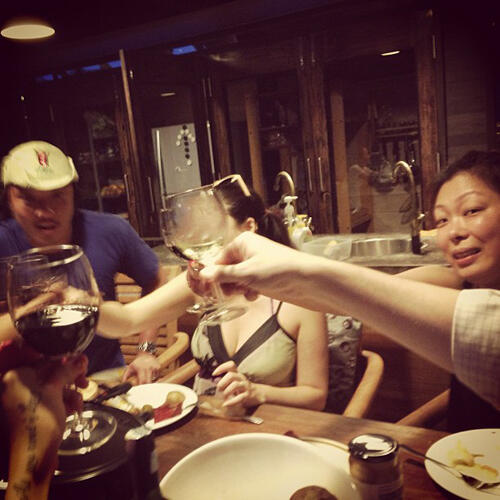 You know. There is NEVER a toasting picture with me in it cos i'm the only one who bothers to take them… -_-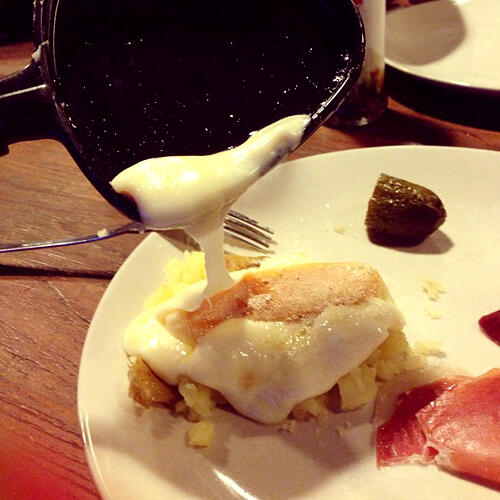 Mattrena brought their raclette machine that is specially used to melt the cheese and slide it off unto our potatoes to eat with the hams and pickles. SOOOOOO GOOD. I NEED TO GET THIS MACHINE TOO.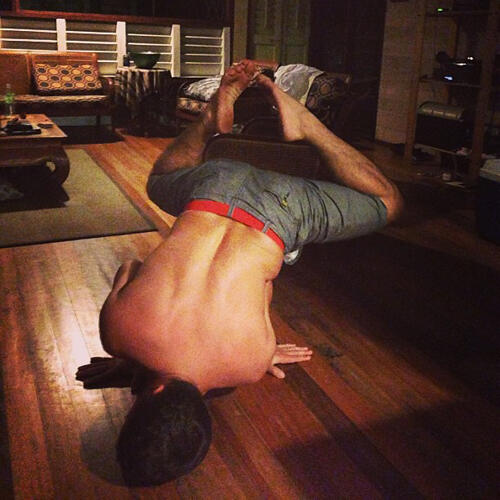 After dinner Matt was trying to show me he could breakdance. I'm not even sure why… i don't think i asked him to do anything! He just saja volunteered/showed off: "Look at this, look at this."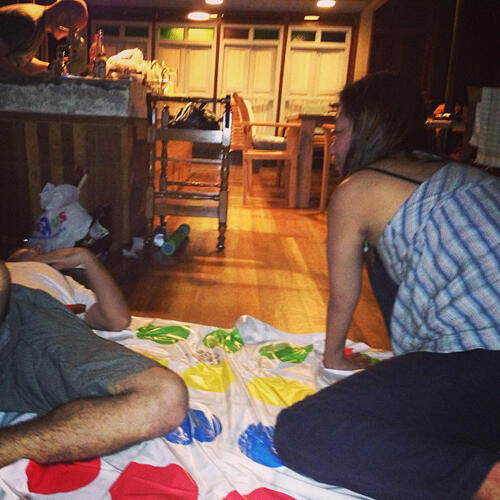 Intoxicated adults are VERY BAD at Twister.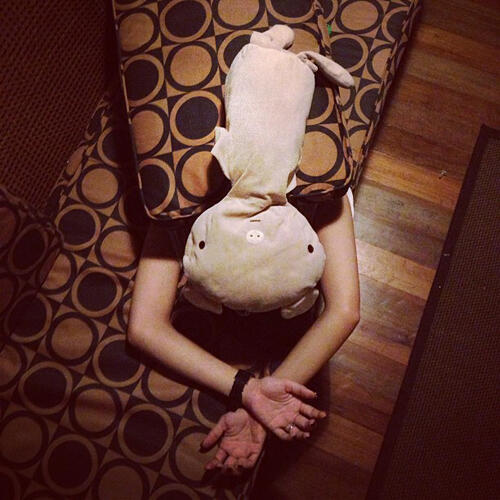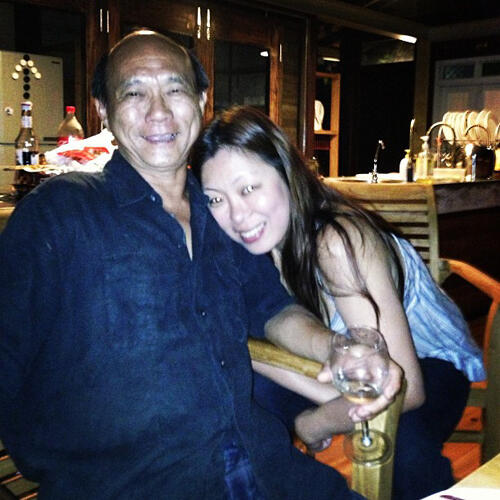 Uncle Teng dropped by! I was covering my face in horror cos there was a VERY DRUNK PERSON who asked him the strangest questions like "Why your shorts so sexy uncle?" 0_o #FACEPALMx10000000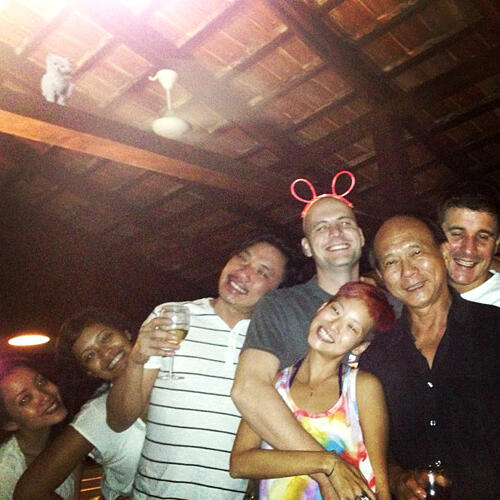 Group shot! After a few drinks Uncle left us and i can't say i remember anything we talked about cos i was GONE.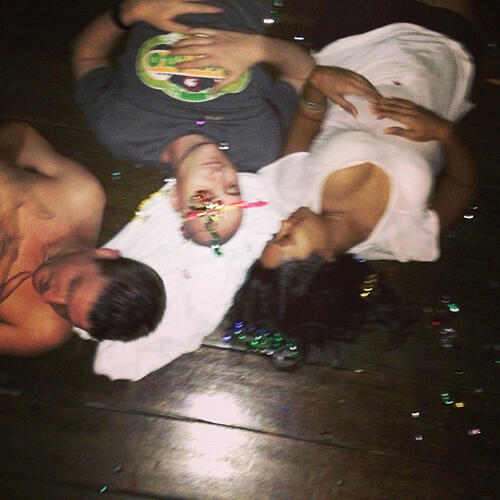 DuringDisco nap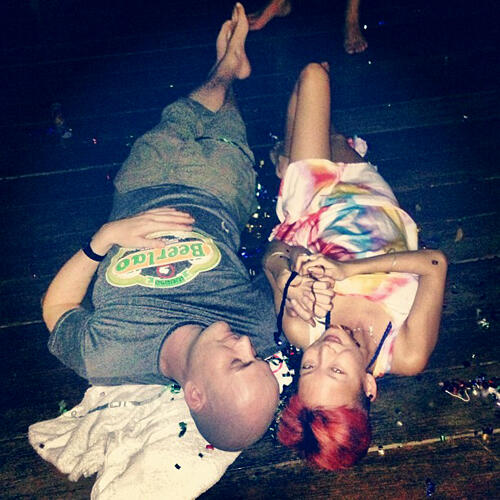 I love you.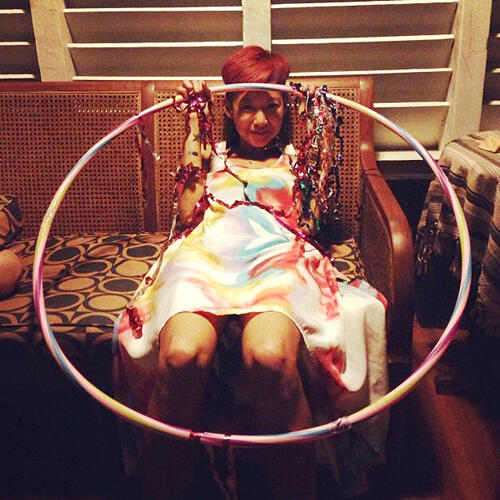 I love confetti and my giant hoop! It almost got confiscated at LCCT cos they didn't want me to bring it on board… Now i've learnt that i have to CHECK IT IN. Maybe i should get hula its own passport… hmm i wonder how immigration officers would react if i asked them to chop my hula's passport. As i ended that sentence i realize that may not be a great idea cos they might arrest me on suspicion of being high on drugs.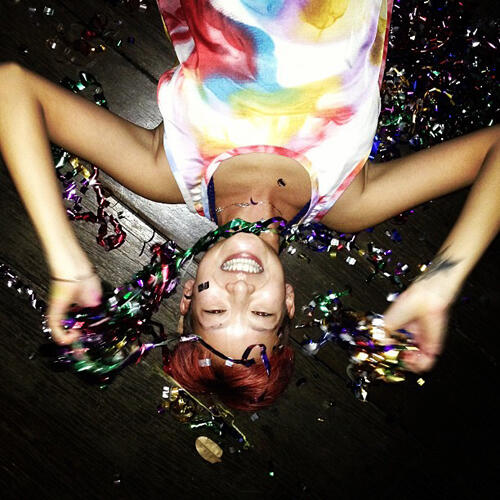 We popped confetti at midnight and i scrambled like a possessed child to gather as MUCH of it as i could and COVERED MYSELF IN IT.
+ + + + + + +
New Year's Day!!!!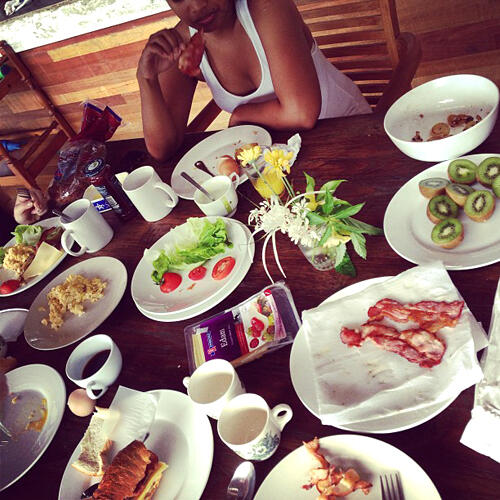 Preggers went to bed early so she was up first and cooked us all breakfast! Thank you preggers! Must have been around 11am when we had it tho.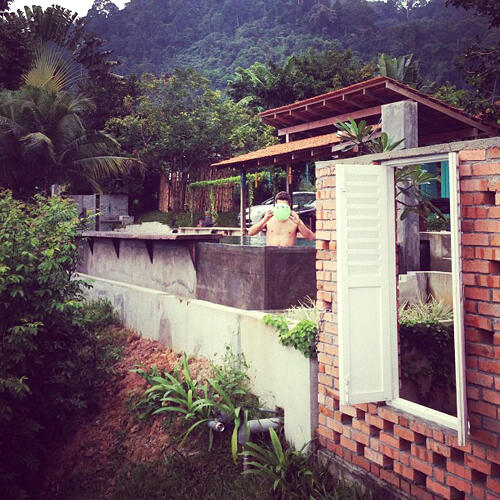 After brekkie we went to the pool to take advantage of the sun! We played in the new pool this time and there are NO pictures because we were having too much fun to take any. I think Serena took some..? Clem insisted on buying a new ball and two water pumpers to shoot with for this NYE trip. When he picked up two instead of one water pump, i was like, "Why..?!" But he was right. When Matt got a hold of one of the pumps, Jacie needed something to defend herself with so she was shooting back with the second pump. In the end she hit Matt on the head with it so i think… she won.
Anne gave us some chilled nyonya rambutan salad to try and it was refreshingly different.
Tania tried to read in the pool but gave us after we kept wetting her book.
Cammy had my hula around in the water saying it was the 'safe area cos she's pregnant' but i shot water at her anyway. There's only so many things you can use your I'm Pregnant excuse for.
Tania and i got hungry around 3:30… so we left with the lure of food in our heads.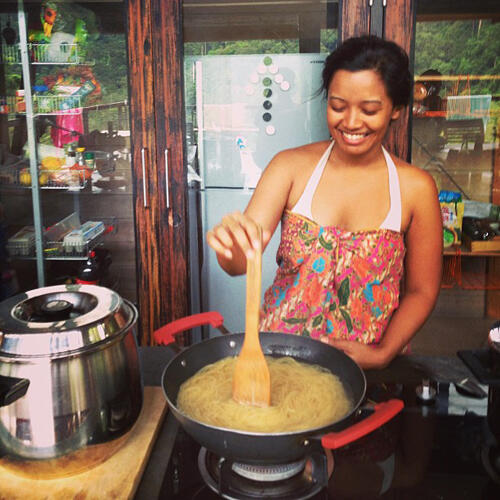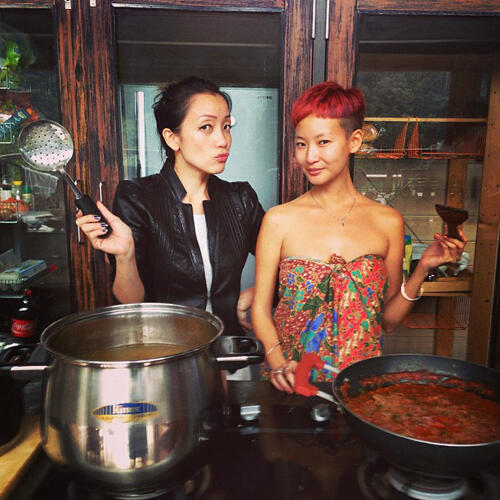 Serena and her herbal chicken soup, me with my bolognese.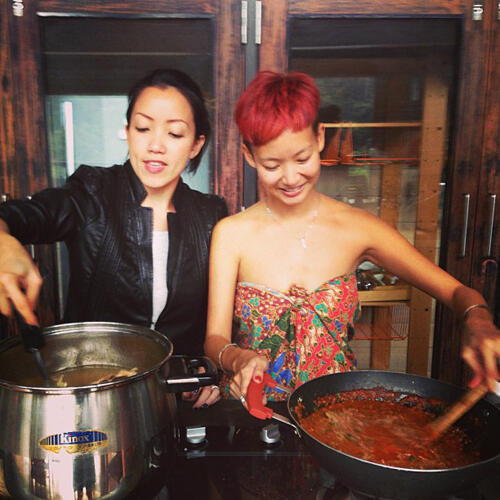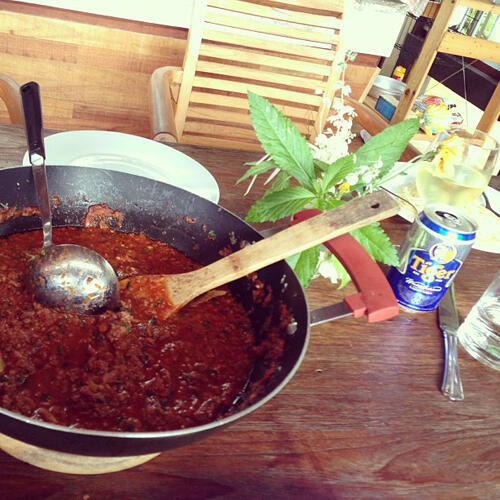 The bolognese didn't turn out the way i usually make it cos Clem bought the wrong brand of pasta sauce even tho i told him it. And then he says that he didn't want to call and bother me. Mmm hmmmmm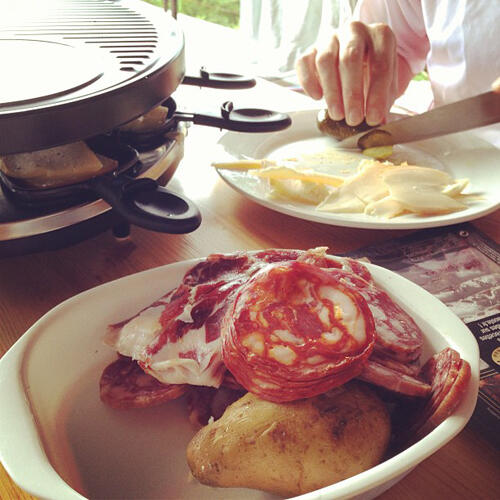 Having leftover raclette and hams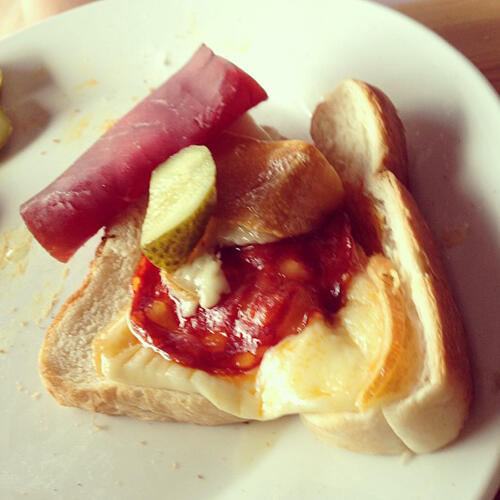 A Clem sandwich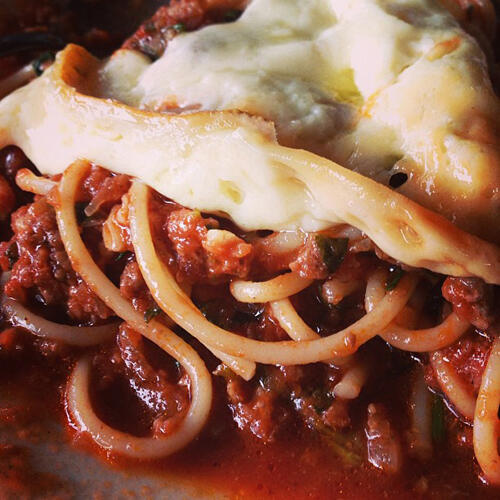 I put melted raclette on my bolognese… OH MAN. I'm salivating thinking about raclette now.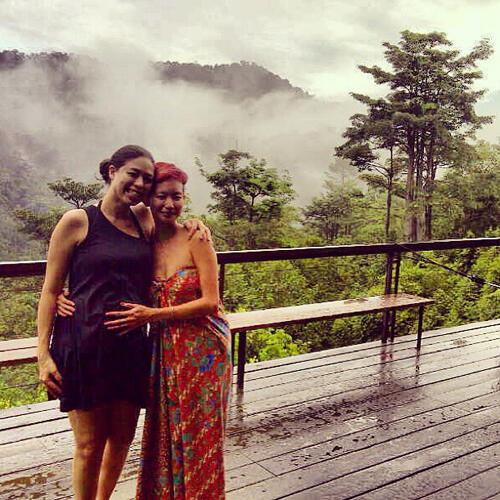 Preggers gonna pop soon! I can't wait to play with little Cameron!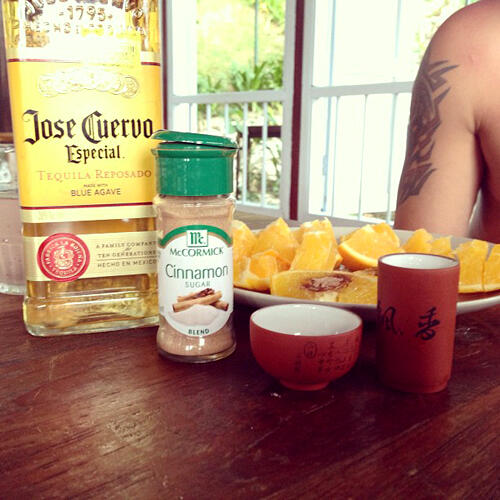 After digesting our 4pm lunch, the guys brought out the tequila.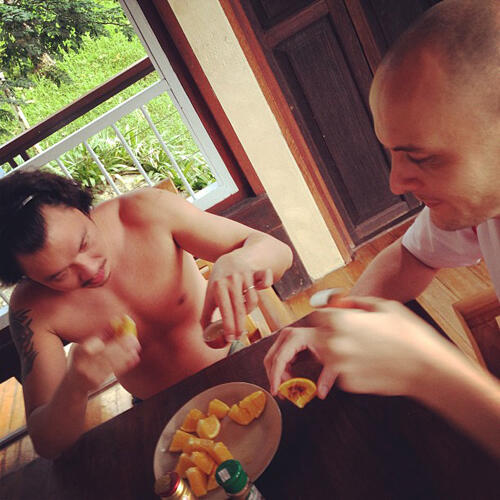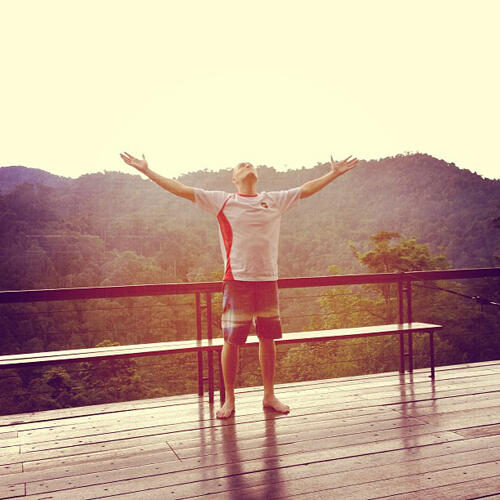 I don't know what Clem was thinking but i'm making up that it's about asking the sky to rain beer.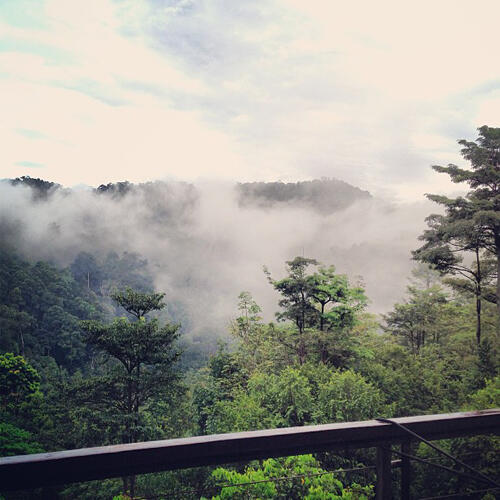 Well i had four shots of tequila and felt really…. TIRED! So i went into one of the rooms where Tania was reading and passed out nicely. She said that she saw me sleeping so contentedly that she put her book down for a second and ended up napping too. Heehee. Love naps.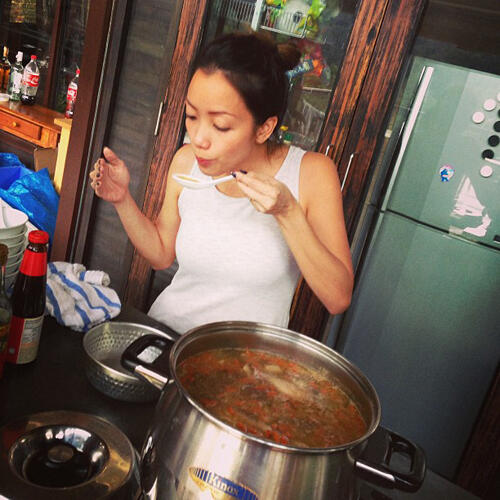 We had Serena's herbal chicken soup for dinner! It was SO yummy. I had it for breakfast the next day too. I'm an Asian breakfast kinda girl.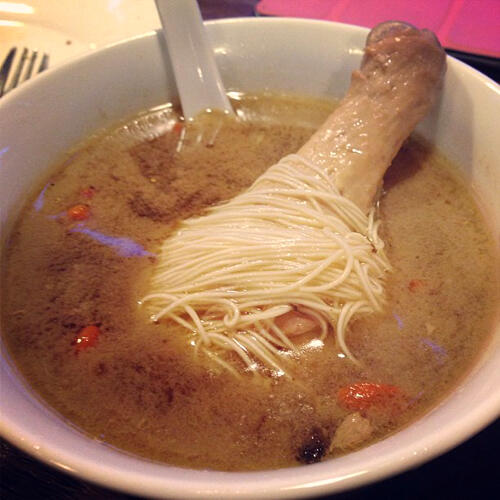 We played Jenga and Matt increasingly got more drunk… so i shoved him mahjong paper and pastels which he enthusiastically took to for a couple of hours. Now we know how to make him keep still!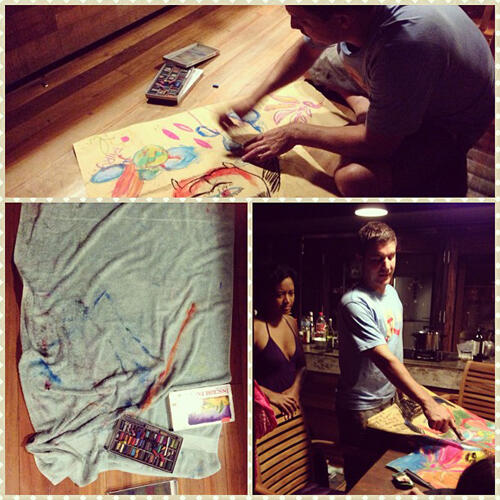 I was so scared he'd stain the floor so i put a towel under the paper… and he stained THAT, so we spread LOTS OF NEWSPAPERS on the floor as his 'play area'.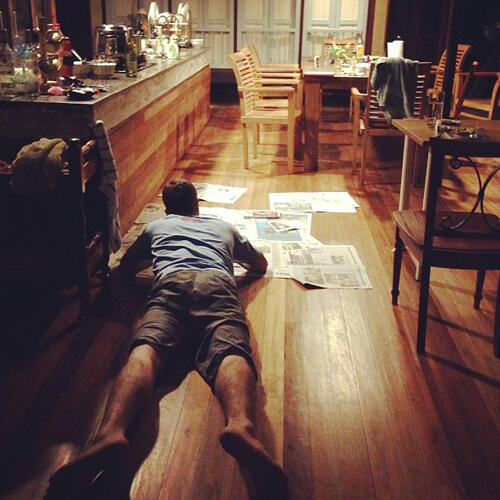 Play, get dirty, sleep. Like a kid. I found someone who's a bigger kid than me! I told Serena that when they have a child of their own, she's gonna have TWO children to take care of.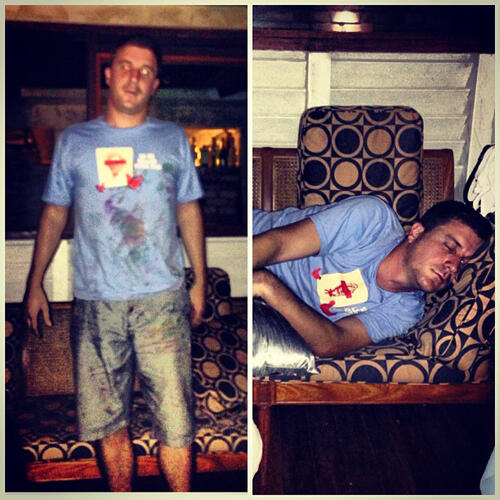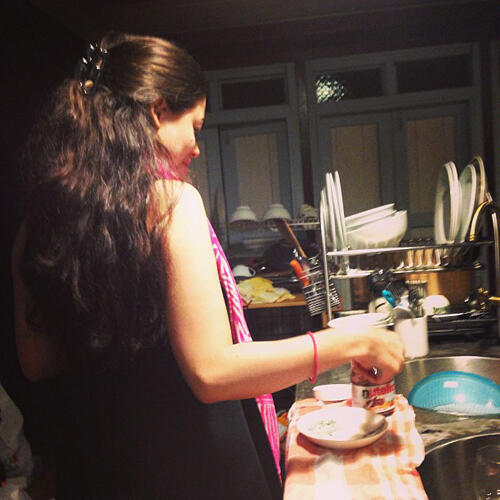 I'm collecting all these pictures of Cammy eating during her pregnancy. *evil smile*
+ + + + +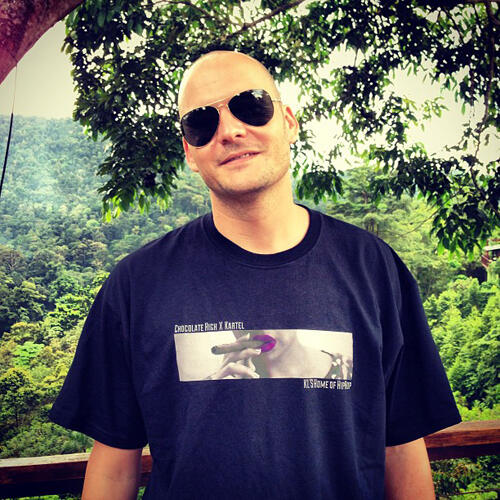 Clem wearing a shirt Tai Yong gave him for Christmas. That's Ara's lips right there!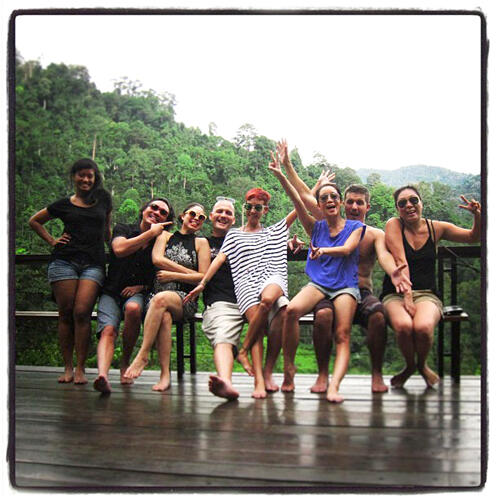 Tania, Kenny, Cammy, Clem, me, Serena, Matt, Jacie <3
We had such an awesome time as always… wish we could have stayed for a WEEK.
For more info on Awanmulan, visit >
new.awanmulan.com
facebook.com/awanmulan
More posts on Awanmulan:
* Myra's Hen's Night *
* NYE 2012 *
* Instagrams from NYE 2012 *
* My 29th Birthday *
* Lovelies Getaway *