I decided 3 months before New Year's that spending it BBQ-ing and chilling with some friends would be ideal compared to partying amidst hundreds of people in a crowded club. So i booked the top floor of Awanmulan before anyone thought of what they'd do for NYE and paid the full price even though i didn't confirm who's going. Was just so certain enough people would see the AWESOMENESS of it and come. In the end we had almost everyone we hoped would join us – Aps & Fai, JP  & Oli, Steph & Nick, Serena & Matt. Olivier asked to come last min and Awanmulan was nice enough to let him.
Nick & Steph on our patio
Are there ANY paparazzi pictures of Clem and i like this?! I need to get a resident photographer in our group besides myself.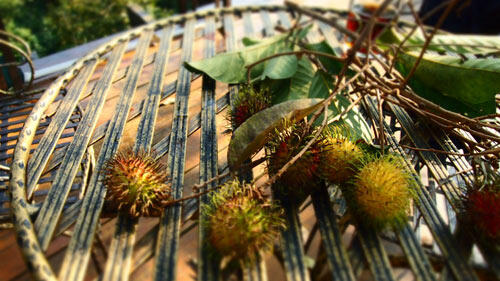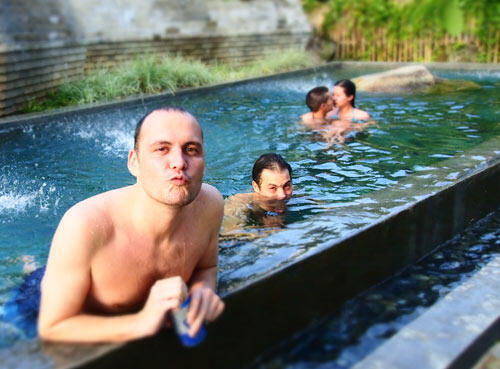 Clem, Nick, and Oli & JP being lovey dovey at the back. I have so many pictures of them being smoochy in the background throughout the trip…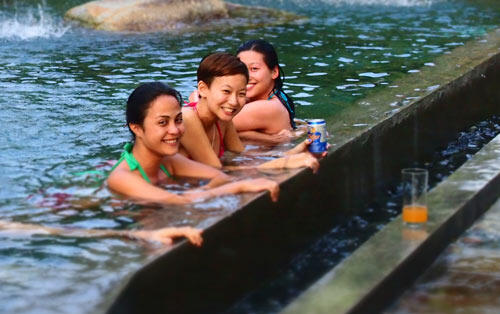 Steph, me, Oli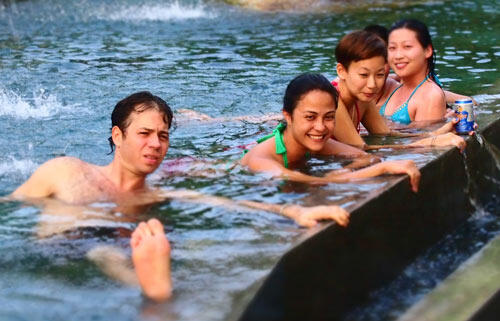 To be fair to all those unattractive pictures of friends i've put up, here's a horrible one of me. Oh and perhaps Nick too. I showed the above pic to Clem: "Look how sexy i am. This is why you love meeeee righttttt"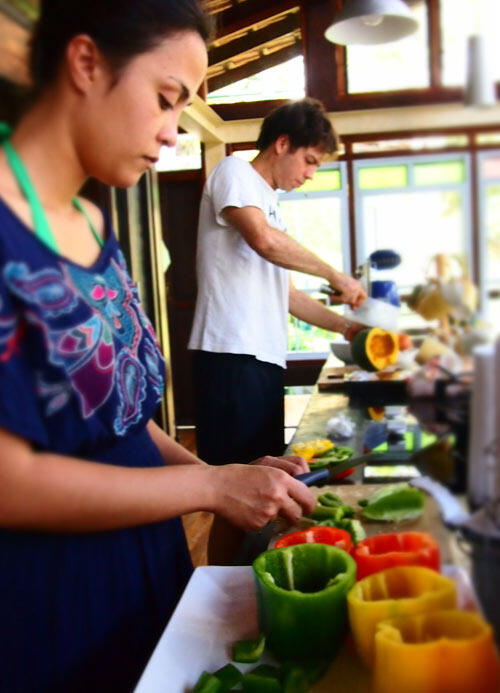 Steph & Nick were in charge of grilled veggies, mash potatoes, and some pumpkin dish Nick wanted to make. It turned out SO GOOD that i asked him how he made it, later that night. He tipsily told me and i tried remembering it best i could, as did Oli. The next day Oli got Nick to write the recipe down… and thanks to her brill memory, she noticed something missing and said, "Eh, you forgot the sugar?" Clem told me later Nick told him the night before he'd purposely miss out an ingredient so we wouldn't get it right. Sial wei the fellow! We got it anyway HA! If y'all want this pumpkin recipe i heard his mum (who's responsible for it) is publishing a cookbook soon.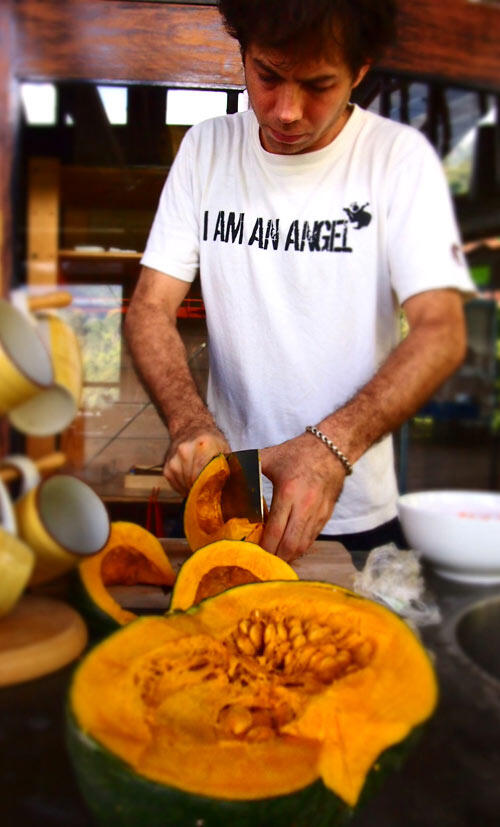 Pumpkin is such a wonder to cook and eat if only it wasn't such a BITCH to chop!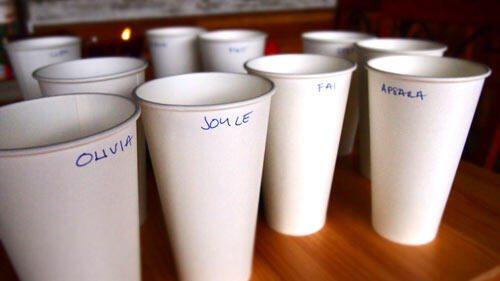 Steph forgot to bring her commendable collection of shot glasses and sorrowfully prepped paper cups in replacement of them. Wasn't a big deal la (that she forgot). Erm just that she made it like a big deal so we didn't stop her from writing names on everyone's cups to avoid wastage. She even measured and poured shots into each of them before food was ready heh. Good job Stephy!!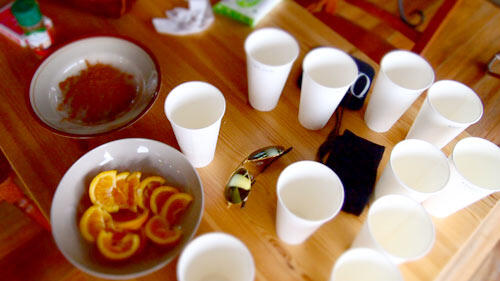 Orange + cinnamon + tequila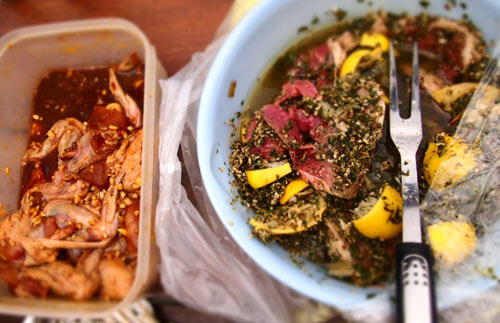 Fai's chicken wings and my lamb.
The chicken was so awesome i'm inspired to try marinating that next…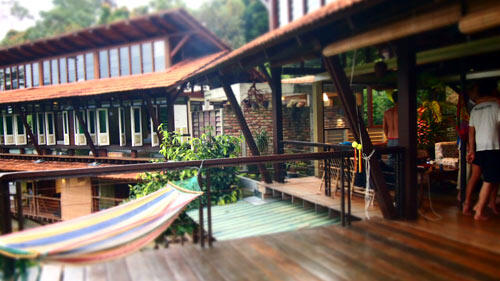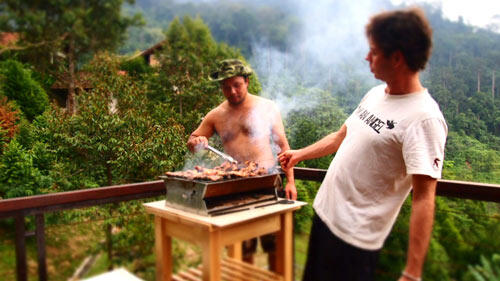 Fai takes his BBQ very seriously and didn't let anyone else handle it cos he didn't trust them. Not like the other guys cared… think they were very happy to let him do all the work. Look at Nick pretending to help but padahal doesn't want to be near smoke.  😀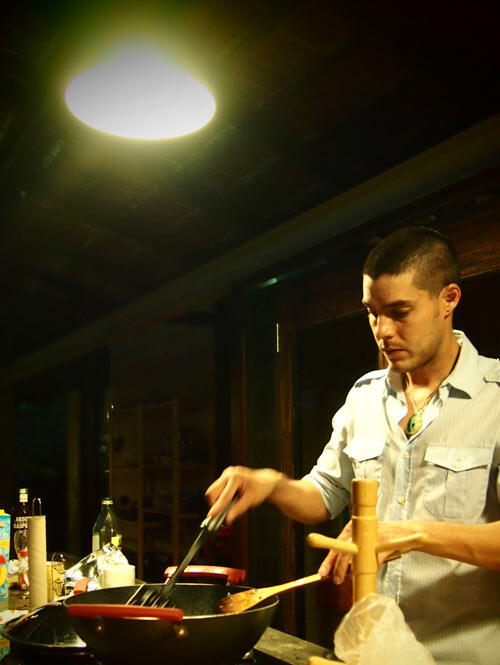 JP & Oli made some crazy pork burgers. I'm so impressed by how EVERYONE'S food turned out fantastic! Every single leftover pork burger was whacked the next morning by being made into sandwiches.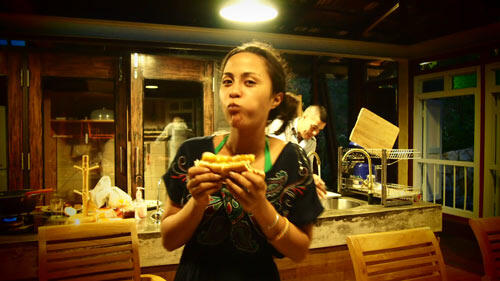 Steph and her hotdog.
The ones who were cooking ended up eating earlier than the rest – hard to resist food while prepping!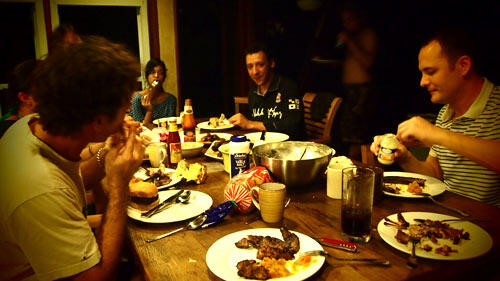 'Twas hard to see the BBQ on the patio when it got dark… and Matt proudly emerged with a headlamp in hand. Super dot dot dot… who would think of bringing a headlamp? Hahaha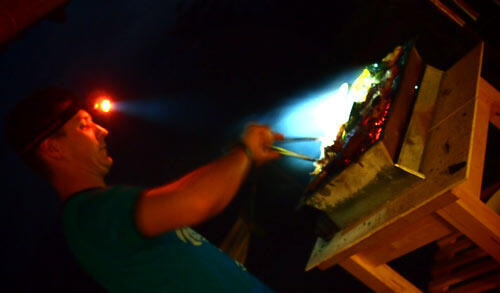 Matt. Always prepared for the elements of nature.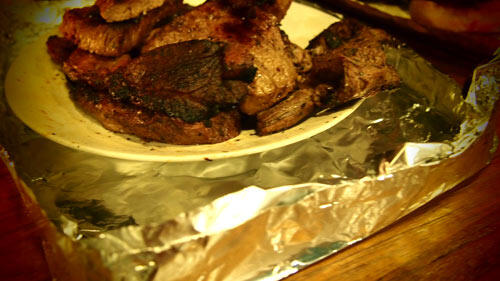 Steph and i were prepared in other ways. We constructed a moat made of tinfoil so the ants couldn't get to our leftovers that sat waiting for people who wanted seconds.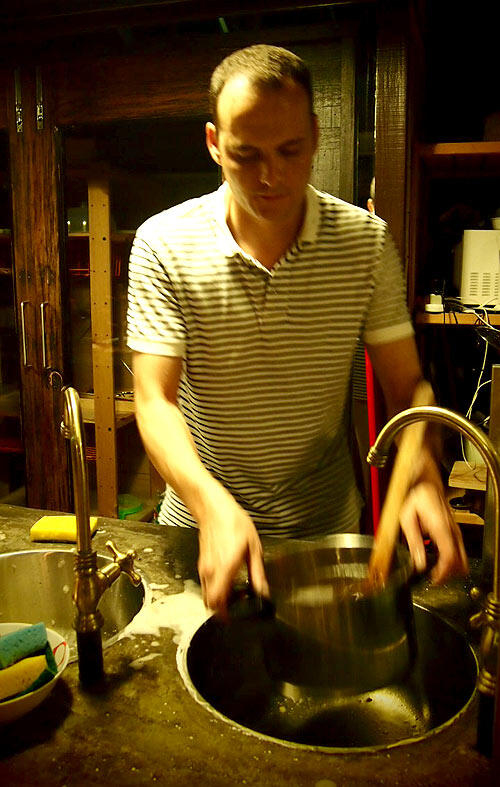 Clem took to doing the dishes since he didn't cook.
Me *standing there and staring* : You're so so sexy baby…
Him: While i'm doing the dishes? Great… just great.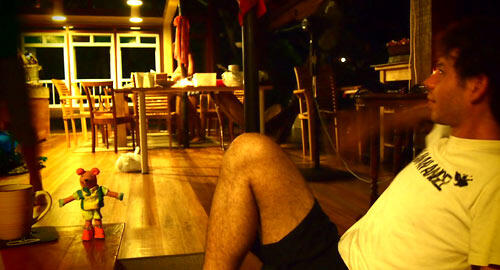 Nick got Maurice my mouse to take his first step! "It's all in the dynamics," he said.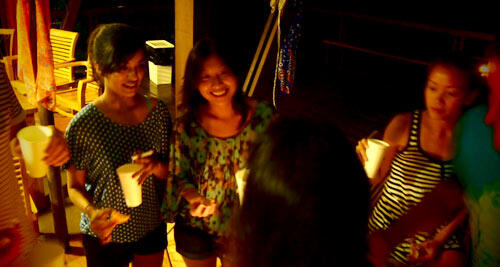 Having a shot at midnight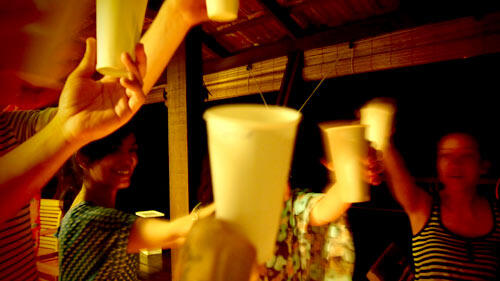 There was so much love there that night! Everyone was hugging and kissing. I even saw Fai giving Clem a big smack on the cheek, super bromance can die. Tried convincing him to do it again so i could take a picture but he didn't. I guess it was a special moment that i thankfully happened to see 😀 😀 😀
Steph, Nick, half of Matt's face, Clem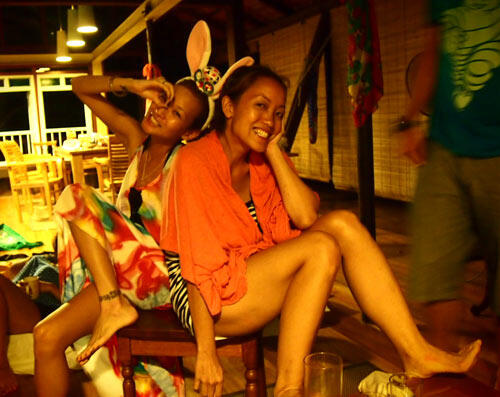 me and CC. Her tea ceremony is coming up and i almost booked tickets to Acheh for that same weekend. Happened to get her message while looking at flights and immediately thought, "THERE'S NO WAY I'M MISSING OUT TORTURING ALL THE FRENCH GUYS HAHAHAAAAA" (by the way, for girls who think you've got a BRILLIANT torture please email me joycethefairy@gmail.com! the more ideas the eviler mwahahahahah)
Aps & Fai
Ok i didn't take that many pictures that night! Was too lazy and just wanted to enjoy myself (also couldn't hold camera still for some reason). Most of the shots are blurry, dark or just not suitable to put up online. Tada!