Myra wanted to spend her hen's night doing something different from the typical tramping about bars,
so a dozen girls gathered to have a BBQ at Awanmulan,
a new forest chalet that's in the same area as Dusun.
I thought it was a brilliant idea…
the whole point of having a hen's night is to SPEND TIME with all your girlfriends anyway, before the whole shebang of marriage gets you so excited to stay at home that a girlie holiday is not high on the priority list.
In fact, i think if i were to have a hen's night, i'm just gonna have a girlie holiday!
The rest planned to leave at 9:30am… as did i.
Till i had such a tiring week that i decided to go later.
It's my first proper chance to sleep more than 6 hours and i really need to catch up on some kip!
So Didi, Sueann and i left at 2:30pm.
Ok fine, we left at 3:30pm.
Before we even got on the highway,
Didi and i exchanged a semi-sharp sentence with each other,
and i exclaimed, "Oh god, we haven't even been in the car with each other for 15 minutes and we're fighting -_-"
[shit i just thought about how we're going to spend FOUR DAYS with each other in Singapore this weekend for F1…]
Anyway it started storming like crazy and all our GPS stopped working,
resulting in a slight flurry of are-we-going-the-right-way.
Didi was navigator… while Sueann… studied the blue ball moving on the map in fascination like a cat.
Finally arrived at destination at 6pm.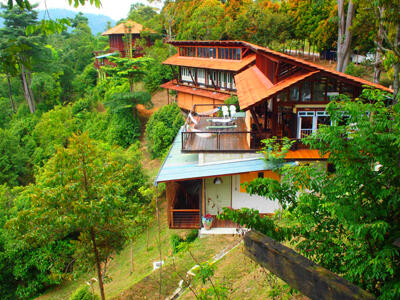 The whole block above is for guests.
Top floor has 8 beds for RM800. RM75 per extra mattress.
Bottom has a couple of bedrooms (i may be stating it wrongly here!)
As you can see, the top floor has a huge patio for BBQ and sunbathing.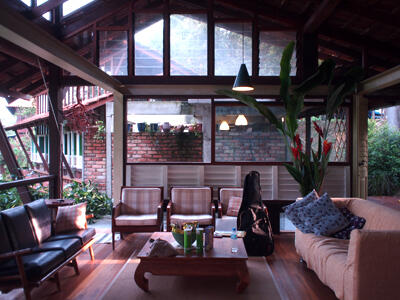 Living room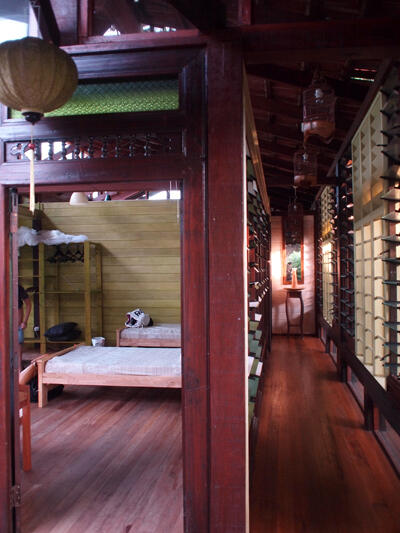 One of the top floor bedrooms on left,
corridor on right.
Bedrooms are in dorm-style,
so Awanmulan is the sort of place you'd go with a group of friends,
not to get it on.
Hmm unless you took one of the lower bedrooms below.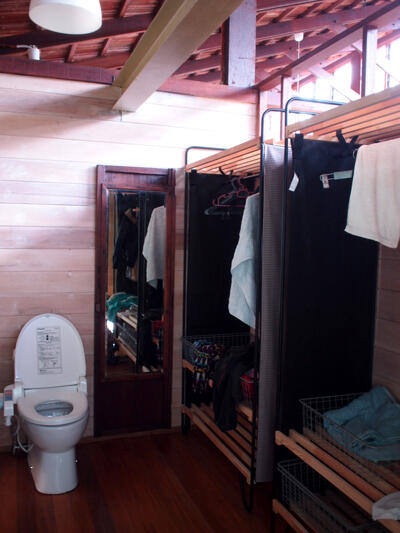 Love the dry bathroom concept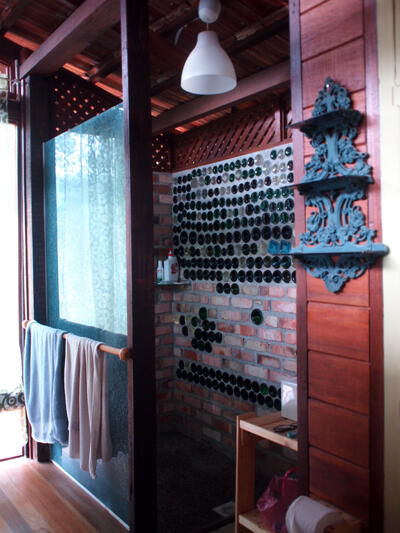 Rain shower, no less!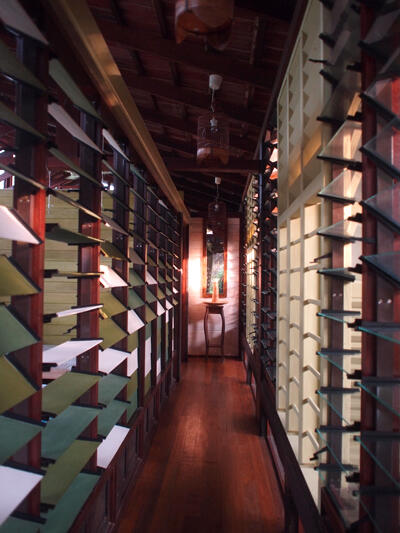 Just liked this pic of the corridor so much i had to put it up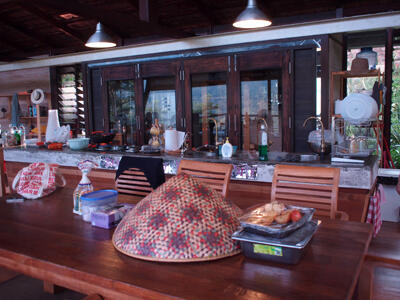 Kitchen!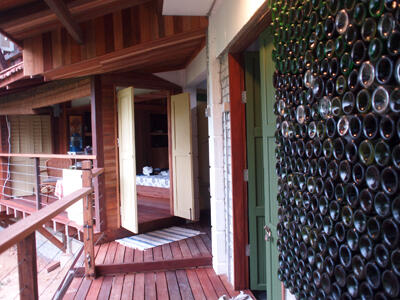 Downstairs area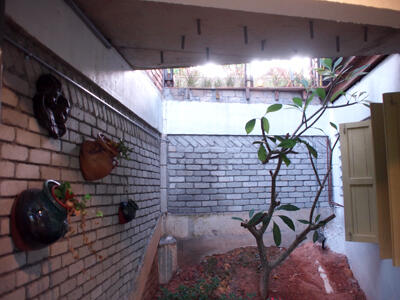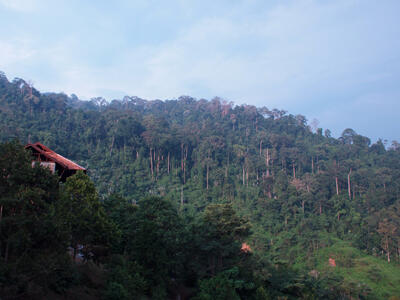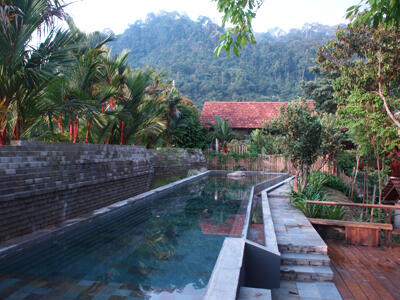 Communal pool for guests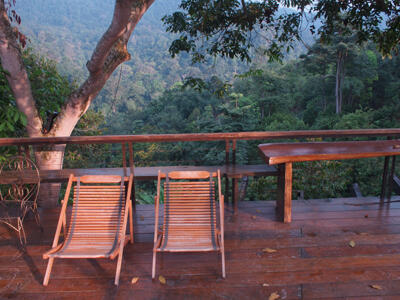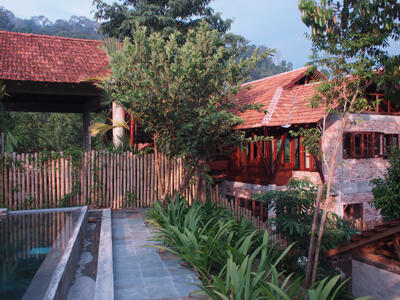 I reckon it's the private quarters on right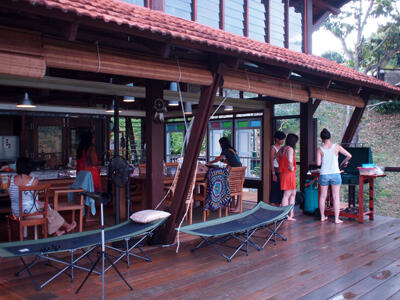 Lots of space for wild people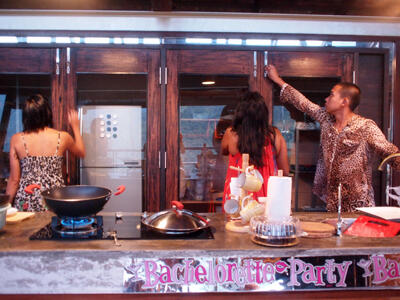 First time i'm seeing these people being so domesticated…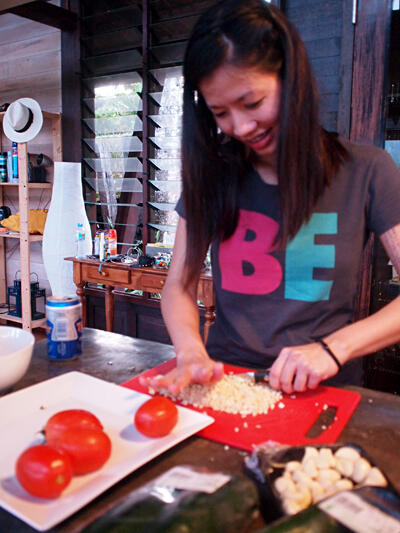 Sueann. Fashion Directors can chop garlic too yo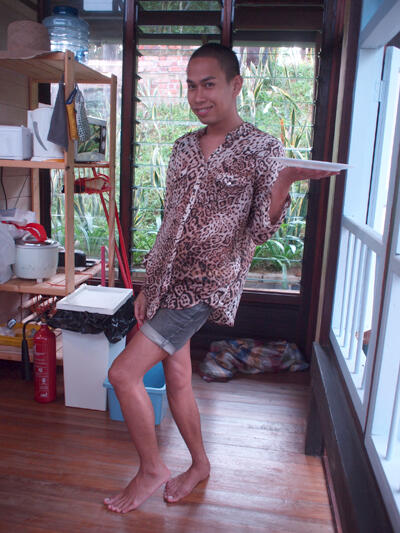 Ming was posing at lightning speed while i tried taking natural shots.
Oh yeah, i mentioned this was a girlie trip.
Well Ming's one of the girls anyway.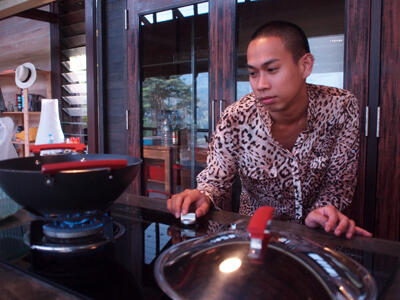 Many pictures in my cam of Ming being a domestic diva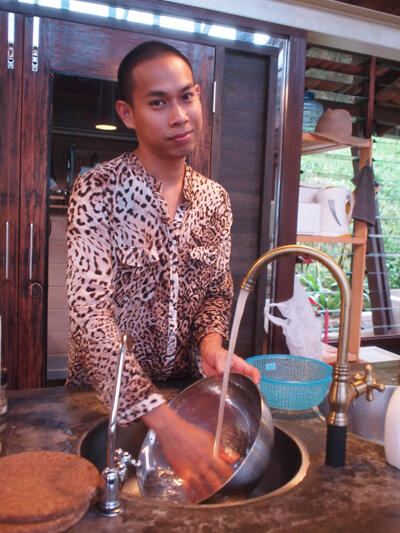 Btw, these were all authentic pictures of him while he did chores in the kitchen!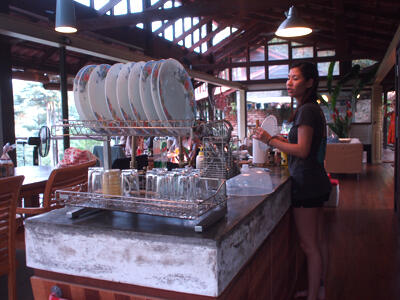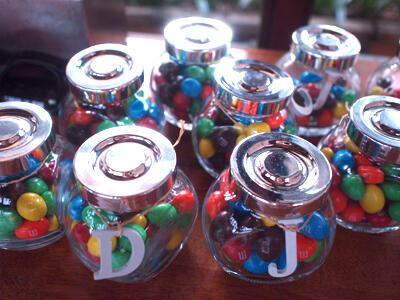 Myra was so sweet to give us personalized jars with M&Ms inside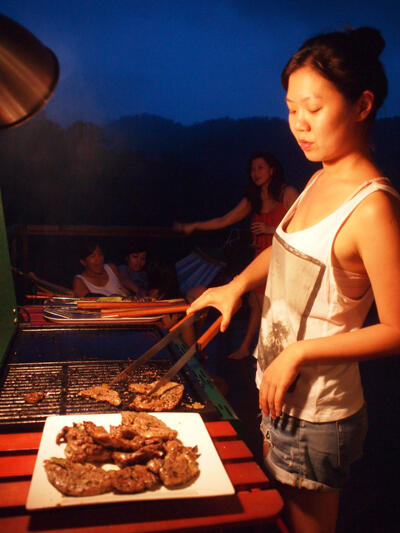 Jia Wei doing the chicken.
We heart the easy electrical BBQ tho i'm sure manly men will protest.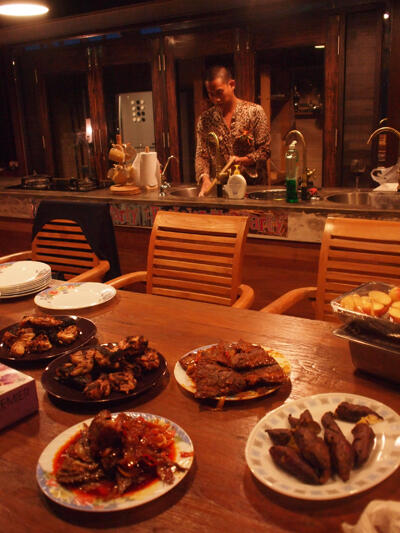 Just half the food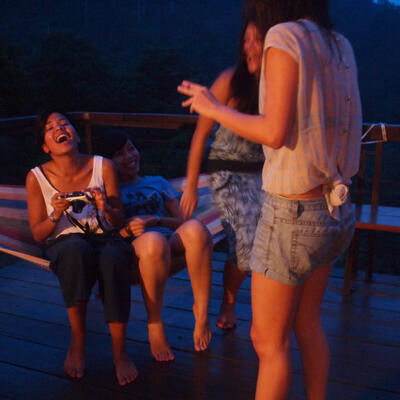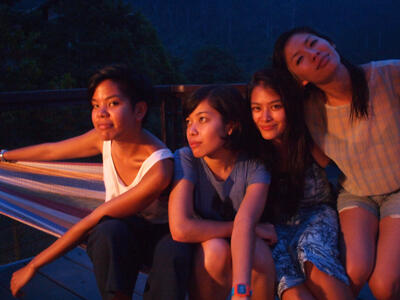 Didi, Bride-to-be Myra, Clouds, Sueann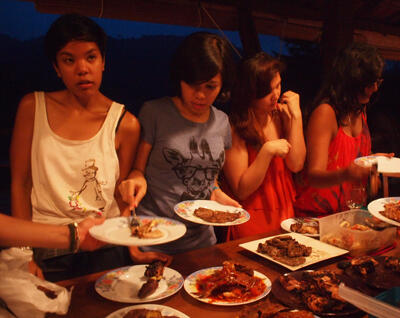 Makan time!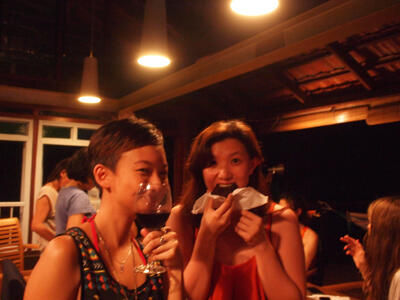 Me and some red. Sarah and some choc cake.
Btw Sarah and i will be playing with Deer Society at Daikanyama on Oct 1st! *end plug*
Hmm ok there's this story about the choc cake that i will just ADMIT here cos i'm shameless like that.
Everyone was just GOING for the cake after dinner,
whereas i prefer having it later at night as if it's supper.
Jiawers and Sarah suggested i wrap it in tissue and HIDE it in the fridge so no cake monster will get it.
The next morning i opened the fridge somehow expecting to see the piece still there…
but it was gone!
"Who took my chocolate cake?! SOMEONE took my chocolate cakeeeee!" i lamented.
Sarah: Your chocolate cake..? Didn't you eat it last night? Joyce. I SAW you eating it last night!!!
Me: *hazy drunk memory returns in bits* hmm…. you may be right…. :p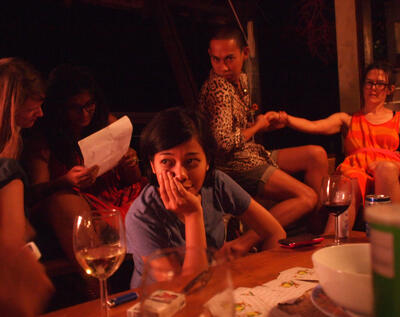 We played some games after dinner.
Memorable bits:
– asking Myra rather embarrassing questions about Fahmi that even *i* didn't want to know the answers to
– getting everyone to say "WOOHOO" everytime someone said Myra's name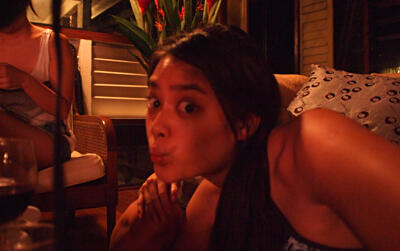 – Claudia farting way too much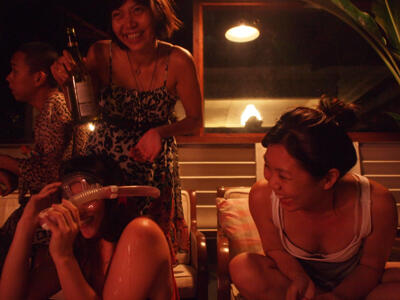 – Sarah having to drink through a scuba mask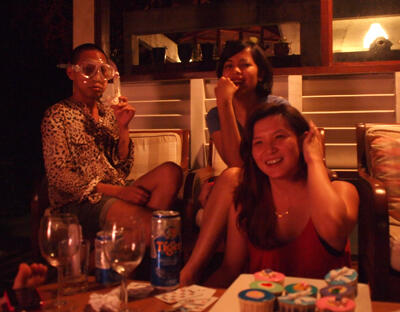 Ming saja want to try posing with mask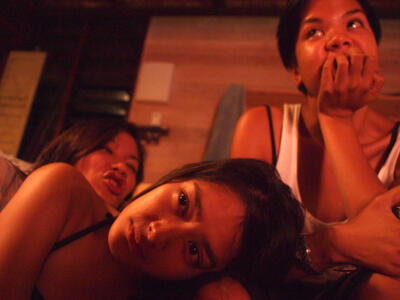 Poyol la Claudia ni…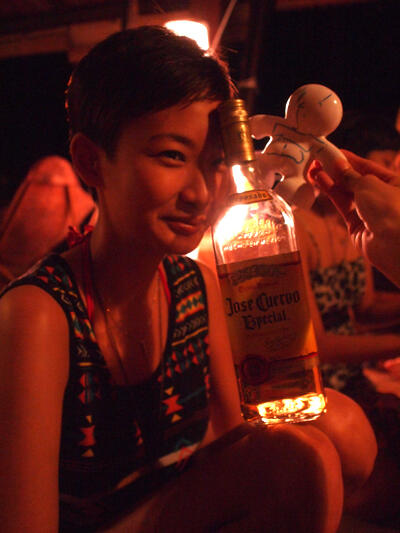 The tequila finished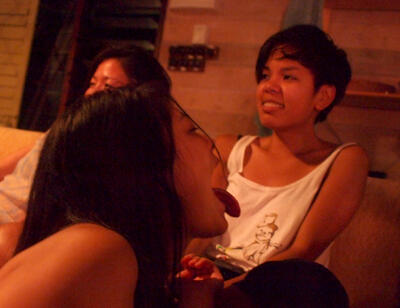 Like Didi says, Claudia is so lucky she's so pretty cos she's like a haiwan (read: animal)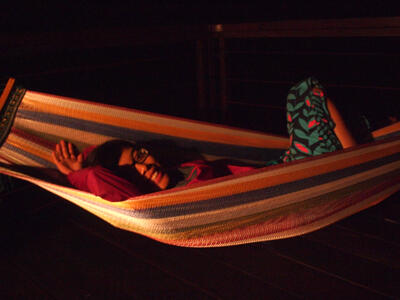 Everyone started passing out one by one…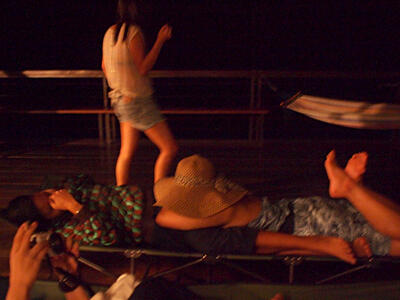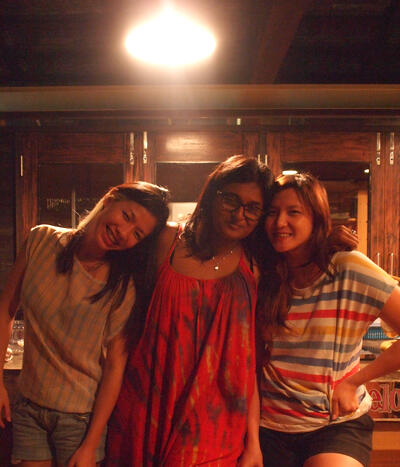 Last 4 standing…
I went looking for Sueann in one of the rooms and thought she was sleeping in bed,
was about to poke her when Sarah JUMPED in front of me and whispered,
"NO! It's Didi! She'll PUNCH YOU!"
Fect, damn scared we both ran out quietly haha.
Turned out Sueann was in the bathroom and entertained us with a pole dance after.
No videos were allowed.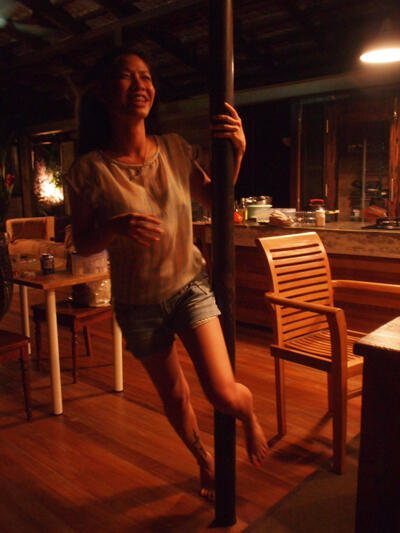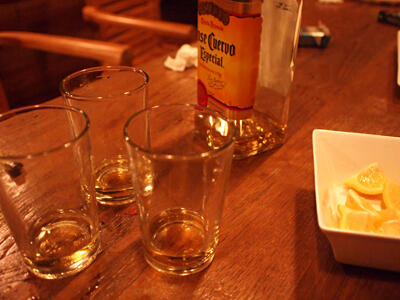 /////////////////////////////////////////
Next day i woke up to see a slickly-oiled Ming in the tightest skimpiest swimming trunks i'd ever seen strutting into the bedroom.
I was last to wake up… at 9:30am (these ppl are crazy!)
Wish i could have slept longer zzzzz but felt like i was missing out so i got up.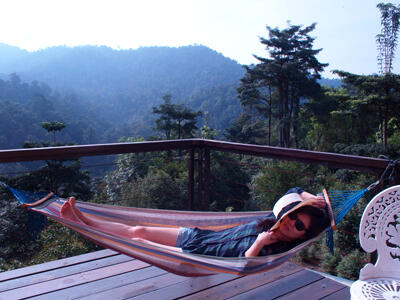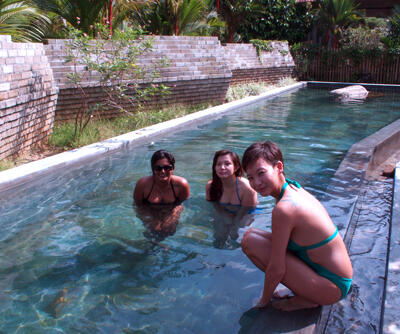 Water was cold so i took my time… let the toes and fingers in first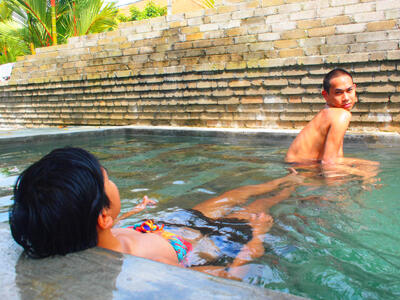 Ming. Forever posing.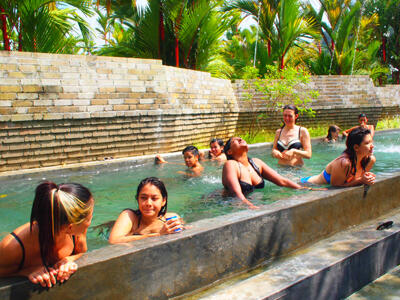 Clem saw the picture and exclaimed, "SO many girls! -_-"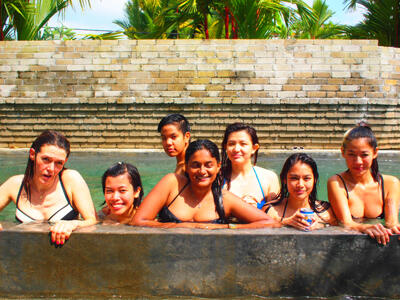 Check out Didi har har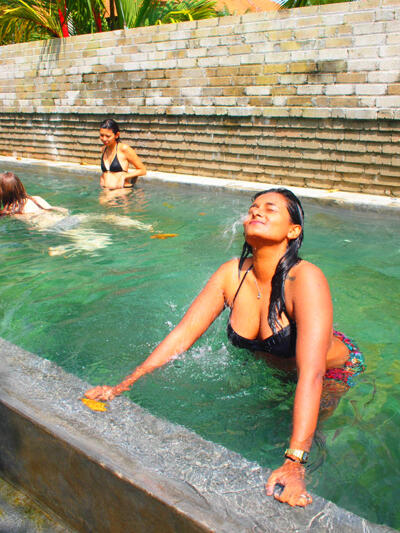 Sorry Meesh but i just HAD to put this pic up…
Look, i can even see the water splashing happily off your cheek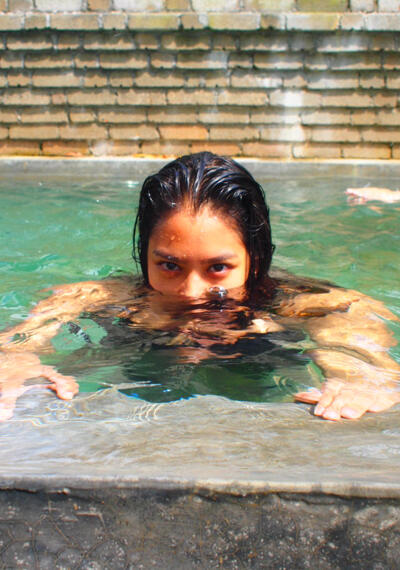 Claudia trying some Little Mermaid pose or something.
I forgot.
Such an awesome weekend guys!
xxx