SATURDAY MORNING. The day i wanted to attend the festival MOST cos it had the most acts i wanted to see. Our passes to the festival for Friday didn't mean we had more for the following days… which was quite stressful (for poor Rahul mostly).
We woke up just to eat breakfast that was included with our stay, before tumbling back into bed. Nadine, the Yenn B&B owner, saw how sleepy i looked and cheekily asked, "You look sleepy! Want me to turn the music on?" I barely had the energy to talk so i just shook my head. She continued asking, "Sure? No music? How about a BEER?!" I almost threw up thinking about a beer and found my voice, "No, Nadine. NO!" She was so sweet asking me those questions that i took some time to realize she was jesting!
After munching on a few mouthfuls of food, Yishyene and i went back to sleep while waiting for messages from Rahul again, on whether we managed to get passes for that day. I was getting jittery around 1pm cos i really wanted to catch Noah & The Whale who was on at 3:30pm. And wonder of wonders… Rahul messaged us saying the Wolfmother guys sorted us out. Thanks Wolfmother… i've never heard your songs but now i'll remember you for LIFE.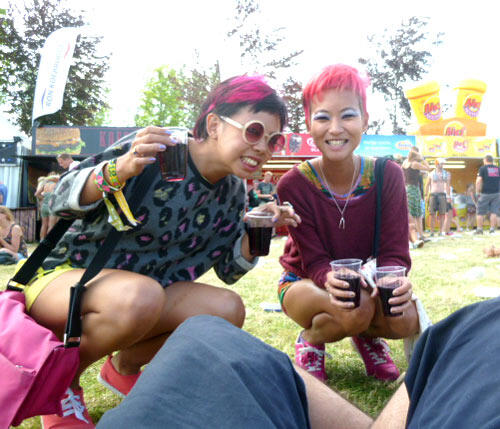 Was a bit chilly that day so sweaters were in order. Smart me didn't bring a SINGLE sweater to Europe (just a jacket) so Y lent me one of hers.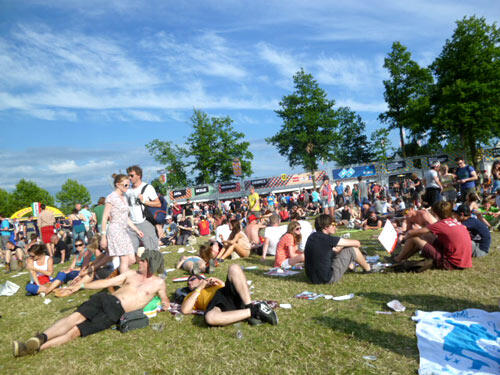 As the day wore on, the sun came out and everyone started discarding their clothes.
Y and i went to catch Noah & The Whale cos i really wanted to hear 5 Years Time, while Rahul went to watch Wolfmother. No pictures at Noah & The Whale cos… it was SO crowded, i didn't think they were so popular! Y was so cute and such a hustler… she knew how much i was looking forward to N&TW and yet, i'm quite shy about pushing/making my way into the crowd, so she led the way and i followed. Hustler! Was enough to see the screens and dance a bit, but i wish the crowd danced more. We were probably too much at the back to be amongst the die-hard fans. (Even with making our way towards the front, we just about managed to get into the middle to back area of the tent!)
After that set, we met up with Rahul and Iqbal and found a spot in the main area to hang out to Kasabian. I was adamant we'd spend time together seeing we couldn't find each other the day before!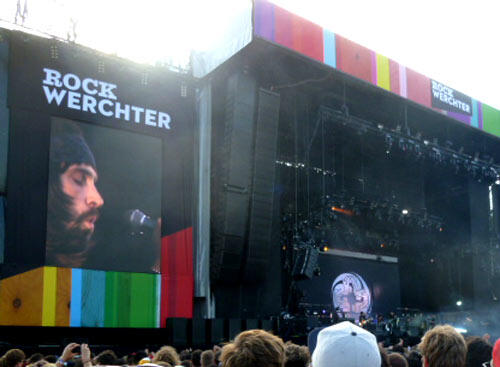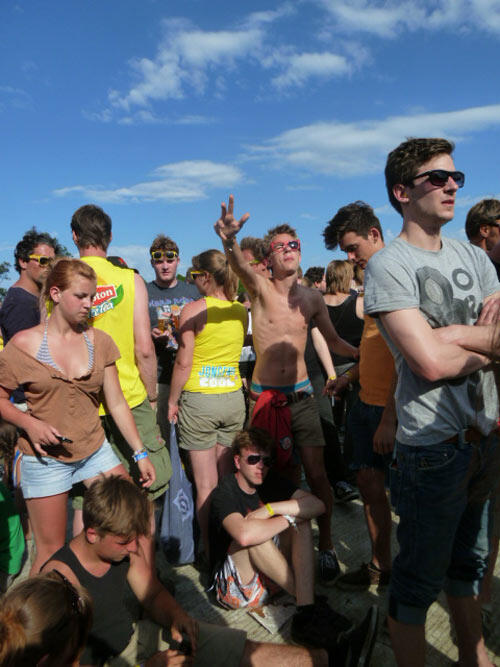 I just had to take a picture of this guy dancing by himself oblivious to anything or anyone around him, plus one side of his sunnies had got lost. I should have just taken a video…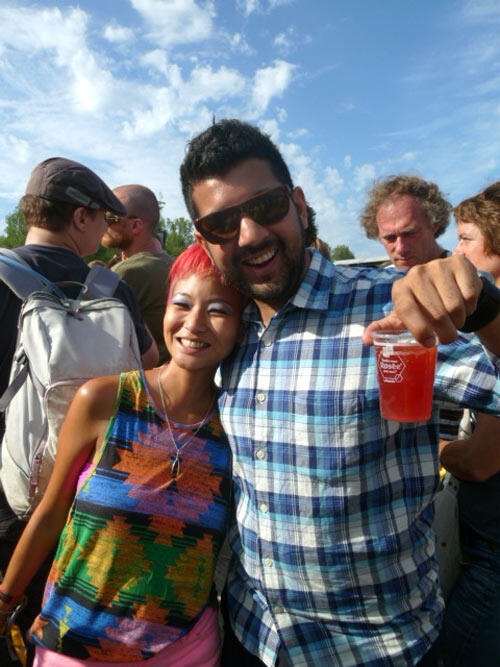 Rahul & i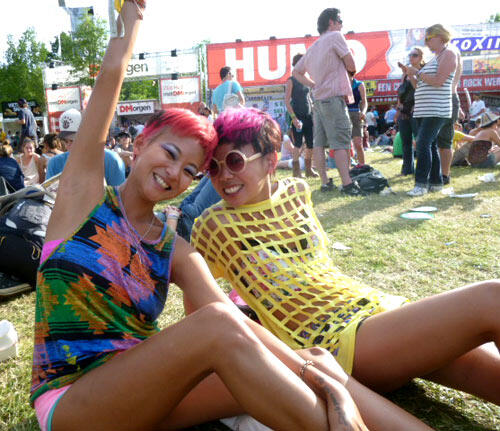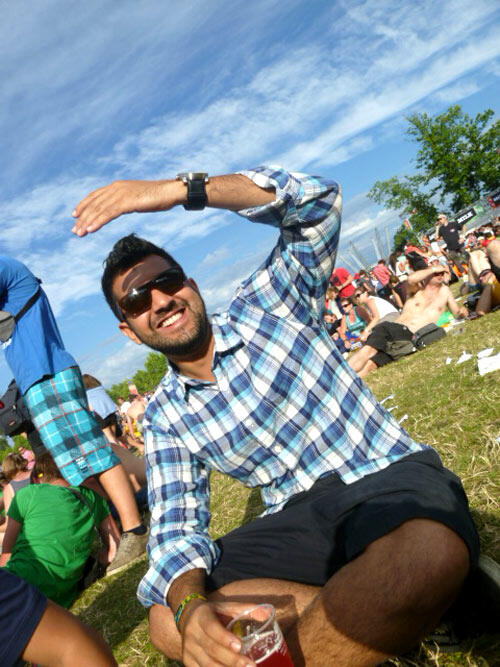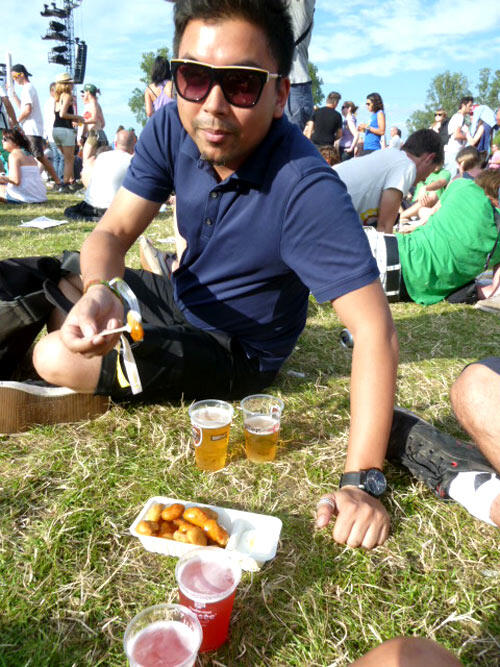 Iqbal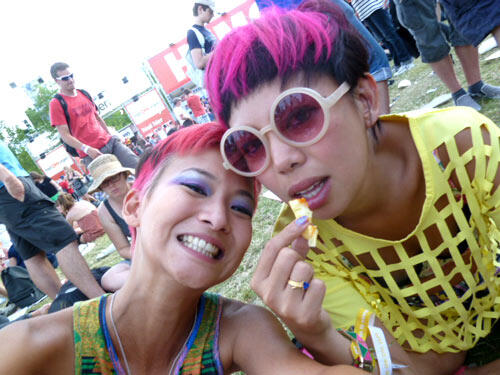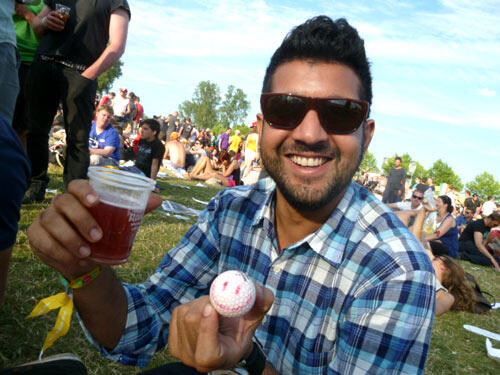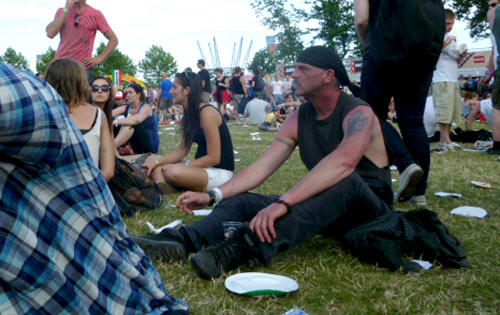 There was this Angry-looking Biker Guy (as Yishyene dubbed him), sitting alone and looking real angry and tough by himself. Y went so far as to intentionally blow bubbles that the wind carried right into his face but he didn't even smile or budge. Some of the bubbles even burst right in FRONT of his face and still he had NO reaction. What an Angry Biker Guy! We got a bit scared cos we don't know anyone who doesn't react to bubbles… so we stopped disturbing him after our few failed attempts of making him smile.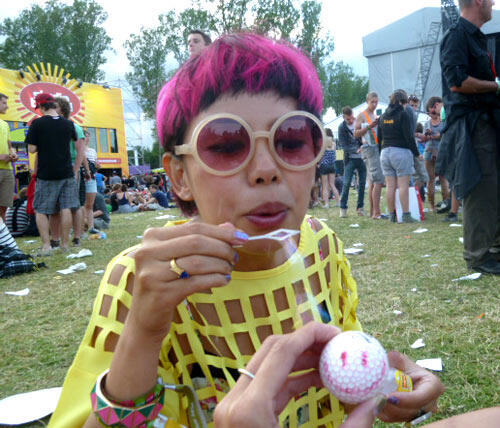 Pelting Wilson with bubbles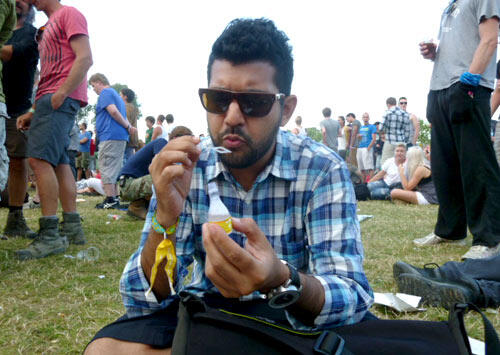 Rahul almost became like the Angry Biker Guy cos he couldn't seem to blow bubbles well…
After we played with our bubbles, we looked back at Angry Biker Guy and Yishyene started giggling cos he was 'hugging his hand' while taking a nap.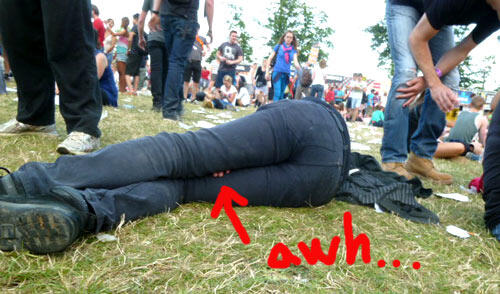 I asked the boys to give us their best party shot. Rahul immediately picked up his cup to down it -_-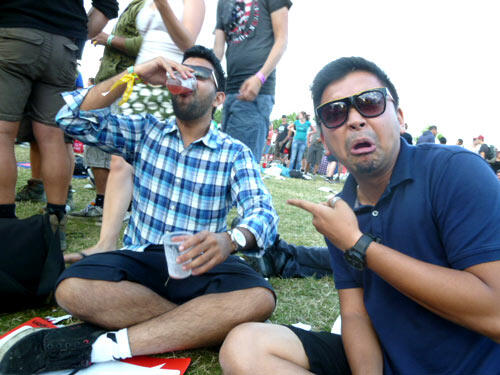 When Y and i did our best party shot, she picked up a FORK to eat her drink with. Dot dot dot… No need to tell you who wins the Crazy Trophy.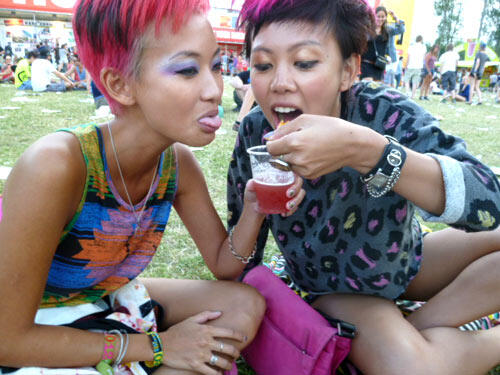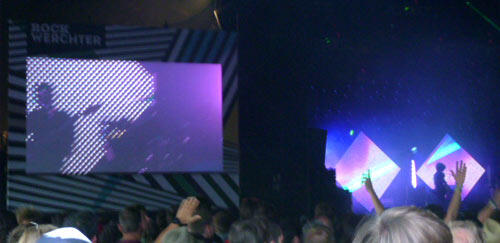 We all made our way to catch M83. And by god. They were marvelous. I knew/heard they were good live, and even with my high expectations, they STILL completely blew me away. I was OWNED by them for the whole set. They're a genre in their own right.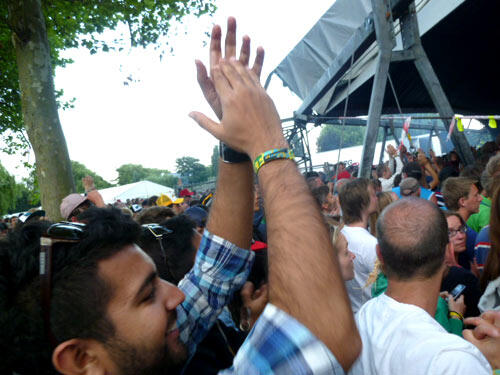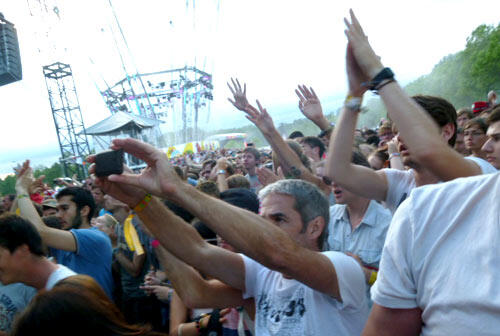 Worshippers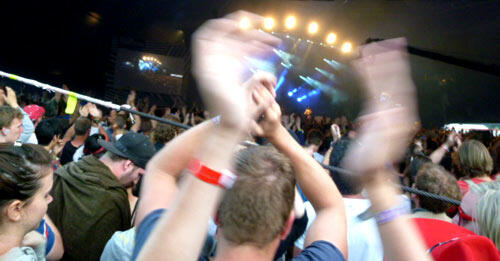 I felt so worried that the set would be over before i really got into it, but it felt like a complete and satisfying journey (that's what their songs feel like!) in the end. Watching them live has elevated my awe.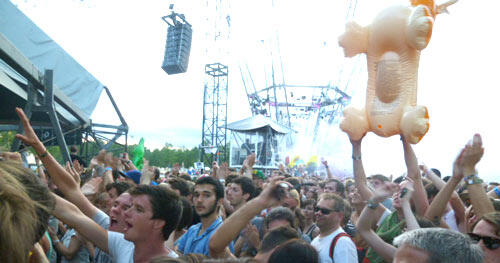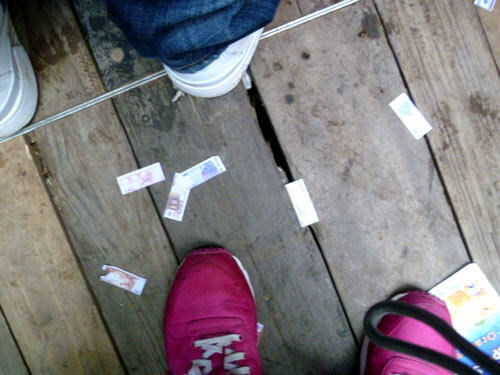 Money is evil. Stamp on it!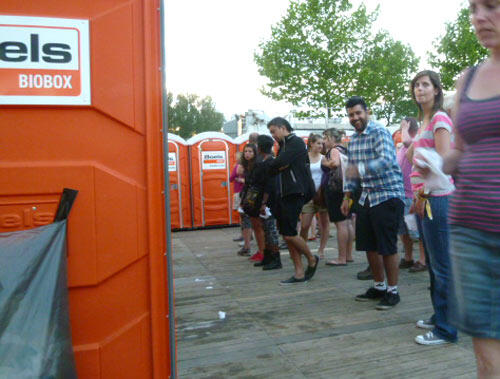 Really nothing to do while waiting for Rahul to use the portaloo.
After M83, we went to watch The XX – one of the bands i was also really looking forward to! I was completely in my own world when they performed VCR, it felt like i was in ecstasy (as cheesy as it may sound). It's one of my favourite songs in the world and makes me feel LOVE and FREE and LOVE LIFE. I vaguely remember some people staring at me and smiling as i danced with my arms in the air.
Oh, i think this was my BEST moment that day. This song. The atmosphere. Flying high. I even have this song playing in my head at random times throughout my days, so you must imagine what it meant for me to hear it live!
All of us talked rubbish i don't recall, and took lots of (very bad and blur) pictures. There was this guy dancing with a plastic bag so i took a picture of his performance: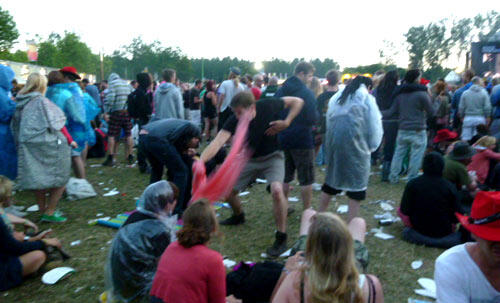 He caught me tho, and all his friends turned around and started laughing at how strangers found their friend entertaining.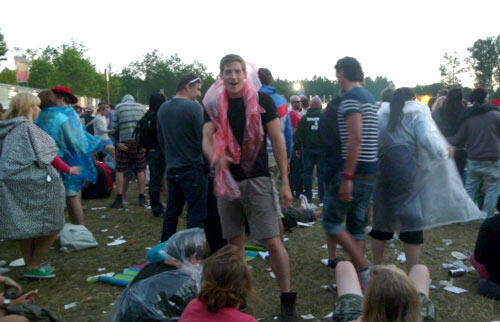 Much later on, Y and i were doing something really silly (i don't remember WHAT!) but theN i caught HIM taking pictures of US. Haha, oh well.
After The XX, i dragged everyone to watch Regina Spektor. I say 'dragged' cos i'm the only fan. I always thought (based on her earlier album) that she'd be a bit whack in the head and slightly violent. But she's SO SWEET on stage! Kept on thanking everyone for being there and smiling shyly. Not what i had in mind. Maybe she was really ANGRY writing some of her earlier songs then calmed down a few years later haha. But it was such a pleasure to hear her sound EXACTLY like how she does on recorded songs. Her voice is fantastic. I'm so pleased!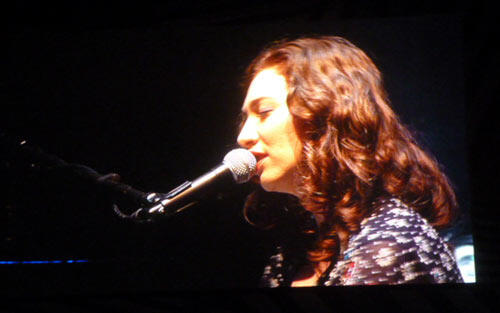 I think the rest of them were bored. Seeing Rahul favours heavy metal… Regina Spektor must be like 'kitty cat, cookies and milk' music to him. They abandoned me after a few songs.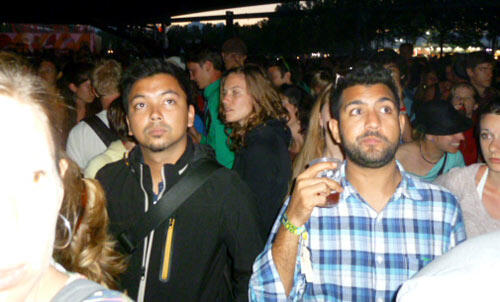 After Regina, Y started stretching (don't ask me why) like she was doing aerobics, stating it wasn't as easy as it looked especially when intoxicated.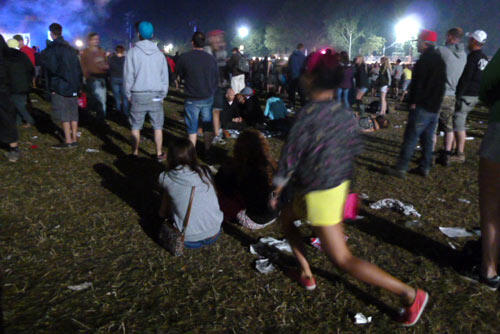 Impressively… a few people joined her doing these movements, and it looked like she'd started an aerobics class. Where's a marker and cardboard when you need one?! I wanted to write a sign and put the price (drink coupons) for partaking in her class.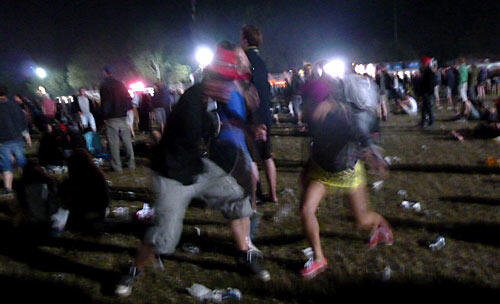 After The Editors, we left seeing we'd already watched Chase & Status before. It was crazy how many kids outside were dying to watch Chase & Status tho!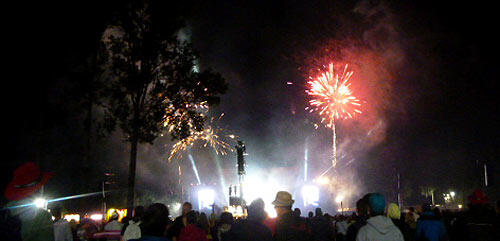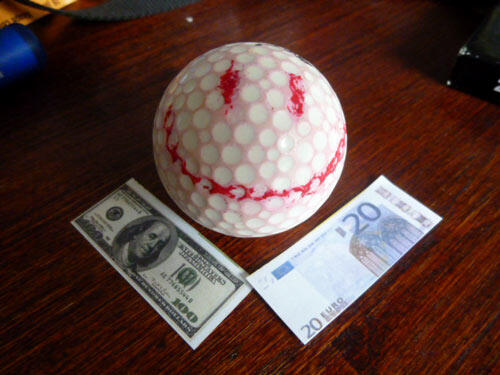 Wilson got his first pocket money 😀