Munduk is stated to be one of the prettiest mountain villages in Bali,
where travelers are reputated for visiting for a night and end up staying a week.
There are lots of waterfalls and hiking trails around the village,
so we headed there to stay for a night before heading back to Denpasar.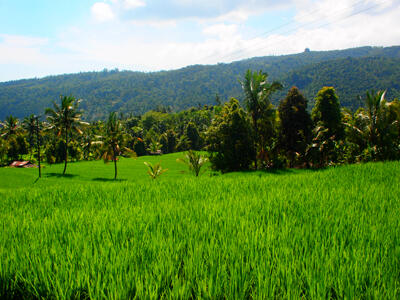 There is absolutely nothing more GREEN in the world than Balinese rice fields.
The Hulk comes a close second.
Munduk town consists of one road.
So it's really easy to find a guesthouse to stay in,
you just gotta pop in and out to check out the rooms/rates till you find one you like.
There was one guesthouse which i didn't quite fancy,
but i did love the view they had in their restaurant.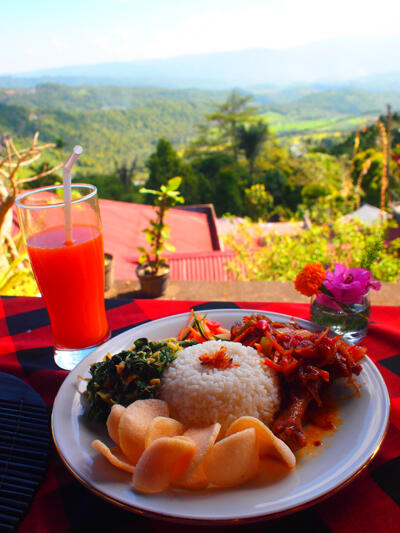 My lunch and view. Bloody fucking lovely!
Drove further down the road and found a room with the most satisfying gush of hot water and one of the BEST VIEWS EVER right on our doorstep.
We took it right away. 300,000 rupiah/RM105 a night.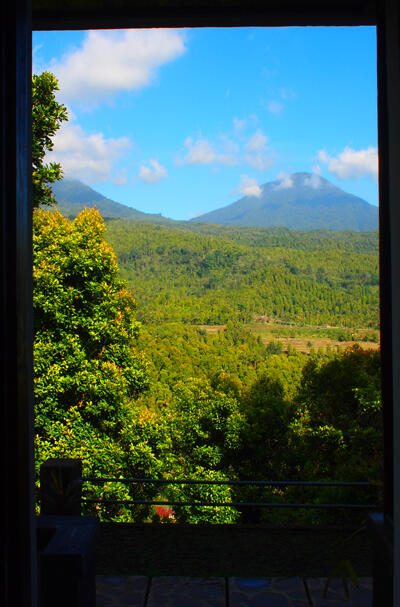 View from inside our room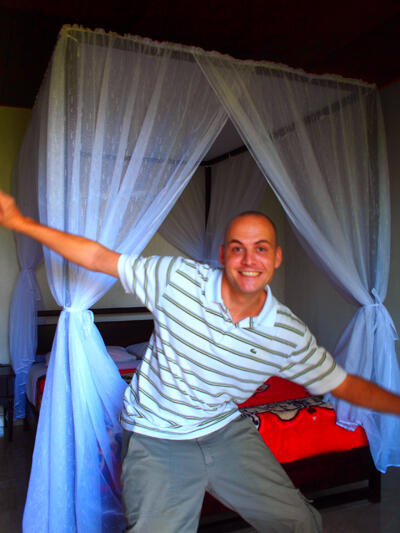 Happy bunny
Since it was still afternoon, we quickly hired a guide to take us on a hike.
Some places don't require a guide,
but sometimes it's really worth it to get one cos they can explain and point out lots of things you didn't know you're missing out on!
Our guide was Nyoman, the epitome of Chirpy and Smiley.
(tel: 081 239 73776)
On the way into the forest, we walked down a narrow cement trail with houses and gardens on the side.
Nyoman would call out greetings to most of the inhabitants,
people he's known since he was a little boy.
He told us about how he used to chase kites into the forest when he was a child, and almost get lost in its intricacy!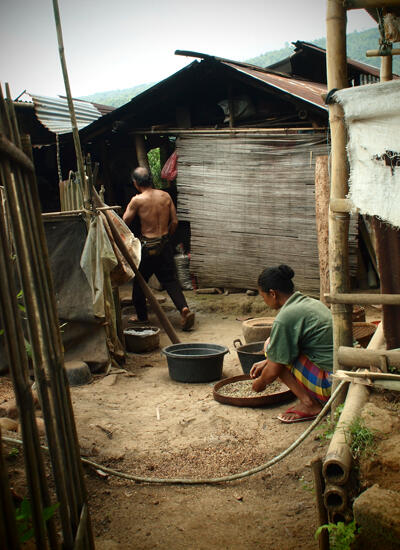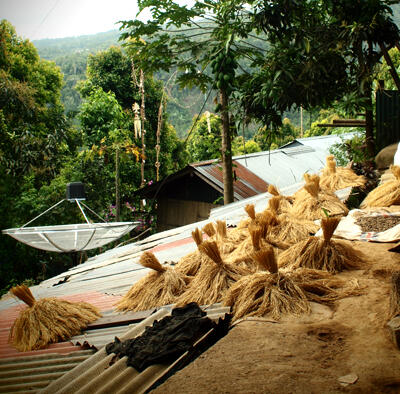 Even in the poorest of houses, a massive satellite is usually present to provide cable TV.
Nyoman said if they didn't have one, the house would only get 4 lame channels to watch.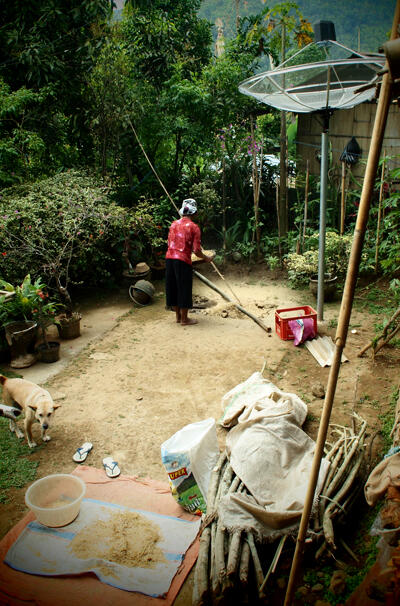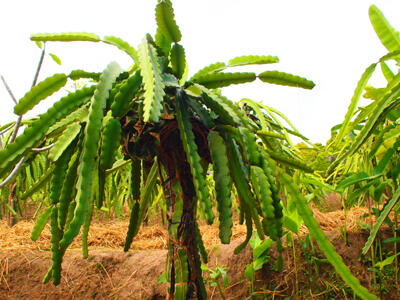 A dragonfruit plantation!
I'd never seen a dragonfruit plant before and it's so obvious why it's named so!
Puff the magic dragon.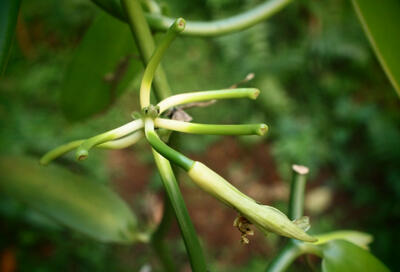 Vanilla sticks!
Nyoman also pointed out nutmeg, clove, cacao, pandan, red Bali rice, coffee, black pepper and avocado (which i looked at longingly).
A wonderful array of crops introduced by the Dutch when they took control of the area in the 1890s.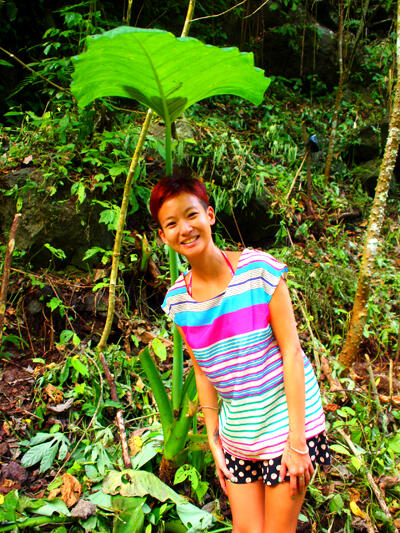 Nyoman said the villagers would use these as makeshift brollies when it rained.
I'm wearing a top from Beautiful Disaster and polka dot shorts from Topshop.
Yeah, i know it's not 'proper' hiking wear.
But what IS proper hiking wear? Shorts and shirt right?
Might as well make it as COLOURFUL as POSSIBLE so if i get lost people can find me.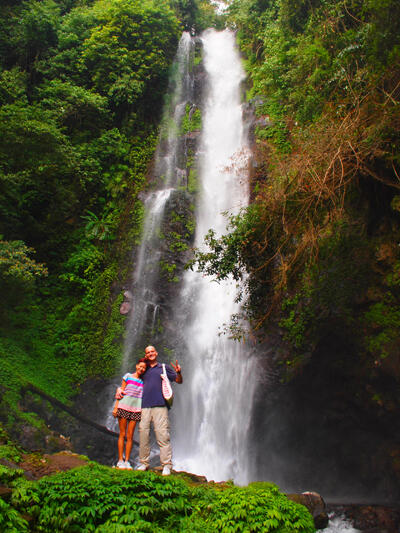 Waterfall no. 1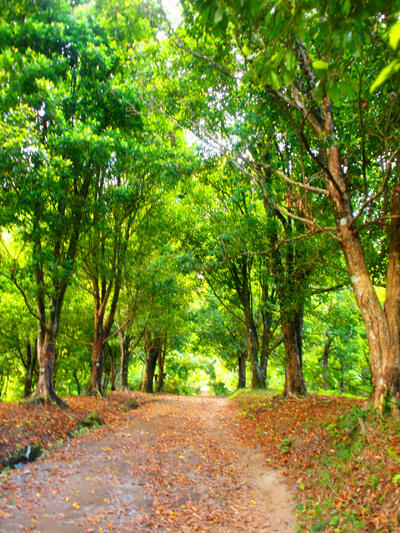 I imagined Christopher Robin and Pooh bear skipping down this lane
The hike up to the second waterfall was devastatingly painful for us.
Was about 200m in steep steps.
We were gasping for breath and i stopped to take pictures in the pretense of resting :p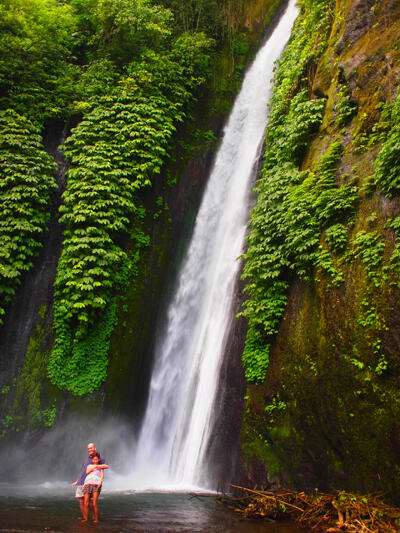 Waterfall no. 2
I hate it when Clem holds me so hard i almost fall backward in the picture.
It's what people used to do in school!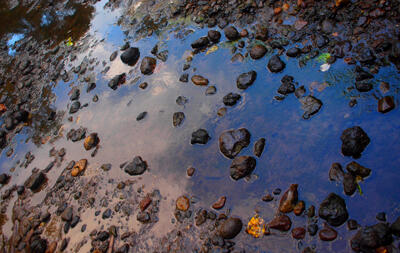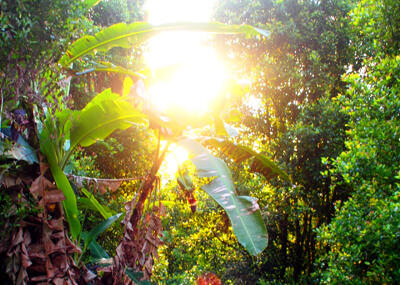 Easy walk down after that *thighs pain*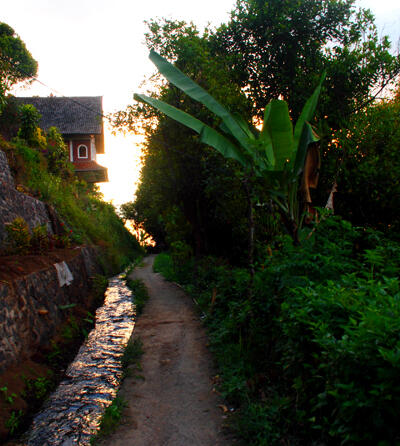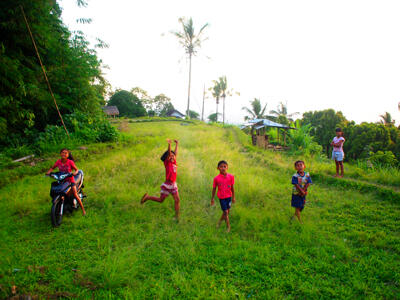 Love how i happened to snap a pic just as the little girl was doing a giant leap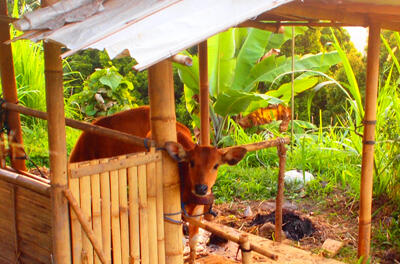 Where's chicken?
We reached the lookout point for sunset just in time to watch its 5 minutes of daily fame.
It looked like the giant cloud was giving birth to a sparkling orange which was then swallowed by the distant mountains of Java.
Can you see the slight glimmer in the picture?
That's the sea between Bali and Java!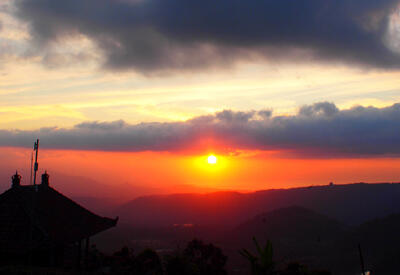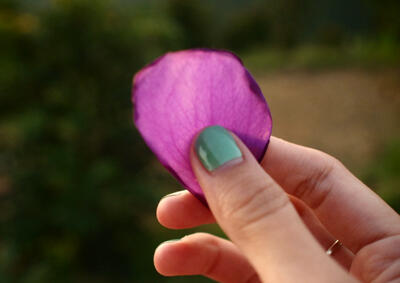 I found a purple petal.
Was enamoured.
Carried it around.
Decided i should return it to nature
and gave it a good chew to see what it tasted like
before dropping it to the ground.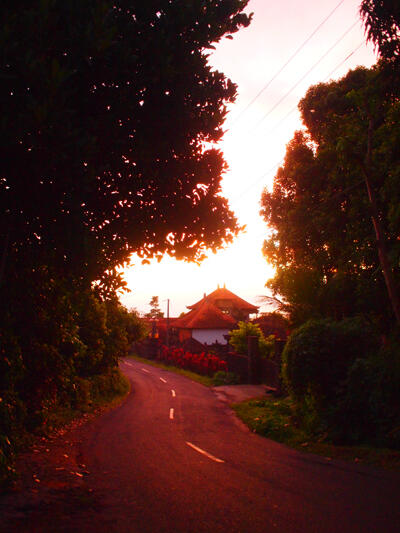 The road outside our guesthouse. So pretty right?!
Looks like a picture story book. Love!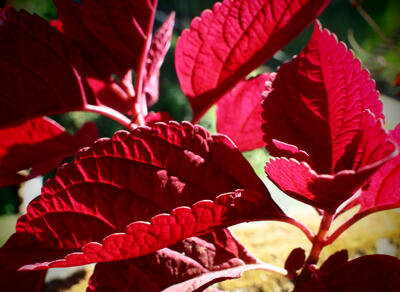 The next morning, we decided to do one last hike in Munduk before heading East to Candikuning.
We hiked down a longgggg path from the main road
with me dreading the climb back up.
And we ended up... at one of the waterfalls we'd just laboriously hiked to the previous evening.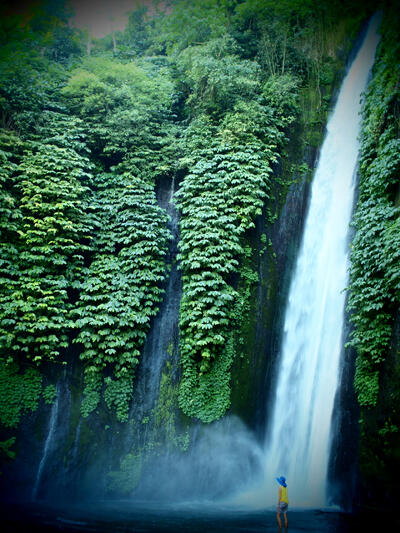 We didn't know it was the same cos we took a completely different route the day before!
Since we were ALREADY there, we took more waterfall pictures -_-
At least this time  my BLUE HAT's in it 
Next post will be on the market and Bali Botanical Gardens!
Read previous post 'North Bali - Lovina & Pemuteran' *here*