For every person, place and experience i encounter,
i take a little of you with me,
as you take some of me, with you.
*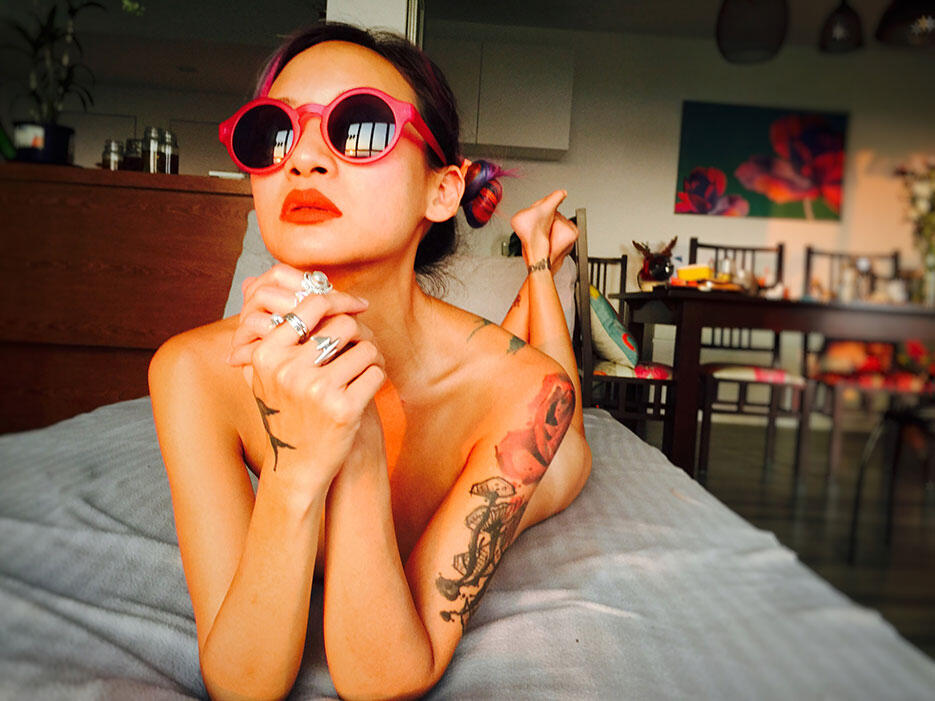 No nude lippe, just nude being.
Colour is Lava from Orkid Cosmetics. I'm obsessed. 100% vegan, cruelty-free, halal and Malaysian-made.
Stays on for freaking HOURS (unless my carefree hand forgets i'm wearing something and smears it all over my chin)
Rings from Moonstone Magic.


I admit being a little fearful of leaving Bali
lest i forget its magic, lest i forget what it taught me…
I was so afraid i'd return to KL and flow back into old roles
but i didn't! Hoorah!
A few days before i left Bali, friends asked me, "How do you feel? Are you sad to leave?"
And i'd blurt out, "I'm so sad!!" with a turned down mouth cos i was truly dismal to leave my other home.
I felt better knowing i'll return. I'll always return to Bali, since 2004 and counting.
Every time the airplane tyres jolt on the tarmac in Denpasar, a voice in my head says happily and quietly, "I'm home."
I'm blessed to have so many places i call home though… anyway the whole planet is my home (but if we wanted to go deeper in that it could take a while… where is home? the universe? this plane? this reality? what about this timeline? oh wow stop brain)
I cried in the car when i left Ubud, not because i was sad – but because i was so grateful for everything it had given me.
On the day i took my flight from Bali, i cried the moment Vina went out to run an errand and i was in the villa alone.
Again, i didn't cry out of sadness, tho i was half-expecting it to be due to that.
I looked up into the sky and wept because i was so happy and thankful that i received everything i wanted from that trip, and more.
Bali always gives me more.
I had a great homecoming. The Grab i took from the airport was so nice, the driver even offered me water, tissue, charger for my phone, and didn't try chatting my ear off. Stepping it up! When i got home, i found all these goodies that Jun left for my arrival… doodles stuck around the place, a bottle of wine, fresh flowers, spliff, and presents from his niece and nephew.
I was so happy to be back in my apartment i said hi to everything.
Hi home! Hi mirror!
Hi living room! Hi bidet!
Oh toilet paper i didn't know how much i missed you but you are different from Bali toilet paper!
I unpacked everything that night (cos i'm so OCD like that), burnt incense, and saged the whole place to clear the energy.
Then i got into recalibrating myself back into city mode, yet with my new personal mindset intact.
My reality and world has changed since i spent some time alone.
My perception towards things are different, and i'm a lot calmer.
An event got canceled this week and i was like 'aughghghghg' for 2 seconds before telling myself that it'll all be okay, it's meant to be, everything will be alright, bla bla, i'm still ALIVE!
Besides work, i've continued hooping and doing yoga.
Did so much yesterday evening + night i got two bruises on my lower back.
I think i need to put on more weight and muscle cos this ain't gonna do.
I had a serious debate about holding one's space.
Someone called me selfish because i didn't want to host a dinner, despite my previously saying i didn't want to cos i just got back and was celebrating Aps & Jamie's ROM. Just the thought of hosting a dinner made me cringe cos i didn't have the energy nor capacity nor DESIRE even to have a bunch of people over, entertain, then get the house cleaned after. I just wanted to settle down, be by myself, and focus on work.
This is something lots of friends here whine about.
"I was happily at home but she showed up at my door, so i had to let her in and layan her."
"He called me to go out for dinner, i was so tired, but i went anyway…"
"I really just wanted to stay at home but felt bad so i went for the birthday."
There is so much GUILT involved when it comes to our time!
Sure, there are occasions we've committed to and have to show up for,
but if one is tired / unable to give their 100% selves at a time and place to a person,
then why bother?
I personally think many of us stretch ourselves too thin.
If we don't service ourselves, we cannot service others.
If we don't love ourselves first, we cannot give others our love.
It's so simple.
If you're tired, listen to your body.
If you're sad, listen to your emotions.
If you want to be alone, listen to your soul.
You don't owe anyone an explanation for the time you use.
It's your life, your time, your energy.
If it's your* life, why should you let someone else dictate how you spend it?
It's not their* life… they have their own, as you have yours.
The favourite emotional trigger friends like to pull, is guilt.
Don't let them guilt you into doing what they want.
Do what you want.
Honour yourself.