Our flight to Bali via AirAsia was delayed.
We were supposed to land at 3pm but we landed at 5pm.
By the time we got to our villa the sun had set and we lost our sunshine time to spend by the pool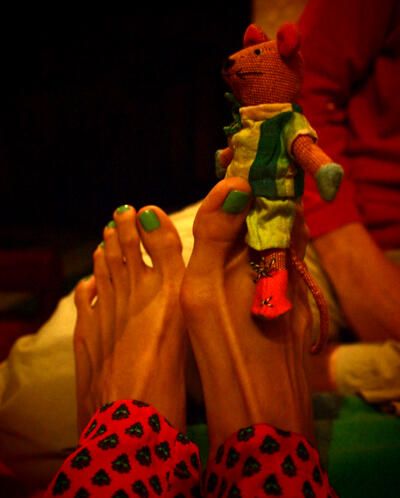 I'm wearing red silk drawstring pants i got from Zara on sale.
They're my new favourite bright pants!
If i shake  my leg vigorously, the pattern on it looks like rows of dancing alien men with sunglasses on.
Clem said my undone drawstring hanging between my legs looks like a mousetail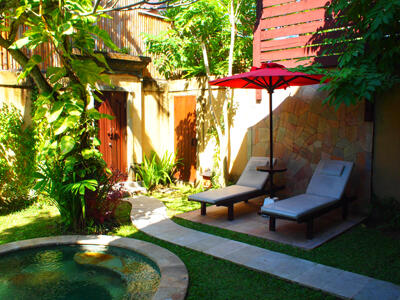 We stayed at Kozy Villas, which i wouldn't recommend you to stay.
It turned out to be slightly old so small details like the sink hole and cupboards are worn.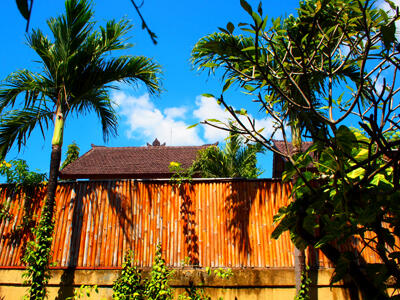 The next morning we lugged all our luggage to Kuta,
where i left Clem in a German restaurant
while i walked around to bargain for a jeep to rent for four days.
Always leave the white man out of sight when bargaining in Asia.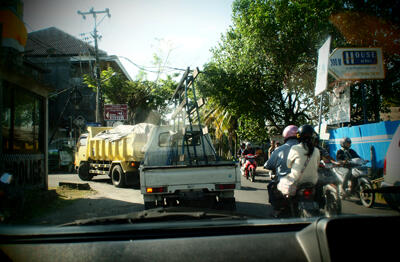 We got stuck in a TERRIBLE mancat (traffic jam) in Seminyak while trying to get out to the countryside.
Who would have thought that we'd leave mancat in KL to jump into another one in Bali?
The traffic there is soooo much worse than before!
Will try to return only during nonpeak season next time.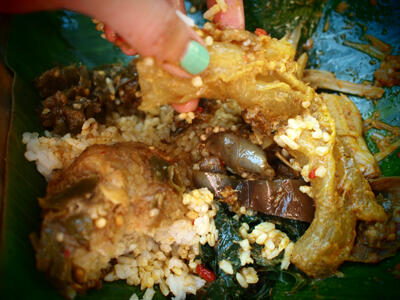 I didn't mind the traffic as much as Clem cos i had nasi padang in the car with me.
BEST indonesian food always!!!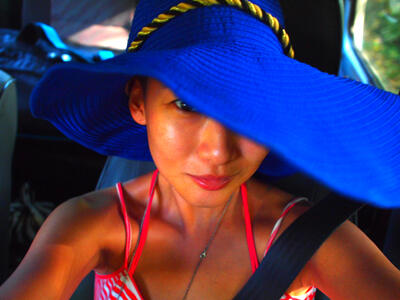 My faithful blue hat from Mimco. Striped top from Joseph.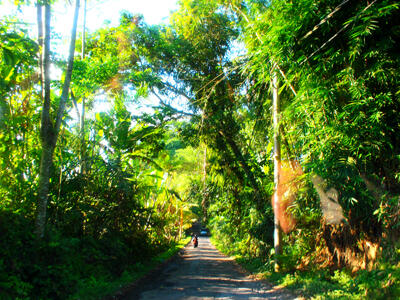 We took a road less traveled... that even Lonely Planet failed to mention that every metre has 2 massive potholes as big as windows.
I felt like my organs were being harrassed and jiggled the whole 20km from Tabanan to Jatiluwih.
Clem felt like his watch was going to break.
So if you ever want to drive to pass the legendary rice fields in Jatiluwih, just DON'T take that route!!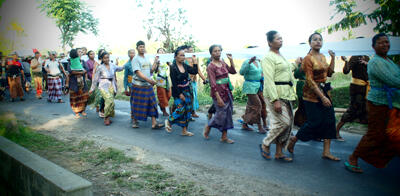 Halted the jeep for a procession that went by.
So cheerful to see everyone's bright traditional wear.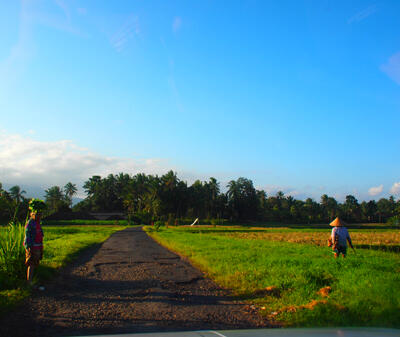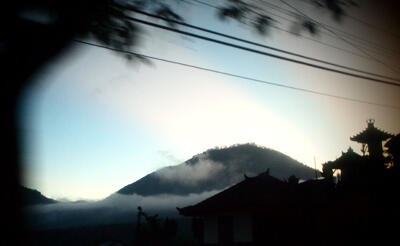 We managed to reach Lovina at nightfall,
checked ourselves into a random guesthouse with no hot water or air con,
shared a perfectly-grilled snapper for dinner,
had 2 big bottles of Bintang,
i took a picture of Clem's ass in the shower,
doodled in my sketchbook,
and attempted to draw him reading.
We slept really early so we could wake up at 5:30am to watch wild dolphins at sea.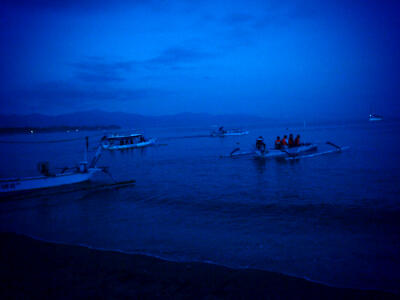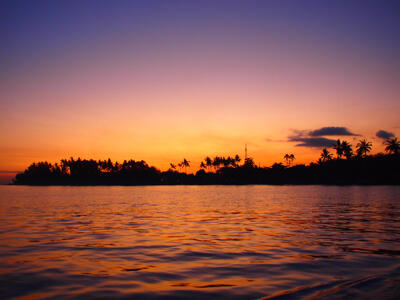 The sunrise was spectacular. I didn't edit the picture in any way!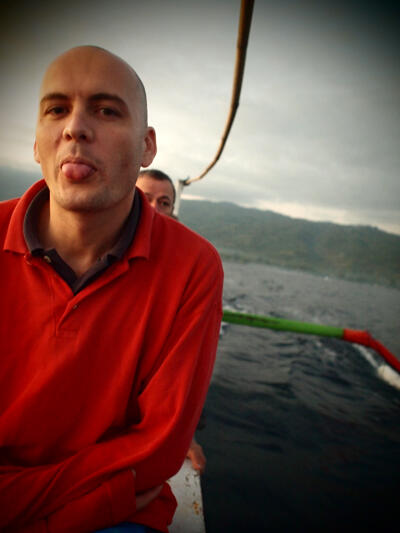 There were SCORES of boats loaded with tourists eager to view dolphins.
Clem said if he were a dolphin, he'd be so irritated!
They were still pretty to see, with a few show-offs doing multiple jumps even.
But the number of boats have increased by twentyfold since i first went to Lovina a few years ago,
and don't feel kindly towards a barrage of small boats chasing after dolphins for us to see...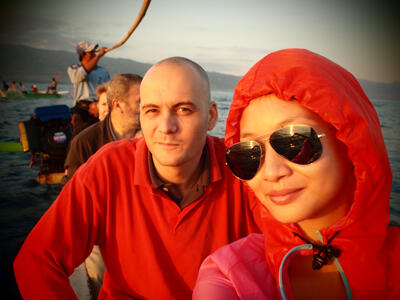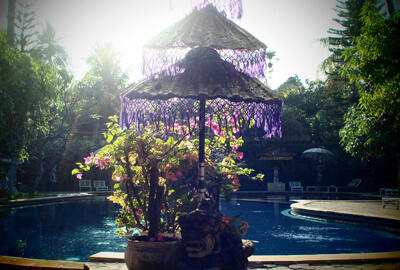 Went back to our guesthouse at 8am to have breakfast.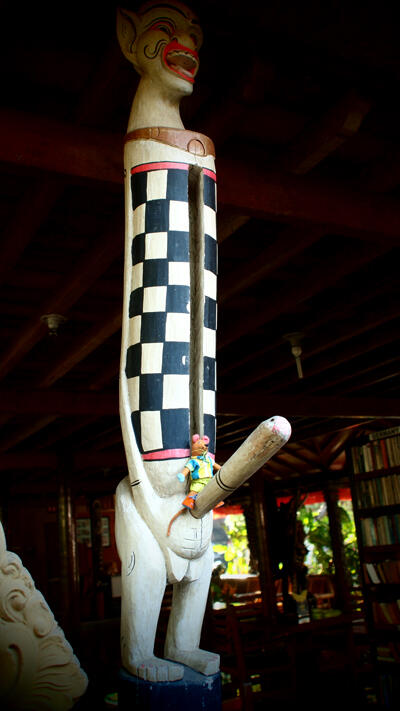 We were SO sleepy (ok *i* was so sleepy) and managed to convince Clem to nap with me till 11am 

Woke up and began the 60km journey West to Pemuteran, a beach town.
On the way, we stopped at Sing Sing waterfalls.
But there was only a slight trickle.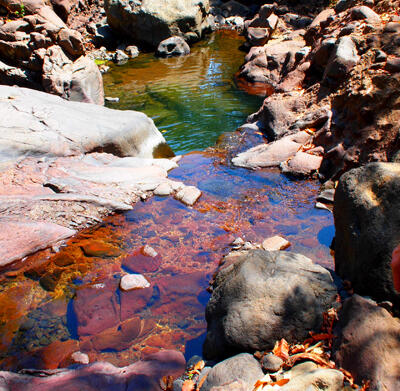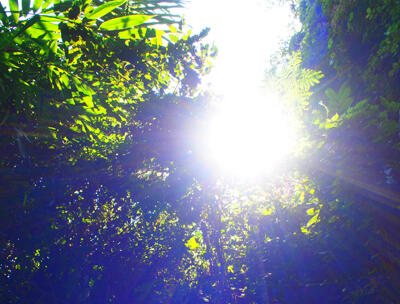 We hiked up the hill (daymn, that was tough :p)
to a freaking gorgeous view of the sea and fields below.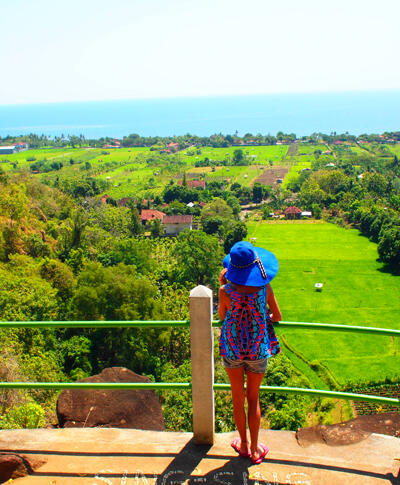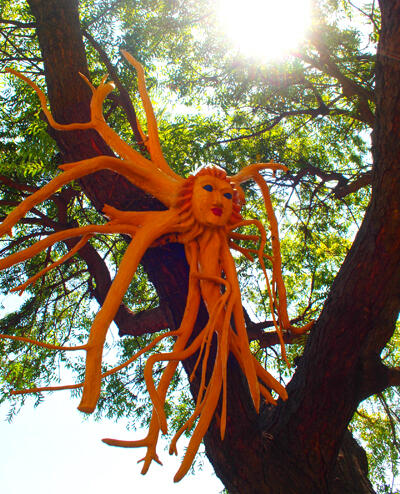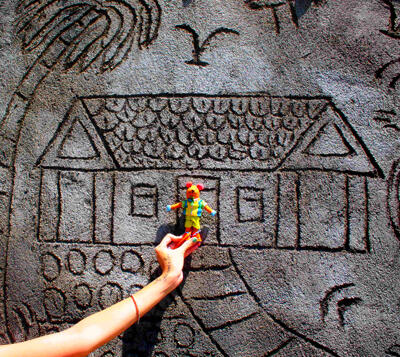 I love how creative the Balinese are that simple sketching on wet cement can look so nice!
We reached Pemuteran just after lunch time
(i was REALLY GROUCHY cos i hadn't eaten since our 8am breakfast.
Even Clem didn't dare to talk to me :p)
HAD LUNCH.
Then found a really nice place to stay called Pondok Sari.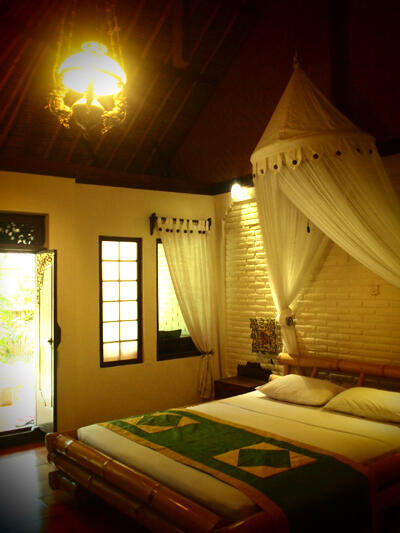 Nicely done bedroom, bathroom and verandah with big comfy sofa for RM200/night.
The room even had a techy mosquitoe-catching machine with blue light to draw them in to their deaths.
I must get myself one of those. Portable. With no socket needed.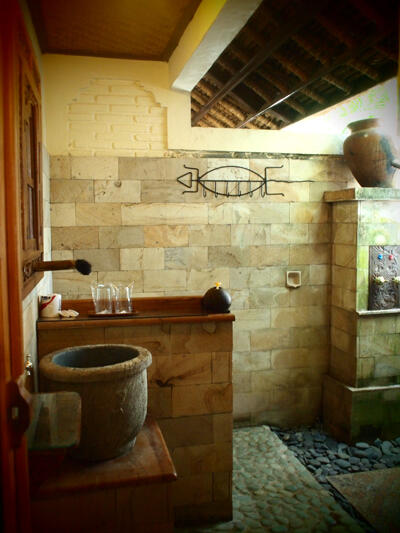 We chose to go to Pemuteran cos it's stated in Lonely Planet that
1. this is the place for a real beach getaway and 
2. one of the nicest selections of beachside hotels in Bali,
many with a sense of style and all are low-key and relaxed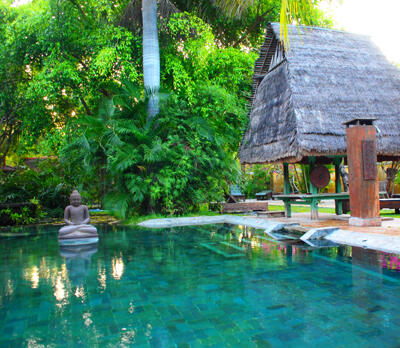 The hotel was certainly amazing and great for its price.
Big lush gardens, paved walkways,
big calm + clean swimming pool,
lots of deck chairs, great food at the restaurant,
bluegreen natural pond filled with fish, bathing birds and resting dragonflies,
and the beach just a step outside.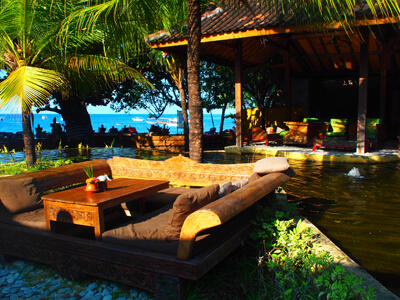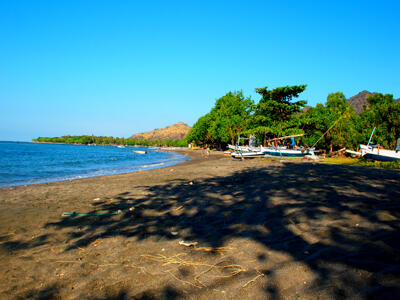 The beach has black volcanic sand, which Clem thought looked dirty,
but i think it's nice! Just different and special!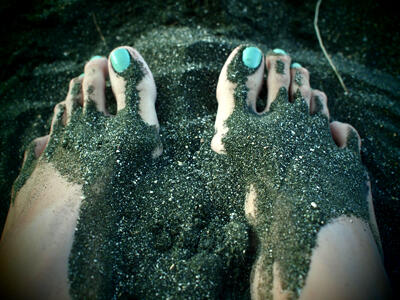 My tea time consisted of tom yam soup which was so fabulously spicy i wiped the whole bowl.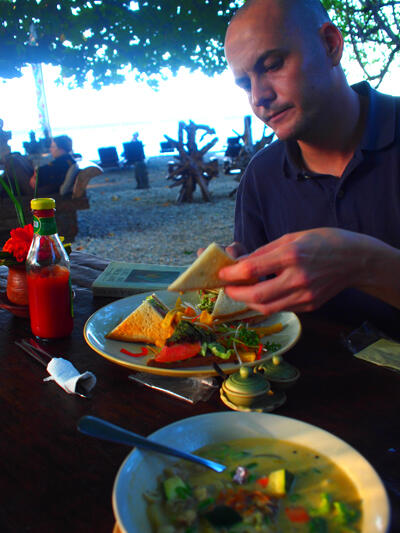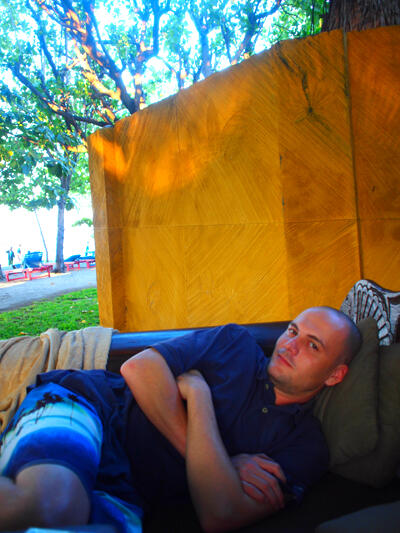 Sleepy after eating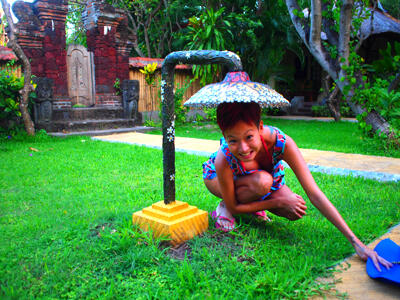 Clem saw these walkway lights that look like tiny showers
and FORCED me to crawl underneath it for a picture 
I really love Pemuteran, it's as peaceful and quiet as they say!
The next day we left for the mountains of Munduk...
Next post!