Due to the dates i was obstinate to fly on,
i experienced the longest transit i ever had (without venturing out into transit city).
12 hours transit in Doha (as we flew Qatar Airways).
Things to occupy self on transit: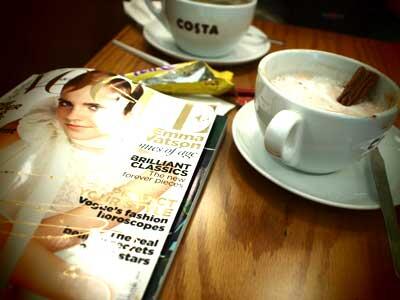 Vogue UK Dec 10, hot choc + whipped cream + choc flakes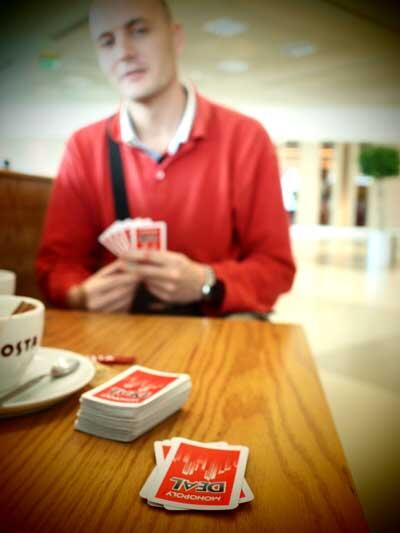 Monopoly Deal
We played Deal till it got a bit repetitive.
I suggested making the game interesting by betting that the loser has to hop to a wall on one leg and back in the airport.
Yes, we were that bored.
No, he didn't agree.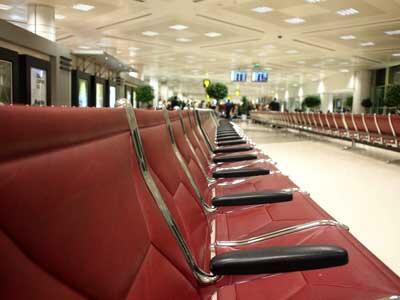 The crappy thing about Doha airport is not only does it *not* have a bar,
but all the chairs have armhold dividers that prevent anyone from lying down to sleep.
Which i thought… is kind of evil for an airport.
Exhausted and jetlagged travelers are dying for a few hours kip,
and desperate ones learnt how to push some chairs to face each other so they could lie right in the middle.
Not-so-clever ones who follow suit (us) did the same and passed out till i automatically woke up right before we were to board.
I was in  a bit of a blur and shrieked, "What time is it?!" to Clem, waking him up as well.
He awoke with a jump and a confused expression that blared WHAT TIME? DID WE MISS THE PLANE OH GOD
Maybe that's why they put dividers on the chairs.
So people don't pass out and miss their planes -_-
After roughly 8 hours from Doha-Paris,
we finally landed at 6:30am and took three trains to Flore's apartment (Clem's sis).
His parents and sis were there to greet and have brekkie with us,
we chilled till afternoon,
then Clem and i took a walk to Montmarte.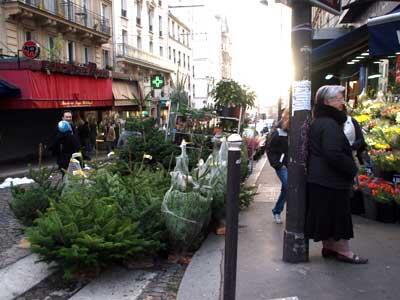 Look how stunted the Christmas trees are!
Apparently it's really normal for people with small apartments.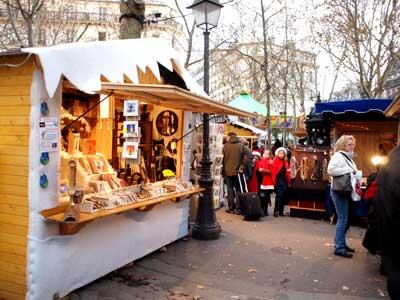 There was a Christmas market on the way,
and i got a cup of vin chaud (hot wine).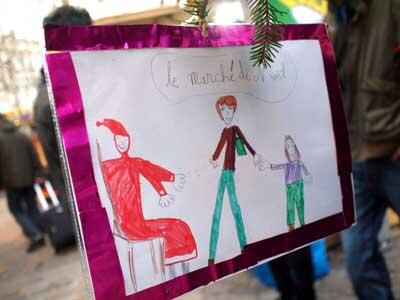 Cards drawn by children hung off a tree,
which Clem thought were rather funny-awful.
I thought they were fascinating… i always like looking at kids' art.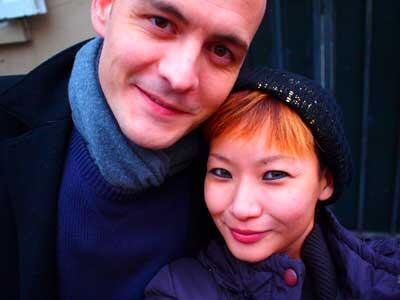 It's been about 1°C-4°C since we got here
and DAMN it's pretty cold!
We tried reverse psychology by chanting, "J'aime le froid, j'aime le froid (i love the cold)," while shivering down the street.
It helped for maybe half a second.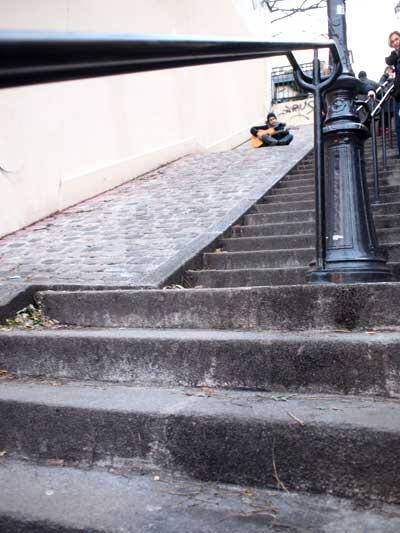 On the stairs up to where the artists' square is,
are some buskers and random art.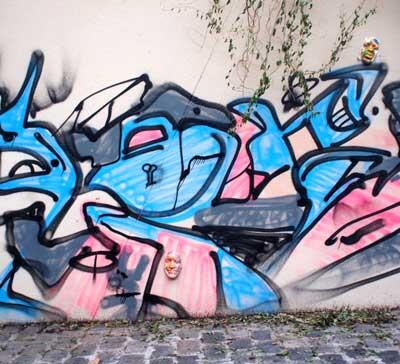 The man in the wall looked SO real i thought he was!
At least… i think he's fake… 0_o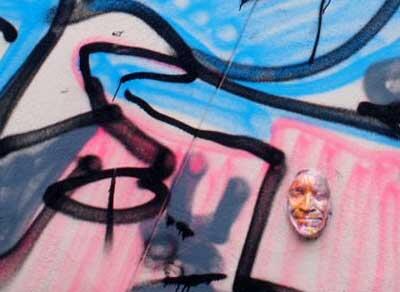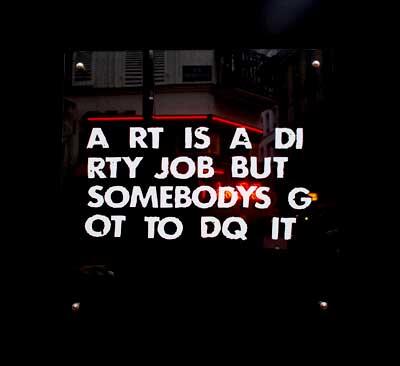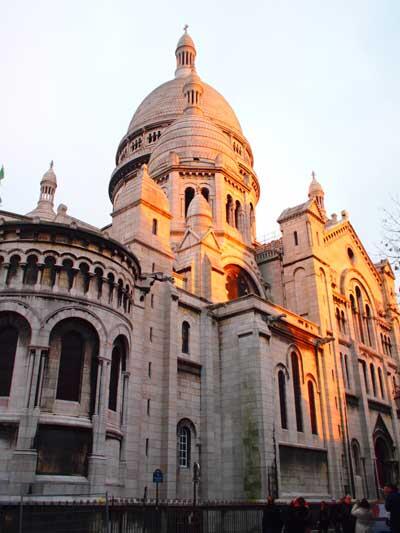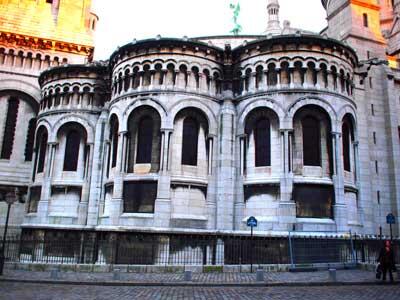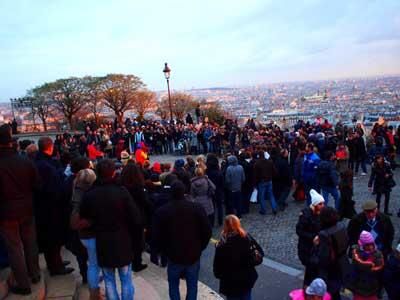 A big circle surrounded a bunch of b-boys dancing, really well, i might add!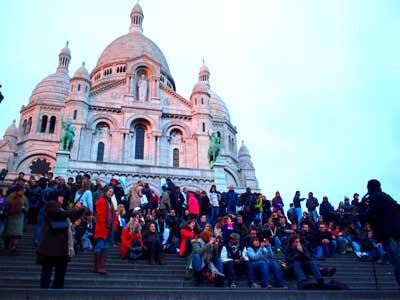 Another busker had a mini concert going on with the crowd seated on the steps in front of him.
He was singing some popular rock songs, so everyone was singing along,
which is the kind of thing i miss about Europe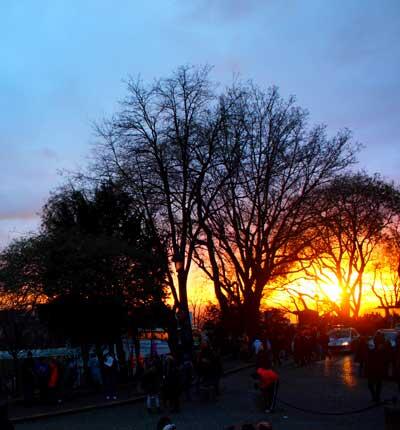 Watching the sunset from Montmarte with the skyline of Paris just under it was quite the perfect introduction to Paris for me.
Was really tired from the long journey so i really could just about make my way up the steps, let alone do something more energetic :p
That was Sunday.
Since we arrived we've been doing some sightseeing and eating 

My French is improving drastically in a situation where i have no choice but to try my best to understand what everyone is saying,
and apply what little i've learnt in KL!
I read signs in the train stations like a kid.
And to improve my vocabulary,
Clem and i go through the descriptions in menus while we wait for our food,
or we stand in front of store windows.
At least my first words to add to my French vocab is to do with food and fashion!
Oh, and i bought myself some children's books in French too!
Finally! A FULLY JUSTIFIED REASON for me to buy children's books!
It hasn't snowed since we arrived, but i'm not complaining.
I know it's going to come sooner or later…
and we've been SO lucky it's been extraordinarily sunny since we arrived.
Flore and Chloe said it's been raining every day for a month!
The sun helps, but it's still really really cold.
It's so cold that:
– my make up has changed consistency and applying moisturizer is torture cos it's almost freezing.
– we can't feel our fingers even though we're wearing gloves.
– i'm not so bothered about what i wear because nobody is going to see it all day under my big winter coat. i will not freeze for fashion.
– waking up in the morning reminds me of waking up for school in the winter, and half-wishing someone would STAB me in bed so i could die and not have to wake up in the horrible cold.
– standing next to the open window got my heart rate up -_-
– walking out into the street for first time in the day is like a BIG COLD SLAP in the face KAPOW
– Clem has started snoring (sigh)
Still, the cold is part of this whole holiday,
so i'm trying to EMBRACE LE FROID. 
Embrace the cold, embrace the cold…
*reverse psychology*