One thing i can agree on with everyone here is the food.
Aunty G said there are about 6,000 restaurants listed in London,
so even if you tried a new one every day,
you'd still take over a decade to try each one.
0_o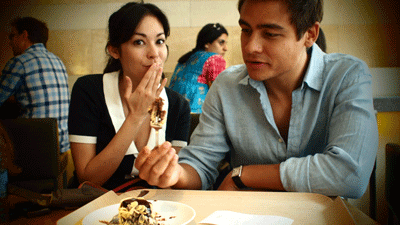 Went to Princi for lunch with SunshineySteph and her friend Ben yesterday.
It's a modern cafeteria-style Italian place where we had pizzas, spinach pies and choc desserts.
In the evening i went to a literary talk by Robert Sackville-West at the RAC
where he spoke about his new book called Inheritance.
If you're wondering since when i took such an interest to aristocracy,
i didn't book to go to the talk – Uncle Mark and Aunt G forced took me.
Before i walked into the room, i spotted it filled with people with white hair,
turned to my Uncle Mark and quietly said, "Oh god. So not my scene!"
95% of the crowd was over 60
and i must have been the only person there to have intentionally shaved themselves bald (or half bald, anyway)
It was definitely different… and i'm pleased enough i took it all in and didn't fall asleep once.
After the talk, we went for a Hunan dinner at Ba Shan @ Soho
where i had one of my top favourite meals here
(last one being at As in Amsterdam, and before that J. Sheekey in London)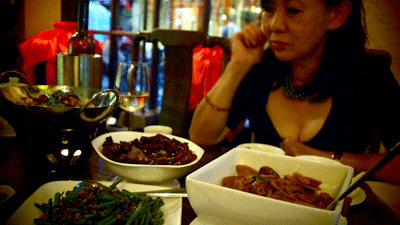 Pigs liver in chilli oil that was tender and juicy…
Pigs trotters with garlic and chilli…
Beans with chilli…
and one of my faves – aubergine mashed with garlic and chilli!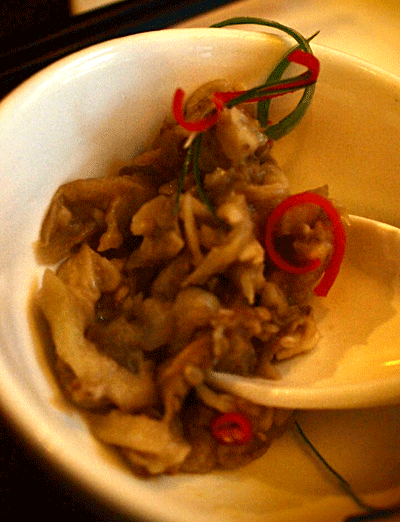 I know, it sounds like all the dishes tasted the same cos of garlic and chilli,
but they managed to make it all taste distinctly different from one another!
Salivating thinking about the aubergine and pigs' liver now.
Was SO FULL after that i couldn't function properly,
turned down some Margiela party with VincePY,
and lay down at home to recover instead!
"You turned down a fashion party cos you ate too much?!" exclaimed Clem on the phone.
"Uh huh. *groans on bed*…"
He then asked whether i've weighed myself recently.
I said no.
Because i'm not going to give a damn about maintaining what i eat
(despite the likelihood of looking like a fatty on the cruise)
cos i just cannot get enough of the food here!
Plus i'm on holiday!
Plus good food makes me so happy!
 + + +
Okay am off for first day of Wireless now!
Looking forward to Temper Trap today,
and New Young Pony Club, LCD Soundsystem and 2ManyDjs tomorrow!