*Written by April, Pictures by Aizi *
That's right, it's me AGAIN! Just a couple of days before I was due to fly to Madrid to see King, Joyce sent me an invite to Steven Tai's AW16 Presentation during LFW weekend and I thought how this month was only getting better and better! I mean, in about 20 days or so I'll be on a flight home to my beloved KL and reunited with my KBF family which also means my second term of this academic year will be ending soon!!! All of these events happening got me mad excited! And yes, I've ♪ reunited ♪ with Baby for our #TerribleTwoTravels ♫ and it feels so good ♫ but that's another story for another day. I won't reveal too much details but it was: EEE SERONOK! So… stay updated for our next post 😉
Tip: Follow @kinkybluefairy on Instagram for updates
I dragged Aizi (a musically talented, virtuous photographer and long time friend) along with me to the event so of course, we got amazing pictures! It's always more fun at events when you're there with people you love (sigh… wish you were here Goddess, King and Thambi). It was our first ever event that was in conjunction with London Fashion Week and to be honest, we were kind of intimidated. Haha! Also, I probably pressured him a little much about looking his best because I will NEVER embarrass you, Goddess and King!!!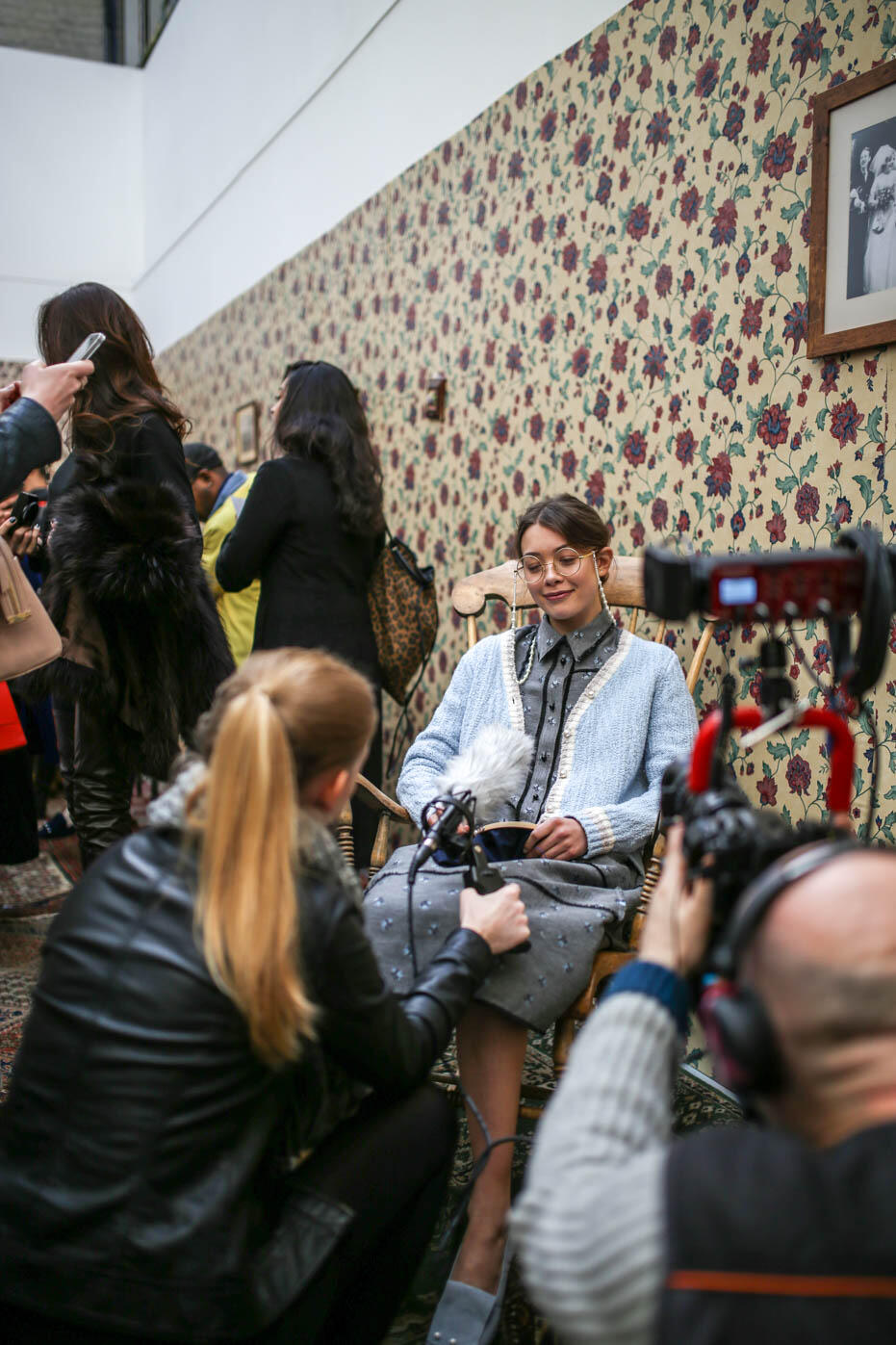 Steven Tai is a Canadian designer based in London who graduated from Central St Martins and caught the eye of Yohji Yamamoto, who awarded him the Chloe award at the 2012 Hyères Festival. Before debuting his label, Steven worked at design houses such as Stella McCartney and Viktor & Rolf — all the designers just mentioned are my favourites; his career would be an absolute dream for me!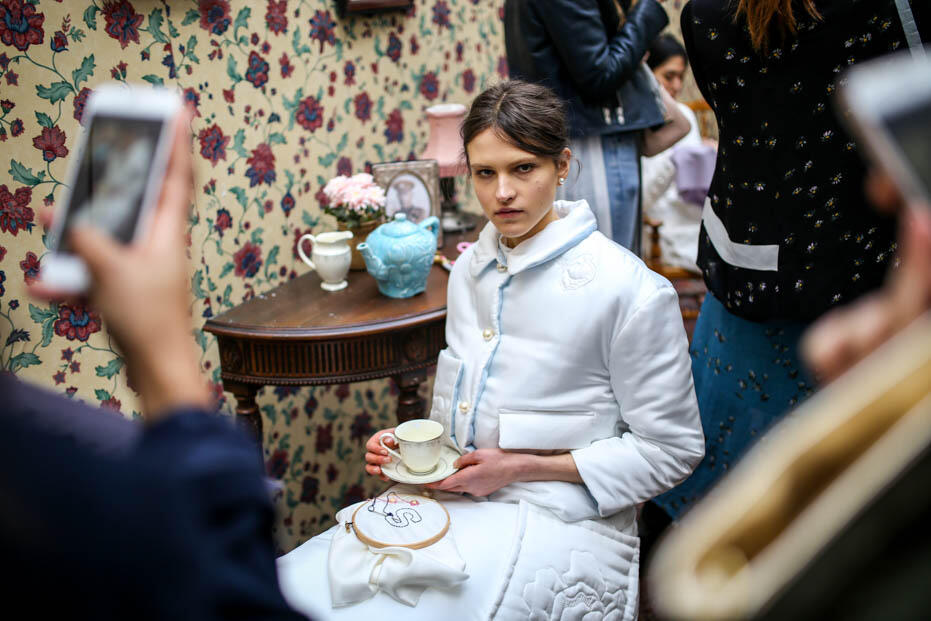 His Autumn Winter 2016 collection called "Freaky Friday" is inspired by the phrase "an old soul", for th women who would rather stay at home and Netflix than to party till dawn. A girl wise beyond her years who feels as though she's really old and just trapped in a younger person's body *cough* me *cough*.
Grandma chic aesthetics and nostalgia fuels this collection with the use of corduroys in navy, lavender, olive and beige; floral prints and patchwork fabric. Pearled eyeglass holder chains were also seen on most models giving them an ornamental look in the most elegant way, without looking decorative… did I mention I love pearls?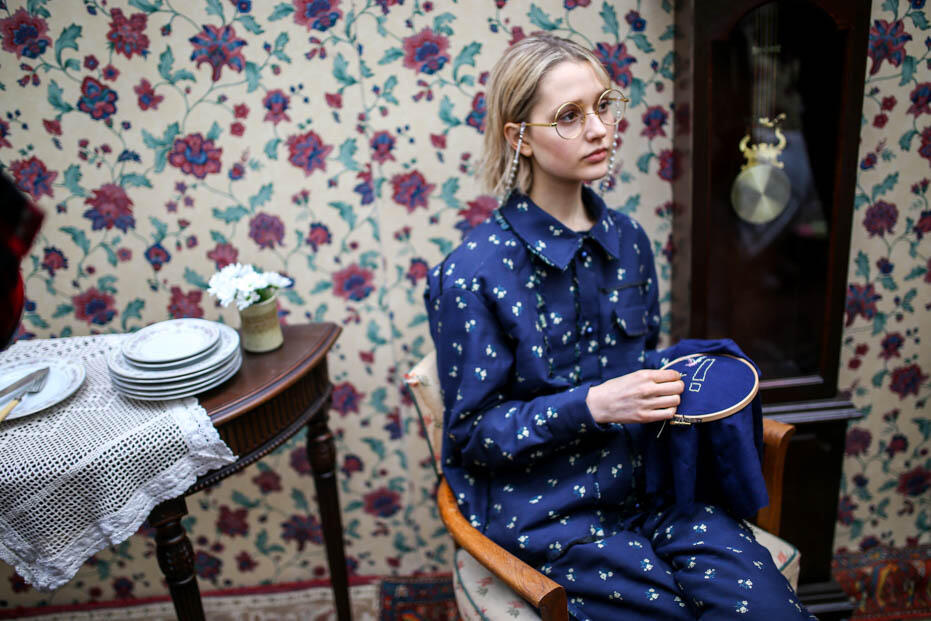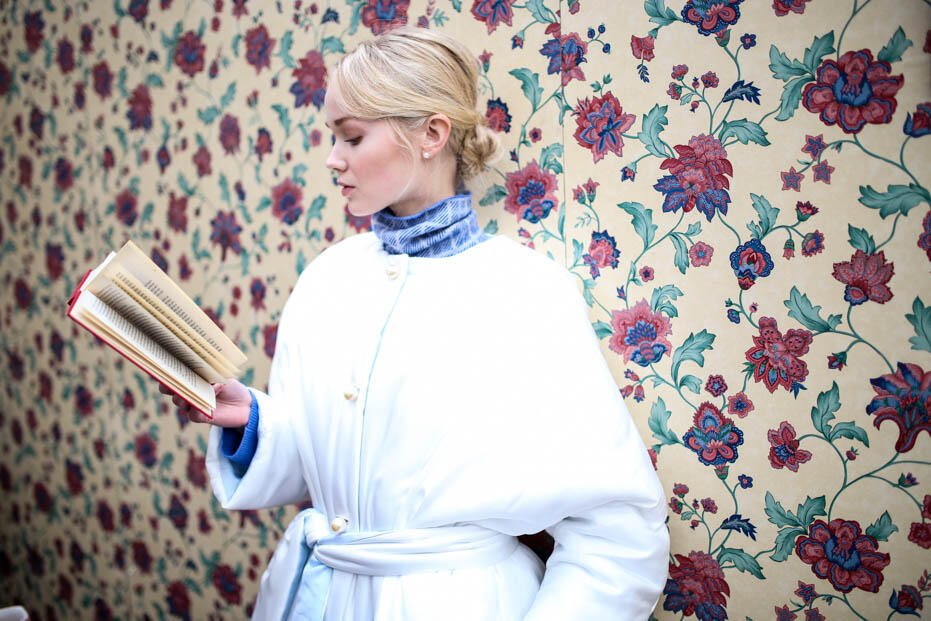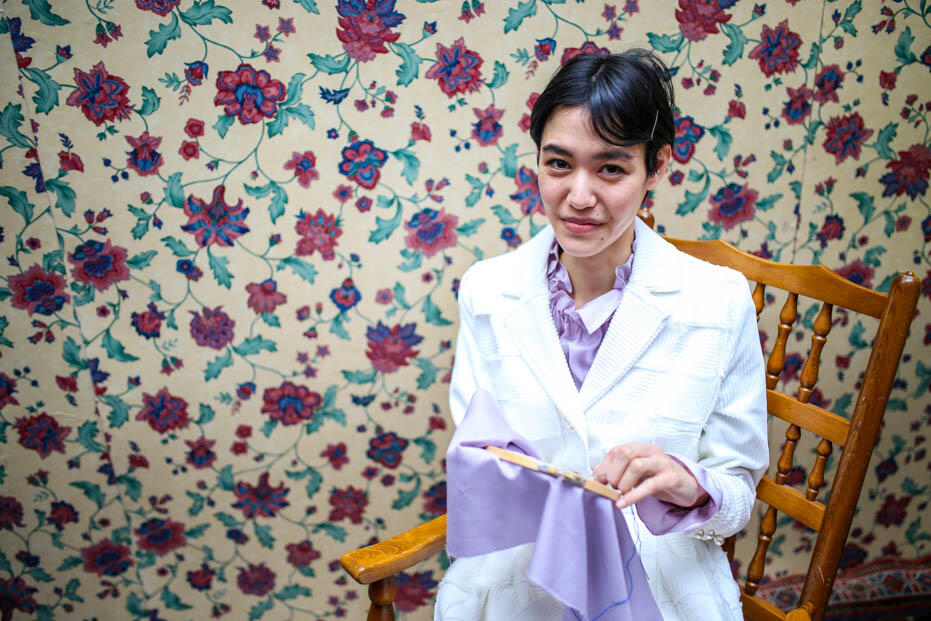 Watching the models knit and sew, rocking back and forth on their chairs made me realise how Steven Tai has brought the "old lady" look back to modern day. His use of reminiscence and sentimentality builds a sense of belonging that I'm sure most of us can relate to.
They were sweet and smiled for the cameras from time to time. A small gesture like this is always nice, no?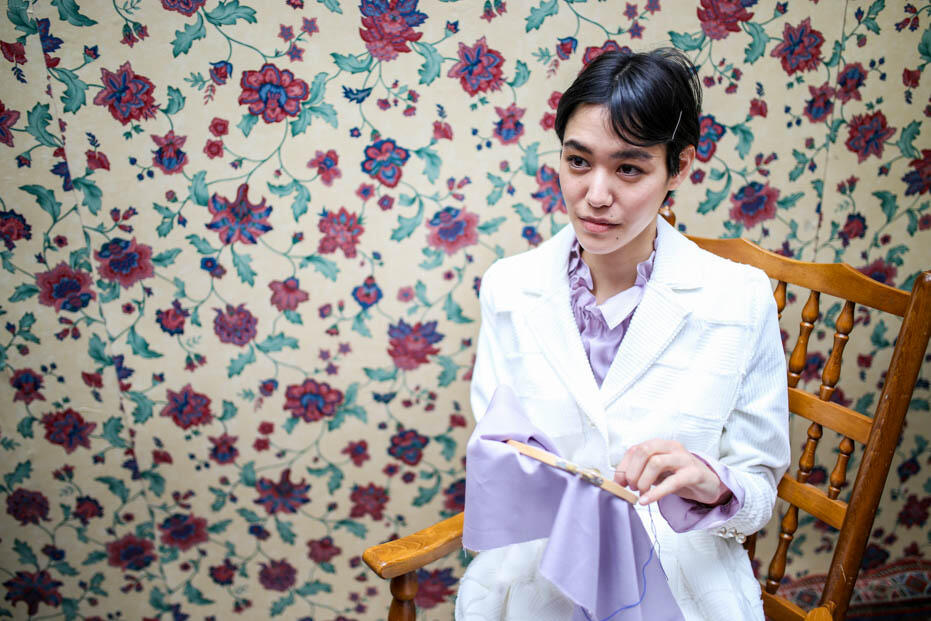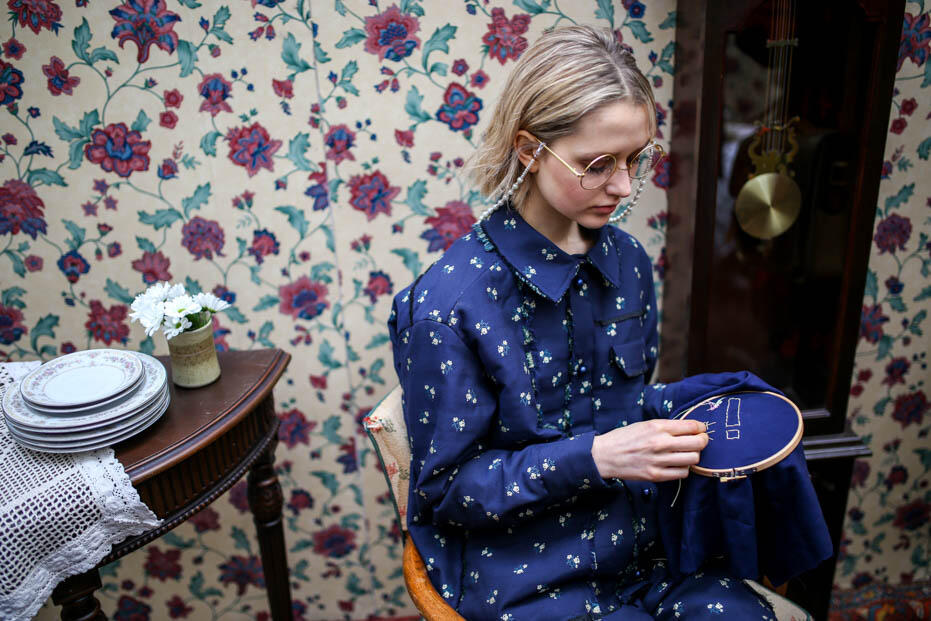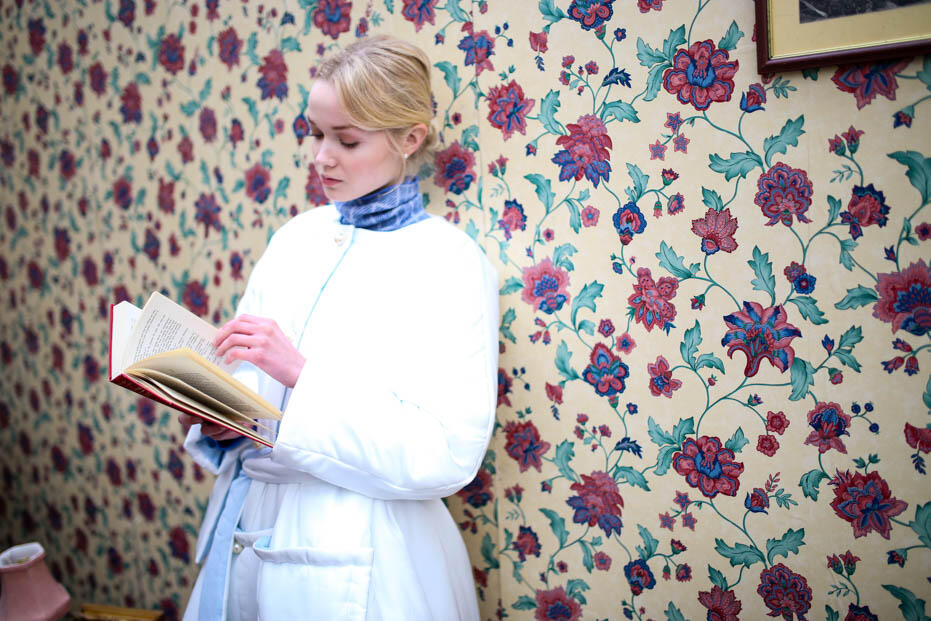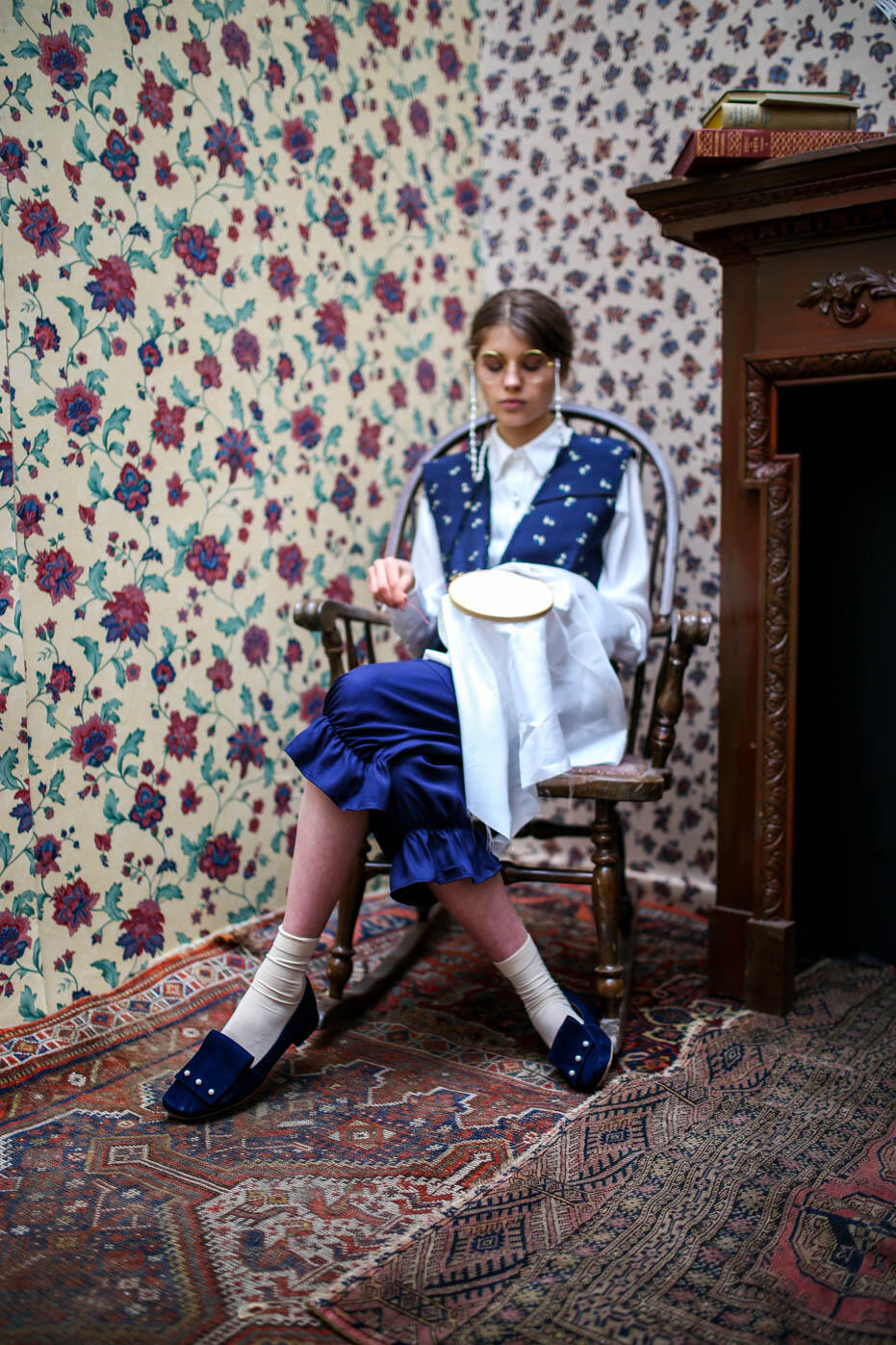 At the end of all the mismatched rugs and floral wallpaper by the fireplace sat a smiling granny on a wooden rocking chair cross-stitching to her heart's content in her Steven Tai ensemble. Notice how fab her shoes are? You go girl!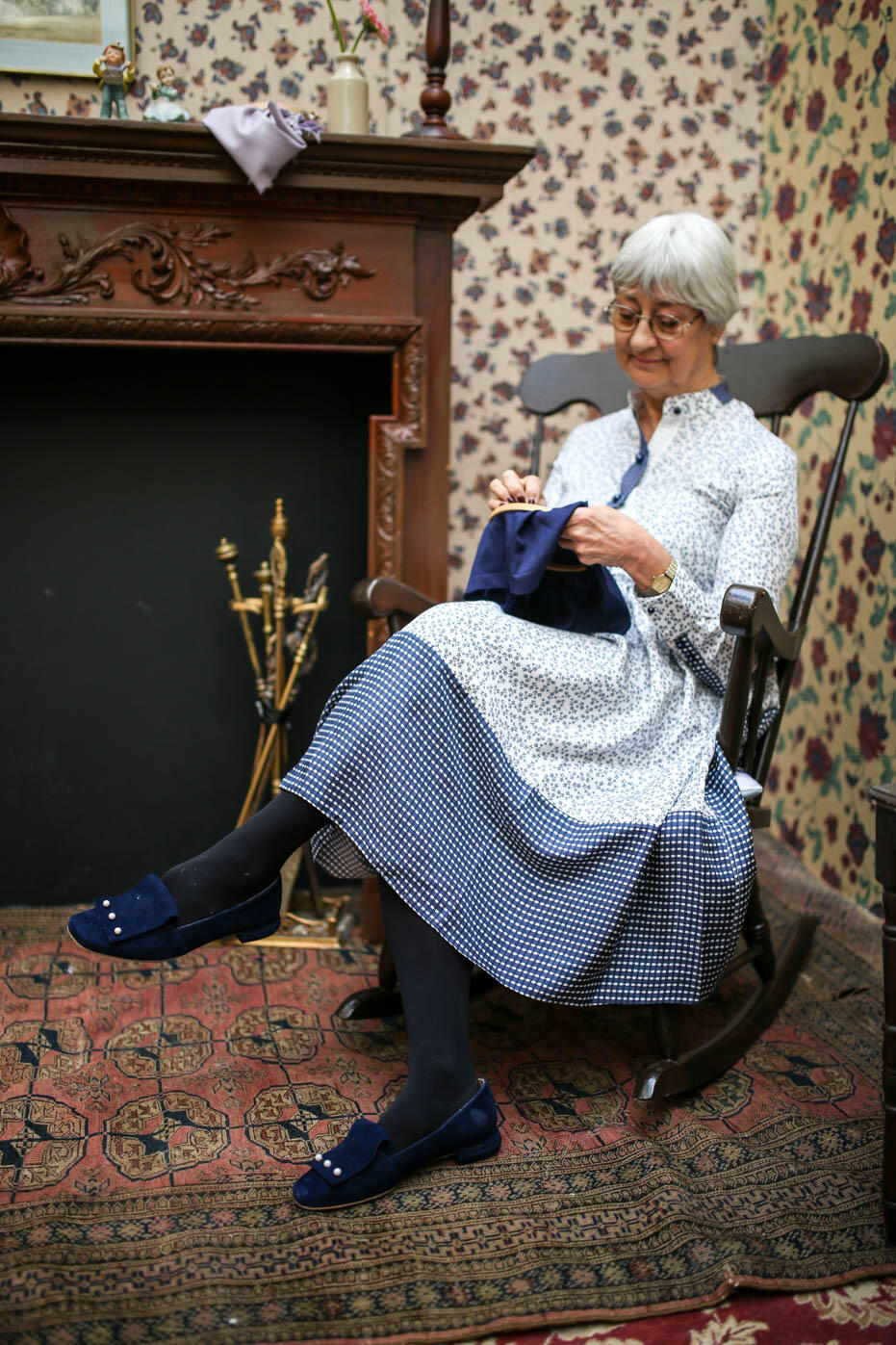 I don't know why but there was just something about her that made me feel so at home. She smiled at me and I instantly felt warm. It made me miss my grandma a whole lot. Come to think of it, she actually does look like my grandma!
The props and details included in this presentation really helped convey the story of Steven's collection. I also felt that it correlated with his SS16 collection "Worst Day Ever", which takes inspiration from childhood memories, a good juxtaposition with this collection — both of which is contemporarily conservative yet fun for today's modern woman.
Clearly, he's having a ball doing what he loves and making it work!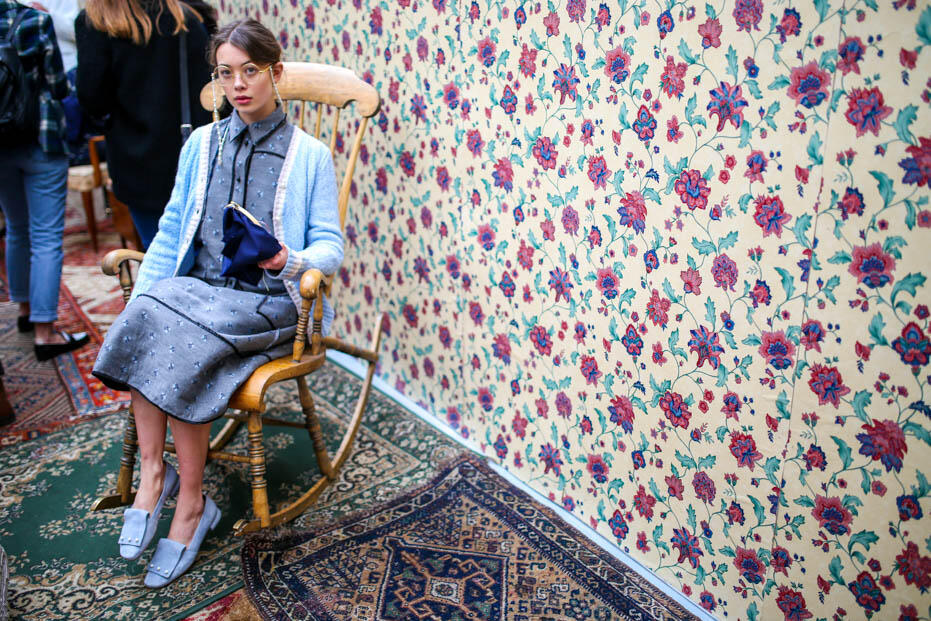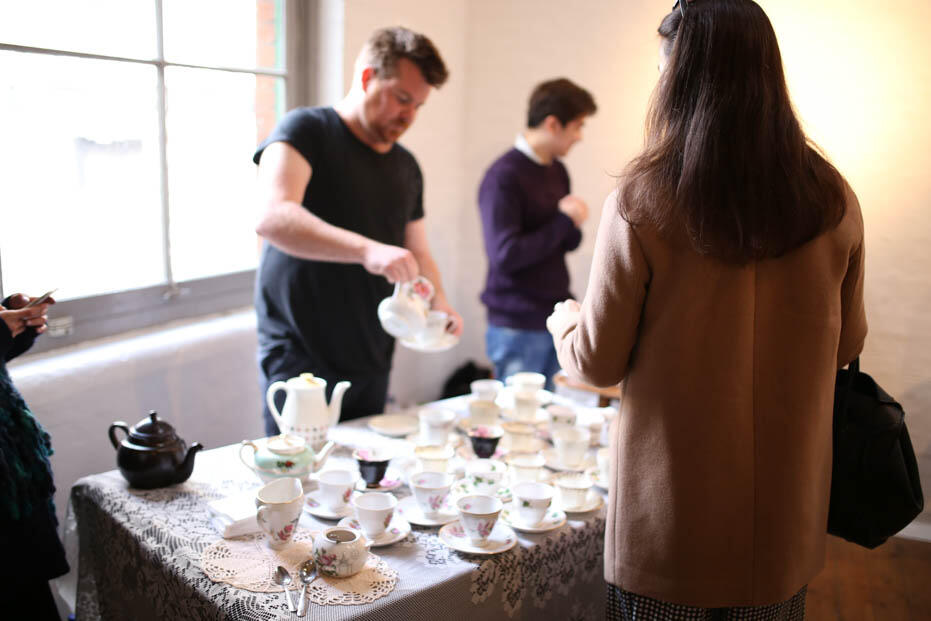 And just outside the presentation space, there was a lovely man clad in black who would pour you a glass of tea and offer you nibbles of sweets.
These beautiful photos are courtesy of Aizi. Thanks bubs!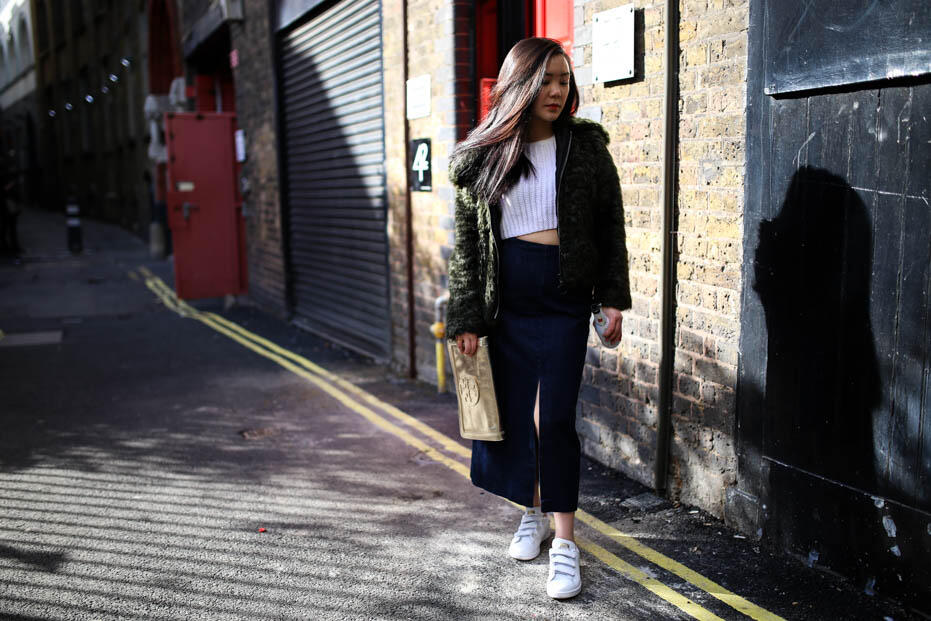 Here is my #OOTD for that day. What? It's LFW, I'm allowed to pretend I'm ALL that!
JOKES. I've been having such a hectic time at school lately with assignments and studying for tests, it was really nice to take a break from it all.
Thanks Joyce for this amazing opportunity! I can't wait till I'm back at KinkyBlueFairyHQ, miss you guys so much!
KISS KISS xx
#TanggachiOut
+ + + + + + + +
For more information about Steven Tai:
Website: steventai.co.uk
Facebook: facebook.com/steventaistudio
Instagram: @steventaistudio
Twitter: @steventaistudio