I went for lunch with GarfieldChak
after last catching up with him when –
his car was still black (he's redone it in white and it's so much cooler),
and my hair wasn't red.
He was sniffing incessantly in the car.
"Sorry, i'm sick, hope i don't pass it to you!" *cheerfully*
"What whattt…"
"Yeah, this flu, it's been going around, half my friends are sick."
"Can you please not pass it to me… i have heaps of events this week okay!"
"Urm, i'll wind down the window so my germs have somewhere to go…" he coughs
*cringes and stops talking to close mouth so germs won't go in*
"I think i caught it when i went out, cos i've mostly been at home."
"I think you should go out more, cos by staying in, your immune system probably crashed."
"That's such a Typical Joyce Statement -_-"

We ended up having this rather kick ass porridge at Damansara Uptown
called Hong Kee Porridge (same row as Wondermilk, facing main road)
that served flavourful congee with
raw fish / century egg / minced pork
pork innards / raw salmon
Superlayan man.
I had the salmon porridge,
GarfieldChak had the century egg + minced pork one,
we both shared side orders of pork innards + raw fish.
Bill came up to RM31 for both of us,
including 2 drinks each.

"Did you know i went to Barsonic the other day, and some girl came up to me and went… *pauses to stare at me to reenact said girl's actions* … GarfieldChak!"
"Hahaha, shit i'm so sorry."
"Yeah man! It's been what, a year since you last blogged about me? And people still call me that -_-"
"That's called branding. 
"
"-_- Why couldn't it be some other awesome name? Like —– (have to censor cos 18SX)"
He watched me scrape the bottom of my bowl.
"I can't believe you finished the whole bowl."
"Huh? Why? You did too!"
"Yeah but i'm so big, and you're so small. Where did it all go?!"
"Eh, porridge is not very filling leh. In 2 hours time, confirmed get hungry again."
"You're one of those skinny girls that eats all she wants and everyone hates."
"Yes… i've heard that before… but but all my girlfriends eat as much or more than me! And they're super skinny too!  >.<"  *nothing else to say*

After lunch, i convinced him to teman me test-drive the new Vios,
cos i heard it has got a face-lift,
and isn't as uncle as i previously presumed it to be :p
Before that i found a couple of the new Vios ads on YouTube,
one which was uploaded by Rudyism (who happens to be RudyLaFaber, who's in advertising so maybe you did the ad issit?)
and the guy in the ad is a friend's ex (so i'm also watching it thinking 'man, kl is way too small')

Found a 60-second one that's uploaded by the official Toyota peeps:
Anyway back to the test-driving part,
i dragged GarfieldChak along cos i do need a guy's perspective,
plus he used to review cars in his previous job so he would've Qs i would never think of asking.
We went to the Hartamas branch
and were very patiently entertained by JasonTheSalesman.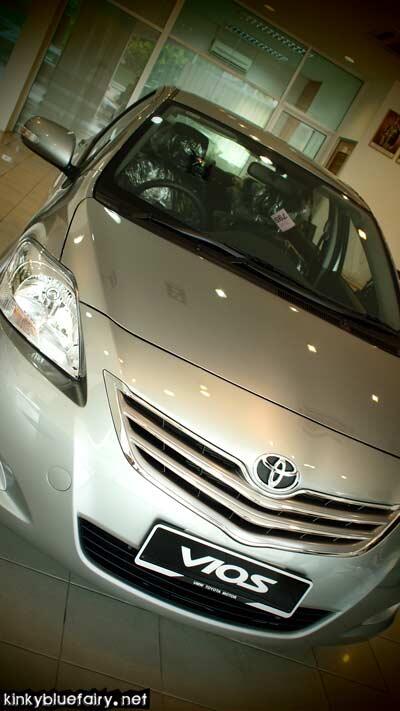 We both agreed that we like this new look SO much better than its predecessor.
The new Vios is much sportier and sleeker!
I used to think the previous one looked like it's your parents' car (sorry Toyota!)
hence me not even thinking of buying it 2 years back when i was choosing a car in the RM70k range.
Performance and pick up is important for me,
but so is its looks (i'm being a total girl, but a potential customer so there!)
One of the its new features is the new grille in the front,
which is very much like the Camry.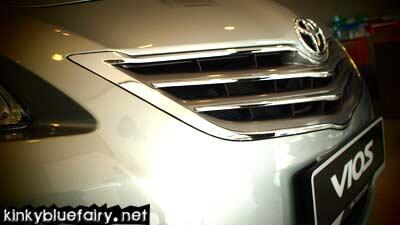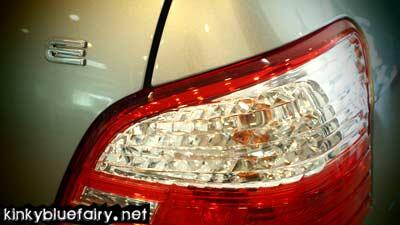 Also pointed out to us is the Vios' new rear lamps,
designed to be more 3-D and diamond-like according to JasonTheSalesman.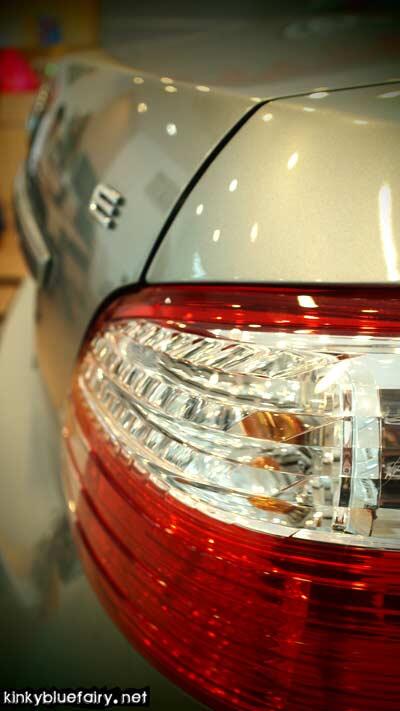 Then came the test-driving part!
We took it for a spin around the Hartamas / Jalan Duta highway area.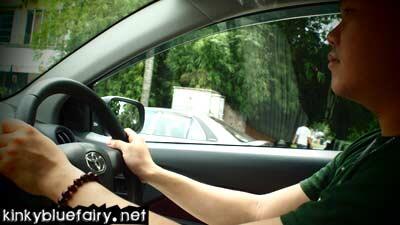 Another new change is the Vios' steering wheel,
with a new centre instrument panel in glossy black
and new air-con control dials (ok so my current car doesn't have that *sniff*)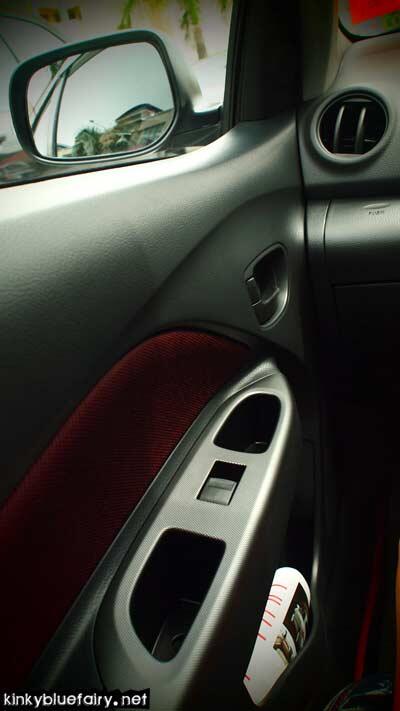 There's also an audio system with Steering Audio Switch
and ASL (Auto Sound Levelling) that adjusts volume based on your speed.
(for the Vios 1.5 TRD Sportivo and 1.5G)
I freaking love that feature!
Cos you're so layan as you drive faster on the highway and the music pumps up.
(ok so my car doesn't have that too.. i still love my car i still love my car i still love my car)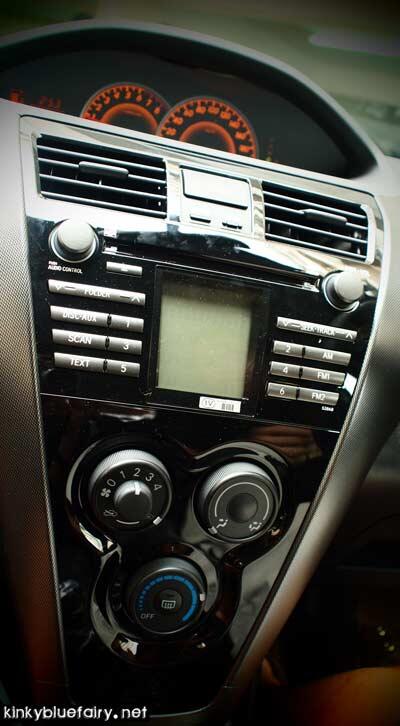 6-speaker audio system that's seamlessly integrated into the dashboard.
Tuner, CD, WMA and MP3 players included, of course.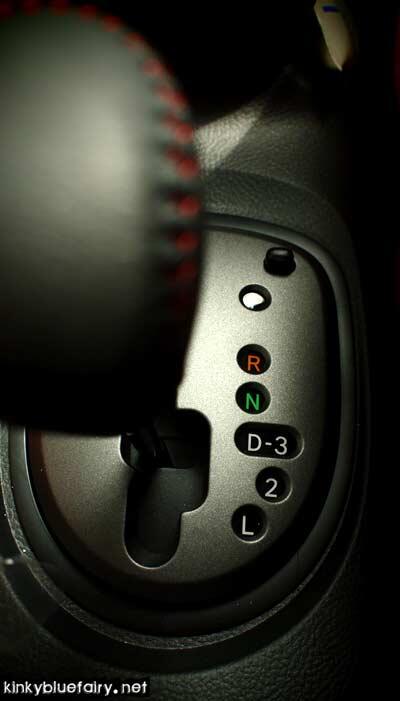 Super ECT (Electronic Controlled Transmission)
provides smooth gear shifts,
linear acceleration
and selects the optimal gear position for easy driving
no matter uphill or downhill.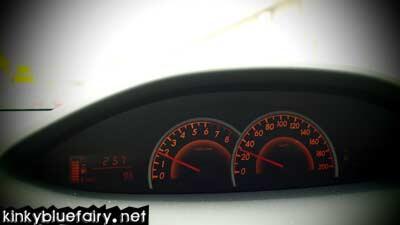 The optitron metre (1.5 TRD Sportivo) glows amber when lit,
so it's stylish along with being easy to read at a glance.
The Vios also has a tight turning radius of 4.9m
which i think is crucial for narrow U-turns and parking in tight spots,
especially in the city.
Overall,
The handling was great,
and the Vios could take the corners really well at a decent speed.
Basically GarfieldChak was nodding to himself the whole time la,
so you can take his word for it 
The suspension was impressive as well,
as we felt close to nothing when we went over the forever-present KL potholes
on the main road and back lanes.
When we were done with the test drive and closed the Vios doors,
GarfieldChak and i simultaneously had the same thought:
"Hey. Damn nice wei the sound."
"That's what i was thinking! But i didn't want to say it >.<"
"These kinda things are important okay! I just spent 3k on the rubber lining on my car's doors so it won't make such a clang sound!"
"3k for rubber lining?!?! Ish."
Aside how much we love the sound of the Vios' doors slamming,
i don't think you can really judge a car till you test drive one yourself.
So if you're thinking of getting a car,
just drop by or make an appointment at your nearest Toyota dealer.
I know there's one in Bangsar and Hartamas area.
For more pix, specs and price list, visit:
'Like' Toyota on Facebook:
Check out more vids on their YouTube:
You can also follow Toyota on Twitter:
Btw, there's a Toyota Roadshow Twitter contest
from 3–23 May 2010 (or when there are 40 winners, whichever comes first.)
Simply retweet and win cool TRD merchandise!
How to Participate:
1.       Follow @toyotamy on Twitter
2.       Retweet (RT) the Contest Tweets (Catch #ToyotaRoadshow at a mall near you! 50th person to RT wins exclusive TRD merchandise! For details: http://bit.ly/crdJTd)
3.       If you're a 50th Retweeter, you'll be contacted via DM.