Since my mid-20s, i've always loved the Z3 to the point i'd fantasize zipping around on the highway in it. I just thought it one of the most beautiful cars i'd ever set eyes on with those sick curves of hers. Whenever i spotted one on the fast lane behind me, i'd let them overtake my little Swift back then before quickly cutting back in behind said Z3, and swoon over it while imagining, "I hope one day i'll be driving YOU! La la la la…"
Five years ago, just before Christmas, Kenny bought himself a Z3 and totally hantu-ed me into buying one too. It wasn't difficult cos i already loved it, and my dad and bro enthusiastically egged me on by showing me purchase options in KL. It seemed like a superb 'why not' moment… i didn't have children nor major responsibilities yet, i was making enough, already paid off my first car, and if that wasn't the perfect time to get a sports car then i don't know when is!! #selfconviction
It arrived just in time for Christmas and i was (and still am!) so proud of Stacey! Yes, people laugh when they hear her name but i think it fits her so!!!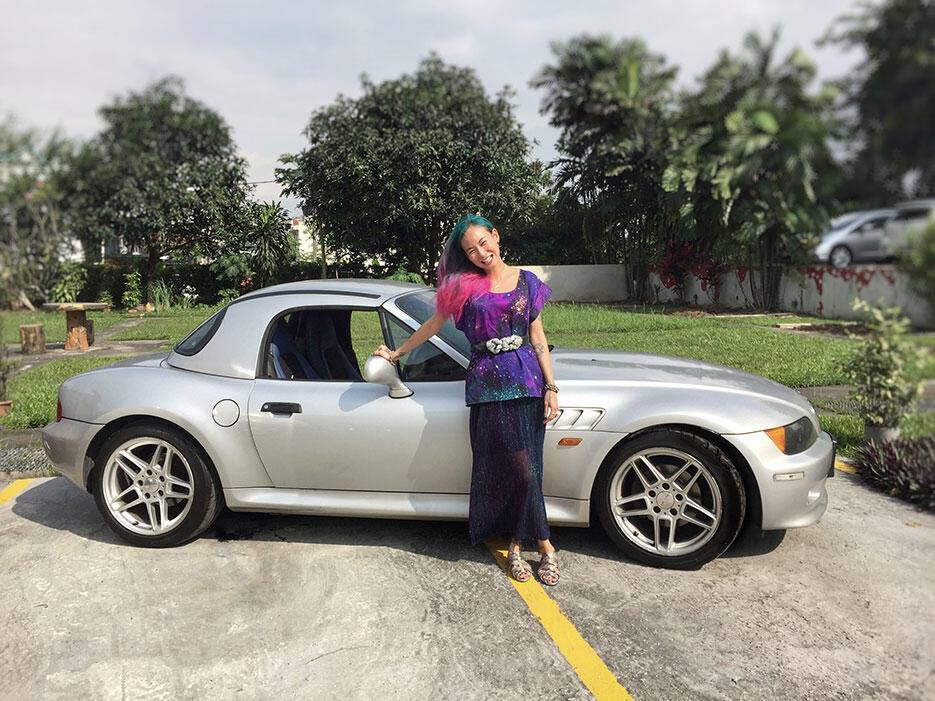 Funnily enough, thoughts of selling her started entering my mind, especially when i was in Ubud last July. I had this internal download that i should release my material possessions and direct the energy elsewhere (like the bitcoin, don't get me started on how i regretted not buying them in August!). I felt torn, like i was cheating on Stacey. Sell her? Break up with her?!
Then Keith came to the rescue by suggesting i redo her interior, a solution for car owners who want to revive the excitement of driving their cars. Keith is a close friend i've known for 13 years, and we've had many bonding nights over countless drinks. I even threw a couple of birthday parties in his past bars and restaurants.
Besides running his F&B businesses, Keith has (unbeknownst to me) been operating a car interior service for the past decade! Or maybe he's told me and my tipsy scattering brain just doesn't remember.
Called GNT Autoseats, they started with servicing high-end European cars before opening their portfolio to other car makes and models after its first three years. Now, GNT has expanded to custom and complete interior rewraps and refurbishments which pertains to every part of the car; using leather, alcantara, fabric and vinyl from all over the world.
For my Z3; doing the 2x seats, door panels and steering cost RM 2,300.
I thought it was a great idea.
Keith said i could custom design the seats themselves to have any logo i wanted.
"Do you want to have your KinkyBlueFairy logo on it?" he asked.
"Hmm but what happens when i want to sell her? How about… a HEART?!"
"A HEART?!?!? Who's gonna buy her then?" he roared with laughter at me.
Hmph, well a girl obviously…
So okay, i didn't go with a heart, and got Keith to suggest the nicest colour he felt would go with Stacey's silver exterior yet matched my character.
The best thing about having your car interior done is you don't have to drop your car off, cos the guys come over to your home to disassemble all the parts they need, leave with them, and return 3-4 days later to assemble the reupholstered parts.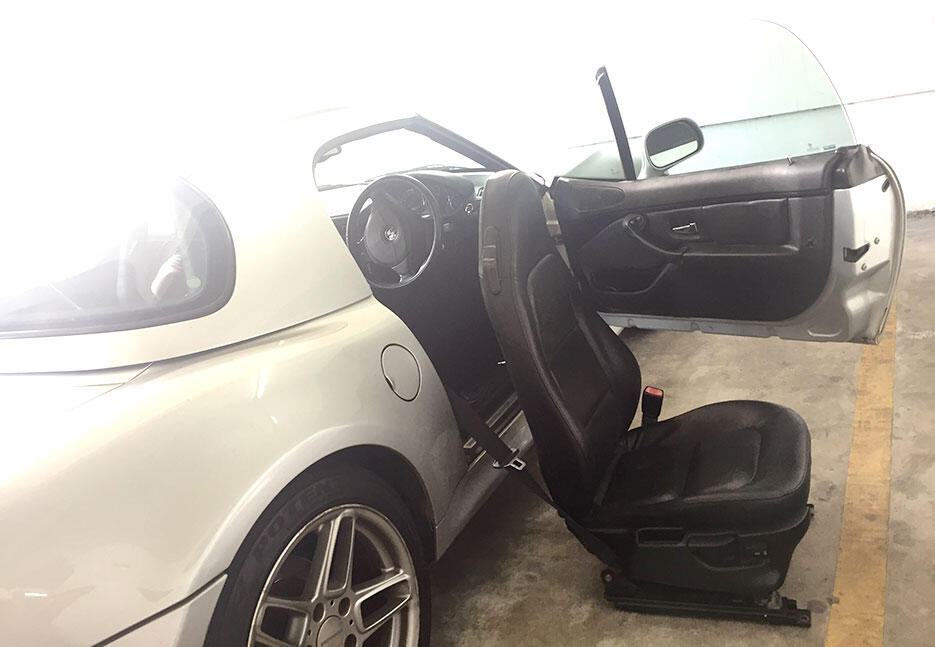 I felt uneasy watching them remove her seats… almost like my baby was getting molested!
But looking back at the pix of the black seats now… makes me go like, "Meh, i don't miss it. Looks so drab now!"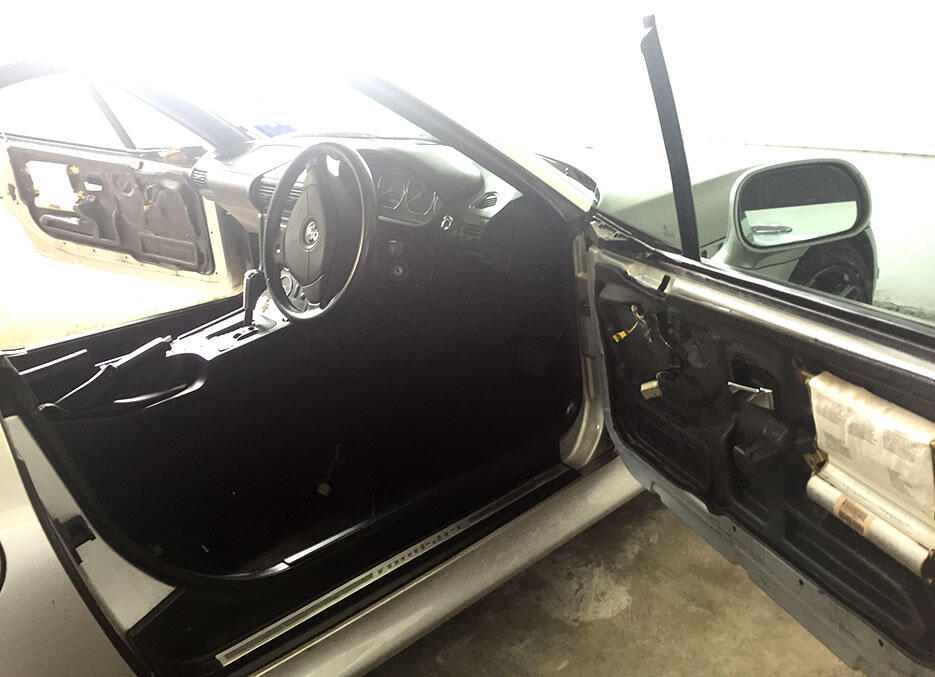 Ahhhhhhh… …
True to their word, the guys came back a few days later to fix everything back in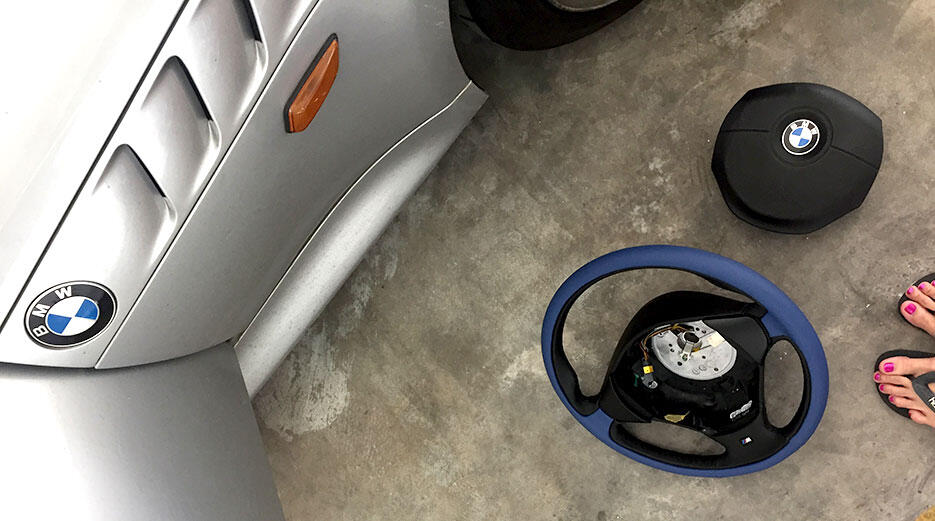 I was especially excited about the steering wheel
Before & After pix further down the post >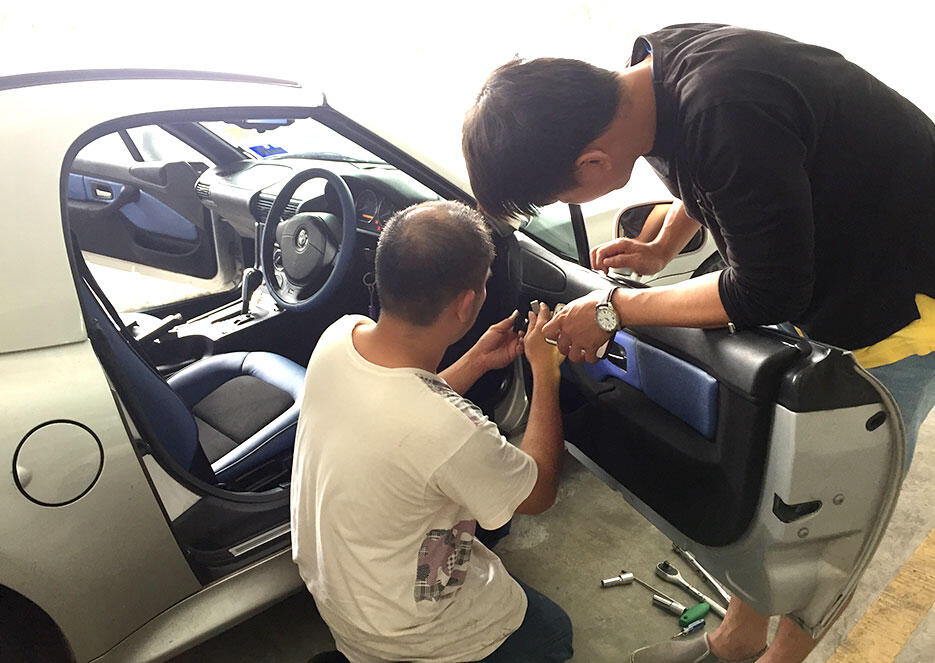 We agreed on a European Montana printed blue leather and high grade Alcantara.
I was trying very hard to maintain macho while the men did their thing cos i was so excited at how luscious she looked i was almost screaming happily in my carpark!!!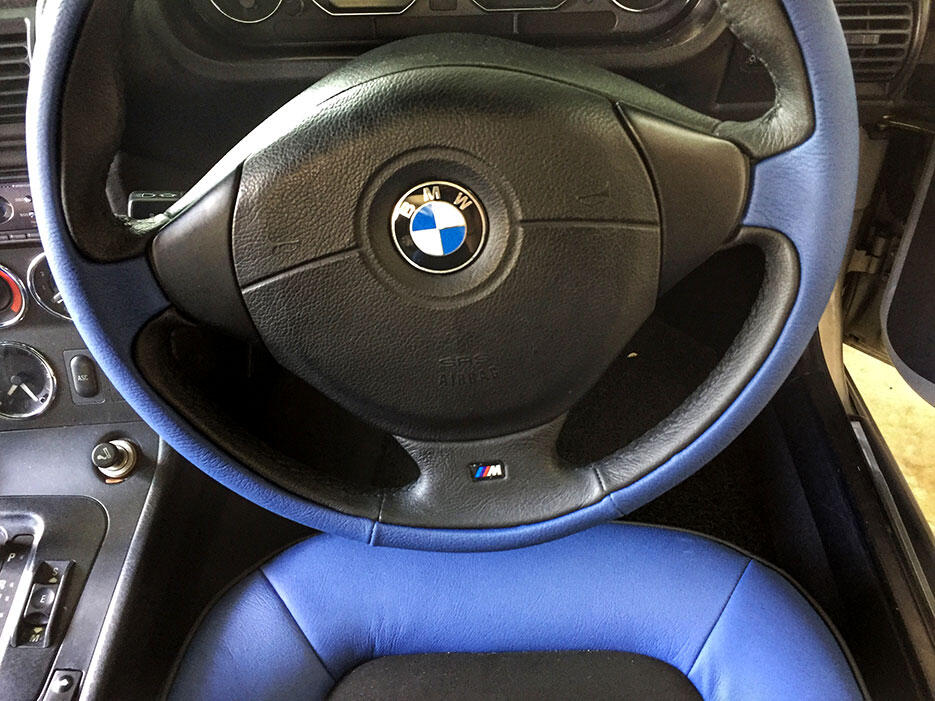 Before + After pix: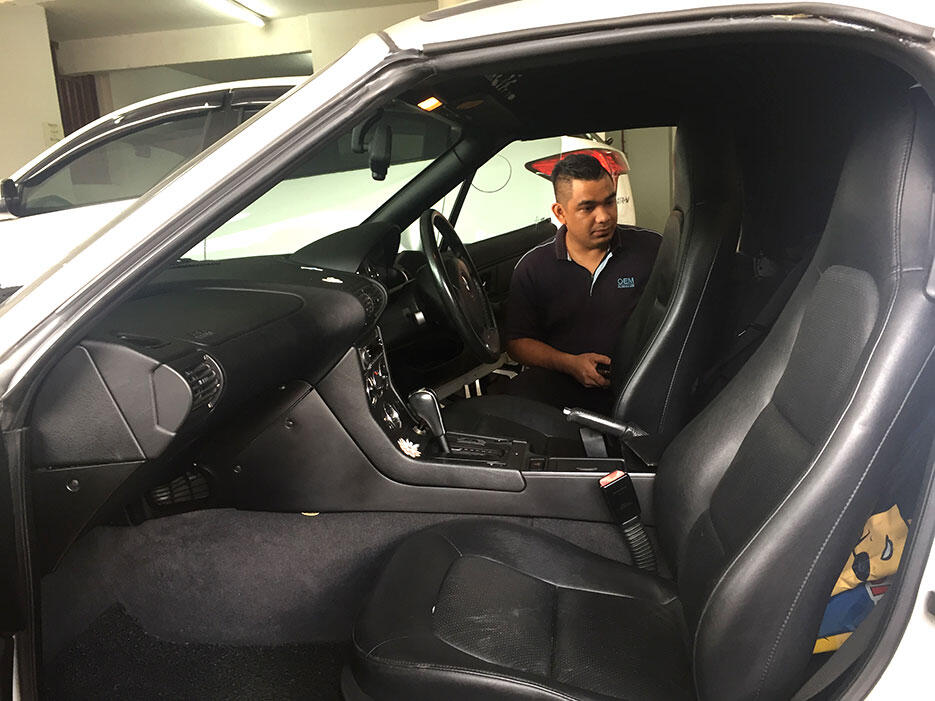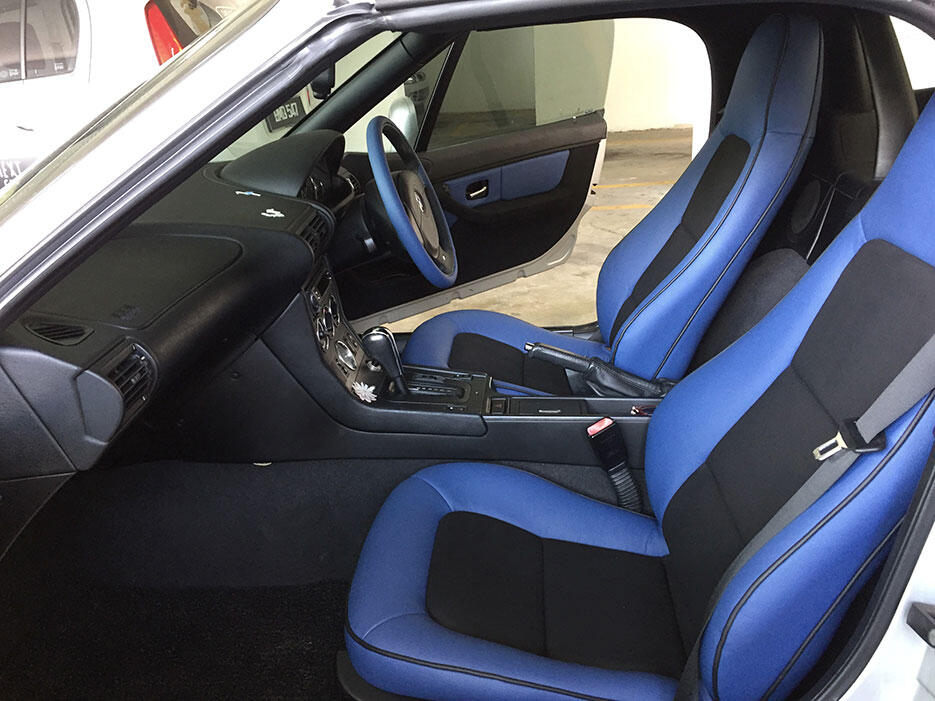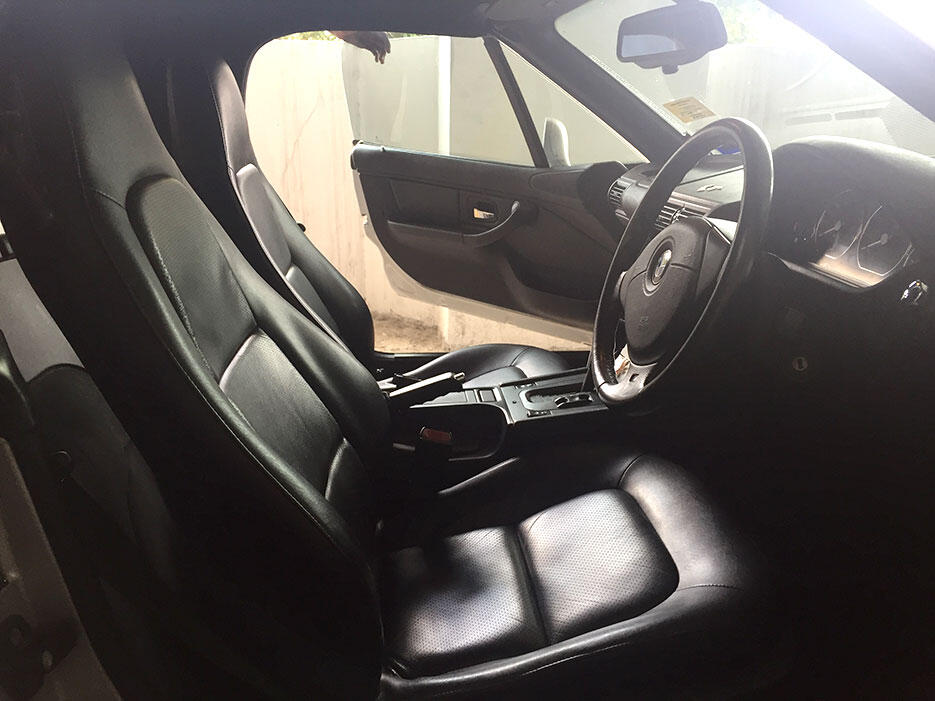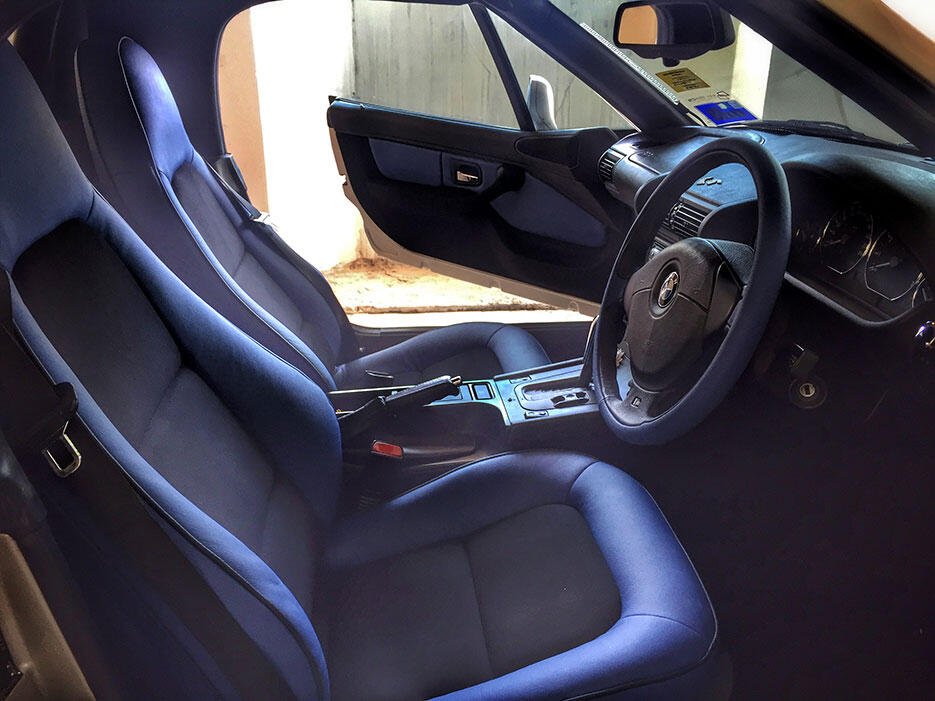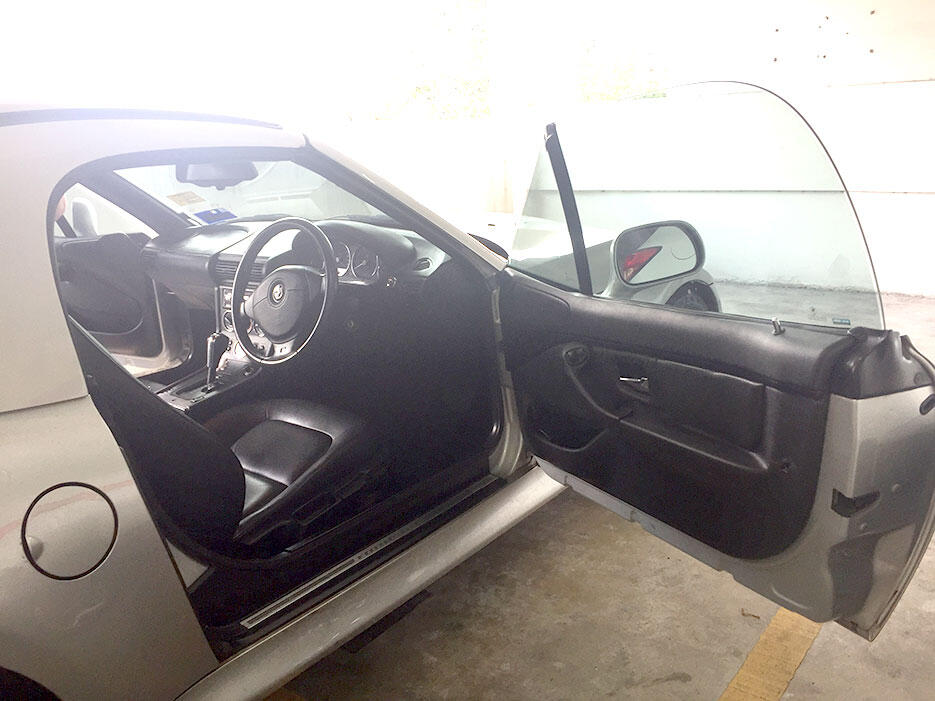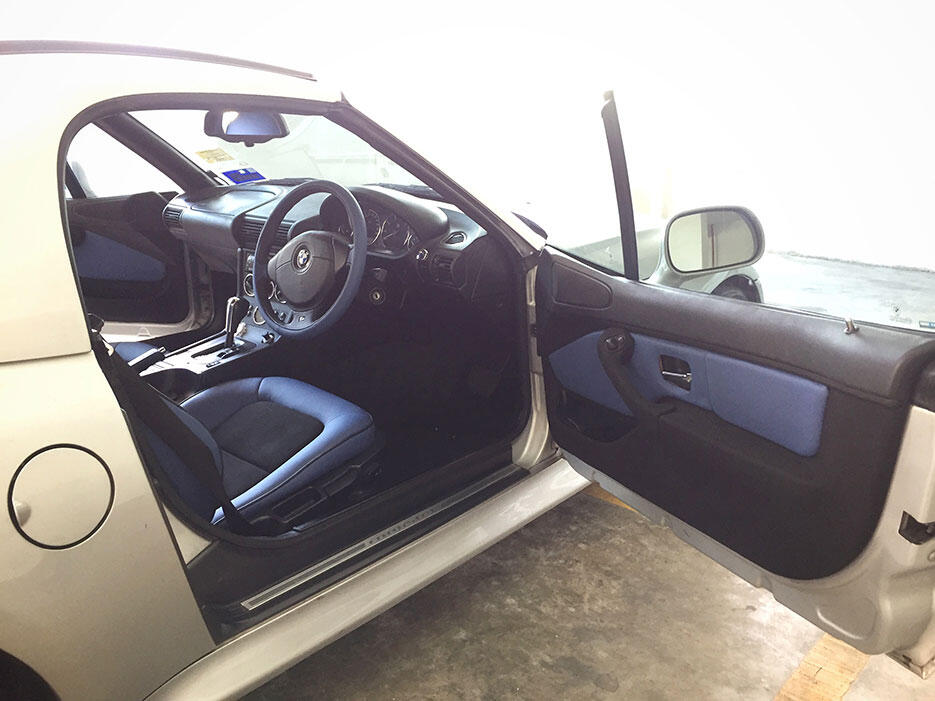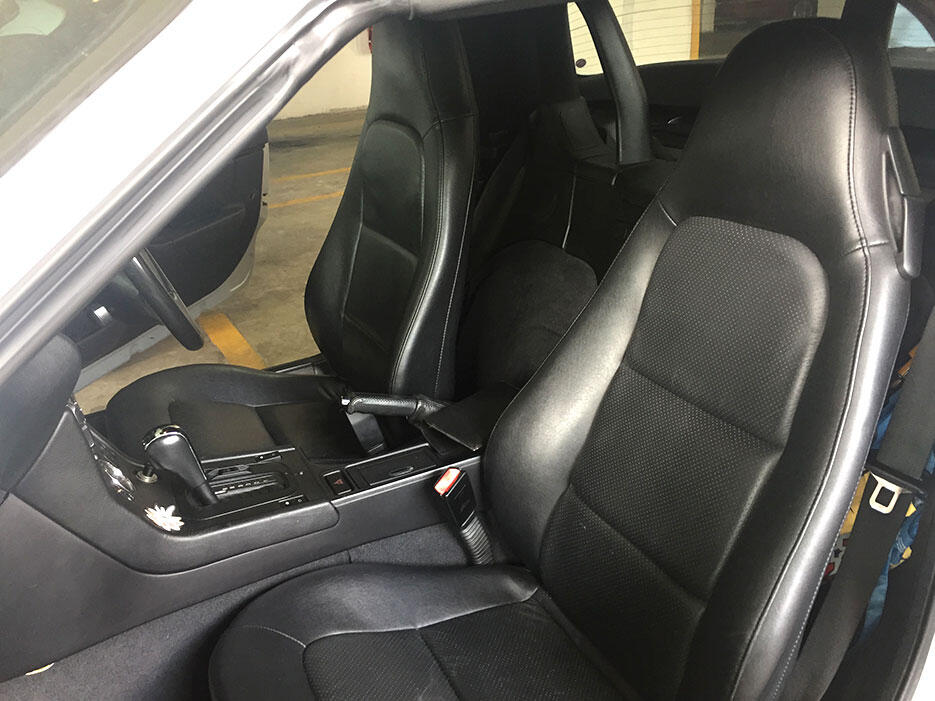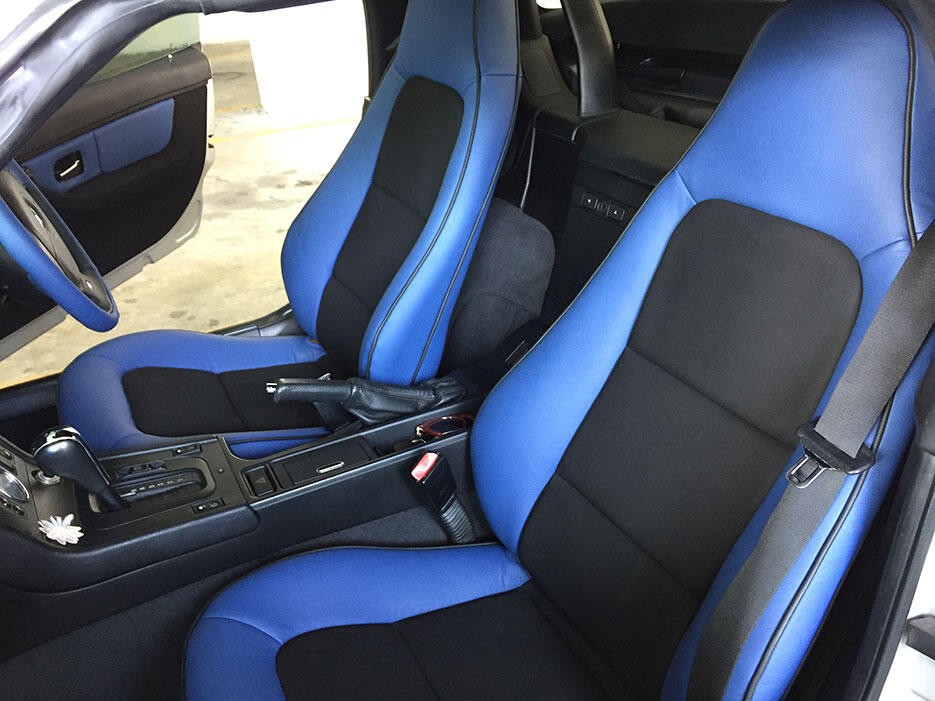 Look. At. That. Stacey… oh i won't be selling you so soon now!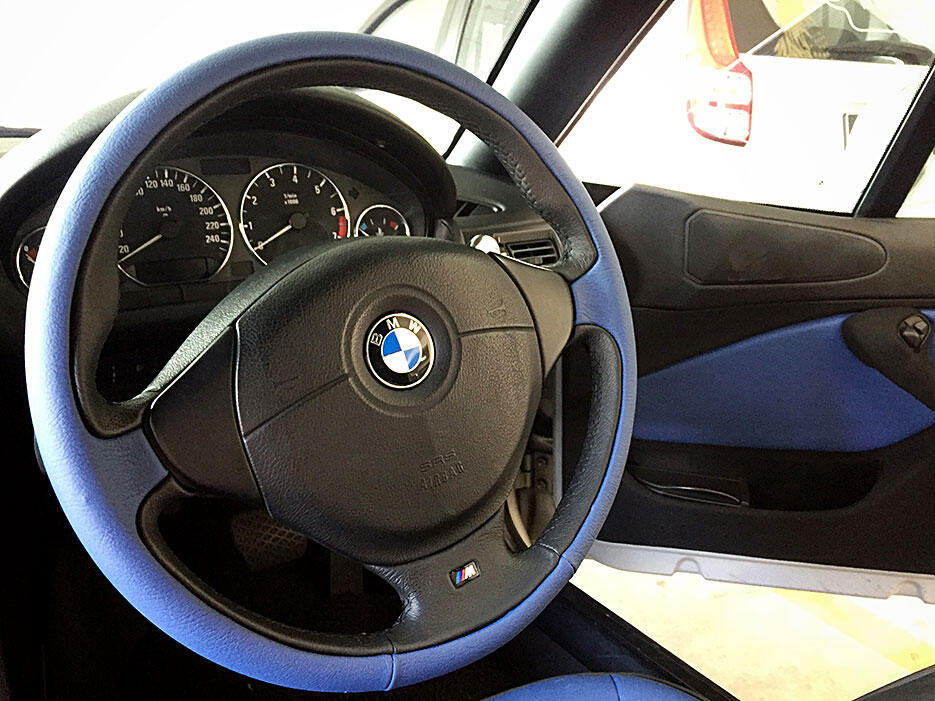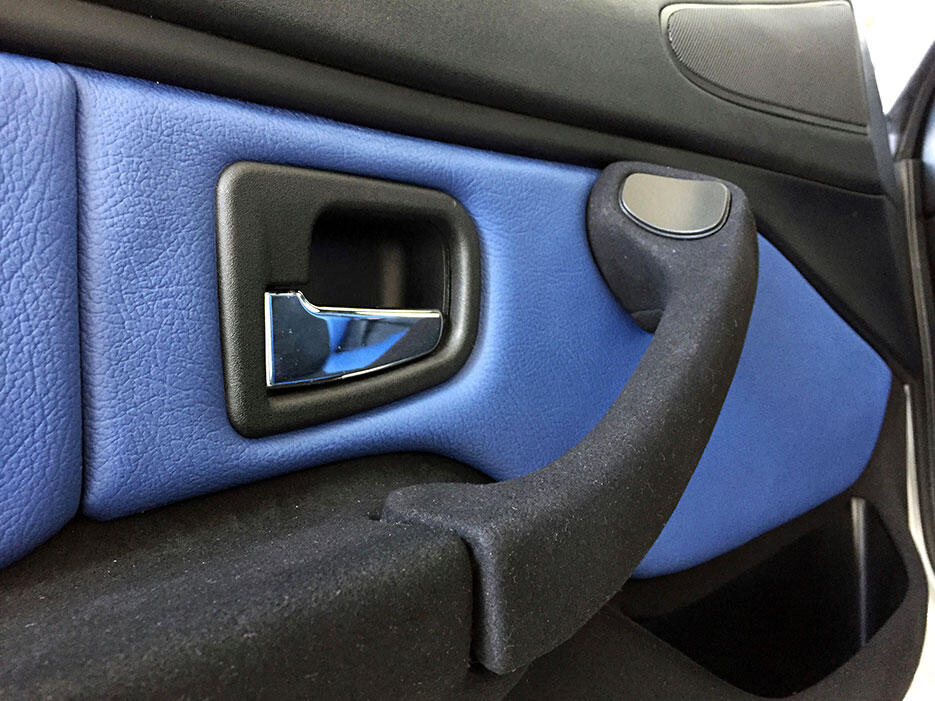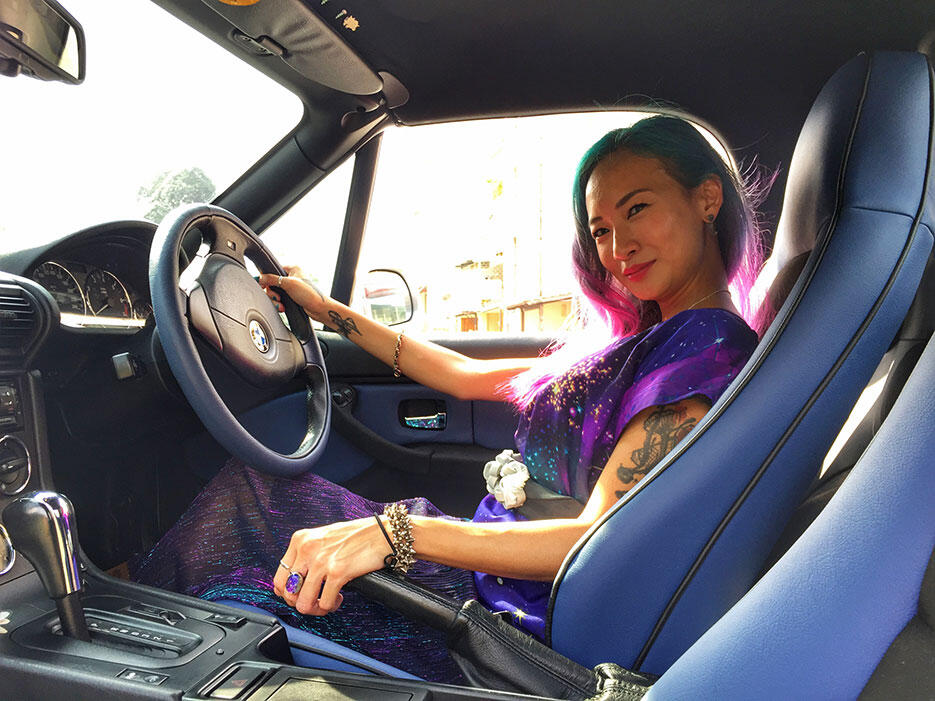 Ever since i got the car redone, i ENJOY driving Stacey around so much more now! It's almost like being in a new car!
+ + +
I asked Keith some questions so i can promote GNT baik-baik for him  😆
KBF: Does the customer usually design the interior, and if so – to what extent (colour, material, design details)? Do you / your team prefer to take over the design process? 
KR: We normally do the designing but we do work very closely with the vehicle owners to achieve the preferred and best designs and materials.
What is your personal favourite interior details and for which car model right now, hands down.
Pagani… the cars and interior look like pieces of art work.
You mentioned that the blue that you used for my car is very in right now. Could you share any current trends for cars / interiors that are happening globally right now?
Vibrant colors are very in style now thanks to the Europeans and the Arabs; and the high-end brands like Rolls Royce, Bentley, Bugatti, Pagani, Lamborghini, Ferrari, etc; that are now making bespoke vehicles for the high end customer. This contributes widely to car fashion now.
Price point: How much would it cost to do up a 4-seater?

We actually have a very affordable price range for entry level cars as low as RM 1,800. We do all makes and models. We have been doing a lot of classic cars lately due to the rising demand for classic cars.
What does the 3-year warranty entail?

The warranty covers discoloration, figment and stitching.
Give me 3 reasons why you think people should consider redoing their car interiors
1. It gives your car a new life inside.
2. It brings back the pleasure of driving from the comfortable clean new smelling materials.
3. It enhances the looks and driving feel.
What is your ultimate dream car if money wasn't an option.
Pagani Zonda Chinque
+ + + + +
Thanks for some a sick job Keith and GNT team! <3
You can check out GNT Autoseats' IG for more work they've done: www.instagram.com/gntautoseats
FB: facebook.com/GNTAutoseats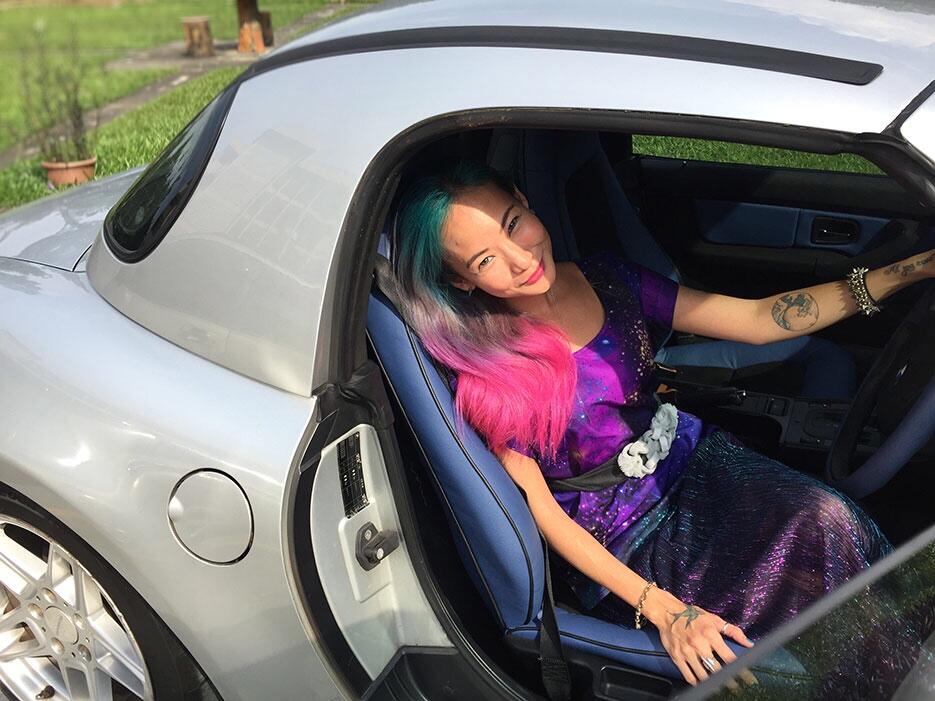 You should see the days i dress top-to-toe in blue and match the entire interior XD
🙄