Before Clem and i went to Bali,
we did bring up the subject of the Bali curse.
You know the Bali curse?
People say that if you go to Bali with a partner,
you end up breaking up 
I just think that the probability of people going to Bali with their partner,
teamed with couples getting together and breaking up all the time,
just adds to the statistics to this so-called Bali curse.
Hmph. (you can tell i'm not for this curse!)

I ended up going on this trip
because Clem was going to meet a bunch of his friends,
2 of whom are backpacking all over the world for a year *ENVY*
For the first time, i booked priority seating for AirAsia
cos the fellow is diva impatient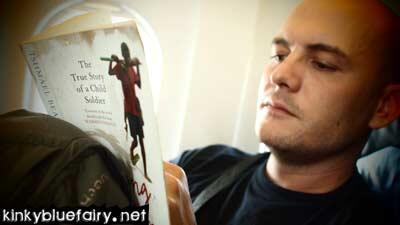 Him reading a book i thought he might like.
We reached Bali late in the evening,
and waited for Alix at the airport
(cos she was arriving 20 mins after us from France via Spore)
Then we waited to meet the rest of them at Pesona
(a new guesthouse on Poppies Lane 1)
The next day, we rented a van for all 6 of us,
piled our luggage in,
and took off to spend a day at Dreamland beach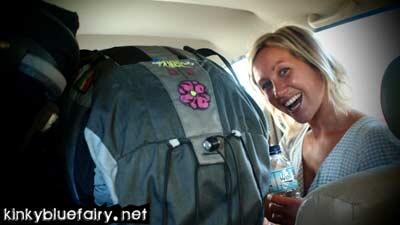 This is Olivia.
She's absolutely mad.
The first time i experienced her in the room,
i felt a big burst of energy bounce in
with screams and laughter as she pounced on Alix.
So you can imagine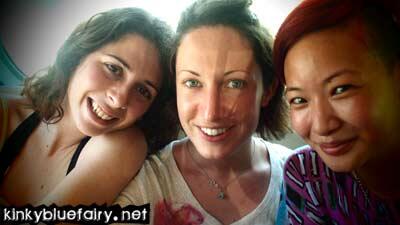 Alix, Elodie, me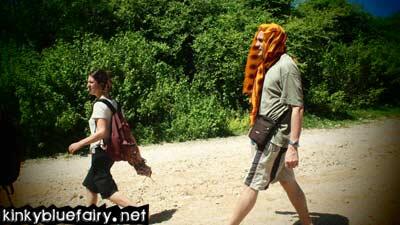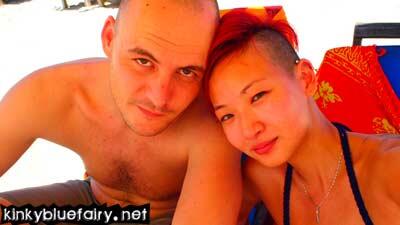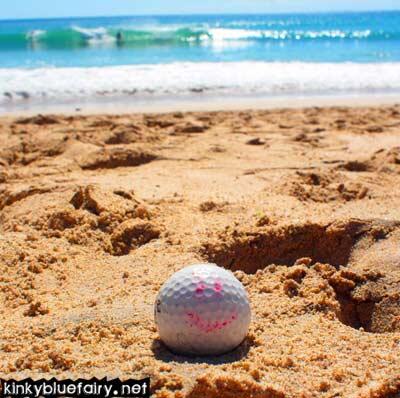 Wilson came along too 

tho Mommy got a scolding cos she forgot his red crayon >.<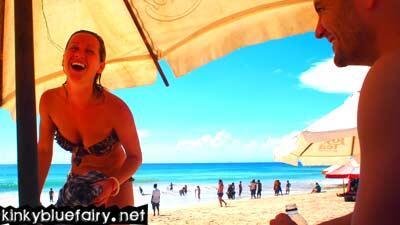 Olivia + Clem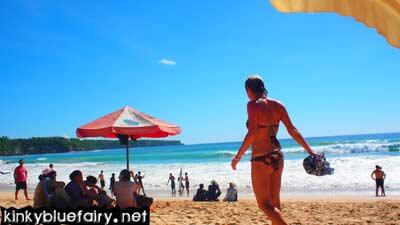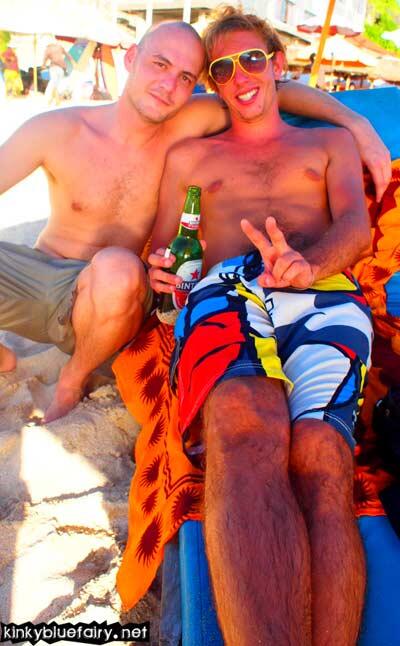 Clem and Thom (lost his shorts that day)
Because of the champignon,
i spent most of the afternoon layaning myself on the beach chair
(bargained it to 50,000 rupiah for 2 deck chairs)
Watched the trees and houses click like tetris.
Talked damn alot of bullshit with Clem.
Drank countless bottles of beer.
Spent ages trying to find the right position to lie while talking,
with best sound coming from speakers,
and without clumsy me spilling any beer.
We wanted a picture of the both of us (without us having to get up :p)
so we waited till one of our friends was nearby to take it.
So kancheong okay to take one picture.
Elodie: It would be better with the sea in the picture.
Clem: It would be better with us in the picture.
And i just BURST out laughing cos i knew he meant we weren't going to get up
as long as WE were in the picture,
it was perfect.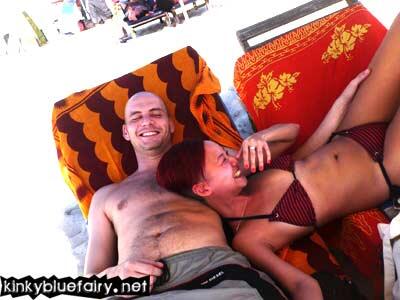 I even played in the waves... for once!
Okay i have a small confession.
I've never ventured to play in the waves at Dreamland before,
despite been there about 4 times.
They're freaking massive!
Have you seen them?!
The first time i went into the water,
i had to use both hands to hold on both pieces of my bikini,
and still one came off!
I guess since i was with Clem,
i wasn't afraid of being washed away in turbulent water.
At one point,
the waves got REALLY high,
and everyone managed to get out of the water,
except us.
And some surfers.
0_o
"We're gonna die baby!!!" he shouted in mock panic.
I actually screamed 
cos i felt like i was in Deep Impact
looking up at a huge wave that you just KNOW is gonna come down and hit you no matter what you do.
He ended up standing his ground and diving into the wave,
with me clinging on like a monkey the whole time.
'Twas fun tho!!!
Later on i had to go into the sea alone (to pee)
and spent AGES trying it -_-
What's wrong with me!
For chrissakes i can swim
good god i'm acting like i'm really 5!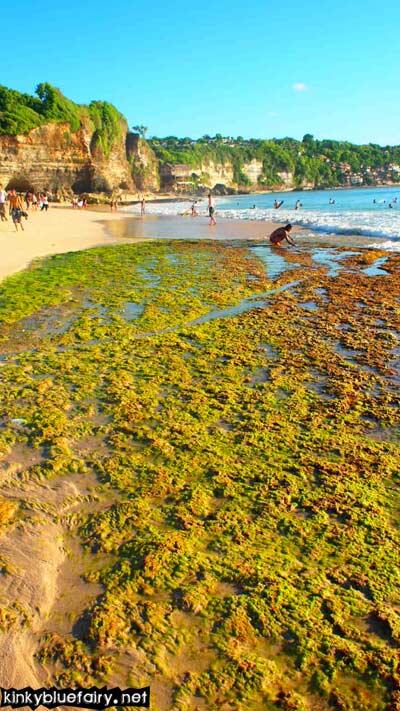 We took a walk to the far end of the beach.
It was nice.
Just a walk.
Holding hands.
Talking about us.
And we ended it with "Screw the Bali curse!"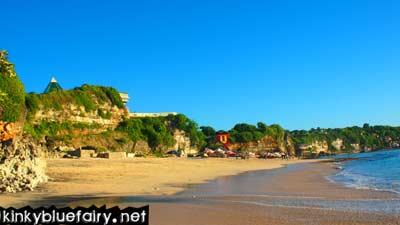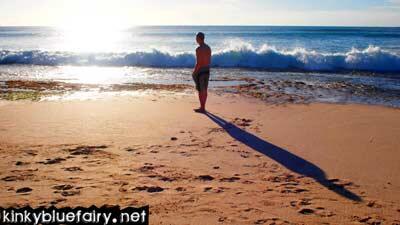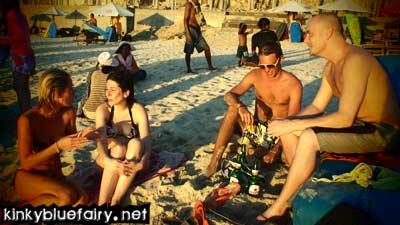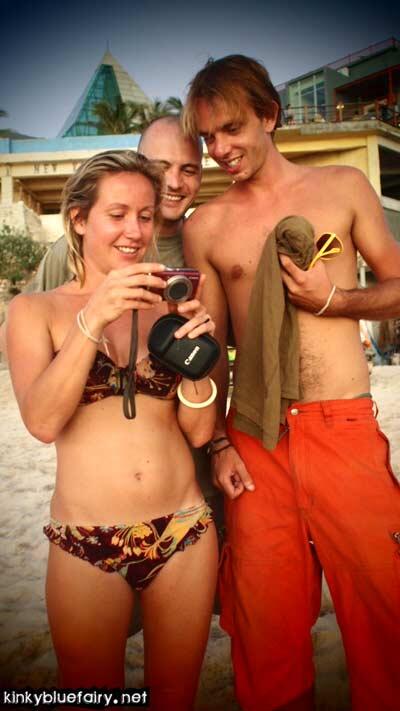 Olivia, Clem + Thom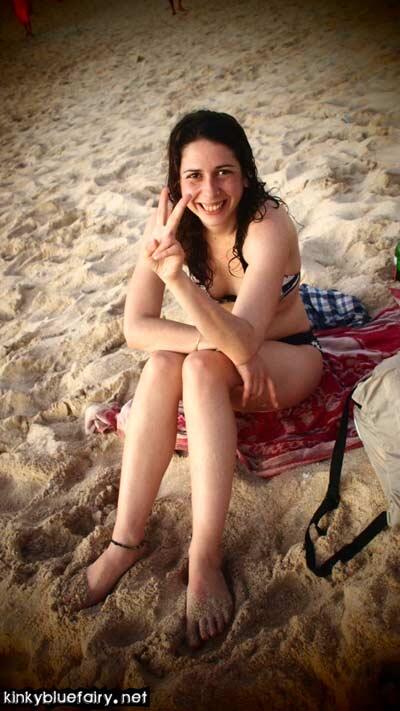 Alix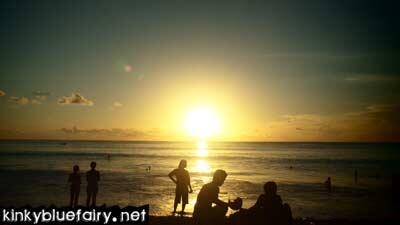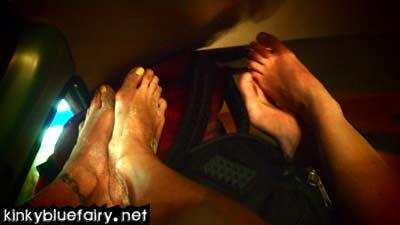 It was so cramped in the van (cos of all our luggage)
two of us at the back would stretch our legs by resting them up high
We drove to find food after that
(i was STARVING cos i spent all day playing and didn't eat!)
And whacked two fish and lotsa other stuff in nasi padang

*puas*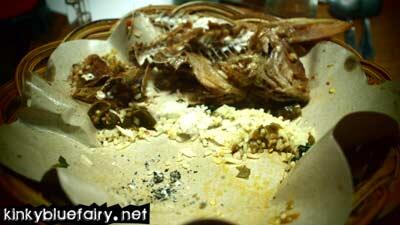 That night itself,
we made our way to Ubud,
which will come in my next post