It may be strange to say this,
but i really enjoy taking the bus to Singapore.
I prefer it to flying any day.
The way i see it,
if i flew,
i'd have to take a long taxi ride to the airport which costs RM80,
then check in,
then only fly.
Whereas taking the bus,
i pay RM115 return on First Coach,
get to watch TV on the personal screen to the point i don't get any shuteye tho i plan to.
(Keyword = Plan)
It may be more traveling time,
but less moving in and out of vehicles.
At one point,
i was so entranced by the gorgeous sight of the full moon outside,
despite having an equally engaging movie playing.
Lynn picked me up from the deserted bus stop
(for which i'm really grateful…)
I had so much luggage with me,
i didn't end up bringing the rack i bought in Ikea!
I really couldn't handle the amount to haul by myself through customs.
We went to get some Indian food for late dinner,
then she took me to Mustafa for me to buy a rack (friggin SGD39 wtf)
then she dragged me to Zouk.
I went there looking all, "Hello i just stepped off a bus, excuse my sloppiness!"
Bloody Beetroots was rocking the place and it was damn crowded.
Was super happy to see Linda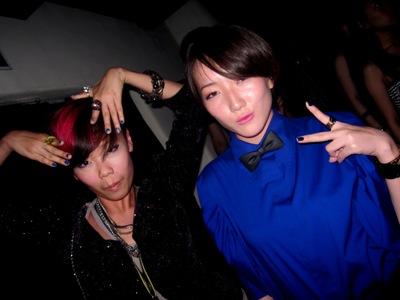 Grace + Linda be spinning at Flea Titan on Sunday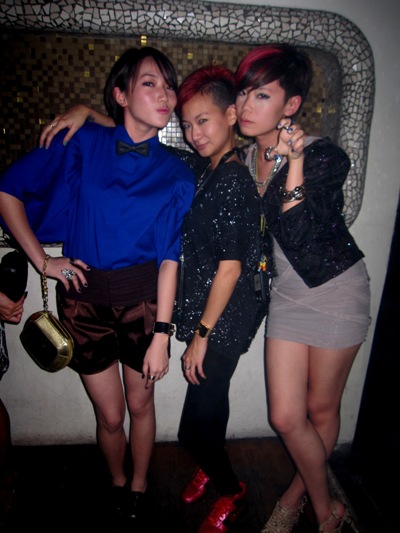 Linda + me + Grace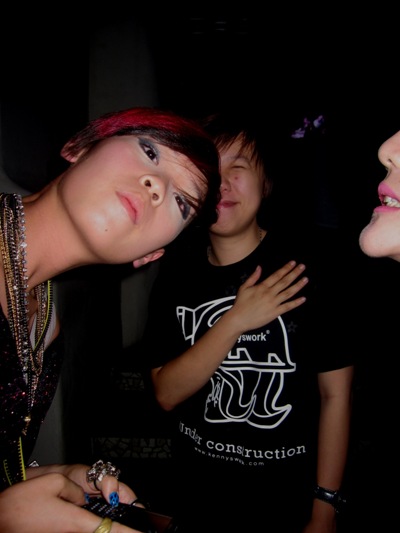 Grace stealing Lynn's thunder -_-
After that i went back to my brother's apartment at 3 plus am :p
Never been here before, and took me awhile to find the place.
I was expecting a bachelor-like pad.
I mean… i know he's living in this apartment with 2 other guys,
but i kinda forgot that one dude has a small family.
Stepping in, i saw strollers neatly folded up against the wall,
toys in the bathroom,
and the floor of the apartment… is ridiculously clean.
So much so, i felt like i was dirtying it or something!
Couldn't help thinking how the Universe is throwing children in my face wherever i travel -_-
Hope i don't scare them with my hair tomorrow.
But more so: Hope i sell lots of my things tomorrow!
So excited!