Just because i've been away so frequently (BUT YOU KNOW I LOVE IT MWAHAHA),
the moment i come back,
it's like a chase to keep up with:
all these new places that have opened,
trying their food/drinks/service,
finding out who quit their job,
new projects ppl are working on,
new projects *i* wanna work on,
and all these events and parties that are up-a-coming!
The very hour i got back from Singapore,
i dropped my bags at home and went to meet Aps + JessRicher.
We spoke about going to Axwell this Friday,
then Aps excitedly went, "Oh! And 2manydjs next week!"
Me: Huh? What? When? Where?
God. Super cannot make it.
So i went online to check for what is this that everyone's so excited about but i don't know!
Again. Super cannot make it. Shy.
Anyway i found out that it's a Heineken Green Room event.
And I LOVE Heineken events cos they're ALWAYS fun,
with great set up,
better music than most other events,
and everyone i know will be there all ready to PARTAY.
There's no way you've not seen some crazy party pics
from previous Heineken Green Room parties i've been to,
like the one in 2008, and 2009.
So i'm really looking forward to a night to play dress up,
skip out,
and party wild next Friday!
(i must say, i miss partying in KL! but i love BKK too shhh)
Just watch this video to get you excited first okay!
It's very short!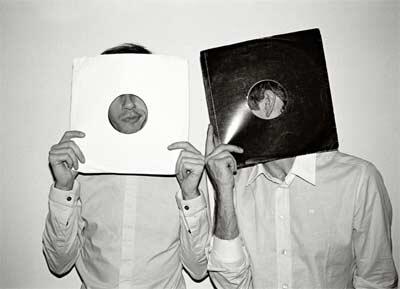 2manydjs consist of the Soulwax brothers:
Stephen + David Dewaele.
Revered for their sets of inspired mash-ups,
their mixes are so schizophrenic that i just can't tell WHERE it's going to go,
but their fusion of electro + rock + funk gels so well!
Plus you just won't get bored cos it keeps changing all the time.
YOU HAVE TO LISTEN TO THEIR BEETHOVEN EDIT. *here*
It's frikkin brill and getting me super excited bout their set!
EEK!!!!
Ok ok i have to calm down.
I think because i'm writing this at 3am so i'm damn hyper.
Or maybe cos i love classical,
and fusing that with electro rocking beats just DOES it for me!
While listening to Soulwax Mix (2nd song on their Myspace),
i heard a very familiar first beat come in,
and sure enough,
it was MGMT's Kids remixed into it.
Also includes The Chemical Brothers 'Hey Boy Hey Girl'
Aiyo, i cannot explain this la,
just go LISTEN to it yourself.
I just msged MaintainMing saying he MUST COME,
cos i imagined him doing his 'shoulder dance move'
while dancing in my chair to myself.
WHAT TO WEAR!!!
Besides 2manydjs, Green Room is also including the leaders of our KL electro scene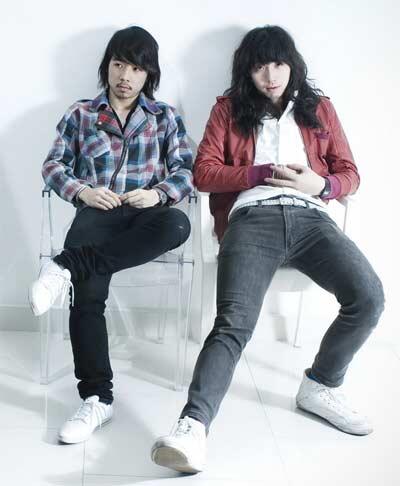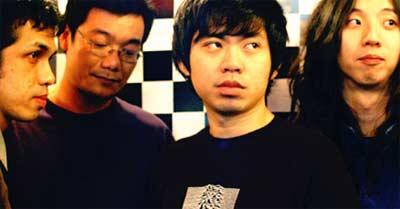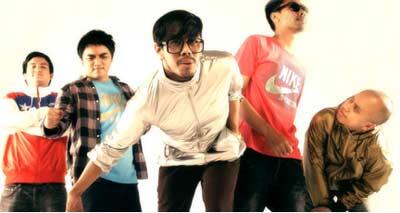 GXXX feat. Goldfish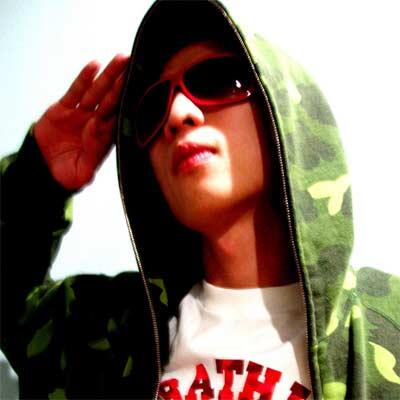 Btw, GXXX is a one-off collaboration between DJ Goldfish and a rock drummer,
which will see Goldfish adding a full percussive edge to his eclectic mix.
As if the lineup's not enough,
the latest Green Room State of Mind project will also be screened on that night.
"Green Room State of Mind Project has developed into one of the art scene's most progressive outlets for creative talents from disciplines ranging from film to fashion to sculpture and now photography. Its pop-up parties and exhibitions have helped to bridge the worlds of music and art and exploring how music soaks into the passions and inspiration of artists in many other spheres."
Not sure whether you remember,
but i took part in the Green Room State of Mind project in 2008 with Jimmy Lim,
alongside Lapsap and Bombshelter Studios.
This time, Green Room has brought on 3 prominent photographers
to record a series of images that seek to uncover the influence music has on their work + art.
They are Kelvin Oon aka TAG'S DJ ChaseyLain,
Fiona Lim of Fifoto Studio,
and Choen Lee (who has shot me before for the Timeout cover and Green Room project)
So!
Lots to look forward to next Friday!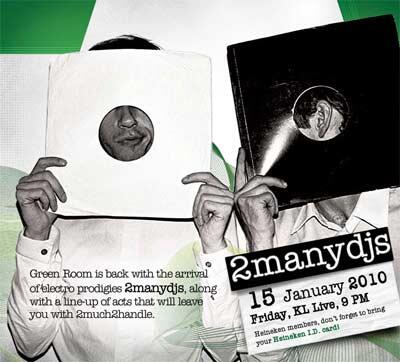 Green Room
Date: Friday January 15th 2010
Time: 9pm – 2am
Venue: KL Live, 20 Jalan Sultan Ismail, 50250 KL
Tickets: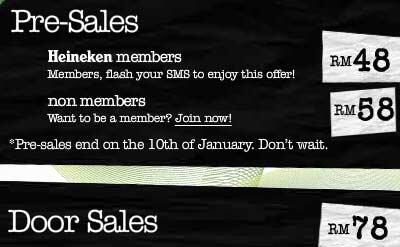 Availability: Pre-Sale tickets are available through all Ticket Axcess outlets nationwide till 10th January 2009.
Strictly ages 18 and above only.
For more, visit www.greenroom.com.my
Related posts:
Heineken Green Room @ Orange Club
Heineken Green Room @ Zouk 2008
Green Room State of Mind 2008
Heineken Green Room @ Zouk 2009
Heineken Festive Forest Project
Feeling The Blues
Heineken Mouse