QueenKanch was away on a company trip last Friday,
and i thought i'd surprise her by getting a Christmas tree for the suite
seeing it's December and all!
ClaudiaOnCrack's mummy told me to go to Sampeng in Chinatown to get cheap Xmas deco,
so i traipsed there by myself via 2 trains, foot and a tuk tuk.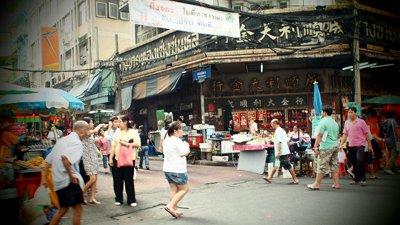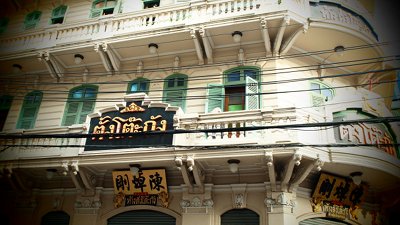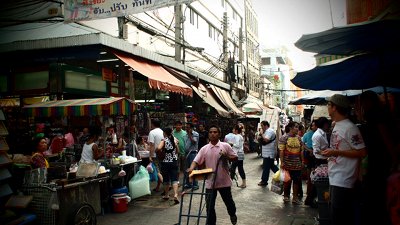 There were a few shops selling Christmas deco,
and i checked most of them out for the one with the best and cheapest stuff.
That's diligence for you, haha.
Was tremendously drawn to a particular store with everything i was looking for at decent prices,
and it was super packed with people, obviously -_0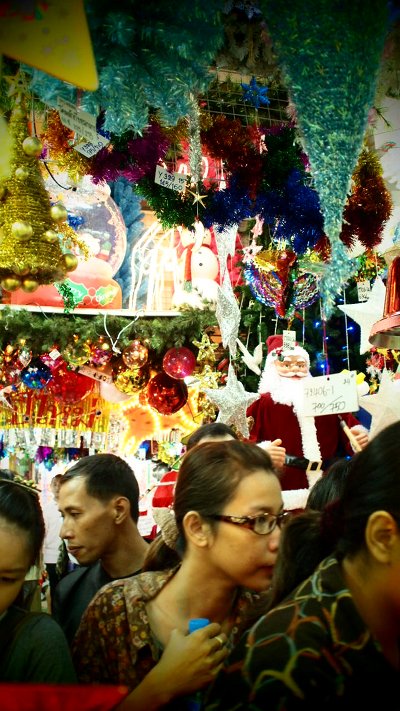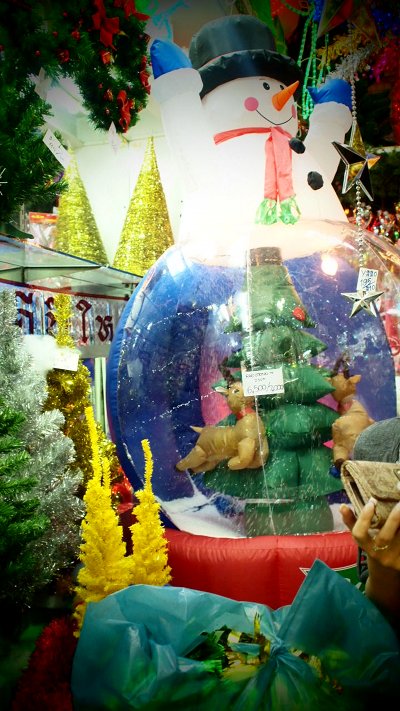 After i picked out a wee tree, i moved on to picking out lots of decorations for it.
Santas, reindeer, acorns, teddies.
I think i got carried away… cos i ended up with more deco than i needed.
So i decided to upgrade to a bigger tree to hold all the deco i wanted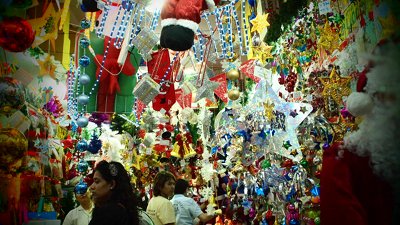 After purchasing everything, i realised "WHAT HAVE I DONE"
cos i conveniently forgot that i'd have to lug everything back by myself.  
Point to note: 5'3″ person should not lug back 4′ tree + bagful of decorations halfway across the city during peak hour.  
After carrying the tree in all sorts of ways,
and stopping every now and then to rest,
i found out the best way to carry it was to HUG IT.
So there i was.
Hugging a huge box at the train station which was freaking crowded with people.
I don't remember the last time i was in such a long human queue!
Even overhead someone saying they've never seen the BTS station so crowded before.
Great.
I choose a day and time to take the train
WHEN it's so crowded
and WHEN i have so much stuff with me!
And you know what was more malang?
I had to queue up THREE times to get my train ticket!
I'd almost reached the end of the first line i was in, when the machine went out of order!
Everyone dispersed from it to quickly join other lines, as did i.
Then after queuing up in the 2nd line… the same thing happened again!
Kan tragic  -_-
By the time i was in my 3rd queue, i was so tired and didn't care if anyone thought strangely of me resting my face on the box.
Anyway, i finally got everything home and got really excited!
Since we have a tree, we're planning to throw a Christmas party  
Kanch: How many people are we inviting?

Me: I don't know… how many people do we know in Bangkok?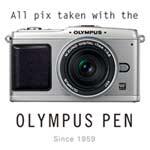 To get you all in the Christmas mood like me(!)
here are some of my favourite Christmas songs  

You don't have to watch it, just listen!
Do They Know It's Christmas for Band Aid, 1984
Performers: Bananarama, Bob Geldof, Culture Club, David Bowie, Duran Duran, Eurythmics, Frankie Goes to Hollywood, Heaven 17, Human League, Kool and the Gang, Midge Urge, Paul McCartney, Paul Young, Phil Collins, Spandau Ballet, Status Quo, Sting, The Style Council, U2, Wham!
The song shot to #1 in Britian and US, and sold 50 million copies. [Source]
Last Christmas by Wham!
Silent Night by The Temptations
Little Saint Nick by The Beach Boys
Happy Christmas (War is Over) by John Lennon
All I Want For Chrismas Is You by Mariah Carey
Christmas Don't Be Late by Alvin & The Chipmunks