VinceSkyrocker wasn't a happy camper when we were checking in to our flight to Singapore
Cos if we wanted to check in a bag on to the plane, it would cost RM50 per KG
RM50 per kg?!
Siao ar.
Then my bag would cost more than my damn flight ticket.
Or all of us put together.
Dunno la.
He called Jetstar in a fury at 8 in the morning,
and they said that because he didn't opt for checking in a bag for a certain amount online (considerably less),
he couldn't change anything.
-_-
So we shifted particular liquids from all our bags to one,
and charged that bag for RM100 (or was it RM150?) to check in.
SpankyCammy slumber only opened her bag to switch things,
and went, "oops!"
Cos her Sponge Bob Spongee was on top
…
I was thinking to myself, "Manatau if i'm her staff, see a toy on the top of her luggage hahaha!"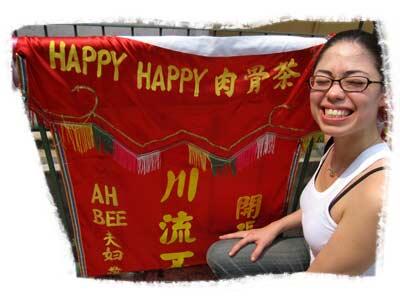 Happy Happy SpankyCammy
(we took pix in Sg after lunch like the tourists we are)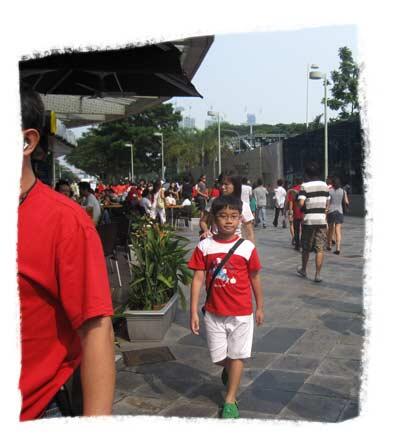 I was really taken aback to see SO many Singaporeans wear red last Sunday
because it's their National Day
Coincidentally, Cammy wore red too.
At least it was easier for us to spot out
who to ask direction from,
while walking to the Singapore Art Musuem
where Flea-tique was being held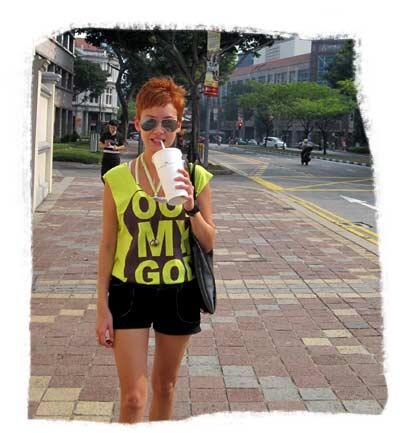 This is me trying to look cool
shirt i cut up from bkk,
shorts from kitschen,
bag from YC,
sports bra from nike,
aviators – rayban,
drink from, erm, mosburger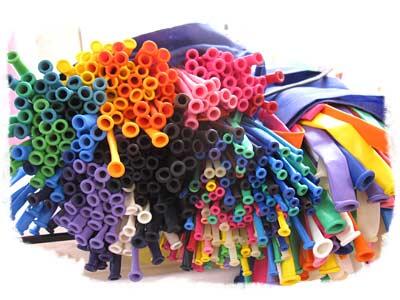 OK i'm very fail
cos i'm really really sleepy and tired
so i'm going to continue this tomorrow
I need to shower
I had a long day
Had to catch up with heaps of emails upon getting back to KL
damn a lot of editing
don't even ask me about invoices and claims which i've yet to conquer
And i've got an event trow morning
Summore i spent a bit longer than expected out drinking with Vince and Andrew @ Somo
So
I REALLY have to sleep now.