Was with my lovelies tonight
Took some pushing (as it always does due to our very different jobs, locations and timing)
But we managed to meet up for yee sang dinner tonight at South Pac in PJ
Just my lovelies and i - SpankyCammy, StephTheVolcano, Aps, and DhanyaTheMonkel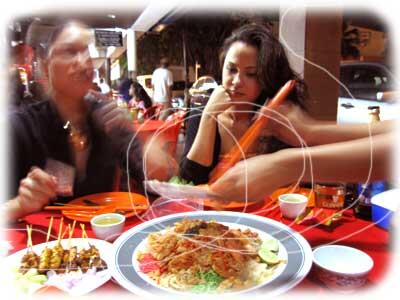 But i say it was the longest yee sang cos it's different when you do it with friends than with family
With family, it always has to be more polite and appropriate
With friends, all the *genuine* prosperous thoughts we wish for ourselves come tumbling out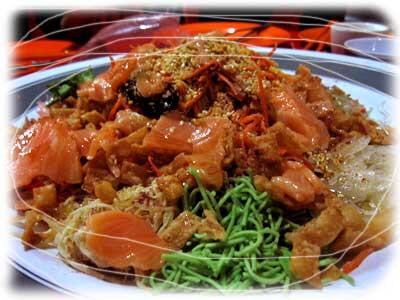 All 5 of us stood up and started chanting different things at random:
"More luck!"
"Good time at work!"
"More sex!"
"More good sex!"
"More clothes!"
"More SHOES!"
"More holidays!"
"More shrooms!"
"More hot men!"
"More creative men!"
"More NORMAL MEN!"
"Hahaha!!!"
After a while, half of us sat down while some still stood up, chopstick in air, "Wait... i'm sure there are more things we want to say!"
We continued for longer till we were thoroughly satisfied with all we wanted :p
We tossed yee sang so high, some ended up in the chinese tea cups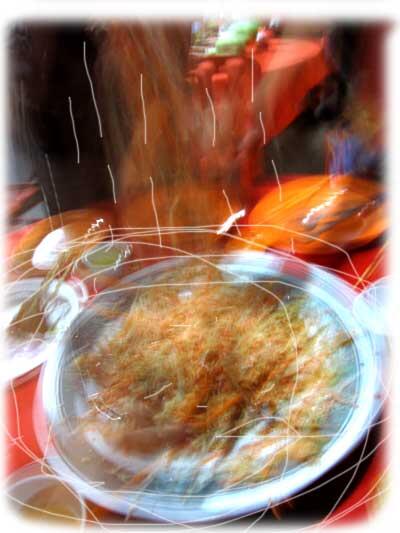 Dhanya shocked the bejesus out of us by bringing ang pow to give us
"Babe... that's really really sweet, but you can't give us ang pow! You must be married..! Unless you're giving to your parents..."
"Really?"
"Yeah... it's bad luck for us AND for you to give us ang pow! You gotta be married la!"
"Oh, but... i'm married to myself! Does that count?"
Line of the day can die.
Woman is so festive she even brought fortune cookies for each of us.
Too cute.
Mine read: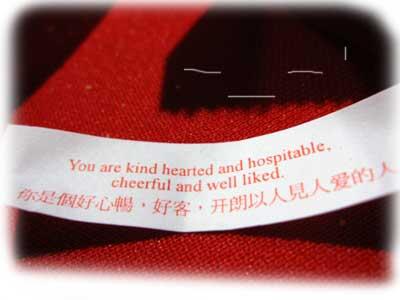 I turned to her: "I don't think this is a fortune cookie. This is like a con cookie. Anyone of us could be this!"
"... i can give you another one if you don't like your fortune..." she turns around to reach into her giant handbag.
It's near impossible even to pretend-play at being angry with her.
0_-
Anyway we ordered way too much and ate till we had to drink wine after dinner instead of other filling drinks
Had hotplate tofu, assam fish, chilli chicken, sweet and sour pork (for the white girl), and kangkung belacan
Mmmmmmmmmm
I told them about my gross episode on throwing up in my mouth from eating too much
And each of them contributed a story of the same
(Save for SpankyCammy who salah concept and told a story of her throwing up and out instead)
So i'm not the weird one after all!
OR... maybe we're all kinda weird
That's why we're friends ha ha