My Adaconday is a merge of the words – Anaconda Day
Because i pigged out so much the past few days…
I spent the whole of today in bed till 7pm
Like a snake that ate too big a cow and had to be comatose for a bit
Fail
+ + + + +
Because i'm resting at home (i even checked my office email wtf. had to la. been in denial that work doesn't exist for the past few days)
And i can't go out cos i really cannot eat anymore
Will put up DailyDress photos that i've been abandoning
Sorry, taking pictures of what i wear when i go to work/out isn't a priority!
This was taken in September… as you can tell from the afro
Hmm. I miss all that warmth and fuzz.
Not!
Okay i know the picture below is really auntie
Cos afro + glasses = no no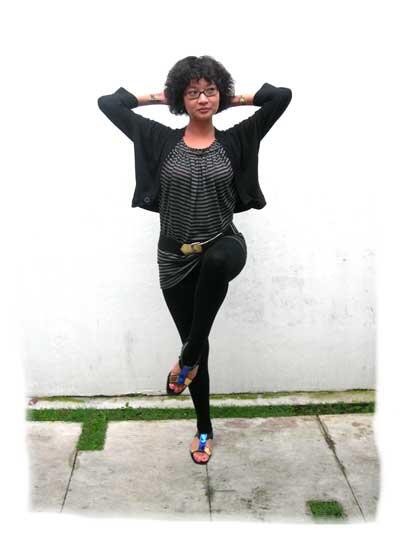 long striped top; bangkok
black cardi; bangkok
vintage belt; bangkok
leggings; chiang mai
gold + blue slippers; vincci
i just realised how almost everything came from bangkok
man i really want to go back there and shop like crazy again…
i saw the slippers in vincci months back
and even tho i don't really buy vincci shoes anymore
loved the bling slippers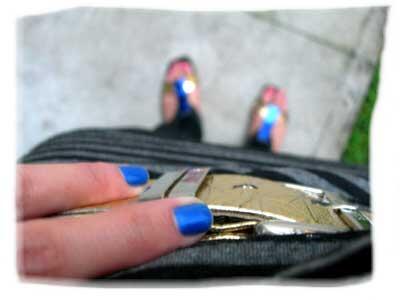 my nails and belt HAPPENED to match the slippers
0_-
+ + + + +
Hmm remember i wore this to the Gardens Anniversary party
And all the lint from the scarf getting unto my pants was annoying me
But it WAS fun to scrape together and pull off :p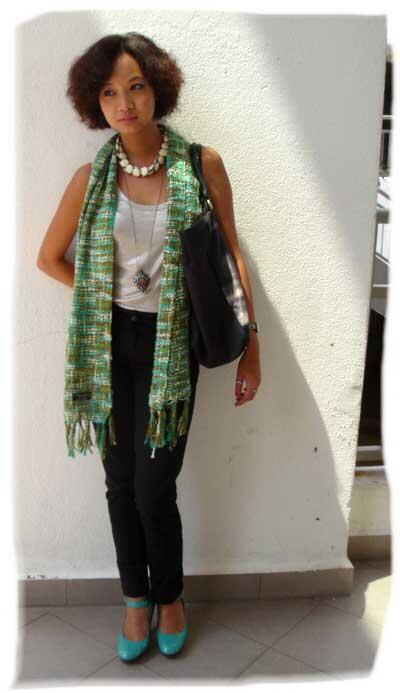 scarf; roadside stall in phuket
silver singlet; zara
bag; anya hindmarch
long pendant; chiang mai
vintage necklace; bangkok
black pants; levi's *sponsored*
shoes; marc jacobs
+ + + + +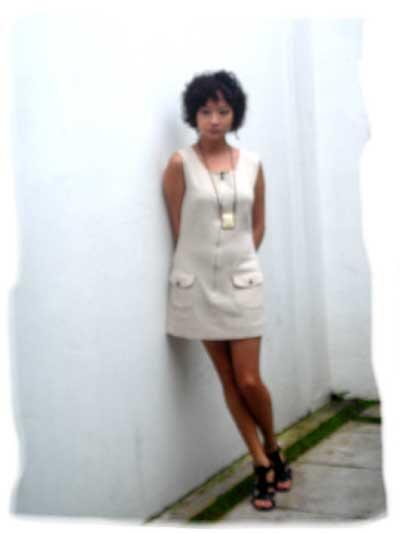 vintage zip dress, from the shoplifters
black glad heels; nine west
long pendant; aldo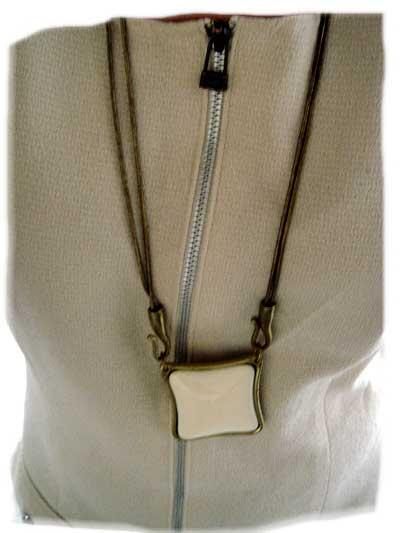 + + + + +
Okay, now to me with no hair
Seriously, i try not to wear dresses nowadays… if feels weird
Unless i pair it with sneakers then it's okay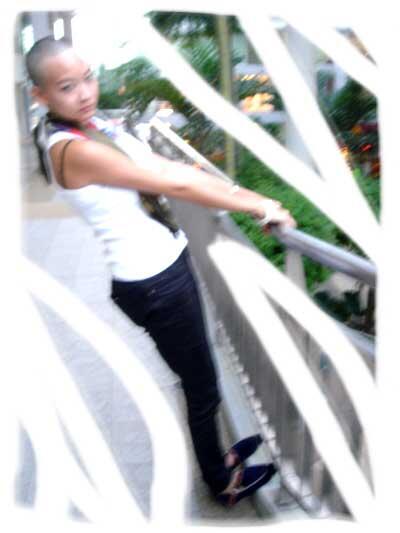 I have a new habit where i'm constantly buying new scarves to tie over my basic tops
So instead of spending money buying new tops for choice of colour
Just buy scarves to tie around with accessories piled on top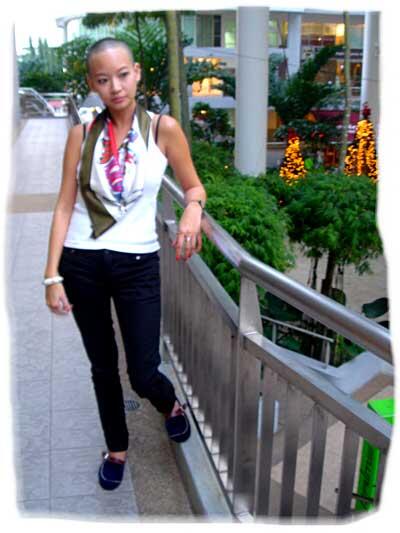 scarf; lah'lah'land
white singlet; bangkok
black pants; levi's *sponsored*
bangle; garage mode at show pink
felt flats; moca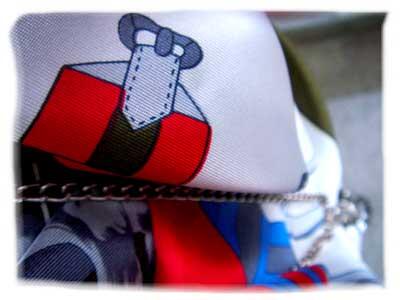 I sapued a whole bunch of colourful funky scarves from Lah'lah'land's store at the last Show Pink fashion junkyard sale. Couldn't help myself.

Was smitten by these flat shoes from Moca the moment i saw them
They're SO comfy, it's like wearing socks to work
There's a pic of them here, and i got the grey pair of booties as well (3rd from left, bottom row)
I seem to be veering towards flat shoes or boots now that i have no hair
But i really want a particular pair of boots…
FaiTheMai sent me a link saying i should get these: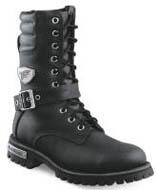 RedWing Motorcycle Boots
And i was like, "Omg just what i had pictured in my head!"
It'd go so perfect with my bald head for now woohoo!
Screw all my floral dresses and bring out the bad girl, i say.