Christmas Eve was spent mostly with RowdyRudy.
I haven't been seeing him much (obviously) since i've been in Bangkok and we've been keeping in touch by sending each other voice notes on Blackberry.
It's quite cute really, he'd describe something funny that happened, and send it to me, to which i'd laugh.
And i'd do the same back (though maybe i'm not as funny as him, he just started doing stand up comedy summore!).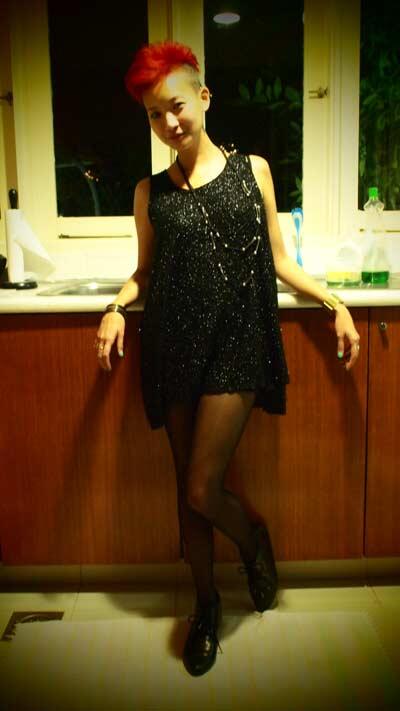 sparkly top + accs; bkk
tights; topshop
lace up boots; bimba & lola
gold mesh watch; nooka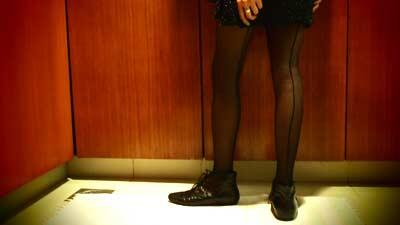 We ended up partying till superlate and sleeping at 7am.
By Christmas Day dinner at DreamerCyn's house,
i was feeling pretty shite.
I didn't feel like i could be entertaining, nor be entertained.
(Sorry Cyn!)
By Boxing Day 2nd dinner (first dinner was at home, right after that i went out for 2nd dinner with my Lovelies at Castell's)
i had a blocked nose and felt the beginnings of a fever coming.
Restaurant owner Sheena found me a couple of Panadols which i took immediately,
while i dolefully watched the rest feast.
I'm okay with being sick tho.
I haven't been sick for awhile, so i prollie had this coming.
And i'd rather be sick after Christmas than on Eve itself (now that would REALLY suck!)
Will prollie force me to stay at home tomorrow and blog too,
so you can expect some updates a-coming.
On a supermrbrightside,
I've decided that i will be taking part in Flea Titan in Singapore next weekend!
I have heaps of new and secondhand things which i need to sell off to make up for my shopaholic tendencies,
and with organiser Lynn (whom i met at Chic POP flea market) inviting me,
all the more i wanna go cos i know they'd make me feel so welcome!
Since i've already been meeting more like-minded peeps in Jakarta and Bangkok,
i might as well try to go regional and meet some peeps in Singapore.
(Maybe next will be… Manila? Haha.)
+ + +
Flea Titan
Singapore Flyer ( Sky Deck )
30 Raffles Avenue
Date: 2nd January (Saturday) and 3rd January (Sunday)
Time: 3pm to 9pm
How to get there:
There will be 3 shuttle buses (45 pax) from the City Hall to Singapore Flyer
All ages
Free admission