I'm back.
Cruise was very the nice indeed.
It's such a different experience and the convenience of waking up in a different location almost every day is freaking awesome.
Schedule went like this = eat on ship – party on ship – eat on land – party on land – sleep on ship – etc etc
The moment we checked into the ship (we took Star Cruise Gemini btw), they took our passports and we each got an ID card of sorts.
Every time we disembarked or got back unto the ship, the card would be swiped.
And every time we bought something on the ship (alcohol, tours, memorabilia), it'd be swiped as well.
RowdyRudy spoke true when he held it up and said to me, "This is… very very dangerous. We have no idea how many drinks we're buying."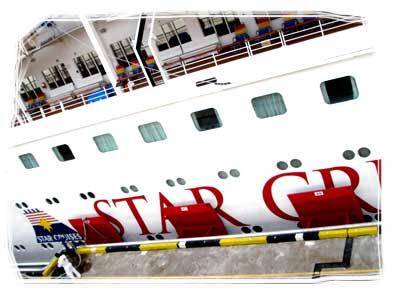 See the striped brollies on the top deck? That be where the pool at.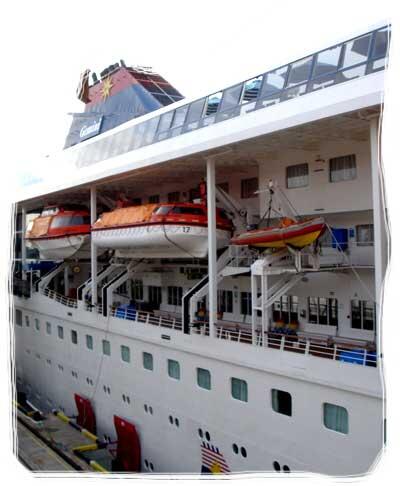 Checked in around 5pm, and got used to the ship a bit before dinner.
Food's provided the entire trip so phew.
We kinda forgot whether we had to pay for food as well 0_-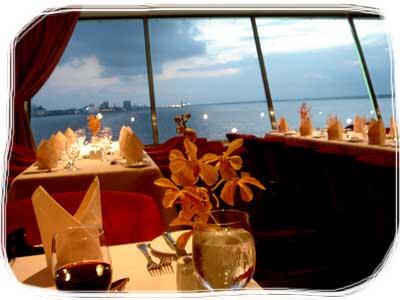 For every meal, we could choose to either eat at the Mariner's buffet area (which we didn't have to dress up for) or at the restaurant downstairs, which was served in courses and a bit more proper.
Obviously for the first meal we went the nicer route and ate as we watched Port Klang disappear further and further into the distance.
In mind: YES! We're getting away from KL! We're going awayyyyy!!!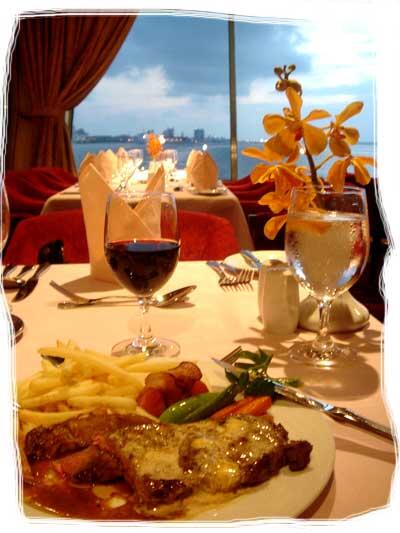 Alcohol was decently priced at around SGD30-60 per bottle of wine, depending on which vineyard 'twas from.
First night, i didn't drink that much.
Shared a bottle of wine with RR then got really tired.
Prollie from lack of sleep and food in KL.
So i went to the room to watch the final days of the US election (>.< Yeah i know right. I usually have NO interest in politics, but for the last few days, couldn't stop watching the speeches).
RR stayed at the bar, made friends with all the bartenders and had (too) many tequila shots. Psycho.
Anyway, next morning we went to check out the pool on top deck (8)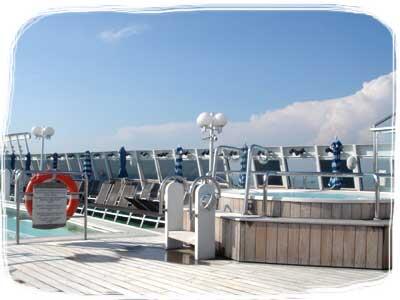 Damn 7 pretty right!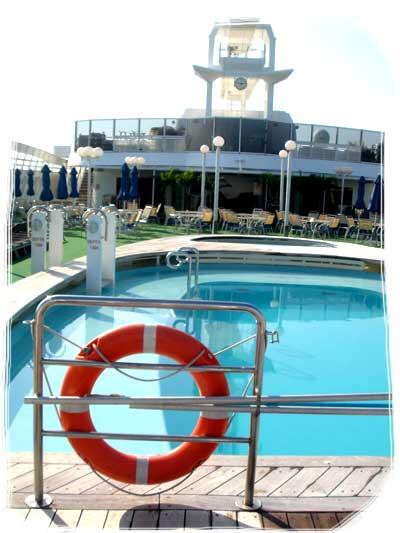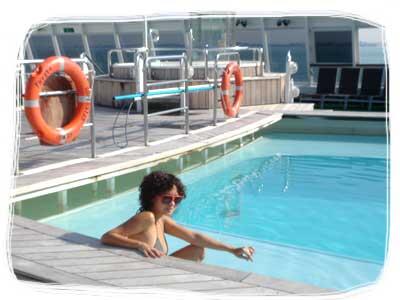 People are constantly getting on and off at different ports, and at that point of time, the ship was really empty, so we had the whole pool in the morning to ourselves!
The glory!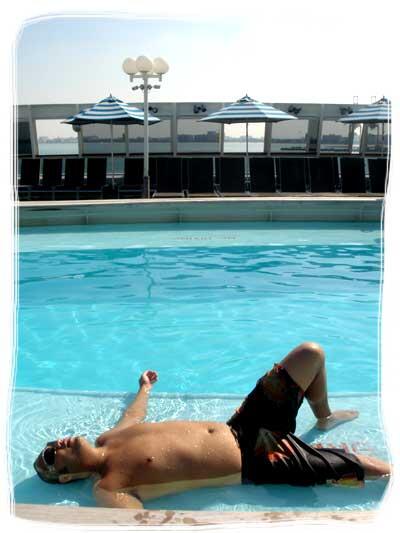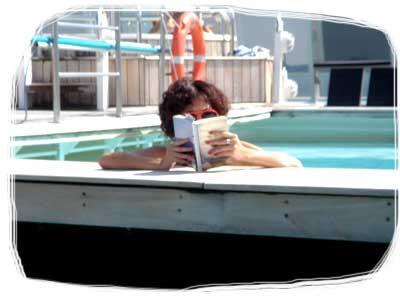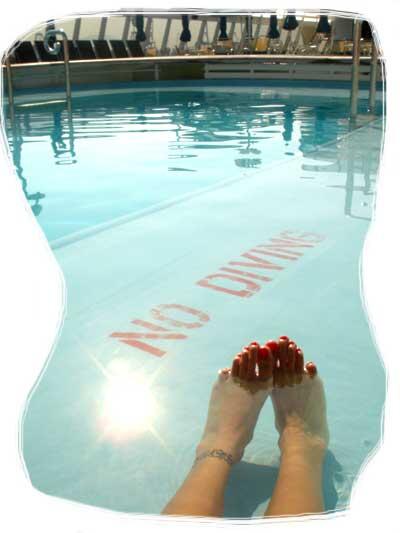 At times when the pool got crowded, we wandered about the other decks, taking in the scenery.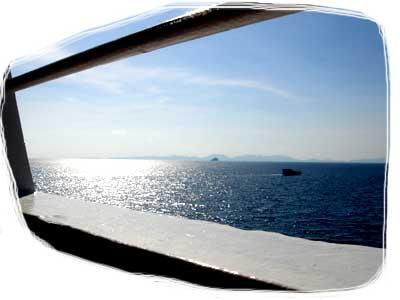 It was really spectacular.
Just watching the surface of the sea rush by, with the breeze ruffling my hair was really soothing.
At first, we were like, 'wow… this is sooo romantic..!'
Then ended up looking at each other in disdain.
"Oh my god, this is so romantic!"
"I know… imagine if you're here with your other half. If we had one. It'd be so nice," i sighed.
"Dammit!"
"Oh shut up. I'm stuck here with YOU too ok."
"And all the places you can shag around this boat!"
"Haha i bet the crew have stumbled upon many people doing it before!"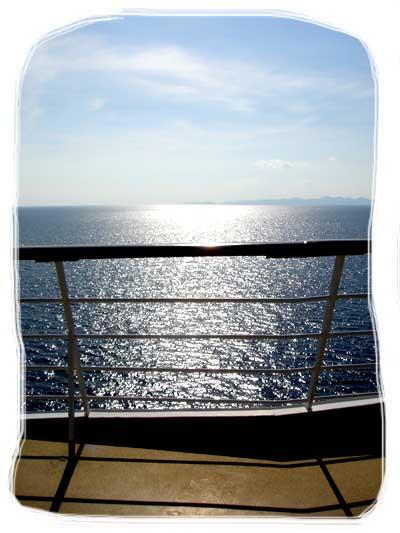 For long periods of time, we didn't talk, just basked in the sun and our own thoughts, while staring out at the changing patterns of the ocean.
It was a really nice time for reflection.
Maybe it was the book i was reading as well.
Made me think of a lot of things.
What i want in life.
What i'm looking for.
What i've got.
What i haven't.
Fate, chance, love.
Yeah, i emo-ed sendiri a lot on the boat :p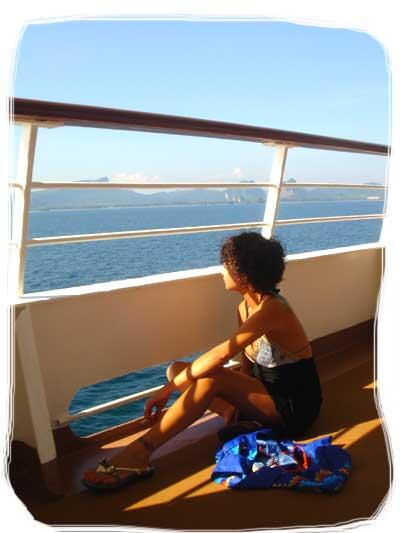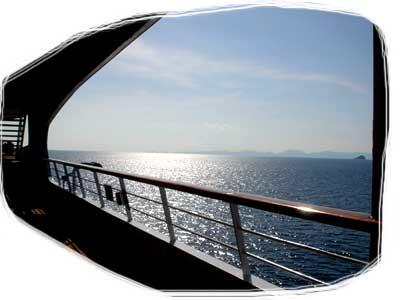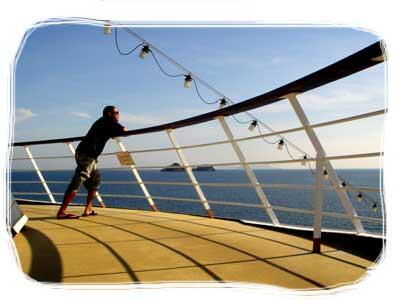 We had a few hours in Penang on Tuesday, so we took a smaller boat out to mainland.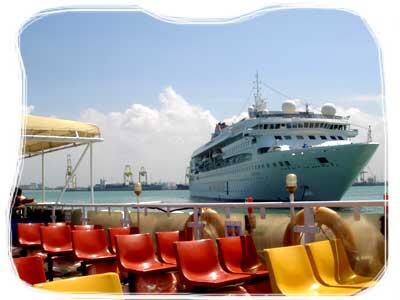 You can't possibly go to Penang and NOT eat hawker food right, so (due to despair and not knowing somewhere nearby we could go) i texted my cousin Johnson to ask for directions.
So happened he was free for lunch, so we met up and he took us for some SUPER AWESOME char koay teow with huge juicy prawns (sorry no pictures, RR and i were fighting over prawns and i forgot) and laksa.
Daymn. Writing about it now it making my stomach rumble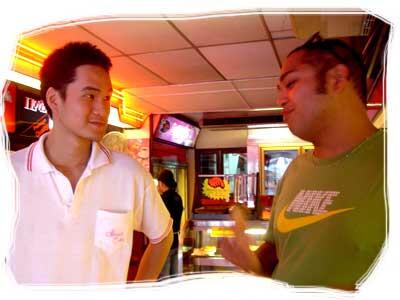 Johnson + RowdyRudy
Went to see my auntie in her bakery for a while, and she pushed gelato and cream puffs into our hands

Then had to search for an internet cafe to do some work and reply emails for a bit.
Back to the boat in the evening, the ship was having some gala night where we had to dress up a bit more for dinner before a show.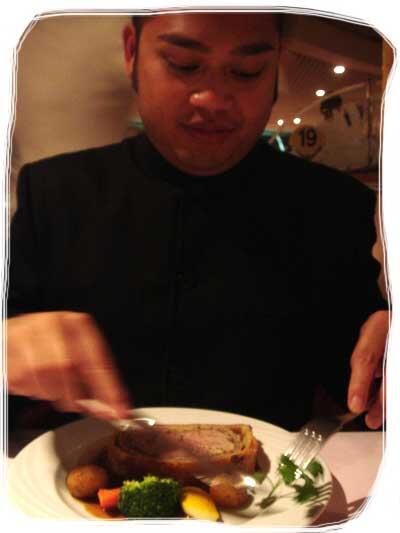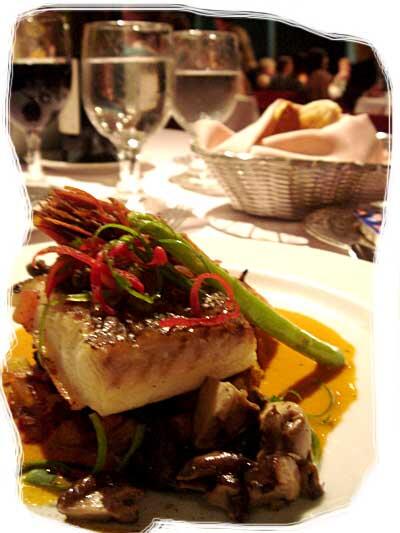 After dinner, we went to hang out in the fresh air with our bottle of wine before the show started.
Cool thing is, we could just carry our bottle of wine with us wherever and nobody bothered us.
If anything, the crew kept on wanting to help us carry stuff to which we'd go, "It's okay! We have hands! Don't worry!"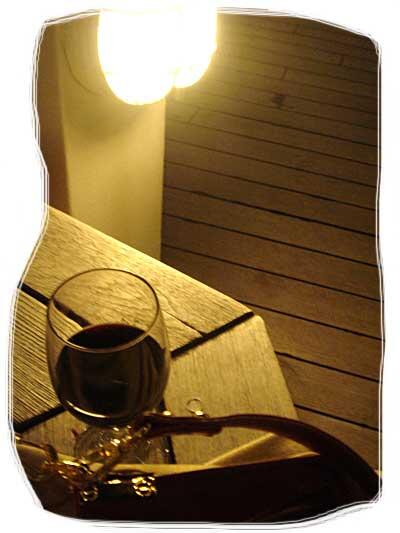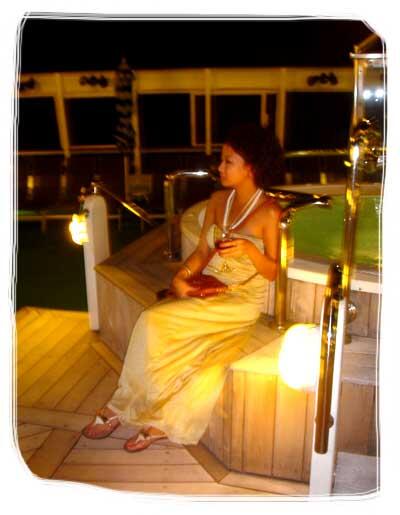 The wind is really strong on top deck. Can't open my eyes wei.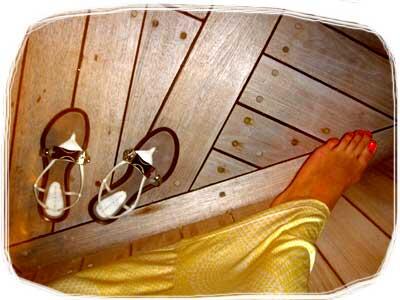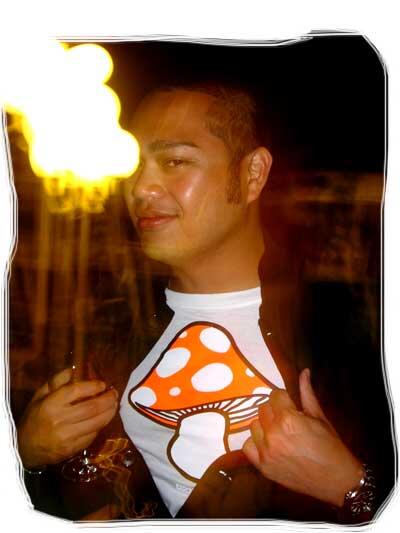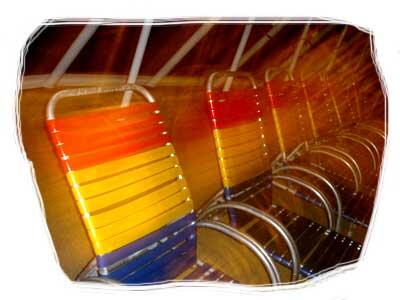 Ho ho… then we wandered right to the FRONT of the ship where it was SUPER STRONG WIND cos of the speed we were going at.
RR: This is how a kite feels like!
Me: I think my dress is gonna blow right off.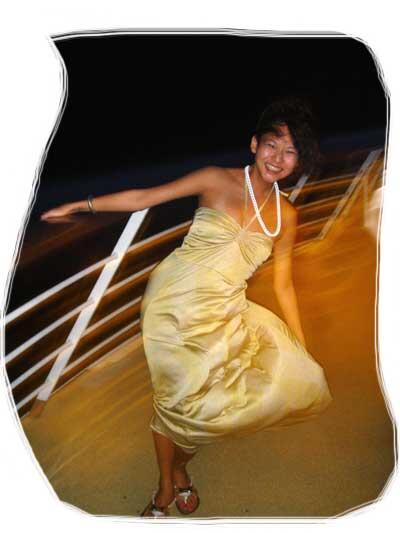 See how the wind is just blowing the flesh on our faces 0_o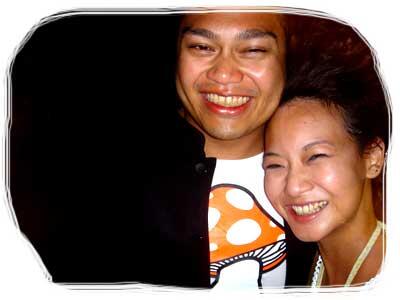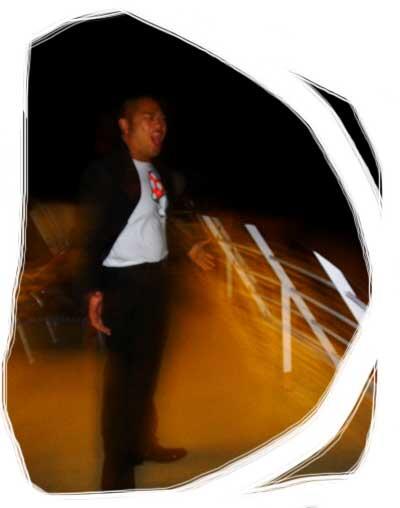 Okay more pics later, Krabi ones!