My state of mind now is a bit pooped cos of the gazillion pictures i just uploaded
0_o
Trust me to leave all the pictures to post at once… should have done it in smaller posts!
Anyway, months ago, Natasha from Compass Comm. contacted me to participate in Heineken's Green Room State of Mind.
Together with Lapsap and Bombshelter Studios, three parties in all were invited to produce a piece of art that was *their* green room state of mind in connection with music.
I wondered who to collaborate with and decided to go with designer Jimmy Lim because i remembered his designs were musically-influenced as well.
We had a couple of meetings, and decided i'd paint on pieces of his designs he'd redo.
Using three pieces from his SS08 collection (which were designed with PJ Harvey in mind), Jimmy deconstructed two identical shirts (one black, one white) to form a new piece altogether.
With this new b+w shirt and a pair of pants, i set to work painting on it.
I dug out all my brushes and paints
Came across some of my older works i did during my art courses in london
Got super inspired and excited to do it
Then saw that i needed to get more paint and new turpentine -_-
So i went out to that big art shop in Gardens (Art Friend! I love Art Friend!)
And after much procrastination, started on painting a few days to the first deadline
:p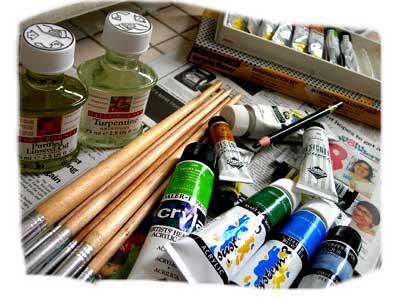 I used to paint so much more…
Just that other activities have stolen time and enthusiasm on my part
Nevertheless, painting again (after this project) has kick started my pleasure for it again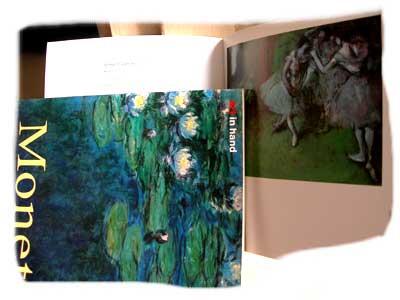 I know you can see the Monet book, but it was just propping the Degas one open.
I'm a much bigger fan of Degas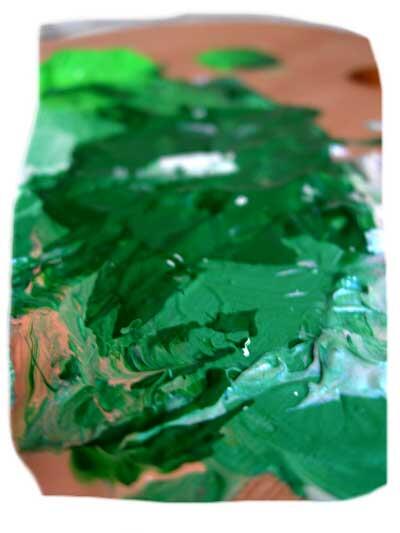 Besides using the paintbrush, i used a CD to scrape paint unto the shirt as well.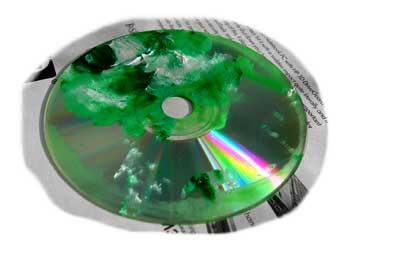 I listened to the SalahWrong playlist over and over again as i painted, dripped, scraped and dabbed.
Over and over and over again.
Cos that's how long it took me -_-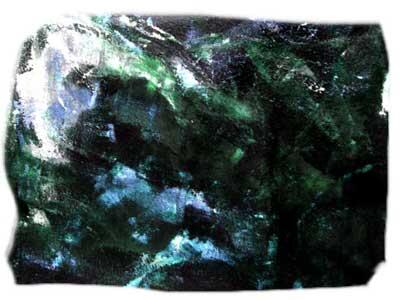 To be a bit more blatant of the musical influences *i* had behind the work, we thought of how i'd incorporate the song titles and artistes unto the clothes.
Sorry, but no way was i going to spend days sewing the letters on… i didn't have the time 0_-
So we punched it out to stick unto the pants, which we kept quite plain.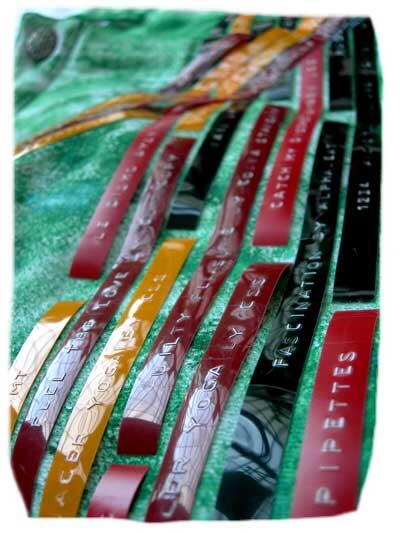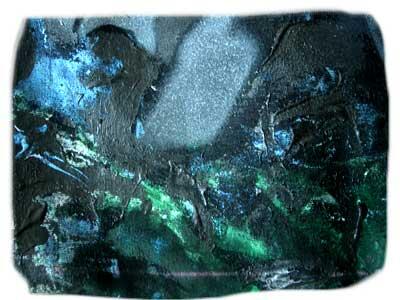 And then, it was questioned whether i would wear the shirt that i'd painted
Being bias, i said i would
Then i understood, ok, it has to something i'd actually seriously wear out because it was still a big shirt (which true enough… you don't exactly see me wearing big T-shirts out. Baggy clothes yes, giant T-shirts, rarely)
So we changed the design and altered it to a huge vest
(if you can tell, i'm totally summarizing what we did cos it took weeks -_-)
By doing so, we cut off most of the nicer painted parts much to my distress
So i took the pieces and sewed it unto a sleeve
At 4am
On a weeknight 
Damn mati rushing sial those weeks when i had other work to do at night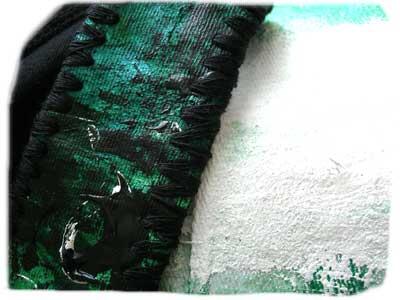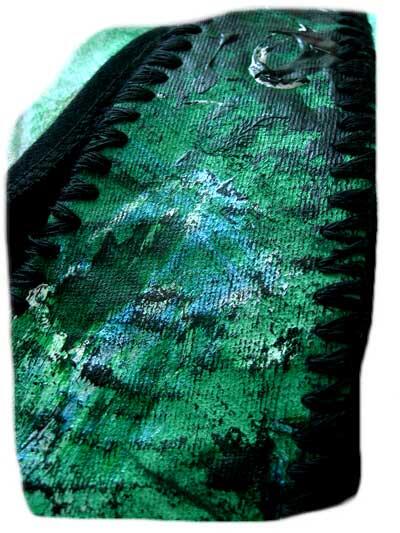 So that was all the work part
Now we go to the glamour and drinking part
We had a photoshoot weeks ago and Choen (who also shot me for the Timeout cover) photographed all of us. When i saw what Bombshelter Studios had done, i was blown away.
They needed a TRUCK to bring their art piece to the studios  0_o
I brought mine in… a paperbag -_-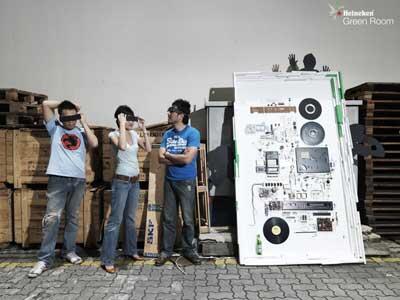 Bombshelter Studios and the machines they took apart.
What machines you ask?
A portable CD player
An old cassette walkman
A 1970s vintage turntable
Every component – nut, bolt, circuit board, whatever! – were stuck well on a huge frame.
Madness.
Quotes Design Director Eugene Low – "When you take something apart you're able to appreciate every single component and it gives you a new perspective on how much thought engineers have put in to giving you something so simple to use."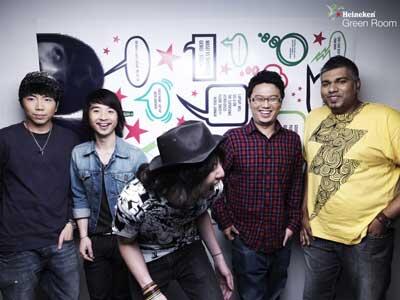 Opposite to Bombshelter Studios' 3-dimensional art piece, Lapsap designed a 2-dimensional art form based on the online world and social networks.
Inspired by Run DMC's King of the Rock cover, the giant canvas is printed in dot matrix form and features comments regarding the cult party they are – from blogs, Facebook and MySpace.
Because Bombshelter Studios and Lapsap took their shots outside and by the wall inside, Jimmy and i tried posing on the floor.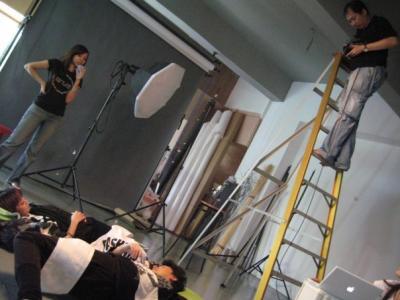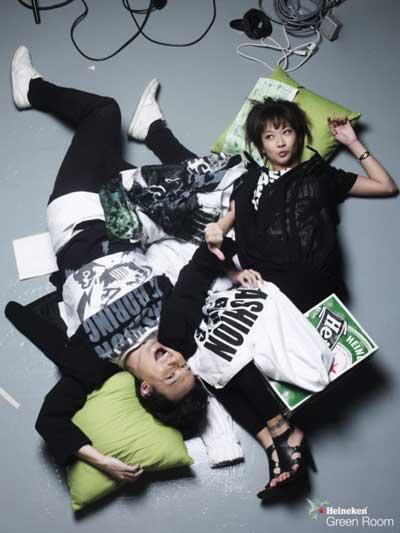 We also took some shots outdoors where Jimmy balanced precariously on some crates, but they're not being used for the press release.
A couple of weeks ago, an article came out about us in the Sunday Star: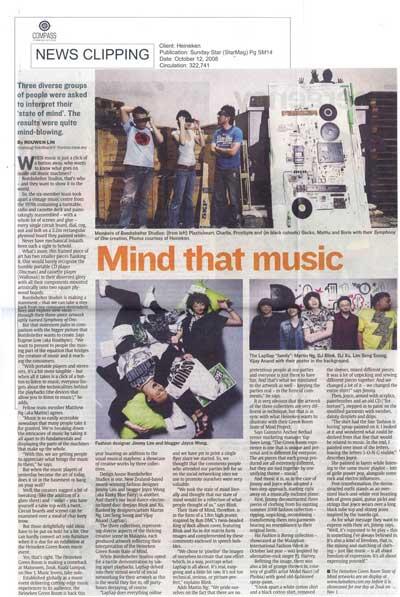 Article *here*
And then the Heineken Green Room event took place at Cloth & Clef on 9th October: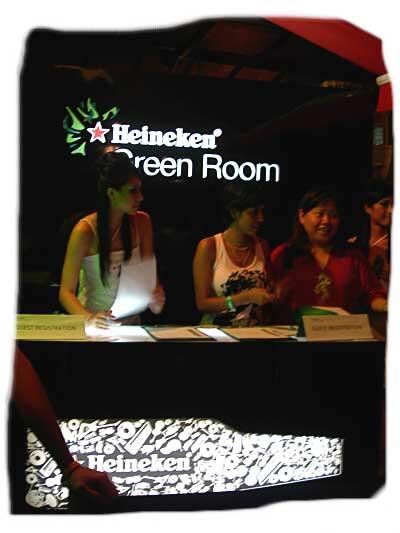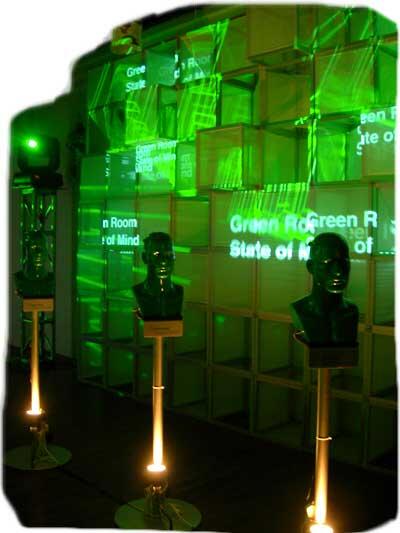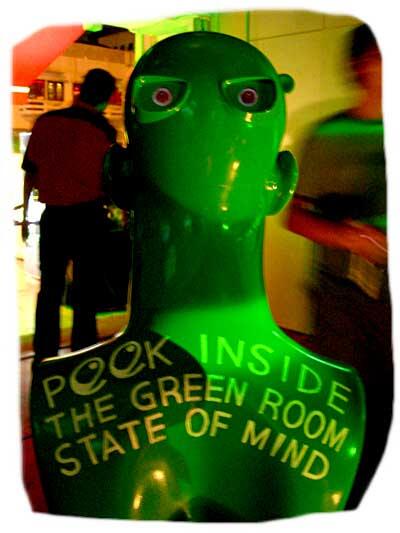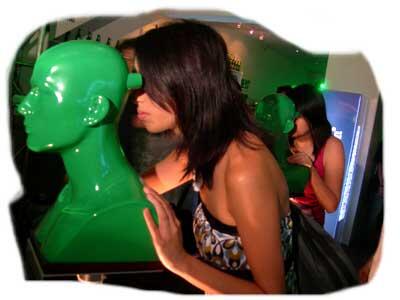 I took a picture of what they're looking at for you to see, heh.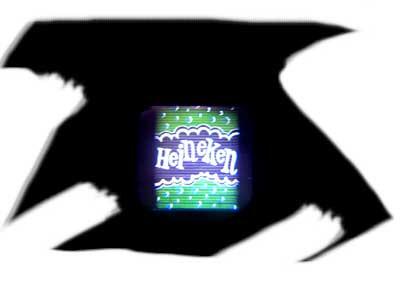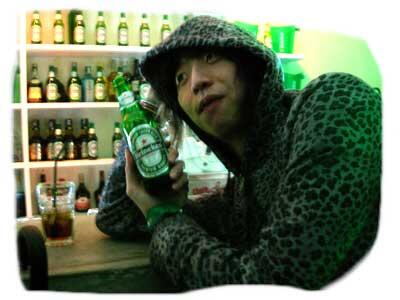 Ah Xu was standing where the aircon was getting at him.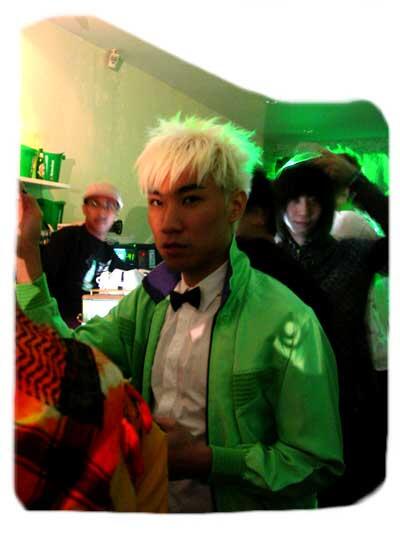 Ethan (see Ah Xu at the back :D)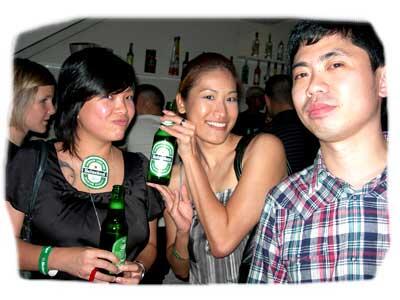 AprilPikachu, Lye Cwan, LimBunga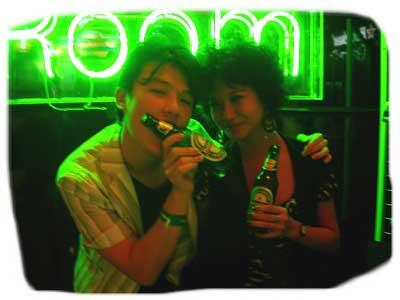 Jimmy + moi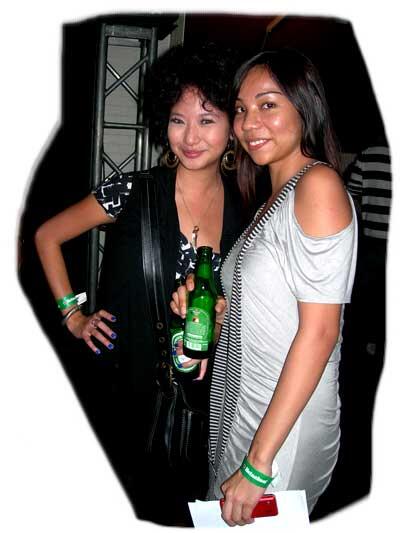 Natasha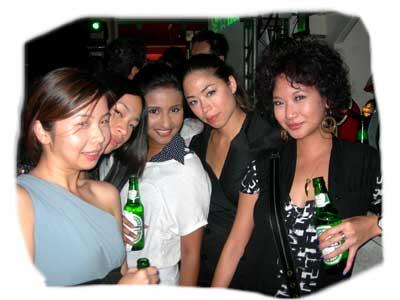 MaryBerry, AshleyTheMonkey, QueenKanch, SpankyCammy, me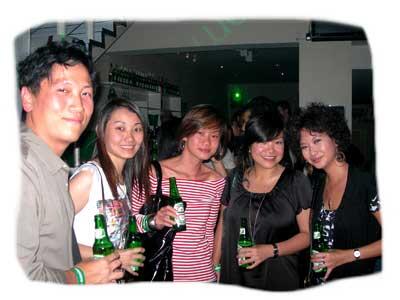 AdrianCEO, Iryne, Joleyn, AprilPikachu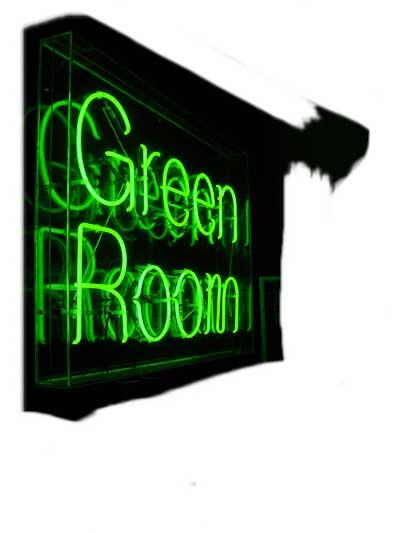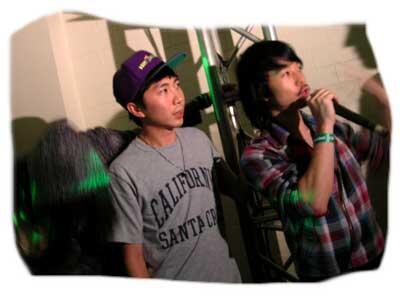 Blink explaining bout their concept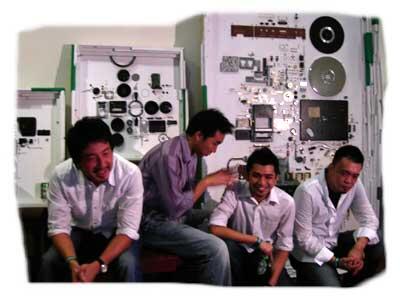 Bombshelter Studios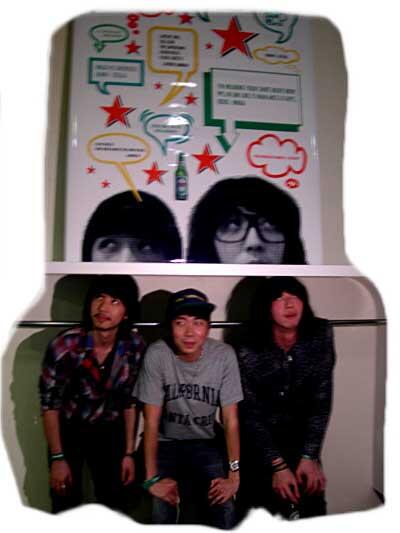 Lapsap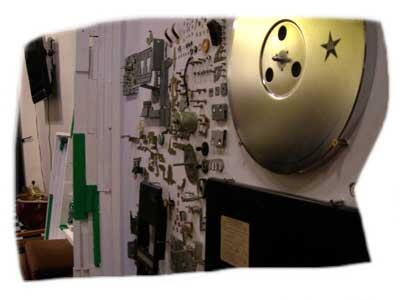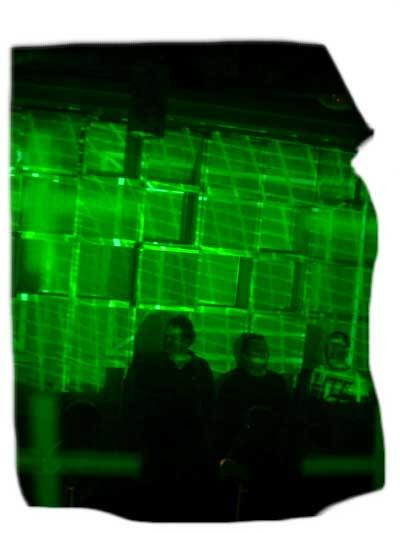 Heineken was giving out invites to the main event (which is this Saturday) in the form of super cool reflective sunglasses
On beer, everyone started camwhoring like crazy outside C&C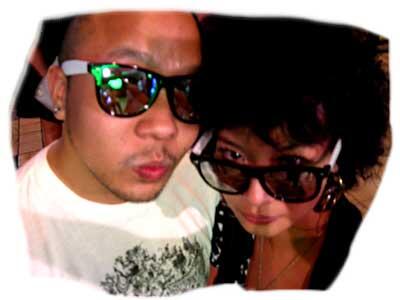 FaiTheMai + i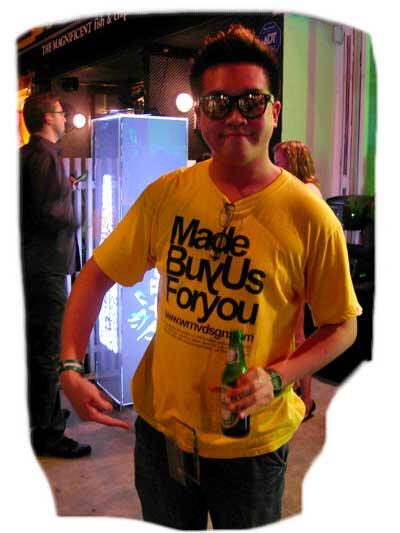 KinkyPugKevin Yeohhhhhhhh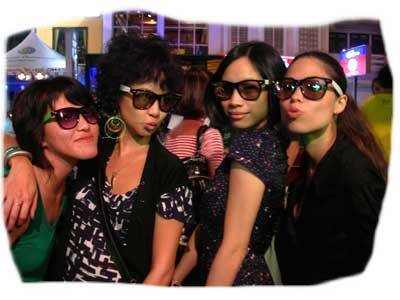 SarChan, me, AshleyTheMonkey, SpankyCammy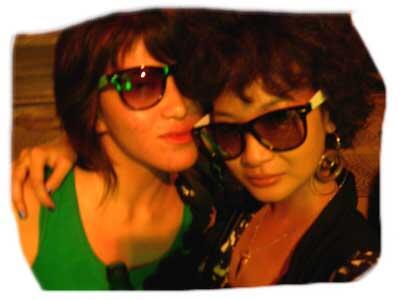 SalahWrong
This is just…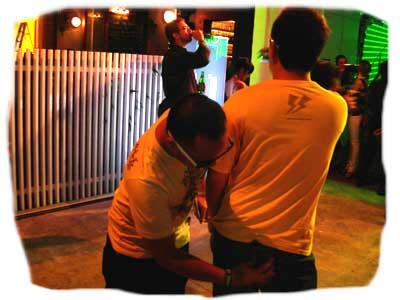 …Wrong
All designs will be exhibited this Saturday November 1st at Zouk for Heineken Green Room.
Performances by electro rockers Van She from Australia, Dexpistols from Tokyo, and Lapsap (i'll smack you if you ask me where from).
Time: 9pm – 2am
Where: Zouk Club (Mainroom)
Tickets are by invitation only, but they can be obtained by registering at heineken.com.my
So last Saturday I was in Zouk for Simian Mobile Disco,
And this Saturday it's going to be a whole lot more.
Bring on the Heineken i say!
This post is brought to you by: