Happy Chinese New Year to everyone!
Boy, i'm stuffed.
I amazed myself by putting away three plates of food during reunion dinner (i touched down just in time to chuck my bags home, shower and shoot off to aunt's house for dinner) despite ploughing through a 6-course meal the night before in Mozaic.
Below are a few pictures and vids of our bungy jumps in Bali.
The driver we hired took us to Route 66, which is just a bit further down the beach from Anantara and Kudeta.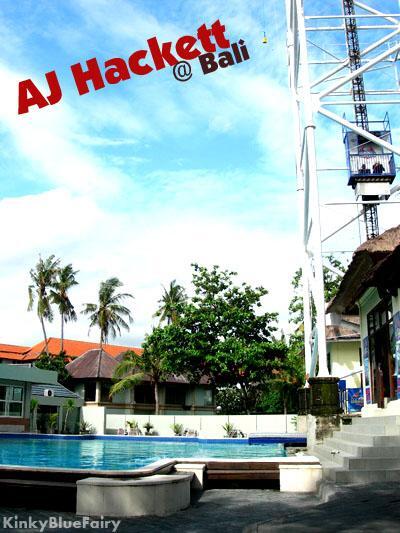 Me pointing up at…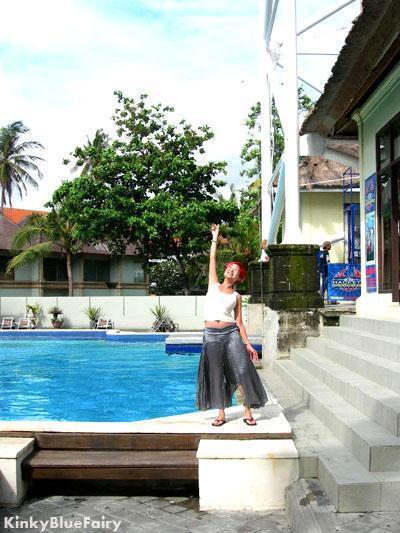 … phwoar.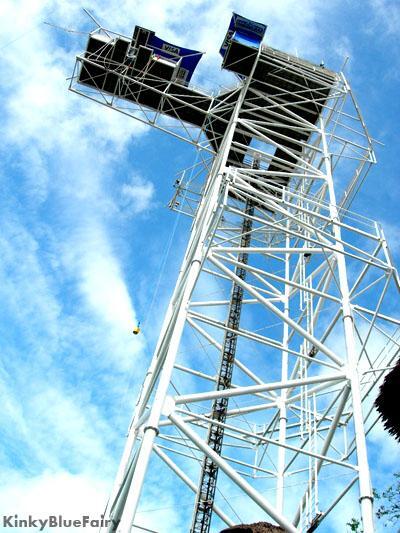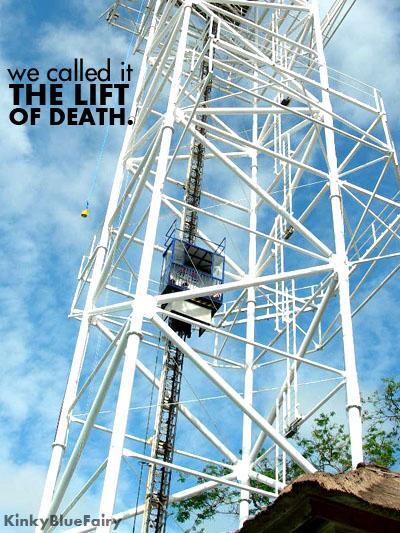 Admittedly, i've bungy-jumped before over Waikato River in NZ when i was… 14.
Even though it was ten years ago, i can still remember the terrifying feeling of the leap's first few seconds and yearned for it again!
RowdyRudy went first.
Then i went next.
You can hear me screaming, preparing myself for the jump in the video.
The guy was going, "Are you ready?!"
And i shouted back, "NO! But i'm going to do it ANYWAY!!!"
Good thing you can't hear all the curses coming out of my mouth before i jumped :p
Fucking. Awesome.
Even before i got let down, my brain was screaming LET'S DO IT AGAIN!!! so us two ran to the lift like excited kids for a second go.
This time round, i went first, doing a backward swan dive.
And RowdyRudy decided to do a running leap.
My digicam ran out of memory halfway recording -_-'
Went to yam cha with AshleyTheMonkey and QueenKanch just now and i was telling them how i got a ginormous shock when the bungy dudes weighed me and wrote it down on my hand in black marker.
48 kg.
48 kg?!
I was 43 when i left for Bali!
How the heck did i manage to eat so much till i gained 5 kg in 5 days!?
Then they told me that there was an additional 2kg for safety measures.
"Oh," i paused, "But still… suddenly 46kg 0_o"
QueenKanch: You put on and lose weight damn fast la.
Me: Hmm.
AshleyTheMonkey didn't say anything cos the woman eats everything she wants and doesn't gain grams.
Silence around the table as we all pondered on our weight for a few seconds.
Ashley spoke up, "Well if it makes you feel any better, Fai is 80 kg!"
Kanch, Ash + i: Hahaha!!
HaHAHA!!!
Related AJ Hackett posts: Digi Fu-Yoh Street Blast KL, Recharge Revelation Malacca.