When i came back from Vietnam, i noticed Aldo having some huge sale.
Omg. I'm not a sucker for Aldo shoes on full price, i rarely allow myself them, but on sale, it's all, "Hey! Damn value! All good to go!"
I've been having my eye on these mesh pair for ages, waiting for them to go on sale.
And when i noticed they did, the white ones sold out already. Dammit.
So i bought the black ones cos they're still bloody nice at any rate.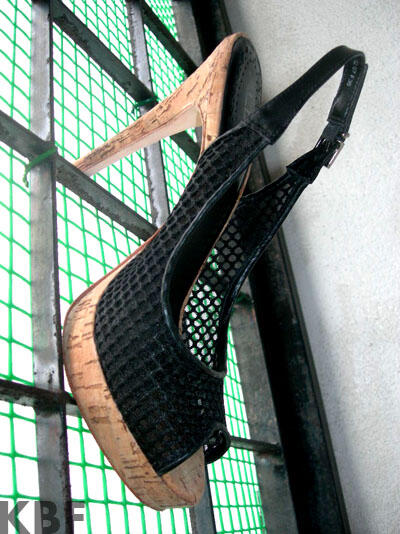 Down to only RM210
As i trotted to Somo in them with my brother, NickIsTaller, i chatted rubbish as how you can do to someone who has no choice but to love you.
"Look. LOOK!" i put a foot up, "My new shoes!"
"… oh nice. Black."
"Black?!"
"Yeah… nice wut. Black."
They're not just black!
They've got 1-inch on the front sole!
Peep-toe slingbacks!
It's mesh!
And delicate flattering mesh it is too.
With 4-inch wooden soles.
Nice and black?
"Can die wei you describe it like that -_-"
I think you guys need to compliment shoes in a more detailed manner.