Joyce: The world is undoubtedly overpopulated, and climate change is a magnanimous issue many political bodies tiptoe gingerly around. As it is, the most we should do is ensure we reduce our personal carbon foot prints as best we can. Take responsibility for our taking up space on this earth! I've been recycling everything in my home for 7 years now. It doesn't take much effort to divide trash (paper, tin, plastic, glass, batteries) to drop off at the recycling centre, and it still blows me away how much recyclables I can amass for a 1-2 person home. Sustainable everything is gonna be a way for the future.. or else there will be none #truth
+ + + + +

We are killing Mother Earth with our bad habits and lazy decisions. How many of us have actually done our part in helping preserve the very thing we so valiantly talk about protecting? There will no doubt be excuses: "Even if I devote my life to recycling, I'm still just one person, how much change can I affect?", or "I wouldn't know where to start".
Okay, prepare to be mind blown. It's easier than you think. Not every good deed you do for the environment requires you to spend endless hours running around and preaching the rights of Mother Earth. Most of the time volunteers are tasked with work not requiring more than a couple of hours, and these hours are usually during the weekend.
You can even contribute just by donating to help fund some of the organizations that work hard to save the environment. You don't even need to leave the comfort of your desk (or in my case, sofa) to help make sure the next few generations still have flowers on the sidewalks to smell.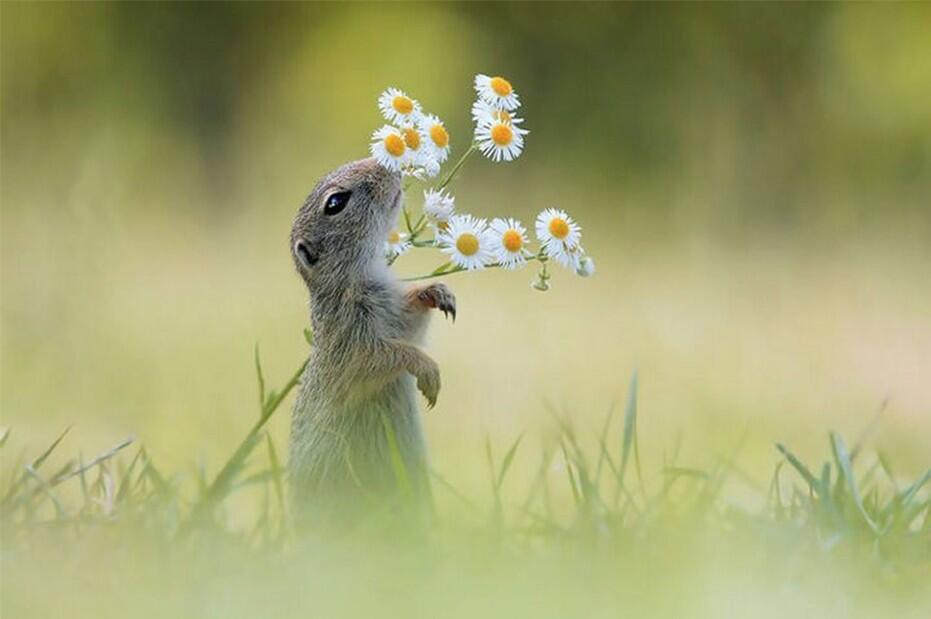 I took some time out of my day to look for organizations that aid Mother Earth who are looking for volunteers and donations. There are organizations everywhere, and it is easier to help them than driving to 7-Eleven to buy a chocolate bar (if you donate, that is, volunteering takes a bit more energy and time, but it is oh so mentally and emotionally rewarding).
Below is a shortlist of organizations we personally find in having the most potential to help preserve the environment, along with a summary on what these organizations are about and how you can help them.
+ + + + +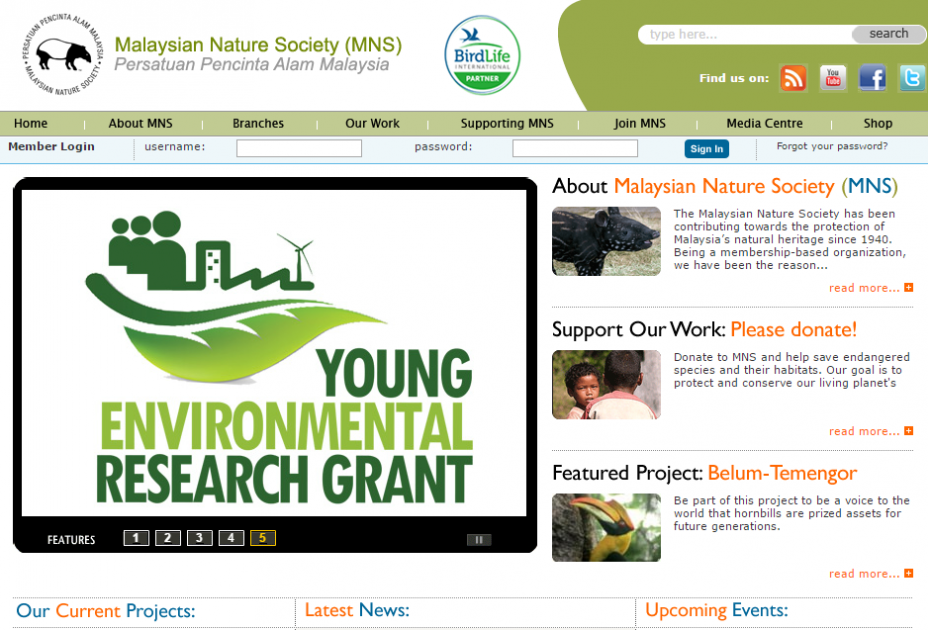 The Malaysian Nature Society, which has its roots dating back to as far as 1940, has pioneered conservation and environmental education for over seven decades now. Driven by active and influential society members from all walks of life and professions, while being completely non-profit in nature; the organization is involved in everything from researching and identifying key points of environmental conservation, to managing parks and centers across Malaysia.
The Malaysian Nature Society has collaborated with the Ministry of Education, as well as a private organisation that provided seed funding, to establish the School Nature Club project- also known as KPA (Kelab Pencinta Alam), which is now available at over 318 government schools nationwide.
MNS makes it relatively easy for you to contribute to their cause. You can donate to their Nature Conservation and Education fund, or to a particular project they are currently running. Besides that, they are also open to corporate partnerships and support. As with most NGOs, they are also always looking for volunteers to help them out, or even interns who want to learn what it actually means to be part of an NGO. If you would like to be a member of the Malaysian Nature Society, you can sign up here.
The Malaysian Nature Society
JKR 641 Jalan Kelantan
Bukit Persekutuan
50480 Kuala Lumpur
Tel: 03-2287 9422
Email: mns@mns.org.my
+ + + + +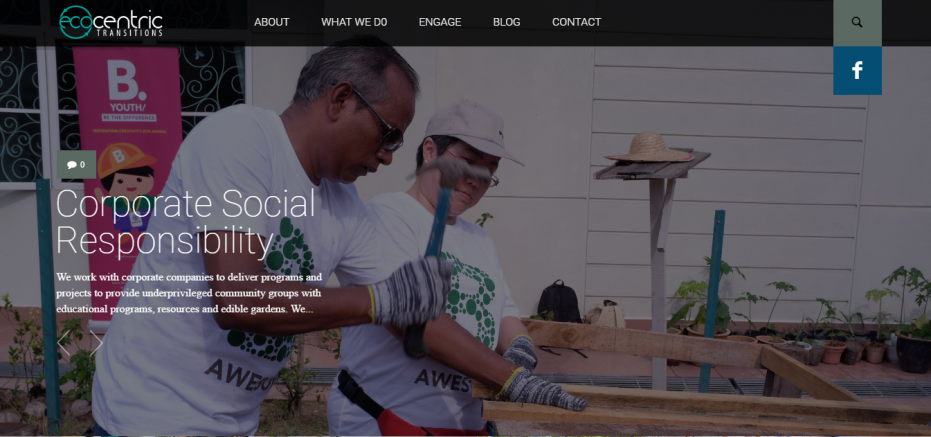 Ecocentric Transitions is all about teaching individuals and organisations to transition (pun intended) effectively to a more eco-friendly and sustainable way of living. Led by founders Nisha Firdaus and Ly Mun, who when combined, have over 10 years of experience designing, implementing, and coaching others about how to run sustainable-living based projects.
Among the things Ecocentric Transitions preaches is urban sustainability. They help communities, primarily in urban areas (where the use of natural resources is high, and waste is even higher) to implement systems and approaches that will help them become more self-sustaining. This includes being able to grow some of their own food, reduce energy usage as well as implement better waste management procedures.
Ecocentric Transitions encourages participation and collaborations with corporate bodies and organisations which have similar goals, as well as those who wish to do their part to create a more sustainable environment for the benefit of the community. They have a team of dedicated volunteers but are always looking for more to join the cause, who will be tasked depending on their personal qualifications, with facilitating workshops, photography, writing and garden work. They also welcome applications for internships.
Ecocentric Solutions
5 Jalan Datuk Sulaiman 5,
Taman Tun Dr Ismail,
Kuala Lumpur, Malaysia
Tel: +6019 368 9890
+ + + + +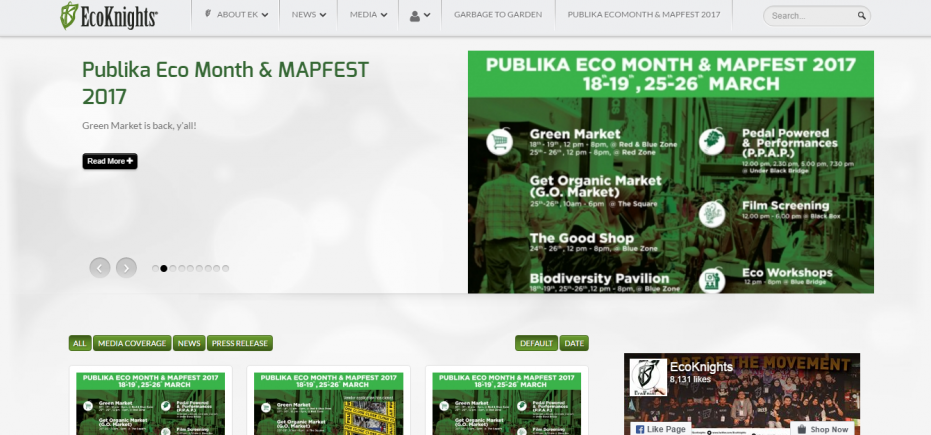 Founded in 2005 by Yasmin Rasyid and Mariam Osman, EcoKnights has grown from a small initiative by two friends into an organisation with full-time officers, a board of advisers and a team of volunteers and interns. EcoKnights regularly works with several government agencies as well as other NGOs and corporate agencies who have a similar mission in mind.
Focusing mainly on development-led interventions such as awareness and educational programs to help promote a eco-friendly and sustainable lifestyle, EcoKnights carry out public participation campaigns and programs with the same motives in mind, as well as act as consultants and advisers for other organisations that wish to conduct programs in line with their goals.
Organisations who share common goals are welcome to contact them for collaborations at any time. Applications to internship or volunteer are open to all.
EcoKnights
41, Lorong. Burhanuddin Helmi 11
Taman Tun Dr. Ismail
60000 Kuala Lumpur, Malaysia.
Tel: (03) 7731 8361
Email: info@ecoknights.org.my
+ + + + +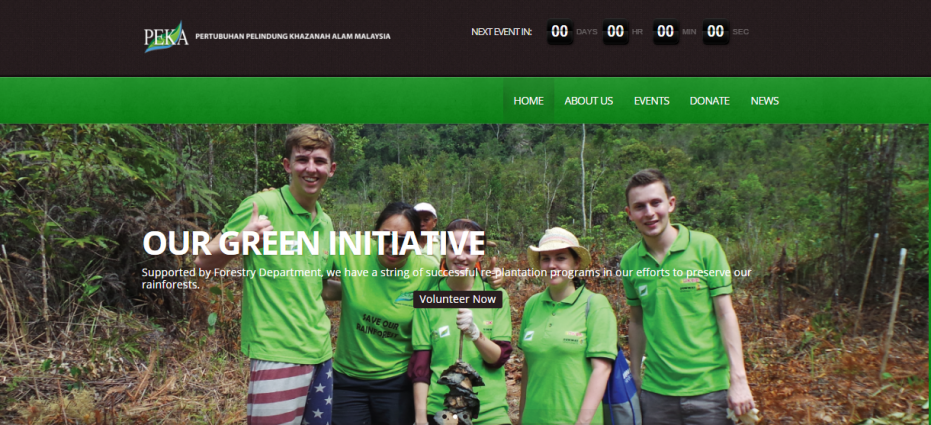 Peka, is a Malay word that means 'sensitive'. And it is with sensitivity towards the continuous destruction of Malaysia's beautiful rainforests, that founded PEKA Malaysia (also known as Pertubuhan Pelindung Khazanah Alam Malaysia).
PEKA Malaysia's activities deal mainly with creating awareness of the importance of safeguarding Malaysia's rainforest, which is the oldest in the world (not joking, google it ;D ). With events like the 'Annual Save Our Rainforest' race (It's on the 25th of March, sign up here), PEKA Malaysia aims to impact the general public and encourage them to do their part to save our rainforests.
PEKA Malaysia is always open to contributions of any kind, whether it be financial sponsorship or manpower. They are also constantly looking for more volunteers to join the cause and help save the Malaysian rainforests.
PEKA MALAYSIA
Tel: +603-55133803
Mobile: +6017-6838473 (Hasbe)
Fax: +603-55111669
Email: hello@pekamalaysia.org
+ + + + +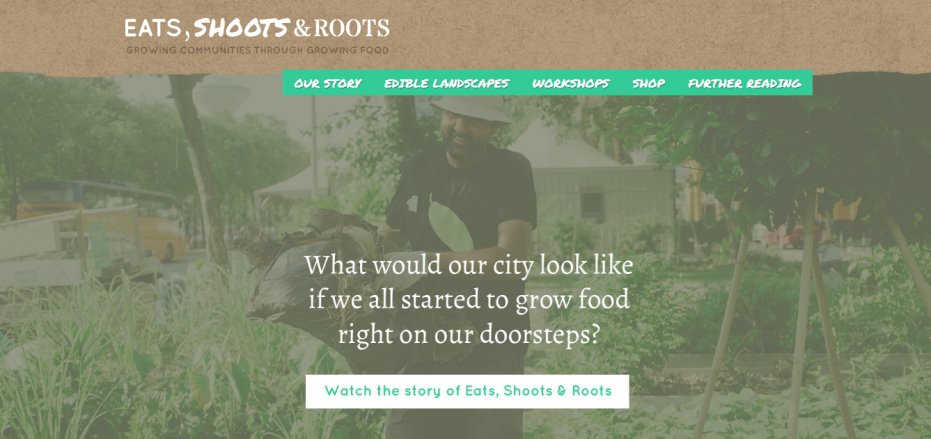 Eats, Shoots & Roots is a social enterprise which aims to empower urban individuals and communities with the necessary tools and knowledge to grow their own food, building a sense of independence and resilience. This also helps keep the environment green, effectively slowing down global warming and reducing the demand for the commercial vegetable and fruit growth that uses pesticides and hormones, which harm both our health, and the environment.
Supported by a dedicated team of educators, landscapers, gardeners and designers; Eats, Shoots & Roots provides courses to educate the public, as well as hands-on consultation for interested parties wanting to join the movement.
Eats, Roots and Shoots are open to collaborations, corporate partnerships, and volunteers who want to learn a few things while doing their part.
E-mail: hello@eatshootsandroots.org
+ + + + +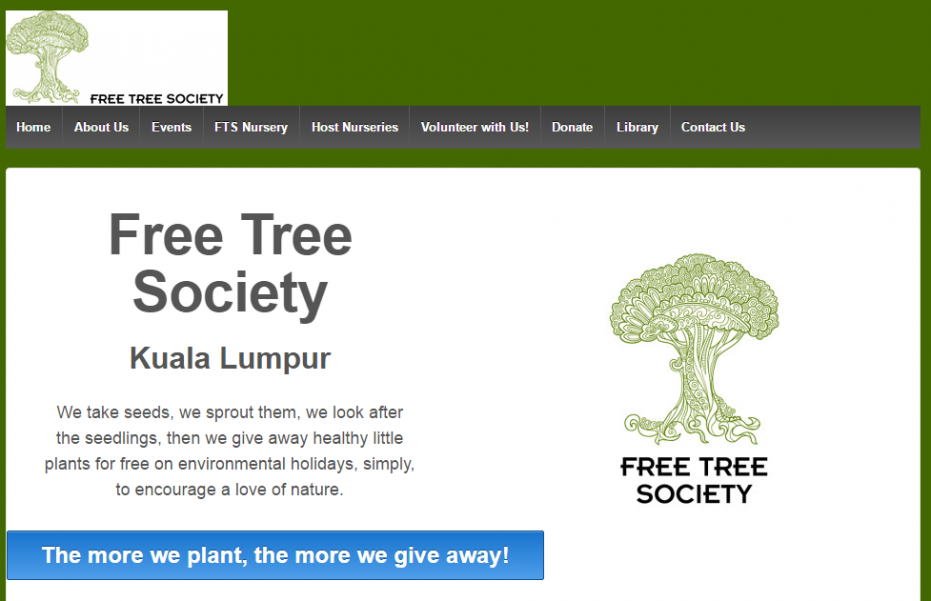 Started by a group of like-minded women in 2012, the Free Tree Society has only one task in mind- encouraging and spreading their love for nature, one tree at a time. With help from a dedicated team of volunteers (apply here), the group help collect seeds, plant, and distribute young plants.
The Free Tree Society is completely non-profit and requires help in the form of donations from sincere, generous individuals and organizations. For those wishing to be a part of this simple, yet extremely moving initiative >
Free Tree Society Kuala Lumpur Tree Nursery
Jalan Limau Purut
Bangsar, 59100 Kuala Lumpur
– Open Tuesday and Saturday mornings only.

Free Tree Society Kuala Lumpur
142 Jalan Maarof, Bangsar,
59100 Kuala Lumpur
– MAILING ADDRESS ONLY
Email: freetreesociety@gmail.com
+ + + + +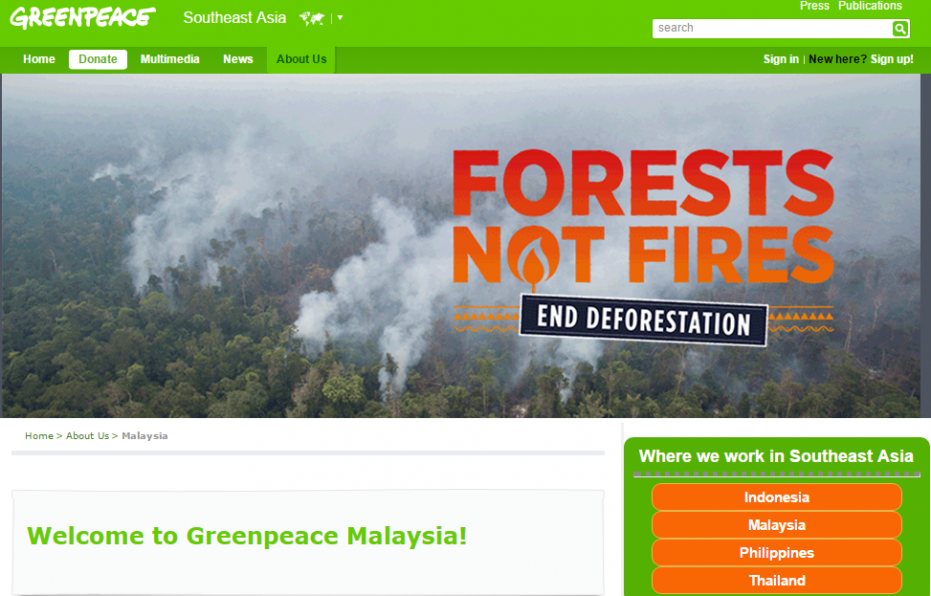 Greenpeace is a non-government organisation that operates in over 4o countries spread out all over the world including North America, South America and South East Asia. With its history going back to the 1970s, Greenpeace takes on issues like deforestation and pollution. Their belief is that aside from destroying the homes of the animal inhabitants, environmental issues will damage our planet so much in the long run that it may become uninhabitable for people. [Joyce: Erm actually, studies by scientists have already confirmed that it will. We have 100-200 years. Max.]
With campaigns and events, big and small running all year long, Greenpeace works to reduce (and eventually cease) activities like deforestation, promote a cleaner way of living, effectively reducing pollution, and in the process, decrease climate change.
Greenpeace is entirely run on a non-profit system, and so, they are always in need of financial aid from generous individuals who want to help them continue fighting for their cause.
Greenpeace Malaysia 
To volunteer, send an e-mail to region-development.sea@Greenpeace.org
For other enquiries >
Email: support.my@greenpeace.org
Tel: 03 272-58029.
Website: www.greenpeace.org/seasia/about-us/Malaysia
+ + + + +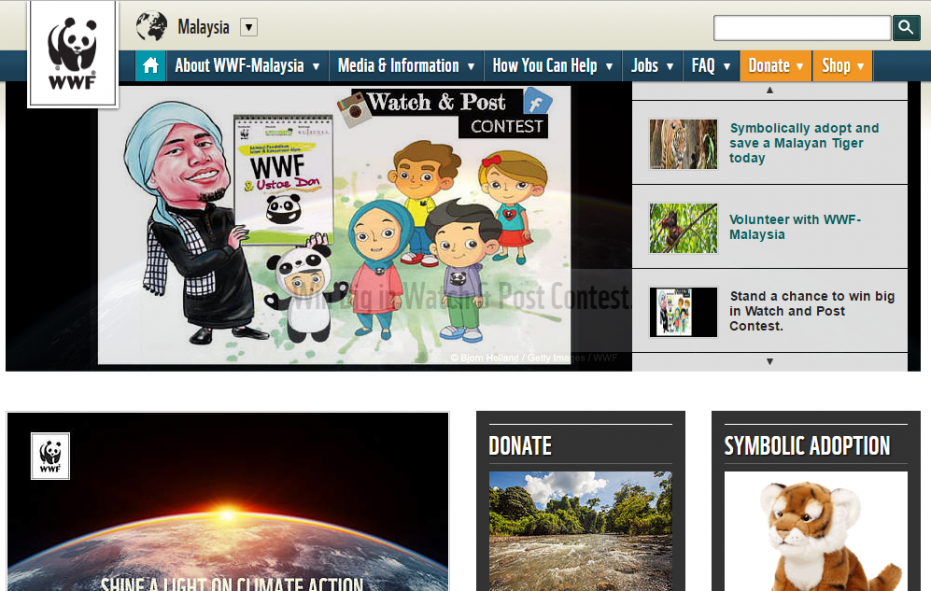 Now here is an organisation that most of you have probably heard of. The WWF (World Wildlife Fund) is an international NGO with a prominent presence all over the world, and Malaysia. Since it's formation in 1961, WWF has preached environmental sustainability and wilderness preservation. WWF makes its presence known with campaigns and events to further their goal of educating communities on the importance of maintaining the natural environment, as well as its inhabitants.
WWF welcomes donations of any amount, sometimes in the form of symbolic adoptions of endangered animals. Volunteers are also welcome to help them spread the word, or help facilitate campaigns.
WWF Malaysia
1 Jalan PJS 5/28A
Petaling Jaya Commercial Centre (PJCC)
46150 Petaling Jaya
Selangor, Malaysia.
Tel: +603 7450 3773
Email: contactus@wwf.org.my
+ + + + +
So, we have come to end of the list. I hope this has encouraged some of you to do your part, regardless of whether its by donating or volunteering to these organisations, or in other ways. There is nothing like being a part of something greater than ourselves.
+ + + + +
Image Sources: