I have fond memories of E&O Residences cos Jun and i had a staycation there in our first months of dating. Ah honeymoon period…  😆 Under the same group of brands by lifestyle property developer Eastern & Oriental- is EOS Wellness, a component to embed wellness philosophies and technologies into its key property development projects.
Located smack in the middle of KL's busiest neighbourhoods lies an unassuming oasis of serenity, greenery and space. I felt a little less high-strung upon parking my car and walking up with my dad (we were having a daddy-daughter massage date! But not in the same room. That would be a little weird.)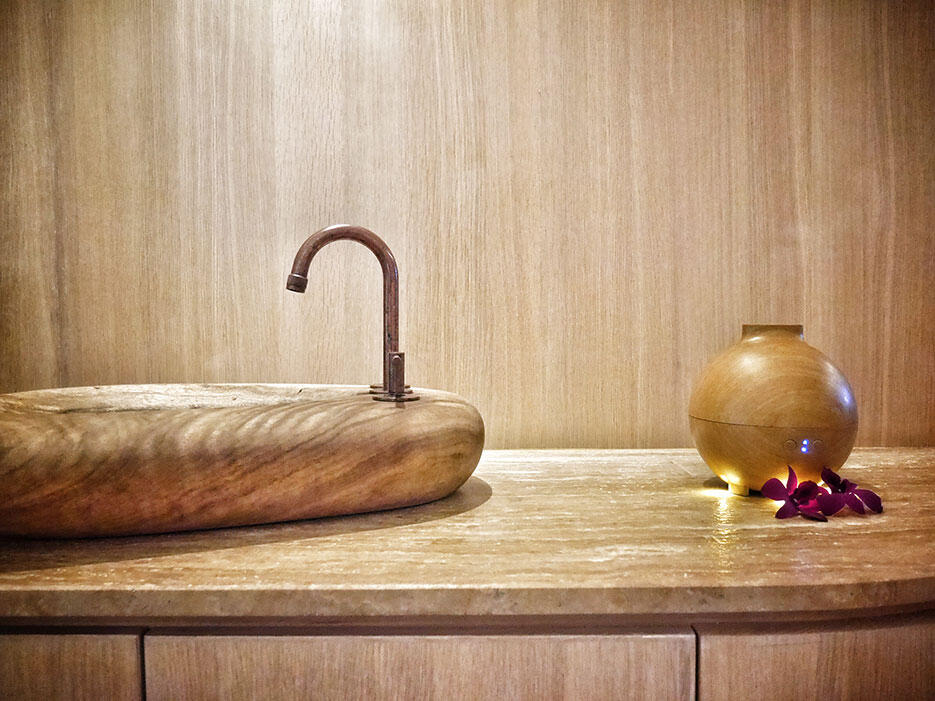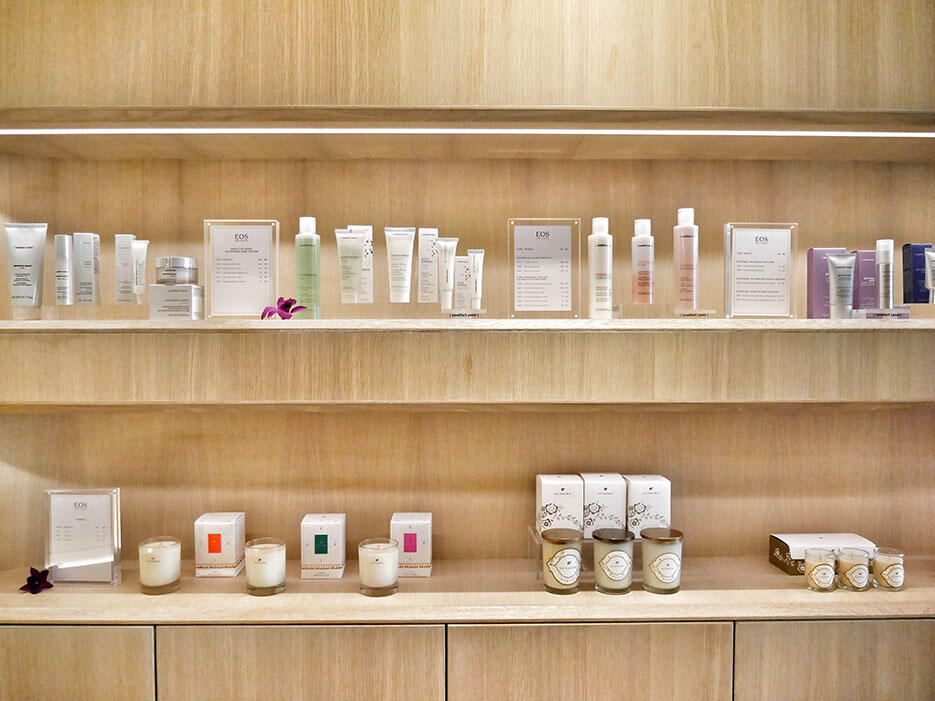 The spa partners with three product brands that are holistic and non-invasive.
Spanish brand Mesoestetic is one of the most techologically-advanced medical skincare companies in the world, and EOS is the first in Malaysia to offer treatments using their products. Also for purchase are Italian brand Comfort Zone (recipient of several international awards including Marie Claire, France in 2013 and Asia Spa Awards 2015) and Ayurvedic-based skincare brand Sundari.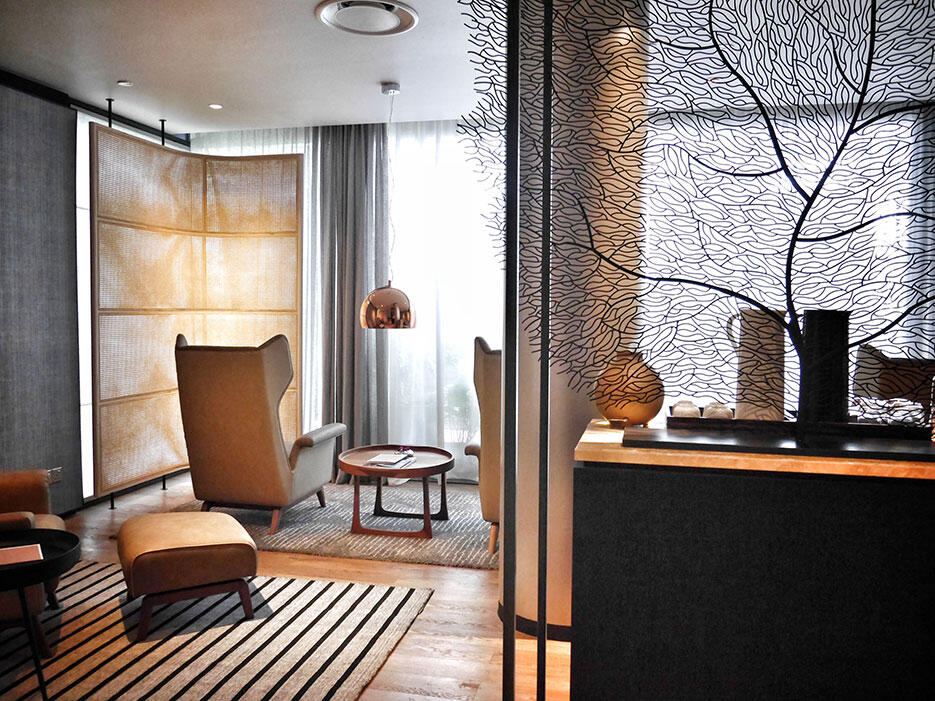 The lounge / relaxation room with outdoor patio access just beyond it.
Being in the room gave me such pleasure, i'm a fan of thoughtful furnishings and interior.
EOS Wellness is a space of contemporary design that spans 7,400 sq. ft. dedicated to its pillars of wellness: "We believe in Prolonging Quality Active Years by living well, simplyand honestly. Our wellness philosophy rests on four pillars – keeping our bodies vital, minds alert, diets healthy and homes ideal for wellbeing."
Bodies vital.
Minds alert.
Diets healthy.
Homes ideal.
That resonates with me and my desire to achieve those things fully.
(Harder than it reads!)
Besides 6 spa treatment suites that each comes with a fully-equipped private changing room and shower; EOS Wellness also has a full-spectrum infrared sauna and two studios designed at an elevated space overlooking a saltwater pool.
"The 'Flow' studio is used by guests to relax, unwind and improve psychological wellbeing, and can be used for personal training and meditation, as well as bespoke wellness sessions.
The 'Fit' studio can accommodate group exercise classes such as yoga and Zumba, and showcases the highly-configurable Queenax workout system to allow for versatile strength and cardio training, as well as freestyle and suspension training. The Fit studio also includes the latest in fitness offerings, such as Anti-Gravity Yoga and UFO Training."
But we weren't there to exercise that day. We were there to be pampered!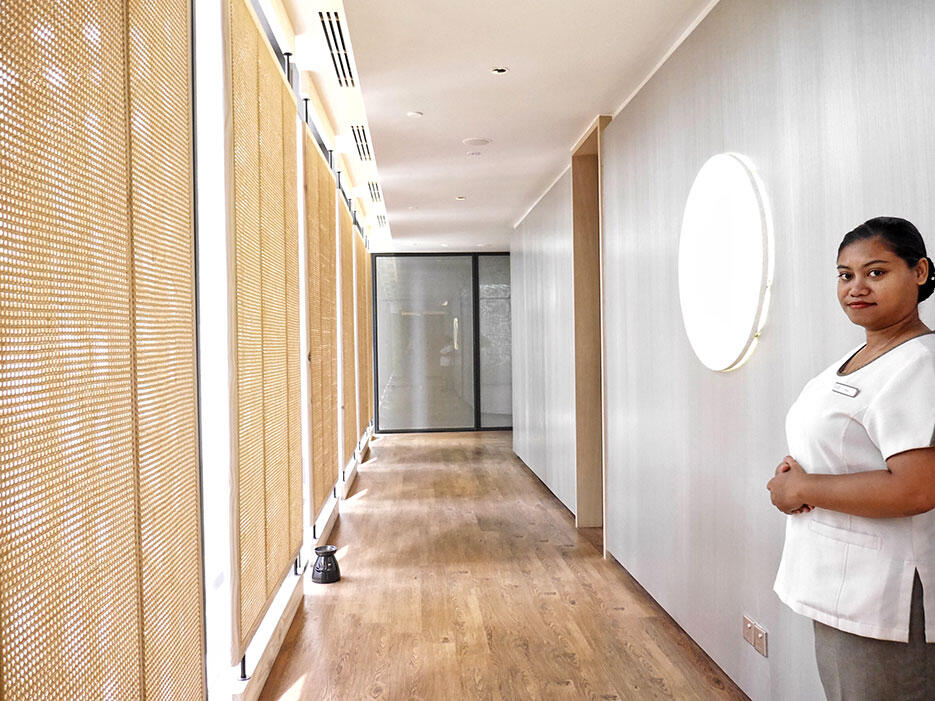 Roz, my therapist for the afternoon
The holistic spa features 4x single 'Curo' treatment rooms, and 2x couples 'Duo' rooms with the latest in wellness equipment, including a Gharieni 360-degree floating bed that replicates a Watsu experience on water, as the tabletop glides back and forth during the treatment.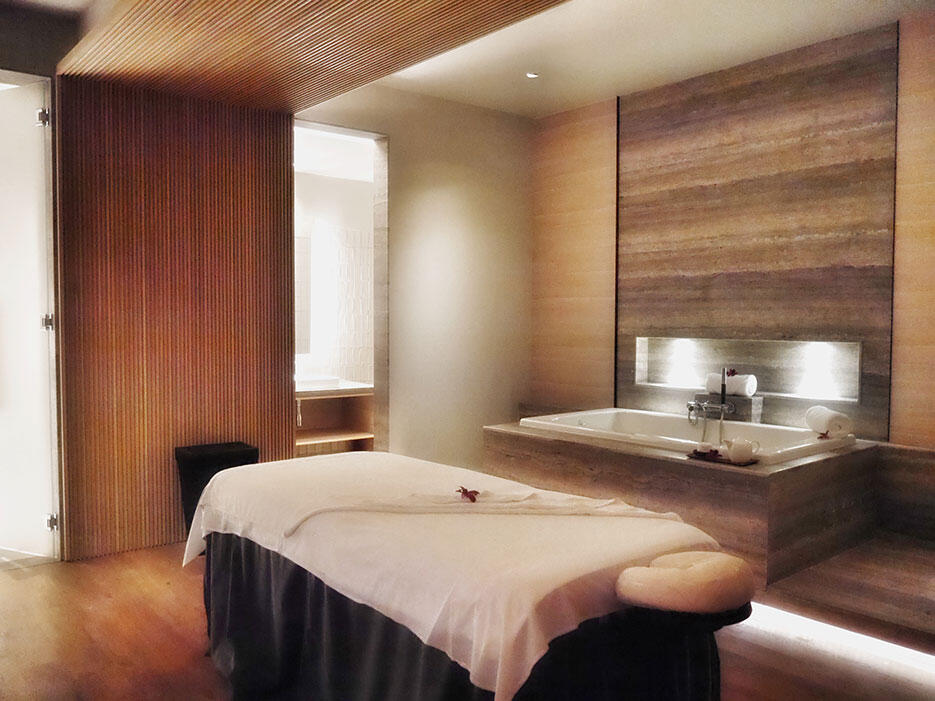 I got the signature suite featuring the Jason MicroSilk Hydrotherapy bathtub and steam shower.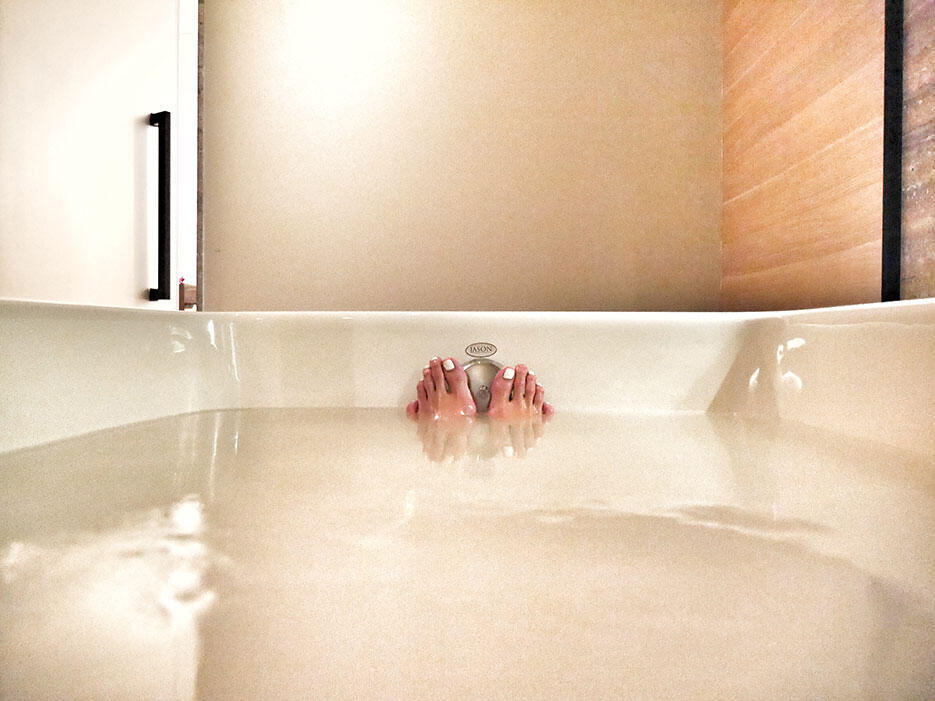 After a foot ritual, I was left alone to soak for 20 minutes in a de-stressing floral tea bath and was pre-empted to "bring a book or simply use this time to reflect and unwind before your massage." I opted for the latter and found myself awfully fidgety for someone who's supposed to 'de-stress'. It's like my body forgot how to just sit still cos i'm always moving about / doing something!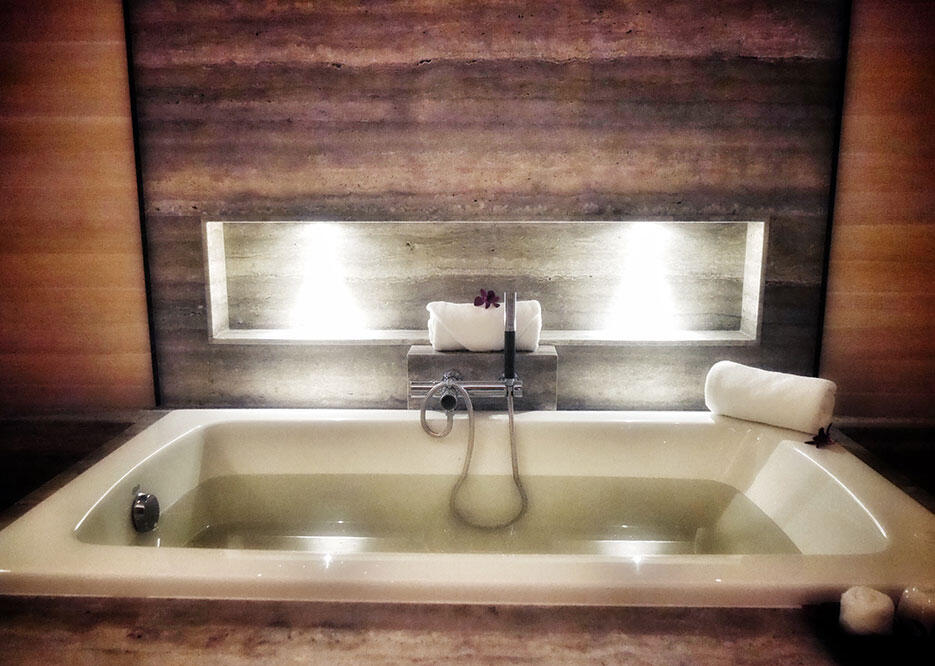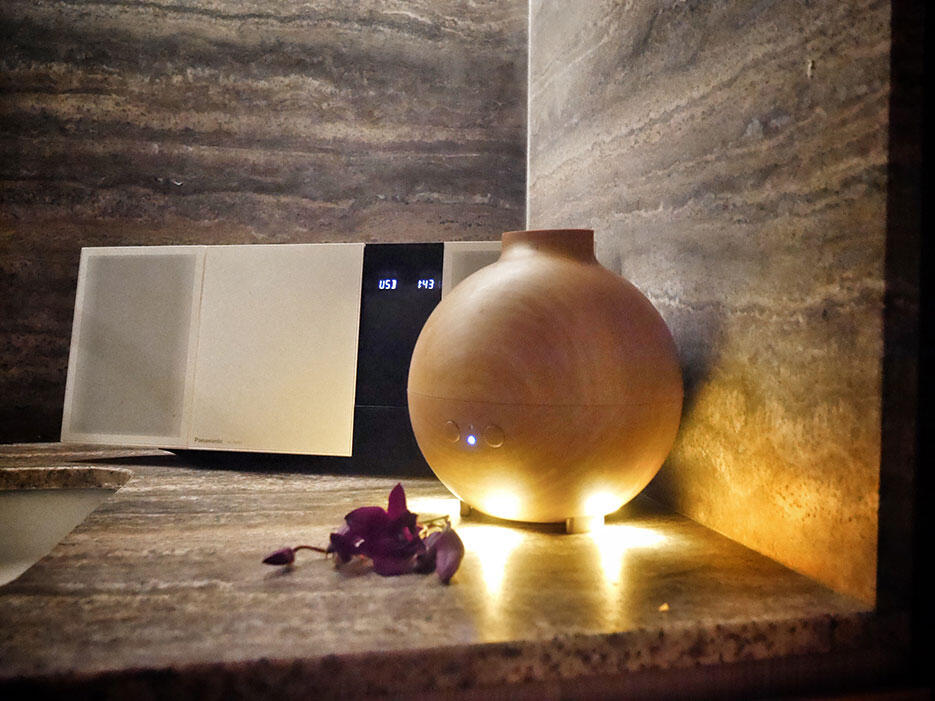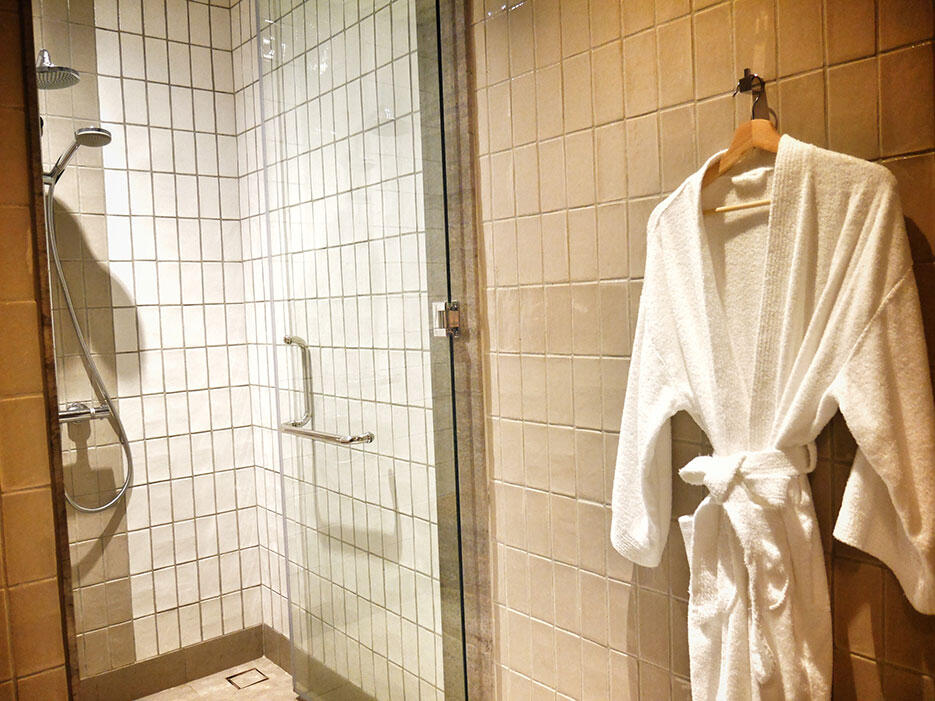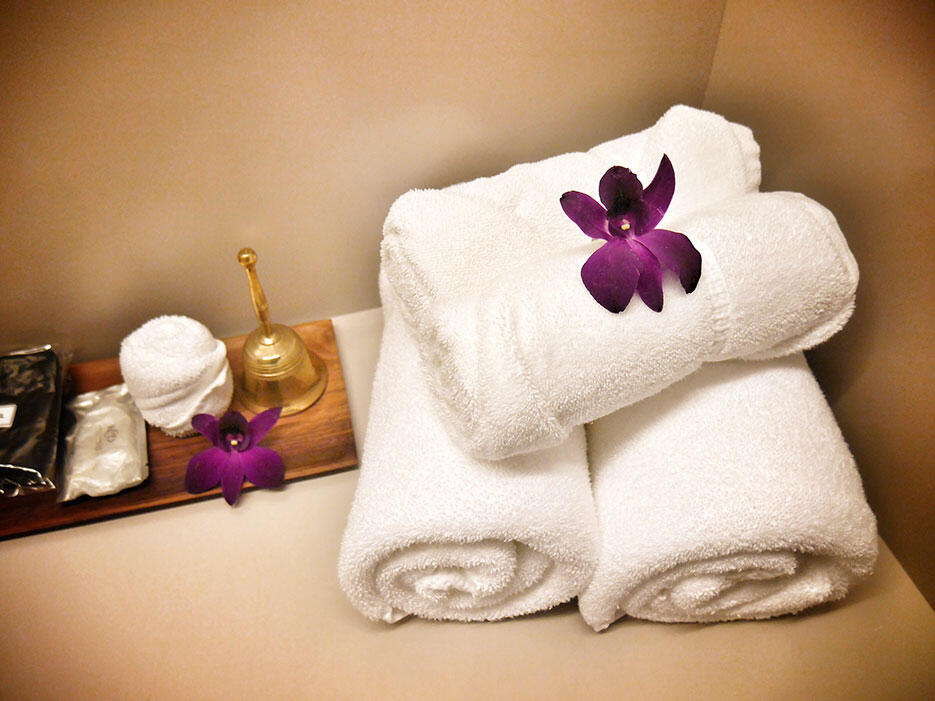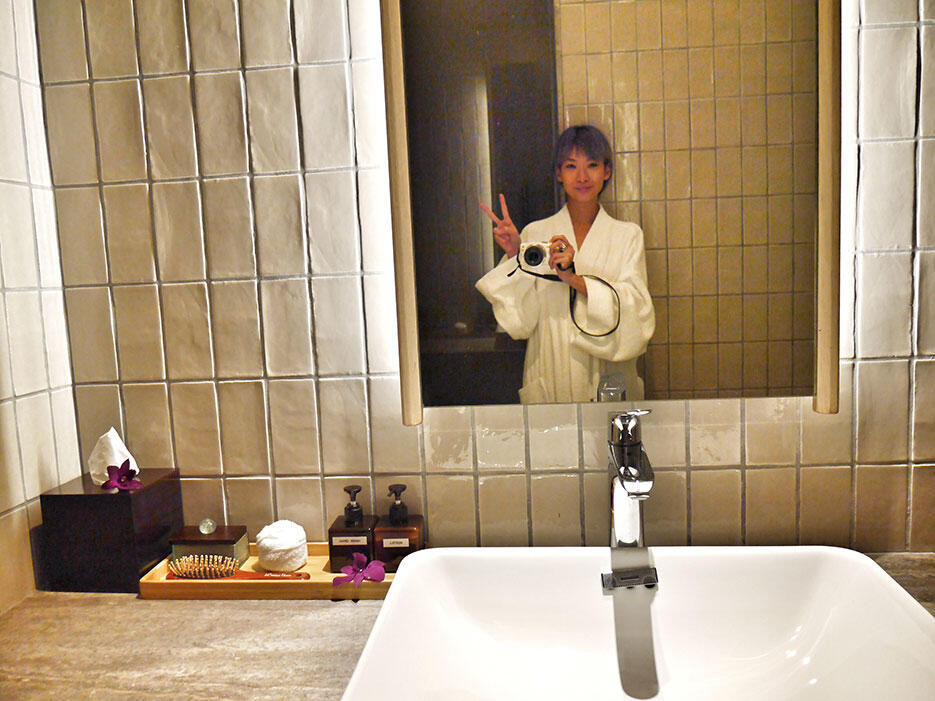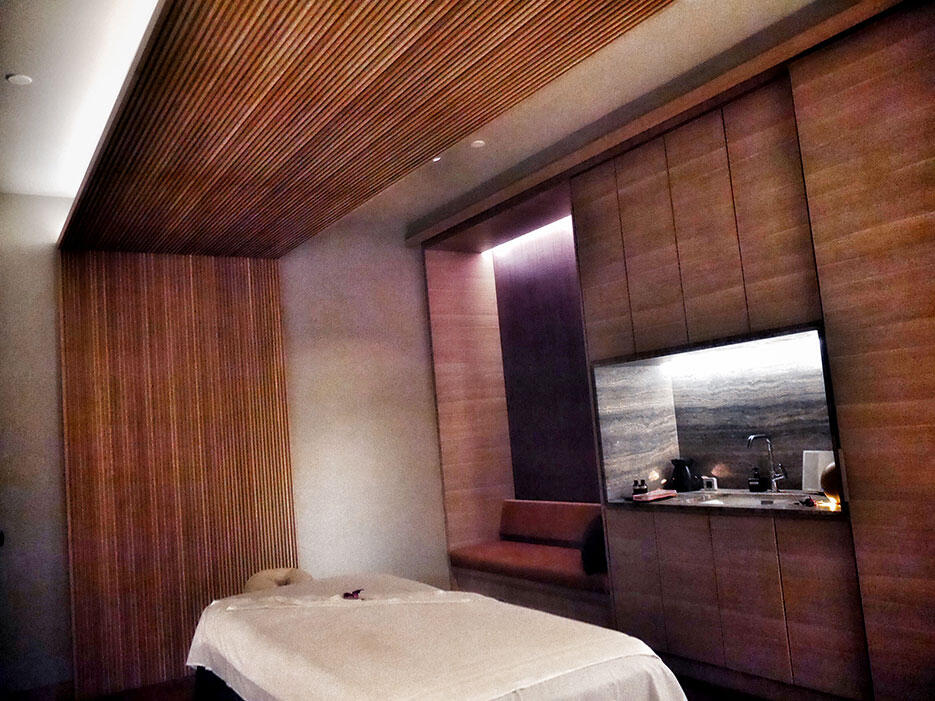 I had the Renewal Bliss body massage which i totally passed out during, which i would have preferred to have stayed awake for so i could enjoy the massage movements. #sorrynotsorry
EOS offers treatments and packages to cater from weight management and anti-ageing, to total pampering and beauty. You can view their spa offerings *here*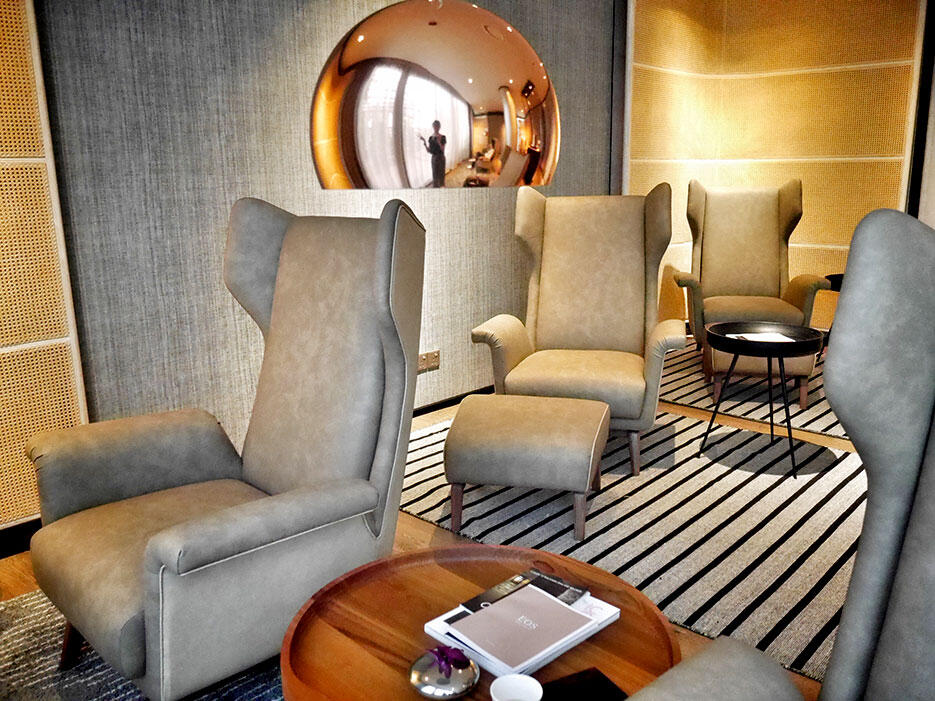 After my treatment, i waited in the lounge for Daddy.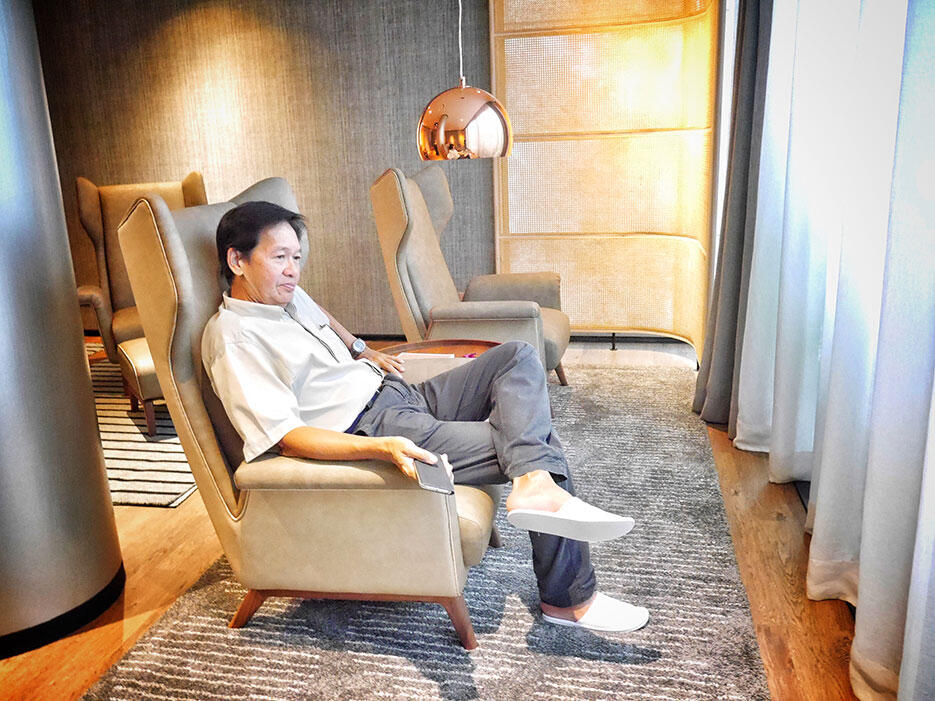 I was so happy to see him looking super relaxed. Daddy had a foot ritual, signature body polish and deep-tissue soothe body massage.
[Full disclosure: Both our treatments were sponsored by EOS Wellness]
Before our appointments here, i'd asked my mum to go with me and she asked me to ask Daddy.
So i asked Daddy and he said, "Why don't you ask Mummy, i'm sure she'd enjoy it more."
Went back to Mummy and she said, "Go ask Daddy instead. I don't feel like going."
Back to Daddy, and he goes, "Did you ask Mummy?"
And i'm like, DOES NOBODY WANT TO GO FOR A MASSAGE  with their daughter!?
I just really wanted either of them to go with me… cos Jun and i go for massages regularly and i wanted a parent to enjoy with this time! I think when you get older they get more interested in their new hobbies or schedules cos they don't have to take care of a child anymore. (My inner child: but but… i'm a child forever….)
I'm really glad my dad went with me cos i wanted him to just ENJOY life and chill out. He had a very serious health scare when i was on my recent trip in Japan, which resulted in him being admitted to the hospital and getting a biopsy for growths the dr found in his colon… which were stated to be in pre-cancerous stage. Thank all the Gods it was discovered. It put life into a bit more perspective. How regularly we need reminders to be gentle with ourselves cos we forget as humans. I am guilty of it all the time too… Go spoil your parents and take them for a massage or nice meal!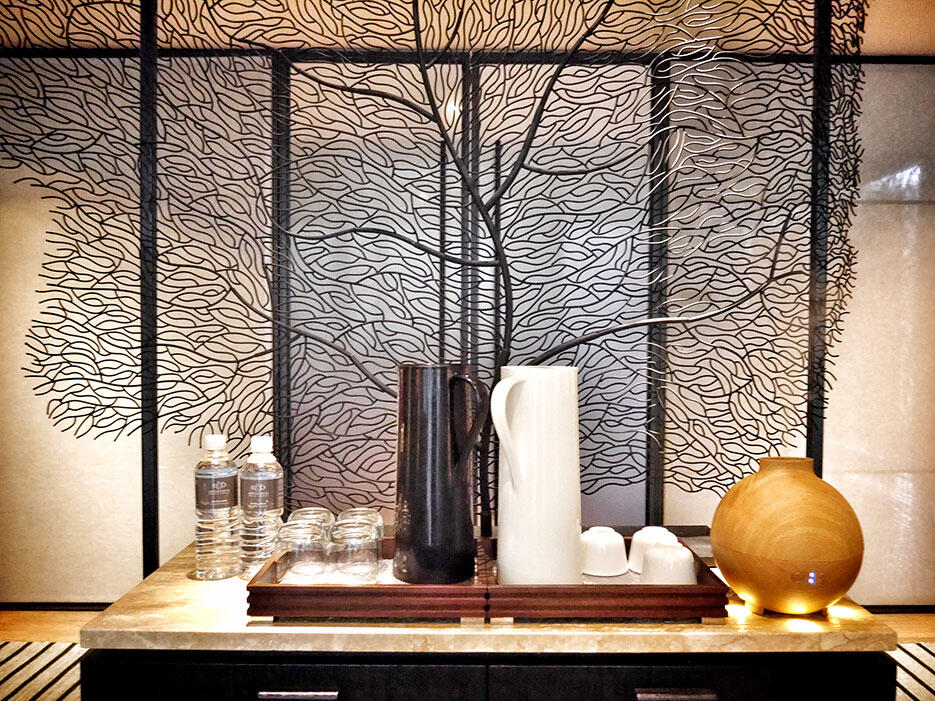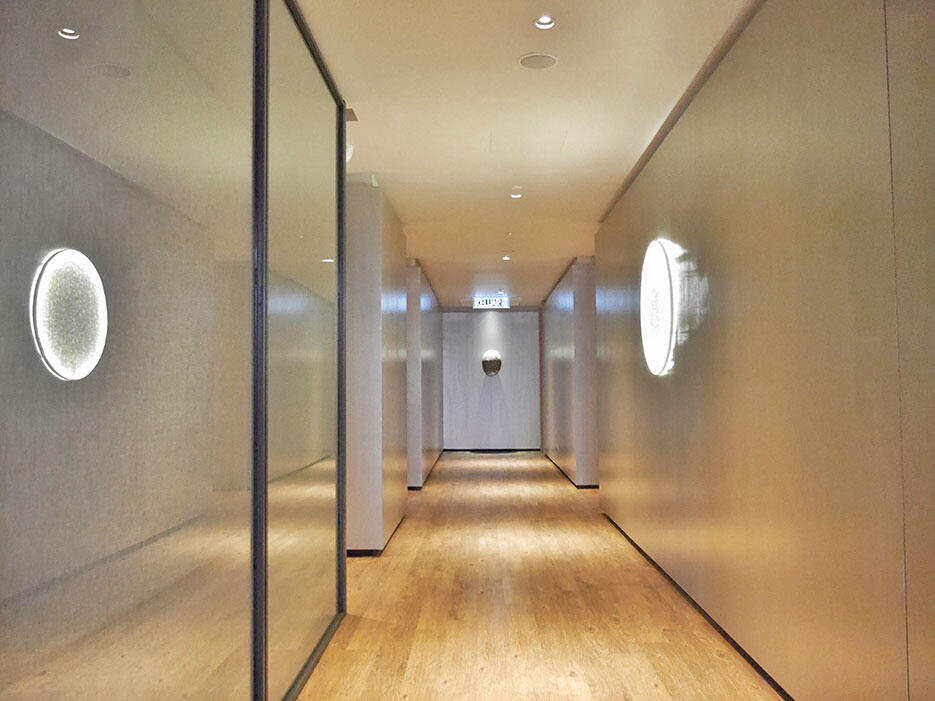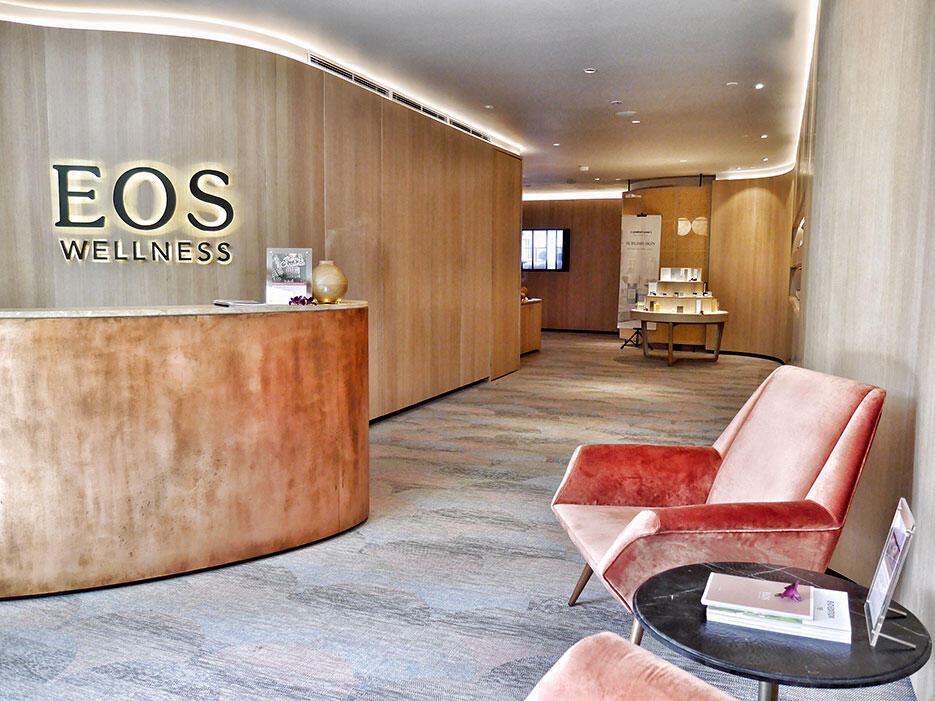 Thank you very much to Syazana from E&O who has patiently been rescheduling my appointments due to my crazy calendar. I found the space incredibly relaxing and luxurious, and can't wait to return.
You will find a variety of massages incorporating classical and therapeutic techniques as well as something more cutting-edge for guests who wish to explore a different sensory experience.
If you'd like to experience EOS Wellness for yourself or treat a loved one, you can get 30% off.
Just mention "KinkyBlueFairy" to enjoy 30% off on ala carte treatments and 30% off on retail products during the same visit.
T&Cs:
– Mention 'KinkyBlueFairy' and show a screenshot of the blog post to enjoy discounts
– Only for ala carte treatments, not applicable to Signature Series and other promotions
– Advance booking is highly recommended
– Discount is valid for first time visit only
– Valid until 31st December 2016
www.eos-wellness.com
A-0-10, Ground Floor
St Mary Place
1 Jalan Tengah
50450 Kuala Lumpur
+603 2023 2182
enquiry@eos-wellness.com