I got my first vibrator when i was in college. It was a birthday gift shipped from Australia which i proclaimed had the best ROI ever. When it finally went kaput five years later, i was so sad i wrote a blogpost in commemoration of it, and invited friends to its funeral.
"I'm thinking of having a burial for my bunny."
"I didn't know you had one, don't you have a dog?"
"Oh it's not that kind of bunny… but it can still be buried in a park right? I was thinking why not."
"… Oh my god Joyce! What if some kid's dog digs it up!? In the park! In front of children!"
Bunny funeral failed to take place.
Regardless, there's nothing like a girl's first adult toy.
I personally think it's a much healthier and less skanky option than going without.
Back then, the only way one could get sex toys in KL was this pathetic shop on the top floor in Mid Valley which had measly options sold at unreasonable prices. Hence all the girls i knew were getting friends to bring them back from Australia or the UK. Flying them in was a risk cos the customs officers could confiscate them, then what could one do? Bye bye a few hundred RM for a gadget.
My first foray into a proper sex store was walking back from art class in London (it must have been 1999/2000), when i saw a gigantic store i couldn't help ducking shyly into, to take a peek. I didn't spend long in there, cos i felt awkward, and also didn't have the money to buy anything.
A dozen years later, i found myself browsing in an acclaimed adult toy store in Berlin which sold products, one of which was even recognised by Red Dot. There were shapes and things which i had no idea did WHAT, but they were all just so fascinating! What made the situation even better was how unperturbed all the customers in the store were. Women and men of all ages were casually shopping for toys in the afternoon as if they were examining produce in the supermarket.
Now, options in Malaysia have advanced to a certain degree, with the launch of a series of friendly-looking adult toys in alluring shades that are being sold at selected Watsons stores and the website.
Called Smile Makers, the seemingly coy brand is not to be taken lightly. It's received positive reviews from the likes of Grazia, GQ, Marie Claire, Cosmopolitan, ELLE, The Sunday Times and Metro; and won awards like a Cannes Lion 2013 (France) Silver, One Show 2013 (USA) 2x Gold, AWARD 2013 (Australia) Silver and Gold, and was a Finalist at Fast Company's Innovation by Design in 2013.
How's that for recognition.
Having collaborated with gynaecologists, sexologists, and beauty experts from all over the world; they all agree that a better sex life means better health. Not only does a good sex life – alone or with a partner – affect confidence and how beautiful you feel, it actually improves your health and how beautiful you look. This could explain the 'glow' that everyone comments on when one embarks on a new relationship.
"Having a fulfilling sex life clearly contributes to good physical and psychological health, whether the satisfaction is obtained solo or between two persons. Self-exploration is an important step in the human psychosexual development, which allows one to discover and better know one's body, its sensations and erogenous zones. Vibrators are very useful for learning feminine pleasure."
– Dr. Juliette Buffat
Psychiatrist and Sexologist
Switzerland
"Many people do not realise that sexual well-being is important for health, and when we are time-strapped it naturally ranks low on the priority list. Studies have shown that being sexually stimulated, whether through sex or self-pleasure, creates endorphins and oxytocin which in turn trigger positive feelings and wellbeing."
– Professor P. Ganesan Adaikan PhD.
Research Professor, Department of Obstetrics & Gynaecology,
National University of Singapore
[source]
And what do these Smile Makers look like..?
Each design is inspired by different personalities and characters with different functions to help women explore all kinds of orgasms.
Say hello to the Fireman, The Frenchman, The Tennis Coach and The Millionaire.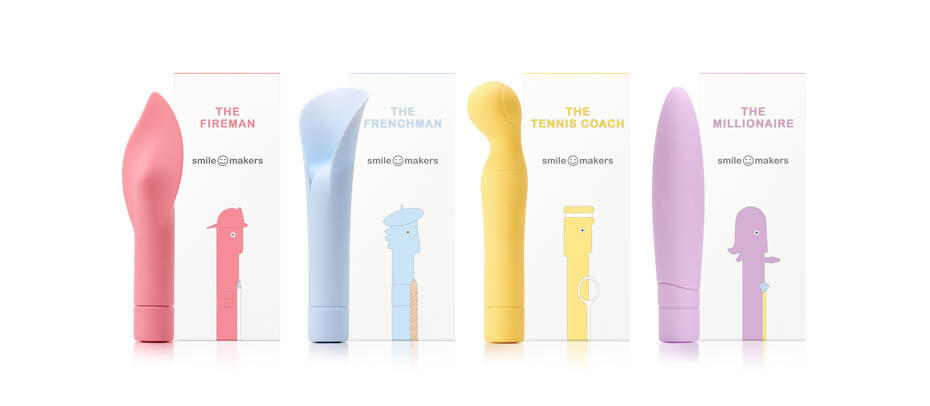 L-R:
The Fireman is a uniquely-shaped clitoral vibrator featuring an intense nose, exhilarating tip, and 'soft flames' for extra sensation.
The Frenchman is a super flexible and soft electric feather of vibrators.
The Tennis Coach is a gentle G-spot vibrator for vi-curious women.
The Millionaire is a classic bullet vibrator with perfectly crafted form.
The personal massagers retail at RM129 each, and are fully-waterproof, phthalate-free, and made with super-smooth, 100% body-safe, FDA-approved silicone. It comes in 4 speeds + 1 pulsation mode while promising to be surprisingly quiet.
If you're stuck with what to get a girl friend for a present, I'd say this is a great option. I'm unabashed to say i've gifted at least five vibrators to some of my closest girl friends in past years and their faces shone when they talked about what a great present it was.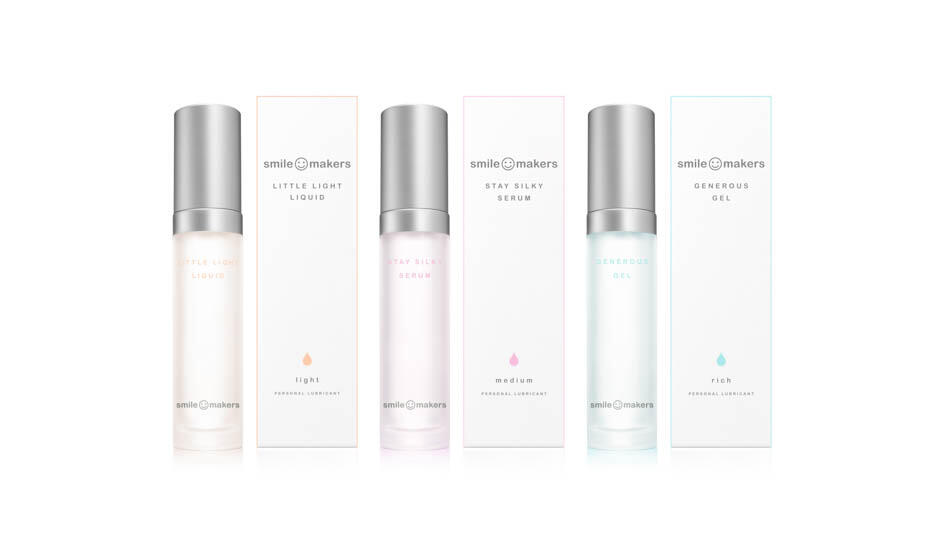 Besides vibrators, Smile Makers also launched a range of personal lubricants that are paraben-free, fragrance-free, water-based, pH-optimal and contains pharmaceutical-grade ingredients with 99.5% purity. These retail at RM59.
I assigned April to cover the launch event in KL, so she assisted in the content below >>
Taking care and feeling good about ourselves should never be a timid topic. I got a good look at the four "personal massagers" during the launch and they're very, very pretty.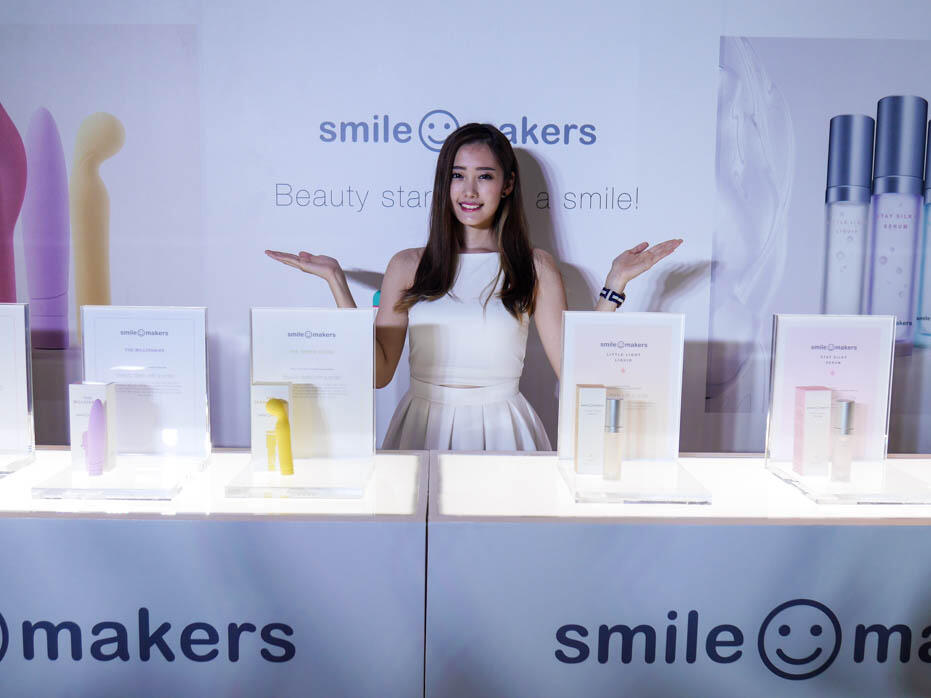 Mr Mattias, co-founder of Ramblin Brands, shared with us that the lubricants are so pure they can even be used as a moisturiser for your body and/or face!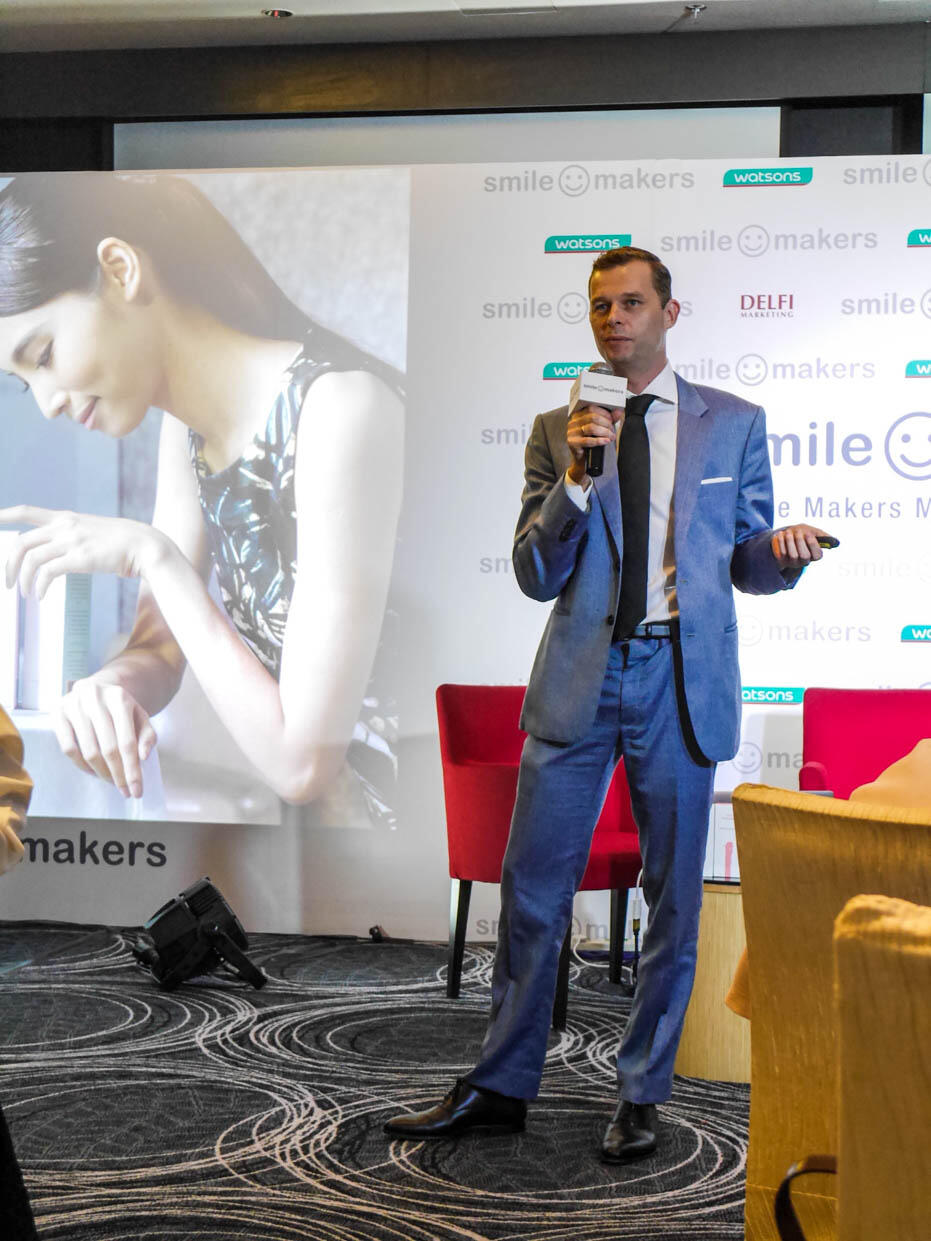 Here is Mattias introducing and taking the audience through the development of Smile Makers.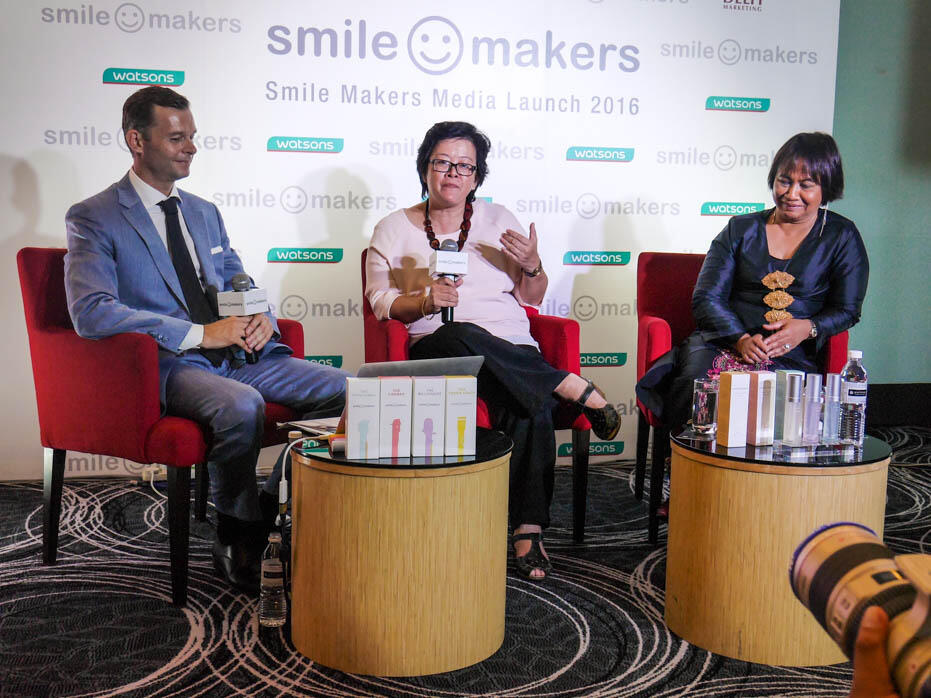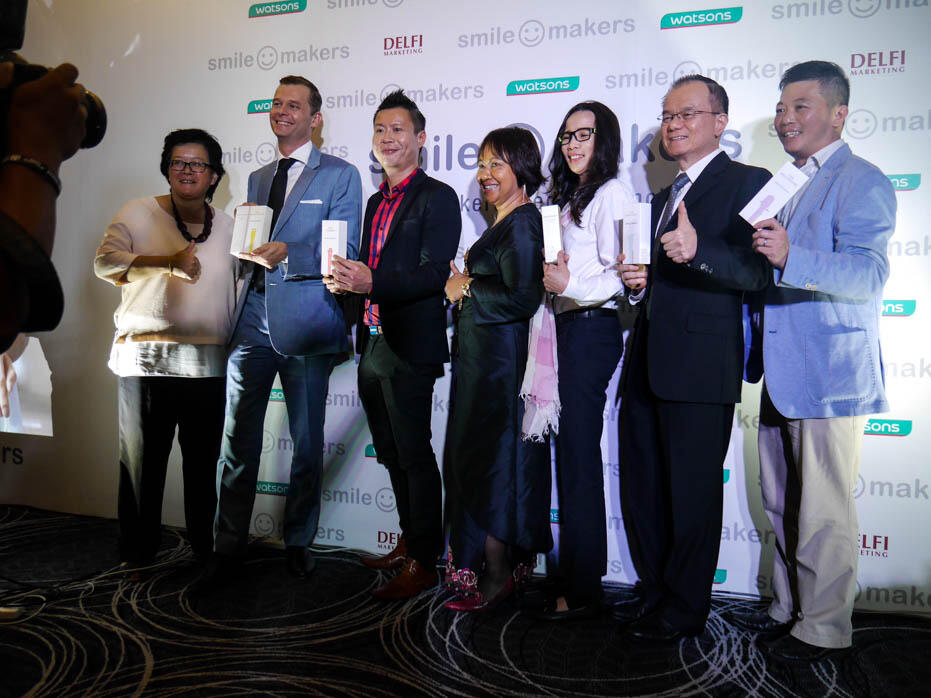 "Making female-friendly products is part of our brand promise, and safety and quality are at the top of this commitment," stressed Mattias.
Thanks to Watsons, these joy creators are made available to the everyday woman through an environment that is accessible and part of her daily health and beauty routine.
Smile Makers believe that #beautystartswithasmile and are dedicated to help you achieve that. Pretty cheeky, but absolutely fun.
Smile Makers products are now available at selected Watsons stores and also on their website!
+ + + + + + + + + + + + + +
To purchase Smile Makers online:
www.watsons.com.my
For more information about Smile Makers:
Website: smilemakerscollection.com
Instagram: @smilemakerscollection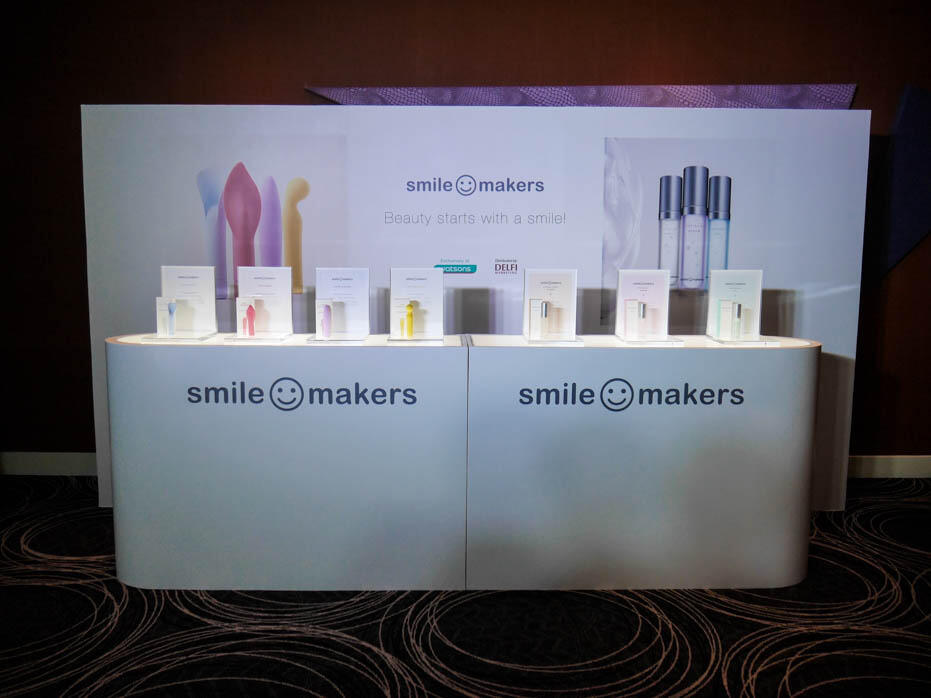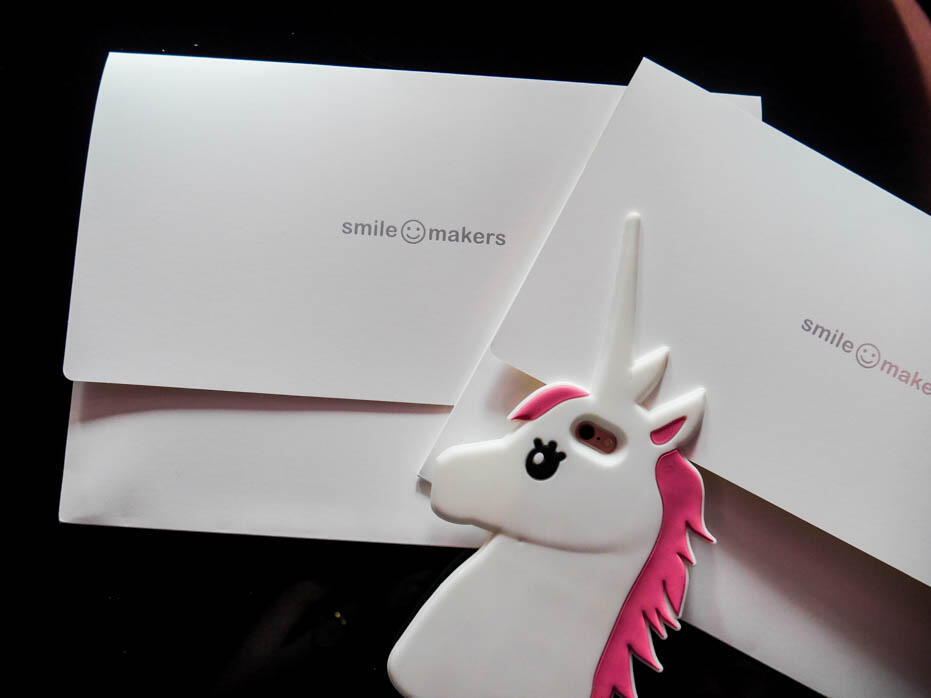 Back to Joyce: Well hope you liked this post! Take it as a community service message, and embrace the Kinky in KinkyBlueFairy