Well-known and respected in more than 25 countries, the La Colline brand was founded as La Colline Cellular Research Laboratories in the Valais Canton of Switzerland, with high-end spas in Paris and Megève (the Alps ski area) today.
Offering products of the highest quality backed by top-level technical expertise, much like the Swiss watchmaking industry, La Colline soon became a reference in premium skin care. A pioneer in advanced technology for stimulating the cellular bio-matrix, La Colline develops exceptional treatments for optimal anti-aging efficacy. Its innovative formulas are based on high-performance biotech active ingredients and botanical extracts that deliver immediate and long-lasting visible results to beautify the skin.
To introduce the brand to Malaysian influencers in a more intimate manner, Céline Krieger, La Colline International Retail Developer, flew to Malaysia to host an exclusive workshop at SaSa, KLCC. KBF was hired to engage the influencers/bloggers to attend, as did the #KinkyBlueFairyTeam one fine Monday morning!
I honestly don't do enough, or much at all, to care for my face so I was pretty stoked that I got to learn from an expert! [Joyce: The advantages of youth…]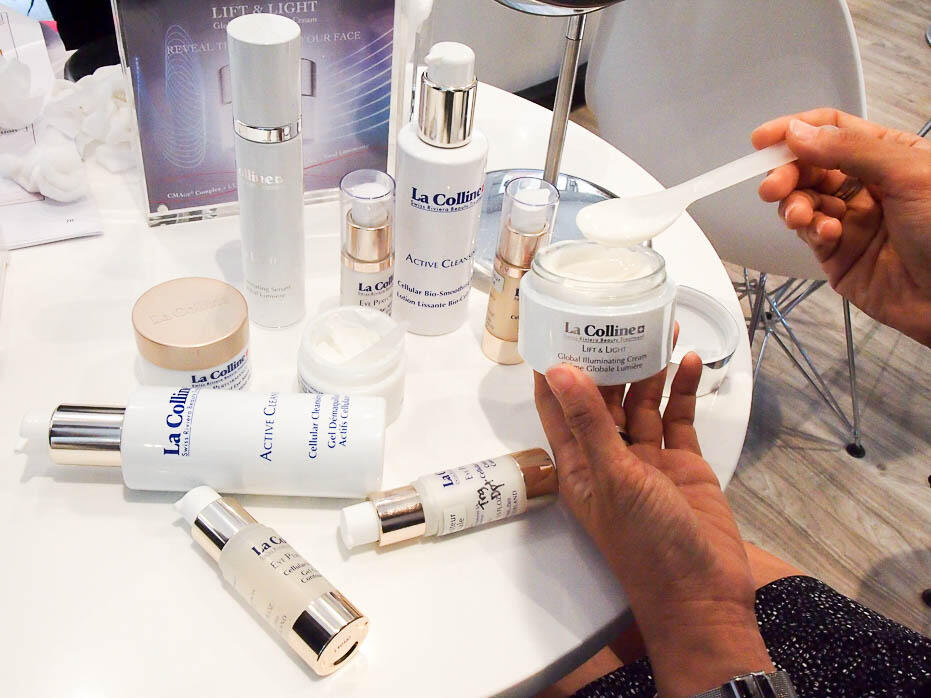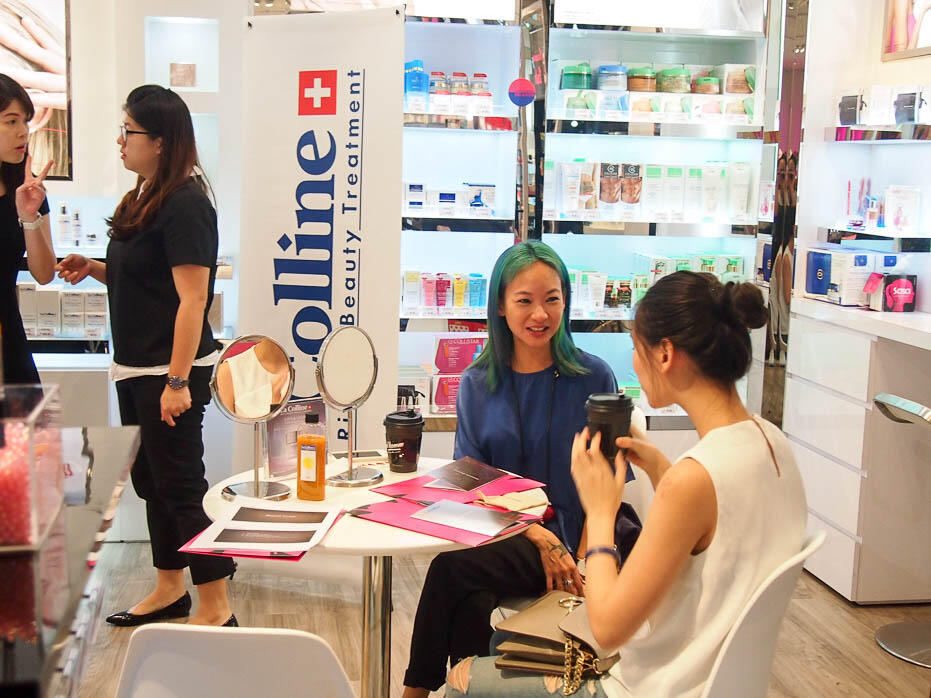 Here's #FairyBoss and Alicia Tan sipping on their morning coffee while taking about Pokemon Go.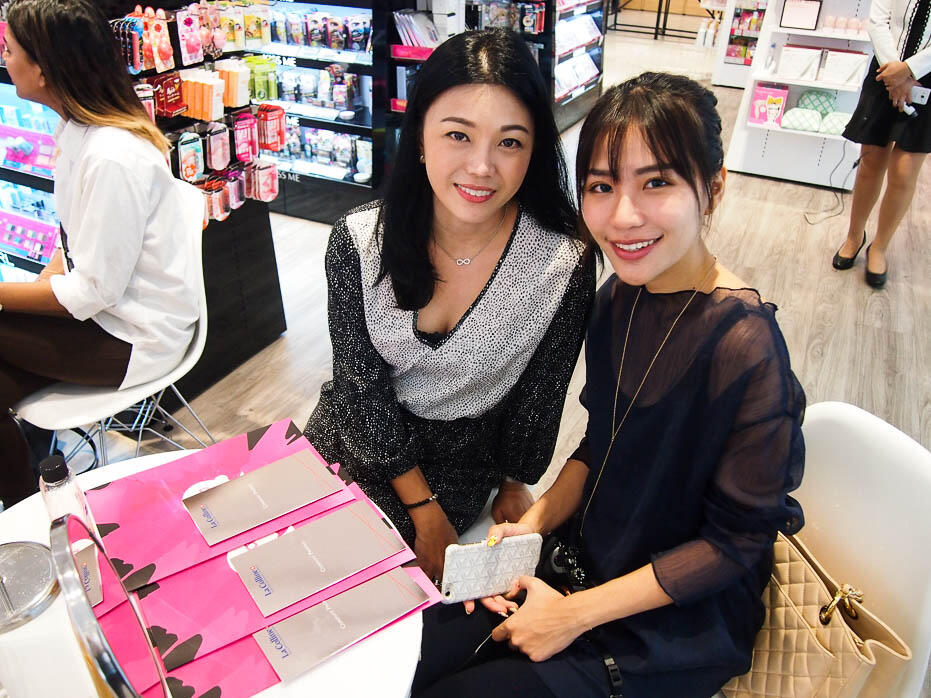 Bloggers Sunshine Kelly and Karen Kho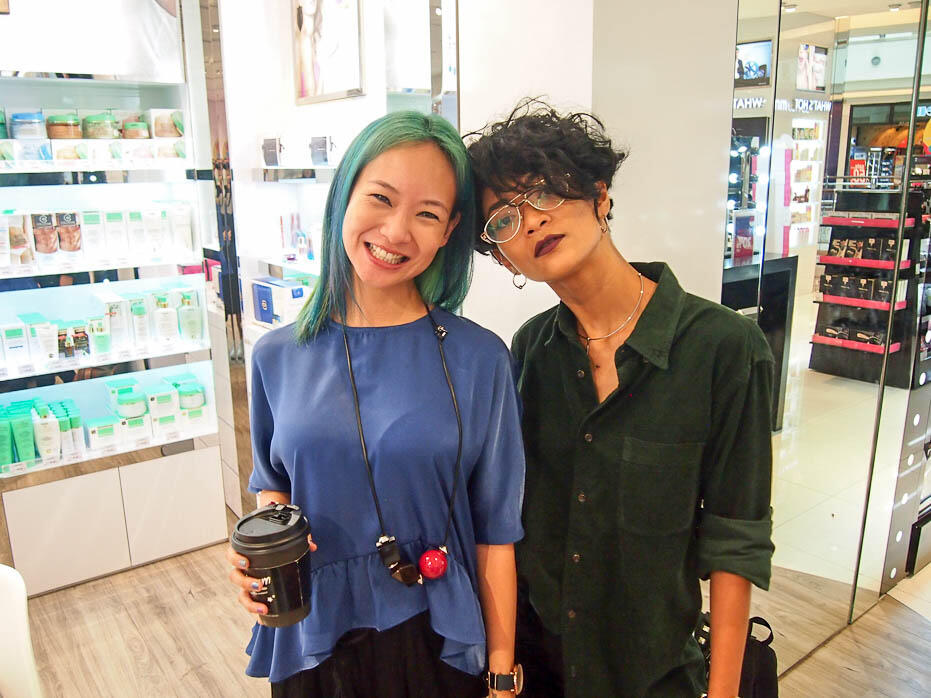 Joyce and Tuti! Joyce's top is from Love, Bonito.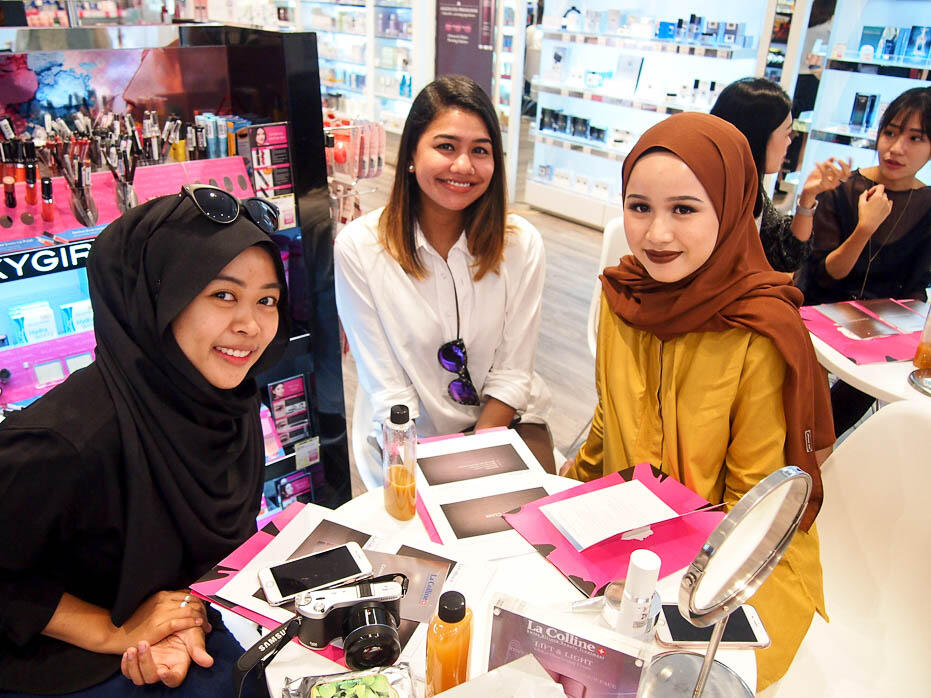 Shea Rasol, Natalie Hussin, and Faafirds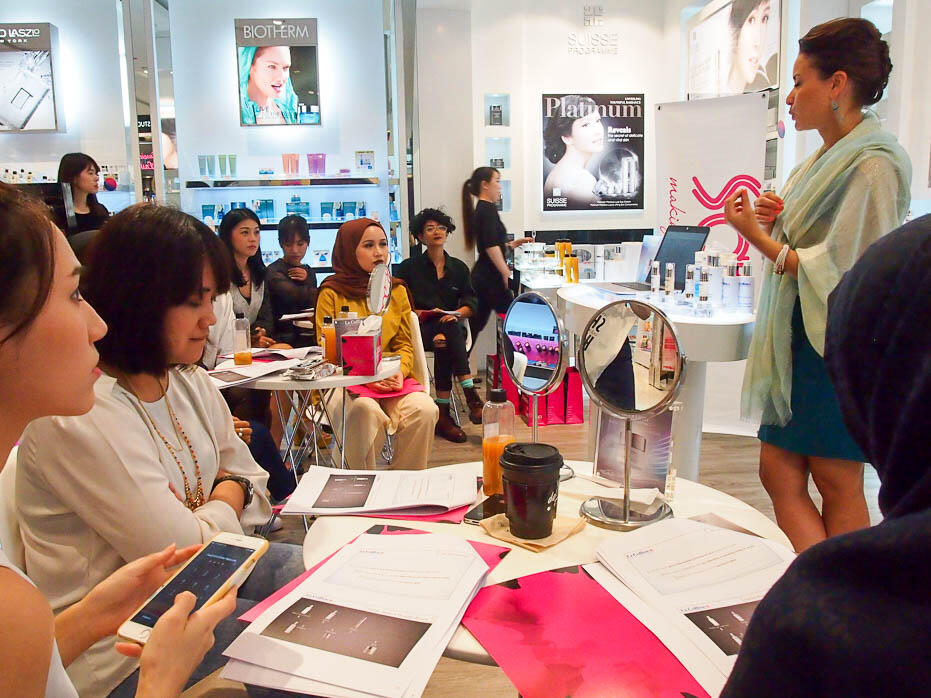 La Colline's International Retail Developer, Céline Krieger, explained that the core technology used in their products called the CMAge Complex- oxygenates, hydrates and protects the skin from impurities.
She then educated us on how to identify our skin types and its symptoms:
Oily Skin – open pores, shiny surface, acne
Dehydrated skin – fine lines, tightening sensation
Dry skin – flacking, roughness, dullness
1st aging signs – dehydration, fine lines
2nd aging signs – wrinkles, lack of firmness, density, dryness
Uneven skin tone – pigmentation spots, patching on skin
Celine then took us through the beauty class on how to clean our skin perfectly… starting with make up removal. She taught us the correct techniques of eye make up removal and ladies, don't be aggressive! (That's something I'm definitely guilty of.) The key to this is to leave the product on your skin for a full minutes until it dissolves the make up making it easier to slide right off.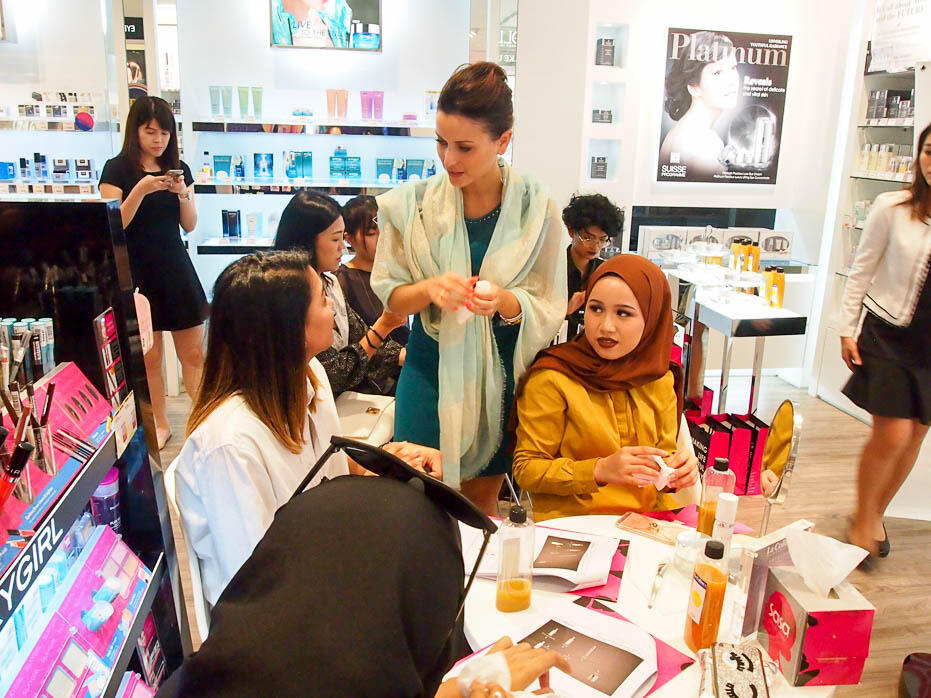 While Celine explains each step meticulously, La Colline products were passed around for everyone to test on their skin.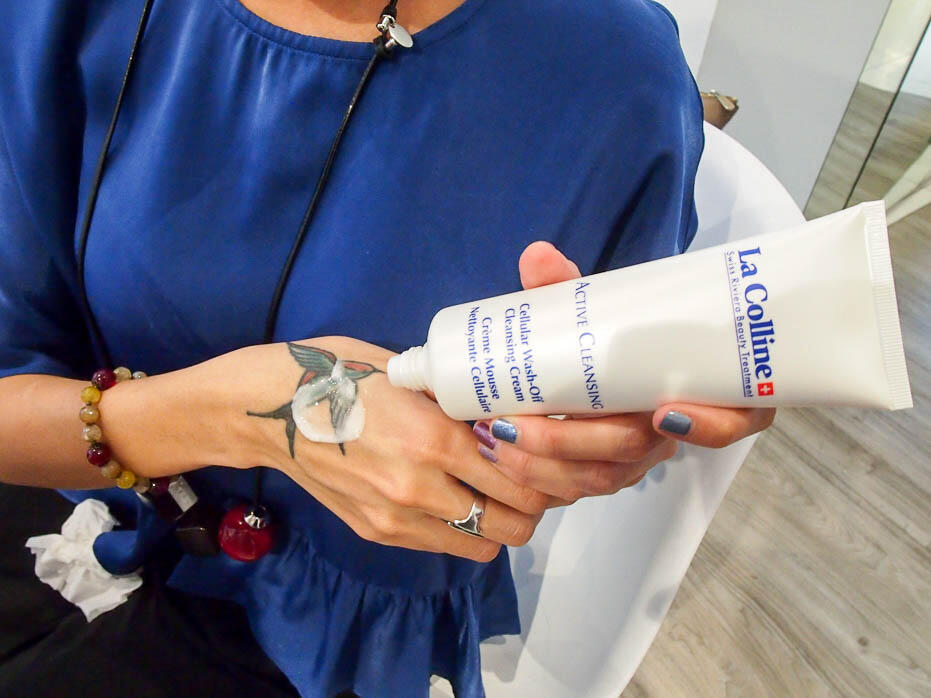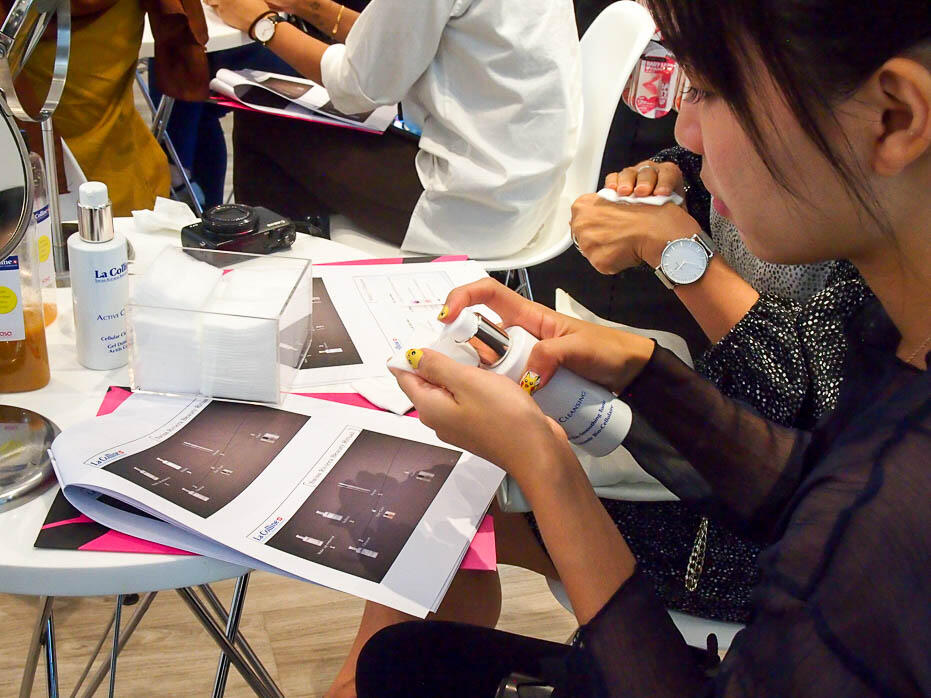 Above are two different kinds of cleansers, the cleansing cream and gel.
The former is mainly for dry skin, and the latter for oily/combination skin.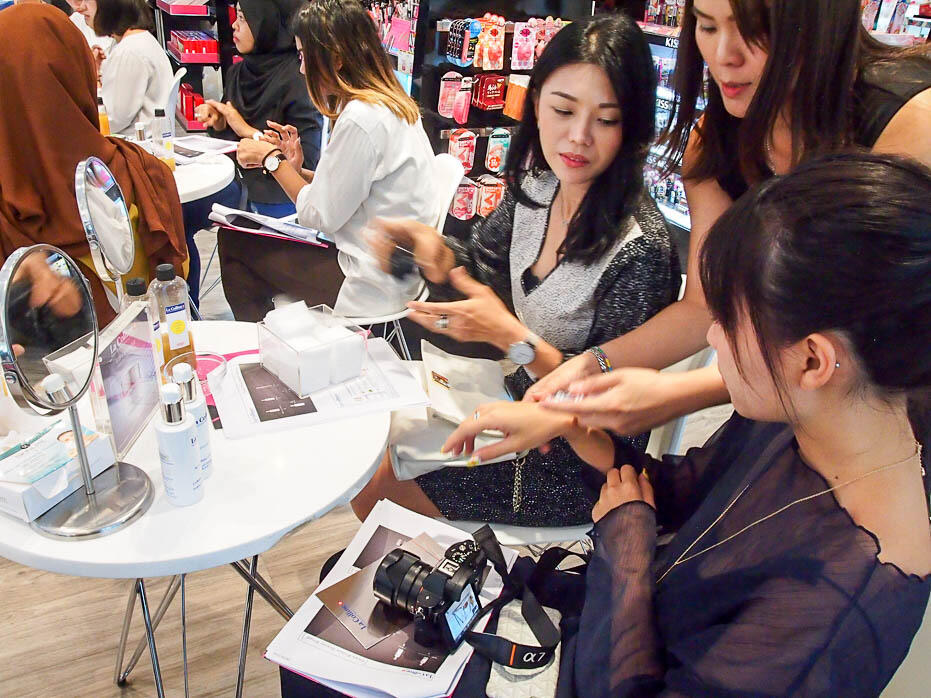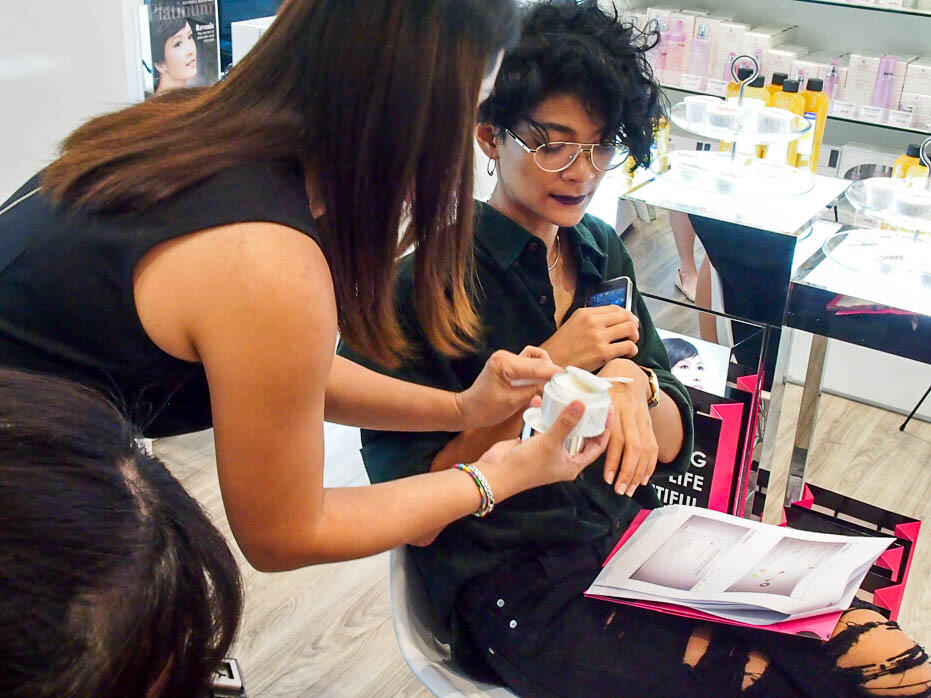 Here's Tuti testing the Illuminating Face Cream; said to lift, smoothen, soothe redness and correct dark spots.
The cream has a light texture which is great because who likes the feel of oily creams on a clean face right?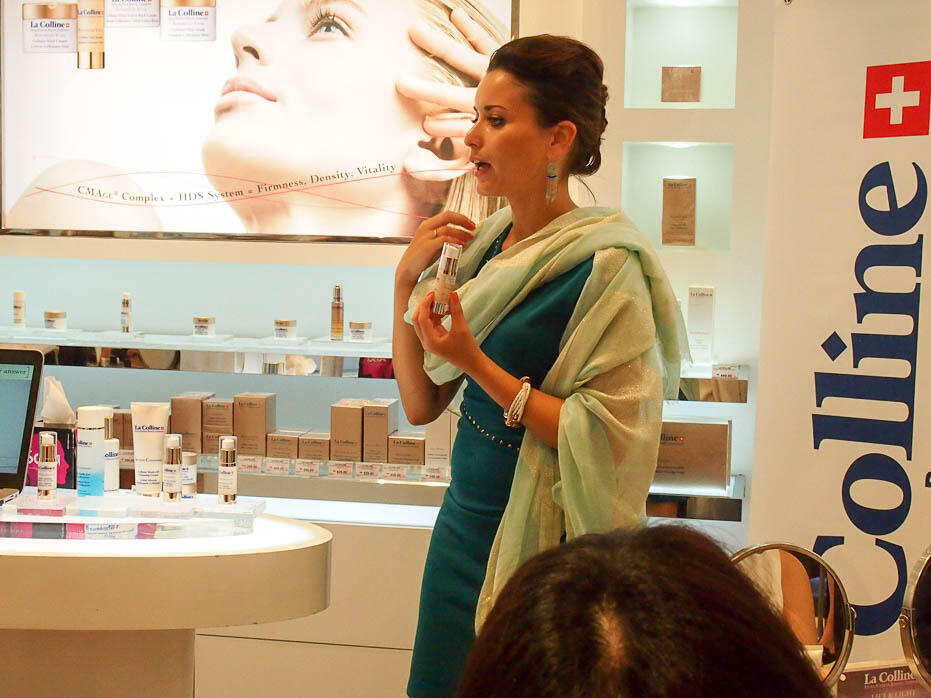 A most intriguing product of theirs is the Illuminating Neck & Décolleté Care serum that firms, lightens and nourishes the neck area. Betcha didn't know lines that form on your neck is caused by looking down at your phone!!!
This product is part of their 'Lift and Light' line that lifts and then closes pores which will help in preventing pigmentation spots. Celine outlined the importance of early prevention as pigmentation typically starts in one's early 30s.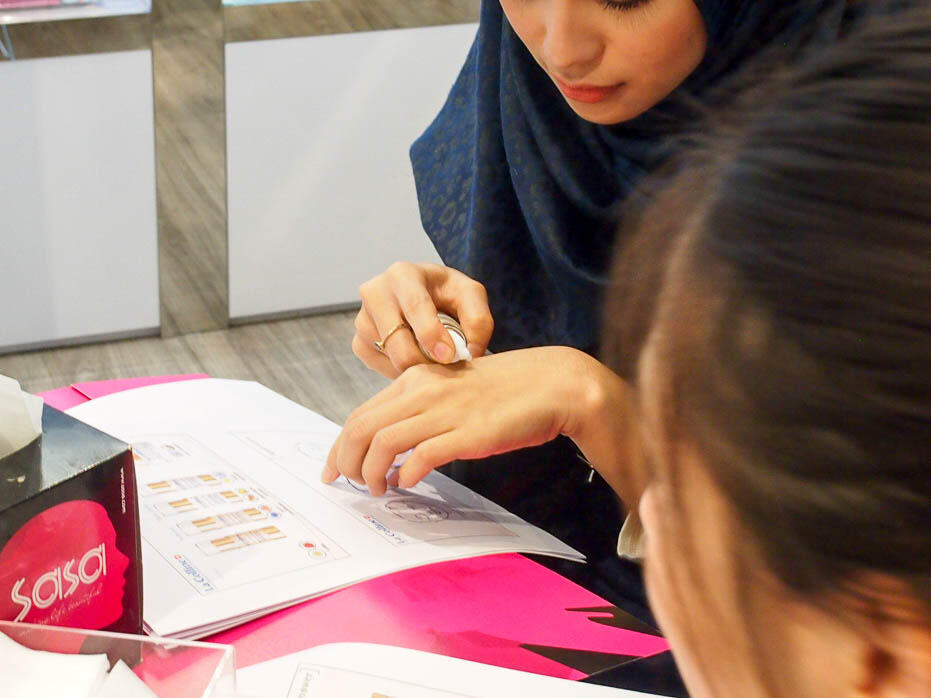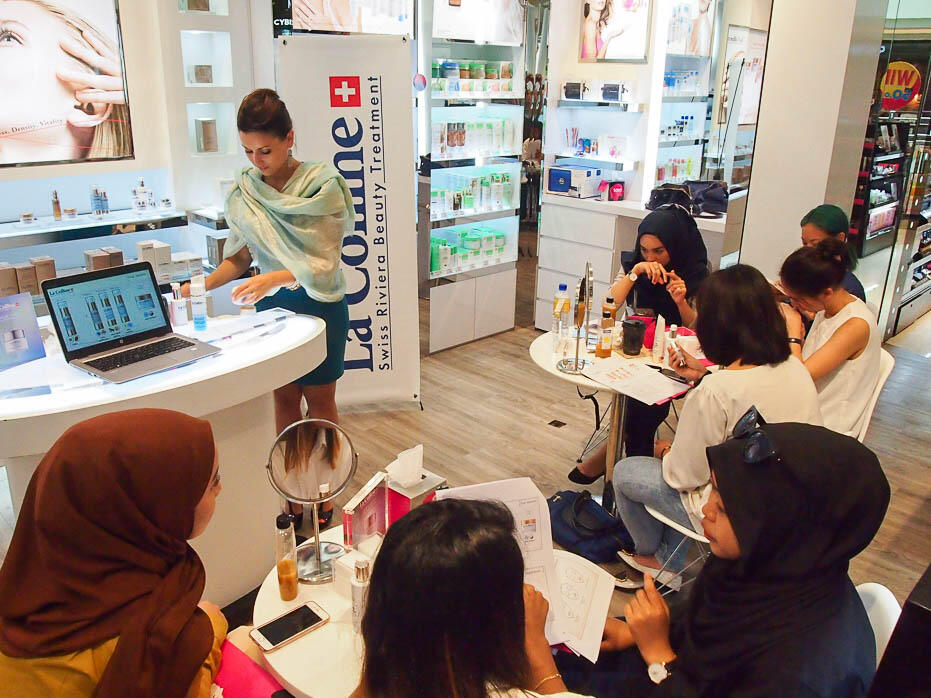 Celine also went into contouring – eye contouring, that is. Not to be mistaken with face contouring, the eye contour area is a circle that reaches from the inner corner of your eye to the outer corner below the end of your eyebrow. It includes the area underneath your eye up to your brow bone.
The skin around the eye contour area is extremely thin, making it more sensitive to premature ageing.
Just like the skin on your face, there are different types of eye contour issues:
– dark circles and puffiness
– pigmentation spots
– wrinkles and lack of firmness
– fine lines and dehydration
La Colline has formulated 4 serums specially for each type and an eye mask to keep the eye contour youthful and glowing.
Celine shared the most effective method of application = 4 dots around each eye, massage upwards gently with fingertips, and then into piano movements all around, repeat for 5-10 minutes.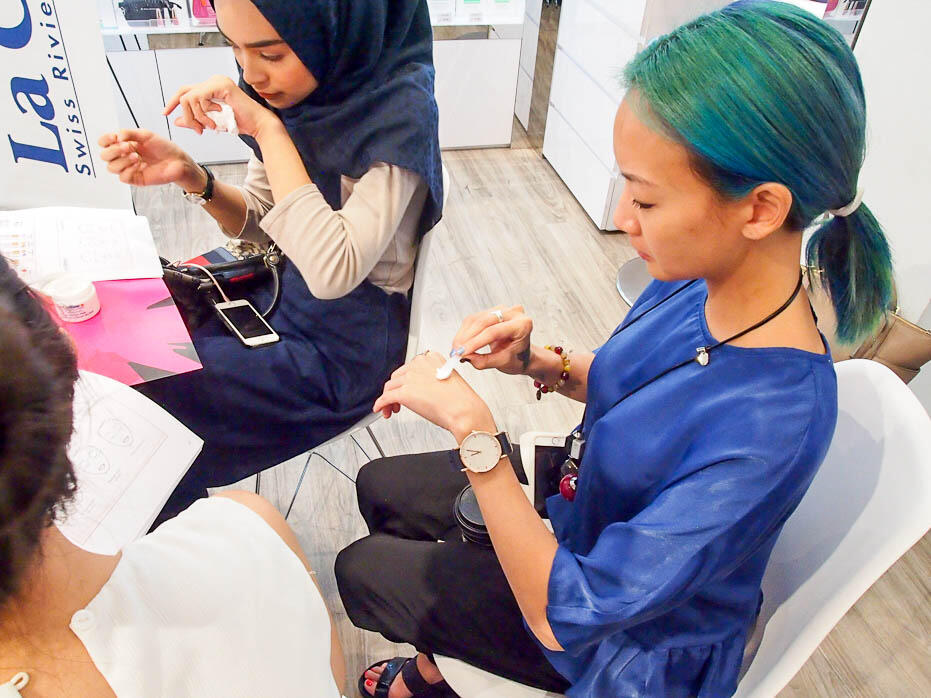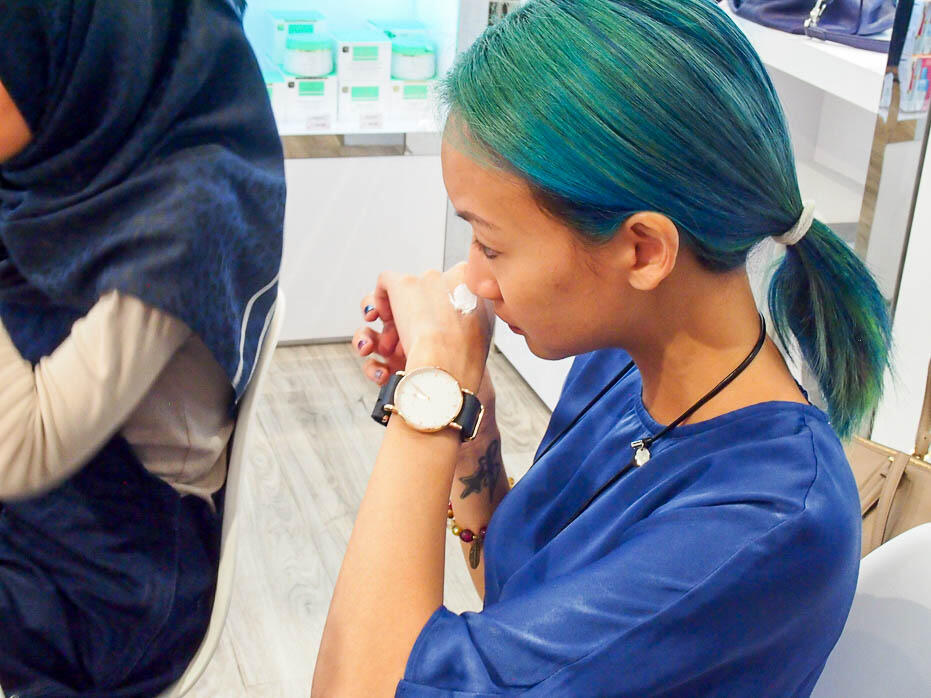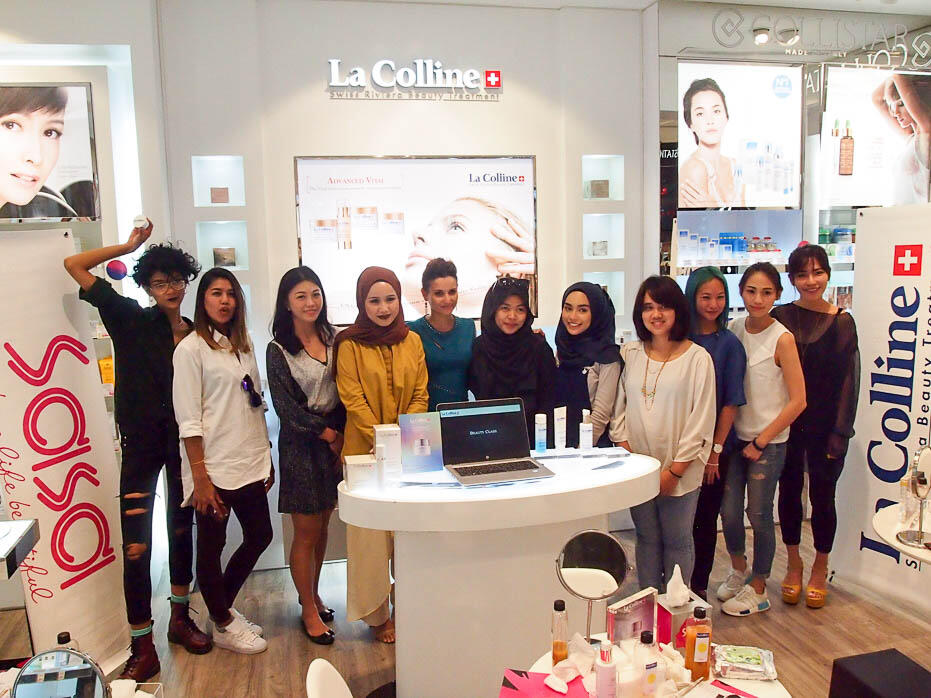 The workshop ended with Celine sharing tips on how to achieve radiant and luminous skin that she practices herself and a photosesh. We also nibbled on cupcakes and sipped on juice!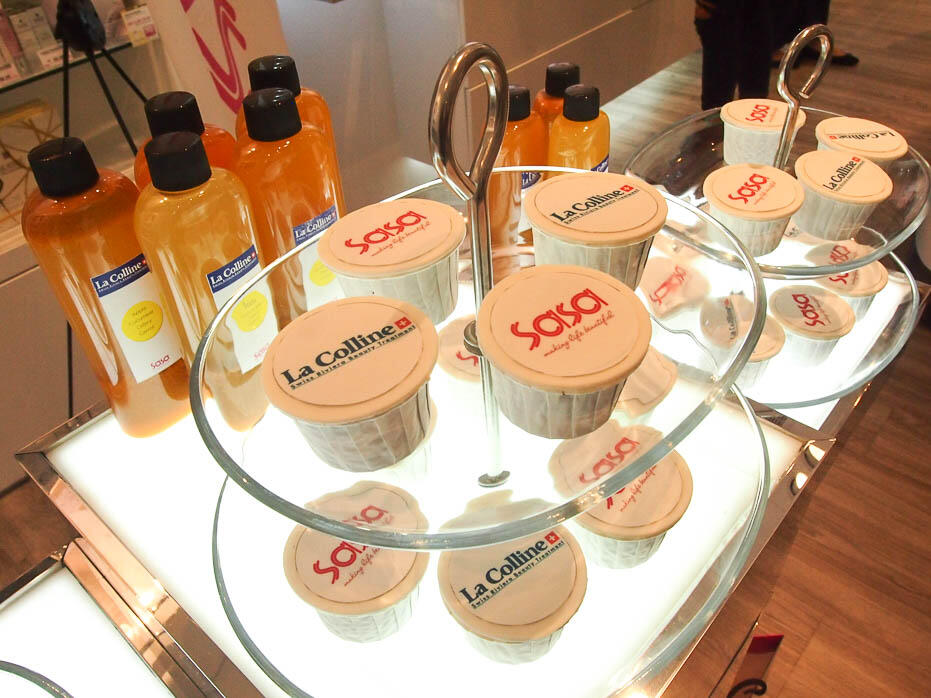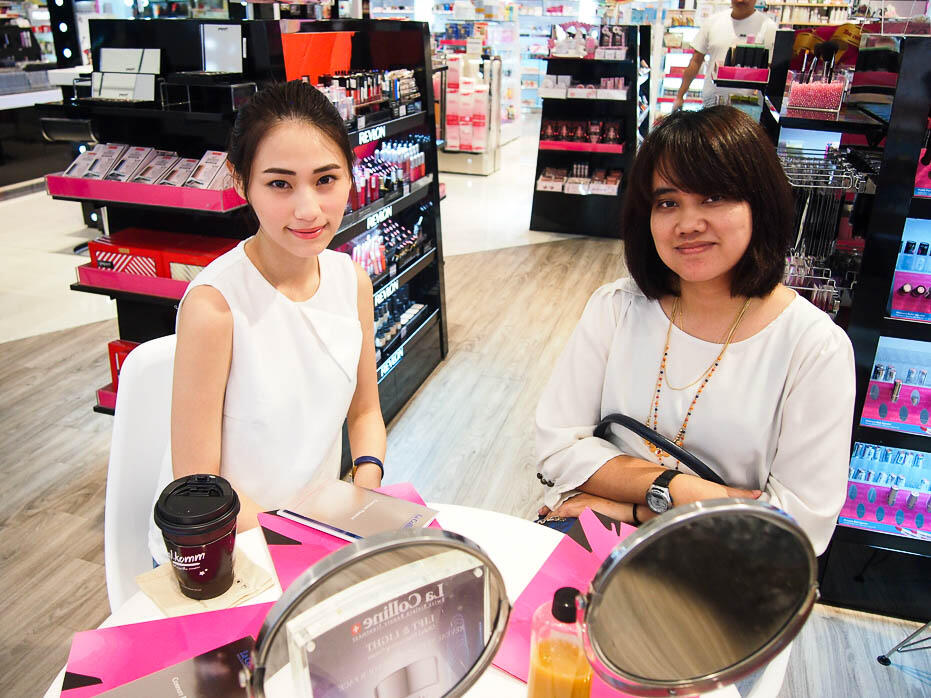 Alicia and Haryati (Aida Sue's rep)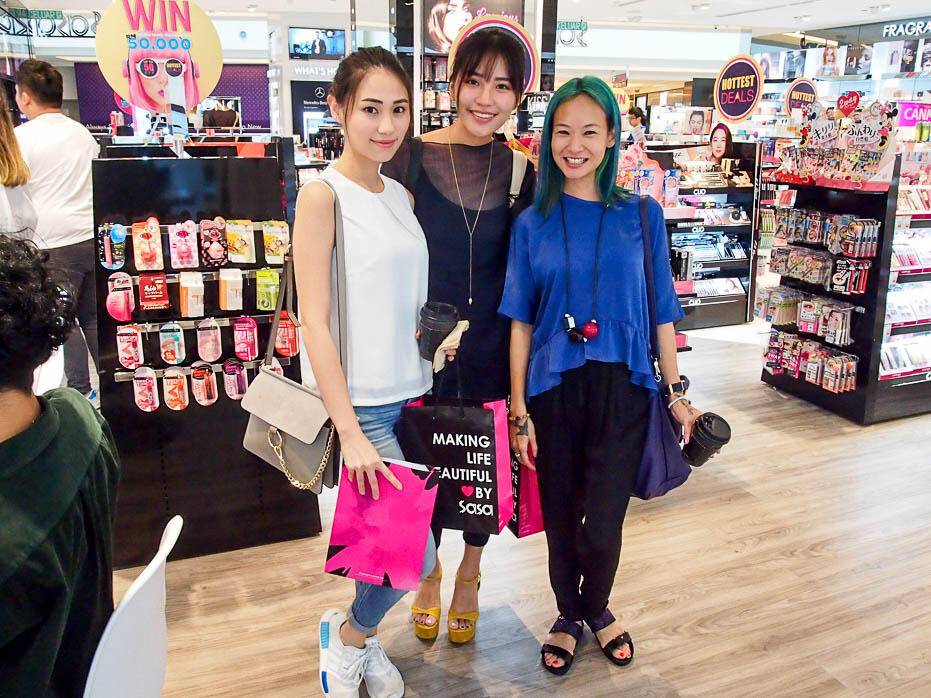 Alicia, Karen and Joyce
La Colline is available at selected SaSa stores across Malaysia!
+ + + + + + + +
Find out more about La Colline:
La Colline
Website: www.lacolline-skincare.com
SaSa Malaysia
Website: www.sasamy.com.my
Facebook: www.facebook.com/SaSaMalaysia
Instagram: @sasamalaysia